August 22nd, 2016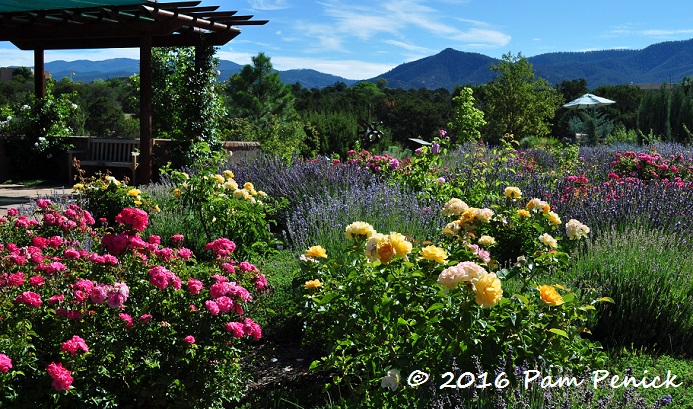 Two weeks ago today we drove west on a spontaneously planned, cutting-it-close-with-the-first-day-of-school, two-week road trip through West Texas, northern New Mexico, and western Colorado. One of our early stops was Santa Fe, New Mexico, a beautiful old city we once regularly visited but hadn't seen in 16 years. One of its newest attractions, opened in 2013, is the Santa Fe Botanical Garden.
Sited close to town on Museum Hill, the garden — still in its infancy, with only Phase 1 open at this time — makes for a pleasant hour-long meander under china-blue desert skies, with the rugged folds of the Sangre de Cristo Mountains visible in the distance.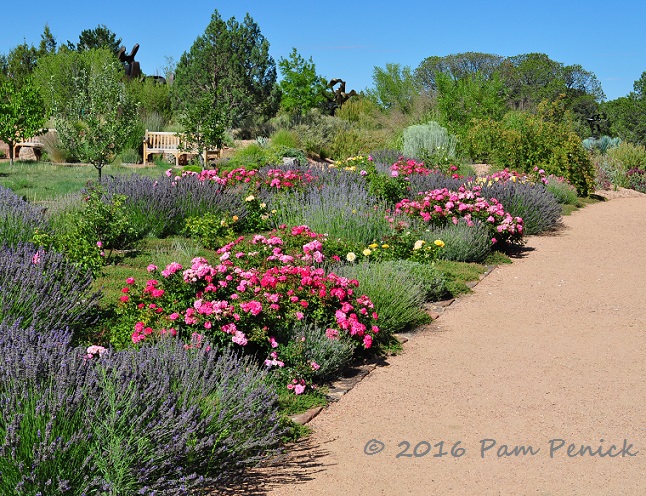 Although the terrain is high desert (Santa Fe's elevation is 7,199 feet), the sun-washed garden appears surprisingly lush with roses, lavender, switchgrass, agastache, and mullein.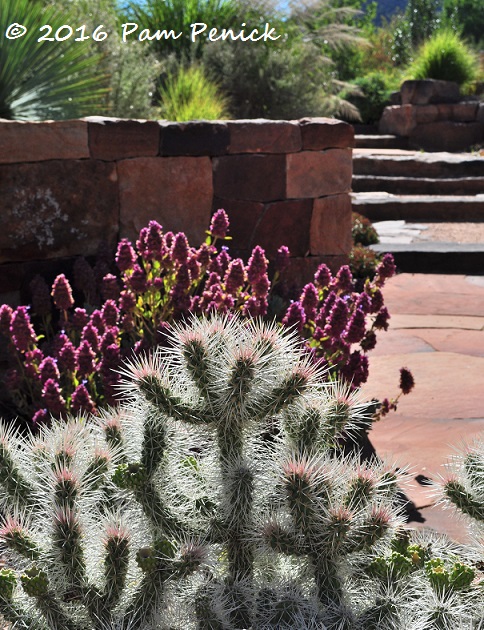 Sparingly used as accents, cacti like eye-catching 'Snow Leopard' cholla (Cylindropuntia whipplei 'Snow Leopard') stand out beautifully, especially against the wine-colored blossoms of Mojave sage (Salvia pachyphylla) and reddish-pink sandstone walls.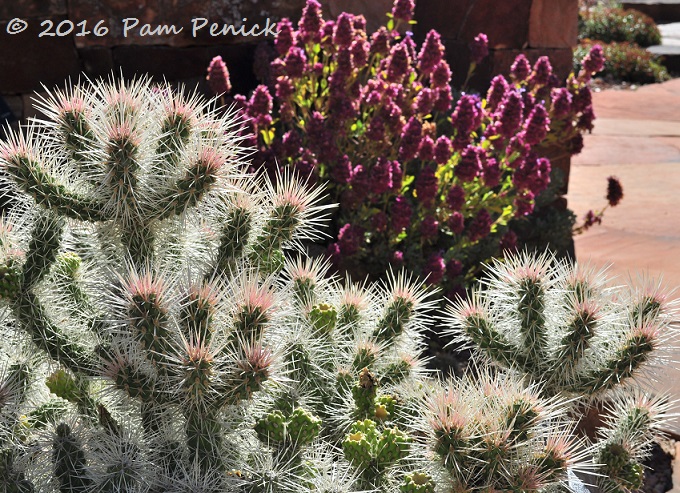 I love that peachy-pink color echo!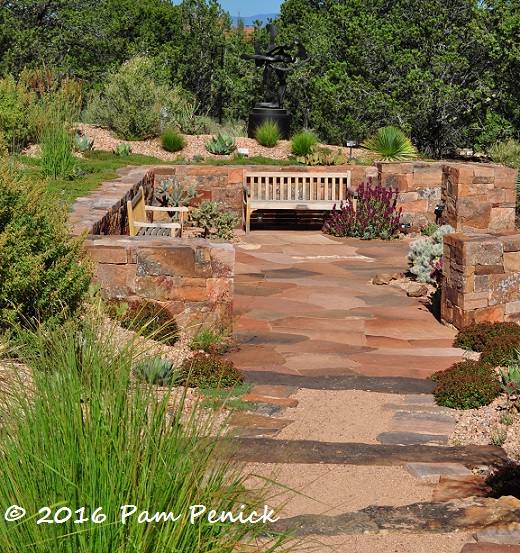 Low walls create small garden rooms furnished with benches.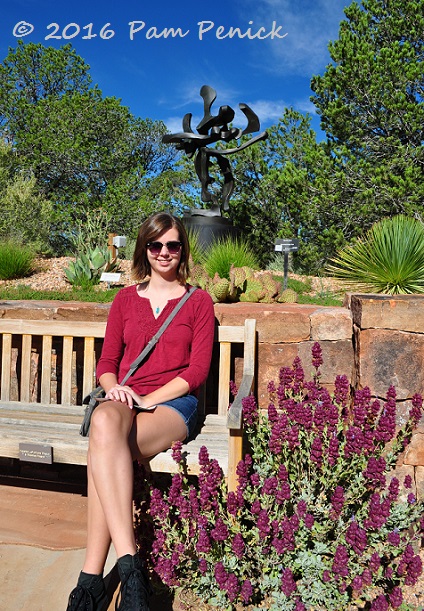 My daughter tries one out next to a stunning Mojave sage.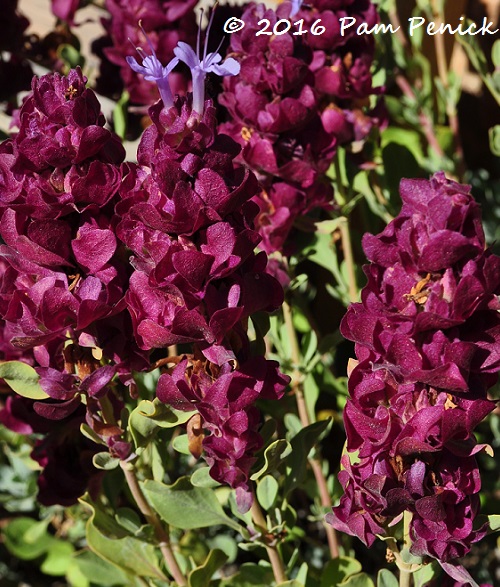 Any chance this can tolerate the Gulf of Mexico humidity and drenching rains of Austin? I wish! (See High Country Gardens for its listing, which suggests annual rainfall of 10-20 inches.)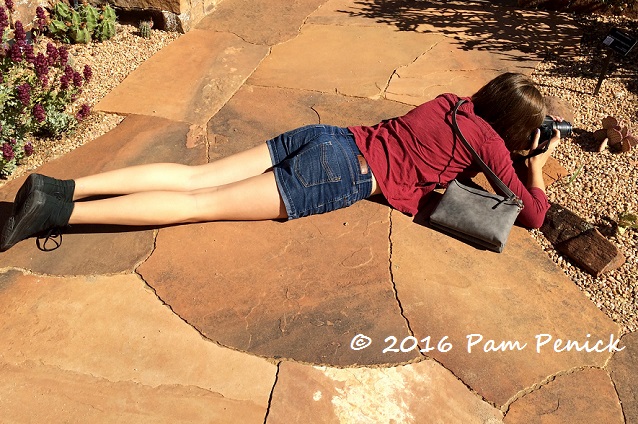 Sometimes you have to get low to get a shot of a cool plant.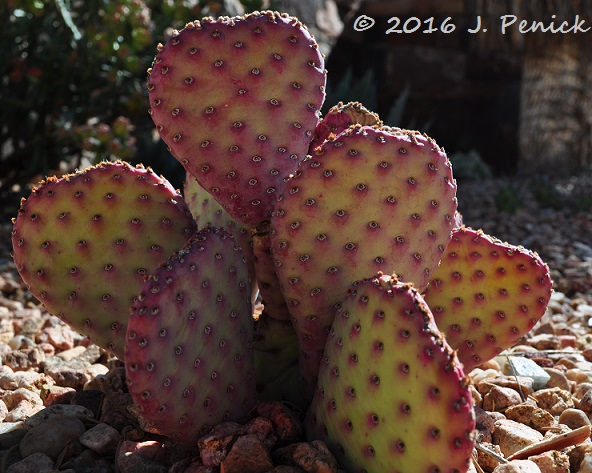 Here's her quarry: a little prickly pear with valentine-like pads.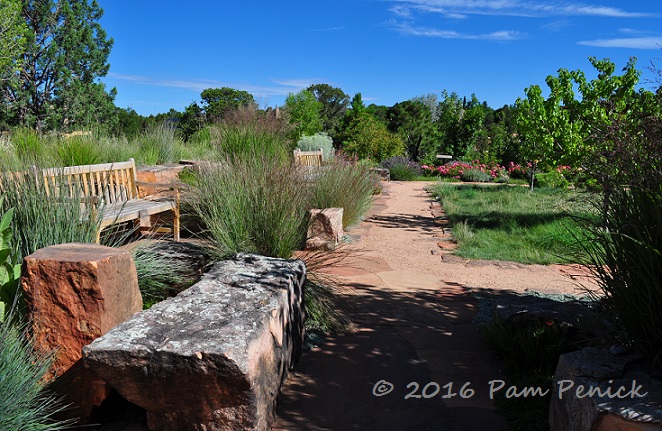 Warm-hued paths of decomposed granite edged with sandstone lead in straight lines through the main garden. Stone blocks add extra seating and natural accents.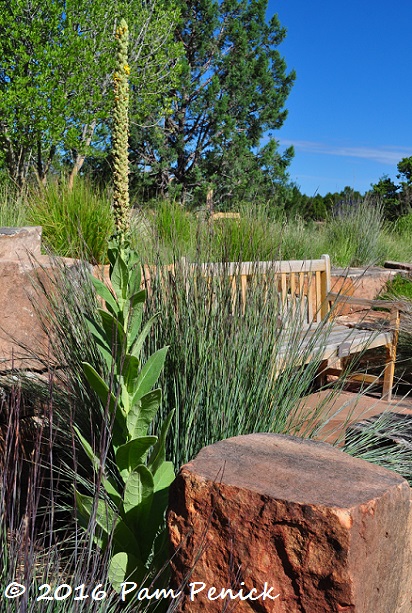 Mullein and switchgrass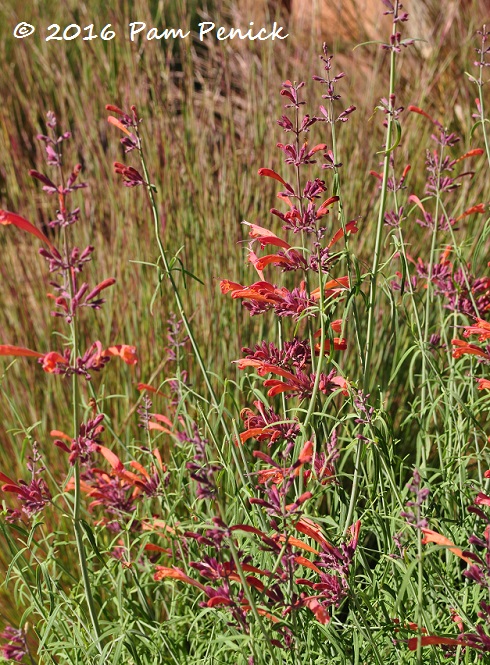 Agastache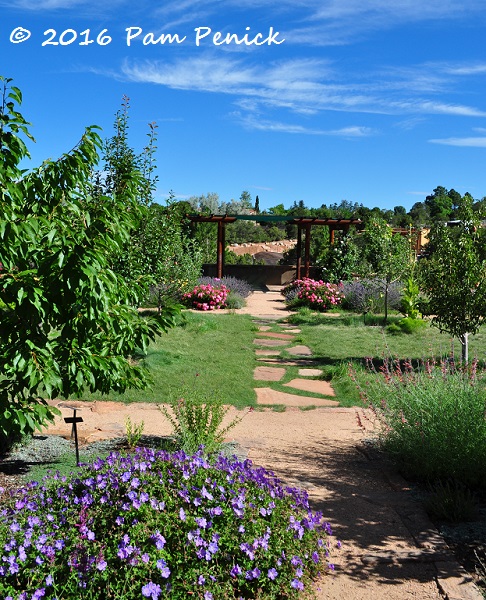 Straight-line gravel and flagstone paths divide the main garden into a grid, with an orchard of fruit trees and an eco-lawn of native turf grasses anchoring the center.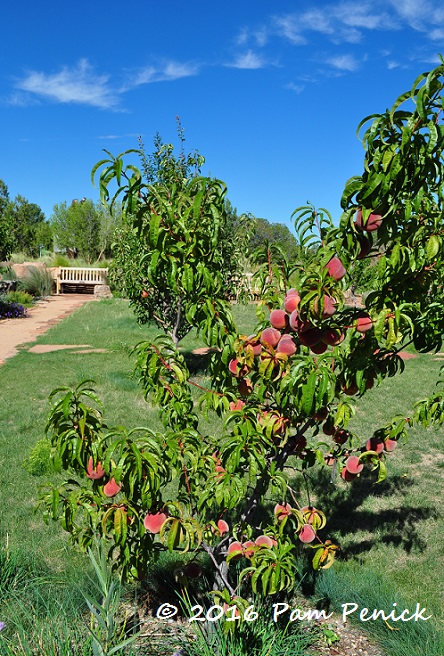 Peach tree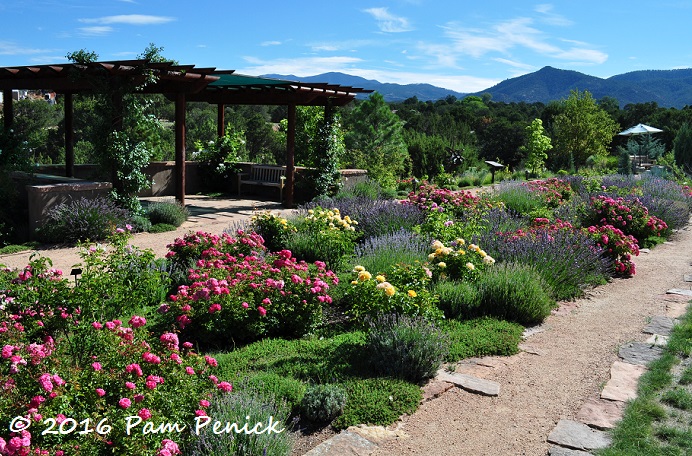 In long borders on each side, shrub roses and lavender add color and fragrance.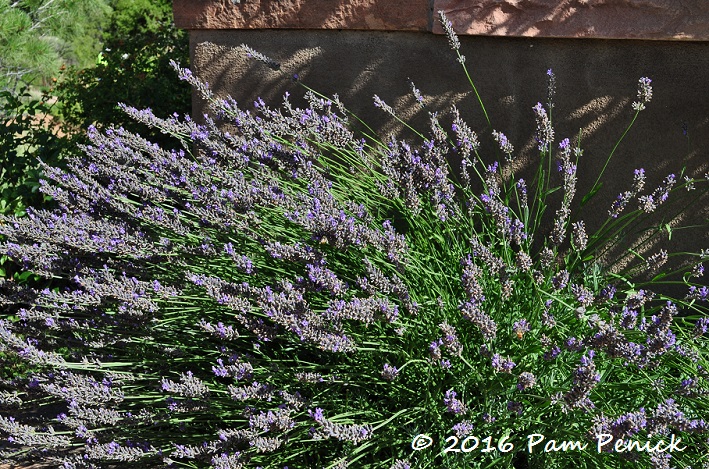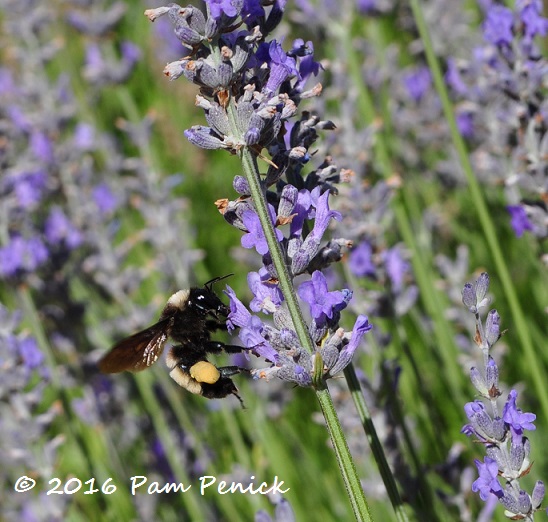 Bees were working the lavender.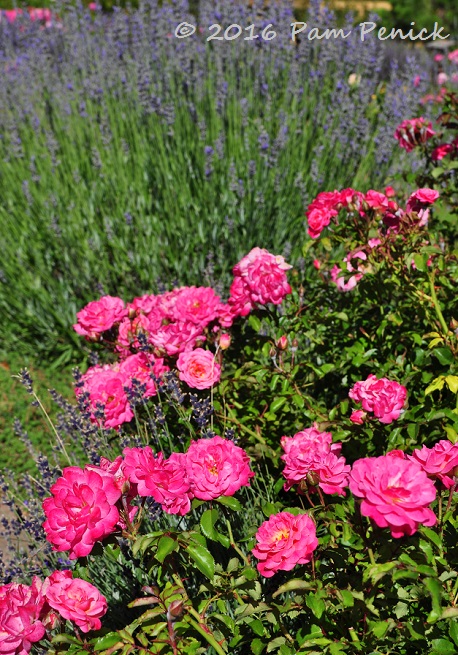 Roses and lavender, a treat for the nose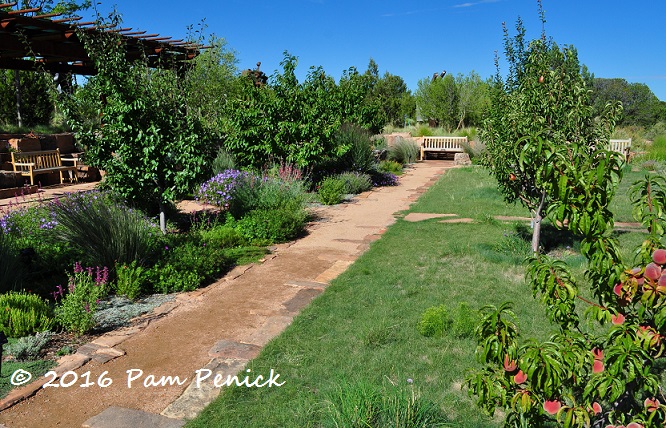 Another view of the orchard and lawn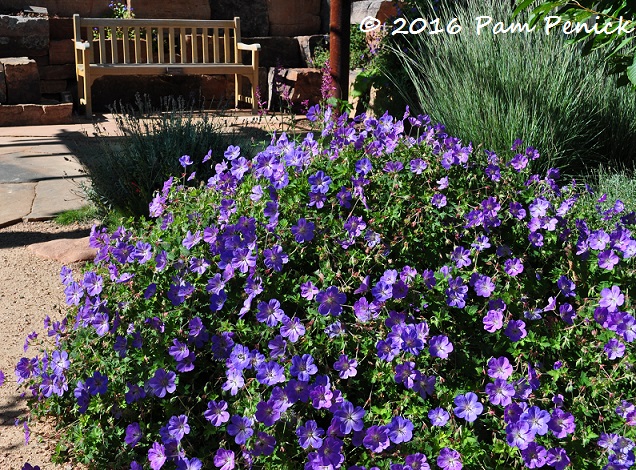 Geranium 'Rozanne'…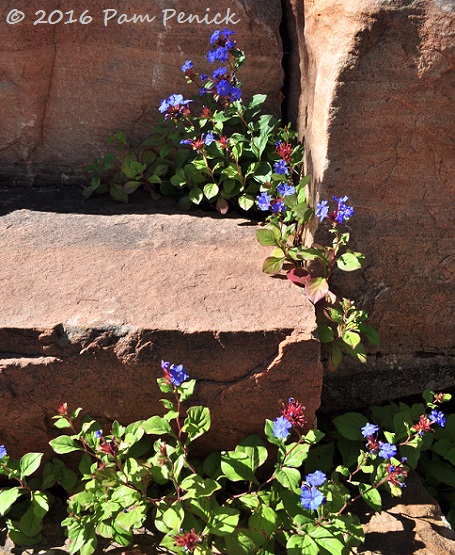 …and hardy plumbago (Ceratostigma plumbaginoides) seem right at home here too.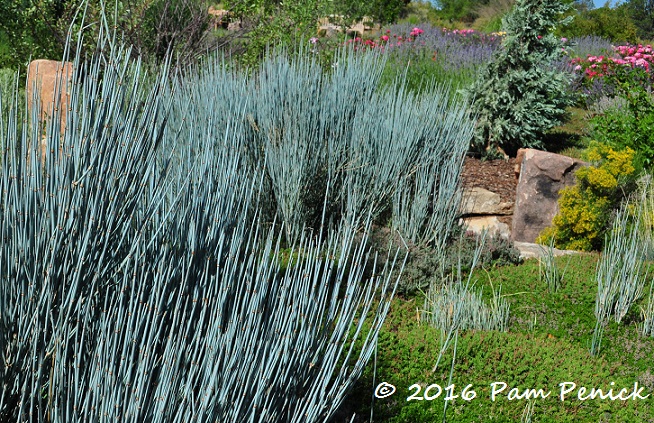 Bluestem ephedra (Ephedra equisetina) caught my eye with its slender, upright, blue stems that are reminiscent of horsetail. Although dry loving, it's clearly a spreader.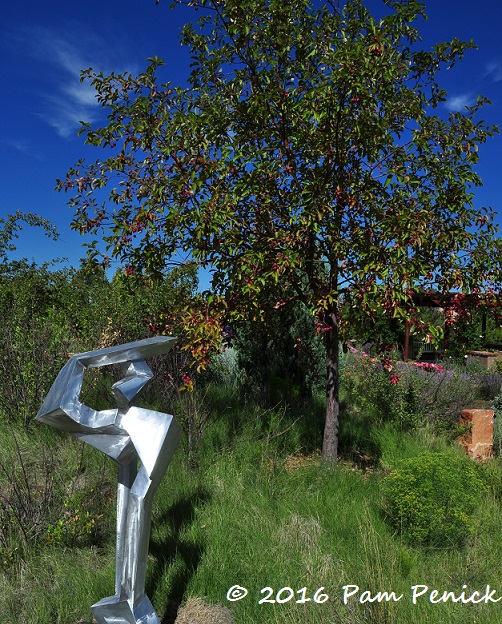 Several contemporary sculptures were on temporary display during our visit, including this one by Bill Barrett.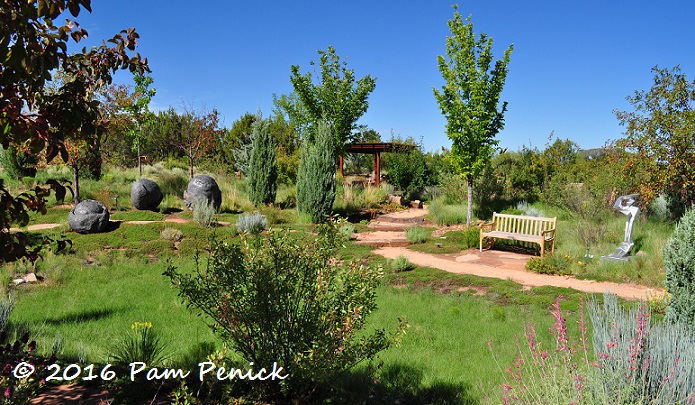 A wider view, with boulder-like sculptures by Candyce Garrett, part of the garden's permanent collection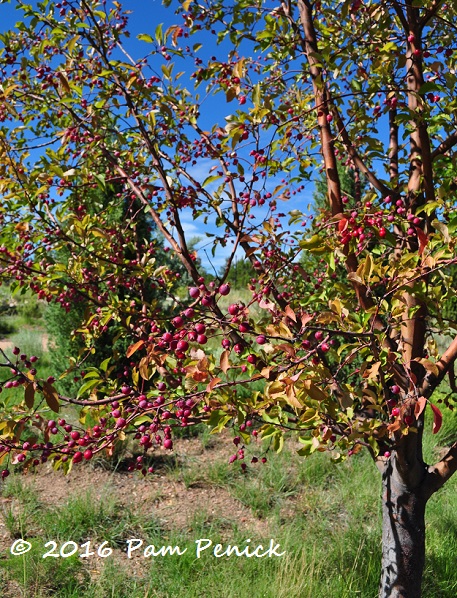 'Radiant' crabapple (Malus × 'Radiant'), laden with rosy fruit against green and gold leaves (turning already?)

One more

We just missed by a couple of months the opening of Phase 2 of the garden, Ojos y Manos: Eyes and Hands, "a place to explore ethnobotany – the shared history of humans and plants in northern New Mexico – through hands-on experiences and observation." Just across the red bridge — the 100-year-old Kearny's Gap Bridge, relocated from Las Vegas, NM — workers were busily moving soil and stone and preparing planting beds for the projected October opening.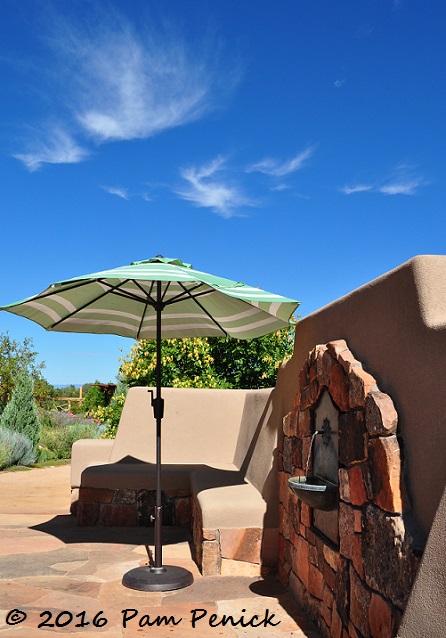 Back at the entrance, we rested in the shade of a tall-backed stucco banco, next to a trickling wall fountain.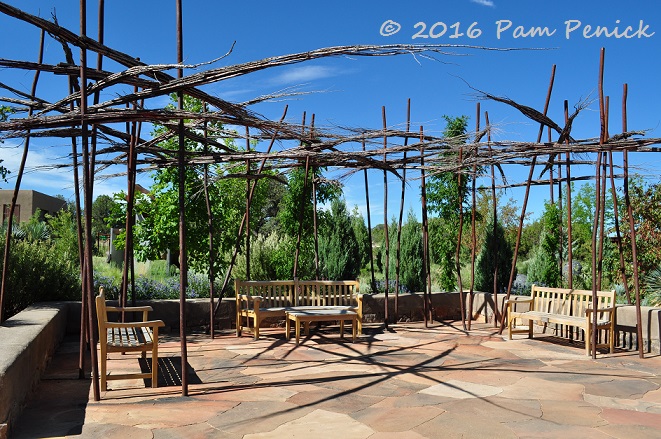 Across the patio, a stylized ramada of rusty steel poles and bundled sticks crisscrosses over benches, offering little shade but creating interesting shadows.
Landscape architect W. Gary Smith, who designed the family garden at Austin's own Lady Bird Johnson Wildflower Center, designed Santa Fe Botanical Garden "to demonstrate environmentally sustainable gardening." I'm sure it must already be inspiring locals to plant many of the beautiful plants on display here. I look forward to visiting SFBG again one day to see how it has matured.
Up next: Sightseeing in Santa Fe.
I welcome your comments; please scroll to the end of this post to leave one. If you're reading this in a subscription email, click here to visit Digging and find the comment box at the end of each post.
_______________________
Digging Deeper: News and Upcoming Events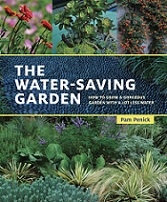 Do you review? Have you read my new book, The Water-Saving Garden? If you found it helpful or inspirational, please consider leaving a review — even just a sentence or two — on Amazon, Goodreads, or other sites. Online reviews are crucial in getting a book noticed. I really appreciate your help!
All material © 2006-2016 by Pam Penick for Digging. Unauthorized reproduction prohibited.
posted in
Arbors
,
Bees
,
Berries
,
Botanic/Public Gardens
,
Bridges
,
Cactus
,
Desert
,
Edibles
,
Fountains
,
Garden art
,
Garden structures
,
Garden tours 2016
,
Grasses
,
Lawns
,
Paths
,
Patios & decks
,
Rock
,
Roses
,
Sculpture
,
Seating
,
Sky
,
Summer color
,
Travel
,
Trees
,
Walls
,
Xeric plants