August 16th, 2016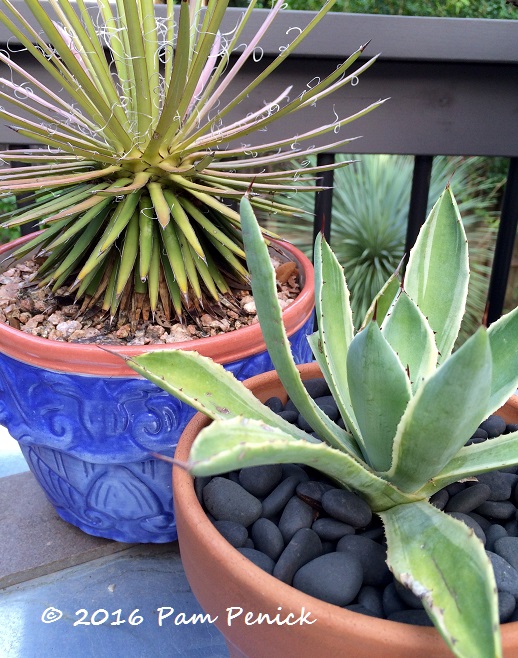 Surely August will be our last worst month here in central Texas. It can't possibly remain blisteringly hot and humid through September, can it?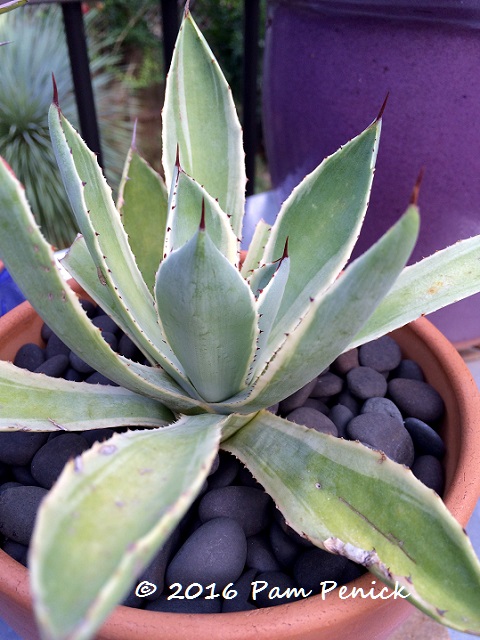 Yes, it can, and it probably will, but that's why I love agaves, yuccas, prickly pear, and other tough plants. They breeze through a Texas summer looking as cool as an Austinite floating in spring-fed Barton Springs Pool. Here's one of my current favorites, Agave applanata 'Cream Spike' (formerly Agave parryi 'Cream Spike'), a pup given to me last fall by Bob Beyer of the blog Central Texas Gardening. Just look at those cream-and-lime-striped leaves and tidy, red teeth lining each crimson-spined leaf.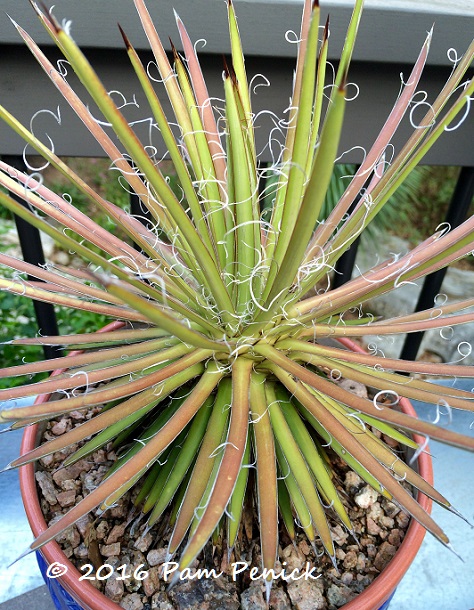 Agave x leopoldii is also a fine small agave for a sunny deck or patio. It needs some winter protection, but its coppery summer coloration — a little stressed from heat and drought — is especially lovely.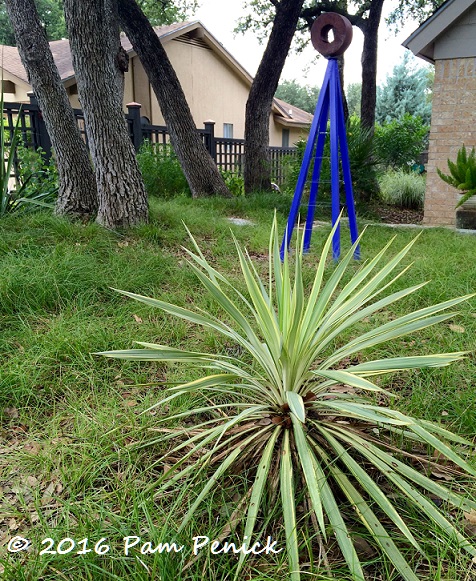 Out front, in the Berkeley sedge (Carex divulsa) lawn, lemony 'Margaritaville' yucca easily withstands summer's heat.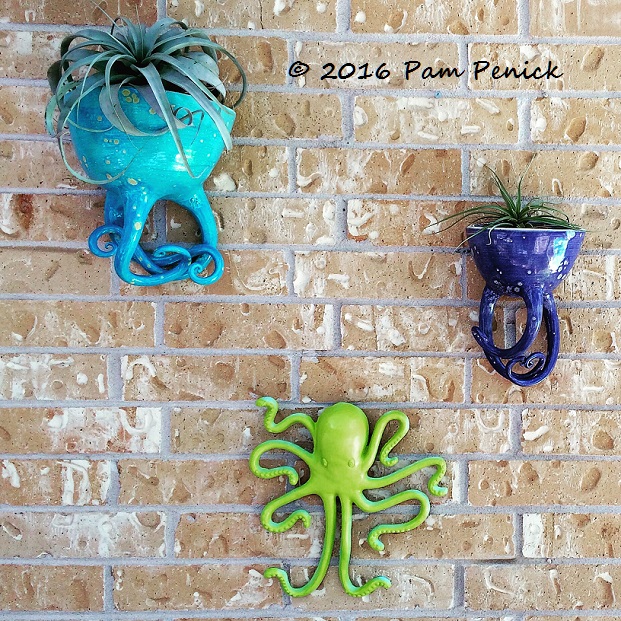 For the first time, I'm experimenting with keeping tillandias — aka air plants — outside during the warm months. I've managed to keep the big one on the left alive indoors for a couple of years, and I'd hate to lose it. But they look so perfect in my new Tentacle Pots that I decided to take the chance. I hope they don't burn up in Austin's summer heat! They're in filtered shade, and I'm misting them with distilled water once a week.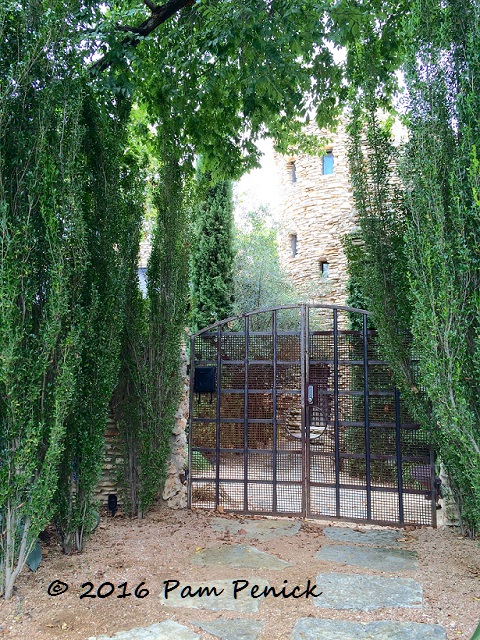 Since today is Foliage Follow-Up — a celebration of great foliage — let's venture outside my own garden for a moment. I spotted this honor guard of 'Will Fleming' yaupon hollies at the "castle" house in South Austin. Its narrow, upright form and tidy, evergreen leaves make 'Will Fleming' a great screening plant for a tight space, or a striking vertical accent.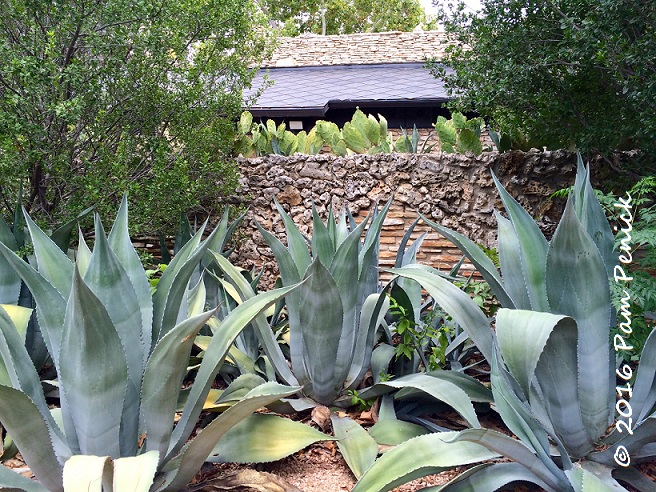 At the same house, in the hell strip outside a limestone wall, a zigzagging row of large, silver-blue agaves is eye-catching too — like campfires with tongues of blue flame. Atop the wall, prickly pear finds a crevice home. None of these plants minds the heat or the Death Star, and they make architectural additions to the summer garden.
This is my August post for Foliage Follow-Up. Fellow bloggers, what leafy loveliness is going on in your garden this month? Please join me in giving foliage its due on the day after Bloom Day. Leave a link to your post in a comment below. I'd appreciate it if you'll also link to my post in your own — sharing link love! If you can't post so soon after Bloom Day, no worries. Just leave your link when you get to it. I look forward to seeing your foliage faves.
I welcome your comments; please scroll to the end of this post to leave one. If you're reading this in a subscription email, click here to visit Digging and find the comment box at the end of each post.
_______________________
Digging Deeper: News and Upcoming Events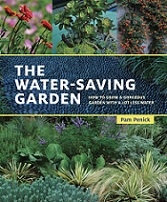 Do you review? Have you read my new book, The Water-Saving Garden? If you found it helpful or inspirational, please consider leaving a review — even just a sentence or two — on Amazon, Goodreads, or other sites. Online reviews are crucial in getting a book noticed. I really appreciate your help!
All material © 2006-2016 by Pam Penick for Digging. Unauthorized reproduction prohibited.
posted in
2nd garden--2016
,
Agaves
,
Cactus
,
Containers
,
Decor
,
Foliage Follow-Up
,
Garden art
,
Gates
,
Grasses
,
Groundcovers
,
Lawn Gone!
,
Tillandsias
,
Trees
,
Walls
,
Water-Saving Garden
,
Xeric plants
,
Yuccas