August 5th, 2016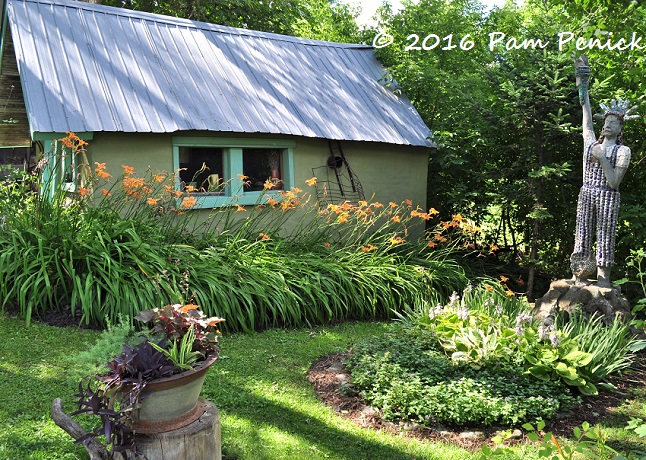 Yesterday I shared Part 1 of my visit to Wisconsin artist Wouterina De Raad's mosaic sculpture garden, which was the final garden — and my favorite — on the recent Minneapolis Garden Bloggers Fling. Today I'll end my Fling series with Part 2 about Wouterina's delightful, exploratory garden.
In addition to Wouterina's fanciful sculptures, the exuberant garden is accented with a half-dozen small structures like this stucco (or concrete?) "little house" with sky-blue trim. They make charming focal points and backdrops for plants and sculpture, like the Statue of Liberty pictured at right.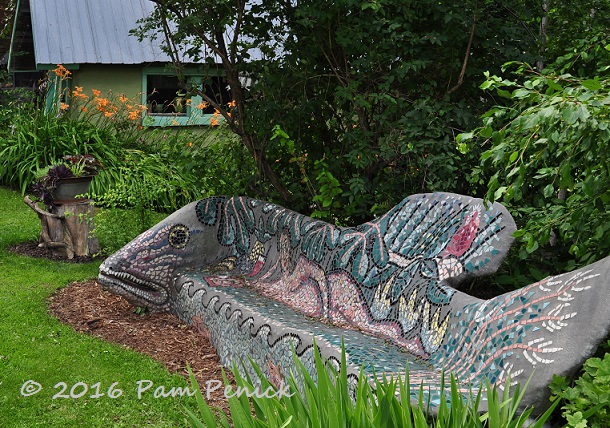 Check out this supersized fish bench, with a mosaic-tile woman reclining like Jonah in the whale!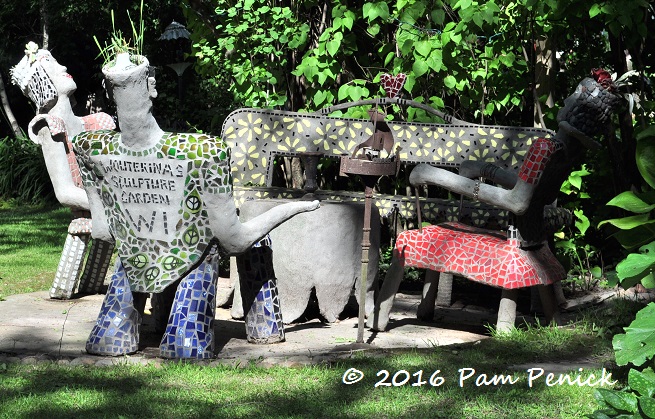 In another part of the garden, three human figures are actually chairs themselves.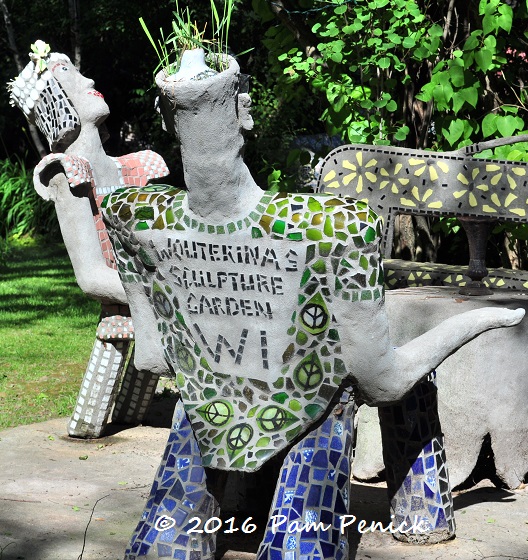 They even have flowerpot heads.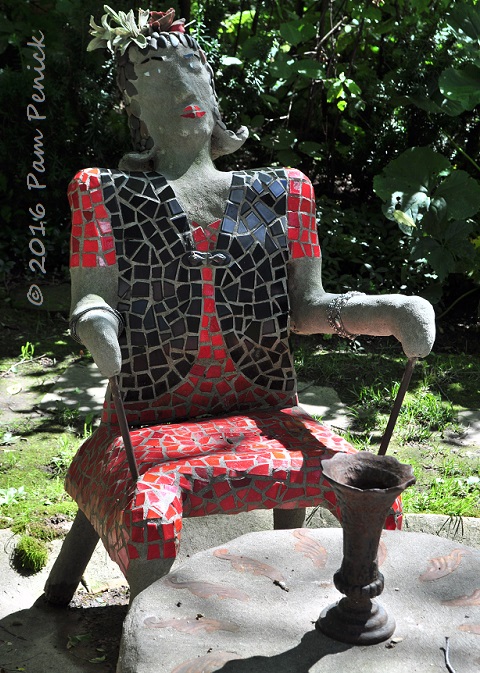 This one wears succulents in her hair and bracelets on her arm.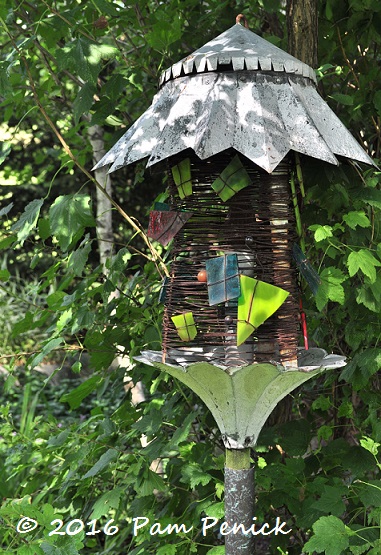 Many of Wouterina's creations wear strings of lights, and this piece looks like an actual lamp. How I'd love to visit her garden at night. I did find this article in the StarTribune that has a couple of photographs of the garden lit up, so check it out.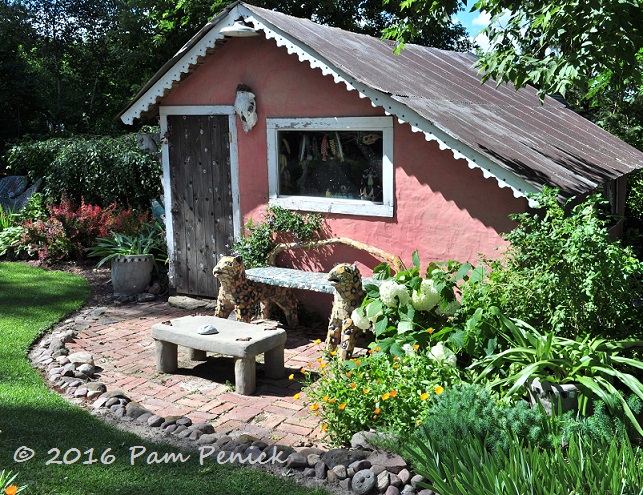 Another little house — this one colored a rosy salmon. Two sculpted jaguars support a bench by the door.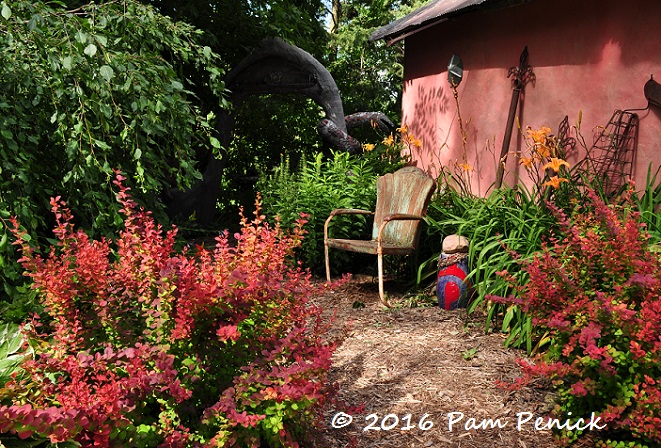 Wouterina has matched plants to the house color, amplifying the effect.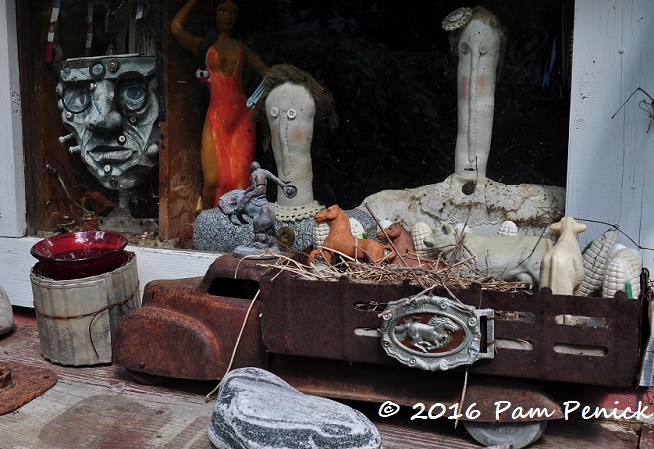 Peeking in the window of one little house reveals an audience of Wouterina's creations peering back at me. In a nod to the farm country that surrounds the garden, a rusty old toy truck transports toy horses, cows, and ears of corn!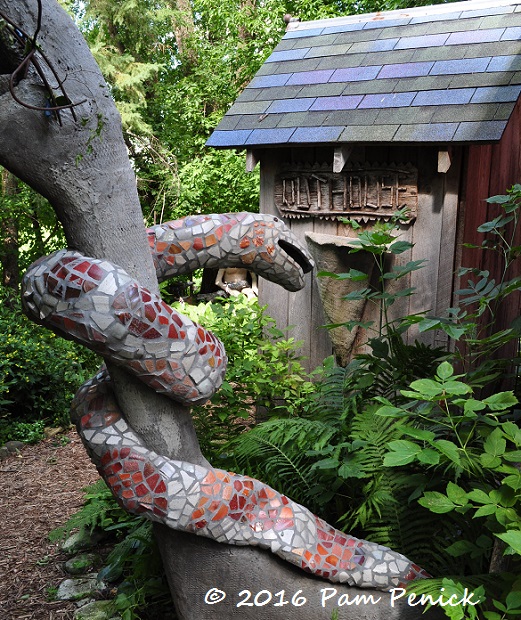 Behind the house, another arch supports a sculpted snake — who seems to be reading the "Outhouse" sign.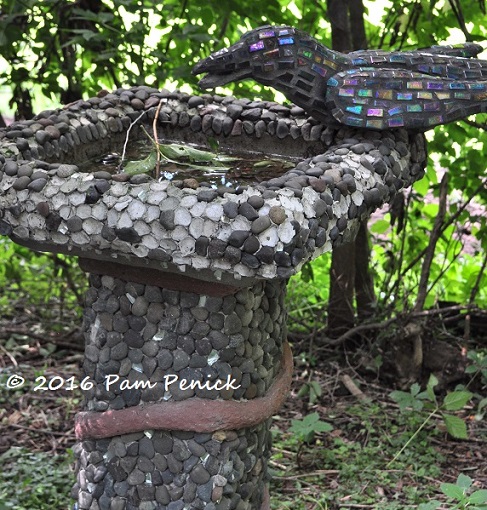 A flock of mosaic crows or ravens occupies this corner of the garden, including one at a birdbath…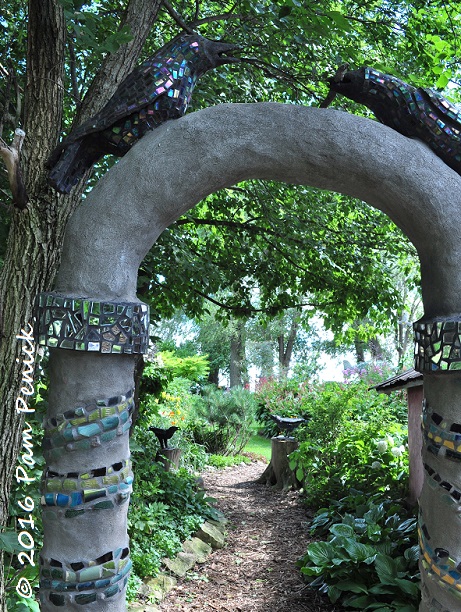 …two on an arch, and two more on stumps up ahead.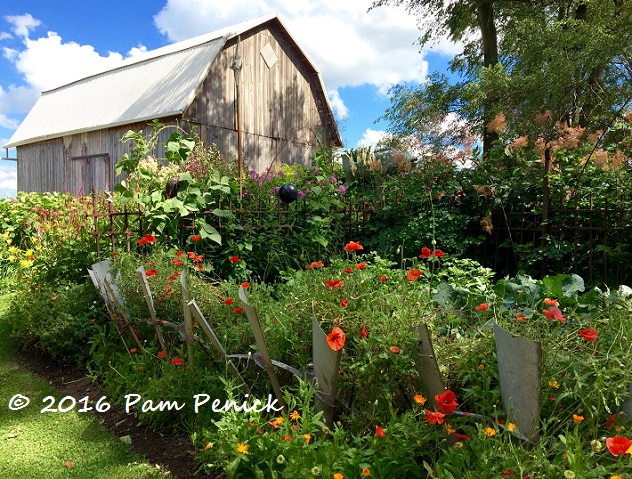 In a sunny spot, with a big barn as a backdrop, crimson poppies spill over a low fence made of windmill blades.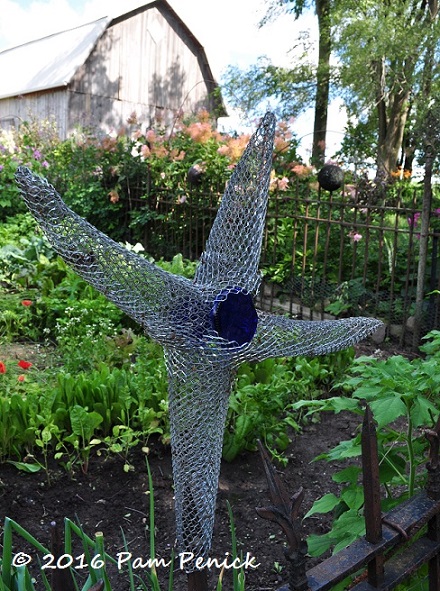 Behind the poppies, Wouterina grows rows of vegetables, and mesh stars dance along an old section of iron fencing.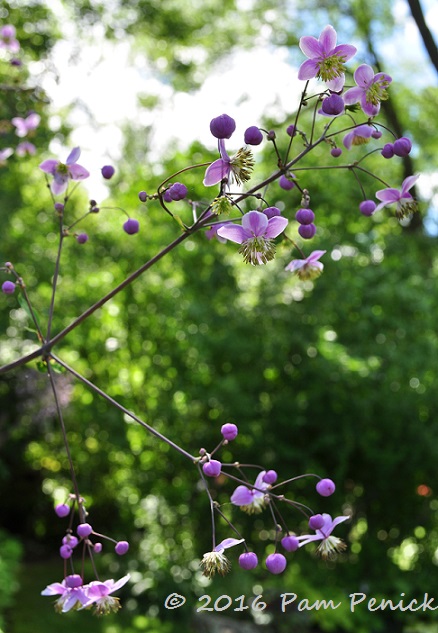 I remember asking someone what this plant is, but I forgot. Update: It's a thalictrum. Thanks, Helen!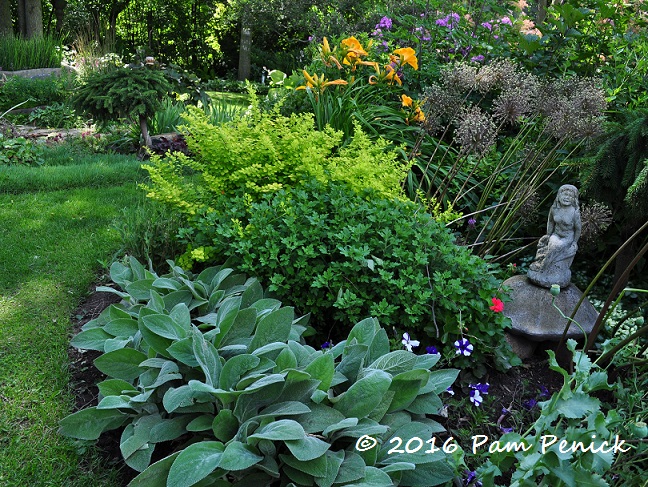 Foliage color contrasts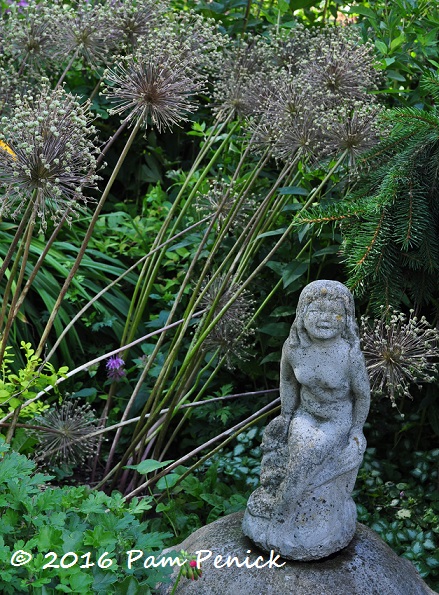 Allium seedheads and a mermaid figurine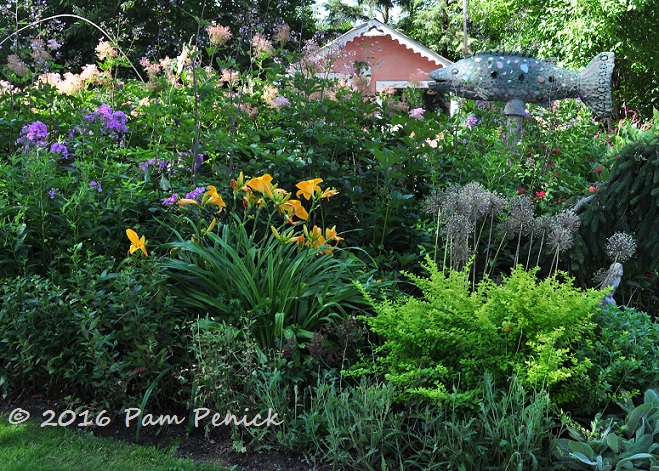 A wider view…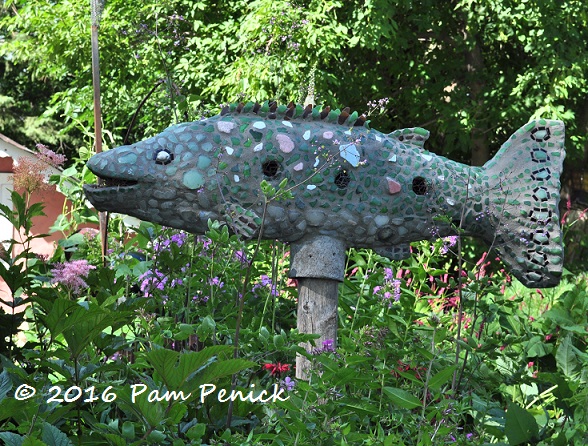 …with a mosaic fish sculpture swimming above the garden.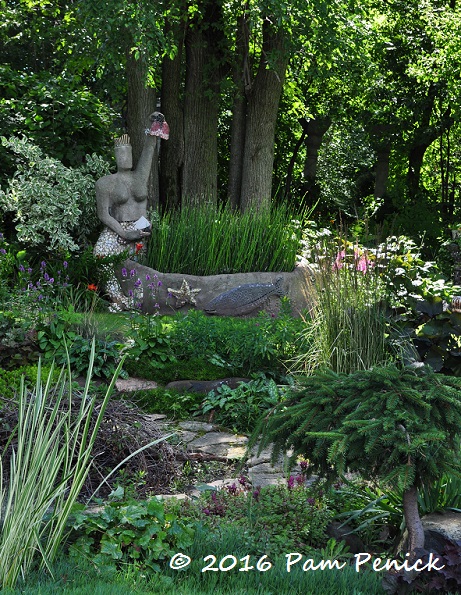 The underwater theme continues with a mermaid and fish sculpture.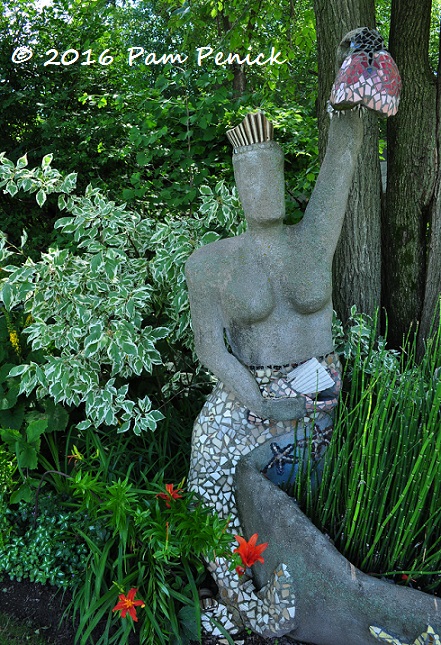 What is she holding up, a lamp? Again, I'd love to see this place at night.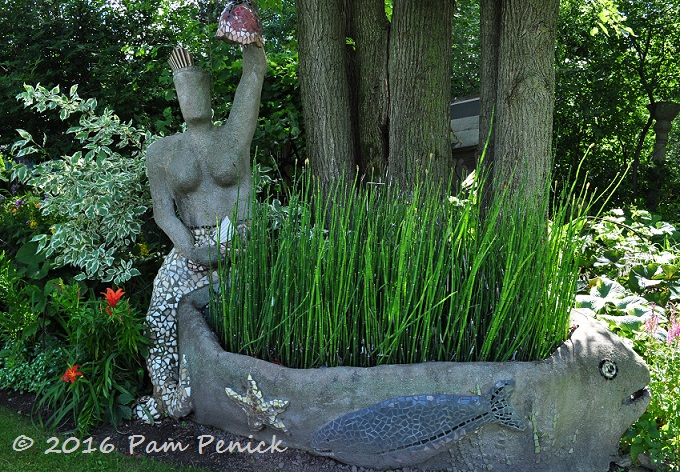 Horsetail fills a fish planter at her feet.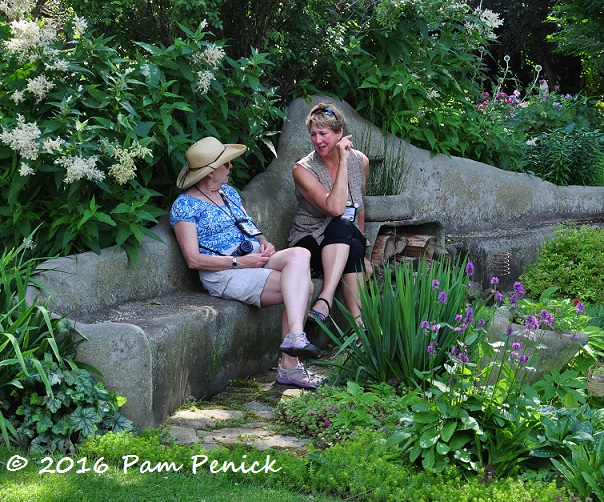 I spotted Susan and Layanee sitting on a sculpted bench nearby, engrossed in conversation. What a spot for it.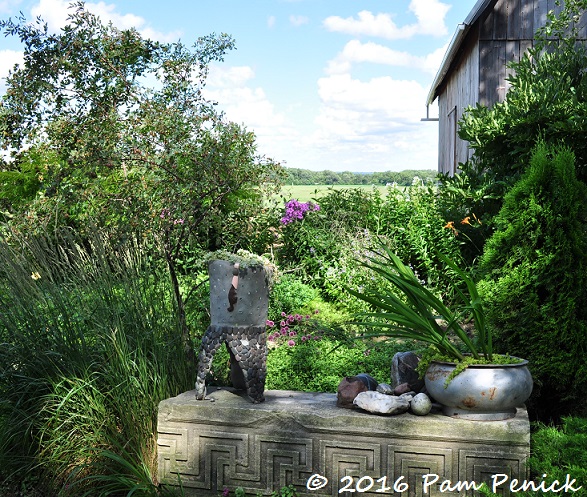 A glimpse of farmland just past the garden's edge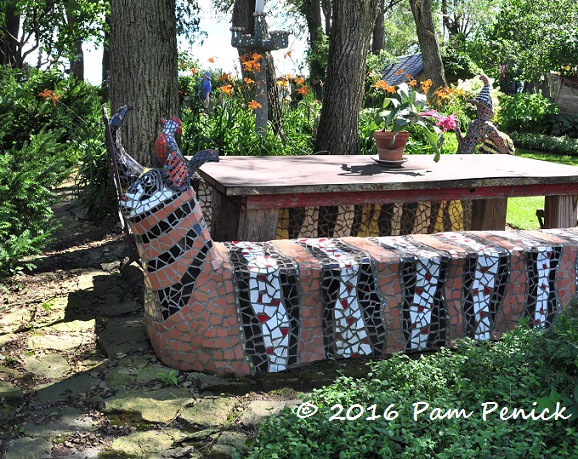 A playful bench and table set is another Wouterina creation. The benches are, I think, caterpillars with distinctly cat-like faces. A colorful sculpted bird sits on this one's head.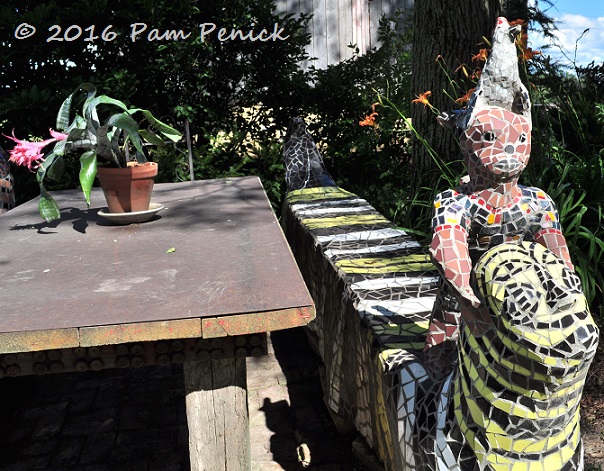 And a monkey (?) takes this one for a ride.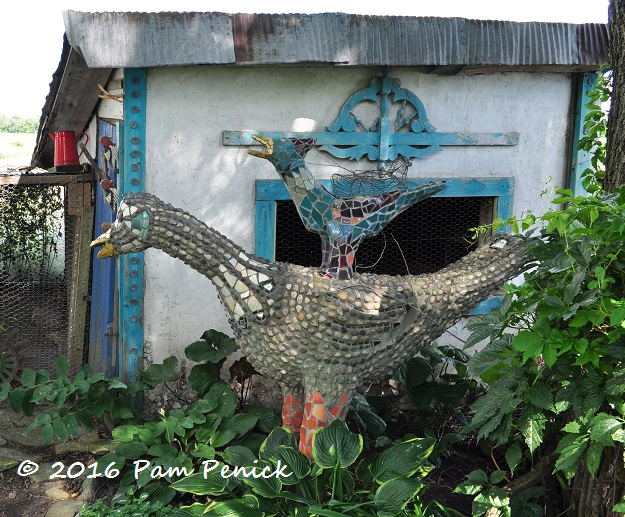 Near a chicken coop stand two more sculpted birds.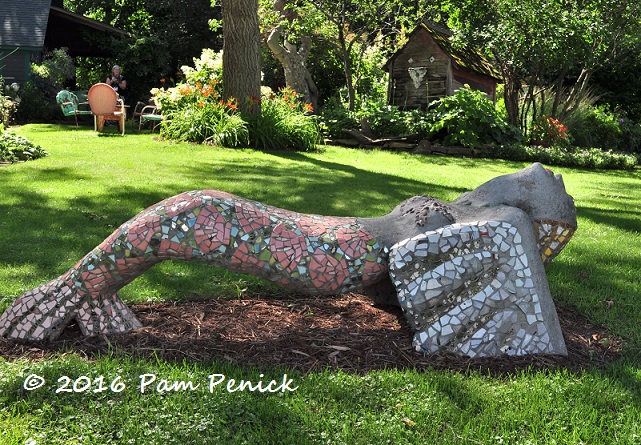 A mermaid in dramatic repose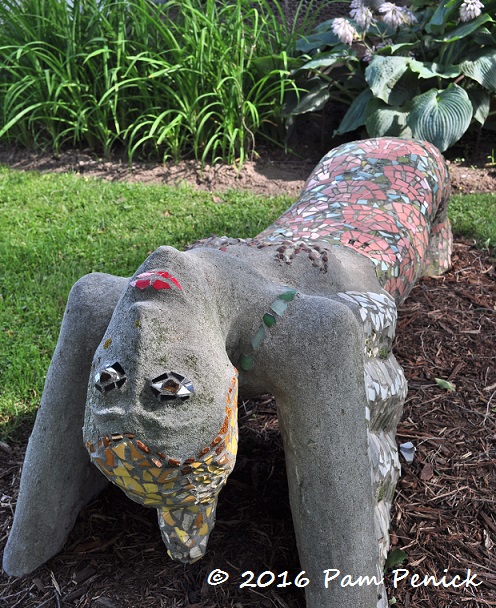 Oh, hello!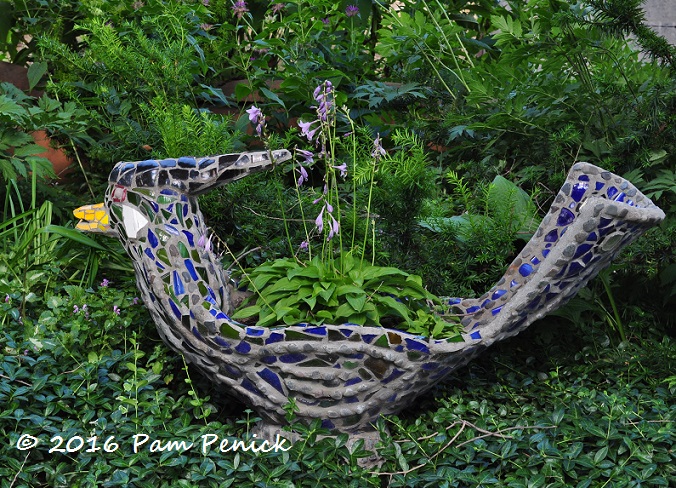 Tucked amid plants, a sculpted blue jay planter contains a flowering hosta (surely the signature plant of this year's Fling).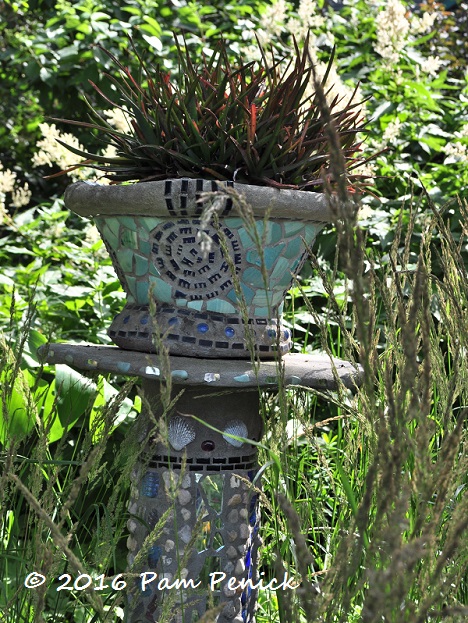 A mosaic planter and pedestal are softened by surrounding grasses.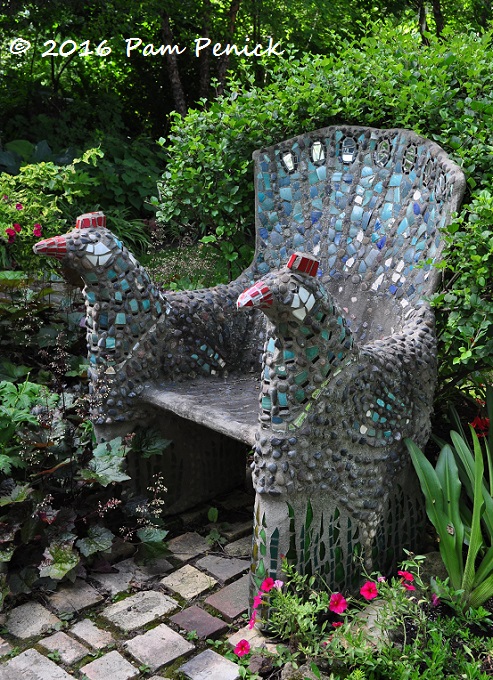 This chicken throne invites the Chicken Queen — whoever that might be — to take a seat.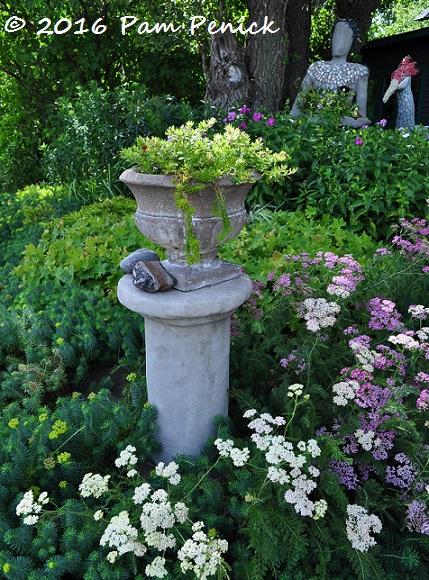 Wouterina likes to elevate pots on pedestals in her garden beds, like this one tucked amid white and pink yarrow. Looking on in the background…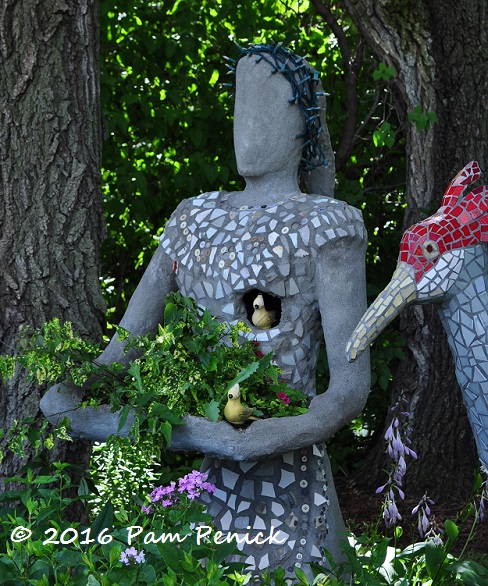 …are a sculpted woman holding birds and plants and her companion, a red-crested bird.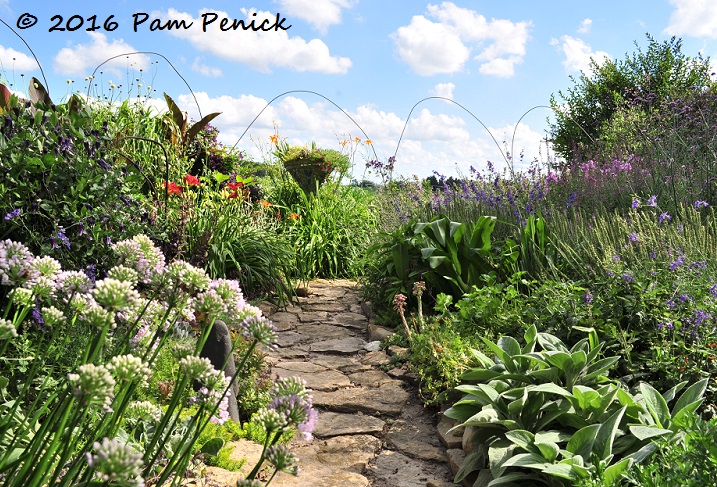 In a sunny spot at the edge of a field, I found another small garden room. At the end of the path, arches of rebar stand out against the sky.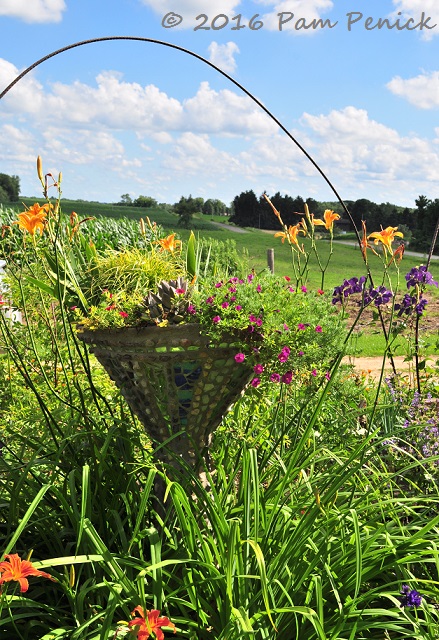 Beneath the rebar arches, a sculpted planter draws the eye…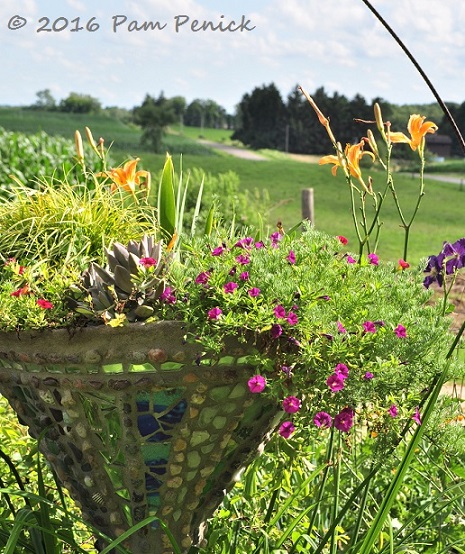 …to a view of the field beyond.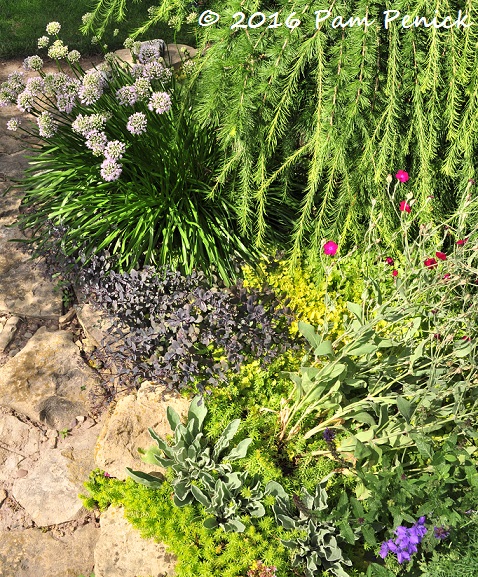 The ground-level view is lovely too, with contrasting foliage colors and textures.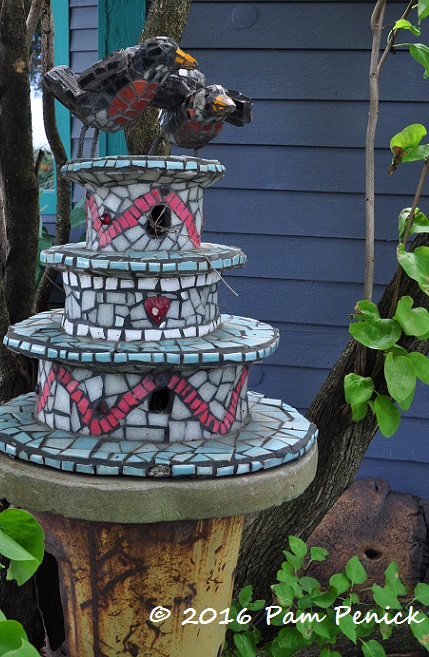 As our visit drew to a close, I lingered near the house, where I found this tiered birdhouse…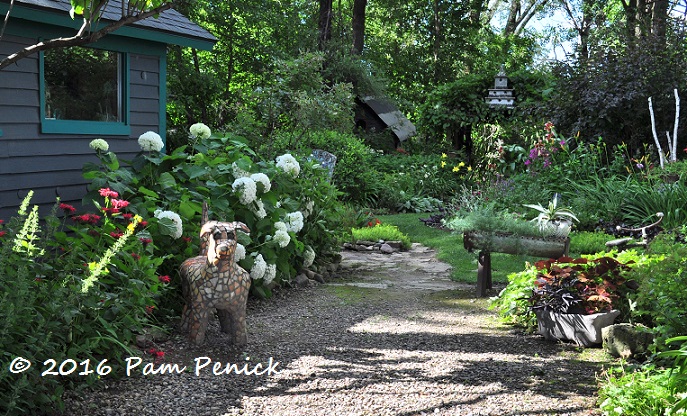 …and an alert dog watching from the hydrangeas.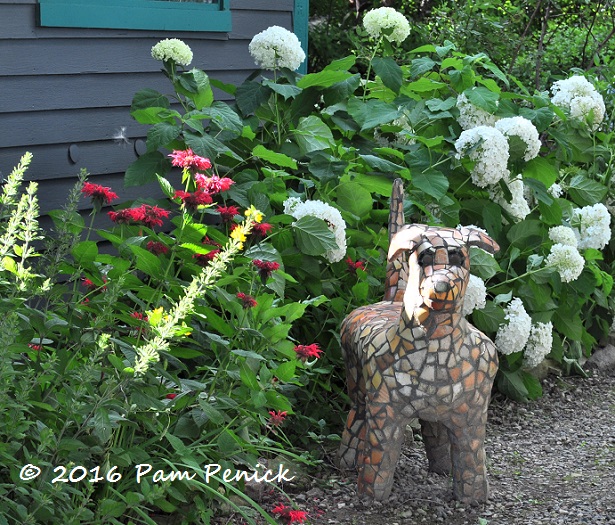 He looks friendly, doesn't he?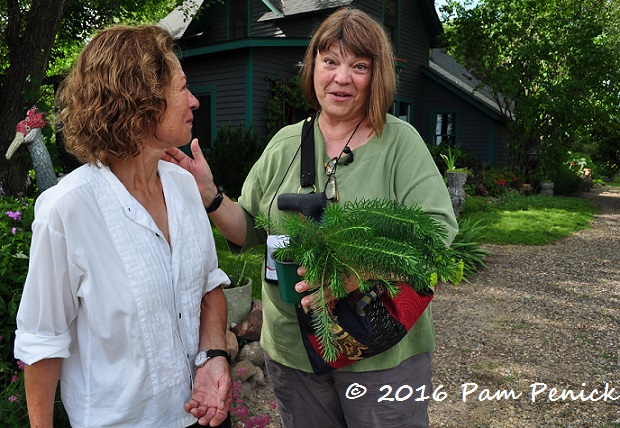 As I reluctantly headed to the bus, I overheard Vicki asking Wouterina about a lovely little euphorbia.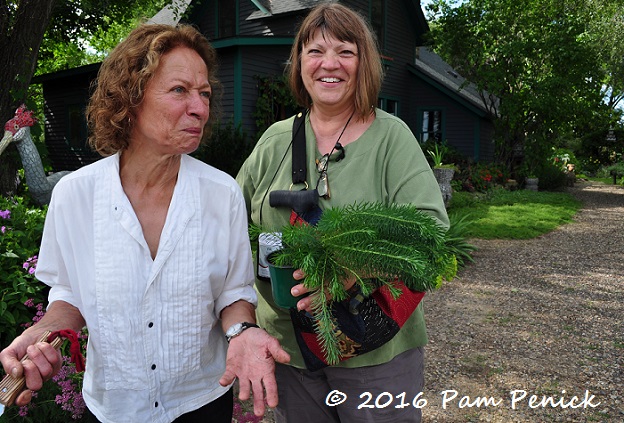 Like giving gardeners everywhere, Wouterina immediately offered her a division. Lucky Vicki!
My thanks to Wouterina for sharing her magical creation with us. And huge thanks to the organizers of the Minneapolis Garden Bloggers Fling — Amy Andrychowicz, Kathleen Hennessy, and Mary Lahr Schier — for all their work in putting together a wonderful weekend of garden tours, happy hours, and dinners! If you're a garden blogger and are interested in attending next year's Fling, it will be held in the Capital region — Washington, D.C., northern Virginia, and Maryland — and hosted by Tammy of Casa Mariposa (click for early details). Hope to see you there!
I hope you've enjoyed seeing many of the gardens of the Minneapolis Fling. For a look back at Part 1 of Wouterina De Raad's Mosaic Sculpture Park, click here. You'll find links back to all my Minneapolis Fling posts at the end of each post.
I welcome your comments; please scroll to the end of this post to leave one. If you're reading this in a subscription email, click here to visit Digging and find the comment box at the end of each post.
_______________________
Digging Deeper: News and Upcoming Events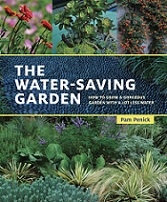 Do you review? Have you read my new book, The Water-Saving Garden? If you found it helpful or inspirational, please consider leaving a review — even just a sentence or two — on Amazon, Goodreads, or other sites. Online reviews are crucial in getting a book noticed. I really appreciate your help!
All material © 2006-2016 by Pam Penick for Digging. Unauthorized reproduction prohibited.
posted in
Arbors
,
Birds
,
Chickens
,
Containers
,
Daylily
,
Dogs
,
Farms
,
Fences
,
Fish
,
Fling Minneapolis
,
Garden art
,
Garden structures
,
Garden tours 2016
,
Lighting
,
Paths
,
Patios & decks
,
Sculpture
,
Seating
,
Sheds
,
Signs
,
Snakes
,
Succulents
,
Travel
,
Trees
,
Windows