August 4th, 2016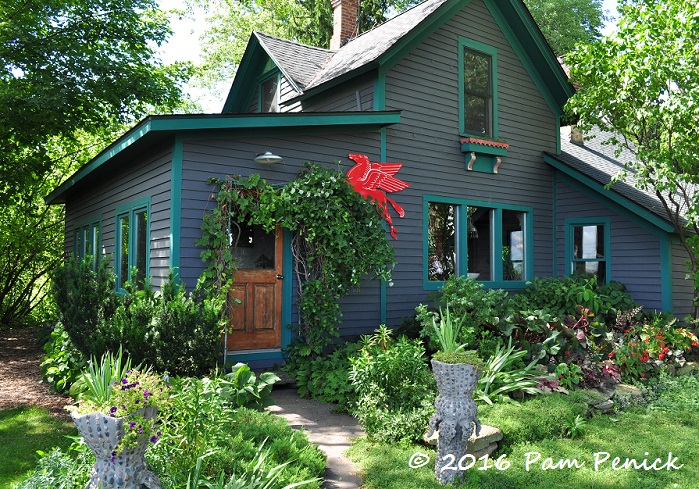 Each year at Garden Bloggers Fling, there's at least one garden that moves me deeply, that creates a lasting mood and feels like an extension of the gardener him- or herself. At this year's Fling in Minneapolis, that garden was the creation of Wouterina De Raad. (As an interesting side note, her garden is located not in Minneapolis, or even in Minnesota, but just across the state line in Wisconsin's farm country.)
Wouterina sculpts figures, real and imaginary creatures, and even benches and chairs using wire forms and concrete, coloring and adding detail to many of them with mosaic tile. The Dutch artist, who grew up on a coffee plantation in Java, immigrated to the U.S. four decades ago. She fixed up this old farmhouse, which, when she moved in, lacked indoor plumbing but came with a tree growing inside, and began sculpting and planting her 1-1/2-acre parcel.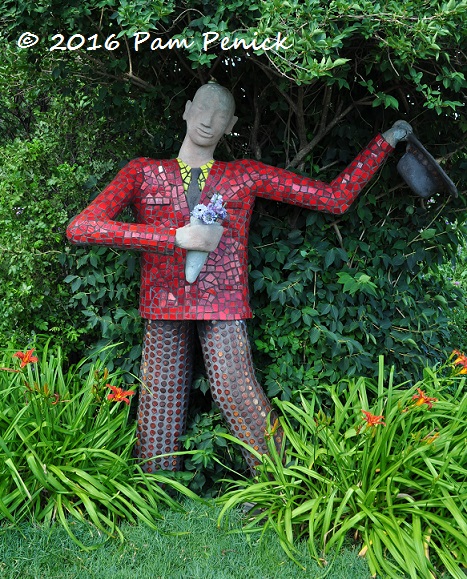 Today it's a wondrous place to explore, with paths leading through sculpted archways into garden rooms populated with Wouterina's creations, and lush with perennials, shrubs, and trees.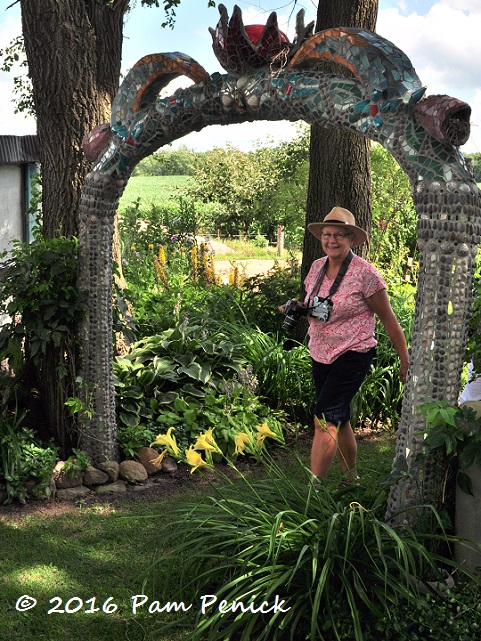 Let's take a tour, shall we? The main entrance is through this large, tiled arch. That's Janet, ready to explore.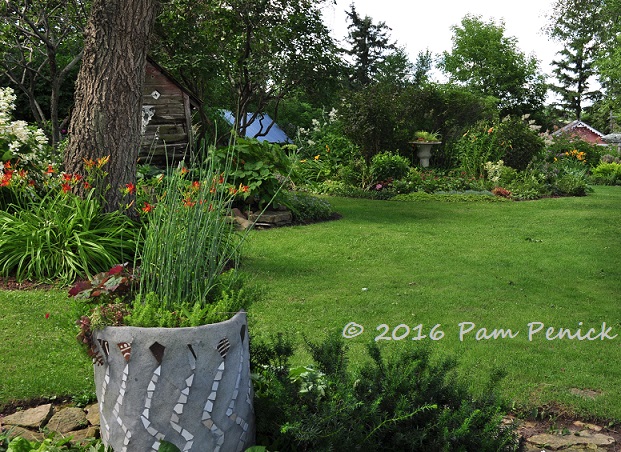 A loosely circular lawn edged with flowering perennials greets you, and grassy paths lead off in every direction, inviting you in.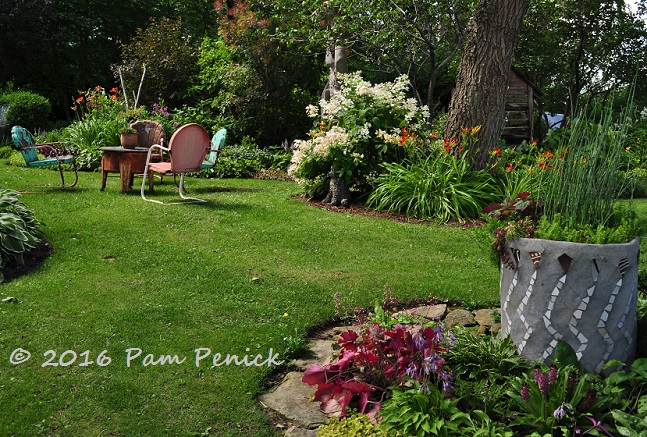 Seating areas always beckon to me, though I rarely sit in them.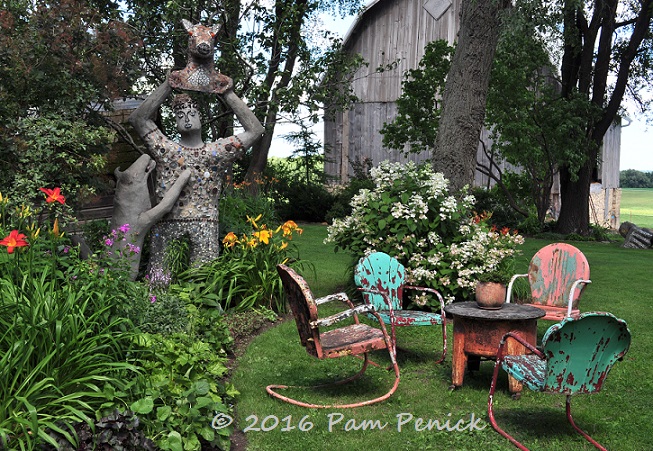 Four paint-flaking motel chairs add rustic charm that plays well with the old barn and field visible in the background.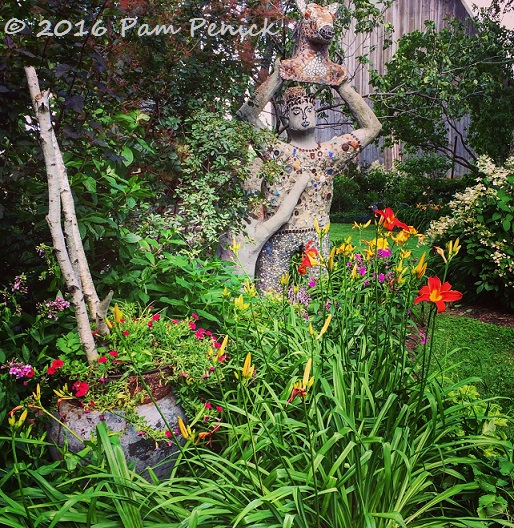 A sculpted man lifting up a deer head (a mask?) stands amid daylilies, with a dog jumping up on him. I'm sure there's a story here.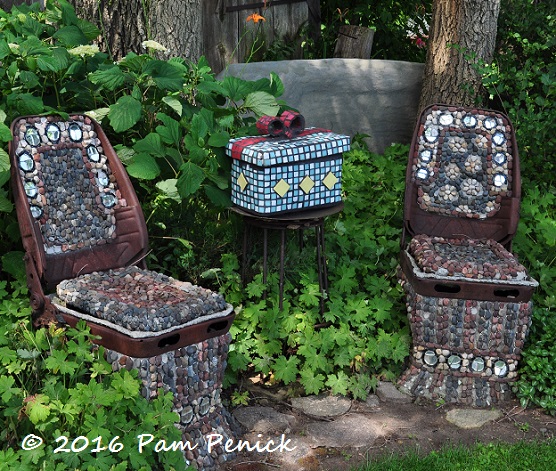 Other sculpted pieces in this area include throne-like chairs, with a wrapped present on a table…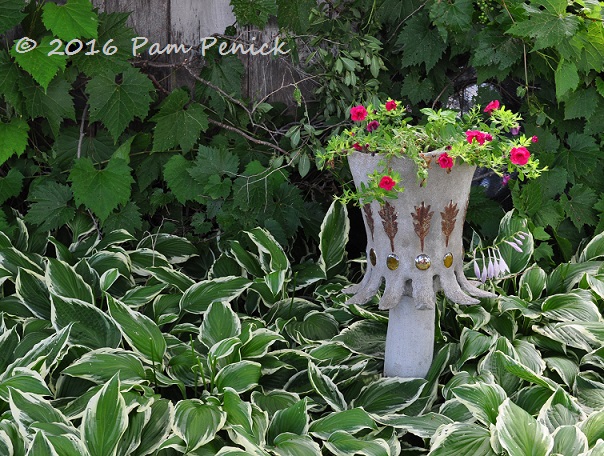 …a planter on a pedestal…

…a woman and child looking up at a bird on a clothesline…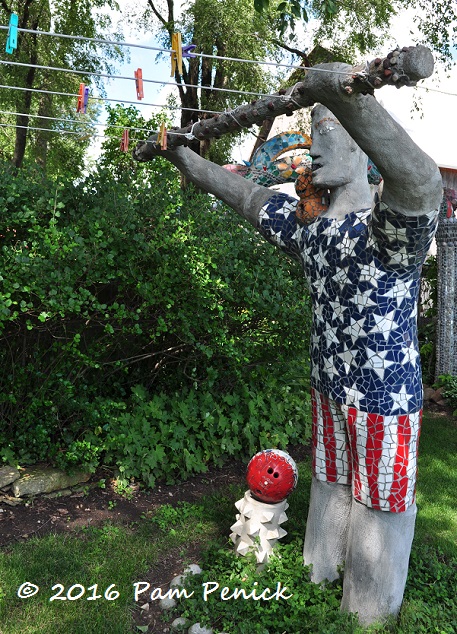 …and a patriotically attired man holding up the other end of the line.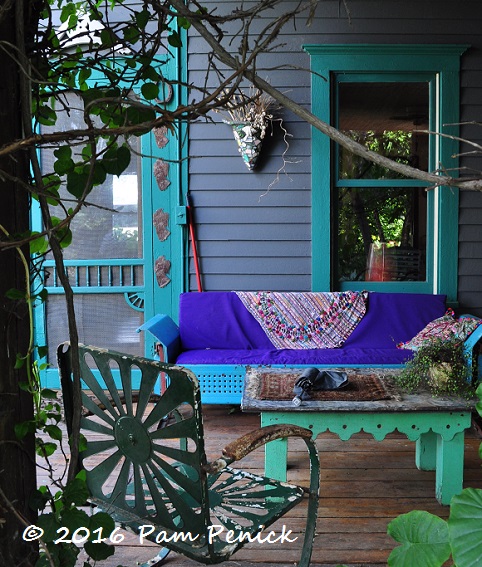 Wouterina's house sits at the front of the garden, and its colorful wraparound porch looks like a comfortable place to while away the afternoon.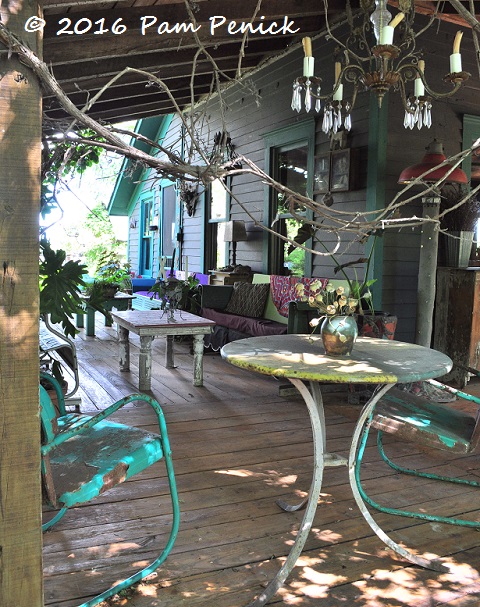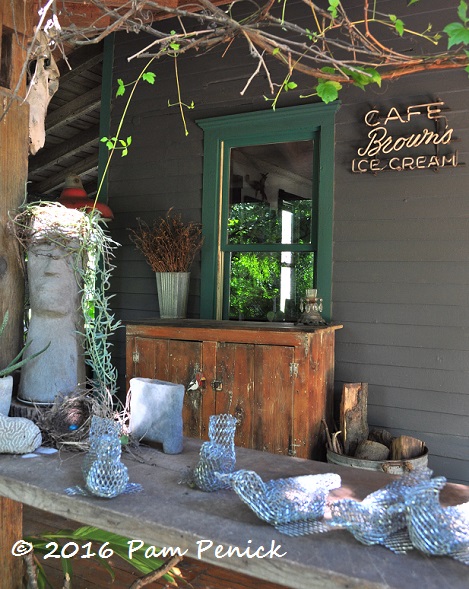 Wire birds — part of a sculpture in progress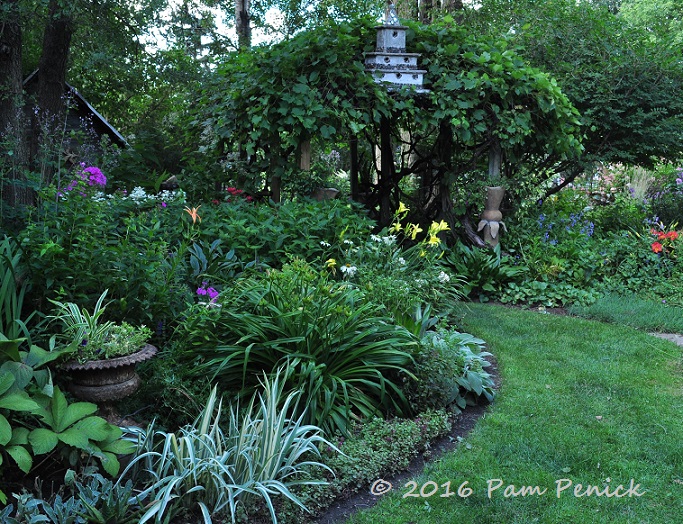 From the house, a grassy path winds under a vine-covered arbor topped with a multistory birdhouse.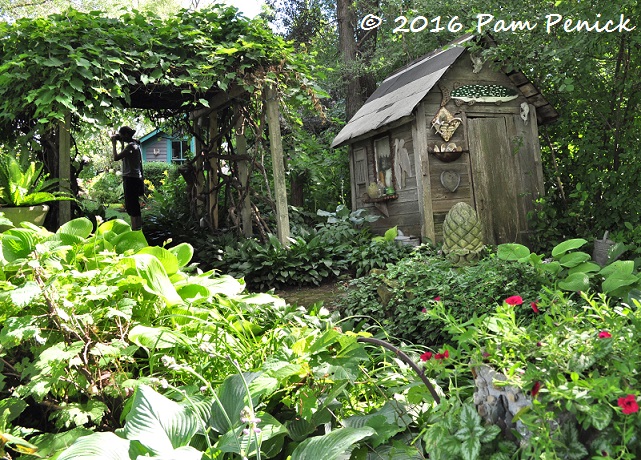 On the other side, a rustic garden shed…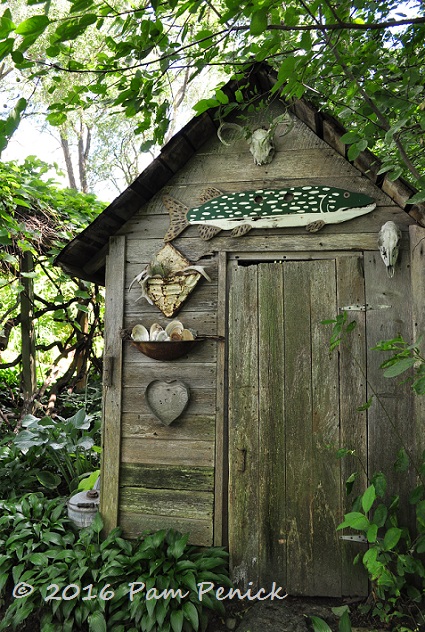 …that's decorated with a wooden fish, animal skulls, antlers, and shells: nature's castoffs.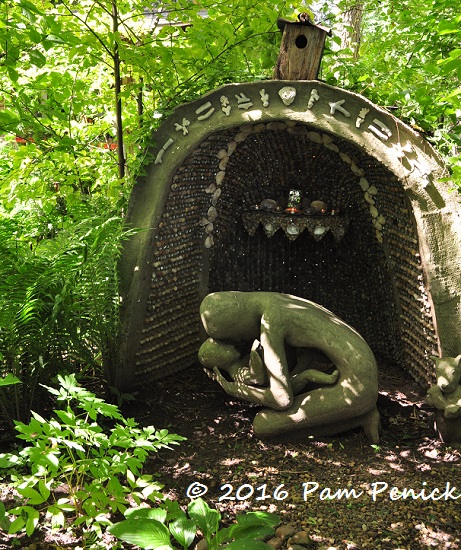 A shrine to motherly love appears nearby.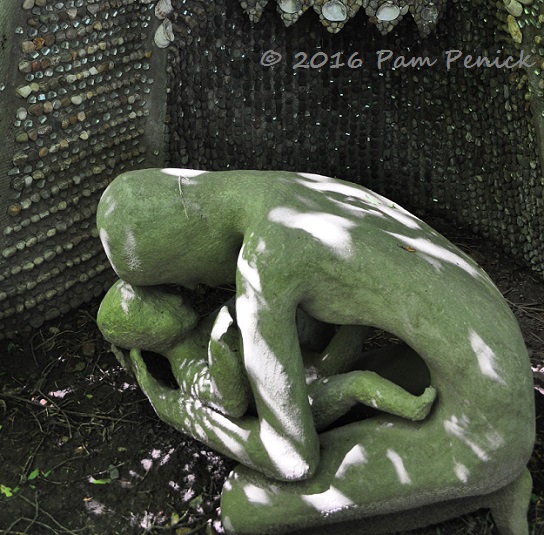 Rows of oyster shells, pebbles, and glass adorn the inside of the egg-like dome. I read more about this sculpture on Laura Wills's blog post. As Laura reports, Wouterina created it during a time of anguish when she feared for her son's life.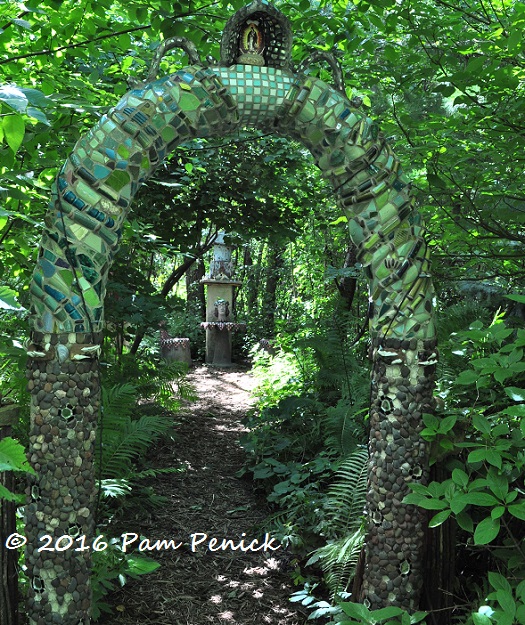 Another mosaic arch, with a Madonna on top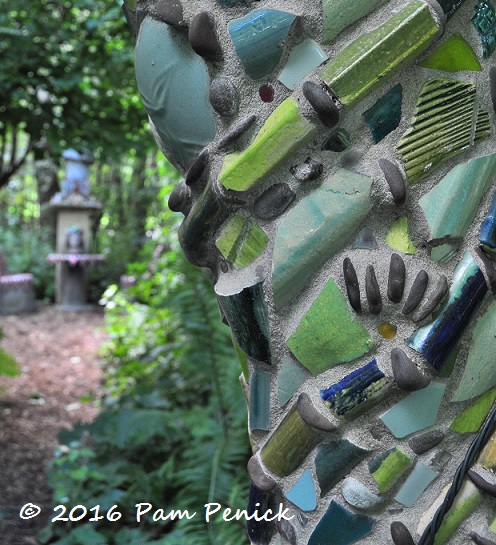 Mosaic detail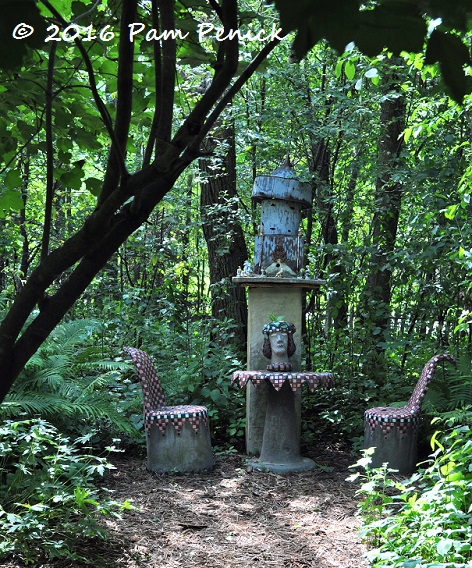 Through the arch, the focal point is a sculpted table and chairs with a woman's head, backed by what looks like an old vent cap on a pedestal.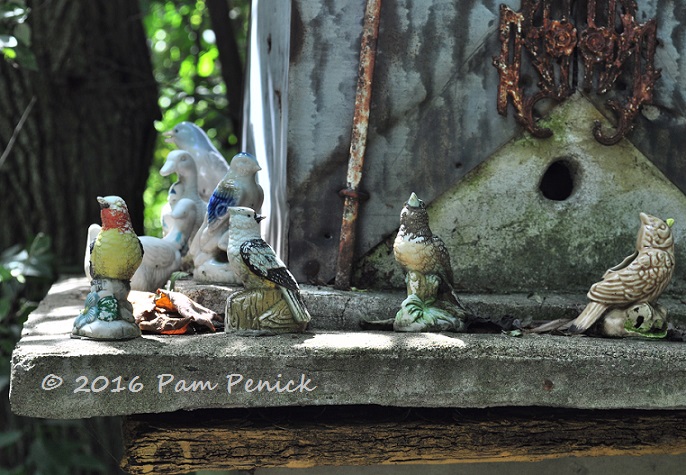 A closer look reveals a display of ceramic birds on the cap ledge.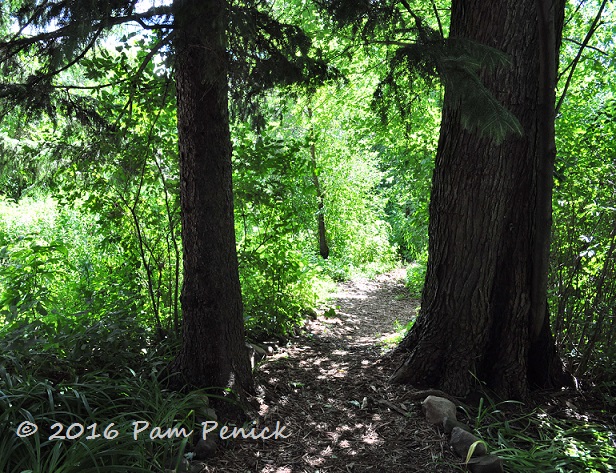 Much of the garden near the house is woodsy, with paths winding among large trees.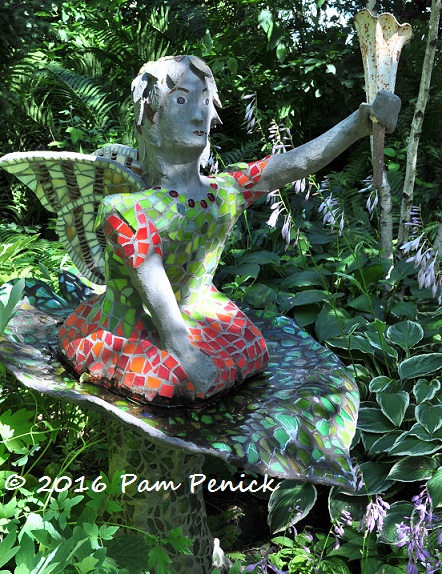 Wouterina's sculptures appear along the paths like friendly sprites.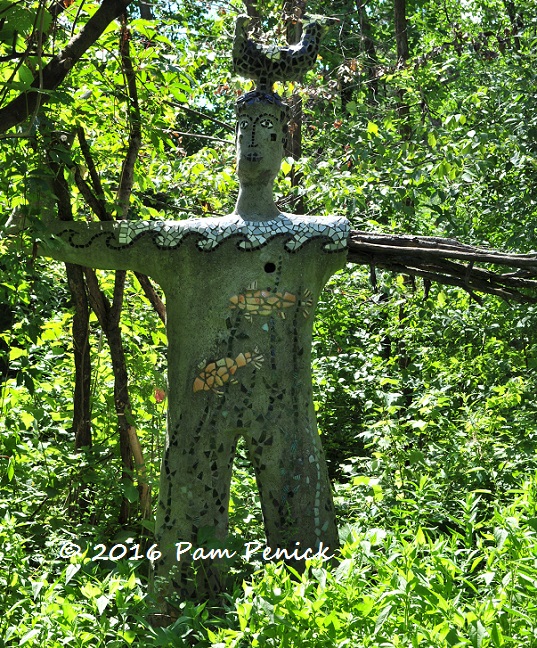 Her characters are frequently holding birds, although fish are also a common motif. This fellow has both.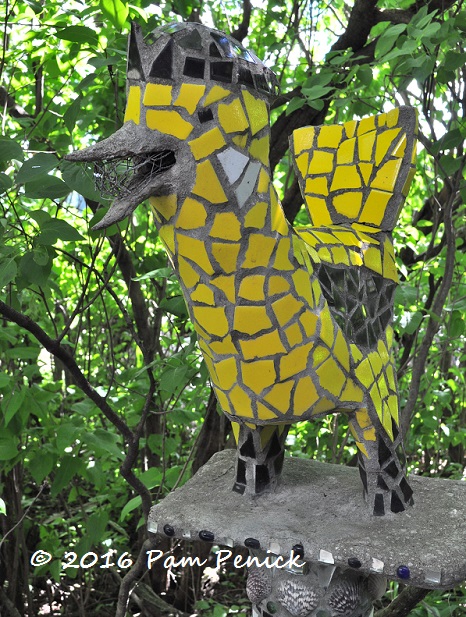 Squawk!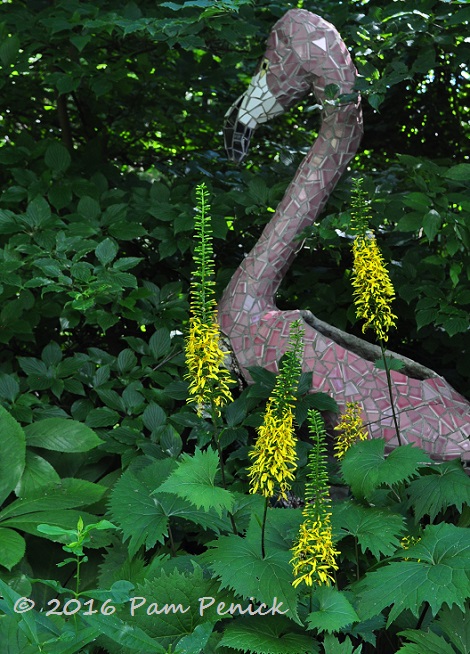 Flamingo with ligularia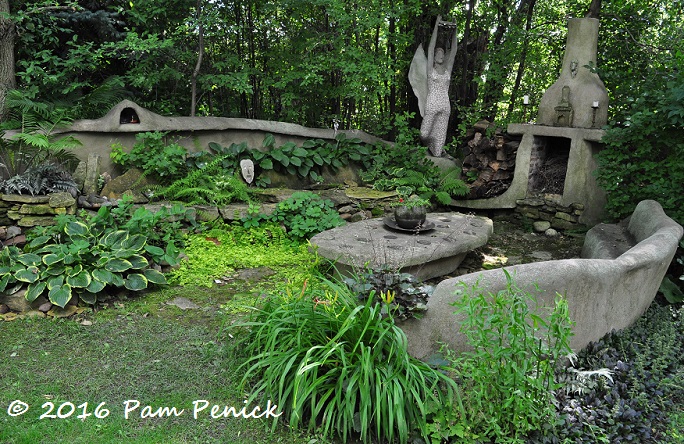 At the rear of the garden, and down a few steps, a sculpted seating area appears, with two long benches, a table, and a fireplace. Plants grow along the sculpted seats and soften them, imparting a sense of age and mystery.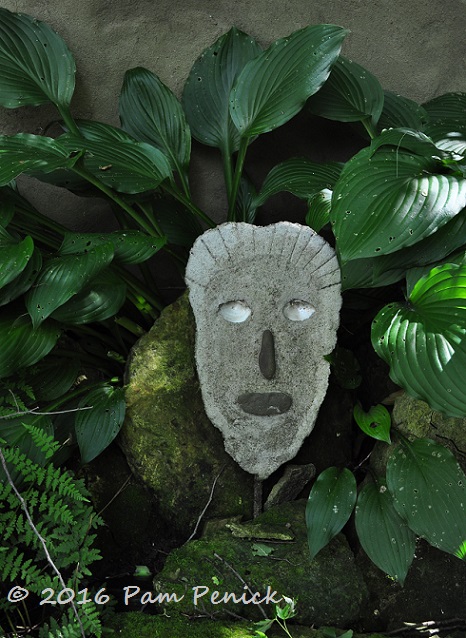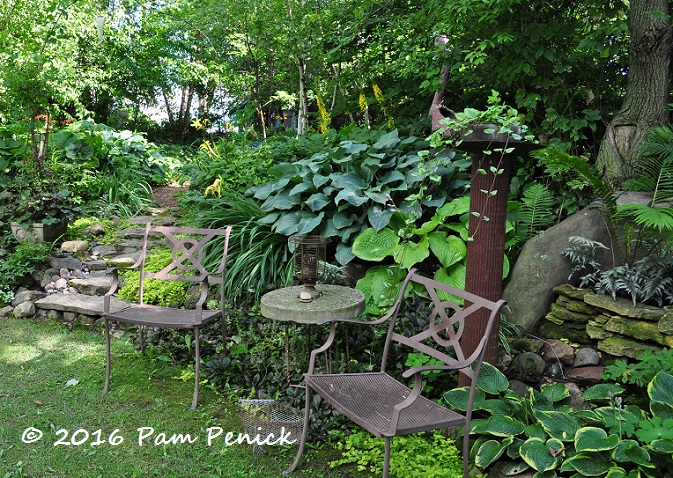 To the left, two metal chairs are backed by a rusty column topped with a cascading plant.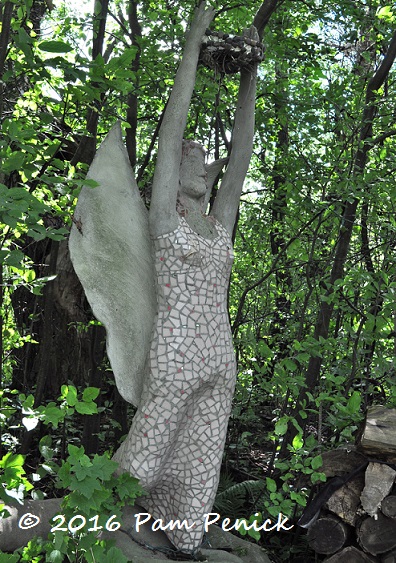 To the right, by the fireplace, a pink-gowned angel lifts a bowl in which a twiggy, real-life bird's nest is visible.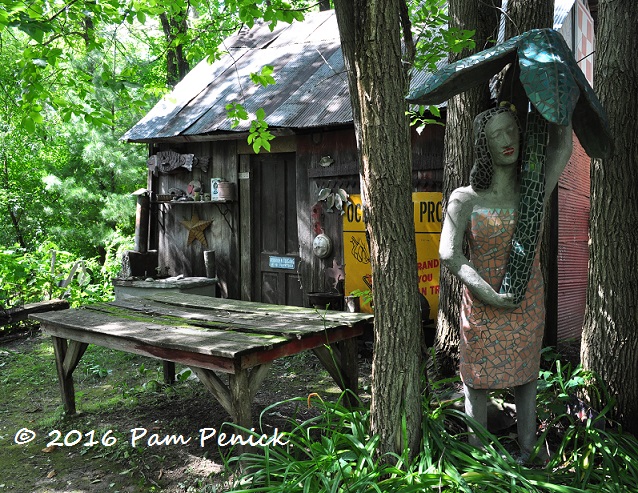 Wouterina holds concrete-sculpture workshops back here, near another wooden shed and a wonderful example of her work…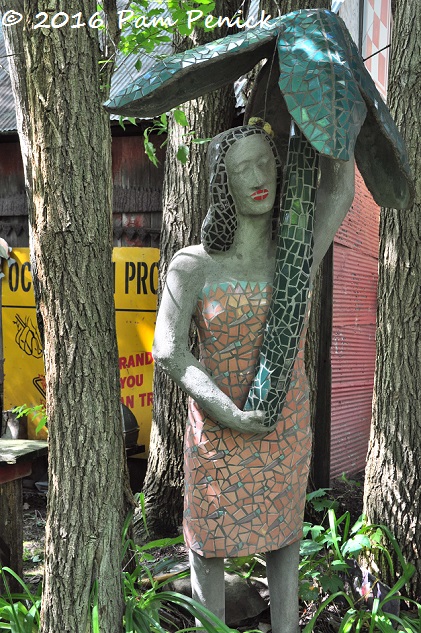 …a woman holding a palm tree like a parasol.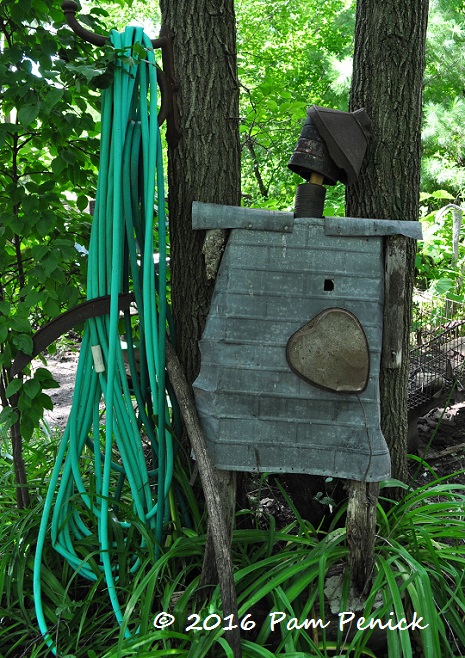 A tin man who's found his heart stands nearby as well.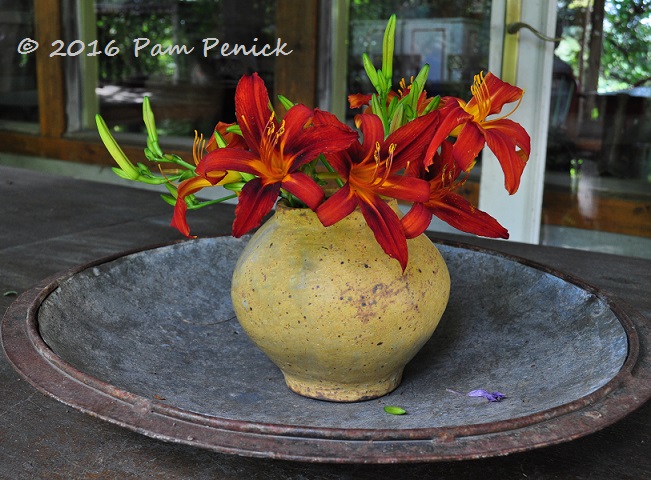 At the entrance to her studio — in a restored log cabin — a bouquet of red daylilies brightens a table.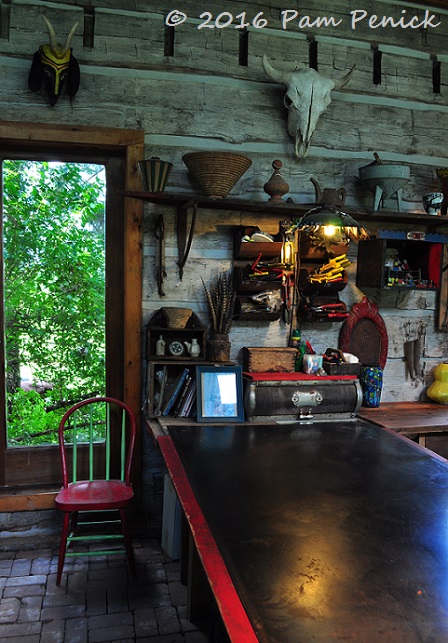 Inside the neatly kept studio, Wouterina's folk-art creations and found objects are displayed against a backdrop of log walls.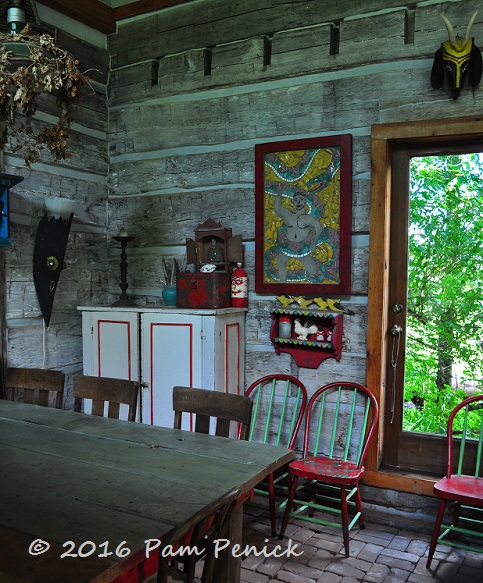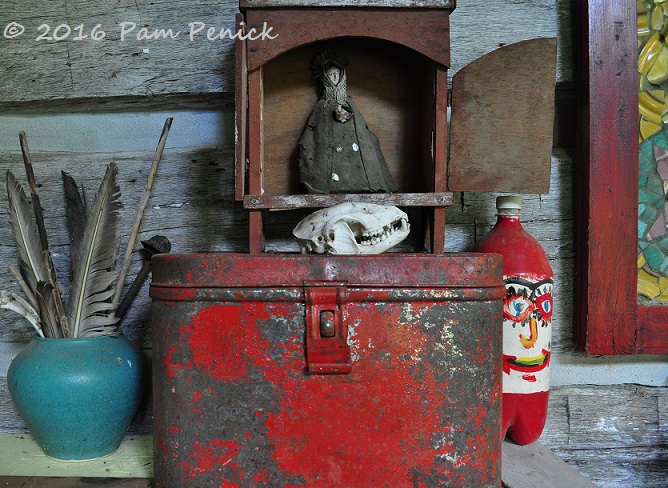 Natural objects like feathers and animal bones enhance vignettes of artful creations, old tins, and curio cabinets.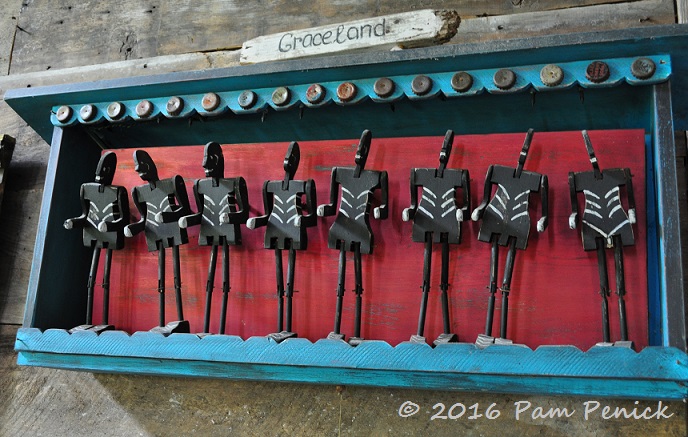 "Graceland"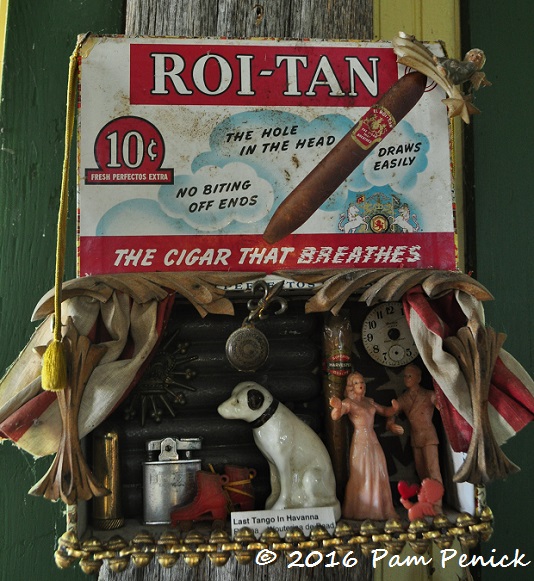 This diorama in an old cigar box is titled "Last Tango in Havana."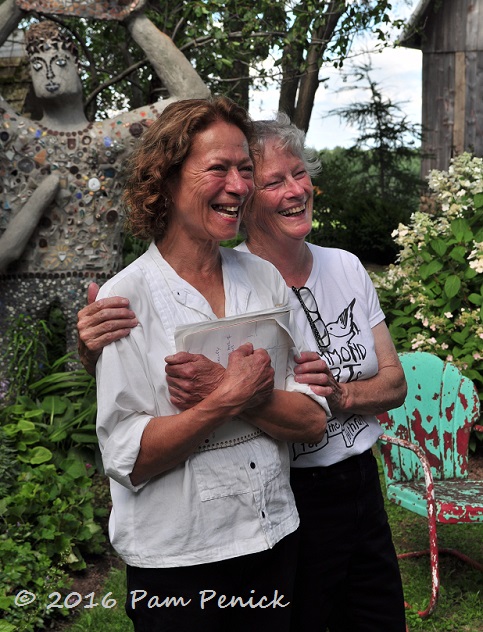 And here's the woman who created this magical garden and art: Wouterina, pictured at left holding the notebook. Her friend was there to help guide us around.
Stay tuned for Part 2 of my visit to Wouterina De Raad's garden! For a look back at the Shannon Garden, Guldberg Garden, Vera's Garden, plus bloggers and Minneapolis sights, click here.
I welcome your comments; please scroll to the end of this post to leave one. If you're reading this in a subscription email, click here to visit Digging and find the comment box at the end of each post.
_______________________
Digging Deeper: News and Upcoming Events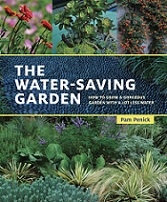 Do you review? Have you read my new book, The Water-Saving Garden? If you found it helpful or inspirational, please consider leaving a review — even just a sentence or two — on Amazon, Goodreads, or other sites. Online reviews are crucial in getting a book noticed. I really appreciate your help!
All material © 2006-2016 by Pam Penick for Digging. Unauthorized reproduction prohibited.
posted in
Arbors
,
Birds
,
Bouquets
,
Containers
,
Daylily
,
Decor
,
Doors
,
Fireplace
,
Fling Minneapolis
,
Garden art
,
Garden structures
,
Garden tours 2016
,
Lawns
,
Paths
,
Patios & decks
,
Porch
,
Sculpture
,
Seating
,
Sheds
,
Signs
,
Travel
,
Trees
,
Walls
,
Windows