July 31st, 2016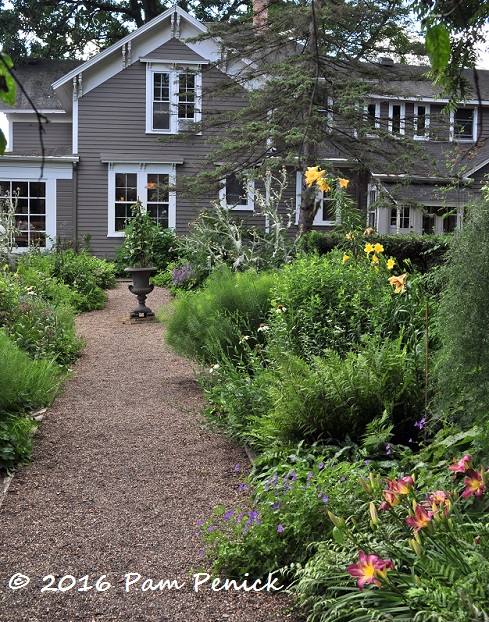 Our tour buses took us out of Minneapolis on the last day of the recent Garden Bloggers Fling — an annual event with 60+ garden bloggers touring Minneapolis this year — through St. Paul and on into charming Afton, Minnesota, where we visited nursery and gift shop Squire House Gardens, which operates out of a nearly 150-year-old home.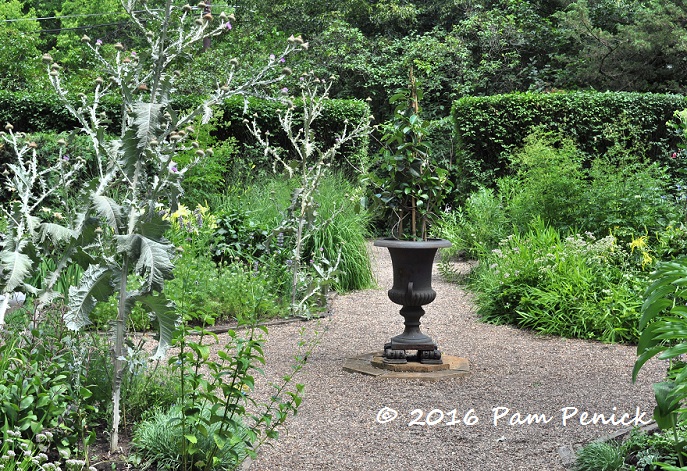 A formal garden, surprisingly planted with many native plants, flows out from the house/gift shop. Where two paths intersect, a focal-point urn draws the eye, as do giant silver thistles.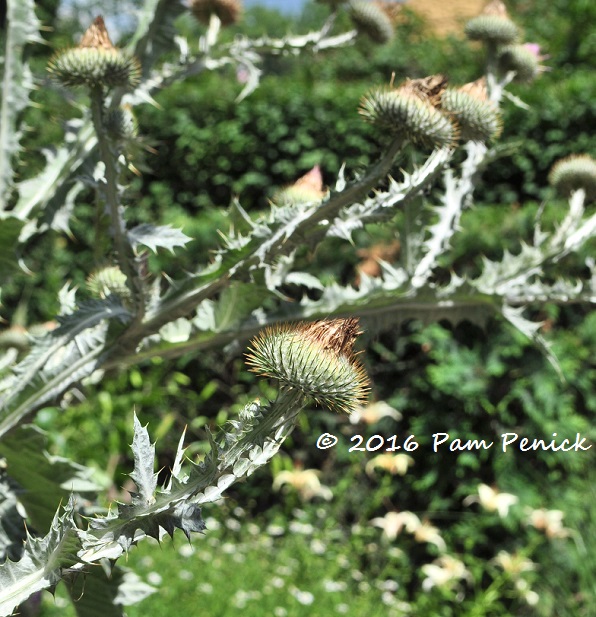 A strikingly unusual choice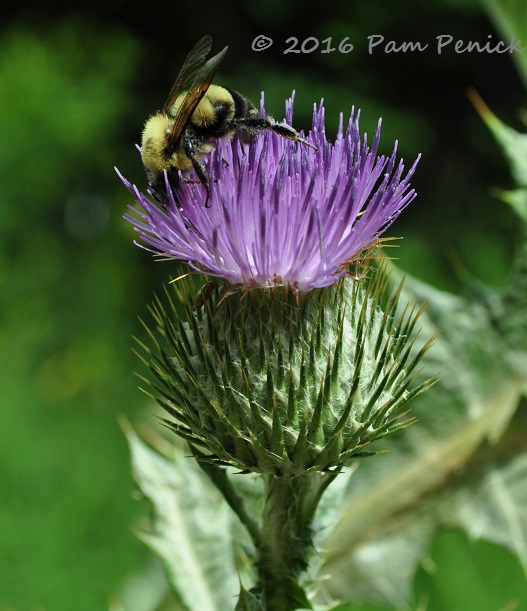 Elsewhere in the garden, still-blooming thistles proved irresistible to bees.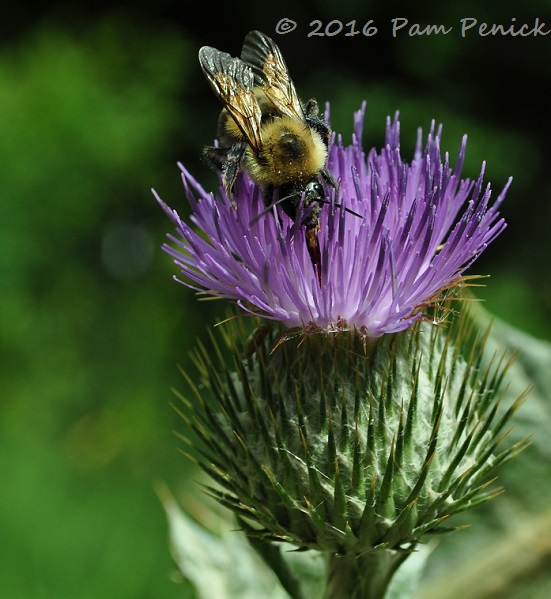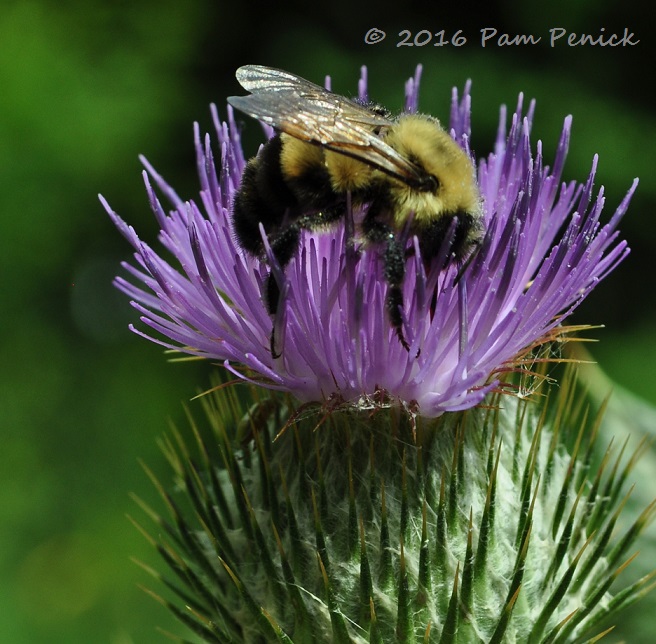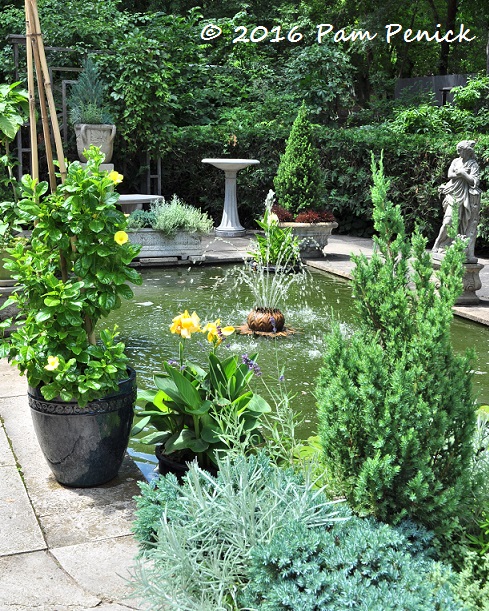 Nearby, a formal pool surrounded by potted plants adds the cooling music of splashing water.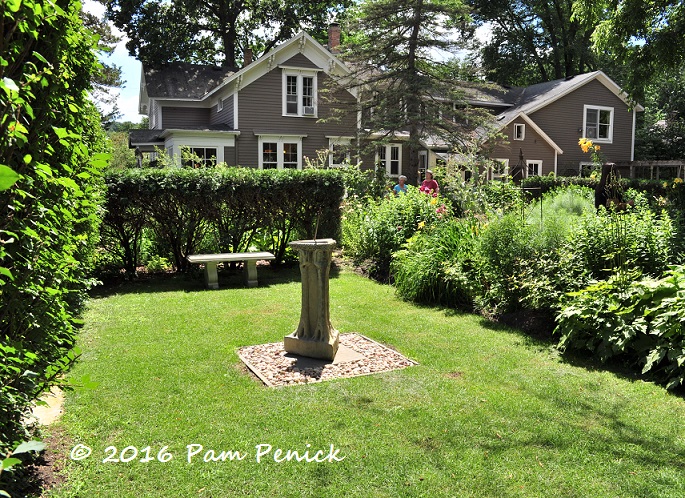 A small, hedged garden room along one sunny border holds a lawn, a bench…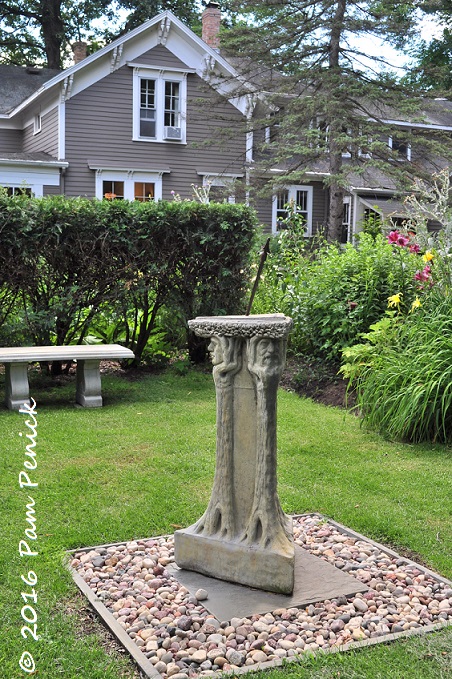 …and a druid-adorned sundial.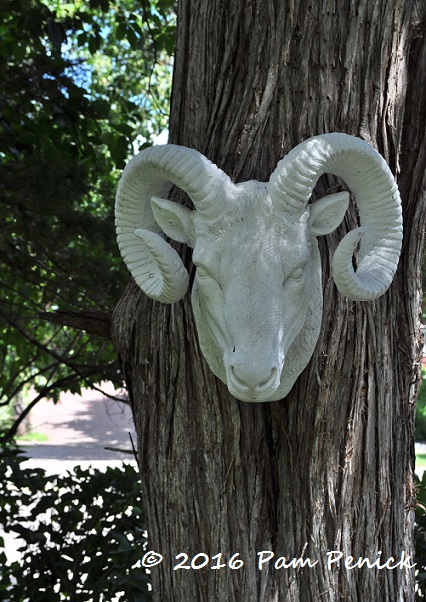 But much of the garden is quite shady, with white statuary and garden decor, like this ram's head, to brighten dimly lit spaces.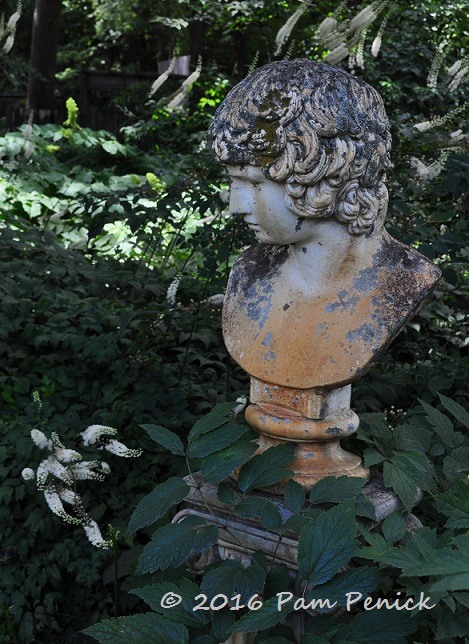 I believe this is black cohosh (Actaea racemosa), a lovely native plant that unfortunately, to my nose, has a strong bug-spray scent. But others didn't seem to mind it. It lit up the shady garden so nicely.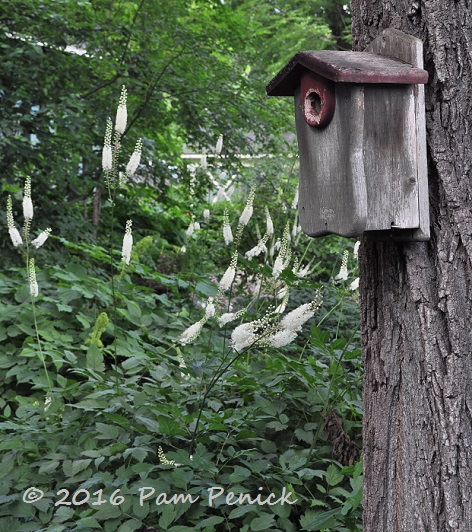 Another look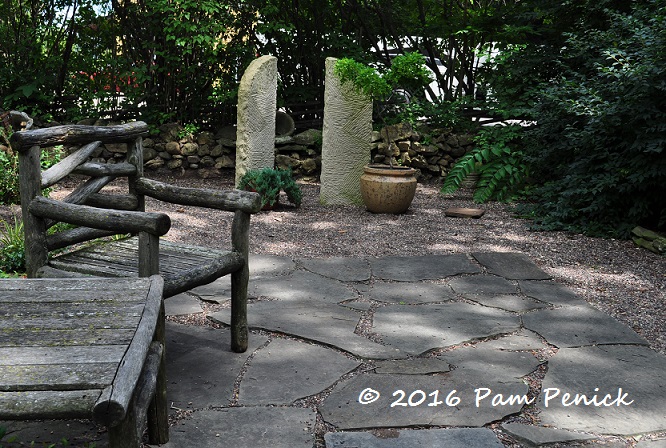 A small Zen-style garden offers a quiet place to sit…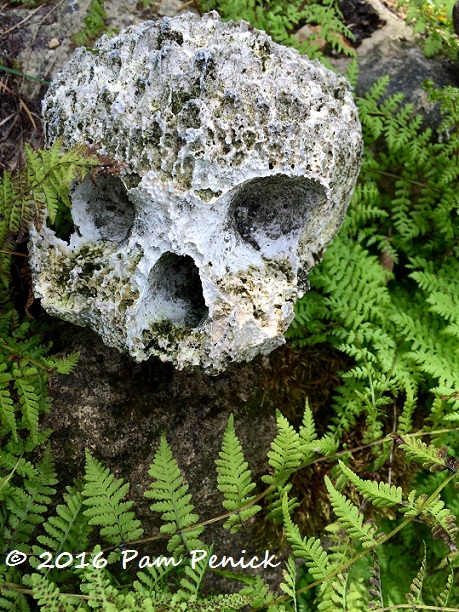 …and contemplate life.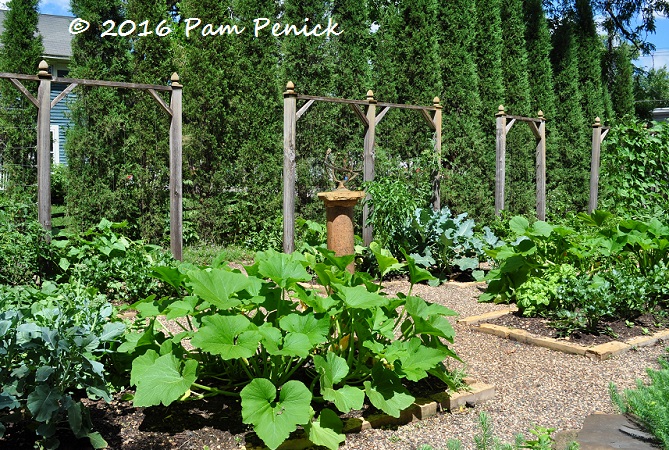 At the back of the property, a sunny space makes a perfect spot for a large vegetable garden, formally laid out and screened from a neighboring house with tall junipers.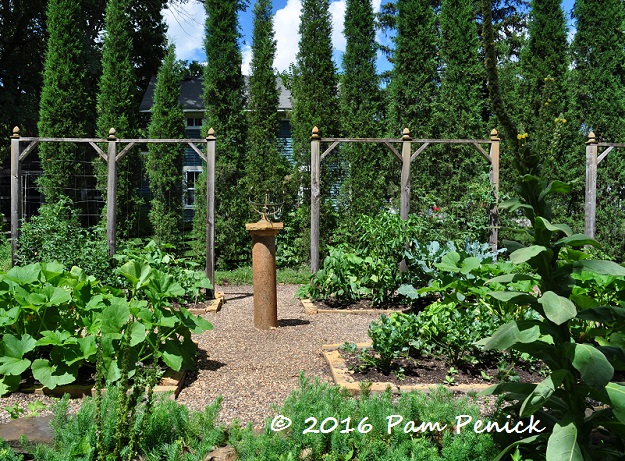 Tall wood-and-wire trellises add additional screening, structure, and support for climbing plants.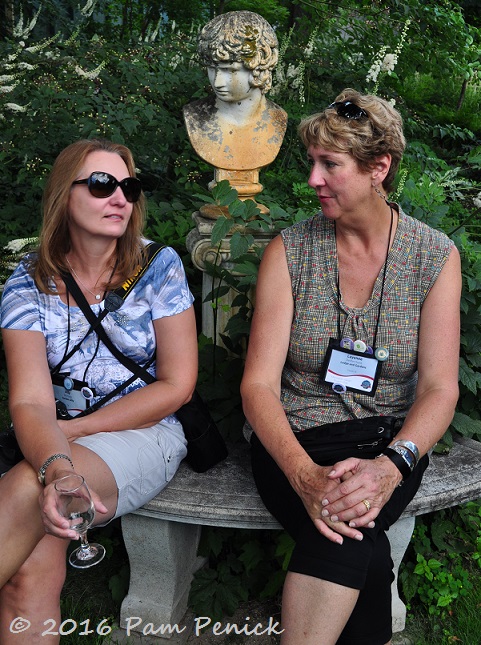 The owners of Squire House generously treated us to beverages and refreshments, and we wandered with our glasses, enjoying the garden and the beautiful day. Here are Ally and Layanee being eavesdropped on by an intent young man.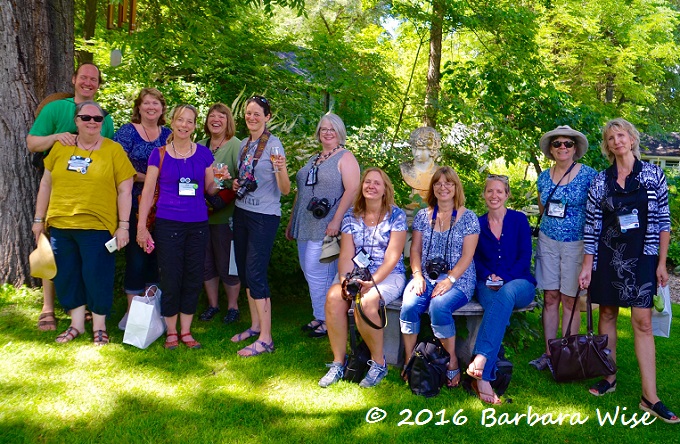 The Texas bloggers — always the largest group from any state at the Fling — posed here for a group shot taken by the mischievous Barbara Wise (thank you, Barbara!). From left to right: Shawn and Laurin of Ravenscourt Gardens (Houston); Pam (moi) of Digging (Austin); Chris of Watching My Garden Grow (Austin); Vicki of Playin' Outside (Austin); Andrea of Grow Where You're Planted (College Station); Caroline of The Shovel-Ready Garden (Austin); Ally of Garden Ally (Austin); Diana of Sharing Nature's Garden (Austin); Laura of Wills Family Acres (Austin); Susan of The Bicycle Garden (Lubbock); and Rebecca of Rebecca's Retreat (Buda).
Up next: A snapshot of Noerenberg Memorial Gardens plus the gardens of nursery owners Steve Kelley & Arla Carmichiel. For a look back at Marge Hols's elegant St. Paul garden, click here.
I welcome your comments; please scroll to the end of this post to leave one. If you're reading this in a subscription email, click here to visit Digging and find the comment box at the end of each post.
_______________________
Digging Deeper: News and Upcoming Events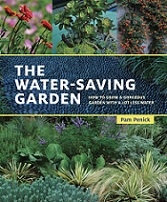 Do you review? Have you read my new book, The Water-Saving Garden? If you found it helpful or inspirational, please consider leaving a review — even just a sentence or two — on Amazon, Goodreads, or other sites. Online reviews are crucial in getting a book noticed. I really appreciate your help!
All material © 2006-2016 by Pam Penick for Digging. Unauthorized reproduction prohibited.