July 28th, 2016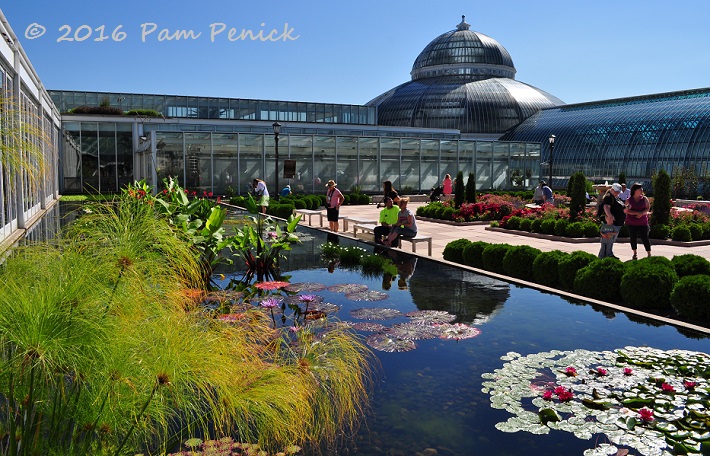 In the South we don't have many conservatories, probably because our winters aren't particularly bleak or cold. But I've visited a few on my travels to northern states, and on day three of the Minneapolis Garden Bloggers Fling, I got to see another one at Como Park in St. Paul, Minnesota.
Como Park's 100-year-old glass house is flanked outside by a long, mirror-like, elevated pond bejeweled with water lilies.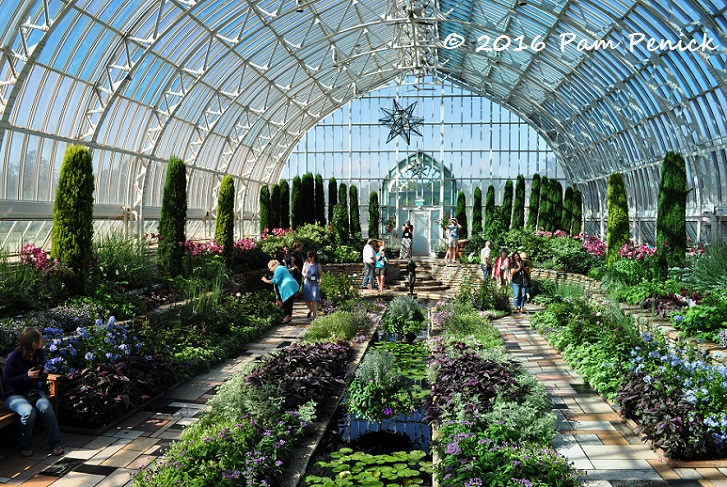 A sunken garden fills one wing of the conservatory, with a rill-like pond running down the center and flowering plants on each side.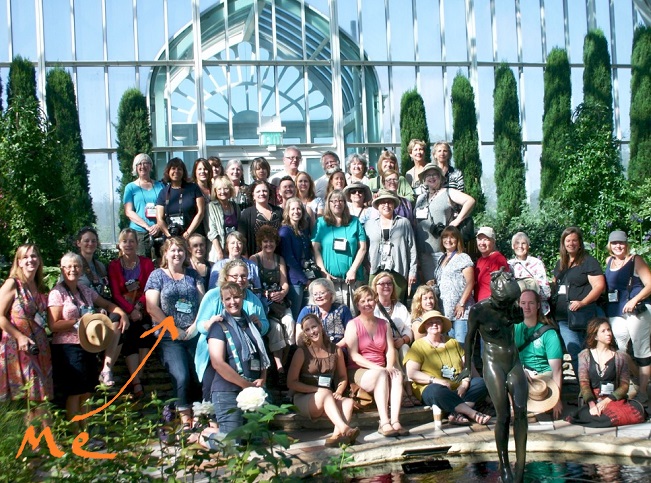 Photo by Diane McGann
Our group of approximately 60 garden bloggers posed here for the official group photo. I don't know if it was planned, but a naked woman streaked into the photo with us and then struck a demure pose. Hah! See her?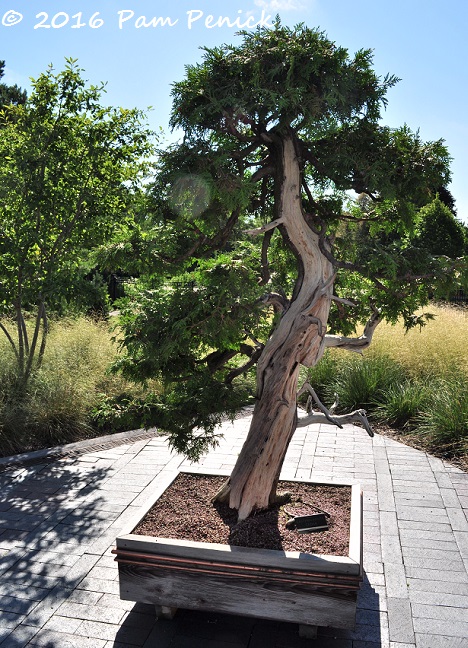 After the photo, we had only a few minutes to see the garden before it was time to get back on the bus, and I made a beeline for the Japanese Garden. Along the way, I paused to admire several bonsai, including this large eastern white cedar, displayed on a patio.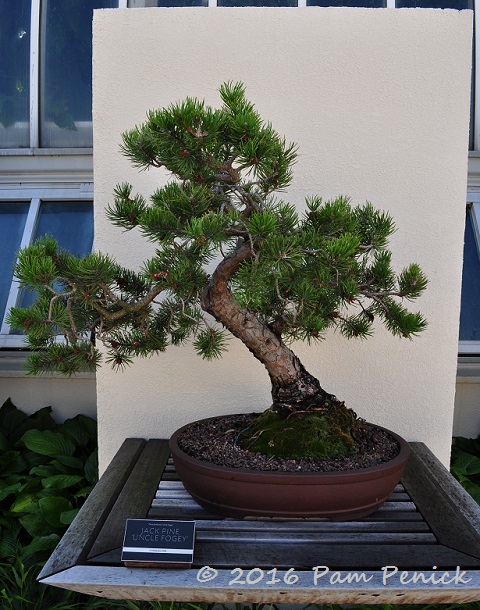 Jack pine 'Uncle Fogey' bonsai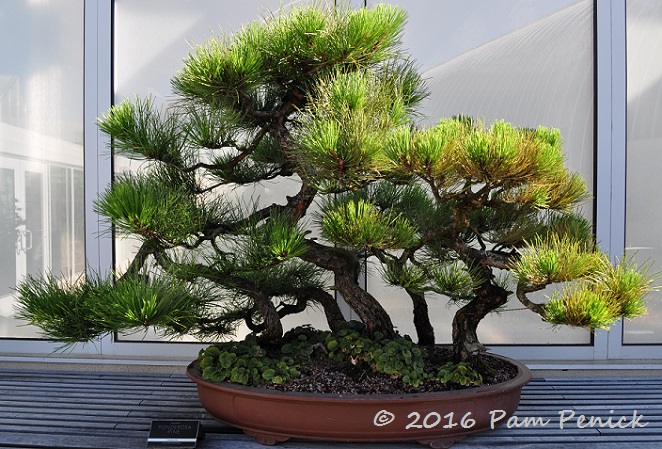 Ponderosa pine too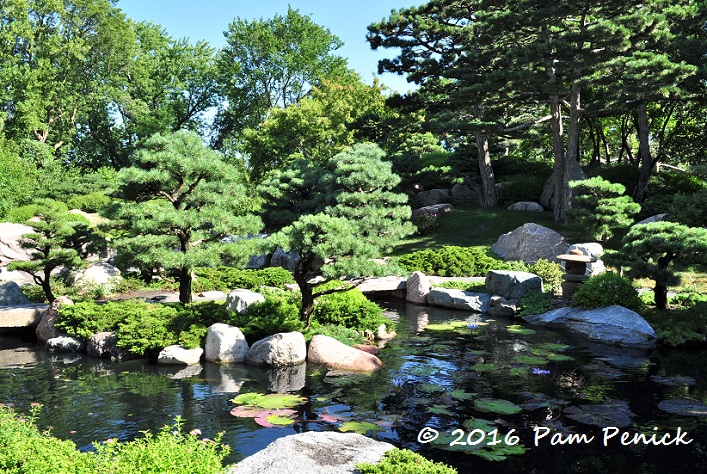 In the garden itself, their life-size counterparts add height, soft texture, and a sense of age to boulder-edged islands in a koi-filled pond.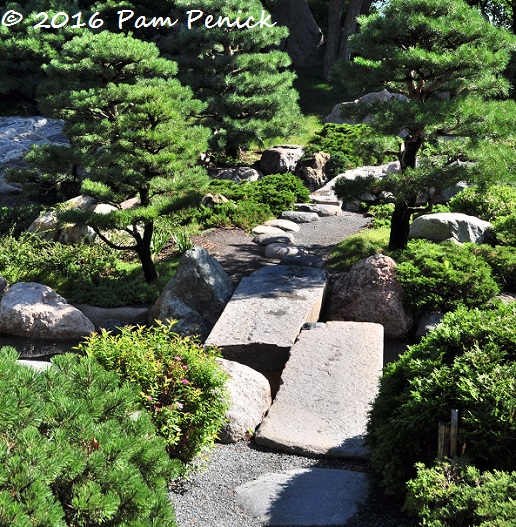 A zig-zag bridge of stone planks crosses the pond.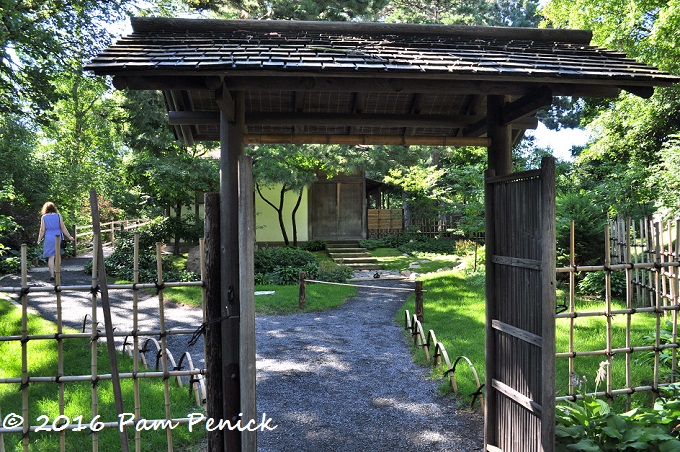 A roofed gate with lattice-style bamboo fencing leads to (I assume) a teahouse. According to Como Park's website, the Japanese garden's design was a gift from the people of Nagasaki to the people of its sister city, St. Paul.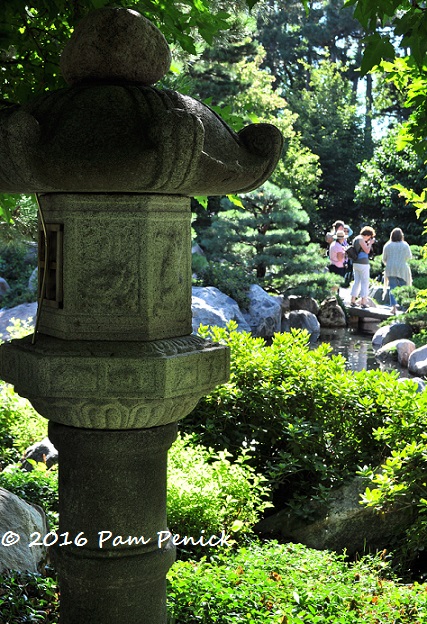 What a lovely gift!
Up next: The elegant Tudor-house garden of Marge Hols. For a look back at a streamside garden inspired by Walden, click here.
I welcome your comments; please scroll to the end of this post to leave one. If you're reading this in a subscription email, click here to visit Digging and find the comment box at the end of each post.
_______________________
Digging Deeper: News and Upcoming Events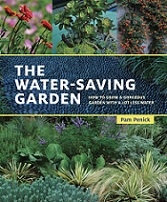 Do you review? Have you read my new book, The Water-Saving Garden? If you found it helpful or inspirational, please consider leaving a review — even just a sentence or two — on Amazon, Goodreads, or other sites. Online reviews are crucial in getting a book noticed. I really appreciate your help!
All material © 2006-2016 by Pam Penick for Digging. Unauthorized reproduction prohibited.