July 27th, 2016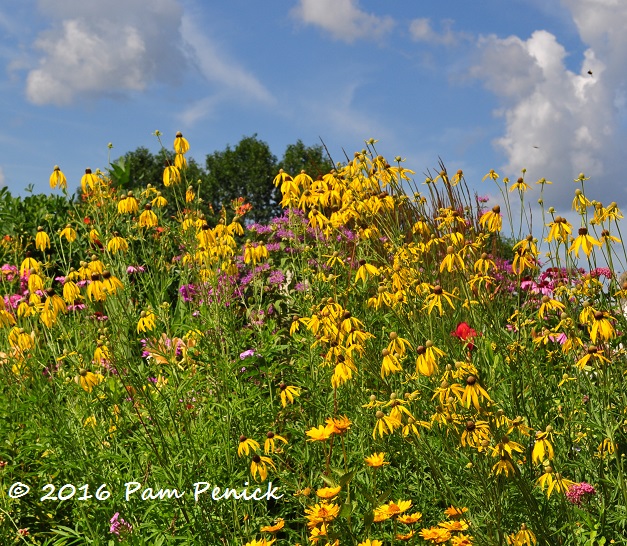 A garden tour within a garden tour was offered on day two of the Minneapolis Garden Bloggers Fling, held in mid-July.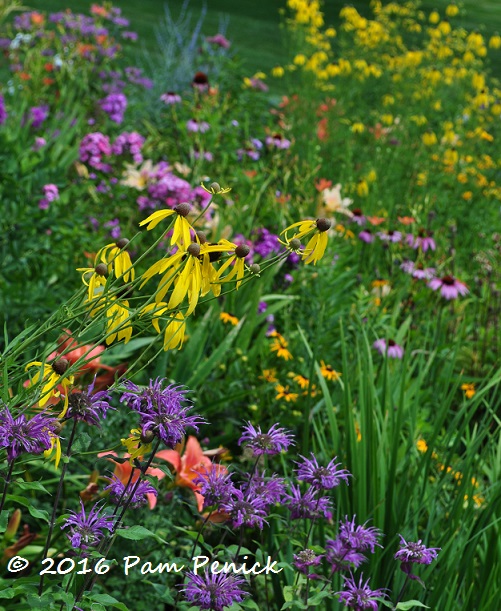 Bused to a half-dozen lovely private gardens on a local Master Gardeners tour (see my upcoming post about the Walden Road garden), at one point I found myself admiring a colorful prairie-style garden along Dynasty Drive, near a house that wasn't even on the tour.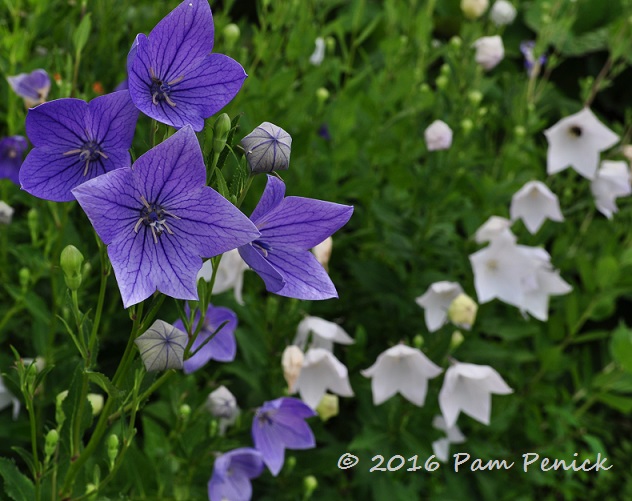 How amazing is that, to have such a wealth of gardens in an area that even the non-tour yards look gorgeous?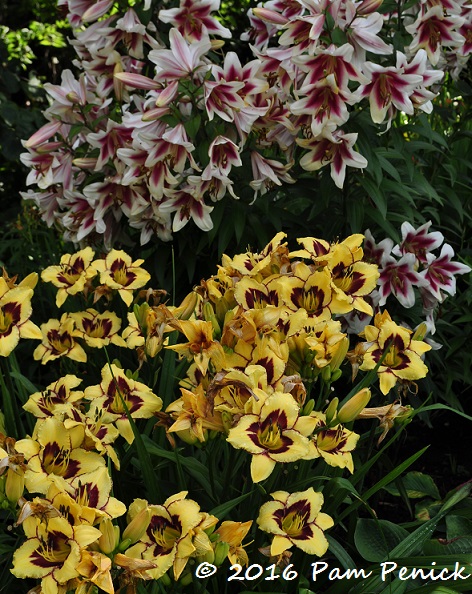 The flowering extravaganza of the front yard continued around the side yard, which was adjacent to a neighborhood tennis court. As I followed the flowers…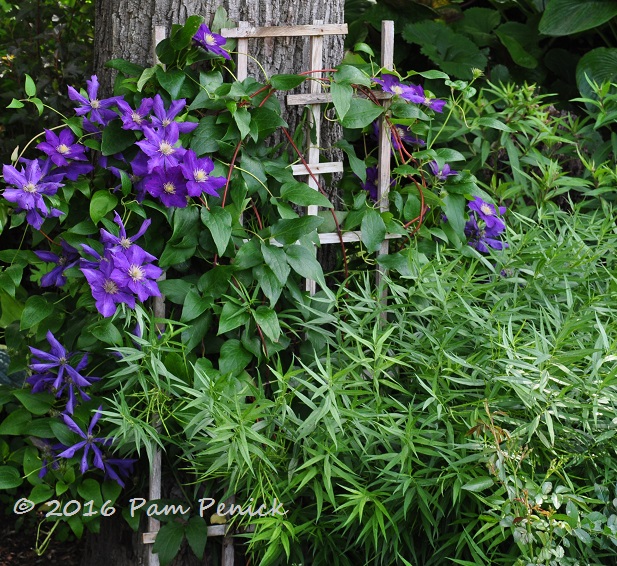 …several bloggers heading back toward the bus said, "You must see this garden. The owner is inviting us in."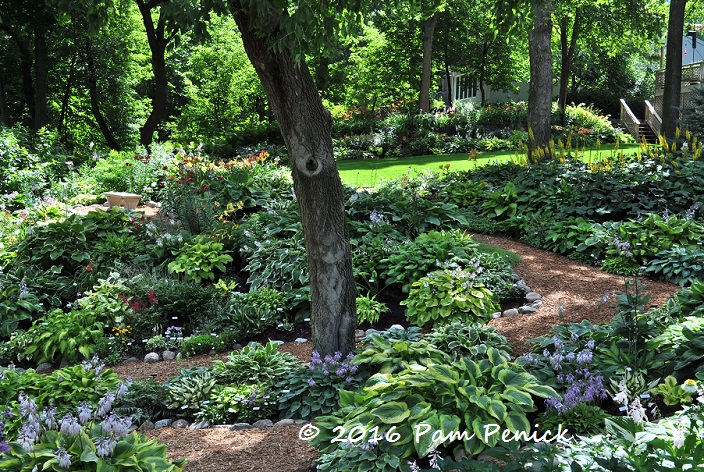 Owners Julie Carley and Gary Mosiman were standing at the entrance to their expansive back garden, lush with hostas and ligularia in shade, lilies and daylilies in sun, and inviting passing bloggers to have a look. As it turns out, they were scheduled to be on a different tour the next day, or so I understood. It was a lucky bonus garden, then, for the Flingers!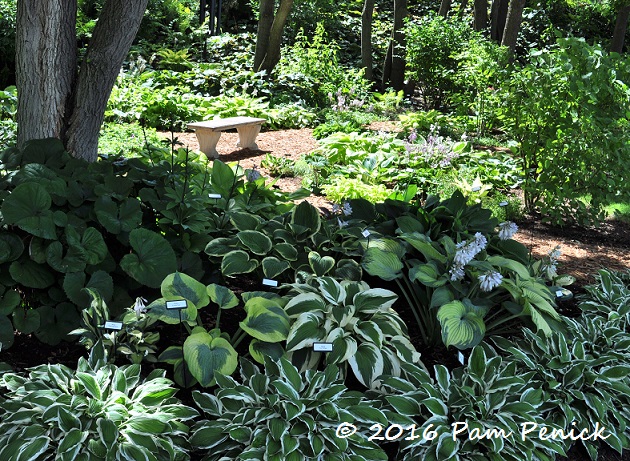 Brightened with variegated hostas — and not a slug- or snail-chewed leaf in sight — the garden shows how beautiful a shady foliage garden can be (in the upper Midwest).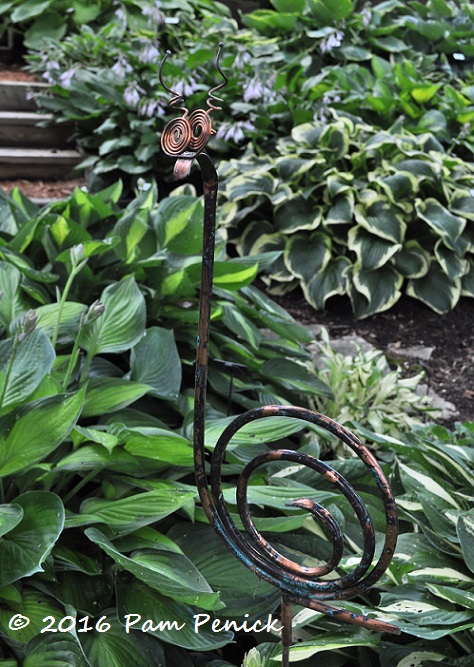 You talking about me?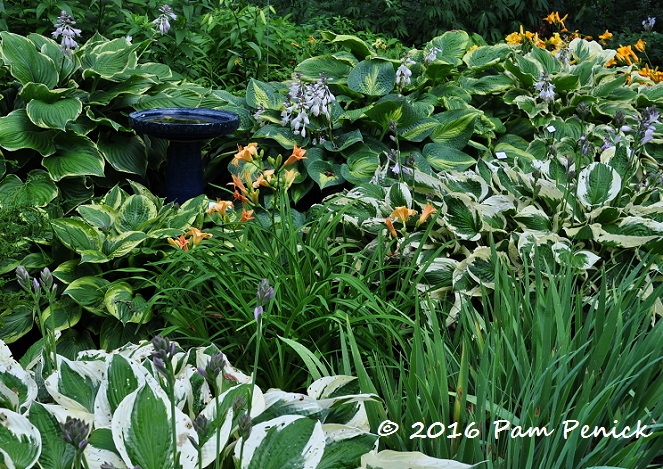 With a little more sun, daylilies appear.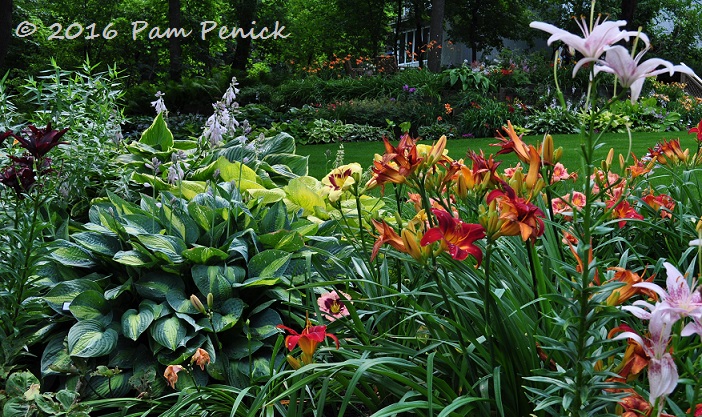 In the center of the garden, a sweeping lawn (no water shortages in Minnesota!) provides a verdant space to rest the eye. In the sunny border around it, brightly colored lilies and daylilies vie for attention.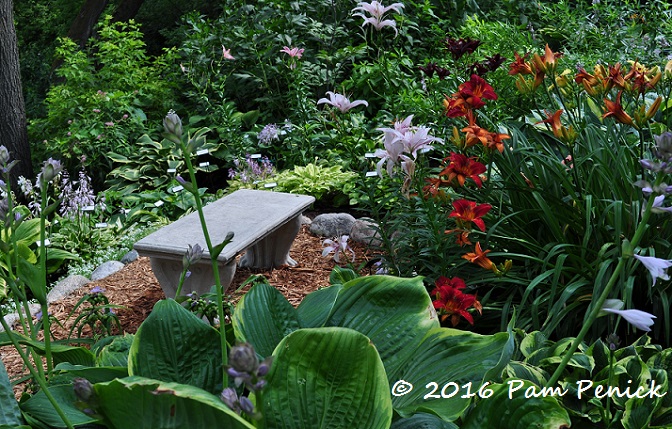 I love a garden with lots of places to sit and enjoy the view. This simple concrete bench offers the perfect spot to breathe in the lilies' fragrance.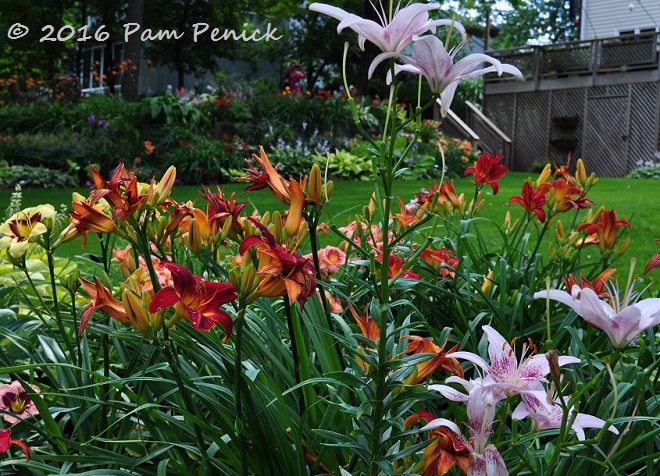 Looking uphill, you can see what a huge elevation change there is between the house and lower garden. A deck helps bridge the gap between indoors and out.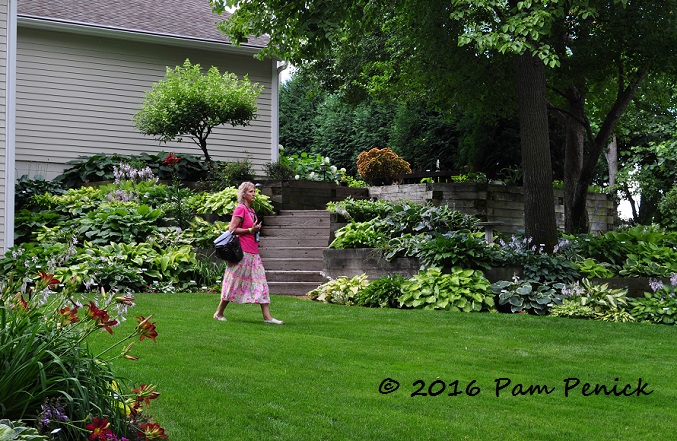 Panning right, you see an elevated patio with steps and a retaining wall of wooden timbers — a beautiful way to bring the house and garden together. (And look, there's Rebecca from Buda, Texas!) Climbing steps on the left (not pictured)…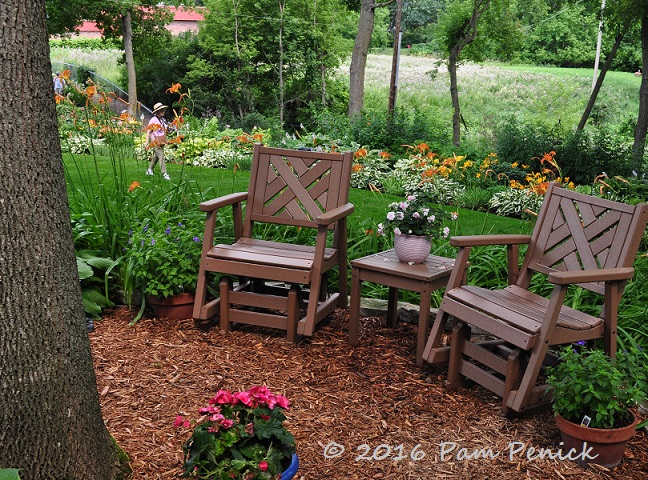 …you arrive at an intimate, bark-mulched seating area shaded by a tall tree.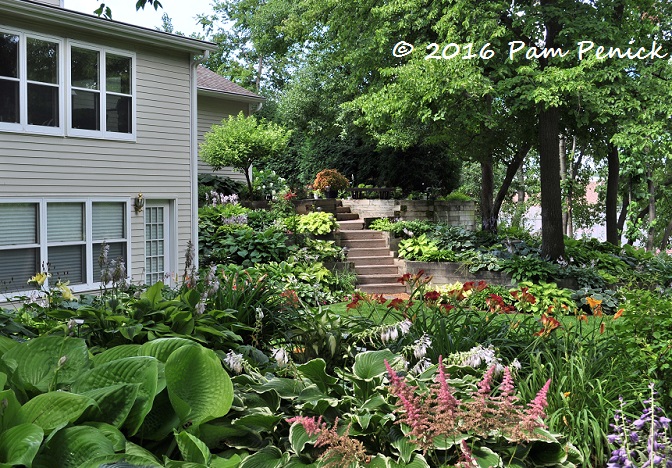 It offers views across the garden, including the upper patio on the other side.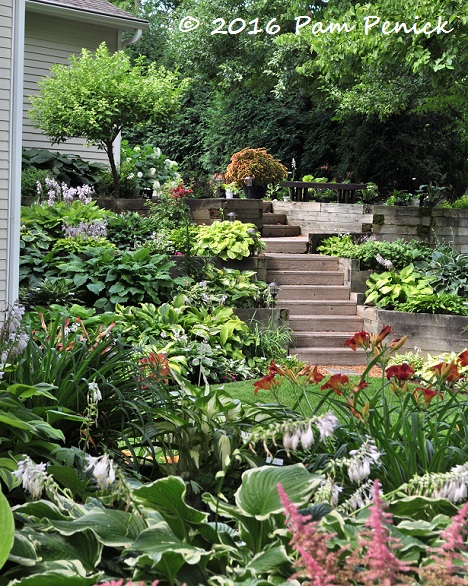 Zooming in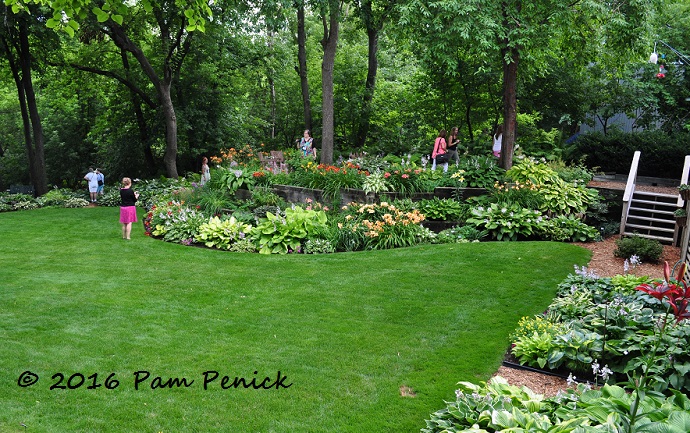 And now here's the view from the other patio.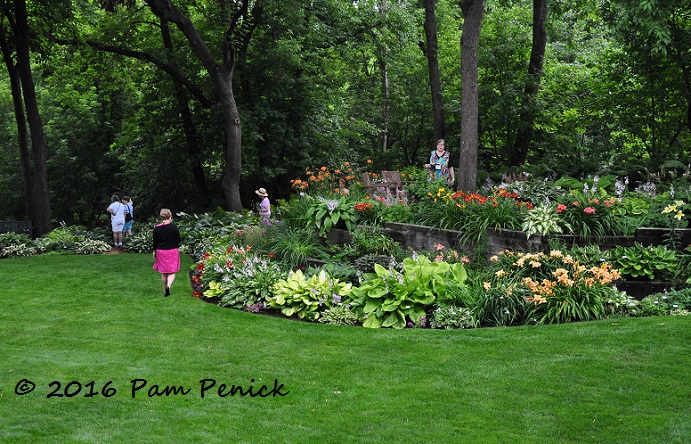 Elevation changes add so much interest to a garden, and the broad curves of the planting beds set off the lawn to perfection.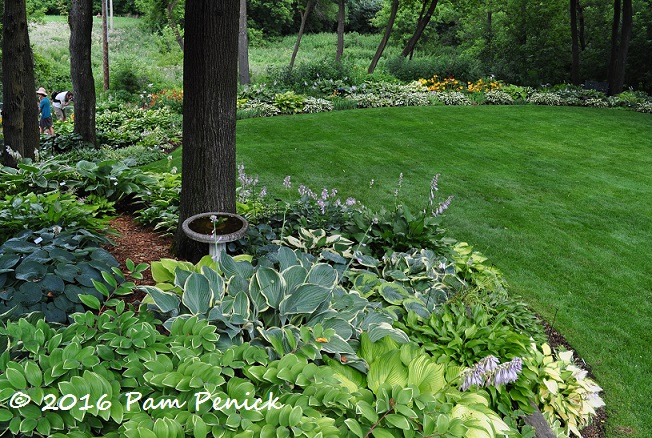 More hostas under the trees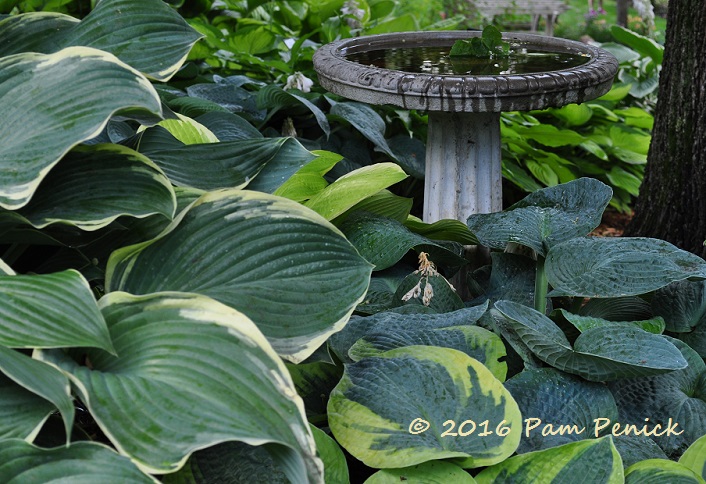 These oversized, rippled hosta leaves are lovely.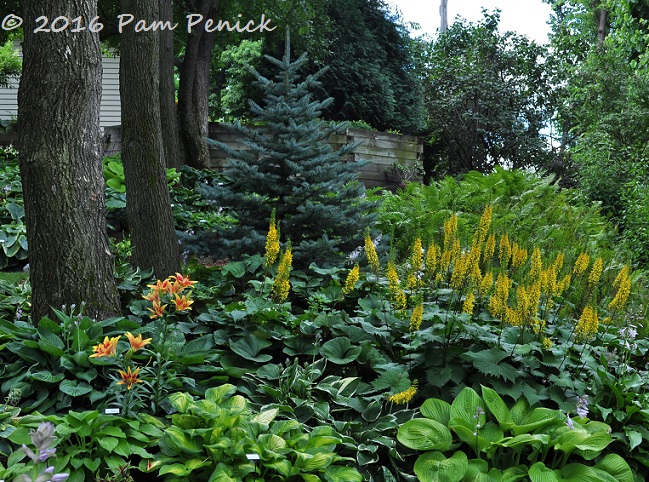 Ligularia ('The Rocket'?) adds a swath of sunshine with its golden flower spikes.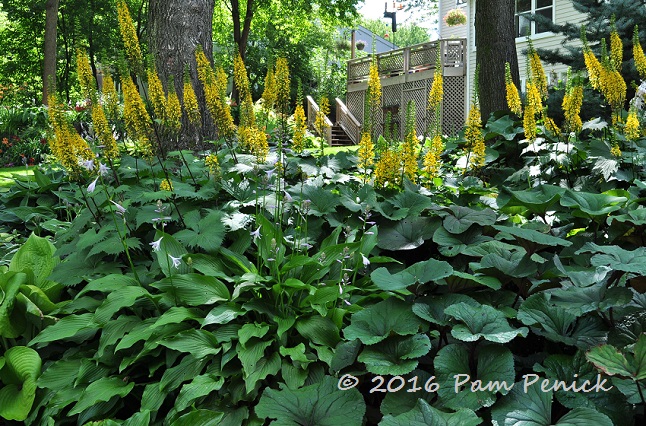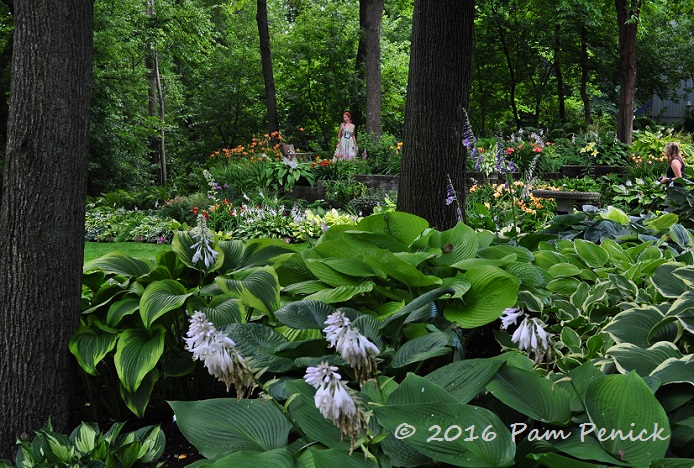 What a beautiful garden!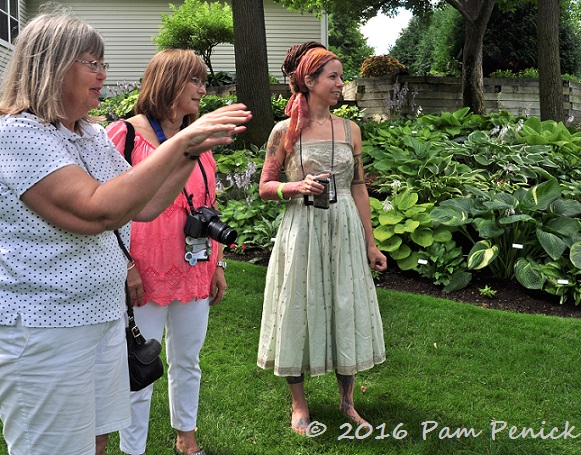 Here's one of the owners, Julie (left), explaining something to Diana and Gryphon. I'm grateful to Julie and Gary for spontaneously sharing their garden with us.
Up next: The Walden Road garden, one of the gardens on the Master Gardeners tour. For a look back at the flowery and art-filled Minnesota Landscape Arboretum, click here.
I welcome your comments; please scroll to the end of this post to leave one. If you're reading this in a subscription email, click here to visit Digging and find the comment box at the end of each post.
_______________________
Digging Deeper: News and Upcoming Events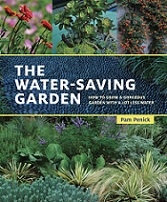 Do you review? Have you read my new book, The Water-Saving Garden? If you found it helpful or inspirational, please consider leaving a review — even just a sentence or two — on Amazon, Goodreads, or other sites. Online reviews are crucial in getting a book noticed. I really appreciate your help!
All material © 2006-2016 by Pam Penick for Digging. Unauthorized reproduction prohibited.
posted in
Daylily
,
Fling Minneapolis
,
Flowers
,
Garden art
,
Garden tours 2016
,
Groundcovers
,
Hillside
,
Lawns
,
Paths
,
Patios & decks
,
Prairie/Meadow
,
Seating
,
Travel
,
Trees
,
Vines
,
Walls
,
Water features