December 12th, 2007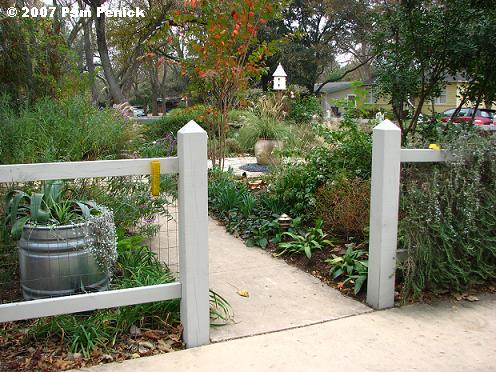 Entry to my front garden via the driveway
The folks at Gardening Gone Wild have selected fences and walls for this month's design workshop. My garden is not blessed with any walls, but I can show you my front-garden fence, which, being in the front yard, makes it a little unusual. Many newer subdivisions regulate front fences out of existence, but happily my 1950s neighborhood in central Austin is subject to no restrictive neighborhood covenants, beyond city code.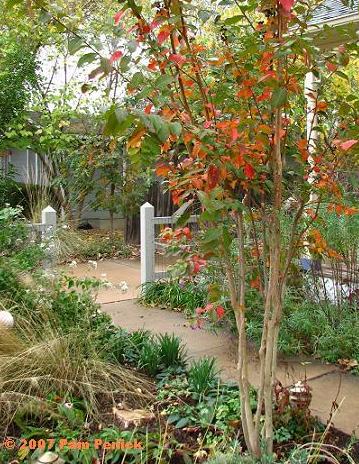 Looking back at the driveway entry from inside the garden
Even before we moved in, I knew I wanted a fenced front garden. A fence! Great for leaning on while chatting with a neighbor. Perfect for framing a view. And there's no easier or faster way to create a sense of enclosure, safety, and privacy, even if the fence, like mine, is see-through.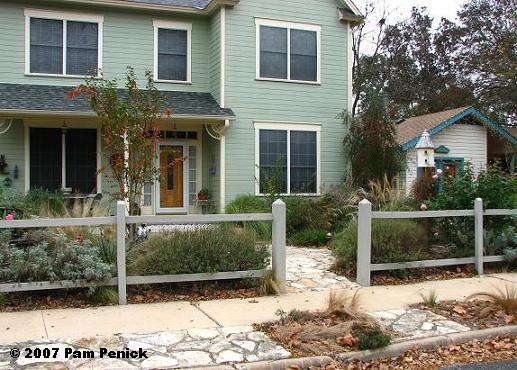 A see-through fence is friendly, not standoffish. Plants can poke through it and lean over the top, offering their flowers, texture, or scent to passersby. Rather than hiding the garden, it merely frames it.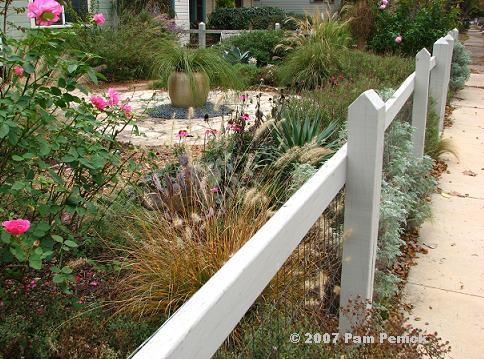 It arouses curiosity. What's inside?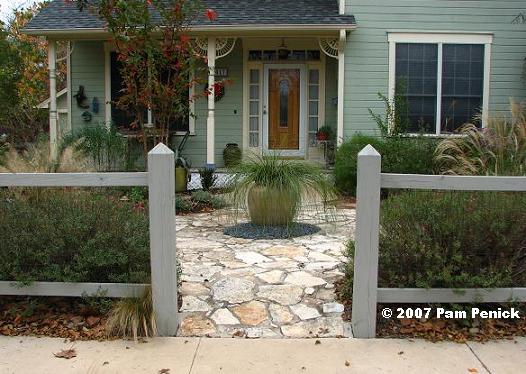 This is the street-side entry, which frames the view of the front door.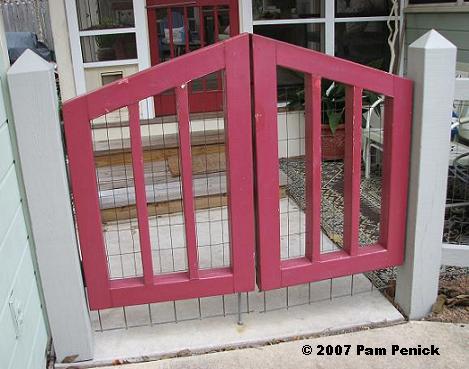 I used to have red gates on both the driveway and front entries, partly to keep my young children and my dog inside and partly because I just thought a gate would be nice to have. They matched this one, though not the double-door style—just a single, swinging gate. But after a while they began to sag, and as I nearly always left them open anyway, I just took them off and never regretted it. I prefer the openness of gateless entries in front.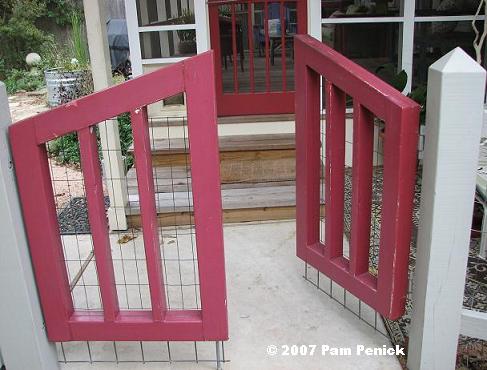 I kept this gate, at the entrance to the back yard, because for many years it kept our dog secure. Now that she's gone, we leave one side open during the day, but I like being able to close it up at night. Being divided, each side isn't so wide and heavy as the old front gates, and it hasn't sagged.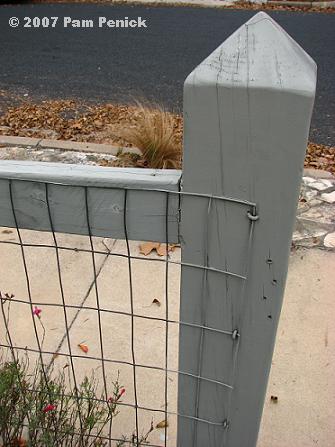 Construction of a fence like this is pretty straightforward: posts set in concrete (watch out for water lines and buried cables!), horizontal boards nailed on, and 2×4 wire stapled on. I saw this fence in front of a house in another neighborhood and fell in love with the design. So I left a note at the door telling the owners how much I liked it and asking for the name of the carpenter. A few weeks later they called me, explaining that it was their second home and they'd been away, but generously sharing the guy's name. I promptly called him and hired him to make the same fence for me.
I checked the setback on my survey to make sure it was OK, then had him build it right along the sidewalk and the driveway. Since then, I've thought maybe I should have set it back a little and just planted outside the fence, but it's worked out fine. After it was done, he stained it opaque gray. Six years later, it's due for a restain.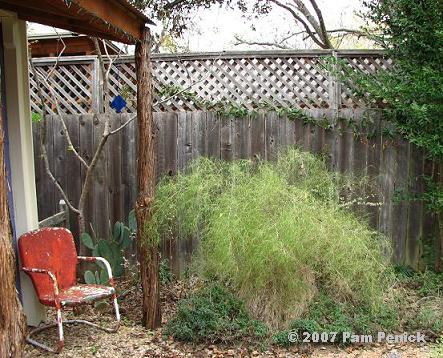 In the back yard, I have the board privacy fence that everyone in Austin has. Mine has a nice lattice on top, which provides a little extra height and privacy and dresses it up a bit. It's nice for growing vines along, like this crossvine. I know some people like the openness of a chain-link fence or no fence at all between them and their neighbors. But in small yards like mine, with houses built quite close together, I'm grateful for this inherited fence and the private space it creates. I've planted all along its length with a mix of evergreen and deciduous shrubs to soften and green up the boundary.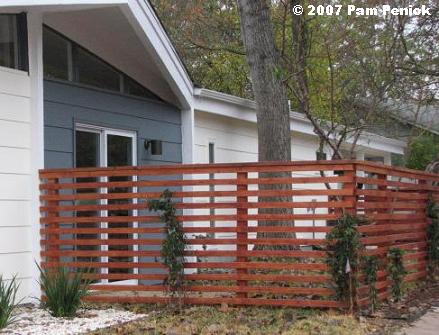 That's it for fences in my garden. However, I wanted to show this new fence in the side yard of a remodeled ranch house in my neighborhood. This contemporary, horizontal-slat design is popping up all over Austin, and I admire the look. Although this one is a bit tall—I prefer four or five feet—I like its openness and quasi-Asian feel. Like my front fence, it lets in air, light, and views, yet provides some screening too.
So, are you in the "Don't fence me in" or the "Good fences make good neighbors" camp? As for me, definitely the latter. If you'd like to read more about fences in other people's gardens, check out Gardening Gone Wild's December Design Workshop.
All material © 2006-2007 by Pam Penick for Digging. Unauthorized reproduction prohibited.