July 13th, 2016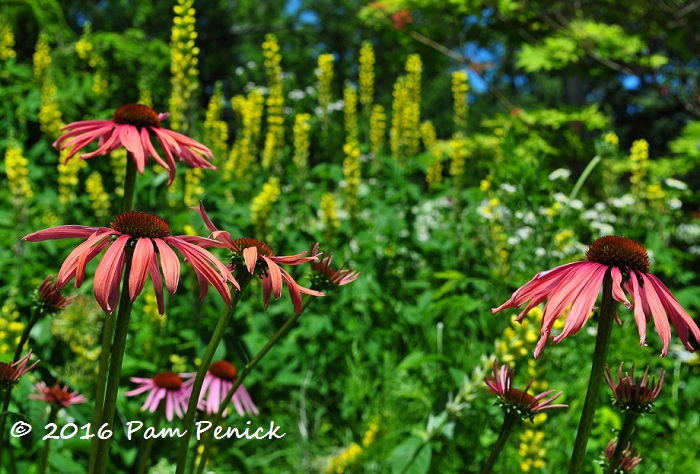 I'm excited to show you the Gravel Garden at Chanticleer, a Philadelphia-area "pleasure garden" I visited with my friend Diana in early June, as it's one of my favorite spaces. Planted on a long, open slope overlooking the Pond Garden, the Gravel Garden reminds me of Austin in many ways, although the surrounding lush scenery and tall conifers remind me that I'm not in Texas anymore.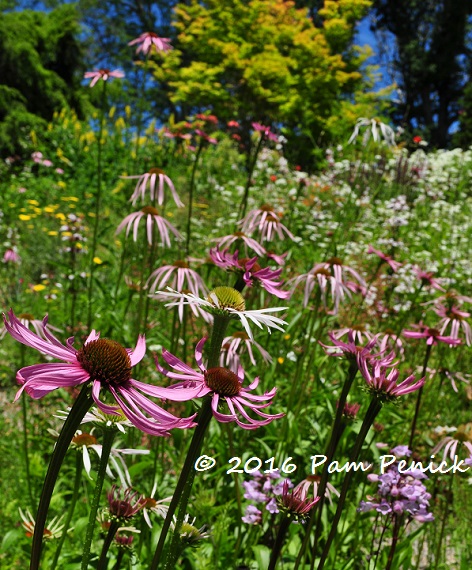 Tennessee coneflower (Echinacea tennesseensis) with upturned pink petals flourishes here.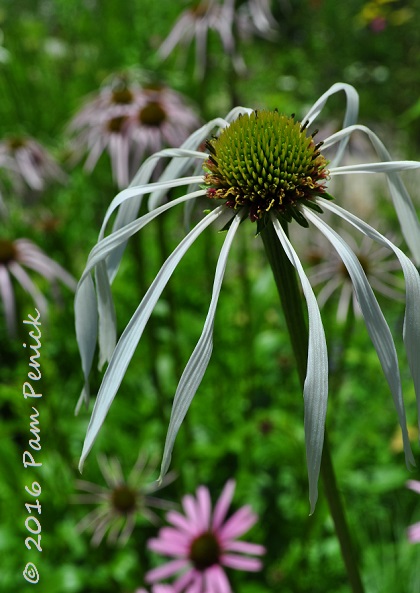 A few droopy, white-petaled purple coneflowers add variety — maybe Echinacea pallida?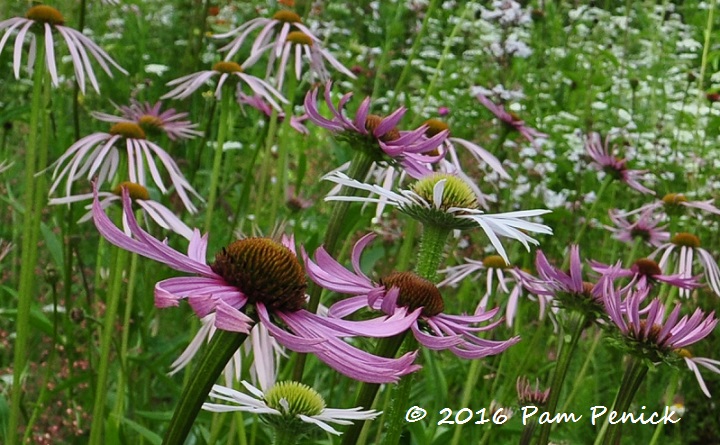 I love them all.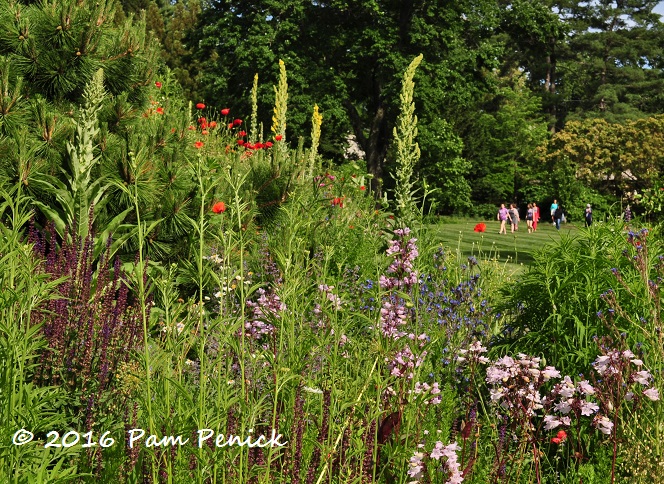 The hillside is planted like a wildflower meadow, a pollinator's paradise.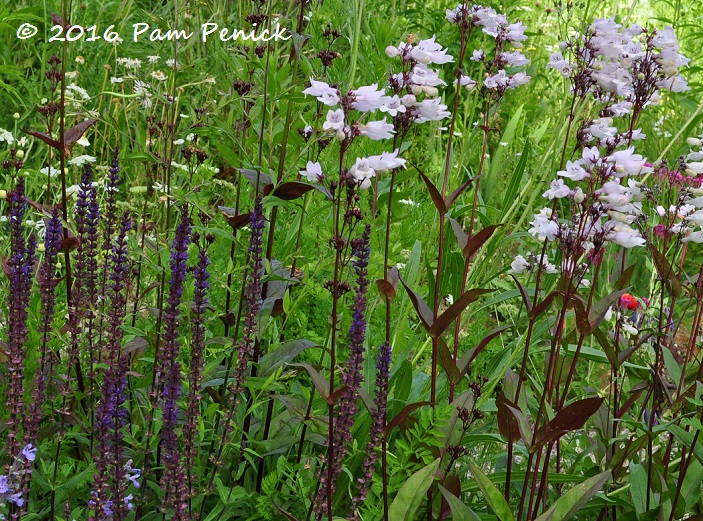 I didn't find 'Husker Red' penstemon on the plant list, but I believe that's what this pale-pink, burgundy-leaved penstemon is.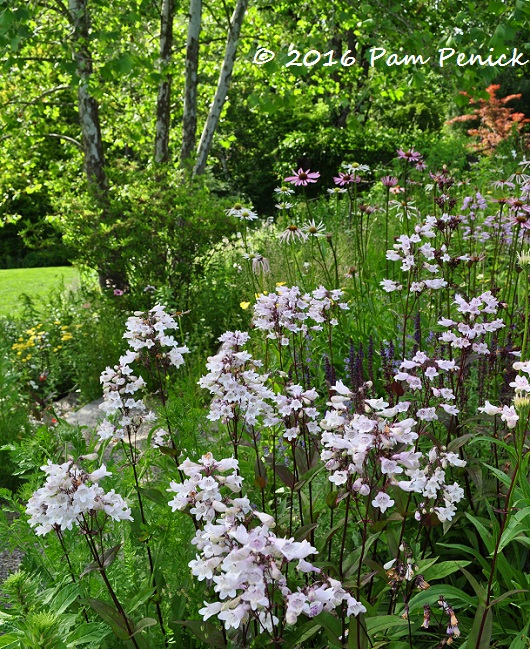 It looks wonderful with the purple coneflowers.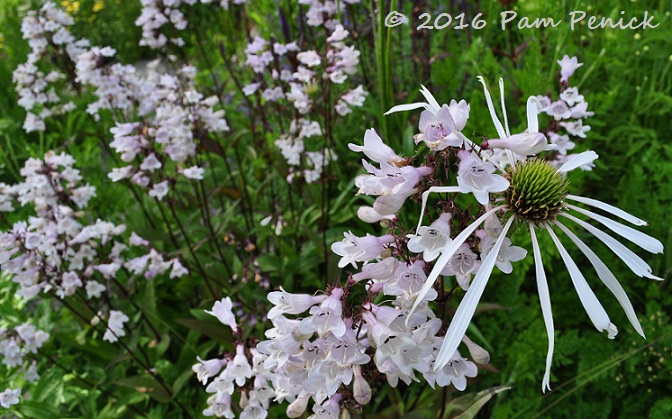 A living bouquet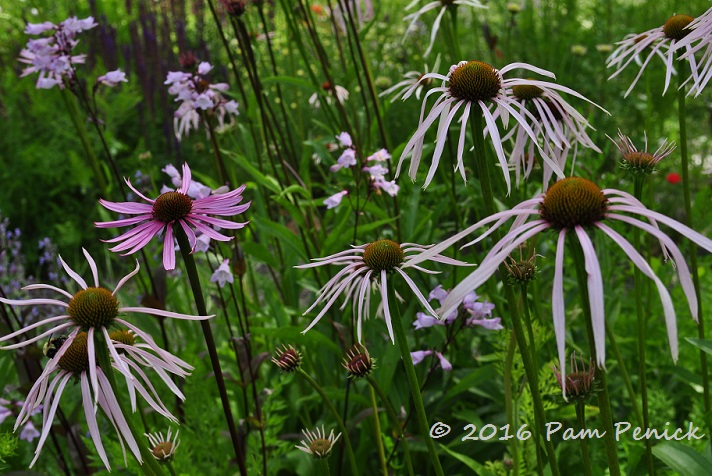 One more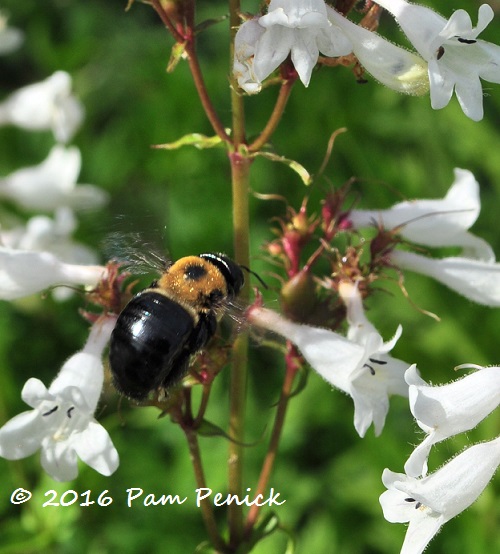 Bees loved the penstemon too.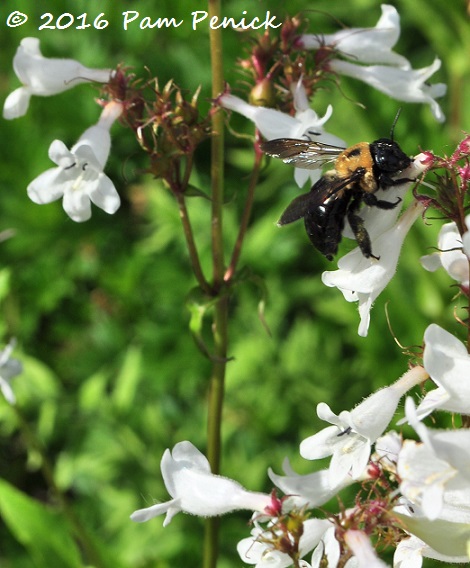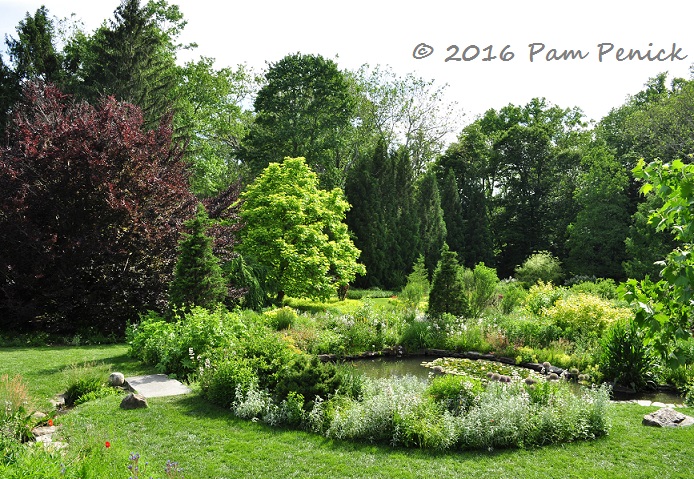 As you climb the slope, you're at eye level with the flowers, surrounded by their beauty. Turning around, you get a nice view of the Pond Garden.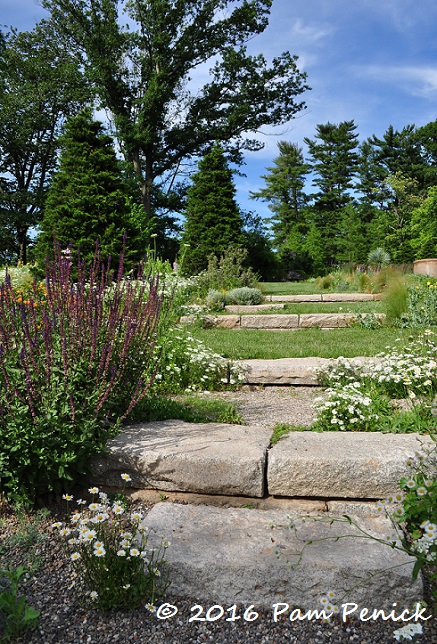 But let's keep going up, climbing granite-block steps…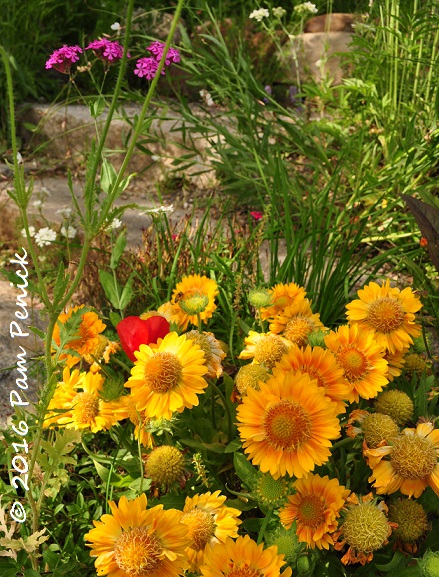 …and stopping every foot or so to admire blooming plants.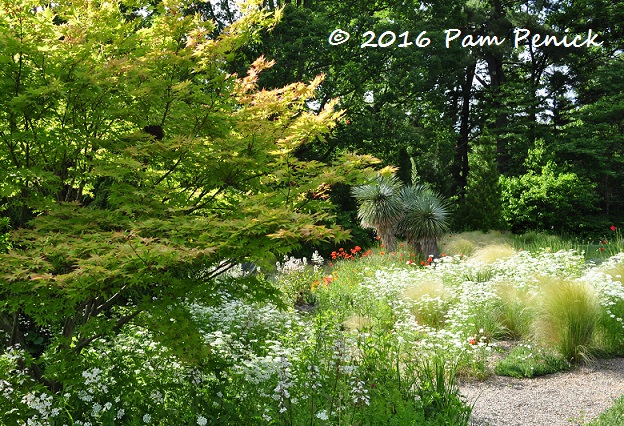 At the top, a gravelly meadow opens to view on the left — incongruously bordered (to my Southwestern eyes) with a golden-hued Japanese maple (Acer palmatum 'Osakazuki'). Japanese maple and desert-friendly Yucca rostrata — the tall, spherical-headed plant in the background — don't usually appear together in Texas gardens, after all, but here apparently anything is possible.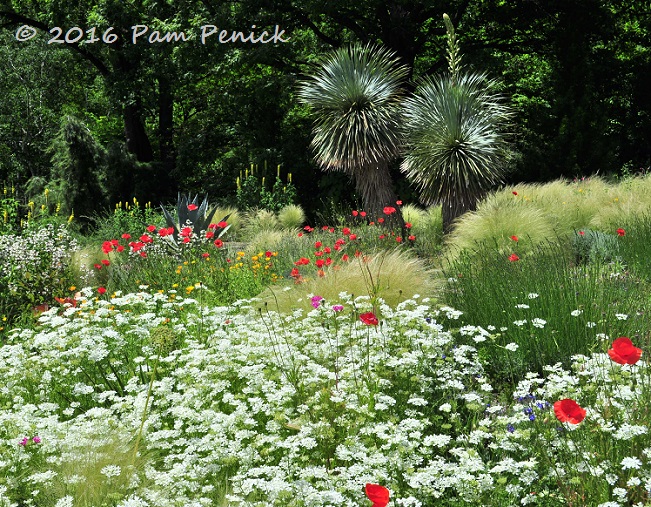 The meadow in early June was frothy with white lace flower (Orlaya grandiflora), crimson poppies, and Mexican feathergrass (Nassella tenuissima).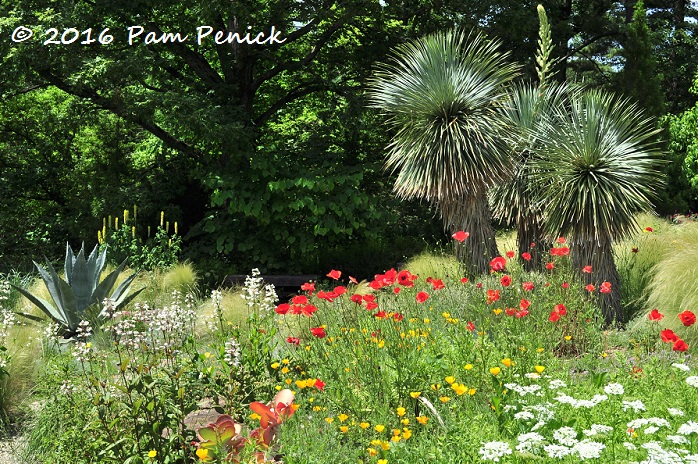 One of the yuccas was sporting a bloom spike.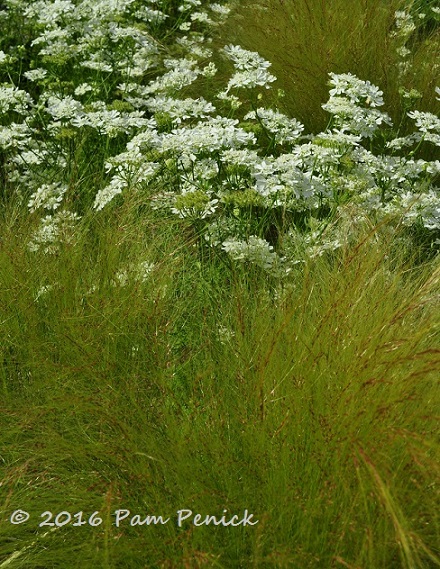 Feathergrass and white lace flower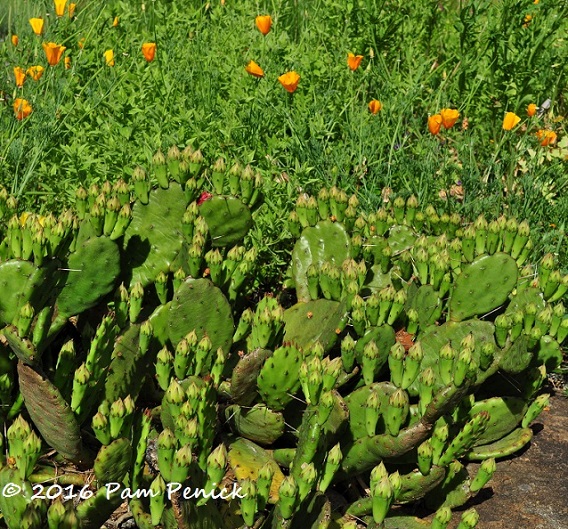 Prickly pear cactus and orange poppies, a classic dry-garden combo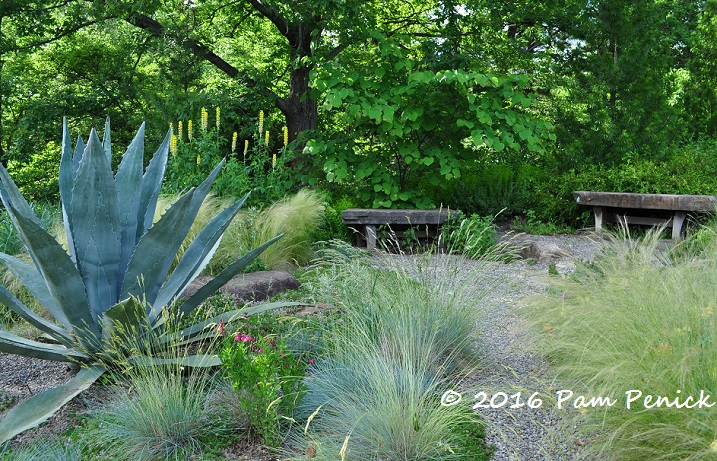 A narrow path leads through the small meadow to a pair of stone-slab benches tucked under a redbud. On the left, a silver-blue Agave americana is surrounded by blue fescue ladies-in-waiting.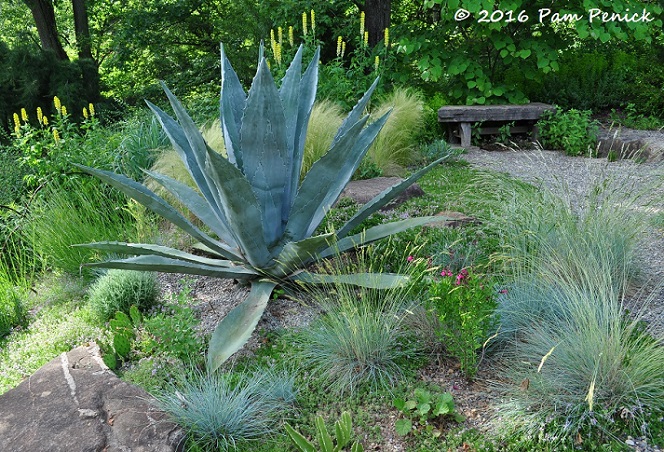 American agave, 'Elijah Blue' fescue, autumn sage (Salvia greggii), and Mexican feathergrass — all familiar to Austin gardeners except the blue fescue.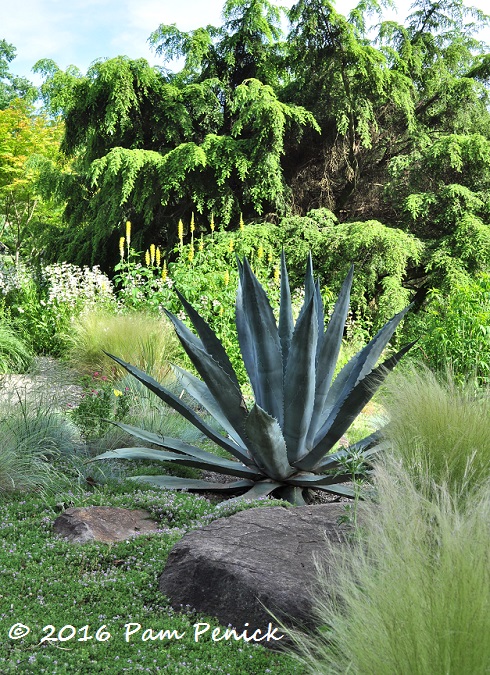 From the benches you can admire the agave's muscular form and steely blue color.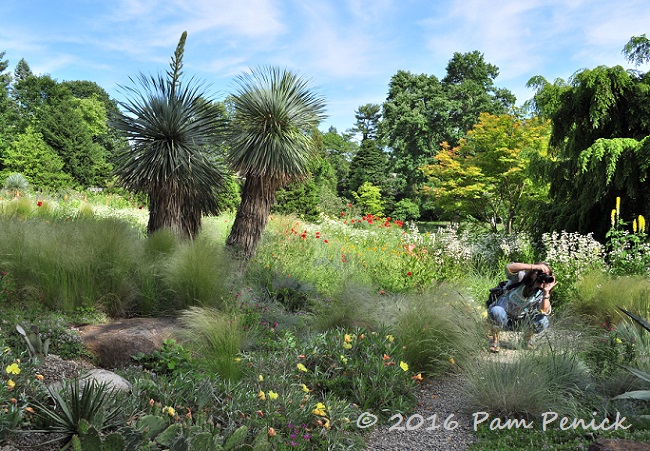 Diana got a few shots of it too.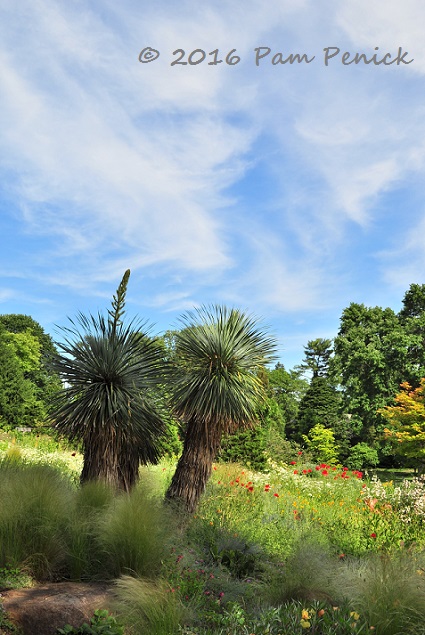 A bright blue sky smeared with white clouds, Yucca rostrata, feathergrass, and poppies — gorgeous!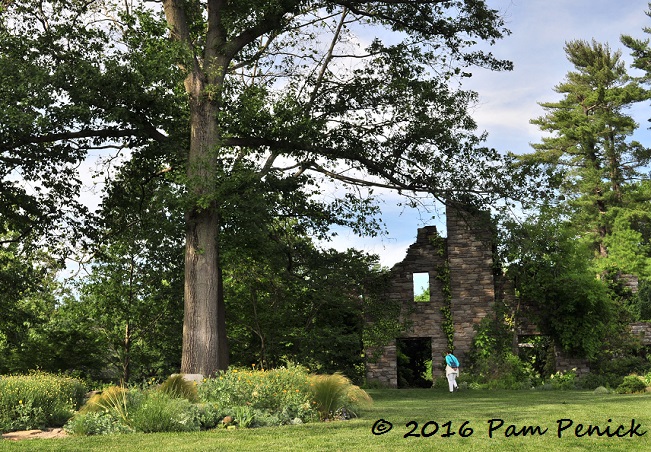 Another meadowy garden spreads out at the feet of a big old shade tree. The Ruin looms behind. Constructed on the site of the estate owner's house, which was torn down after his death (it was one of three houses on the property; two remain), the Ruin is a folly "overgrown" with young trees and vines and evoking a sense of mystery and history. I'll show it in my next post.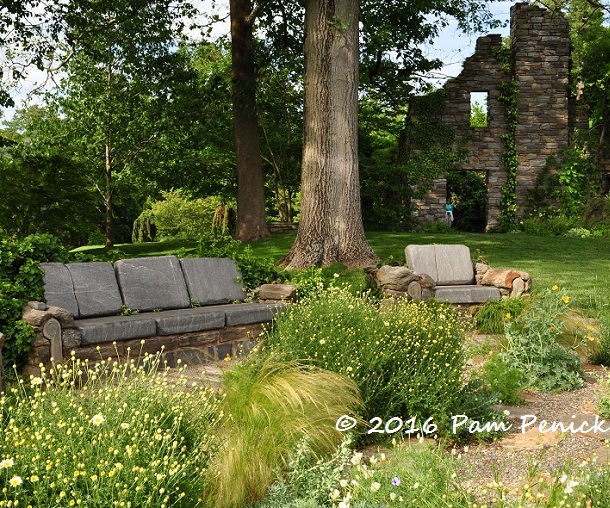 Like furniture that's been dragged outdoors to air out, a stone sofa and two armchairs sit just outside the Ruin and make surprisingly comfortable seats.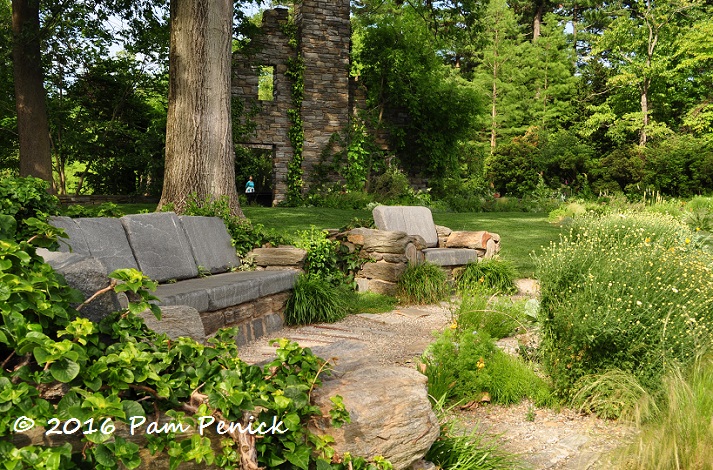 Diana and I enjoyed our picnic dinner here (on Fridays in summer, the garden stays open late and allows picnicking), having the couch and chairs all to ourselves — and the glorious view.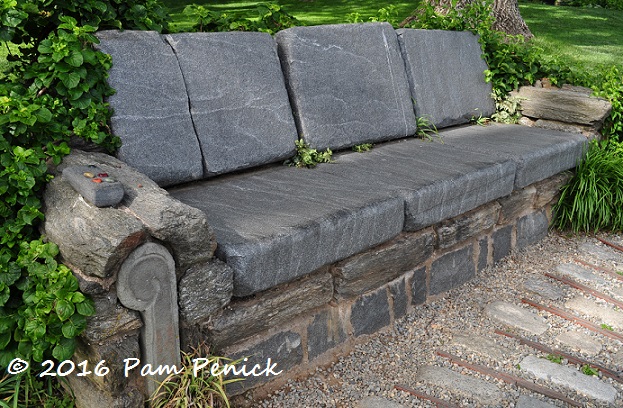 Occasionally a few other picnickers wandered over to admire the stone seats and exclaim over the stone remote control on the sofa's arm. What's on TV tonight?, joked more than one person.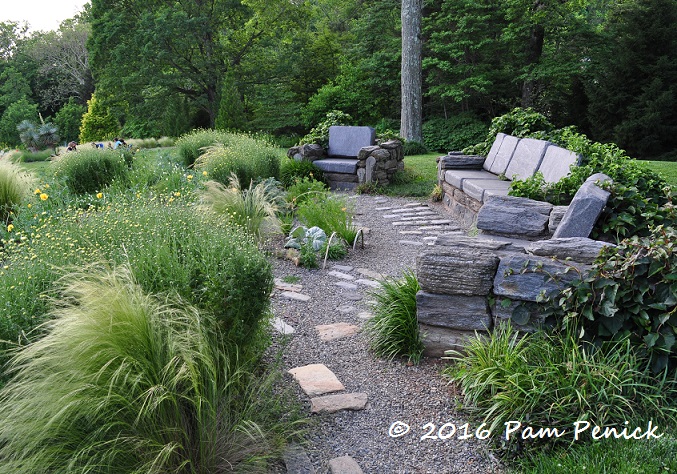 I lifted my arm at the surrounding garden. This.
Up Next: Chanticleer's mysterious Ruin Garden. For a look back at the Cut Flower/Vegetable Garden and magical Bell's Woodland, click here.
I welcome your comments; please scroll to the end of this post to leave one. If you're reading this in a subscription email, click here to visit Digging and find the comment box at the end of each post.
_______________________
Digging Deeper: News and Upcoming Events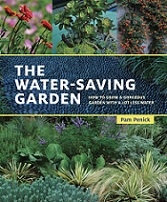 Do you review? Have you read my new book, The Water-Saving Garden? If you found it helpful or inspirational, please consider leaving a review — even just a sentence or two — on Amazon, Goodreads, or other sites. Online reviews are crucial in getting a book noticed. I really appreciate your help!
All material © 2006-2016 by Pam Penick for Digging. Unauthorized reproduction prohibited.
posted in
Agaves
,
Annuals
,
Bees
,
Botanic/Public Gardens
,
Cactus
,
Doors
,
Flowers
,
Garden art
,
Garden structures
,
Garden tours 2016
,
Grasses
,
Hillside
,
Paths
,
Ponds
,
Prairie/Meadow
,
Rock
,
Sculpture
,
Seating
,
Summer color
,
Travel
,
Trees
,
Wildflowers
,
Windows
,
Xeric plants
,
Yuccas