July 12th, 2016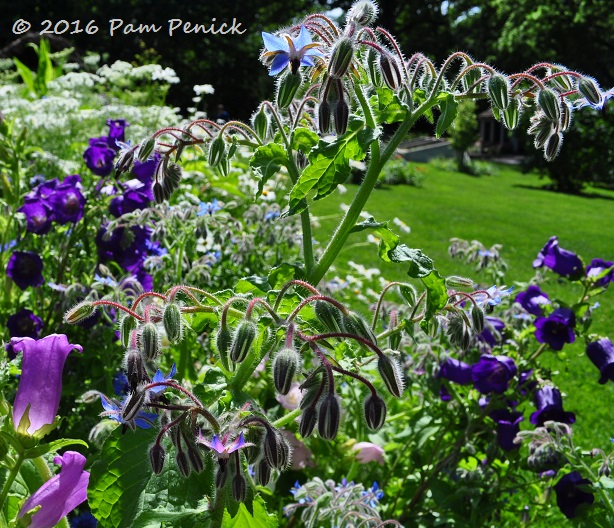 During our full day at Chanticleer Garden in the Philadelphia area last month, Diana and I left for lunch around 1:30 pm and returned two hours later with full bellies plus a picnic dinner stashed in our bags. On Friday nights in the summer, the garden stays open late — until 8 pm! — and allows visitors to picnic on the grounds. I wouldn't have missed the chance to photograph the garden in the softer light of evening, and being able to bring in dinner was a bonus. (If you're considering it too, arrive no later than 4 pm in order to get a parking spot. There are only 120 spots. Once those are filled, people are turned away.)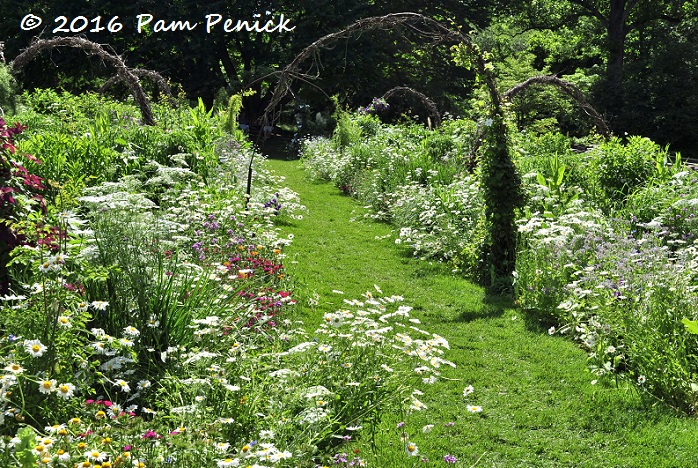 Re-entering the garden, we headed opposite the Teacup Garden in order to see the sections we hadn't visited that morning. The Cut Flower Garden, with willowy arches and frothy flowerbeds, soon came into view.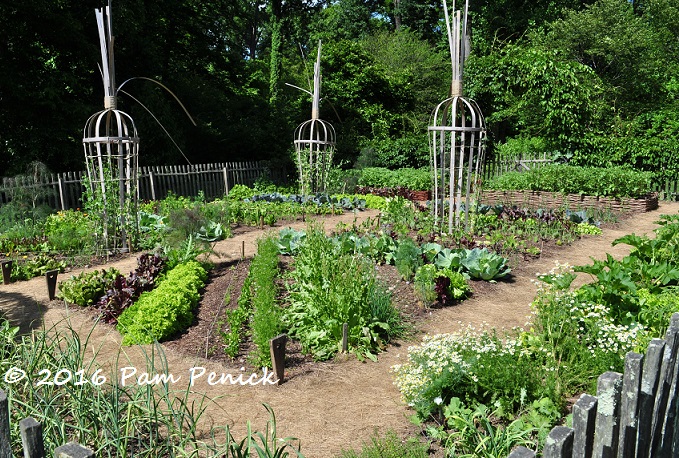 I was more drawn to the Vegetable Garden, with its diagonal lines and lathe tuteurs resembling oversized carrots half-pulled from the soil.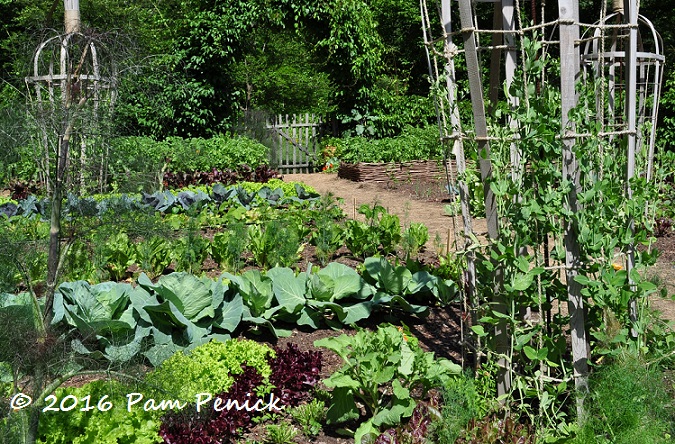 Another view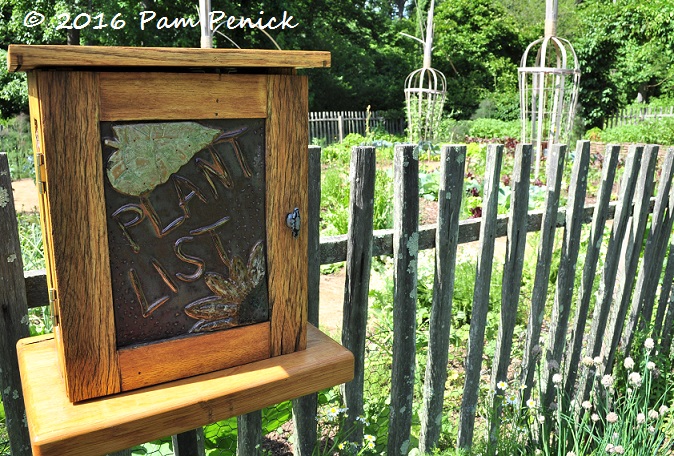 As in other parts of the garden, Chanticleer provides a plant list in a charming, handcrafted box. (Plant lists are helpfully available online too, although only a few star plants are accompanied by photos, making it challenging at times to find the plant you're looking for.)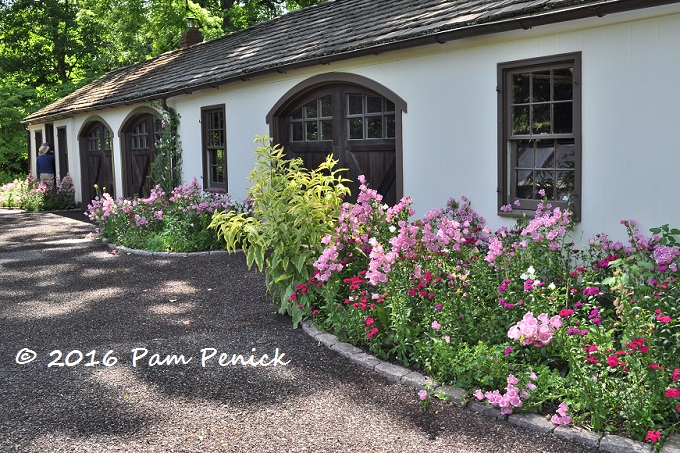 The estate's old stables now function as a garden shed. Bellflower (Campanula medium 'Champion Pink') shows off prettily in front.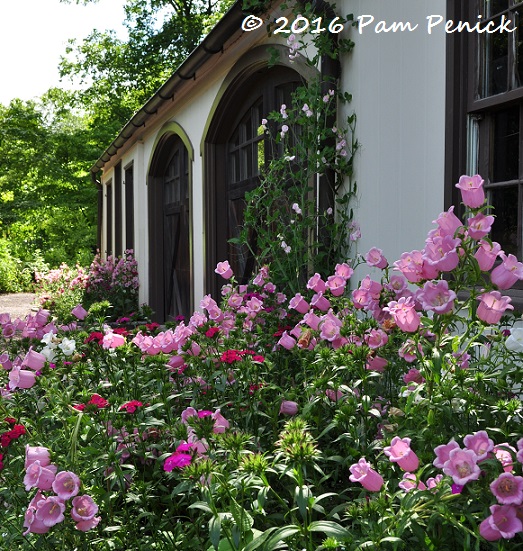 A closer look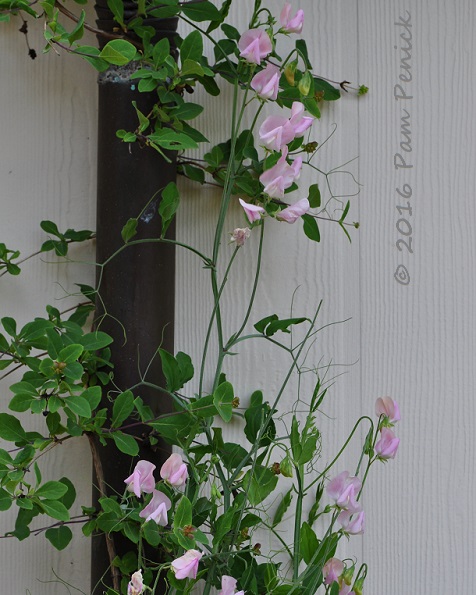 Pink sweet pea climbs a downspout.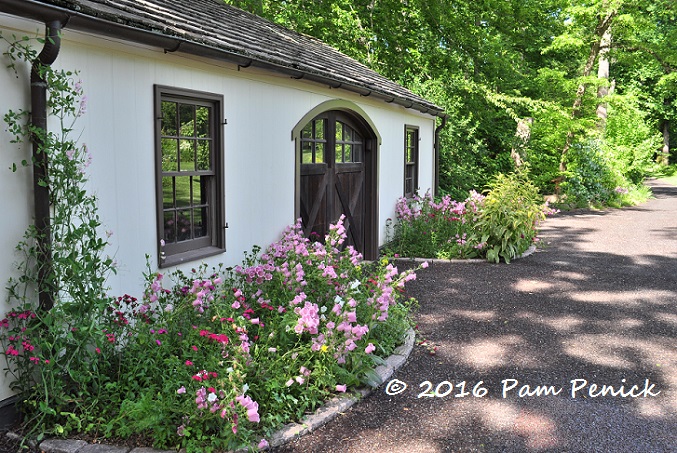 We walked down this path…

…and I gasped in surprise. I missed this fallen-tree bridge — and Bell's Woodland, which starts here — the last time I visited Chanticleer, back in 2008. (Maybe the bridge is new since then?) It would have been easy to miss this time, as the path is hidden in a back corner and on the quieter side of the garden. But we didn't, and so began another exploration of delight.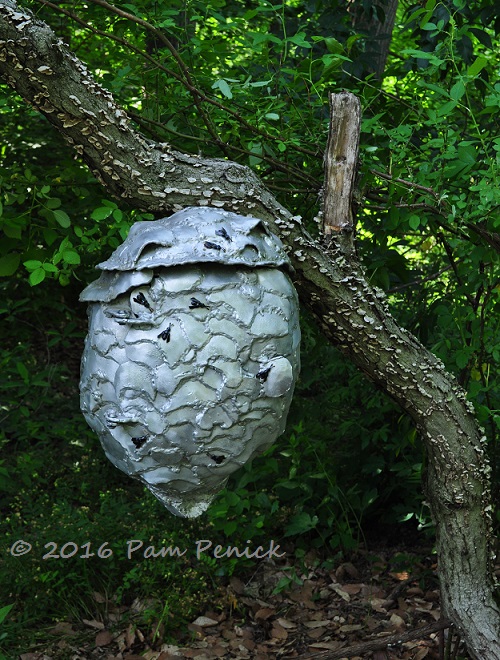 Hanging realistically from a tree branch, a plant-list box in the shape of a hornet's nest — complete with a few hornets! — sets an almost fairy-tale mood.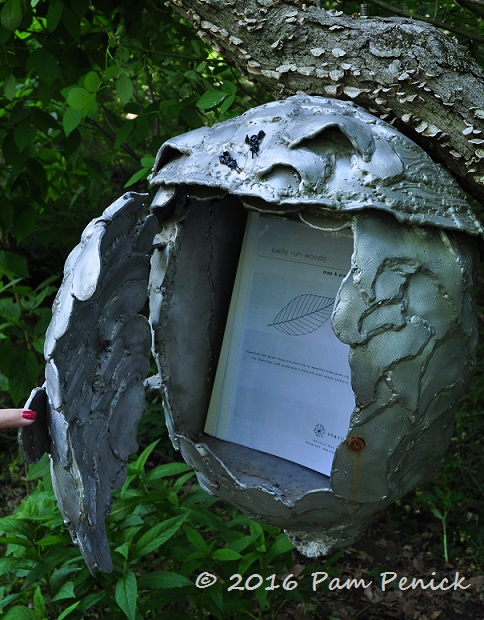 You can't help using a cautious touch as you open it up.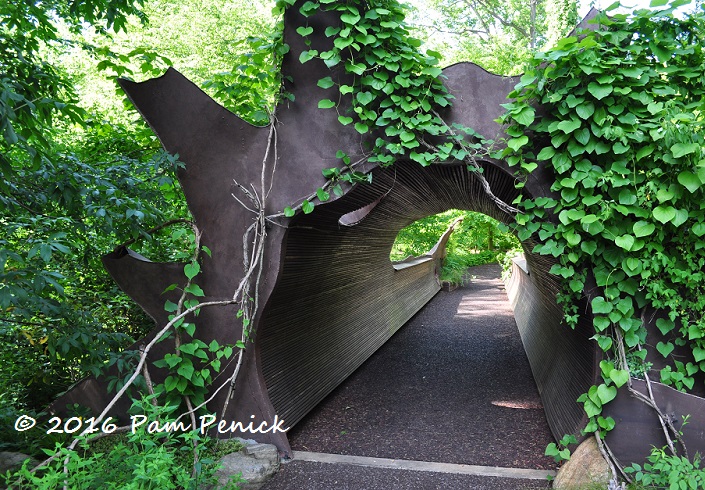 The bridge is a marvel of verisimilitude as well. It's made to resemble a fallen, partially decayed beech tree, and you enter through vine-draped roots.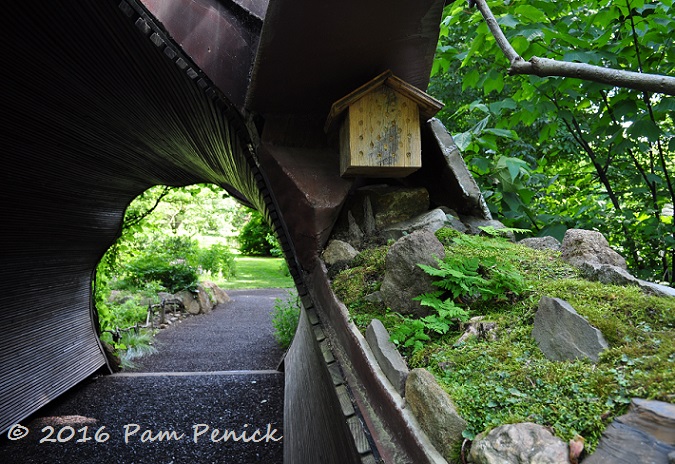 The "decayed" portion is open to sunlight and, just as a real fallen tree does, supports the growth of colonizing plants.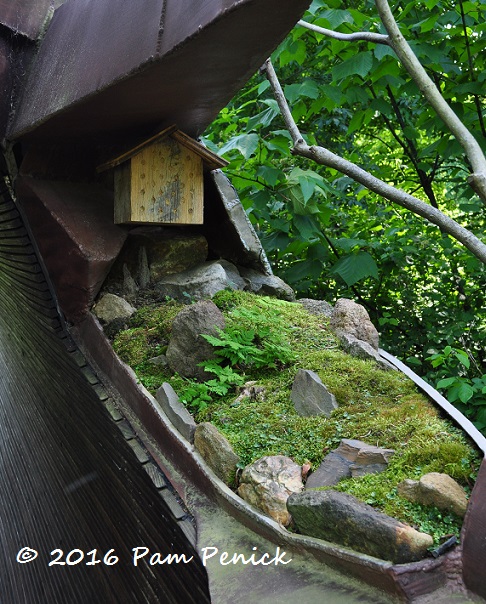 Moss, rocks, and a mason bee house are tucked along one side of the "log."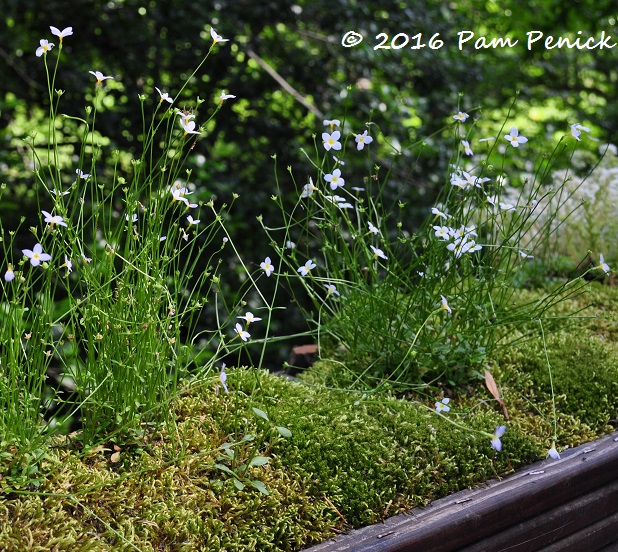 Delicate flowers spring out of a mossy bed.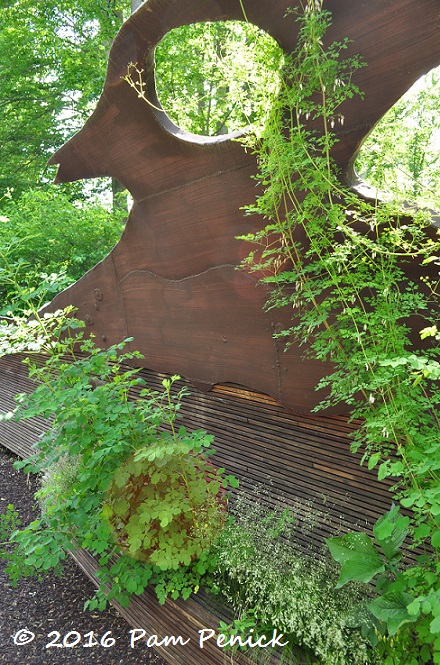 More plants growing over the old fallen tree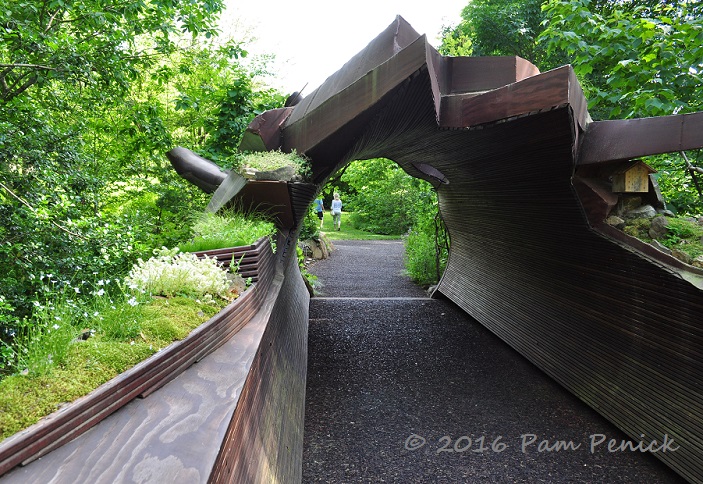 A wider view shows the planted sides and jagged, "broken" end of the tree bridge.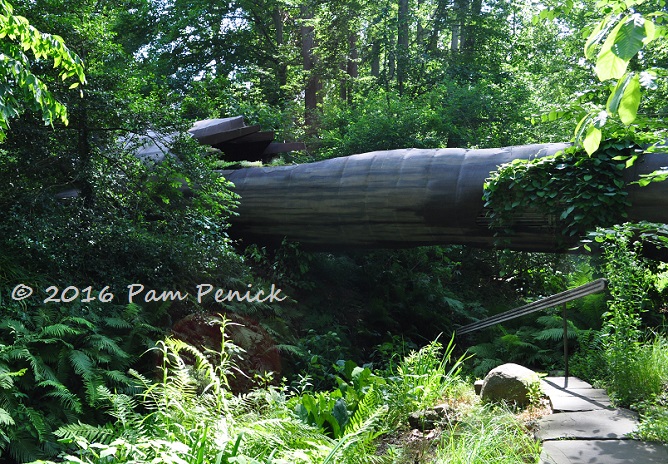 And here's how it looks from the outside. Isn't it wonderful? You feel rabbit-sized as you walk through it.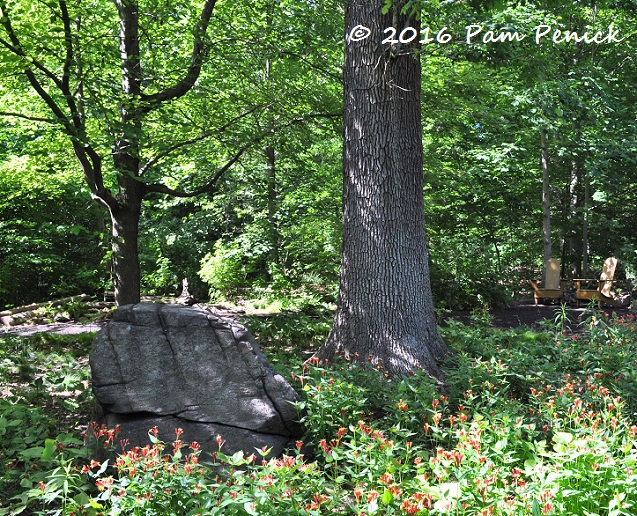 Chairs are tucked into the woodland garden here and there, inviting you to sit and enjoy the peaceful scene.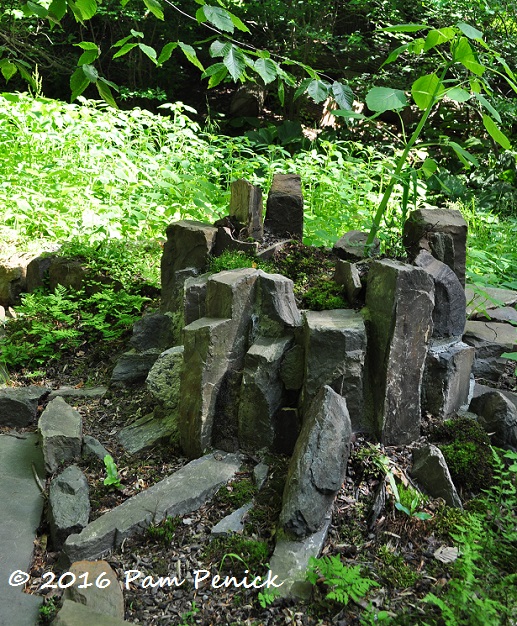 I took a seat and discovered a stone representation of an old tree stump — like petrified wood — complete with moss and other colonizing plants inside.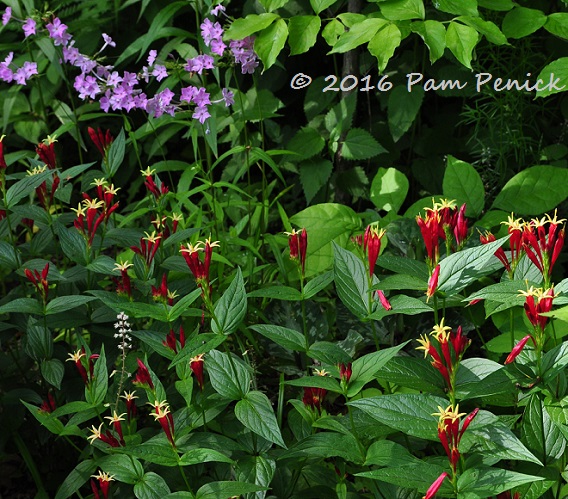 Indian pink (Spigelia marilandica) was showy in the shade.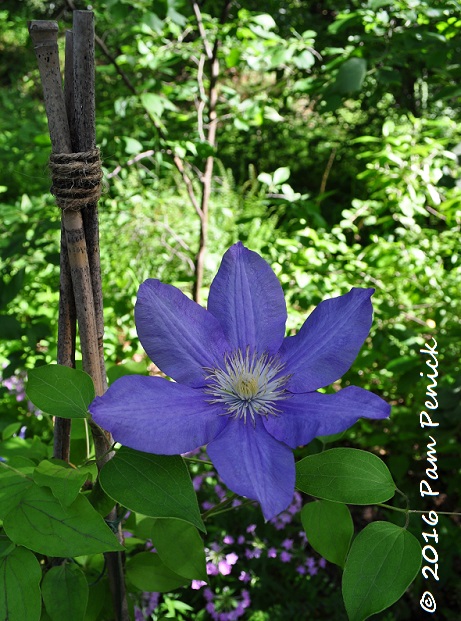 Clematis too, its upper half reaching for the sun.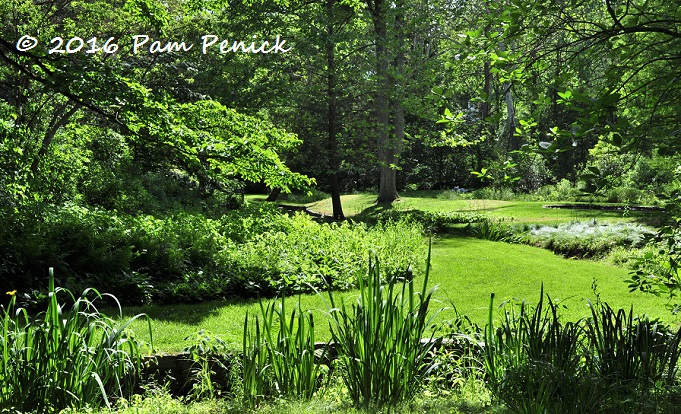 From the shady woods we emerged into a glade of curving green lawn bisected by a sunken, stone-walled stream: Bell's Run Creek.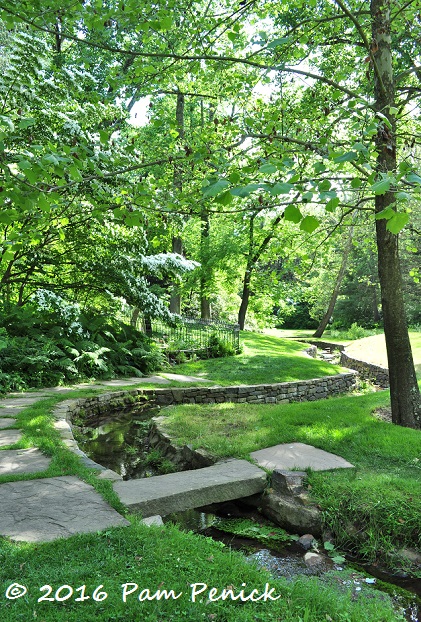 Bridges cross here and there, allowing you to explore both sides of the creek.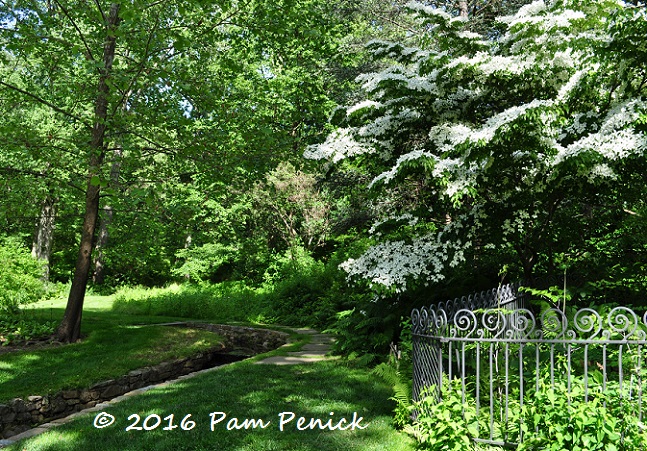 A dogwood was blooming at the edge of the woods.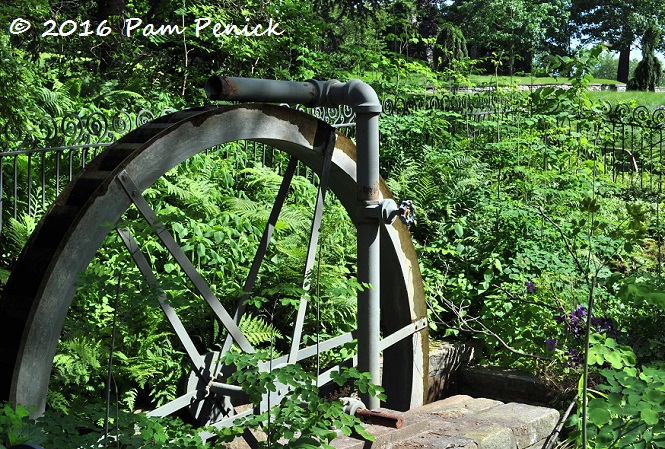 An old waterwheel that once pumped water up to the swimming pool still turns, although it's no longer in use.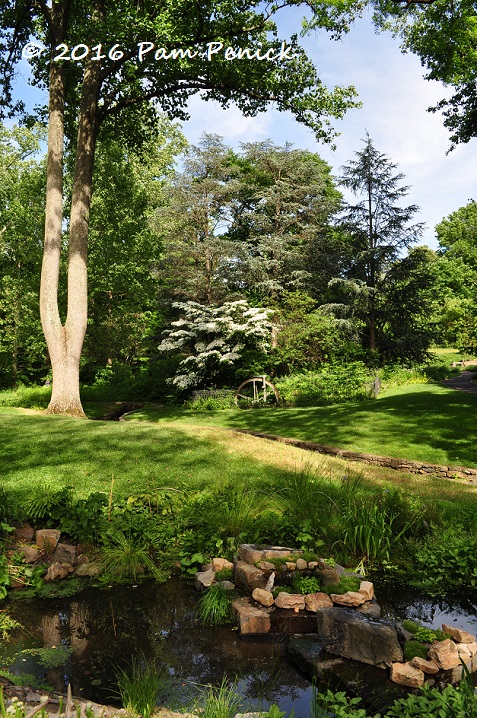 A long view to the waterwheel and dogwood. In the foreground, the stream widens around a weir of stacked stone.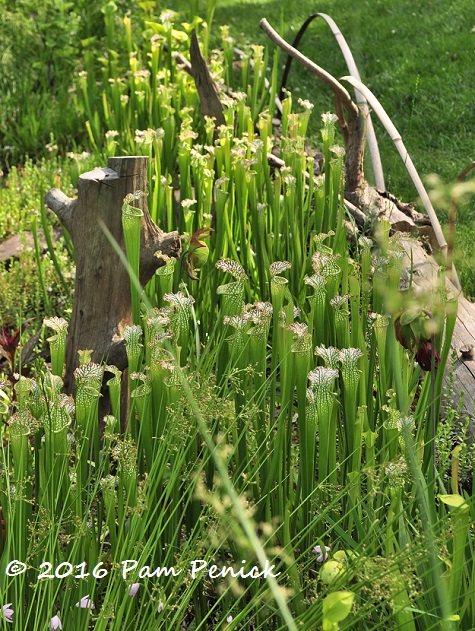 Carnivorous pitcher plants grow in the moist soil.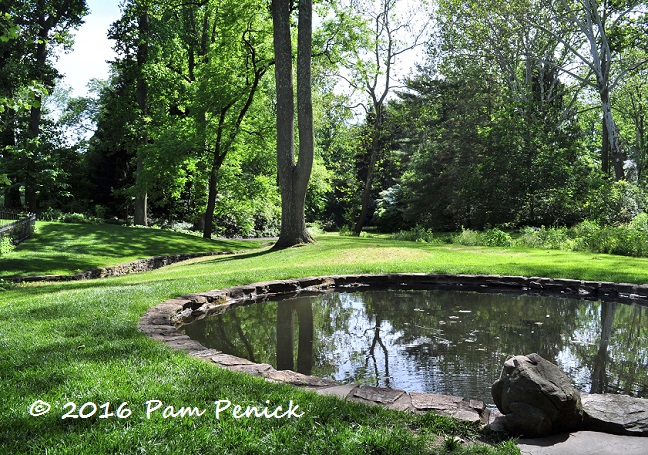 An oval reflecting pond offers a tranquil spot to pause and take in the view.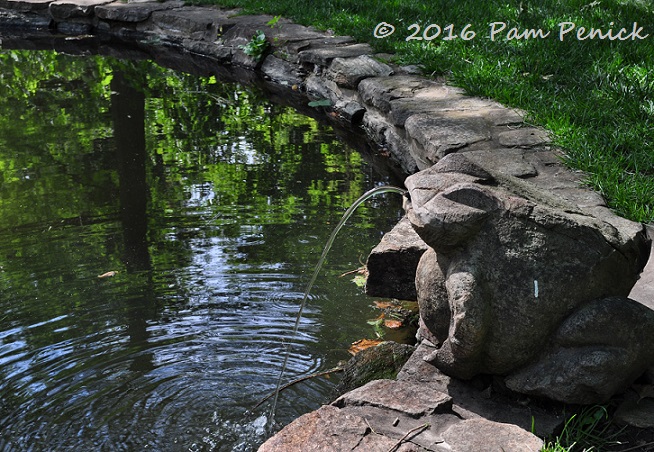 Along one side, a stone frog spits water into the pool.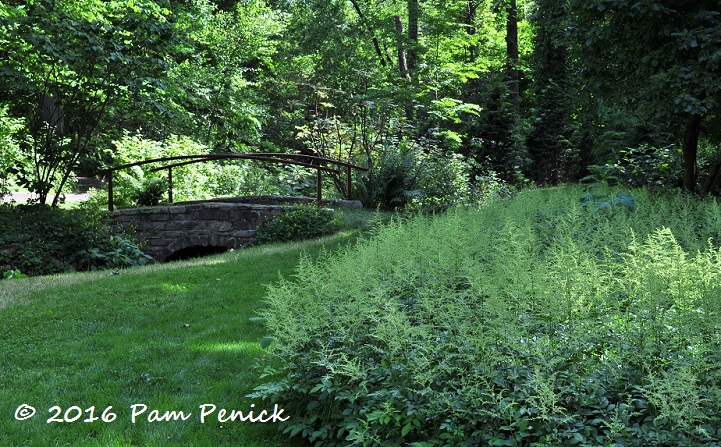 Another beckoning bridge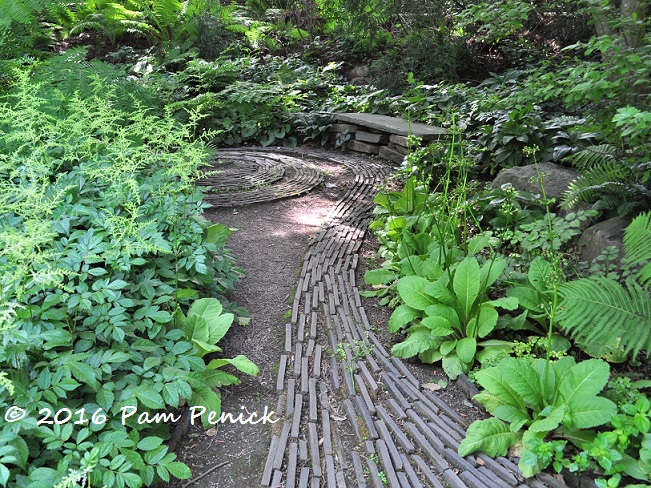 Sticking to the edge of the garden, I rediscovered several wonderful slate paths and tiny patios.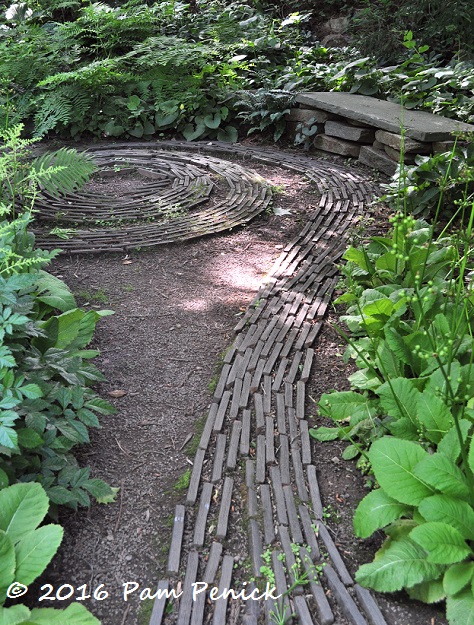 This spiraling path of slate pieces laid on edge is one of my favorite artistic features at Chanticleer, and it was one of the inspirations for my own sunburst stone path around my stock-tank pond.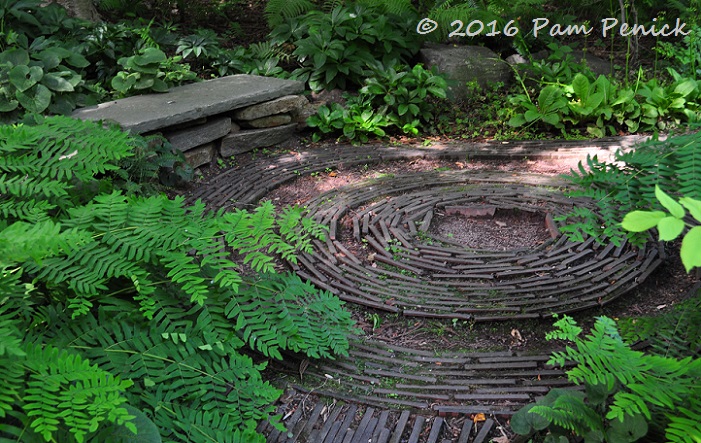 Pure magic, a surprise element that invites you into a secret-seeming space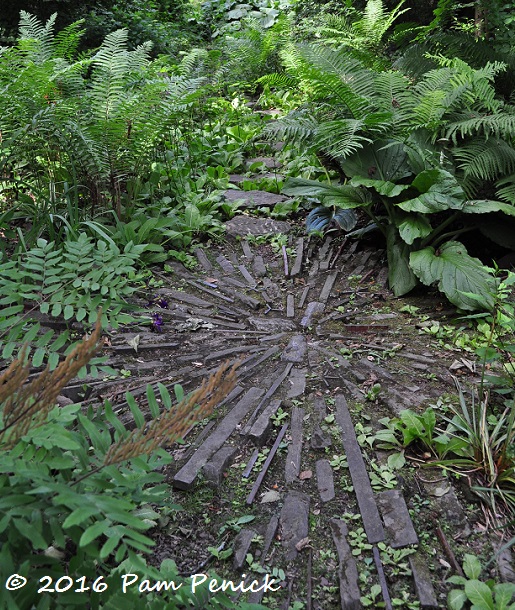 Farther along the path, a stone-and-slate starburst suddenly appears at your feet, giving you a reason to slow down, not hurry on through.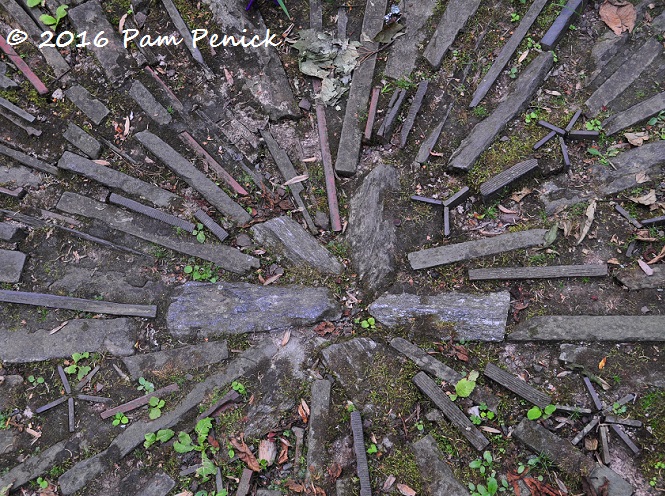 Stars within stars. I love unique paving materials like this. Paths can be art too!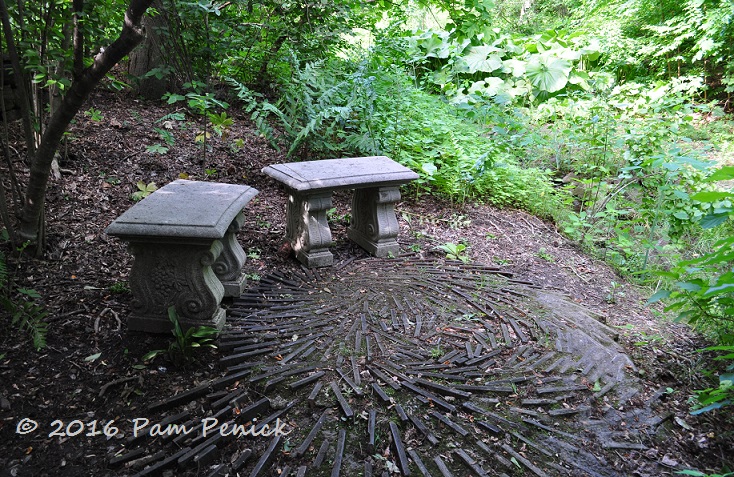 One more — a whorl of slate laid on edge for a tiny patio, with two small benches angled for conversation.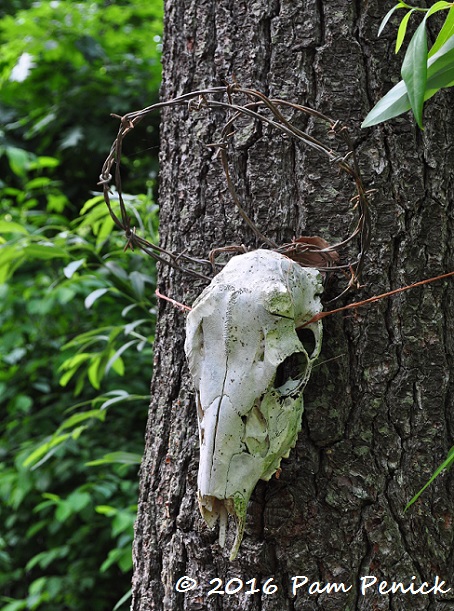 On a pine tree, a skull haloed with barbed wire is one of the few non-functional pieces of art I noticed in the garden, and it has an incongruously Southwestern vibe. Still, I liked it too. How could I not like anything at magical Chanticleer?
Up Next: The dry and hilly Gravel Garden, one of my favorite parts of Chanticleer. For a look back at the white and gold Tennis Court Garden, click here.
I welcome your comments; please scroll to the end of this post to leave one. If you're reading this in a subscription email, click here to visit Digging and find the comment box at the end of each post.
_______________________
Digging Deeper: News and Upcoming Events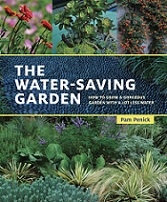 Do you review? Have you read my new book, The Water-Saving Garden? If you found it helpful or inspirational, please consider leaving a review — even just a sentence or two — on Amazon, Goodreads, or other sites. Online reviews are crucial in getting a book noticed. I really appreciate your help!
All material © 2006-2016 by Pam Penick for Digging. Unauthorized reproduction prohibited.
posted in
Annuals
,
Arbors
,
Botanic/Public Gardens
,
Bridges
,
Bugs
,
Carnivorous plants
,
Edibles
,
Fences
,
Flowers
,
Fountains
,
Garden art
,
Garden structures
,
Garden tours 2016
,
Lawns
,
Paths
,
Patios & decks
,
Ponds
,
Rivers & creeks
,
Rock
,
Sculpture
,
Seating
,
Sheds
,
Shrubs
,
Signs
,
Succulents
,
Travel
,
Trees
,
Vines
,
Water features