July 11th, 2016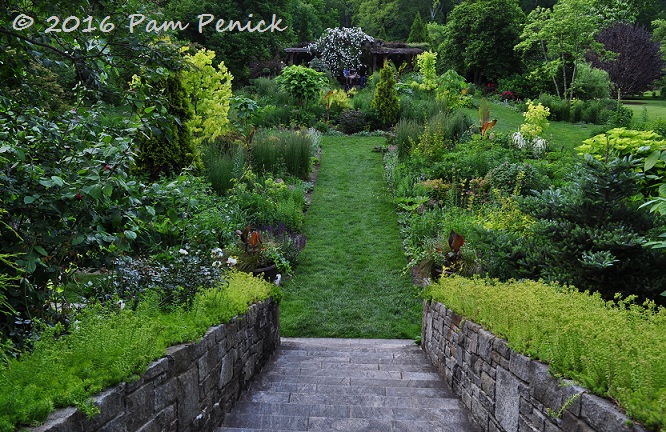 The Tennis Court Garden at Philly-area Chanticleer (which I visited in early June with my friend Diana) sits a dozen feet below the main path, so you enjoy an overlook before entering. Back when Chanticleer was a private estate property, this space held a tennis court. Today it's a formally designed but loosely planted garden of perennials, annuals, and small trees, with golden foliage grabbing the spotlight. Grass paths bisect the garden and lead to an arbor smothered in 'New Dawn' roses. Along the stair wall, 'Angelina' sedum leads you in with golden "handrails."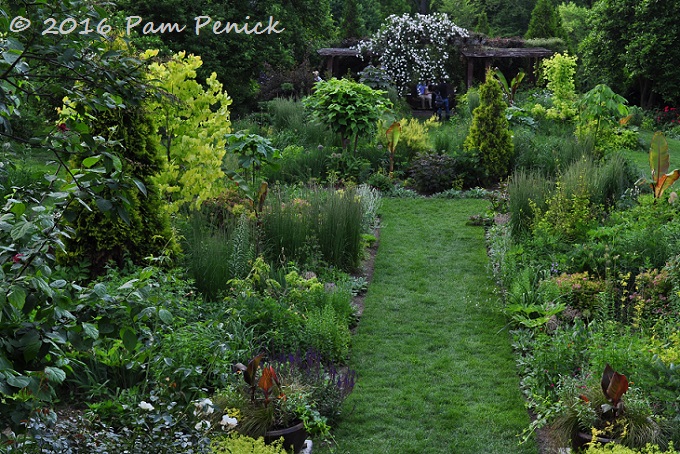 I believe that's a 'Hearts of Gold' redbud (Cercis canadensis) glowing at left. For a sense of scale, notice the people sitting in the arbor at the rear of the garden, partially hidden by cascading roses.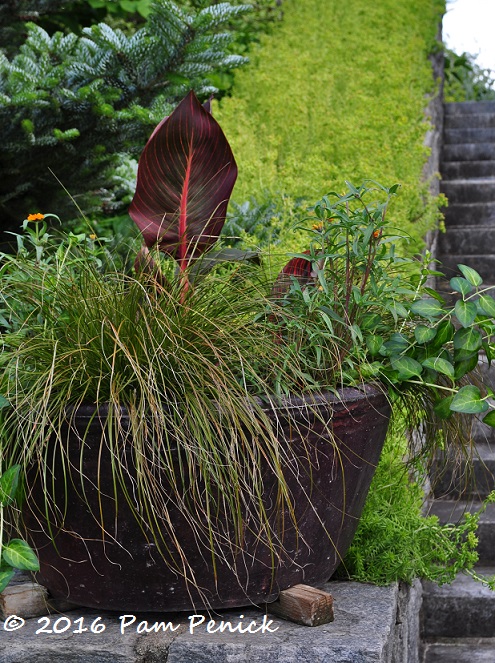 Pots at the base of the stairs contain copper-tinged sedge (Carex testacea 'Prairie Fire'), a coral-striped canna, and orange narrowleaf zinnia (Zinnia angustifolia 'Orange Star').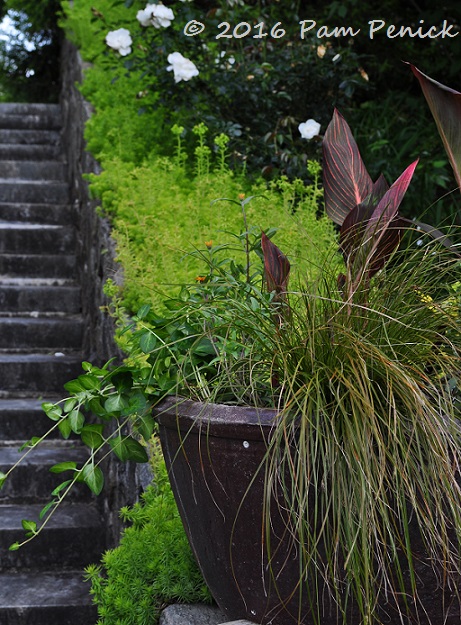 As evening fell, white roses added a mooonlit glow above the golden sedum.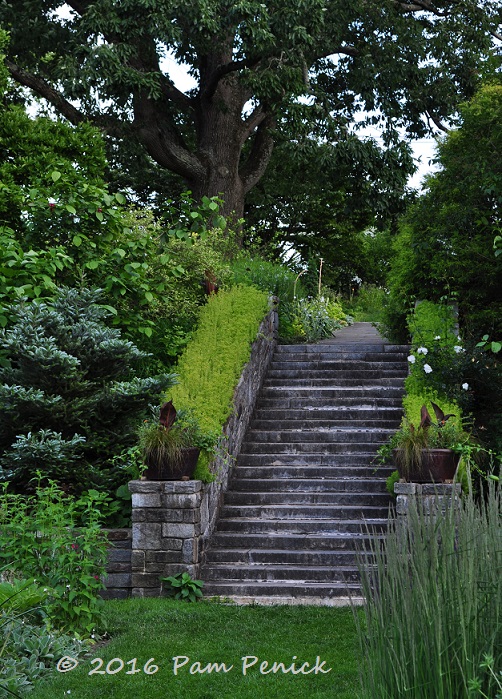 A wider view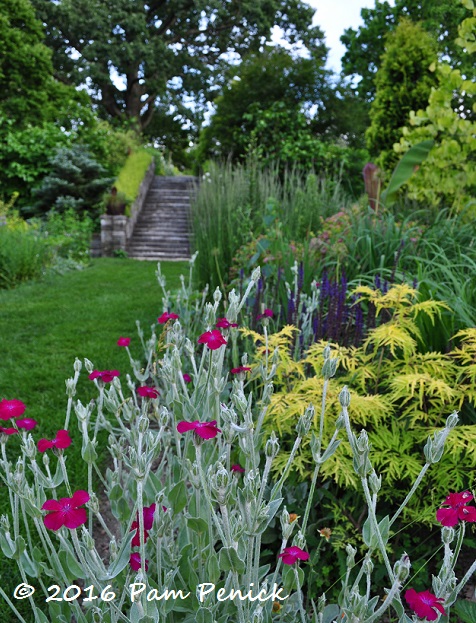 Further into the garden, a silvery rose campion (Lychnis coronaria) pairs up with a gold-leafed something or other.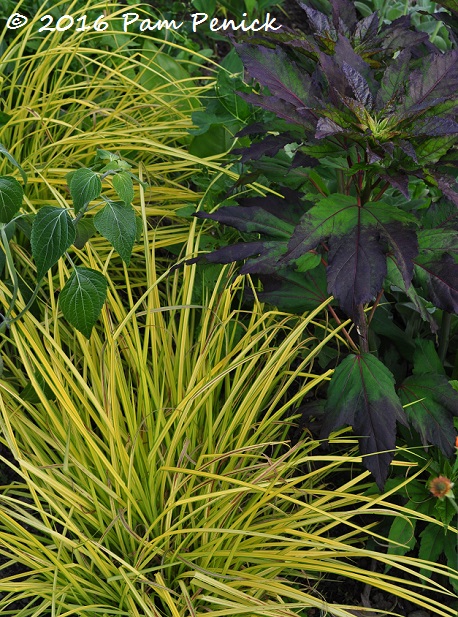 Golden sedge (Carex elata 'Bowles Golden') and a purple-leaf plant — one of my favorite color combos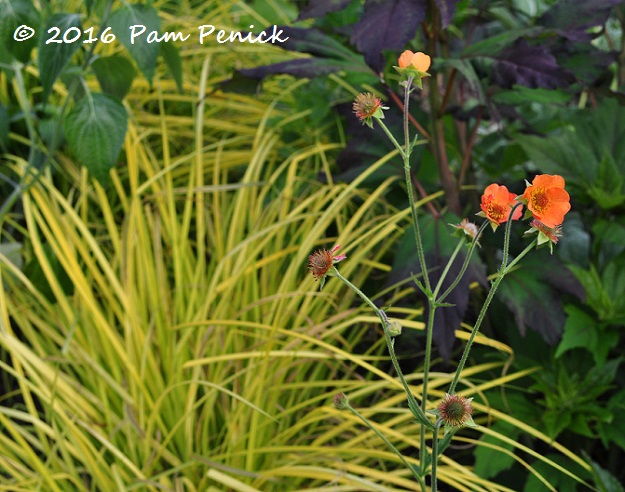 Add 'Totally Tangerine' geum, and it's even better.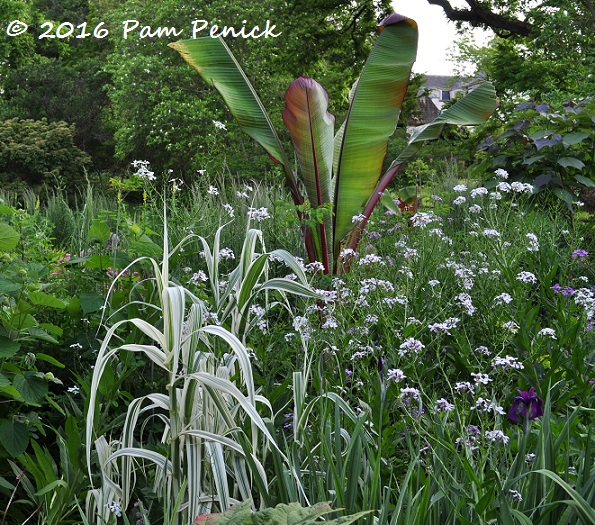 Diana and I visited the Tennis Court Garden twice, once during the bright midday and again at dusk. The many white flowers and foliage plants — like striped giant reed (Arundo donax 'Peppermint Stick') — were easy to overlook in bright light. But as the sun went down, these plants really started to shine. A banana adds a tropical note behind the giant reed. I don't know the ID of the pale flowers at right.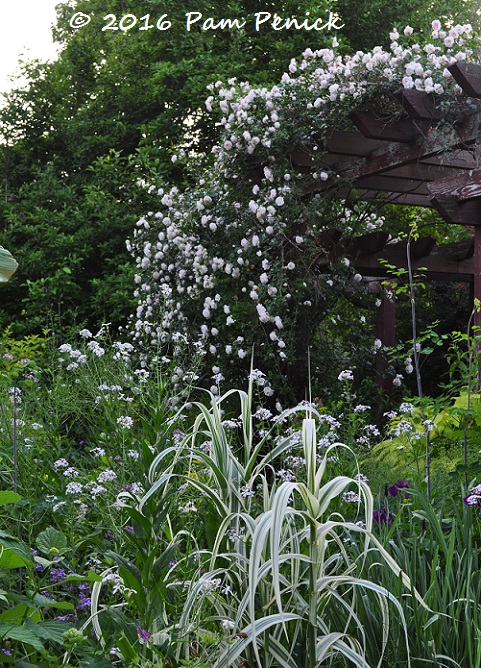 'New Dawn' roses with 'Peppermint Stick' giant reed — sweet!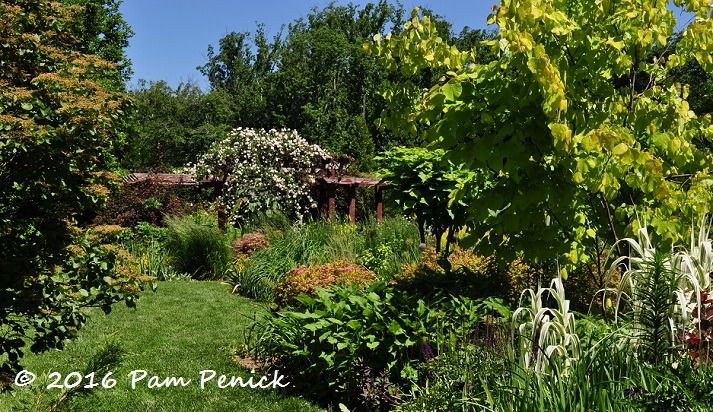 To see the difference in midday light, here are two pictures from around 11 am. The golden leaves glow intensely, but the whites are nearly lost.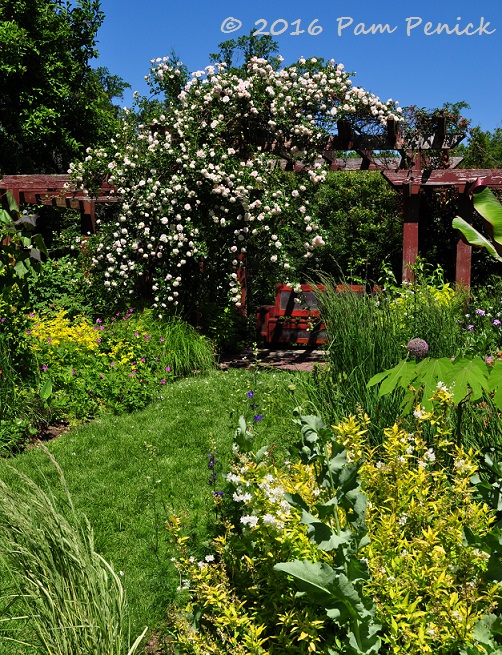 Still pretty, but much better appreciated at the end of the day.
Up Next: Chanticleer's Cut Flower and Vegetable Garden and the magical Bell's Woodland and Bell's Run Creek. For a look back at the sunny Pond Garden, click here.
I welcome your comments; please scroll to the end of this post to leave one. If you're reading this in a subscription email, click here to visit Digging and find the comment box at the end of each post.
_______________________
Digging Deeper: News and Upcoming Events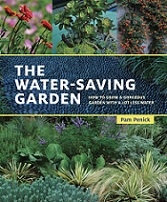 Do you review? Have you read my new book, The Water-Saving Garden? If you found it helpful or inspirational, please consider leaving a review — even just a sentence or two — on Amazon, Goodreads, or other sites. Online reviews are crucial in getting a book noticed. I really appreciate your help!
All material © 2006-2016 by Pam Penick for Digging. Unauthorized reproduction prohibited.
posted in
Annuals
,
Arbors
,
Botanic/Public Gardens
,
Color
,
Containers
,
Garden tours 2016
,
Grasses
,
Lawns
,
Paths
,
Roses
,
Succulents
,
Travel
,
Trees
,
Tropicals
,
Walls