July 7th, 2016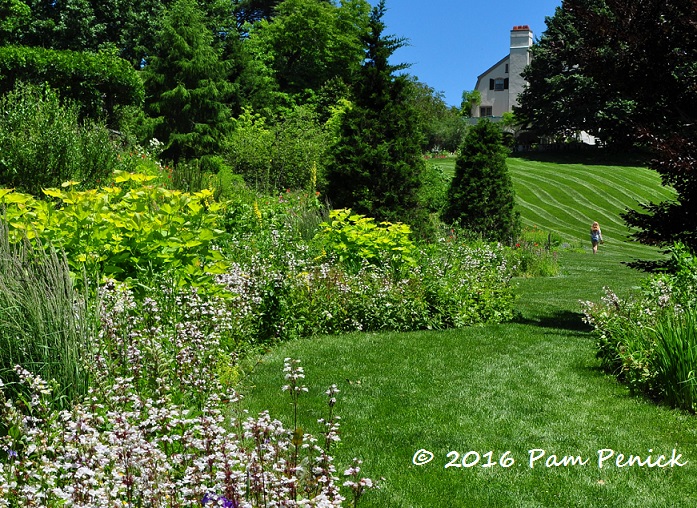 Is any garden feature more alluring to people than a body of water? I think not. As Diana and I emerged from Chanticleer's shady, green Asian Woods during our early June visit, the sunlit and flowery Pond Garden greeted us (the pond was hidden from view at first), set off by a verdant lawn leading up to Chanticleer House in the distance. I had to explore!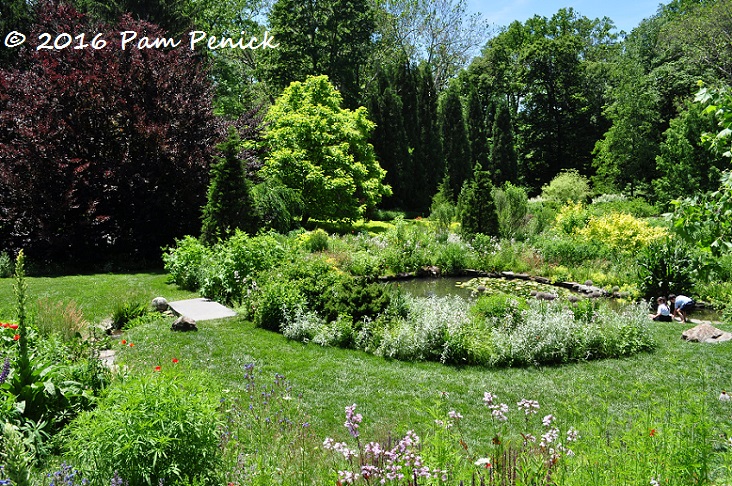 To orient you, let's jump across the pond to the uphill side so we can look down on the whole scene. The pond garden looks small from here, but it actually emcompasses a series of small ponds surrounded by coarse, flowering plants and bright and dark foliage combos.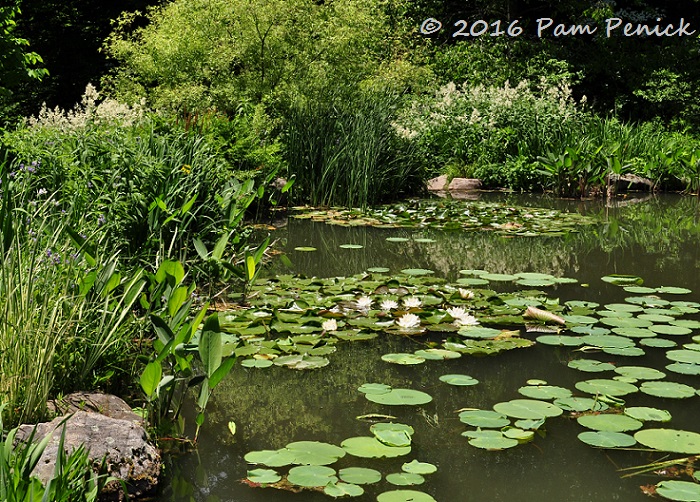 Zooming in for a closer look, let's admire white waterlilies…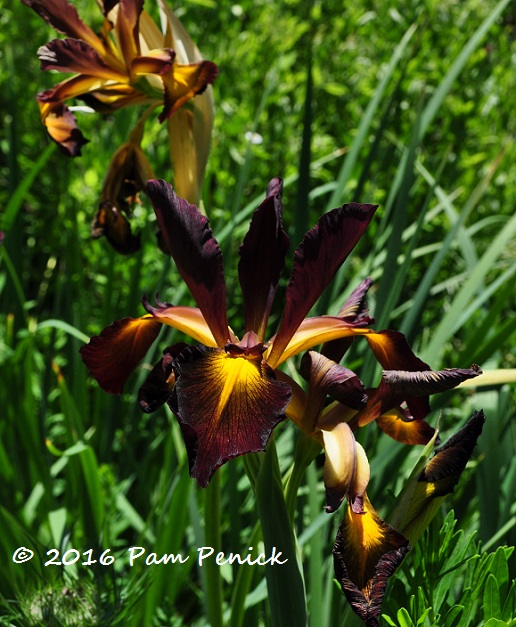 …burgundy-and-gold spuria iris…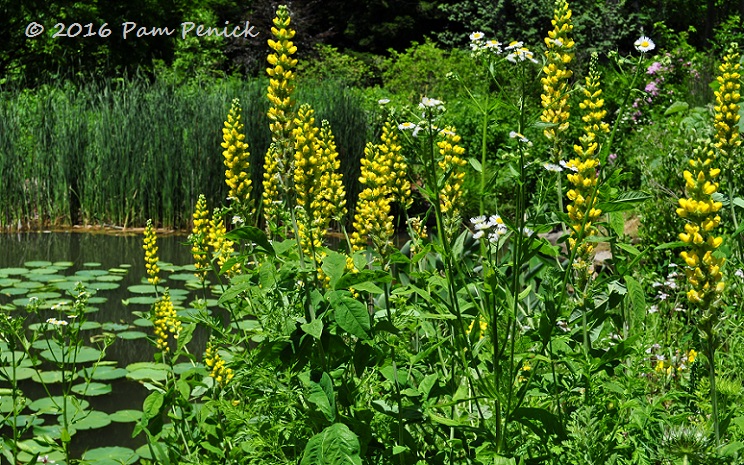 …and the sunshine-yellow spires of Carolina lupine (Thermopsis villosa).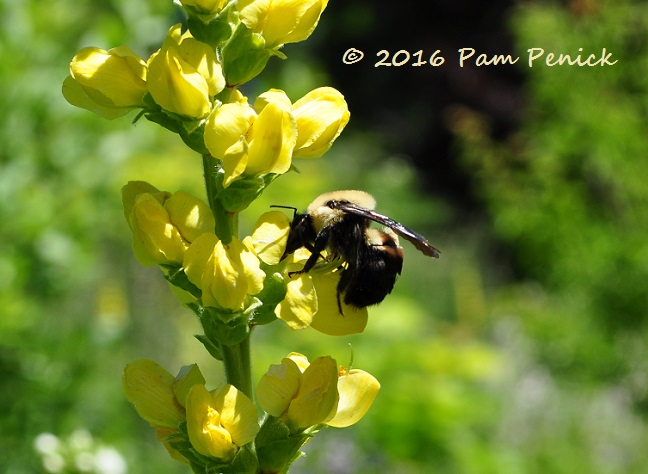 The bees like them too.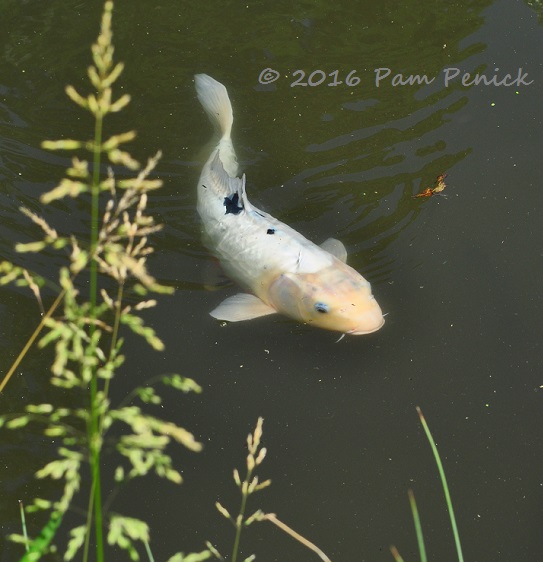 Friendly koi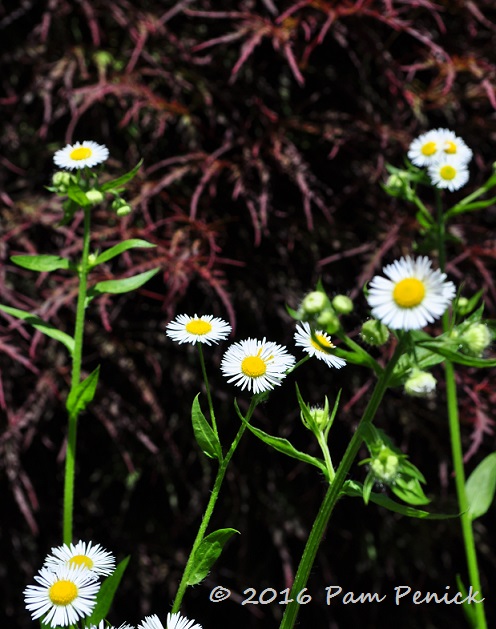 White daisies against rusty red Japanese maple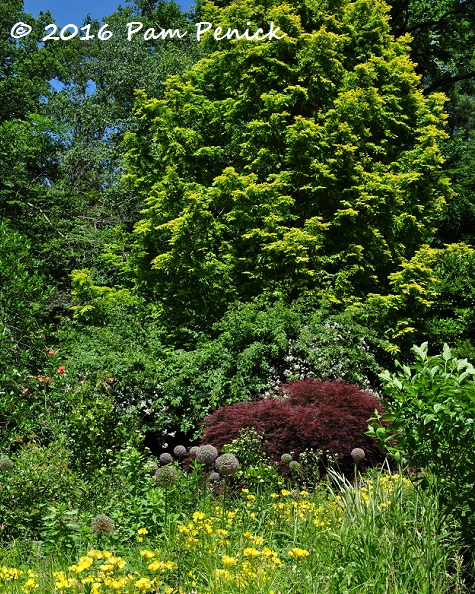 While the pond garden was abloom with early summer flowers, it also showcased beautiful foliage combinations, especially with dramatic contrasts of gold and burgundy.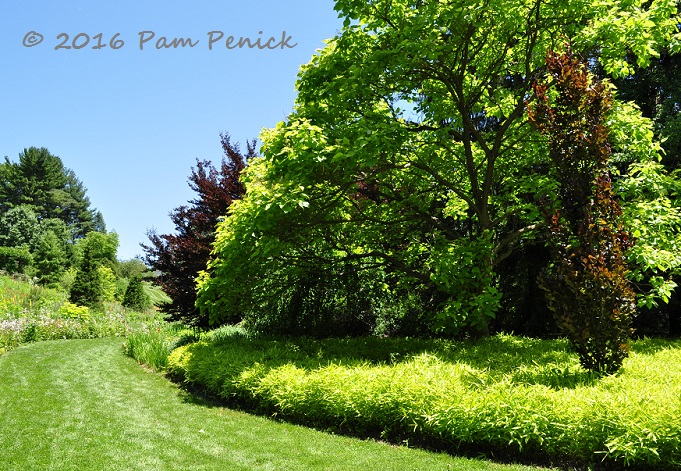 Like this groundcovering chartreuse bamboo (I think) and burgundy columnar tree.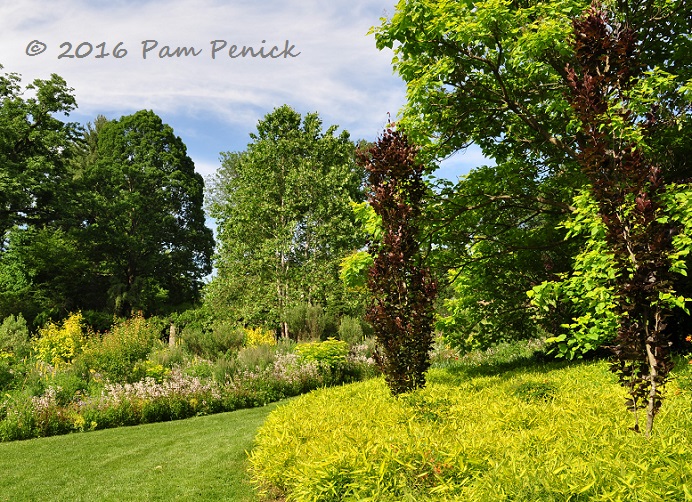 Lovely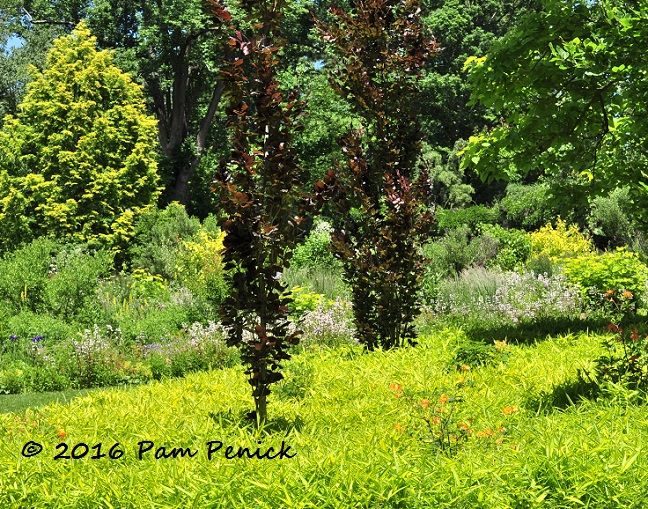 One more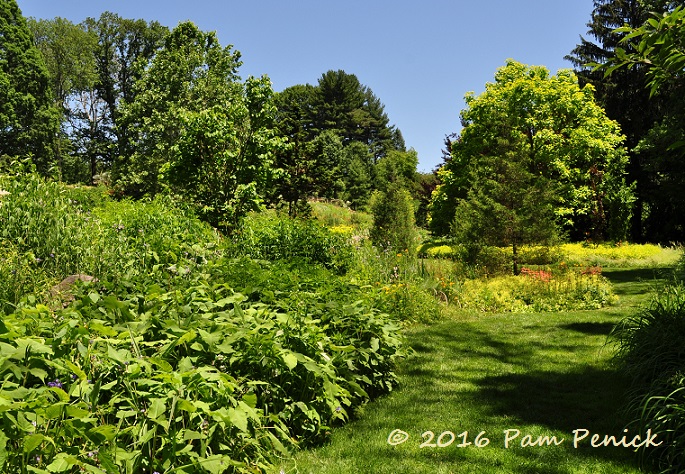 Really, there was gold enough to make King Midas happy.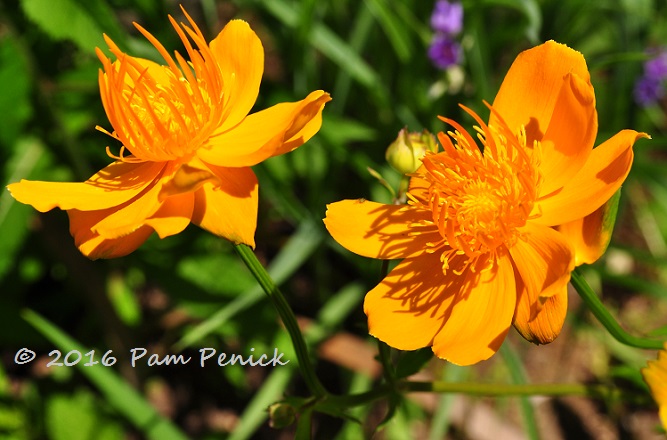 Trollius chinensis 'Golden Queen'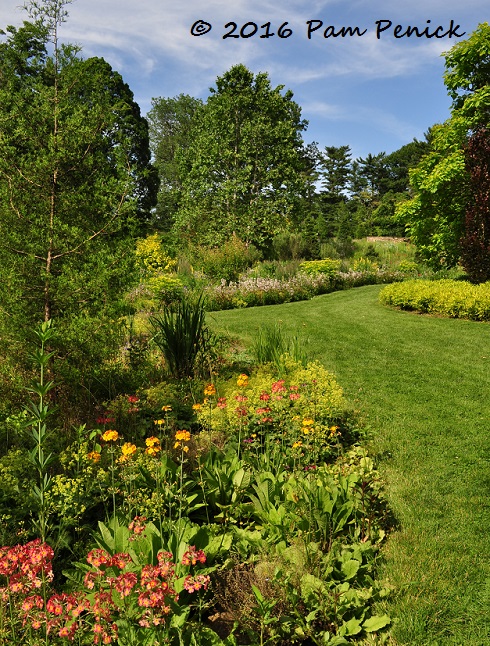 Primrose in the foreground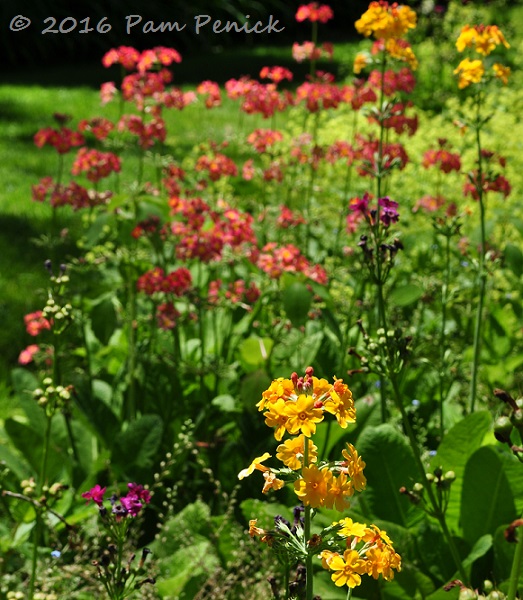 Primrose in sunset hues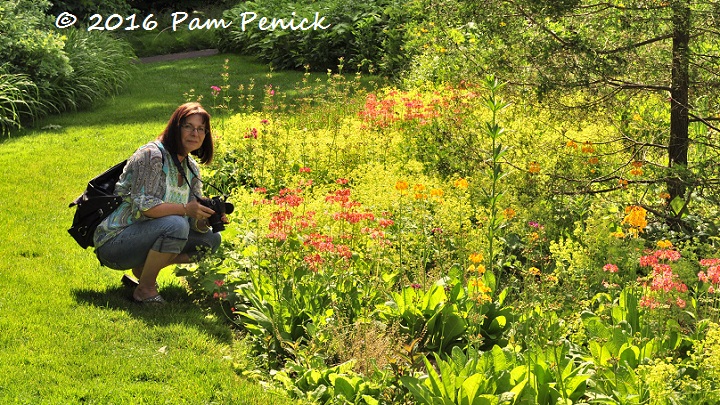 Diana stopped to photograph them too.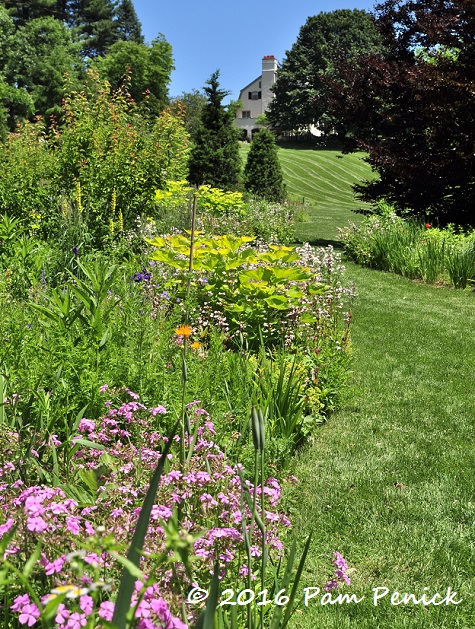 Coming back around to where I entered the garden, I admired the long view again, with golden foliage and pink phlox in the foreground.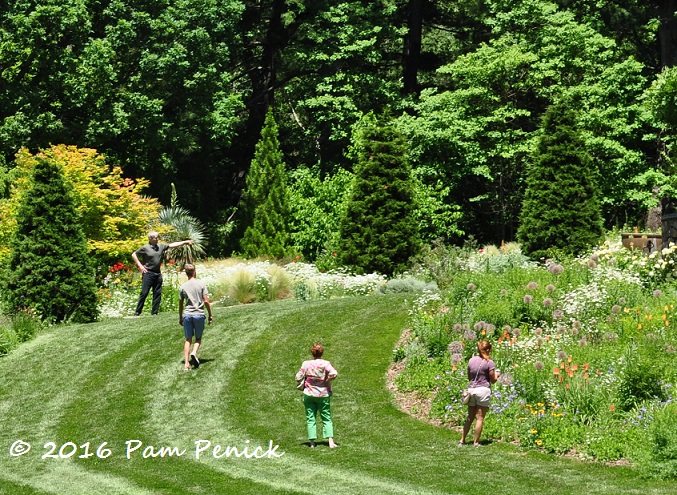 The broadly striped lawn leads up toward the Ruin Garden — and someone's pointing the way — but I'm not ready to show you that just yet.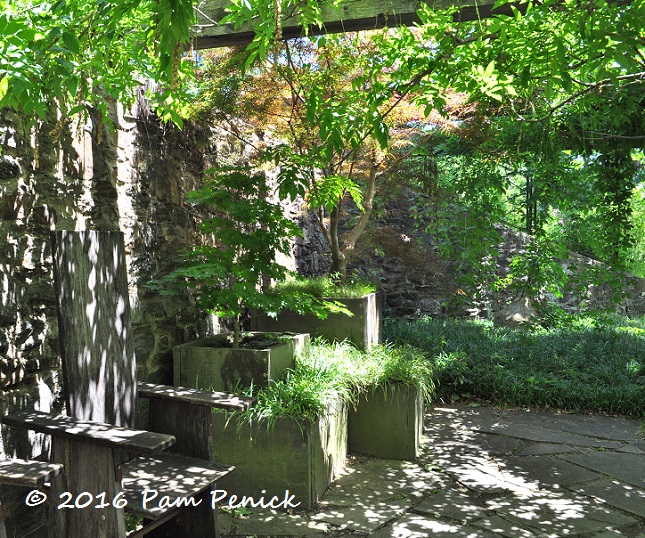 A short way upslope from the pond, a stone-pillared arbor offers a shady spot to look out over the ponds. Four throne-like wooden chairs evoke Cair Paravel.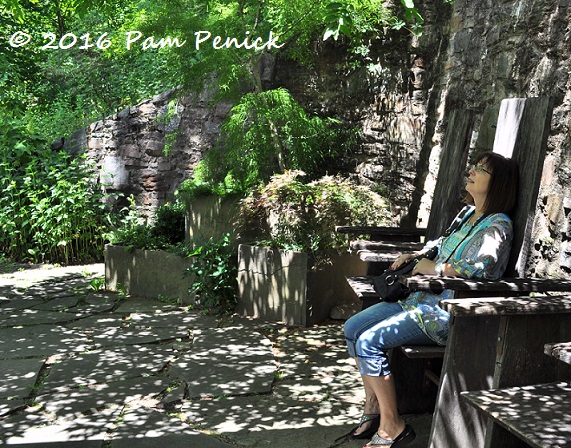 Queen Diana the Adventurous tries one out.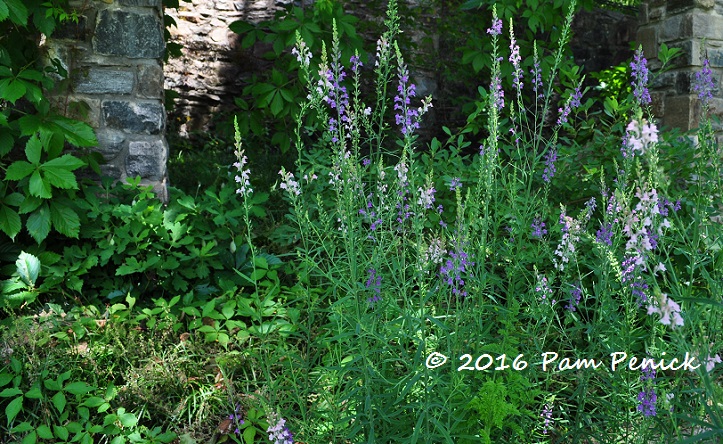 Moving on…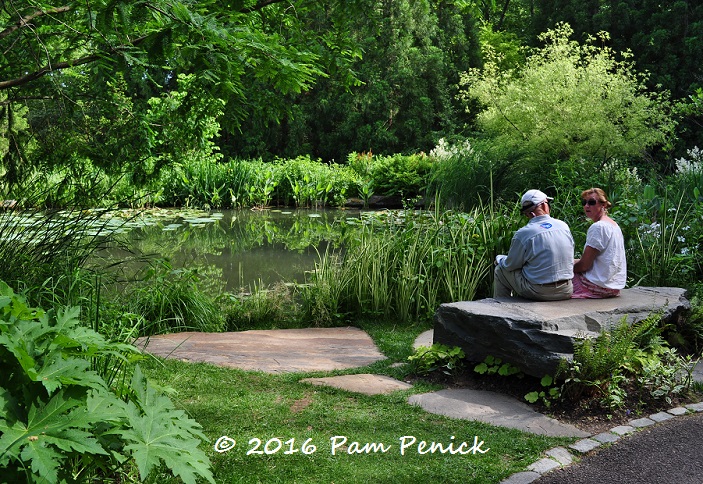 …is that the Stone Table? No, just a stone bench for a couple enjoying the view…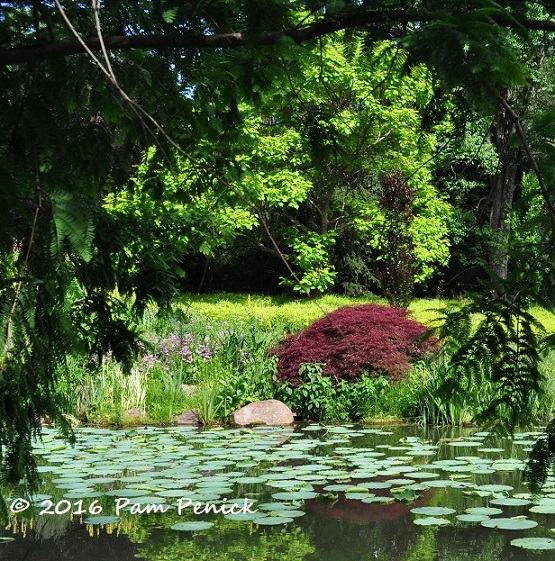 …which is quite nice.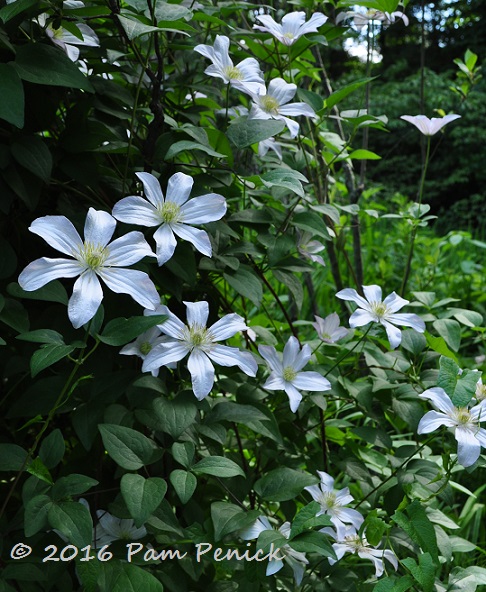 Clematis 'Huldine' (if I've ID'd it correctly) was shining like moonlight on water.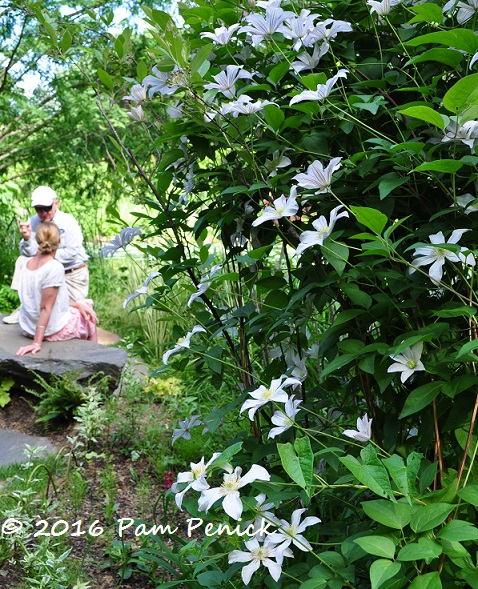 I hope you've enjoyed this tour of Chanticleer's Pond Garden!
Up Next: Chanticleer's Tennis Court Garden of gold and white. For a look back at the Elevated Walkway's meadow garden and the green Asian Woods Garden, click here.
I welcome your comments; please scroll to the end of this post to leave one. If you're reading this in a subscription email, click here to visit Digging and find the comment box at the end of each post.
_______________________
Digging Deeper: News and Upcoming Events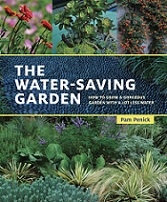 Do you review? Have you read my new book, The Water-Saving Garden? If you found it helpful or inspirational, please consider leaving a review — even just a sentence or two — on Amazon, Goodreads, or other sites. Online reviews are crucial in getting a book noticed. I really appreciate your help!
All material © 2006-2016 by Pam Penick for Digging. Unauthorized reproduction prohibited.
posted in
Arbors
,
Bamboo
,
Bees
,
Botanic/Public Gardens
,
Containers
,
Fish
,
Garden tours 2016
,
Lawns
,
Ponds
,
Rock
,
Seating
,
Summer color
,
Travel
,
Trees
,
Water gardening