July 4th, 2016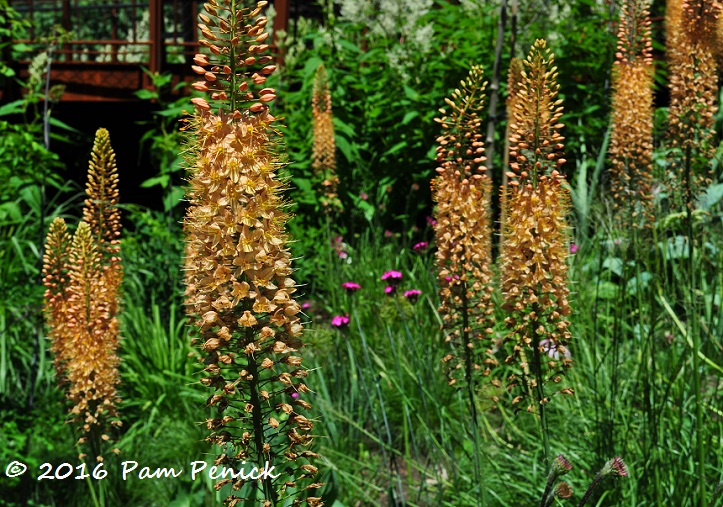 From the formal House Garden at Chanticleer, the garden path steps off into space — or rather, onto the new elevated walkway that provides an accessible, curving descent down a sloping meadow of foxtail lilies, feathergrass, bee balm, coneflowers, and other sun lovers.

I visited Chanticleer, a theatrical "pleasure garden" in the Philadelphia area, in early June. For my traveling companion Diana, it was a first visit. For me, it was a long-anticipated return after 8 years. In the interval, I visited the home garden of Berkeley, California, artist Marcia Donahue, whose rooster-combed bamboo sculptures adorn the upper part of Chanticleer's elevated walkway garden.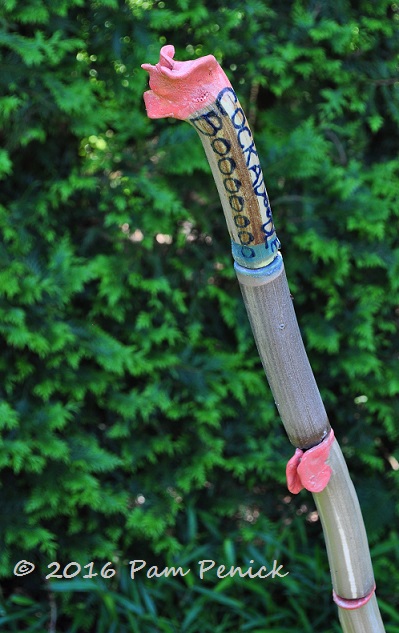 "Cockadoodle Booooooo," one sculpture proclaims — another play on the Chanticleer name (i.e., "rooster").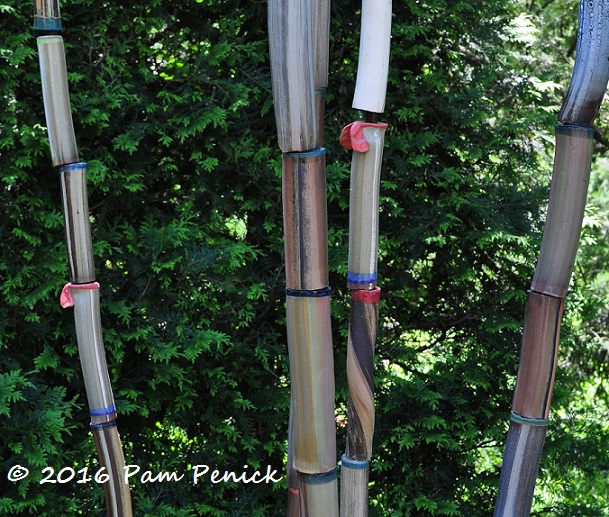 I've seen Marcia's ceramic bamboo pieces in several gardens over the years, including at Peckerwood Garden in Hempstead, Texas. They're very recognizable.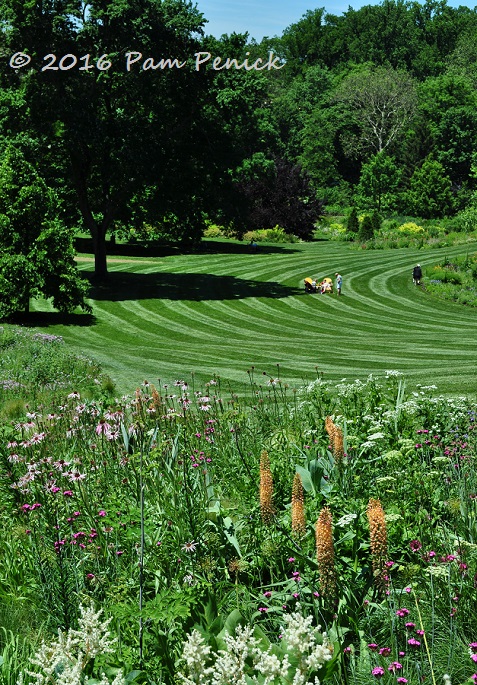 The walkway doubles back on itself like an "S" to descend the slope, offering lovely views across the main lawn, eye-catching with mown stripes. In the distance, a pair of Adirondack chairs occupies the middle of the lawn, and I saw people lounging there for quite a while.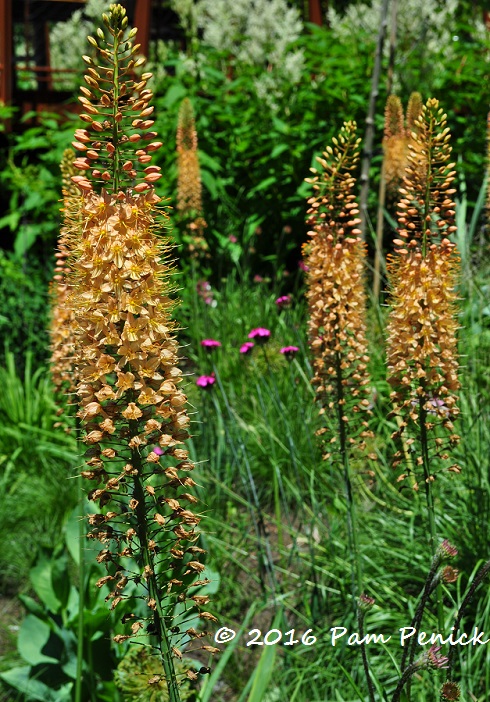 No lounging for us though. There was just too much to see, like these tangerine foxtail lilies (Eremurus x isabellinus 'Cleopatra')…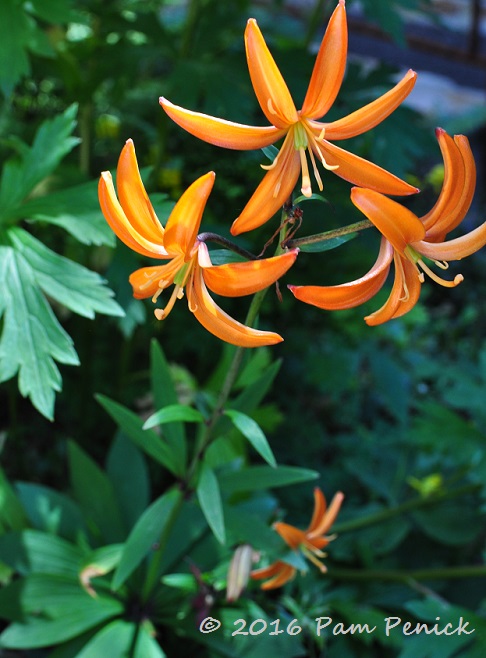 …dainty orange lilies…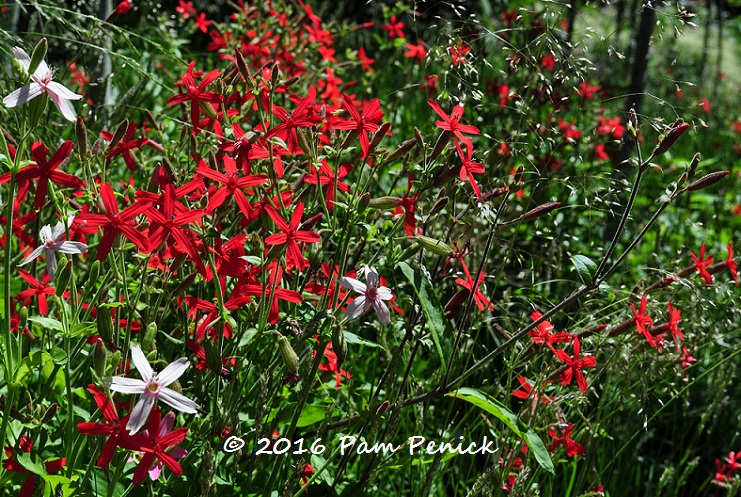 …and star-shaped red (and a few pink) flowers, whose name eludes me.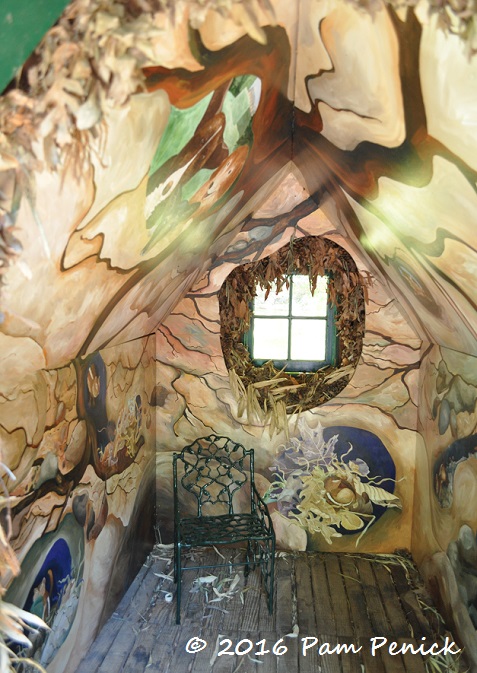 Along the path, the estate's old apple house still sits on the slope, turned into a burrow-themed playhouse for kids.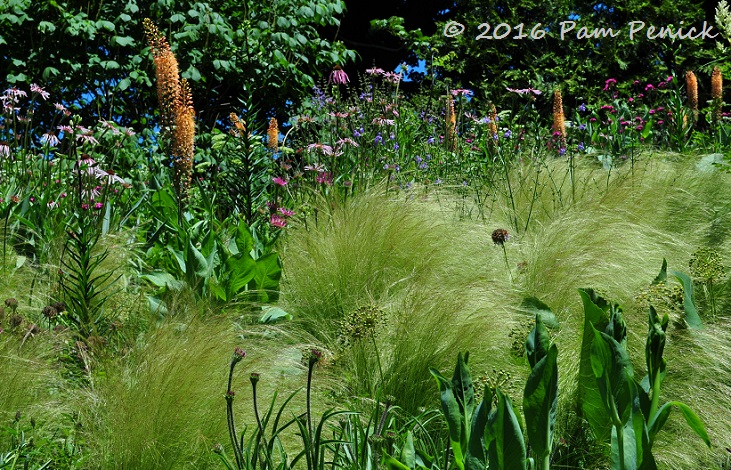 The meadow garden in early-summer bloom, with soft-textured Mexican feathergrass making a chartreuse river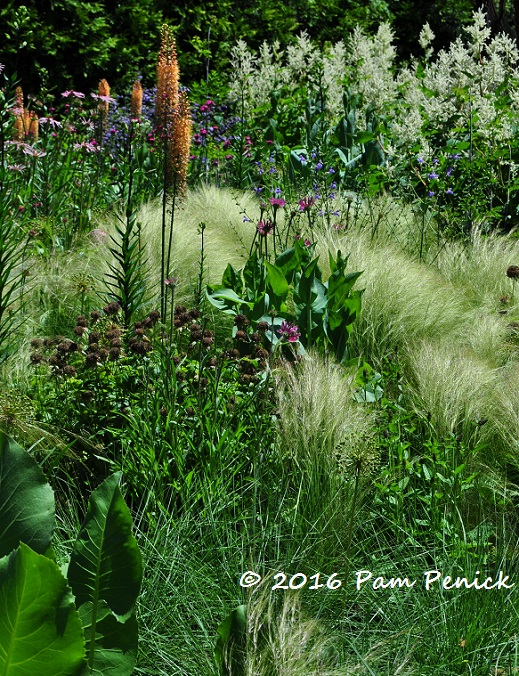 Another look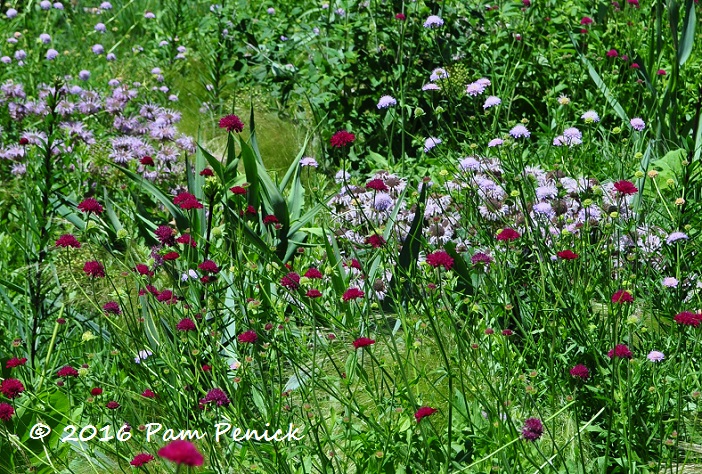 Knautia macedonica and Monarda bradburyana, aka eastern bee balm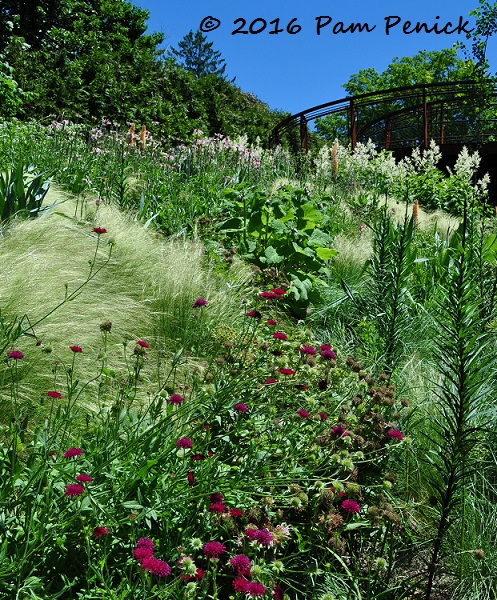 One last look up-slope, with the elevated walkway visible at upper-right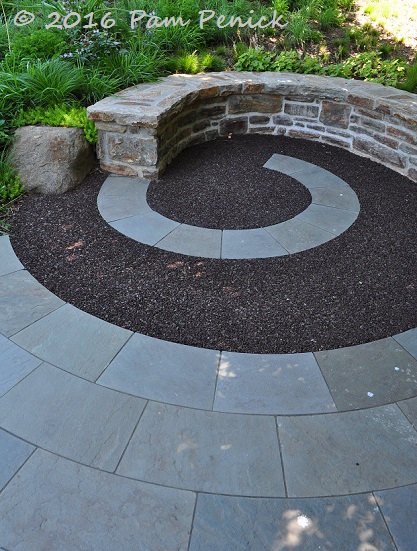 At the bottom, a spiraling seat wall and stone path make a focal point for the transition.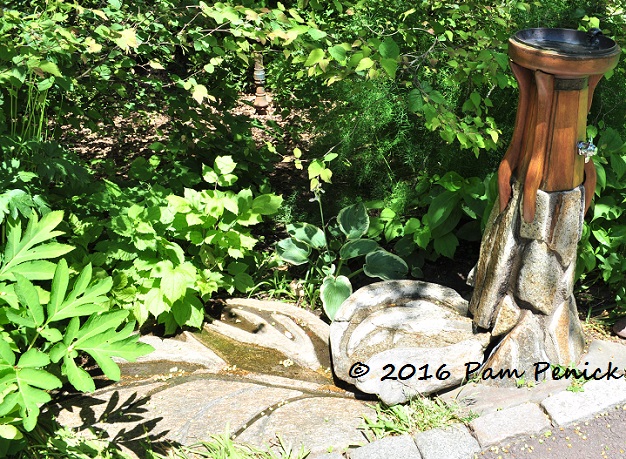 At this point, the day was getting warm, but as we headed downhill we soon found a handcrafted water fountain, one of Chanticleer's many utilitarian-items-turned-work-of-art. Notice how water fills the leafy carvings in the stones at its base.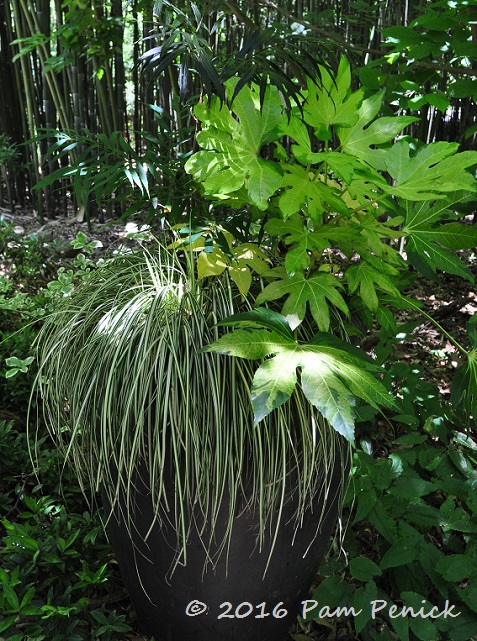 Now we entered the cool, green shade of the Asian Woods garden. Here's my visit from 8 years ago.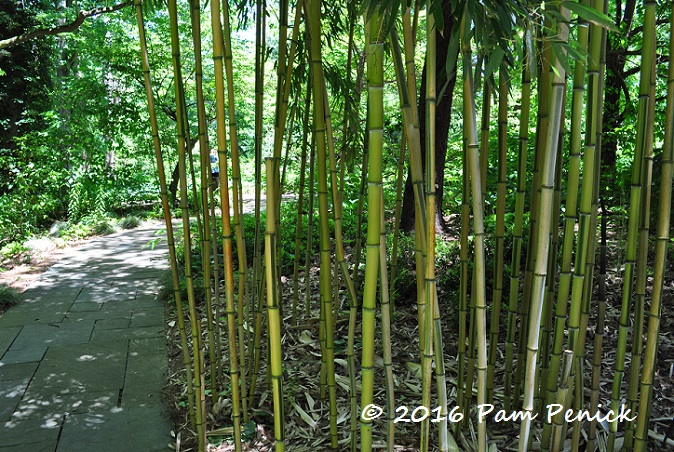 Groves of bamboo create a tranquil mood with their soft rustling.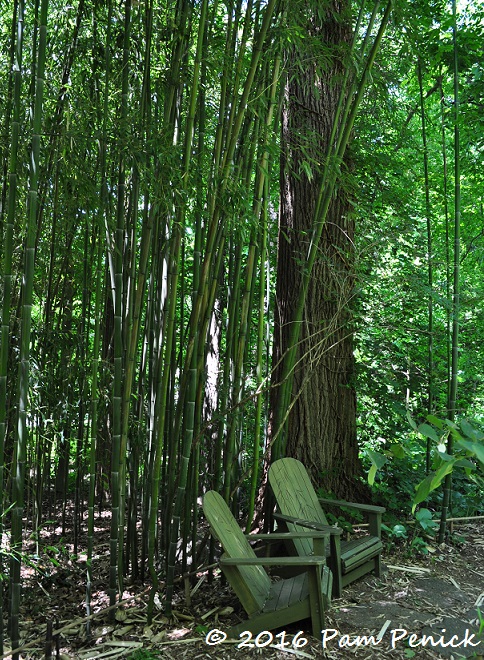 Adirondacks, painted to match, are dwarfed by tall culms.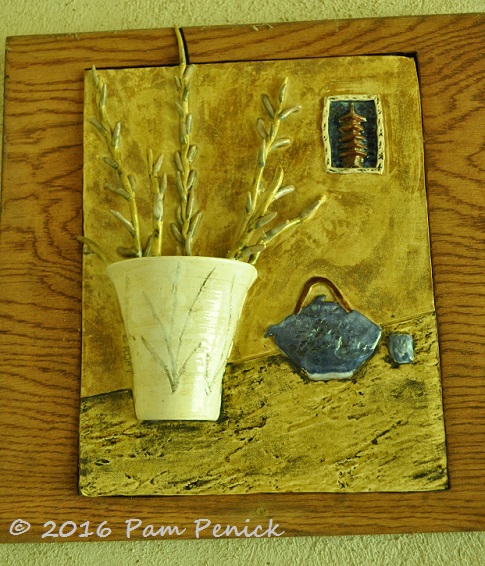 A restroom tucked behind a stand of bamboo resembles a Japanese house, and inside a pretty art tile continues the Asian theme.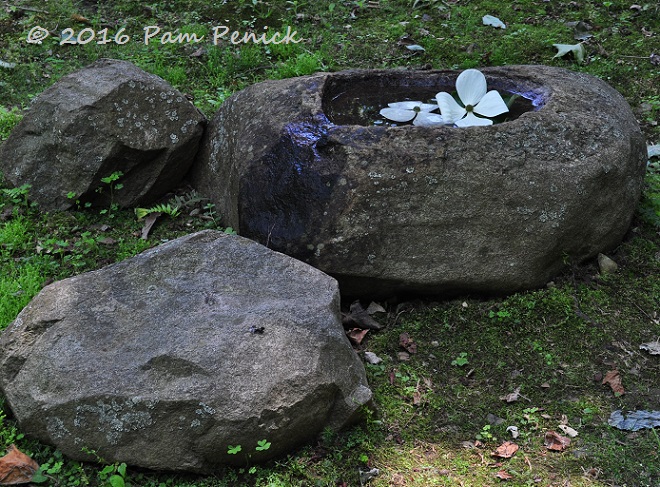 I imagine the staff, just before opening each day, as garden fairies darting here and there to float flowers in water bowls, like these dogwood blossoms in a hollowed-out stone.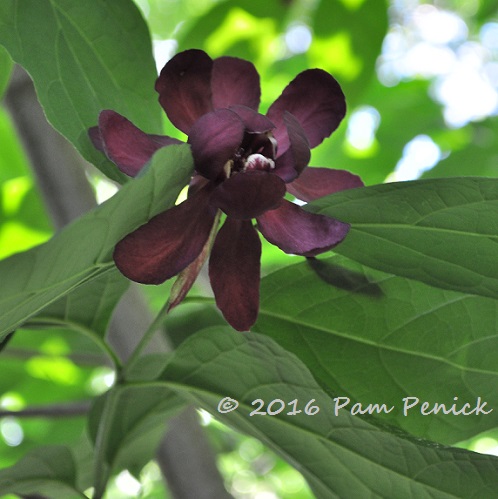 Carolina allspice (Calycanthus floridus)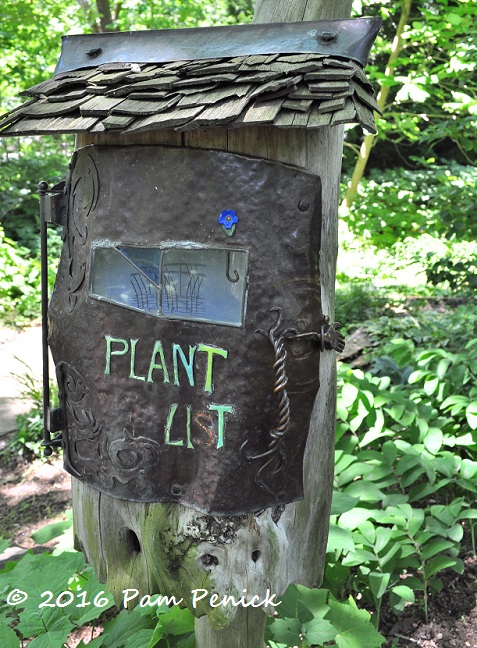 Chanticleer doesn't clutter the view with plant labels. If you want to ID a plant, you can look around for one of the whimsically crafted plant-list boxes, made during the garden's winter closure by multi-talented staff members. Notice the little hand-shaped latch.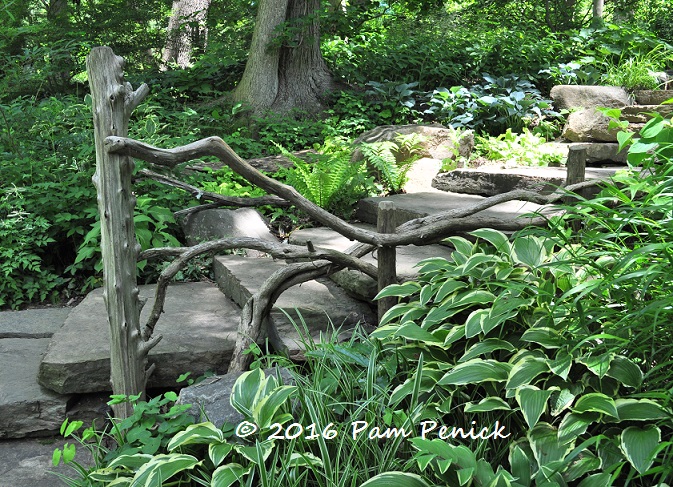 Likewise, an artfully constructed stair rail of wriggly branches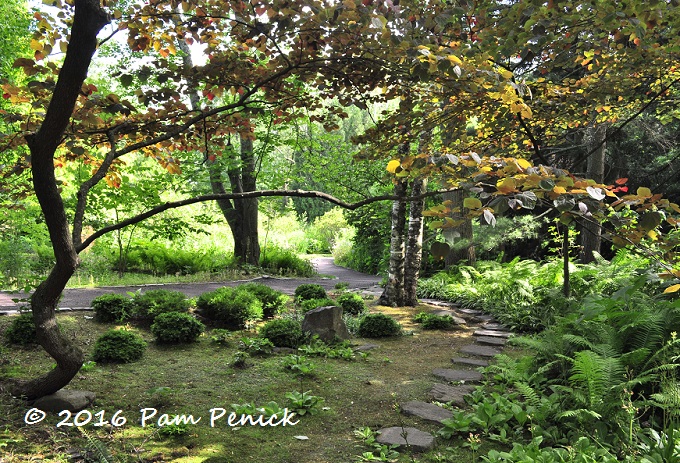 'Forest Pansy' redbud, I think, arching over a stepping-stone path through a mossy glade.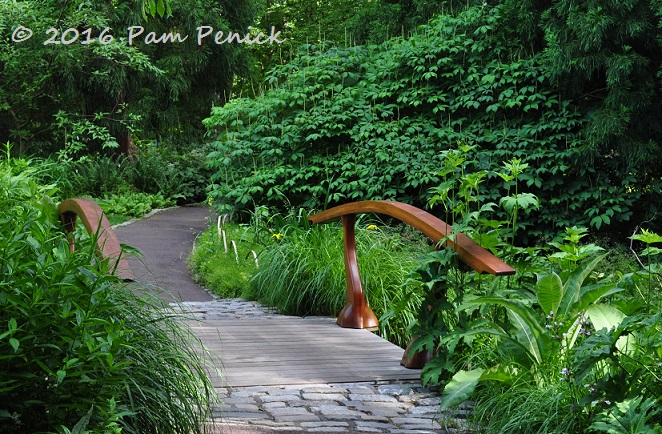 A bridge with an organically "footed" wooden railing spans a small stream. From here, the nearby Pond Garden in all its exuberant floral glory beckoned, and off we went.
Up Next: Chanticleer's colorful Pond Garden. For a look back at the formal House Garden, click here.
I welcome your comments; please scroll to the end of this post to leave one. If you're reading this in a subscription email, click here to visit Digging and find the comment box at the end of each post.
_______________________
Digging Deeper: News and Upcoming Events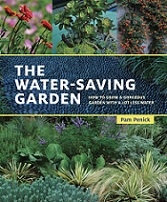 Do you review? Have you read my new book, The Water-Saving Garden? If you found it helpful or inspirational, please consider leaving a review — even just a sentence or two — on Amazon, Goodreads, or other sites. Online reviews are crucial in getting a book noticed. I really appreciate your help!
All material © 2006-2016 by Pam Penick for Digging. Unauthorized reproduction prohibited.