June 27th, 2016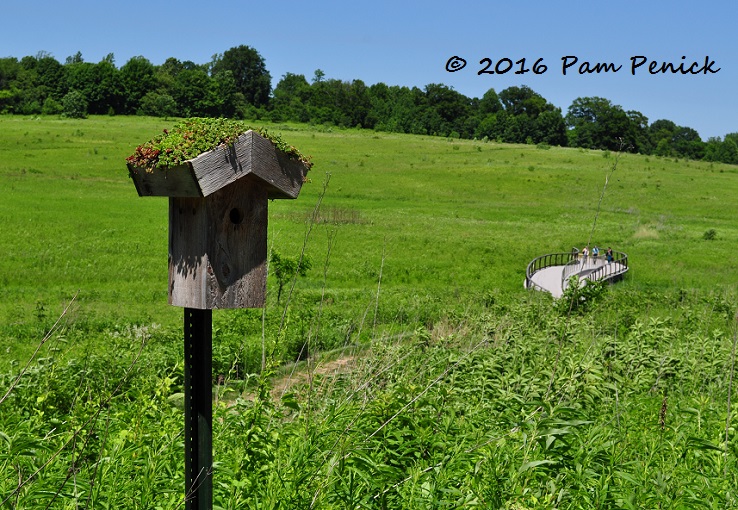 Contrasting with the many formal and traditional gardens at Longwood Gardens (a Philadelphia-area estate garden I visited earlier this month), the 2-year-old Meadow Garden presents an appearance of wild nature. The meadow's 86 rolling acres of native grasses, perennials, and wildflowers come into view from a shady woodland path, offering a surprising openness and long views — not to mention 3 miles of walking trails — that beg for exploration.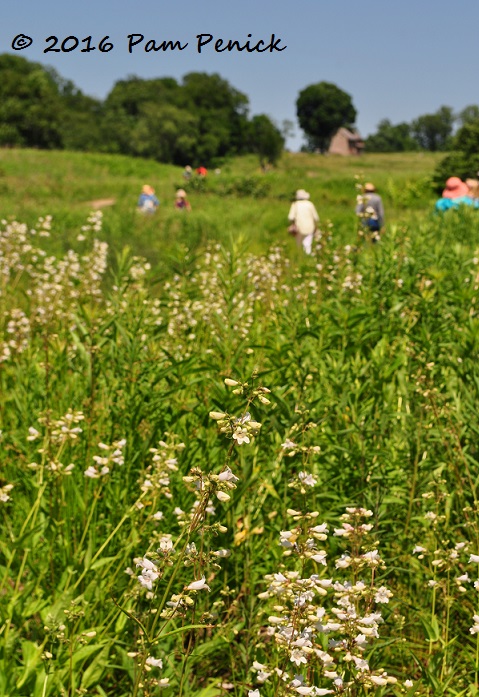 From a distance it's a blanket of green, but up close you enjoy flowering penstemon…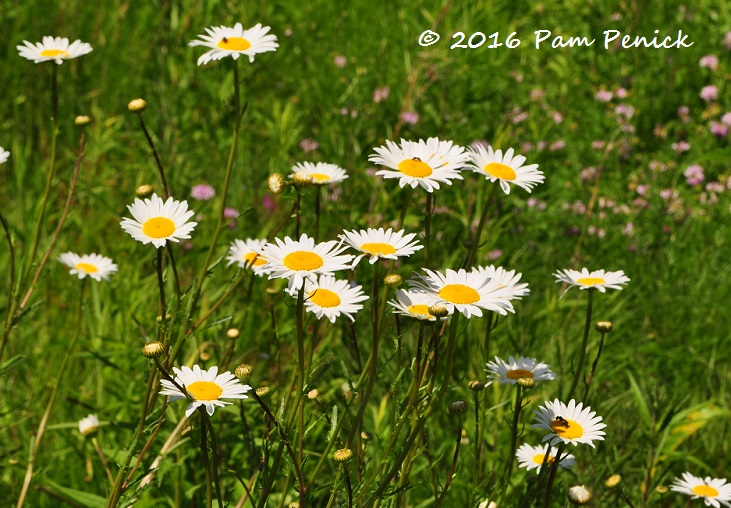 …daisies…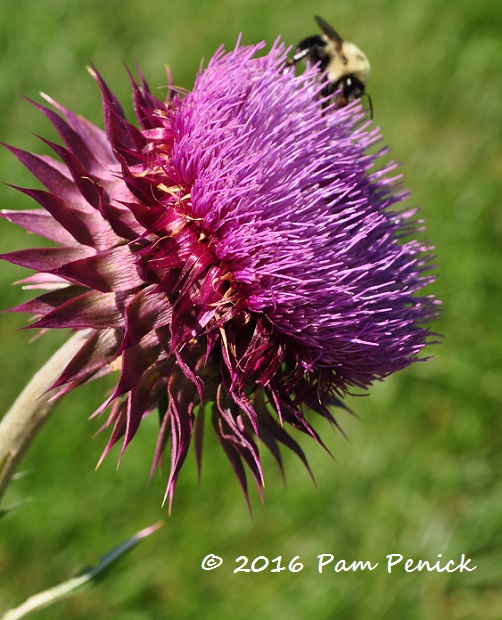 …and thistles.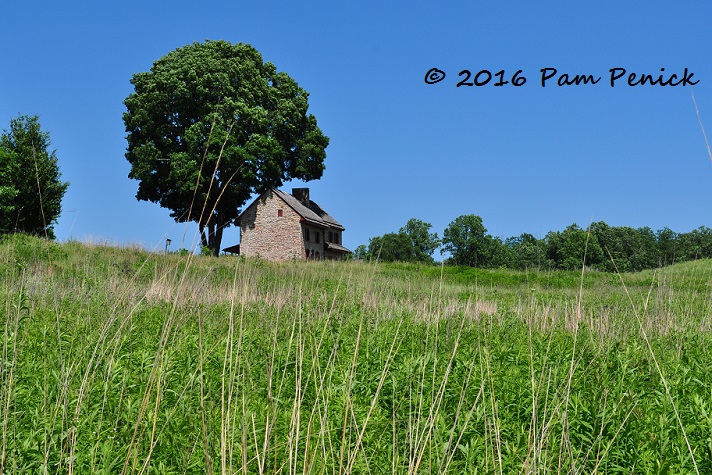 I egged on my friend Diana/Sharing Nature's Garden for an extended hike through the sunny meadow to the restored Webb Farmhouse. Built in the early 1700s by William Webb, who farmed this land, the house and its acreage were eventually purchased by Longwood's founder, Pierre S. du Pont, to preserve views and trees.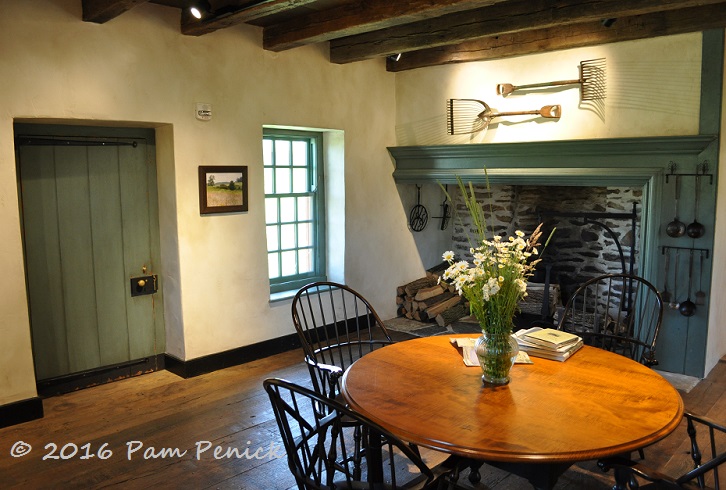 A staff member we encountered along the trail told us that horticulture students were housed here before the restoration, when it was in much more primitive shape. Today, one of the downstairs rooms is decorated to look as it might have in the 1700s — with the addition of electric lighting and air conditioning.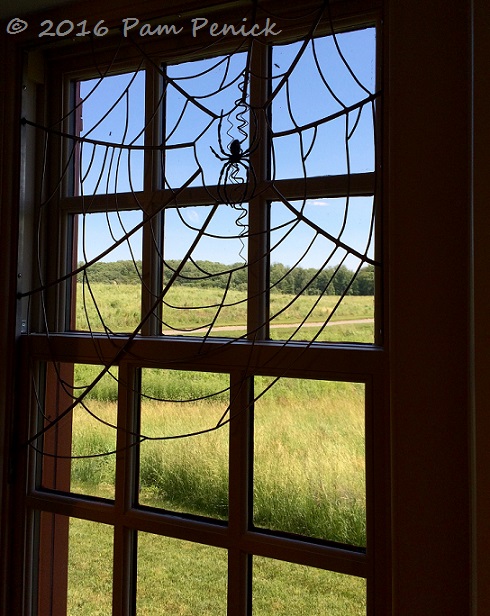 The other room is an educational gallery space that includes this cool metalwork spiderweb in one of the windows. A web for the Webb Farmhouse! We spent at least an hour traversing the meadow trails, which I really enjoyed.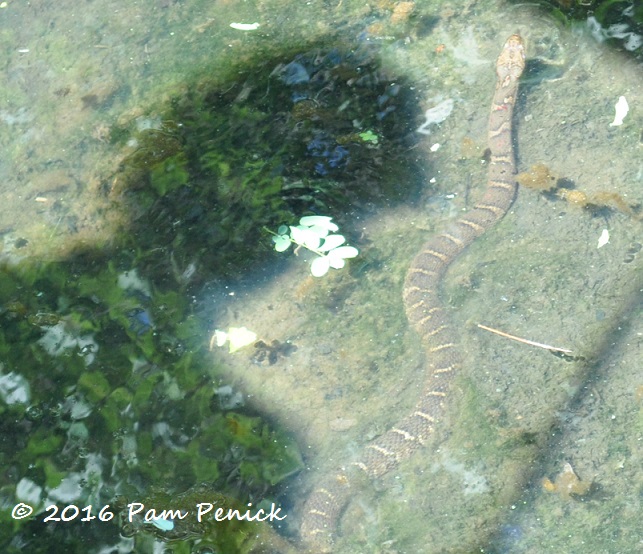 As we left the meadow, we paused on a bridge over Hourglass Pond and spotted a swimming snake, a sign of a healthy ecosystem.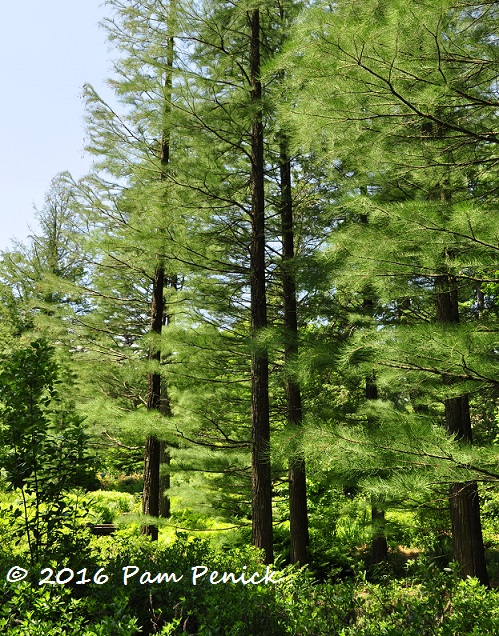 Moving on, we came to a grove of pines, with straight black trunks softened by cloud-like greenery.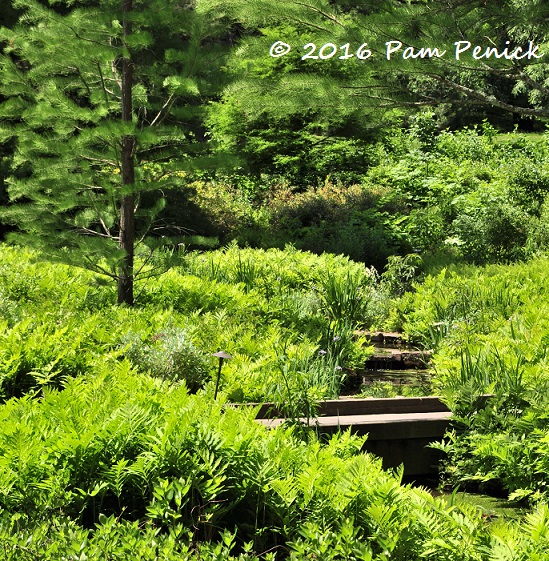 …and with a little creek running through.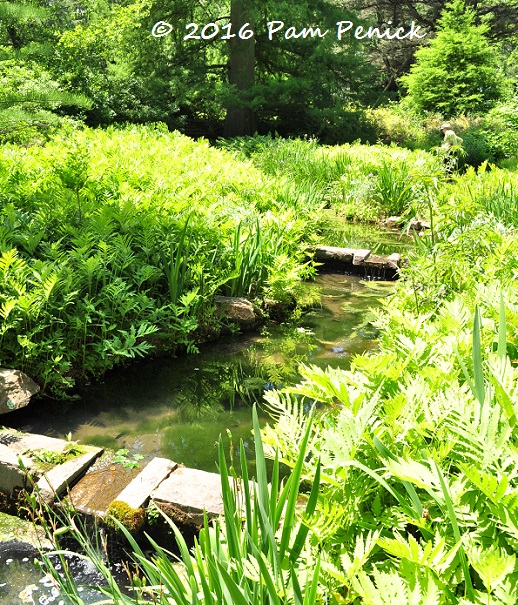 Weirs along the creek slow the flow.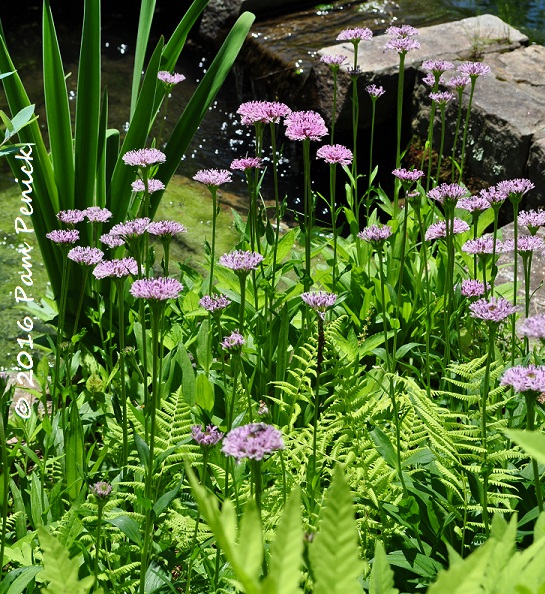 These pretty pink flowers appear to like wet feet.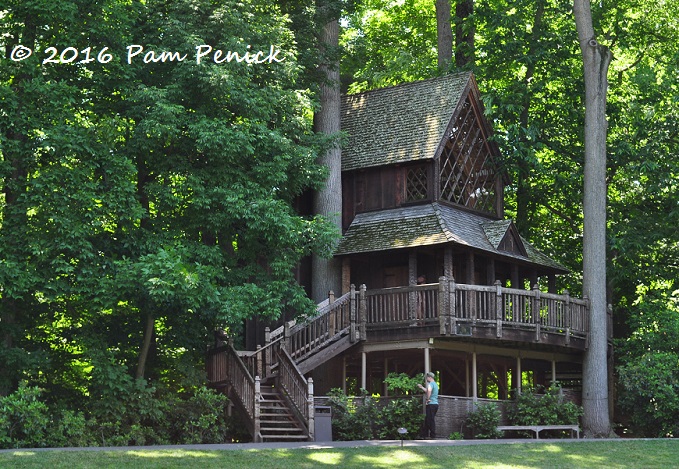 Scattered throughout the grounds, three fabulous "treehouses" (they're actually freestanding, not attached to surrounding trees) offer exploratory and make-believe fun for kids and kids at heart. The Canopy Cathedral, grandest of the three, stands 3 stories high and was built to resemble a Norwegian church.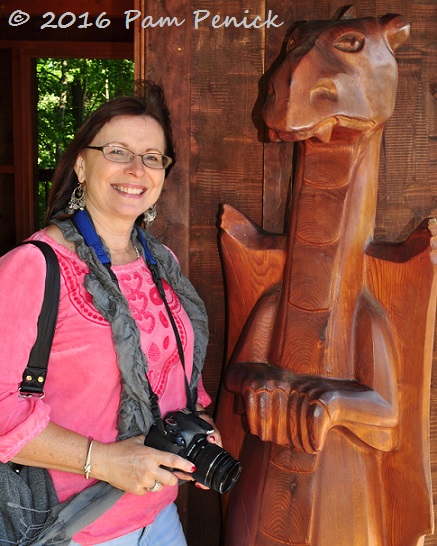 On the way up the stairs, you encounter a couple of carved dragons, including this one with a rather bored expression. Diana looks a lot happier to be there.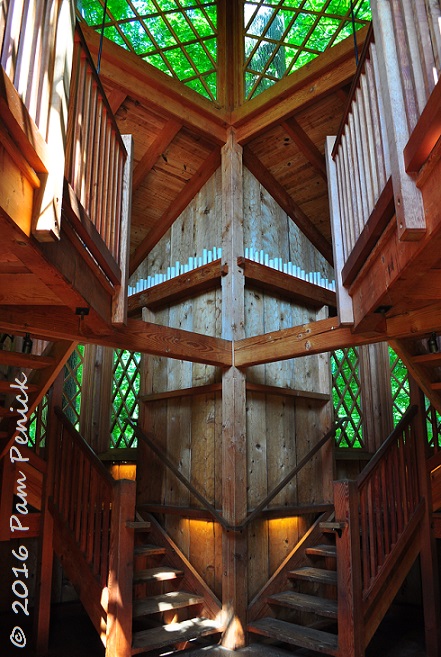 Inside — wow, I could almost imagine living here.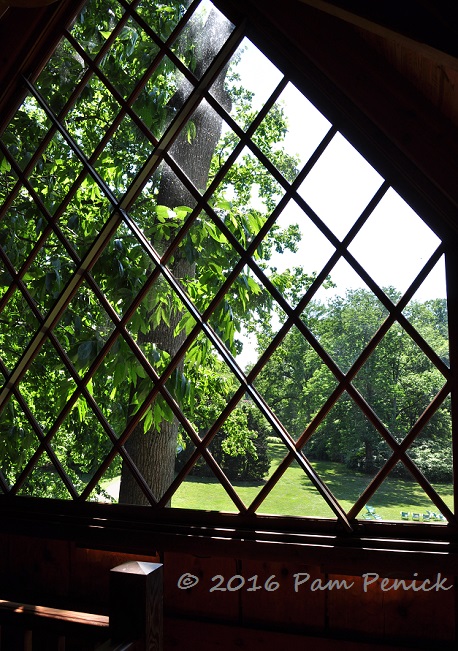 A large diamond-paned window allows an expansive view.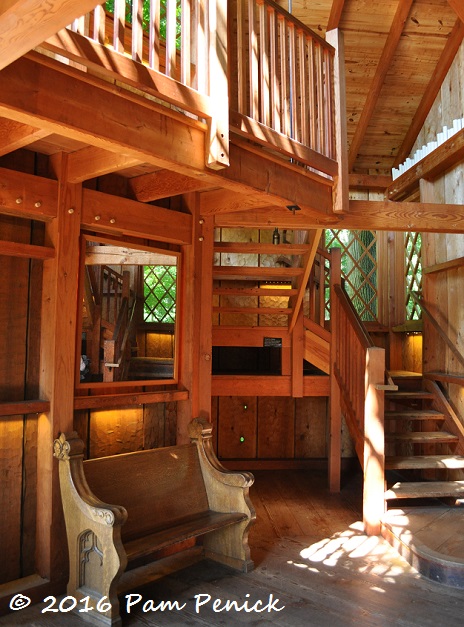 We almost didn't get to visit this treehouse, as the windstorm that tore through the region the day before had knocked over a gigantic tree that luckily missed the treehouse. A crew was chainsawing it into pieces throughout the morning and noontime hours, but by the afternoon they'd hauled it away and the area was reopened to visitors.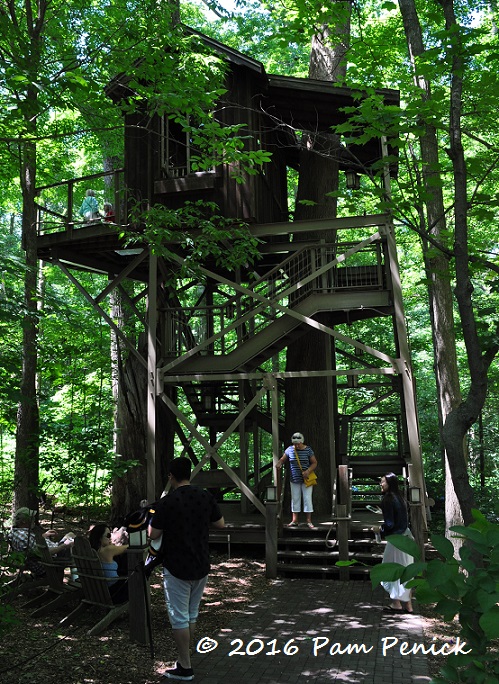 Smaller but higher, The Birdhouse puts you in the tree canopy. Binoculars and bird-watching guides stashed on the upper deck and inside suggest the perfect way to spend your time up there.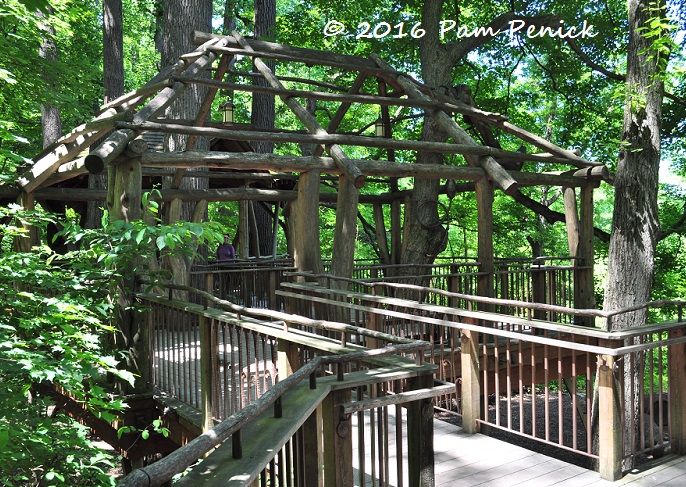 Lookout Loft is accessed via a long ramp, making it accessible to anyone with mobility issues.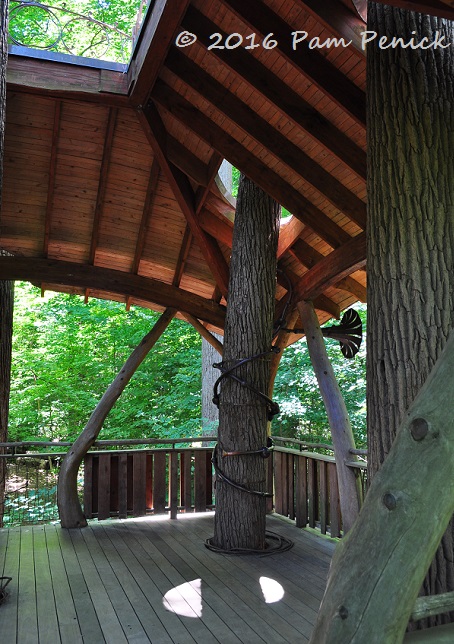 Its open design and deck-like spaces appealed to me. I think a kid could really use her imagination in this one, and there's plenty of room to run about. Trees grow through the central roofed portion, and flower-like metal "horns" project a visitor's squawks and other vocalizations into the woods. Bird calls, anyone?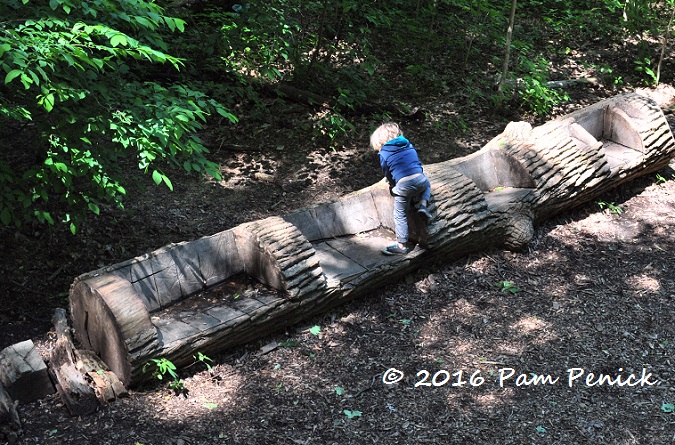 On the ground below, an old fallen tree has been transformed into a long bench with cut-out seats. It reminded me of a Lincoln Log toy.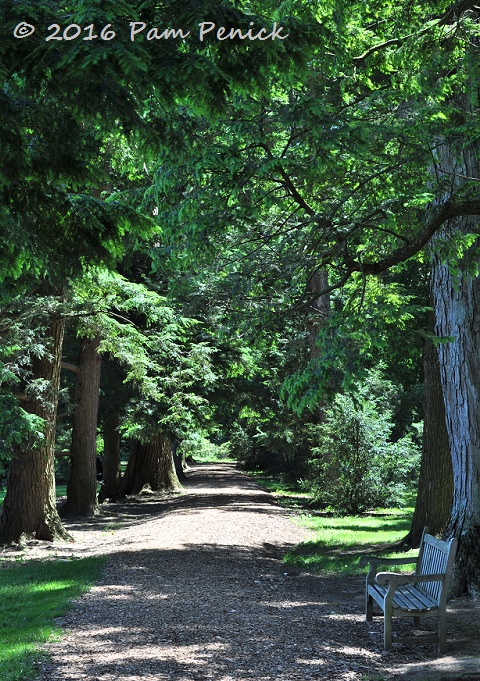 I'll end my coverage of Longwood Gardens among the majestic trees of Peirce's Park. As the garden's website explains, "During the 1800s, twins Joshua and Samuel Peirce collected many native and exotic trees, which they planted in straight rows on this land east of their farmhouse….Mr. du Pont purchased the Peirce farm and arboretum in 1906 to save the trees from being cut for lumber." Good for all three tree lovers!
I strolled among the centuries-old trees with a feeling of reverence — and a wary eye for windblown branches, after our previous-day's adventure at Winterthur.
Longwood is a big garden with something for everyone, and with attractions designed to draw people in droves, like the indoor children's garden, a beer garden, and a musical fountain show. But quieter moments can be had here too, as I hope today's post has shown.
Up Next: My return to Chanticleer and its famous Teacup Garden. For a look back at Longwood's conservatory and indoor children's garden, click here.
I welcome your comments; please scroll to the end of this post to leave one. If you're reading this in a subscription email, click here to visit Digging and find the comment box at the end of each post.
_______________________
Digging Deeper: News and Upcoming Events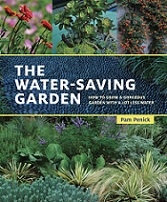 Do you review? Have you read my new book, The Water-Saving Garden? If you found it helpful or inspirational, please consider leaving a review — even just a sentence or two — on Amazon, Goodreads, or other sites. Online reviews are crucial in getting a book noticed. I really appreciate your help!
All material © 2006-2016 by Pam Penick for Digging. Unauthorized reproduction prohibited.
posted in
Arbors
,
Bees
,
Birds
,
Botanic/Public Gardens
,
Bouquets
,
Bridges
,
Bugs
,
Decor
,
Garden art
,
Garden structures
,
Garden tours 2016
,
Grasses
,
Lizards
,
Paths
,
Patios & decks
,
Prairie/Meadow
,
Rivers & creeks
,
Sculpture
,
Seating
,
Snakes
,
Succulents
,
Travel
,
Trees
,
Wildflowers
,
Wildlife
,
Windows