September 14th, 2009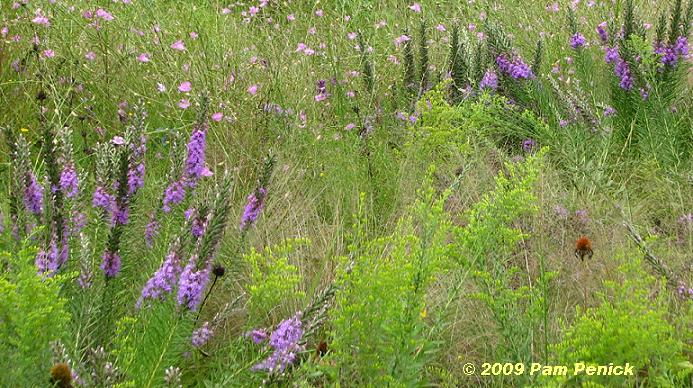 On Sunday afternoon, with temps in the low 80s and rain-heavy clouds in the sky, the kids and I dropped by the Lady Bird Johnson Wildflower Center for an hour-long stroll. During our hot summers I tend to avoid outings that don't involve a steady supply of A/C, so I only see our public gardens in less-stressed seasons. The Wildflower Center collects rainwater in three enormous cisterns, and they do irrigate, so perhaps the gardens weren't ravaged by our recent summer. At any rate, with several inches of rain still soaking into the ground (and some of the trails looking a bit washed out), the native-plant gardens were in bloom and full of interest. Follow along, if you'd like a late-summer/early-fall tour.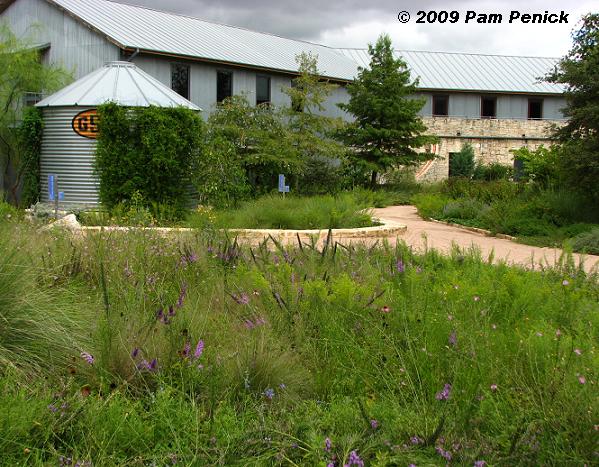 Liatris, coneflowers, and grasses contribute early-fall color to a sunny meadow. The cylindrical tower is one of the center's water-collection cisterns "a seed silo, and this area is called the seed silo garden. They had plans which I don't believe materialized as yet." (Thanks for the correction, Jenny.) Behind it are administrative offices, sheathed in a combination of galvanized siding and stone for a unique Texas Hill Country look.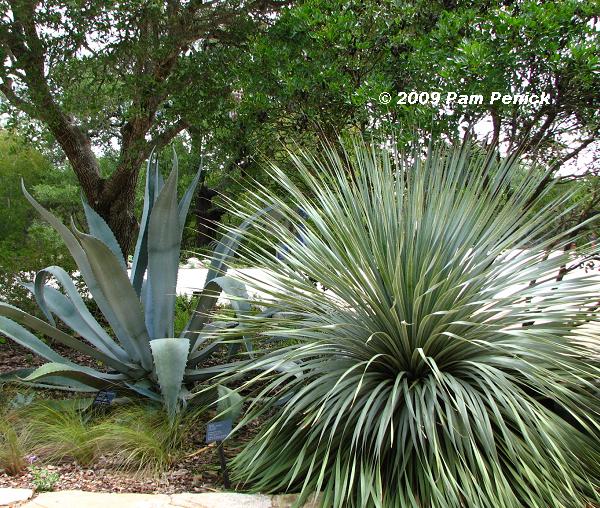 At the entrance to the garden, this 6-foot Agave americana and green sotol (Dasylirion texanum) greet you.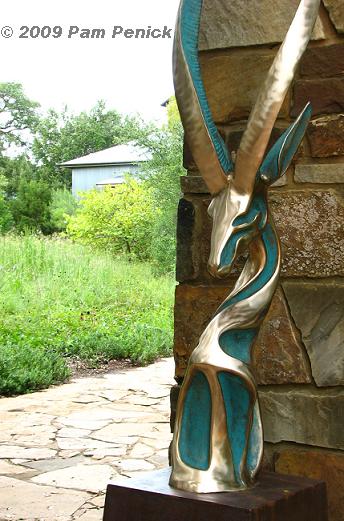 Several sculptures were on display in the gardens, including this antelope bust.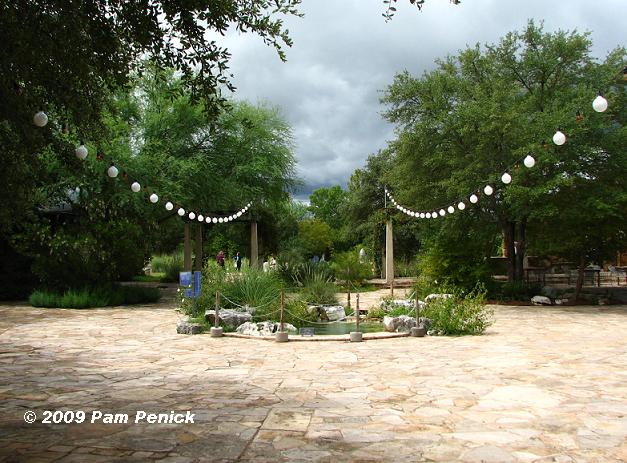 The main courtyard often hosts weddings and parties.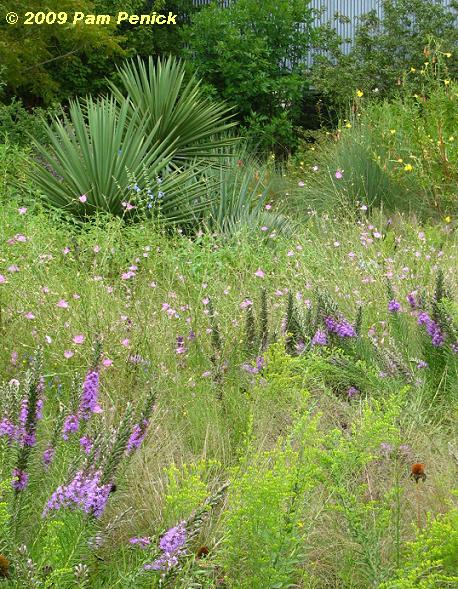 Liatris mucronata, commonly known as gayfeather, with yuccas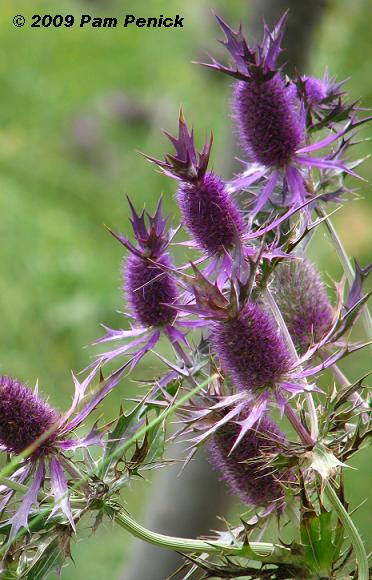 Eryngium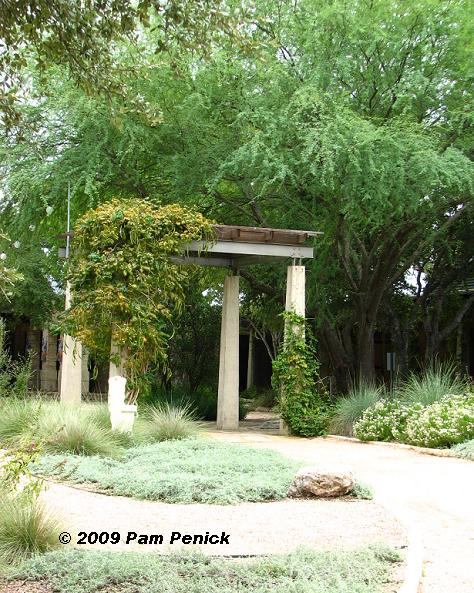 A vine-covered arbor with a mesquite huisache tree. (Thanks for the ID, Jenny.)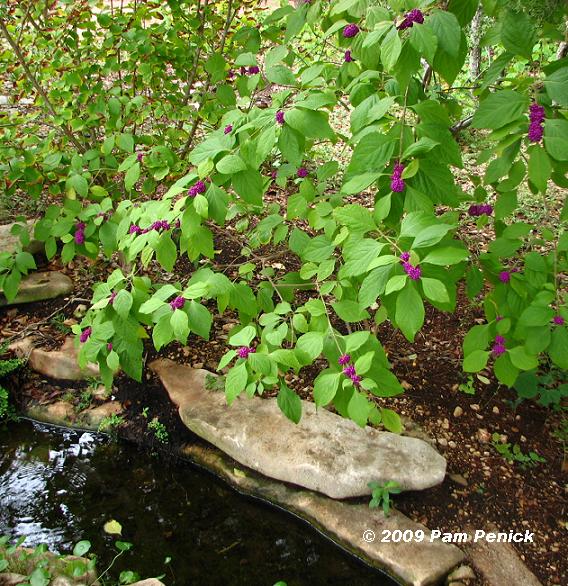 My fall favorite, American beautyberry (Callicarpa americana), arching over the Erma Lowe Hill Country Stream.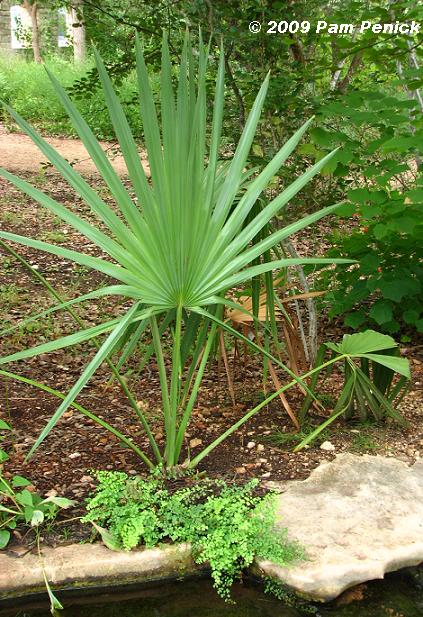 Sabal minor, our native Texas palmetto. It's not all xeric, rock- and sun-loving natives here.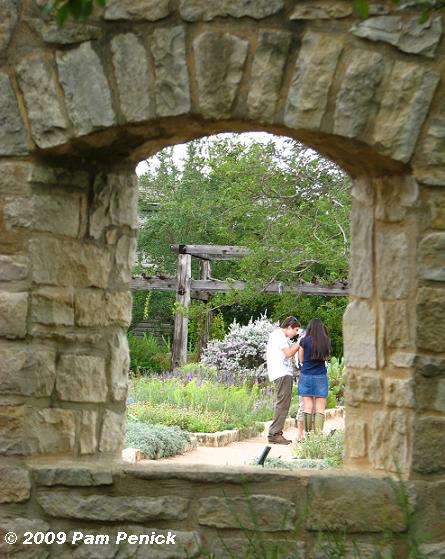 A glimpse of garden visitors through a window in a stone wall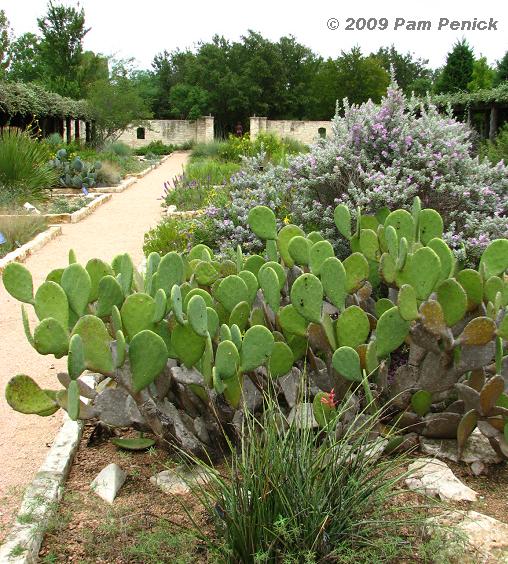 Red yucca (Hesperaloe parviflora), spineless prickly pear (Opuntia), and cenizo (Leucophyllum frutescens) in the Demonstration Garden.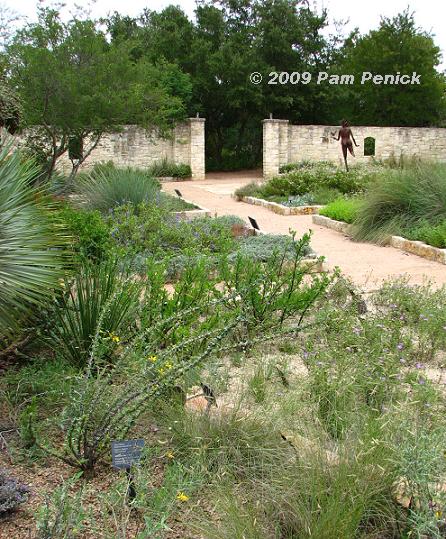 Another view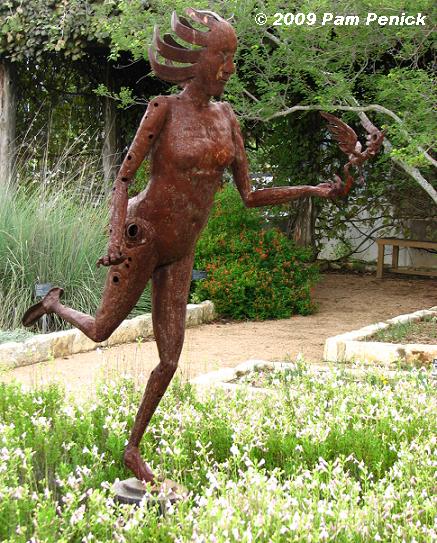 This metal sculpture of a woman holding a bird was "running" through a bed of Salvia greggii.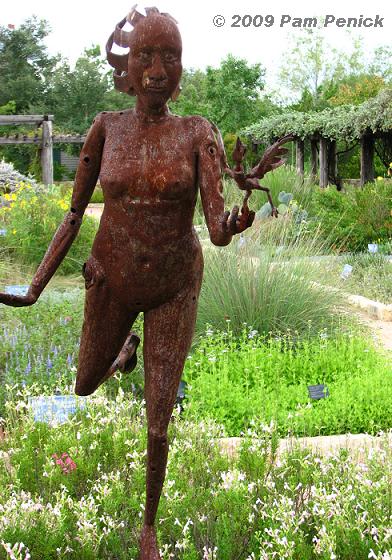 Another perspective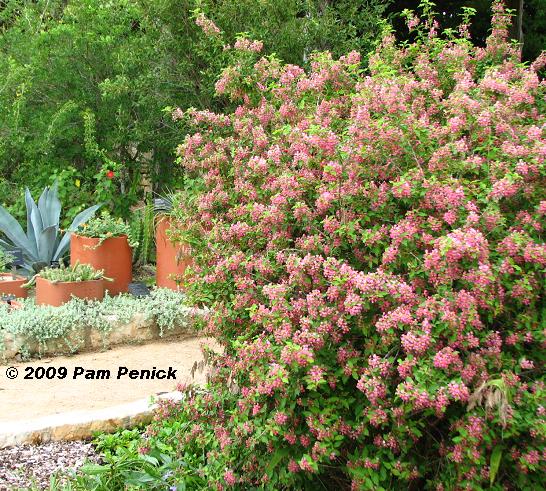 Barbados cherry (Malpighia glabra), a south Texas shrub also known as wild crepe myrtle, was in glorious full bloom, and tiny red cherries were also visible amid the flowers.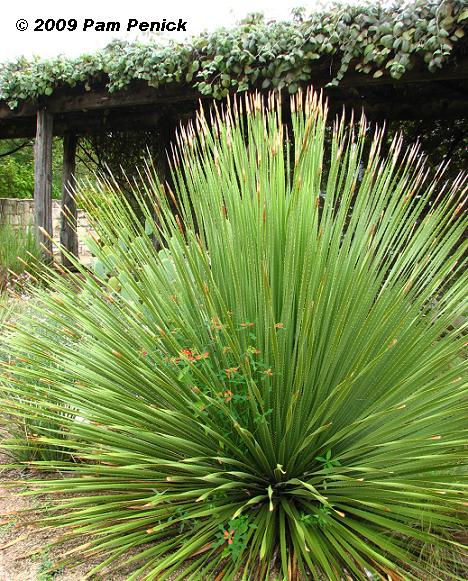 Dasylirion texanum, or green sotol. That's a native poinsettia weaving through the sotol's leaves.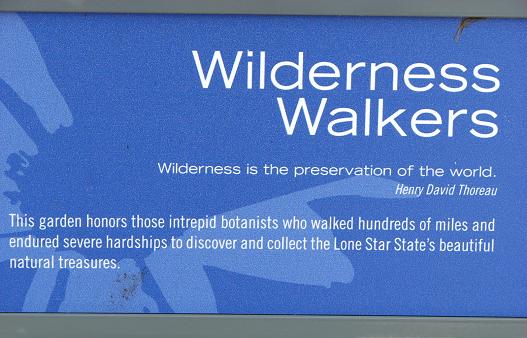 In the Demonstration Garden there's a Wilderness Walkers garden to honor those intrepid early botanists for whom so many of our native plants are named.

Thomas Drummond. Think Turk's cap (Malvaviscus arboreus var. drummondii), Clematis drummondii, Texas aster (Symphyotrichum drummondii var. texanum), and Drummond's phlox (Phlox drummondii).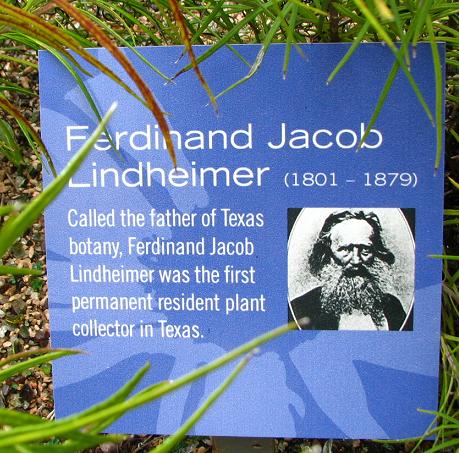 Ferdinand Jacob Lindheimer. Think Lindheimer's muhly (Muhlenbergia lindheimeri), Lindheimer senna (Senna lindheimeriana), butterfly gaura (Gaura lindheimeri), and Lindheimer's morning glory (Ipomoea lindheimeri).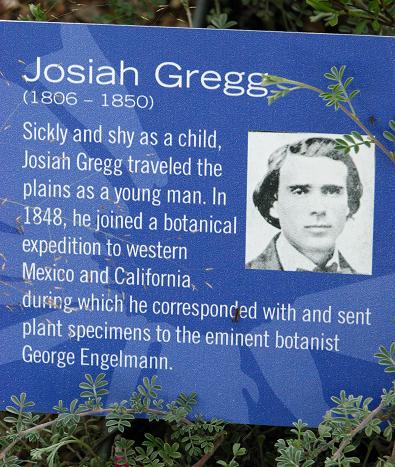 Josiah Gregg. Think Autumn sage (Salvia greggii), Gregg's dalea (Dalea greggii), and west Texas mistflower (Conoclinium greggii).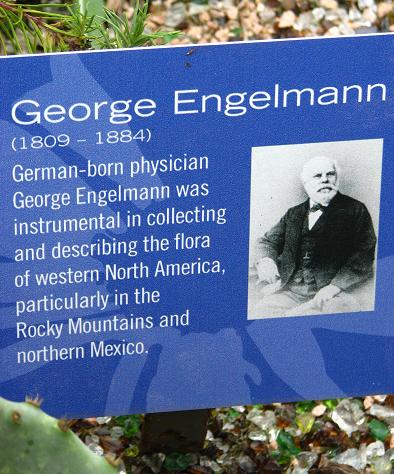 George Engelmann. Think cutleaf daisy (Engelmannia peristenia), Engelmann's sage (Salvia engelmannii), and Engelmann's prickly pear (Opuntia engelmannii).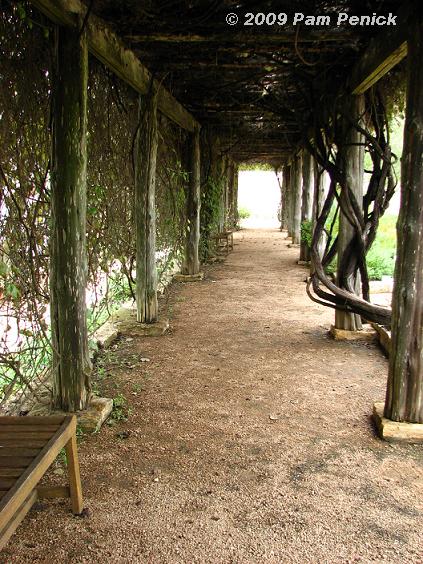 OK, enough Texas botanical history. Two long arbors, shaded by muscular vines, run the length of the demonstration garden on either side.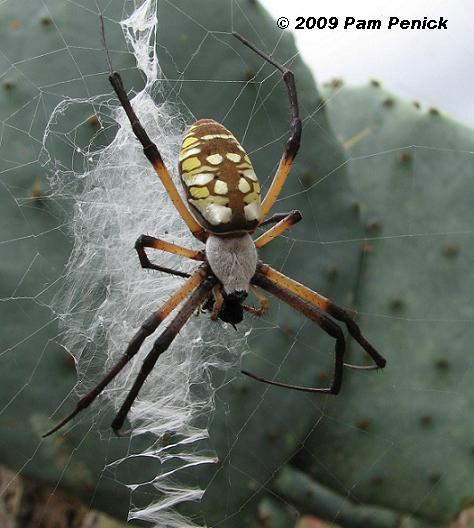 My son spotted this spider having lunch in her web.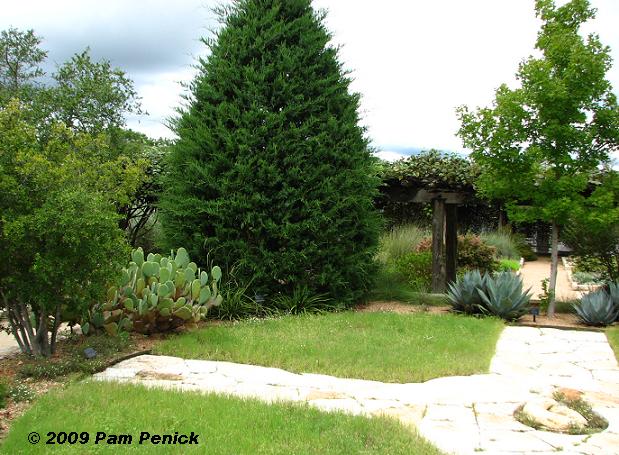 One of three example gardens meant to show how to use natives to landscape your own yard.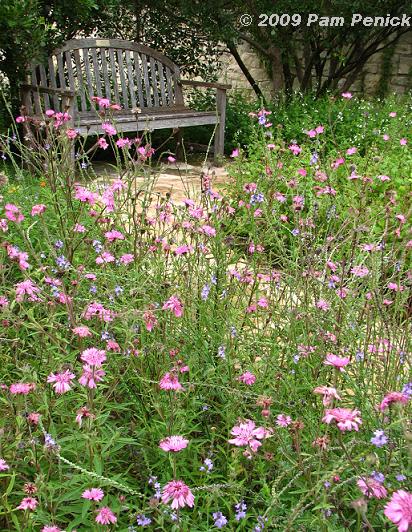 Sand palafox (Palafoxia hookeriana) in the Members Garden. (Thanks again for the ID, Jenny.)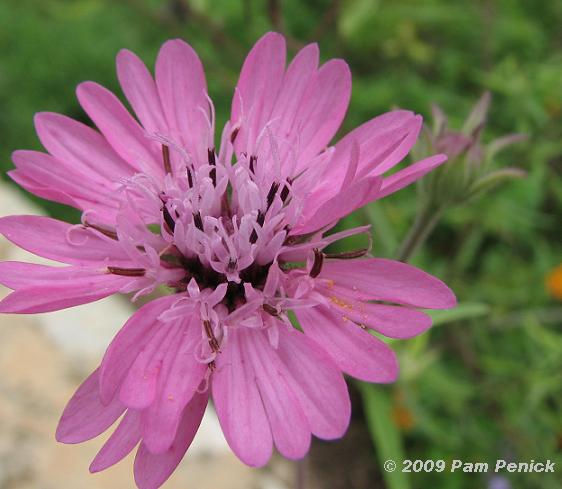 A closeup of the palafox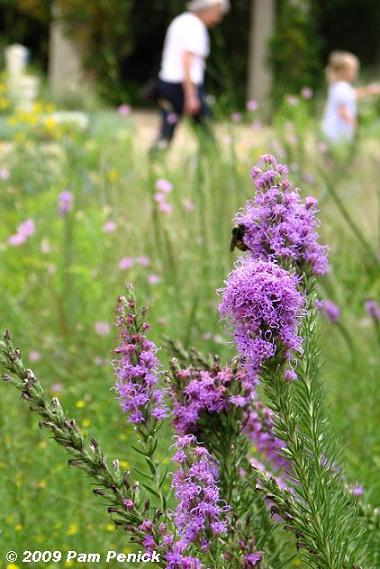 More liatris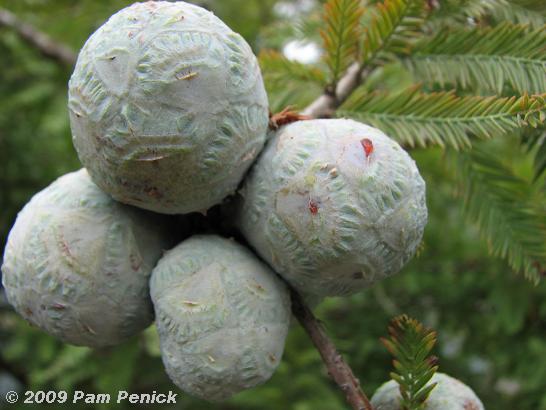 Fascinating seedballs on a bald cypress (Taxodium distichum)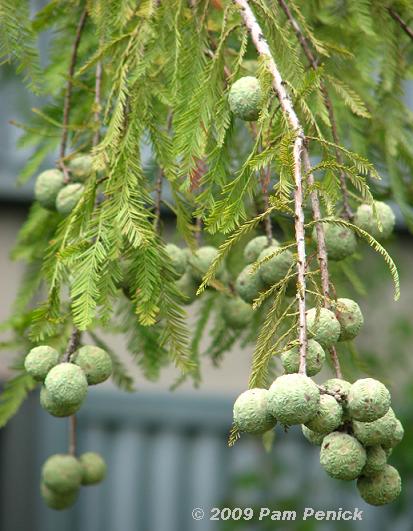 Here's a wider shot of the branch they hung on.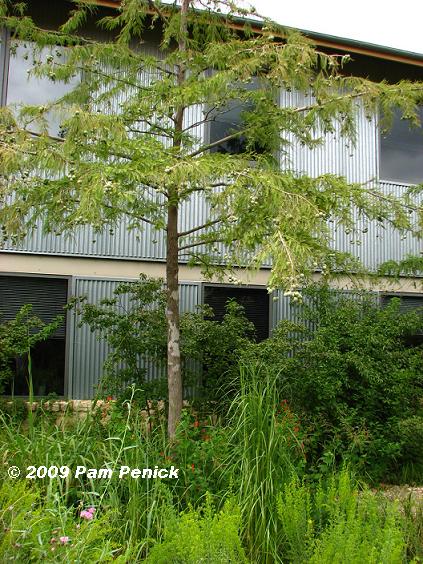 And the tree itself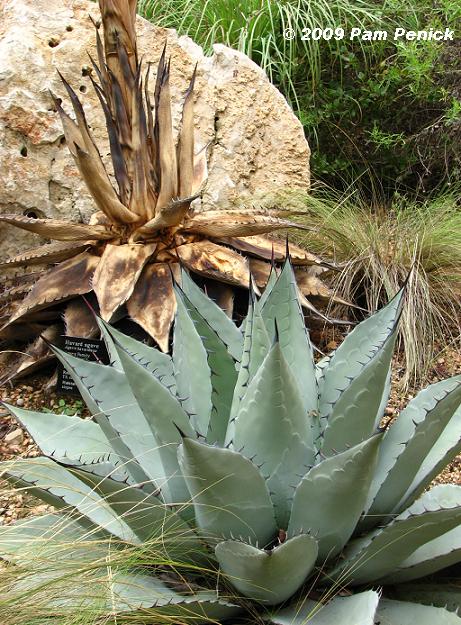 Two Havard agaves (A. havardiana), one healthy, the other dead after blooming. Agaves bloom once and then die in a blaze of glory.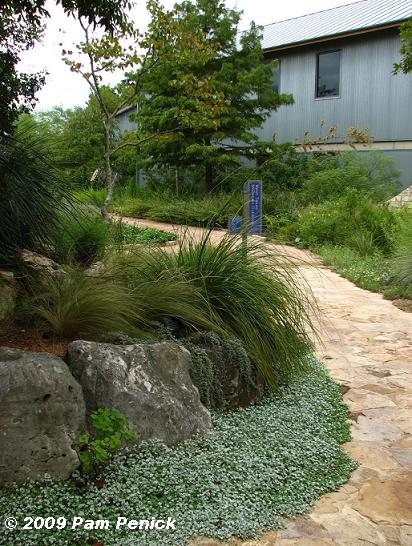 Silver ponyfoot (Dichondra argentea) carpets the ground along a path.

Lace cactus (Echinocereus reichenbachii)

The signature spiral tower at the Wildflower Center contains a rainwater cistern at its heart. You can climb an inside staircase halfway up, look down into the cistern, then continue via an exterior spiraling, narrow stair to the top for an overlook.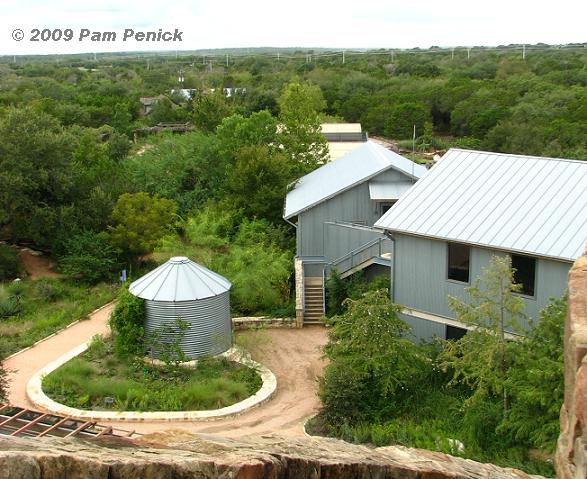 Looking down on one side you see the seed silo and the administrative buildings.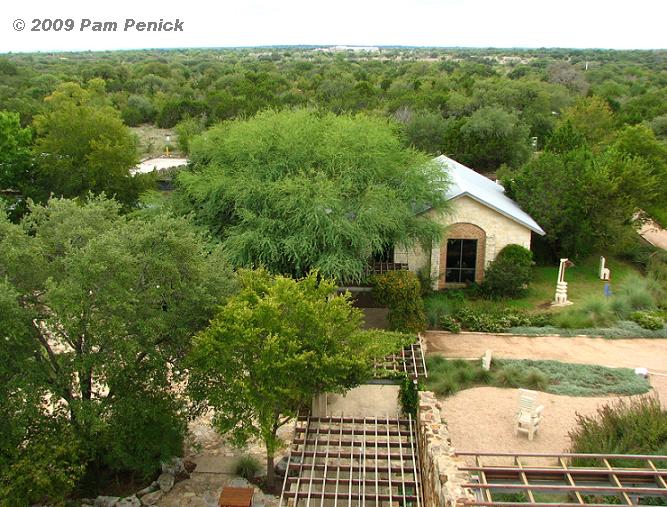 On another side you can glimpse the main courtyard on the left, behind the trees, the paths to the demonstration and other gardens on the right, and the undulating green countryside.
For a look at the Wildflower Center in other seasons or years, visit my posts:
Wildflower Center & Jill Nokes book-signing
Winter Wonderland at the Wildflower Center
Goblins in the Garden at the Wildflower Center
All material © 2006-2009 by Pam Penick for Digging. Unauthorized reproduction prohibited.