June 20th, 2016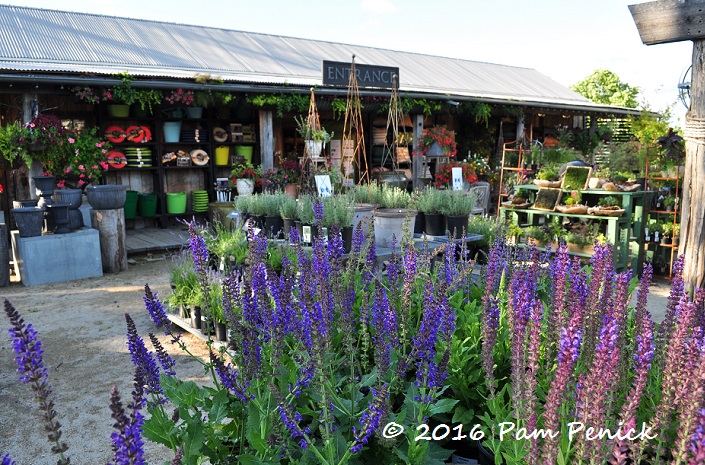 Anthropologie meets Flora Grubb Gardens? Yes, please! While in the Brandywine Valley outside of Philadelphia earlier this month, I was eager to visit Terrain, a nursery, home and garden shop, and restaurant located in Glen Mills, Pennsylvania. (There's a second location in Westport, Connecticut.)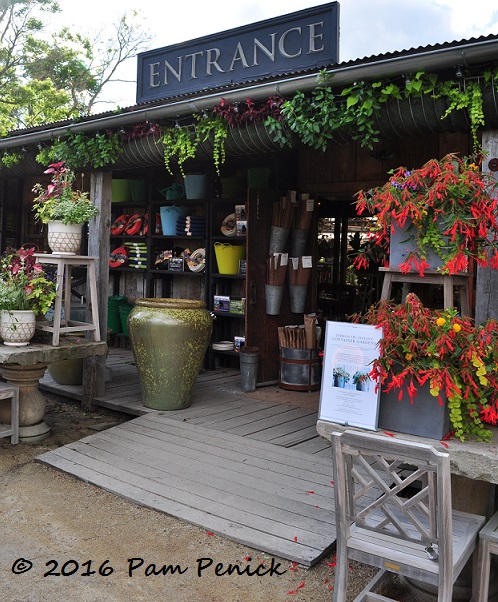 Founded by the company that owns Anthropologie and Urban Outfitters, Terrain is an upscale eden of lush plants, beautiful garden furnishings, and tempting home goods arranged and displayed with the same creativity and attention to detail that makes Anthropologie stores such a delight to shop in.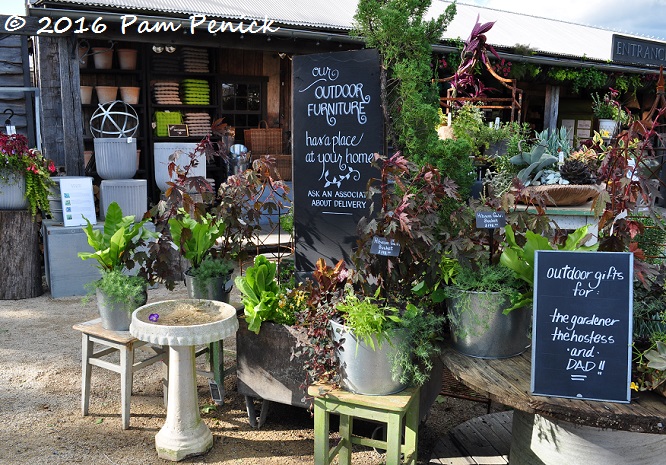 My traveling companion, Diana/Sharing Nature's Garden, and I arrived after our visit to Winterthur.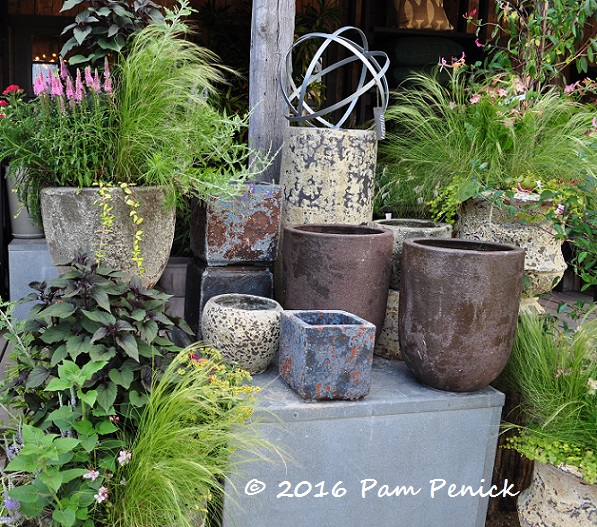 From the moment we walked in, I was wowed by the plant arrangements and displays, with everything layered on stands and tables so you can really see it.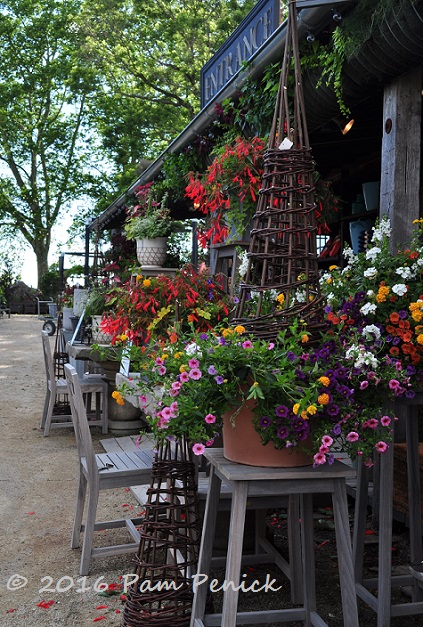 Love these grapevine tuteurs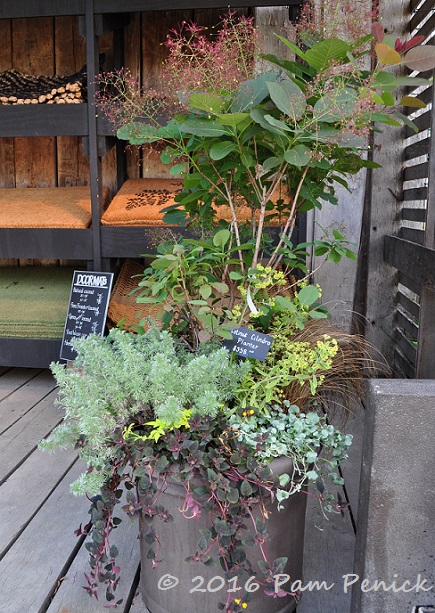 A smoke tree underplanted with pretty companions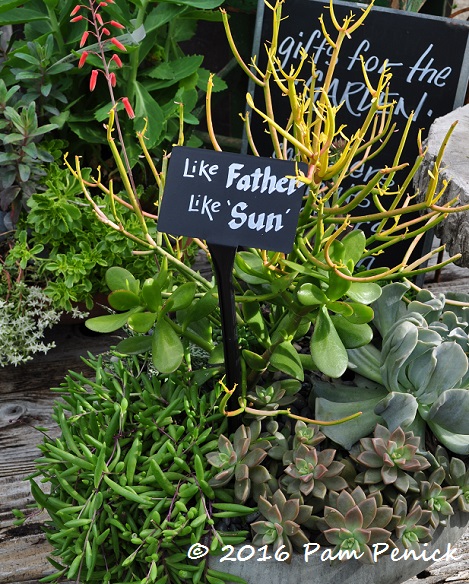 Signs cleverly advertised potted succulents for Father's Day.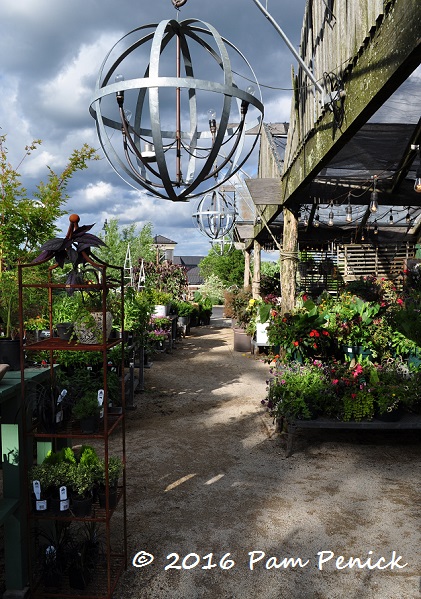 Hanging lights and lanterns are displayed throughout the nursery. I like these metal-strap orb lights.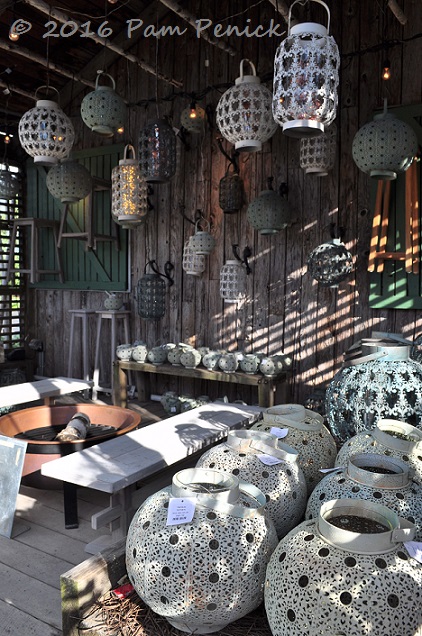 I think I've seen these Moroccan-style metal lanterns at Barton Springs Nursery here in Austin.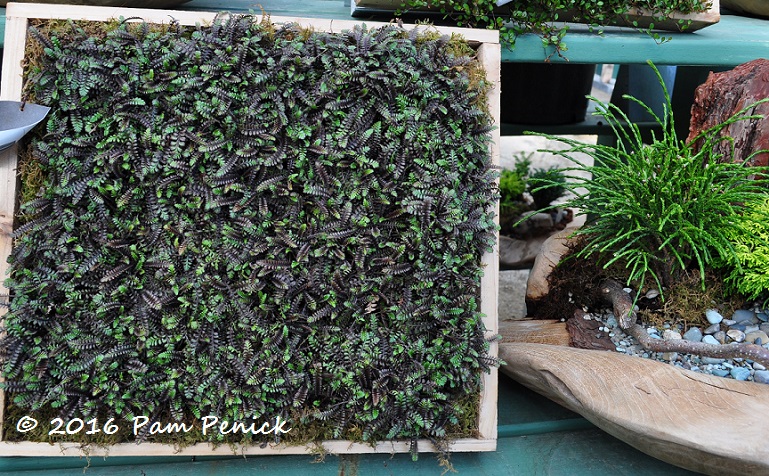 Or how about a plant "picture" for your walls?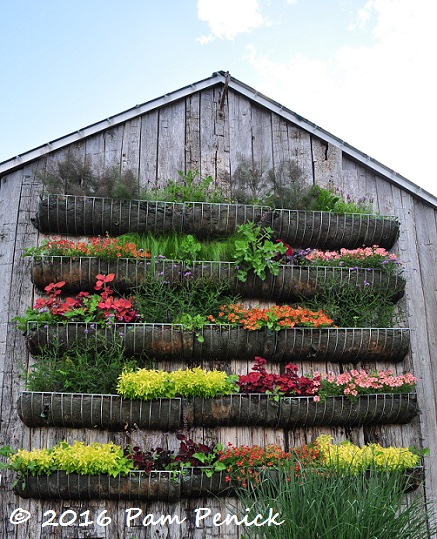 An even bigger vertical garden fills a shed wall near the parking lot.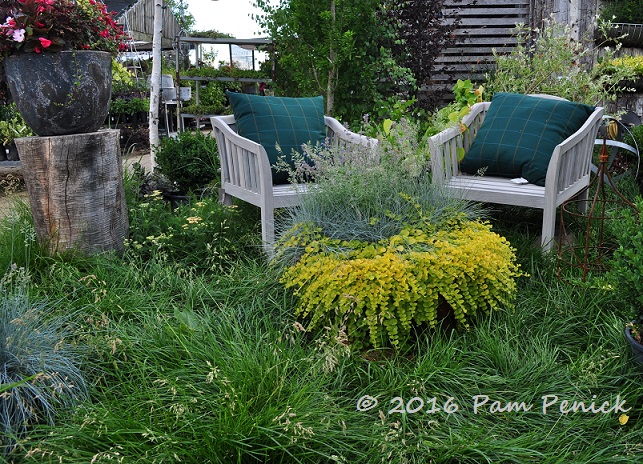 Display gardens are set up to tempt you before you even get out of your car.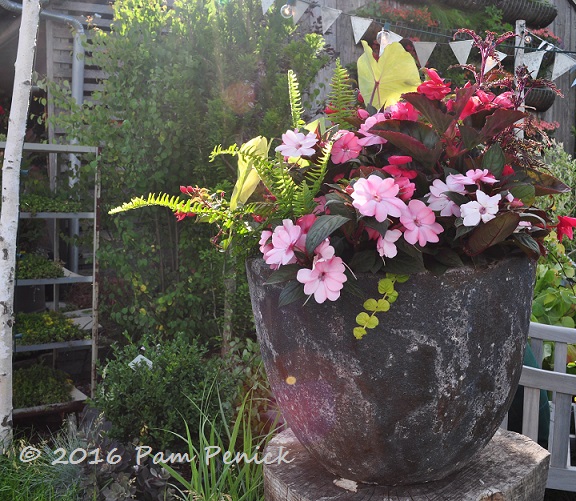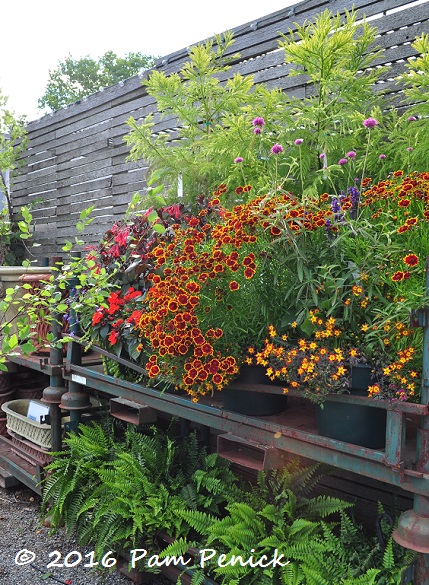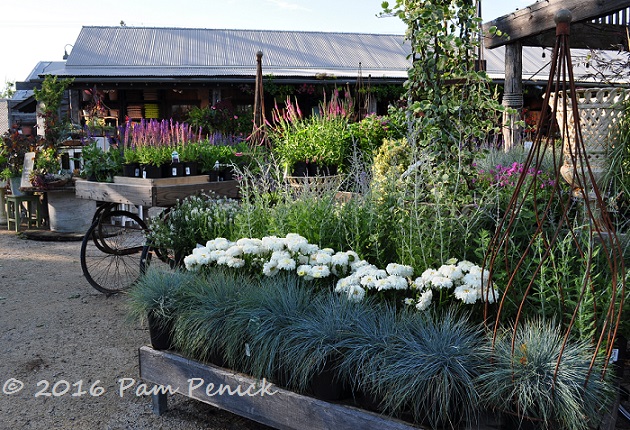 After oohing and aahing over the entry diplays…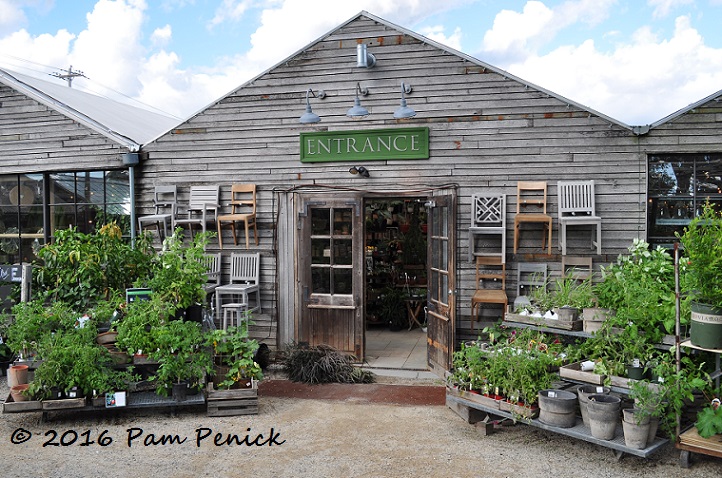 …let's explore the nursery grounds, which are extensive, with plenty of room for event-space rentals. People even get married here.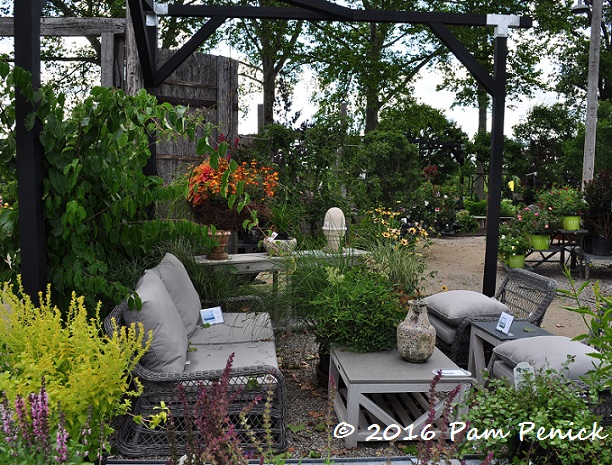 Beautiful seating areas are set up throughout the grounds. I can imagine someone coming in and saying, "I'll take the whole room."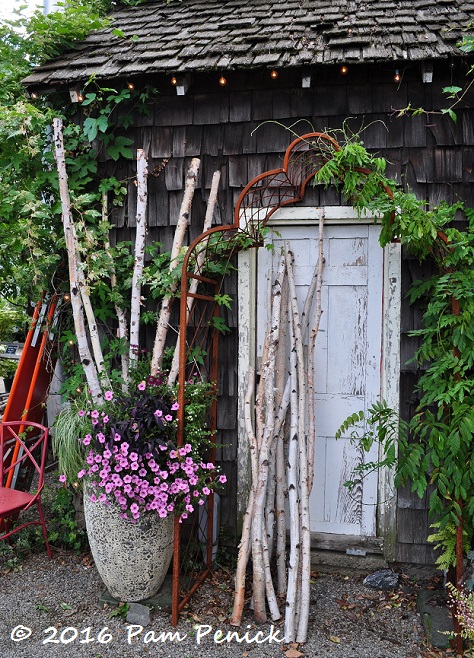 This casually perfect arrangement evokes a Swedish garden, don't you think?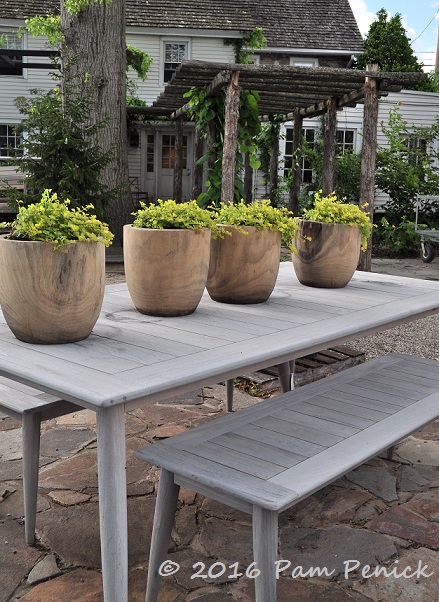 Wooden pots filled with creeping Jenny line an outdoor dining table.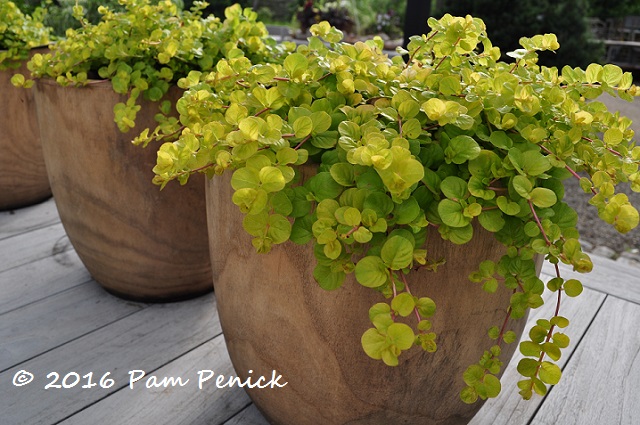 Little pots of sunshine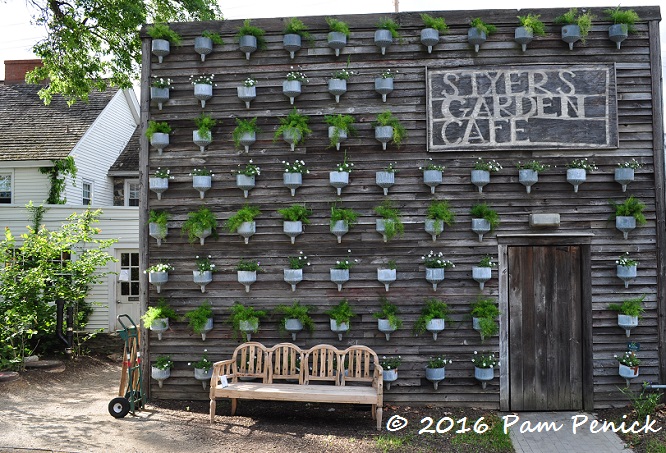 Multiple rustic outbuildings add charm to the display gardens, including this one adorned with old funnels planted with asparagus fern and white lantana. (The painted sign alludes to Styer's, a popular nursery that formerly occupied the site. When Terrain took over, they kept Styer's as part of their name for this location.)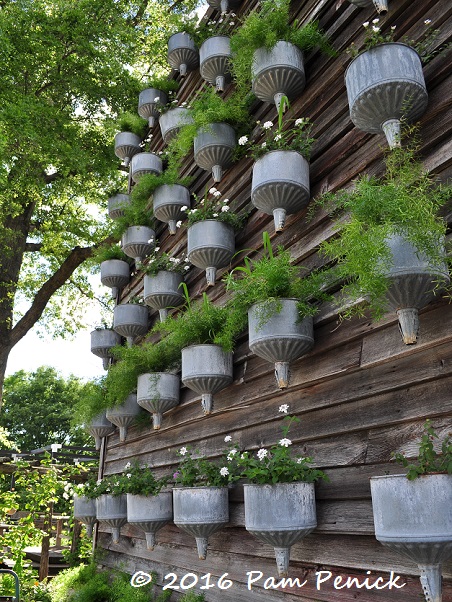 Each funnel row is planted with just one type of plant.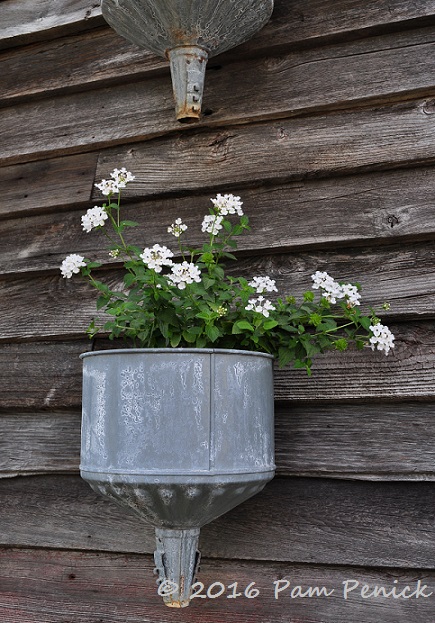 Isn't it fun?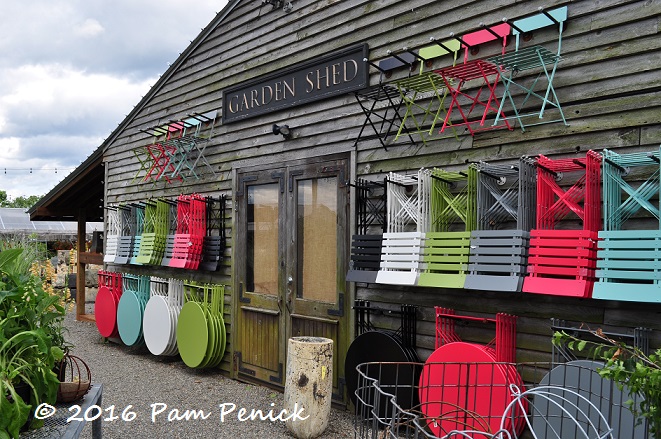 I love it when stores display their Fermob furniture this way, in a rainbow of colors across a wall.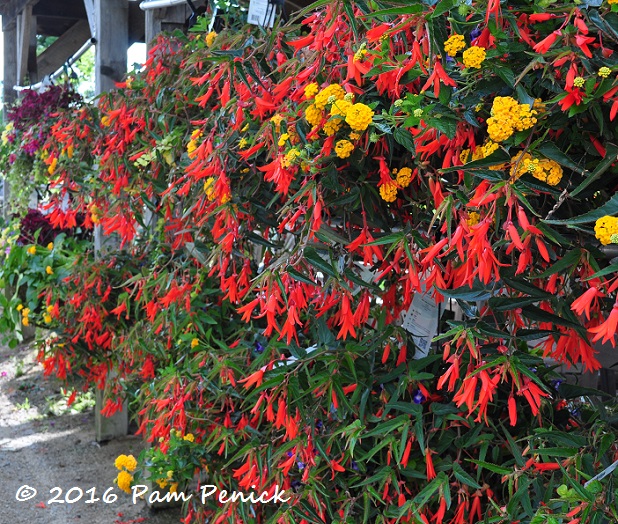 'Bonfire' begonia and lantana baskets for summer color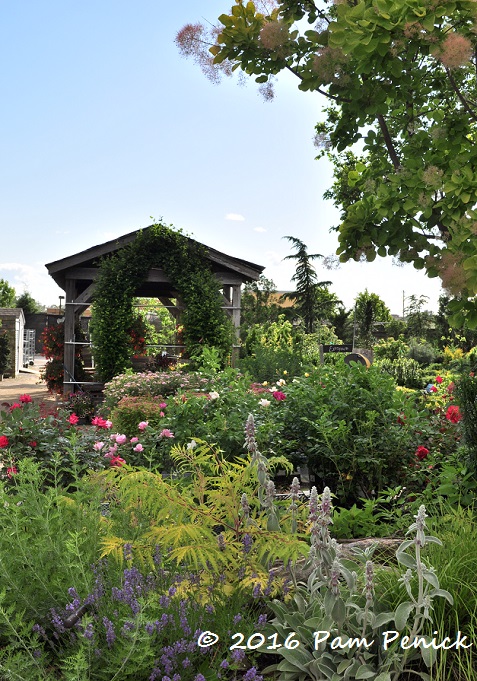 So many plants for sale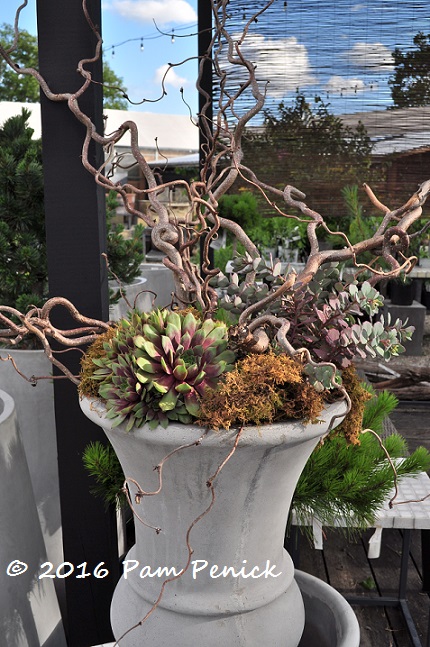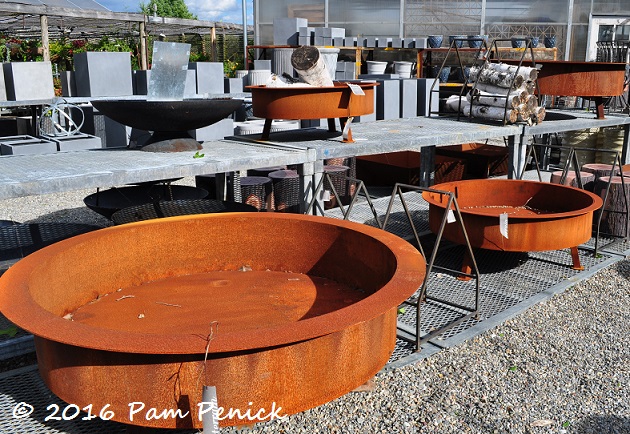 Check out these massive fire pits.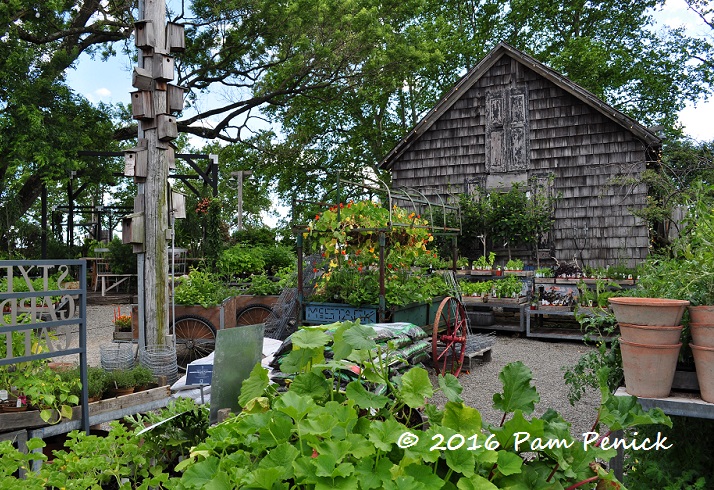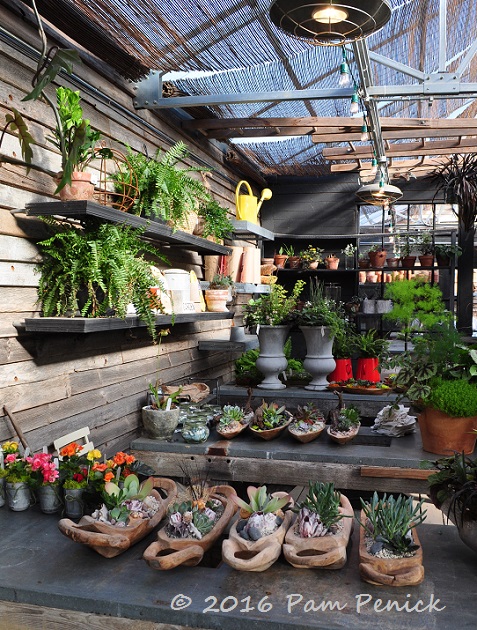 Terrain has a potting bar where their stylists pot up cool table displays.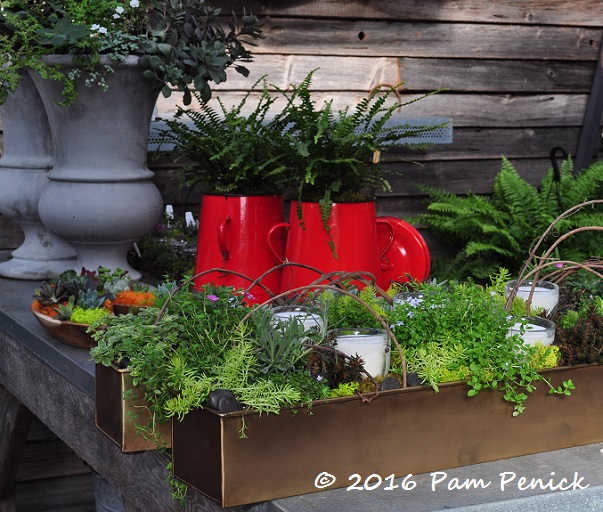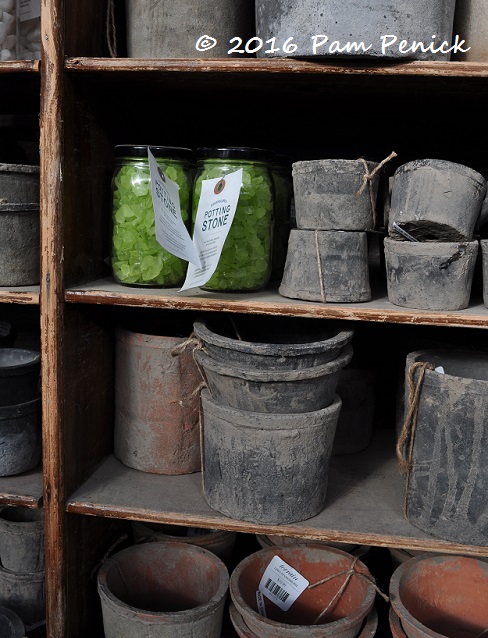 You can also buy the supplies you need to make your own.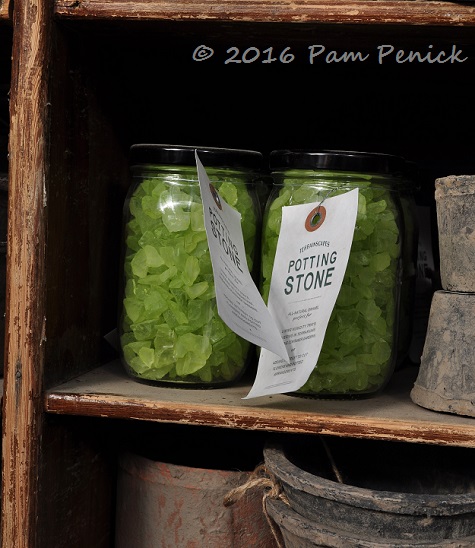 "Potting stone" — i.e., colored glass to top off your pots.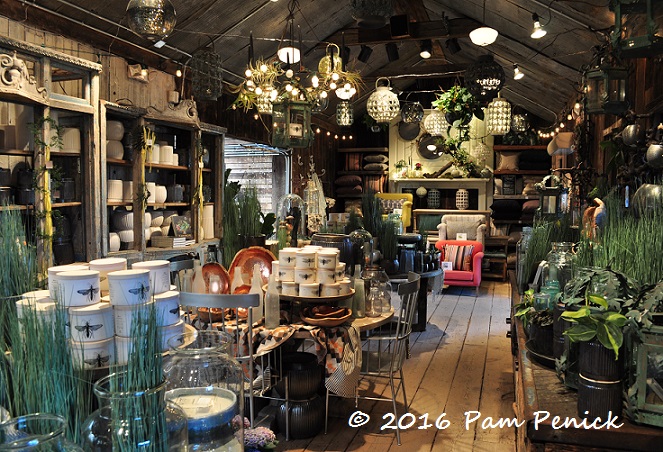 And then you step into the garden and home shop, where rustic wooden walls, glowing lights strung across the ceiling, and beautifully merchandised tables and shelves invite you to open your wallet and just hand the whole thing over.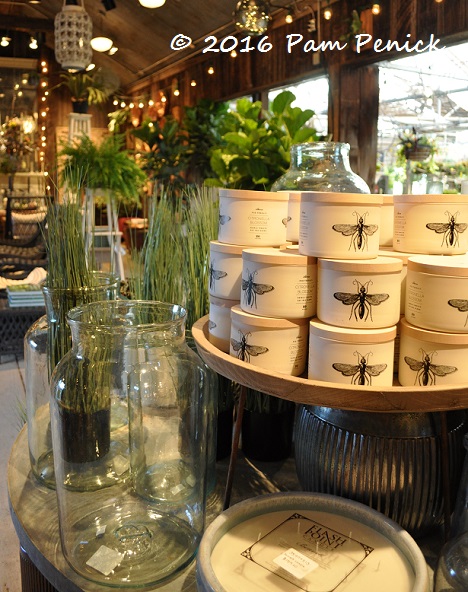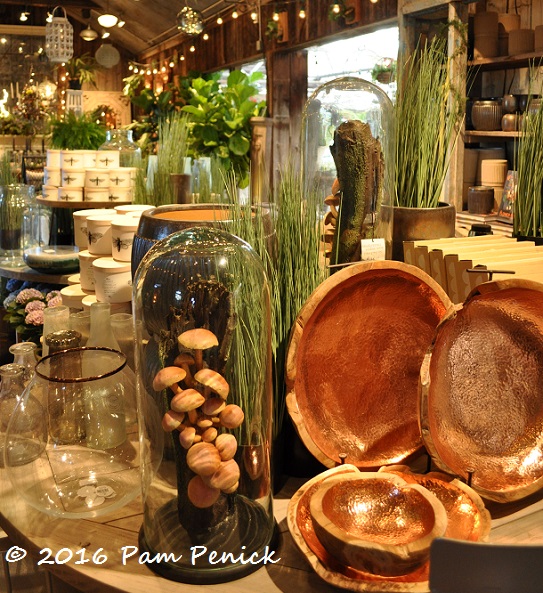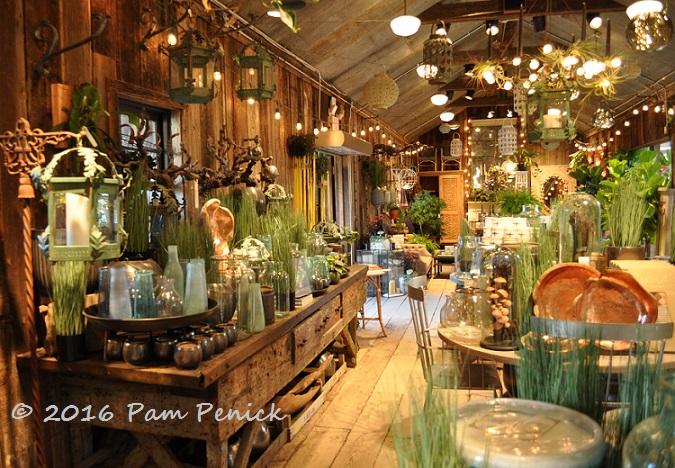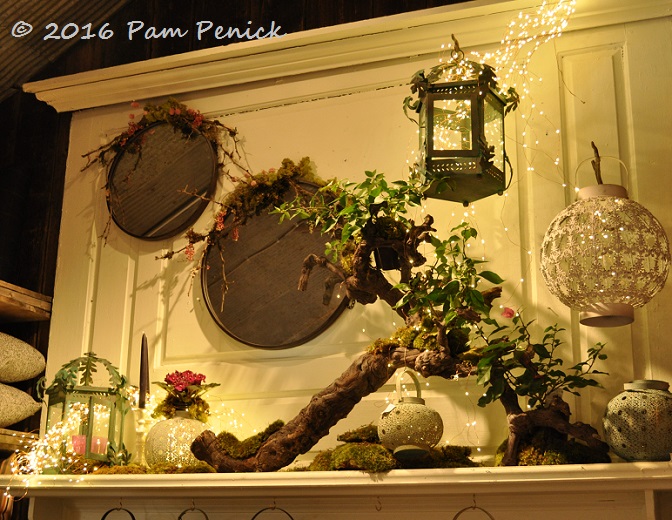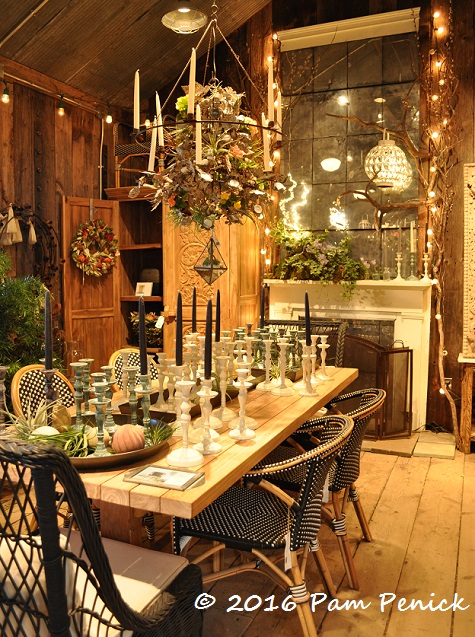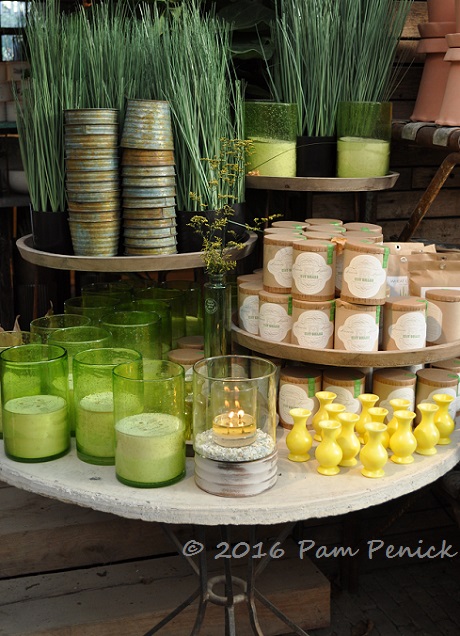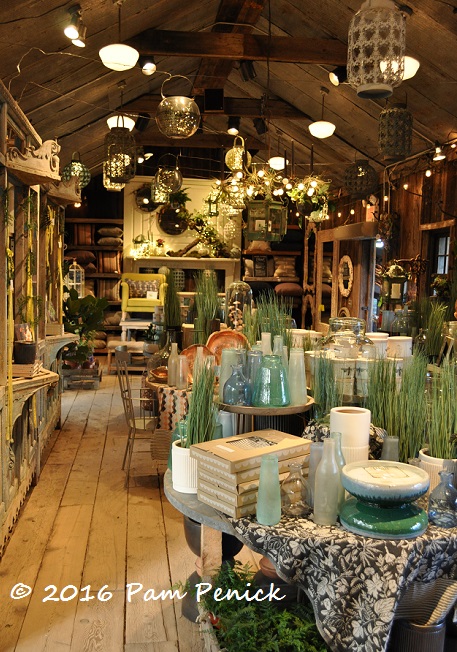 And this is just the entry room! The biggest part of the shop is still to come.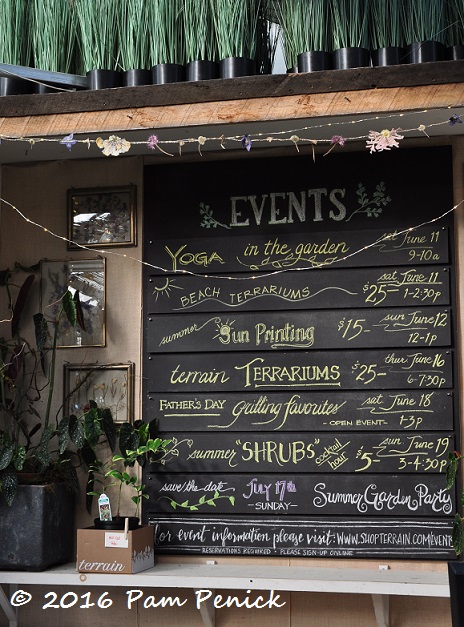 Above the register, a chalkboard sign advertises events at the nursery.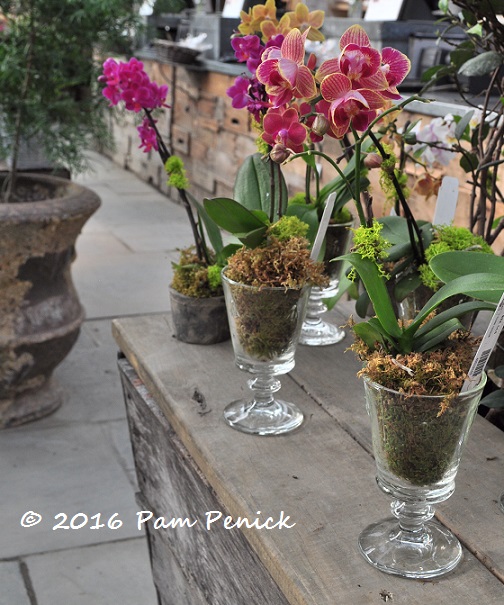 Orchids in glass goblets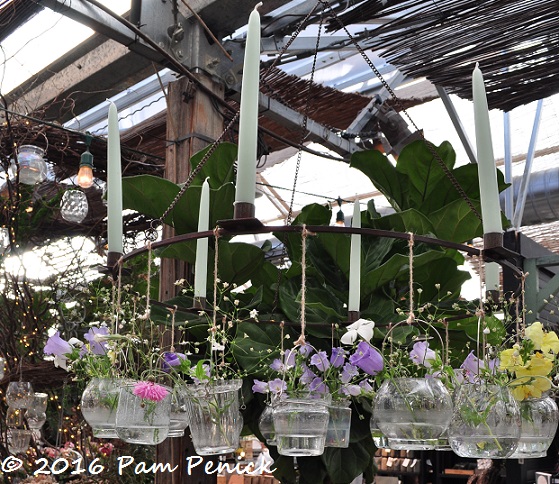 A candelabra makes a pretty place to hang jars of sweet peas and baby's breath.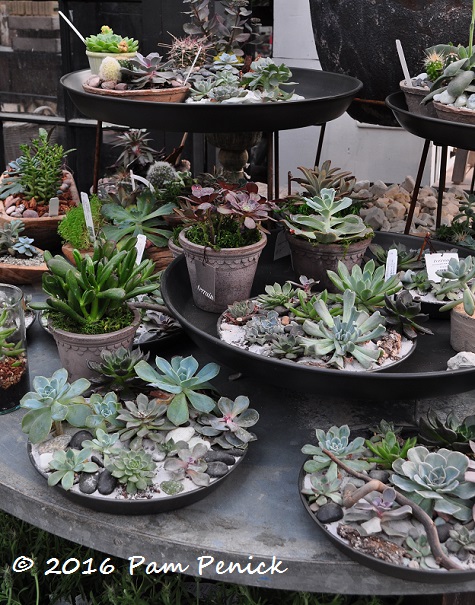 Succulent platters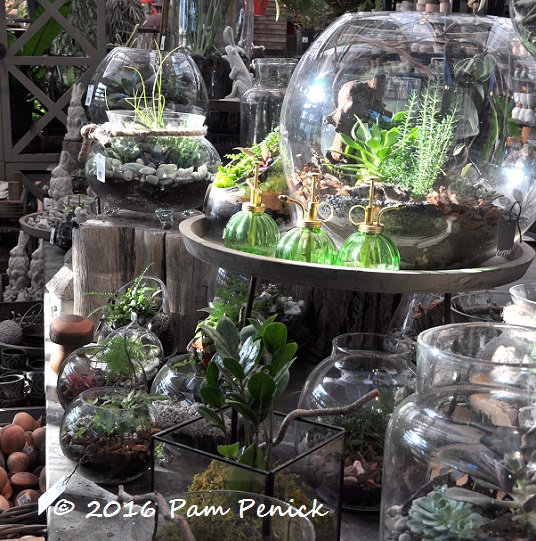 Terrariums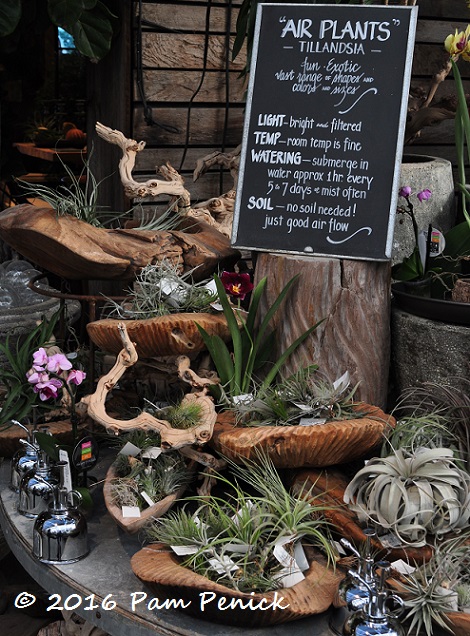 Tillandsias too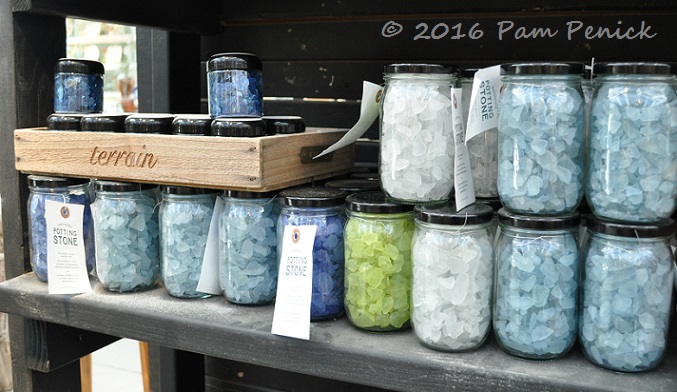 More "potting stone" in a range of pretty blues, white, and green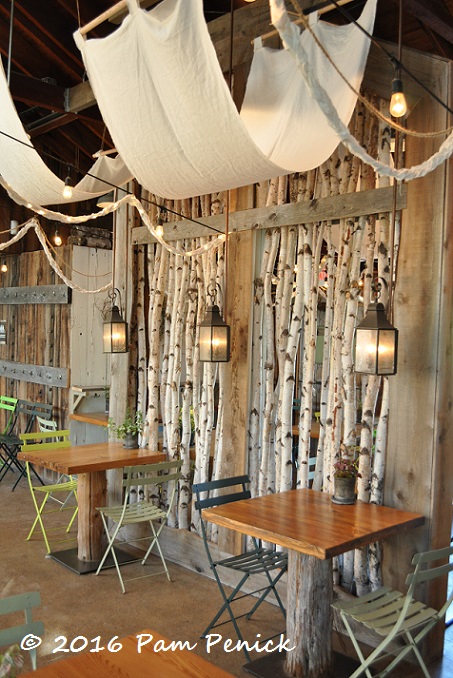 There is so much more, but we were hungry, so we popped into the cafe for dinner. Terrain's Garden Café serves lunch and dinner, farm-to-table style.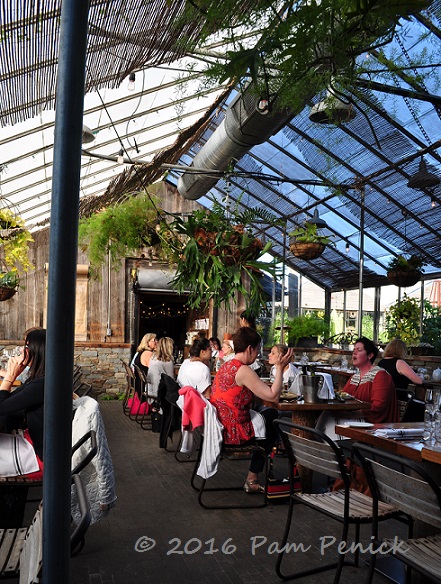 Diners were seated in the greenhouse dining space, and you'll notice it's all women. I did see one man eventually, when the place had filled up, but clearly Terrain appeals most to women.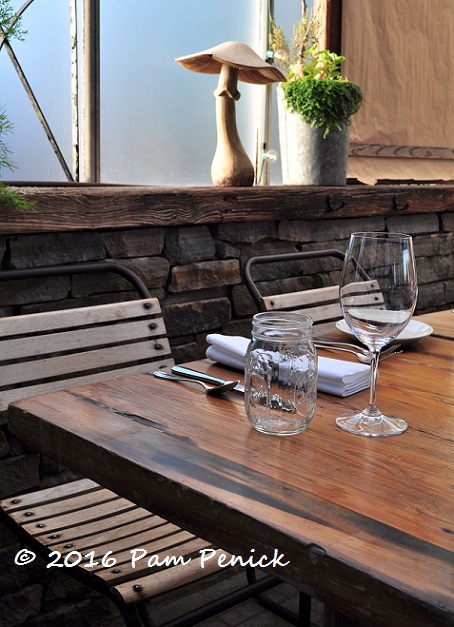 Everyone else seemed to know to BYOB, but we didn't realize that Terrain doesn't sell alcohol, so we were sadly without wine. Even so, dinner was absolutely delicious, with service that was attentive and knowledgeable.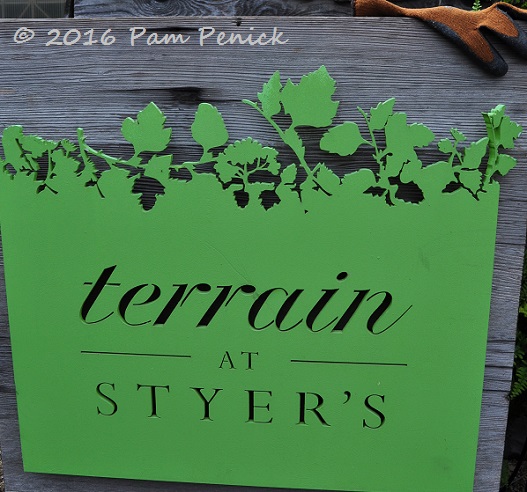 What a wonderful way to end our first garden-touring day! How I'd love to see Terrain open a store in Austin — or even Dallas or Houston. But perhaps it's best for my wallet if that doesn't happen.
Up next: Longwood Gardens' formal spaces, including the rambler rose pergola and the dancing fountains in the Italian water garden. For a look back at Enchanted Woods, the children's garden at Winterthur, click here.
I welcome your comments; please scroll to the end of this post to leave one. If you're reading this in a subscription email, click here to visit Digging and find the comment box at the end of each post.
_______________________
Digging Deeper: News and Upcoming Events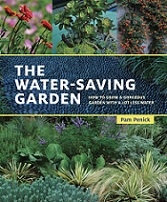 Do you review? Have you read my new book, The Water-Saving Garden? If you found it helpful or inspirational, please consider leaving a review — even just a sentence or two — on Amazon, Goodreads, or other sites. Online reviews are crucial in getting a book noticed. I really appreciate your help!
All material © 2006-2016 by Pam Penick for Digging. Unauthorized reproduction prohibited.
posted in
Annuals
,
Arbors
,
Containers
,
Decor
,
Doors
,
Firepits
,
Flowers
,
Garden art
,
Grasses
,
Groundcovers
,
Lighting
,
Nurseries & Shops
,
Patios & decks
,
Restaurants
,
Seating
,
Sheds
,
Signs
,
Succulents
,
Terrarium
,
Tillandsias
,
Travel
,
Vines
,
Walls