June 18th, 2016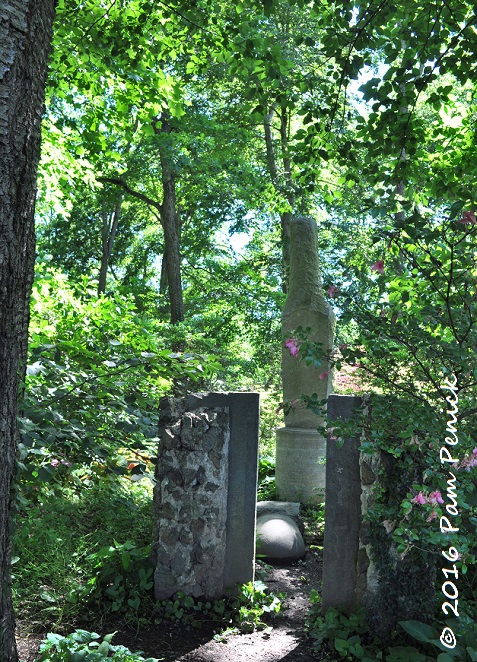 Forget wooden playscapes, jungle gyms, and climbing walls. The most magical children's gardens consist of natural spaces that invite exploration, slowly reveal secret spaces, and encourage imaginative play. Such is Enchanted Woods, the children's garden at Winterthur, located in Winterthur, Delaware, which I visited with Diana/Sharing Nature's Garden last week.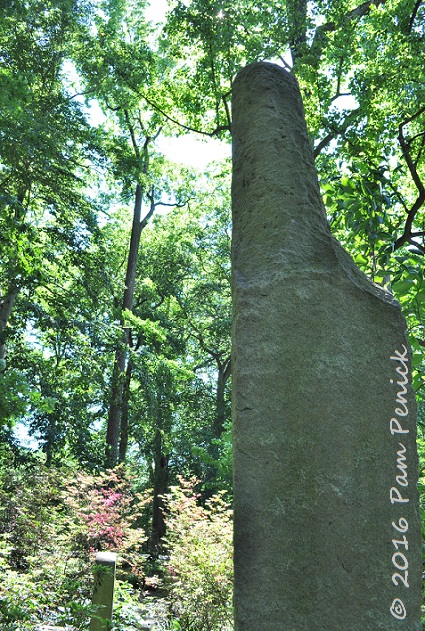 Enchanted Woods is a 3-acre exploratory play space for children and adults, set amid a grove of old oaks where the du Pont children used to play. I entered through standing stones that reminded me of Celtic ruins.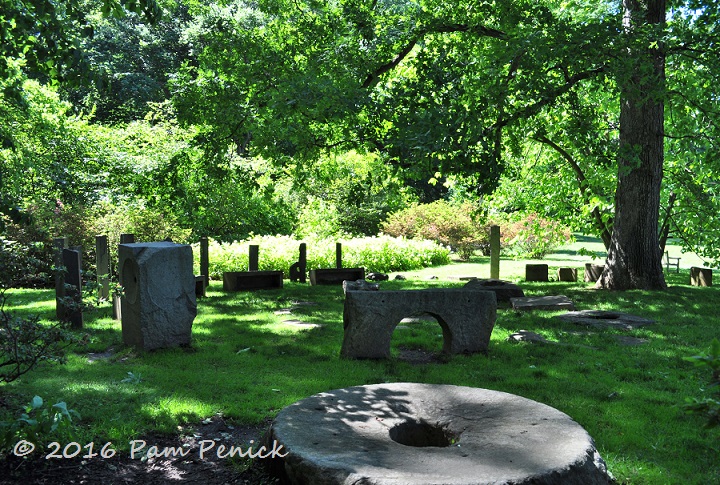 Arranged in wide circles under the trees, standing stones and bench-like architectural relics evoke Stonehenge and are perfect for climbing on or climbing through.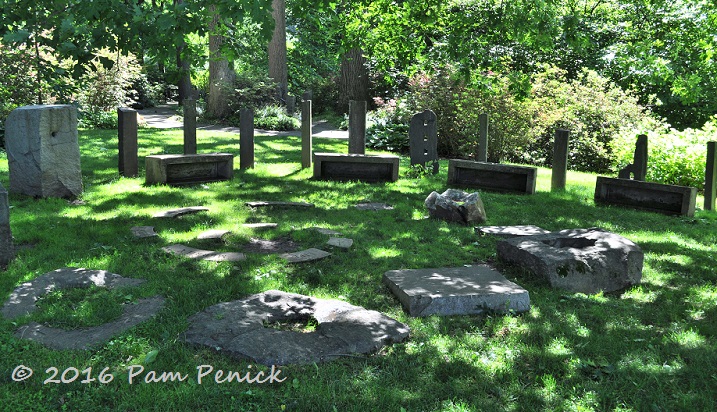 The stone artifacts, according to designer W. Gary Smith, were collected by the estate's owner, Henry Francis du Pont. They sat in storage for decades before finding a home in the children's garden when it was constructed in 2001.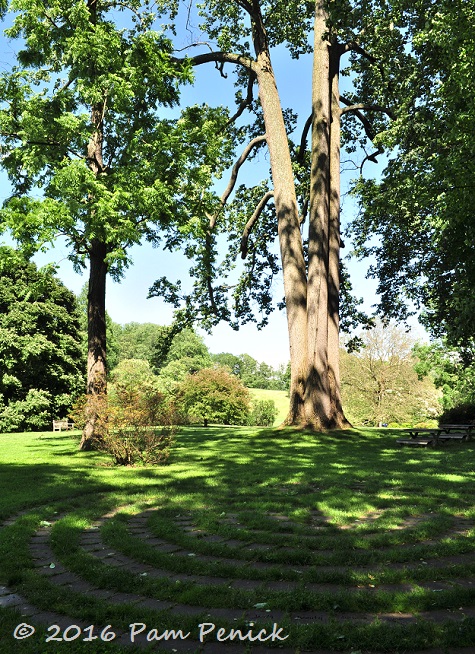 Near the stones, a labyrinth spiraling in green grass invited me to make a contemplative stroll.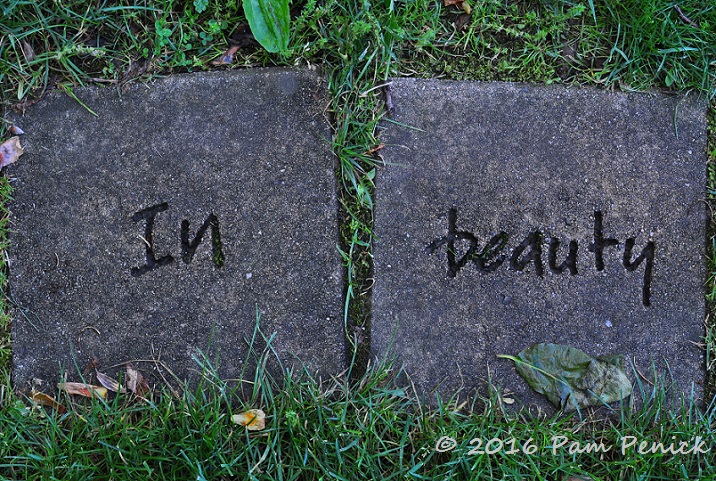 Concrete pavers etched with phrases from a Navajo "walking song" lead you into the heart of the labyrinth and then back out. As you walk it you read: "In beauty…"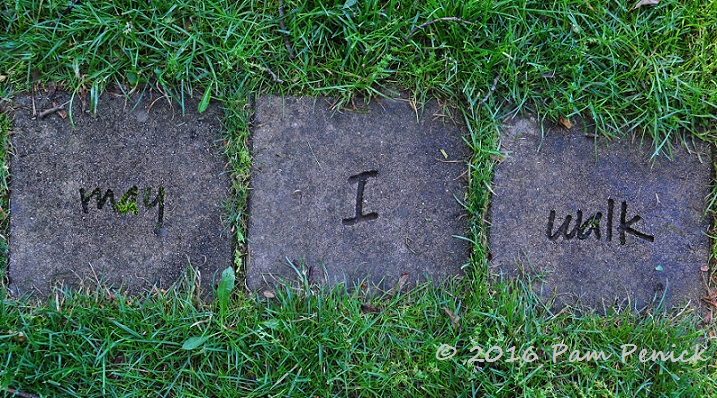 "…may I walk"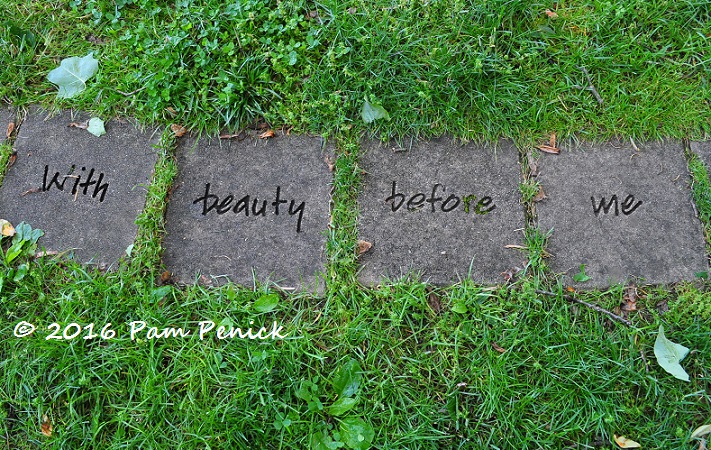 "With beauty before me"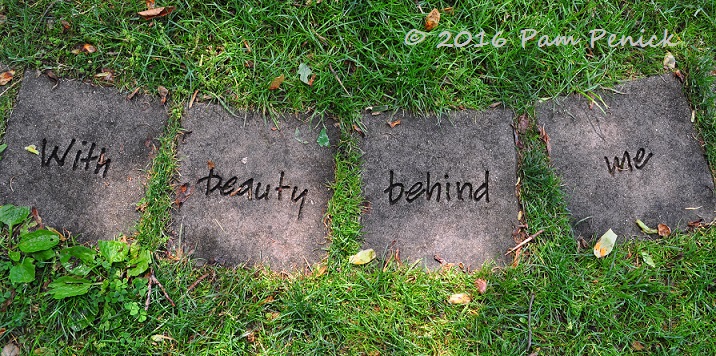 "With beauty behind me"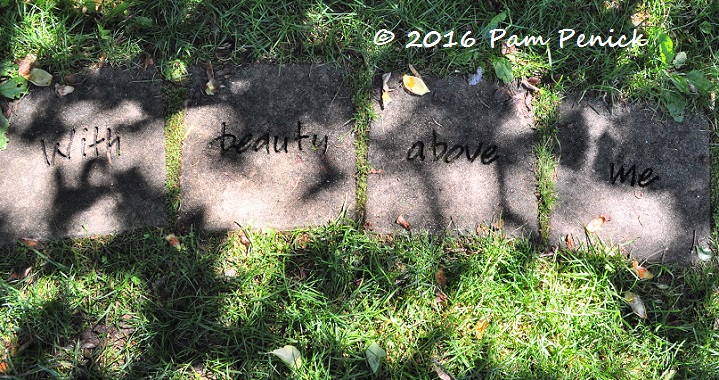 "With beauty above me"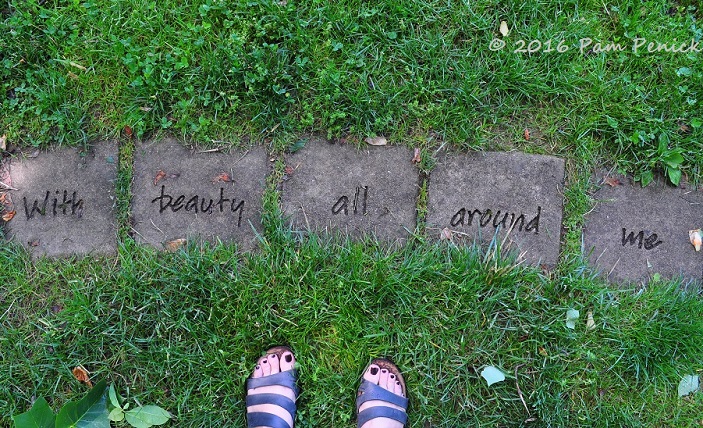 "With beauty all around me…"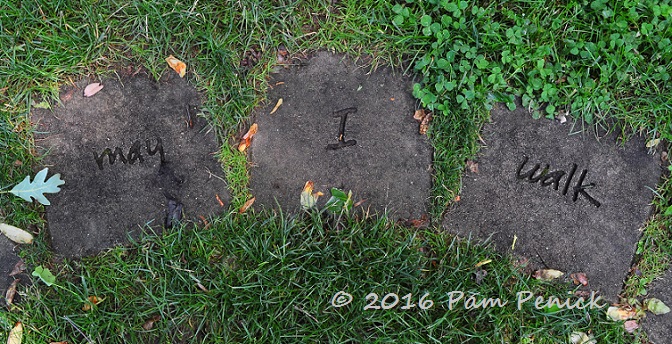 "…may I walk." Isn't that beautiful?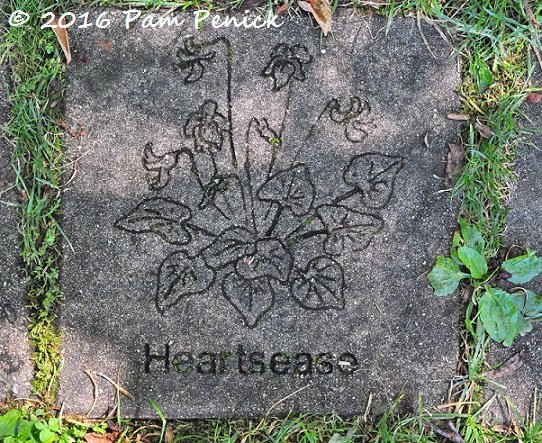 Other pavers are etched with plant illustrations, like heartsease (wild pansy)…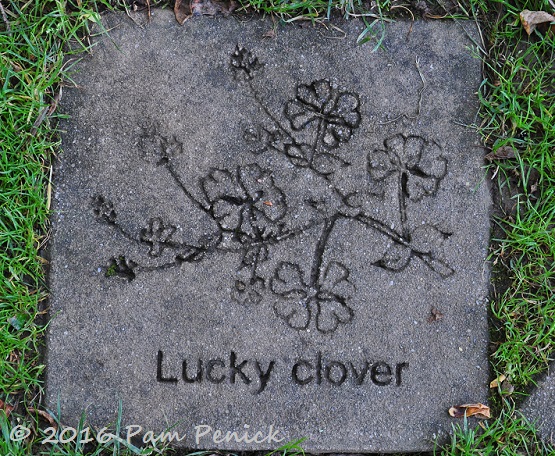 …and clover.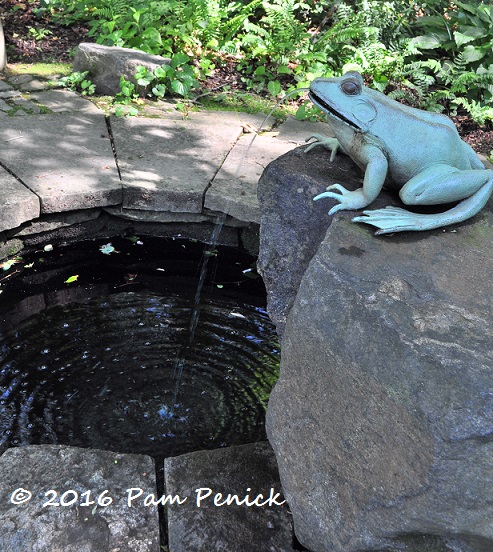 Nearby, a frog spits water into a small pool…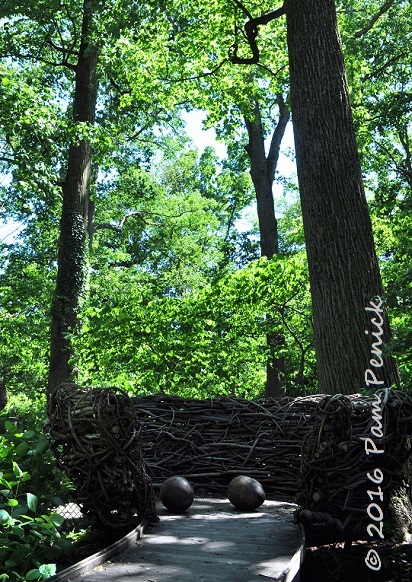 …and a giant bird's nest (just like the ones at the Wildflower Center's Family Garden), complete with carved wooden eggs, makes an intimate play space or hiding place.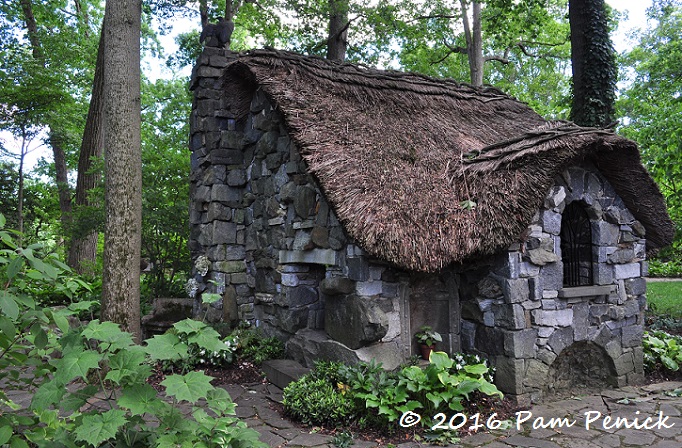 The centerpiece of the garden is a stone-walled, thatch-roofed faerie cottage. Tucked among the trees, it has a fairy-tale appearance. (This is where Diana and I took shelter from the windstorm.)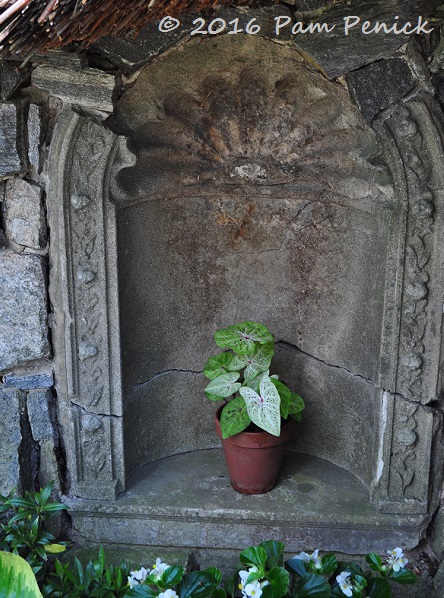 A niche holds a sweet little pot of caladiums.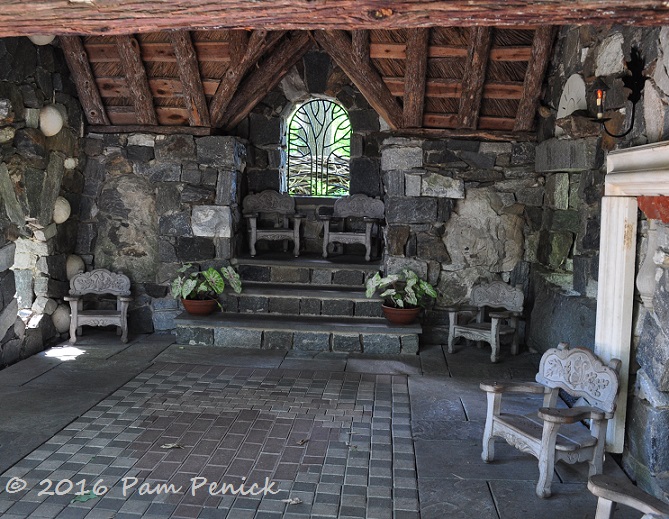 Inside, a faerie queen and king could live in style, with an acorn-adorned "throw rug" of colored pavers, an oak-tree window, throne-like chairs…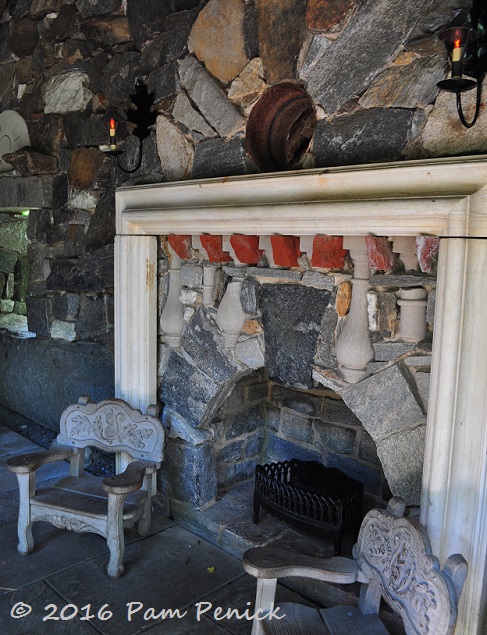 …cozy lighting, and a fireplace.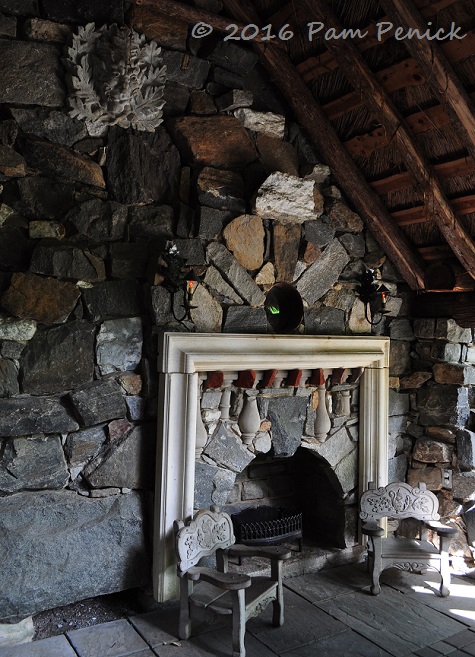 A green man adorns the wall.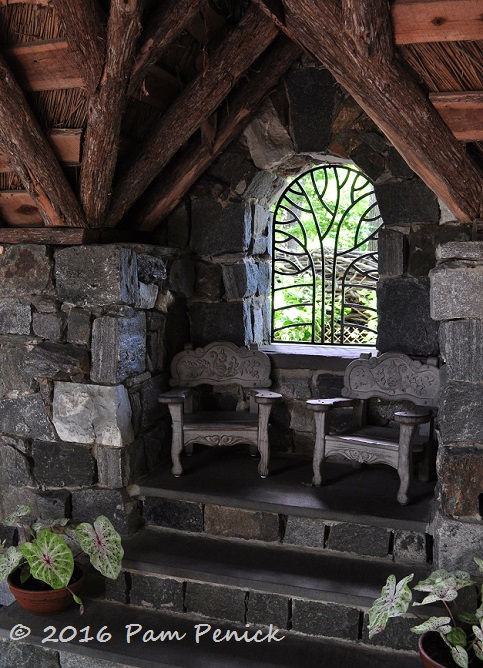 Where the faerie king and queen sit?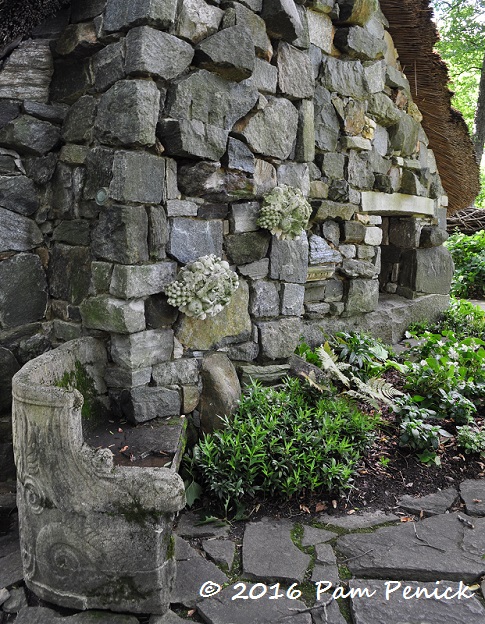 Charming architectural details are built into the exterior too, like this curved bench.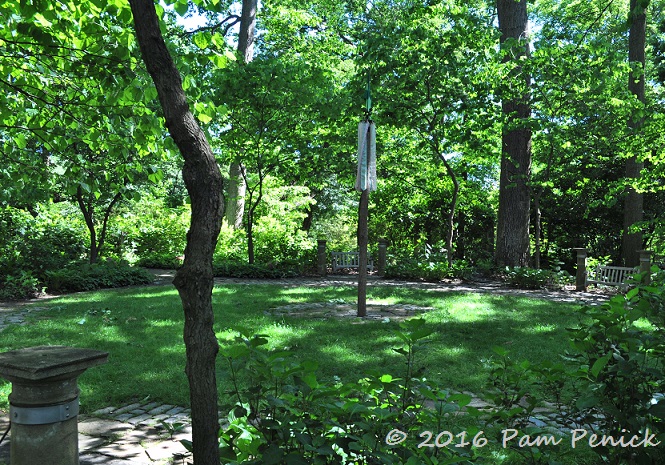 A maypole lawn surrounded by swinging benches and spring-flowering trees makes a welcome green glade amid the tall oaks.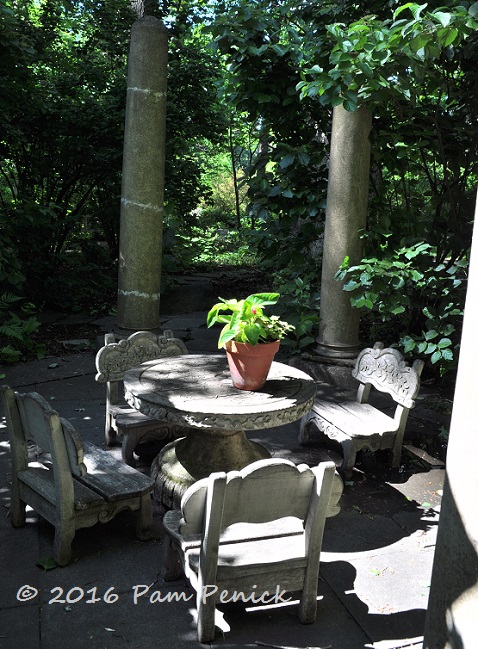 Encircled by old columns, a small table and chairs would be the perfect place for a tea party.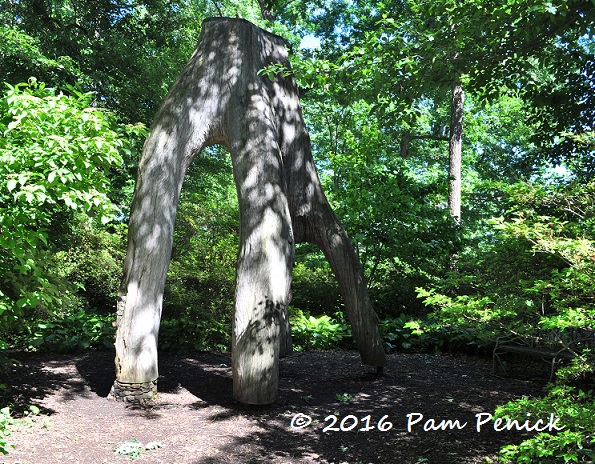 Other elements are a little more ambiguous, even eerie? An upturned tree stump seems to scuttle through the garden like Thing in The Addams Family.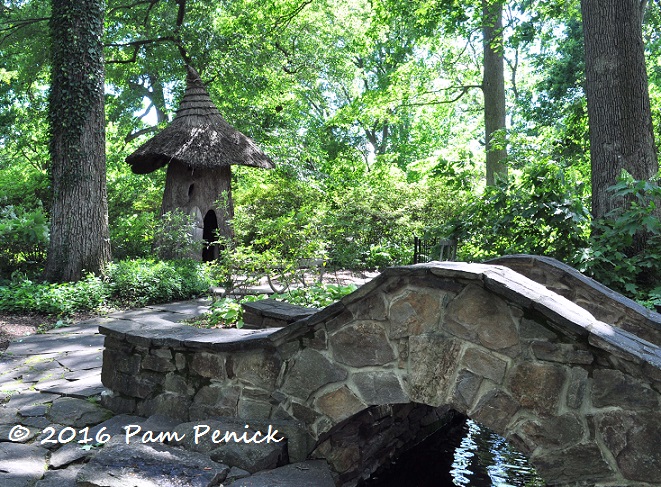 Across a stone bridge, a pointy-roofed structure appears. Dubbed the Tulip Tree House, it's cleverly made from a hollow tulip-poplar trunk.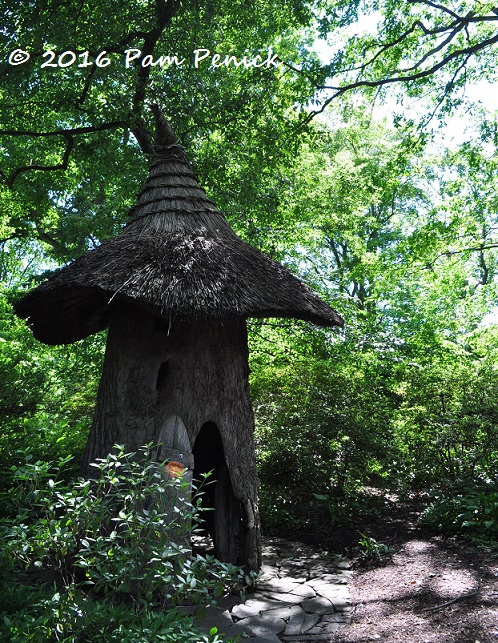 Doesn't it look like it could be a witch's house in a fairy tale?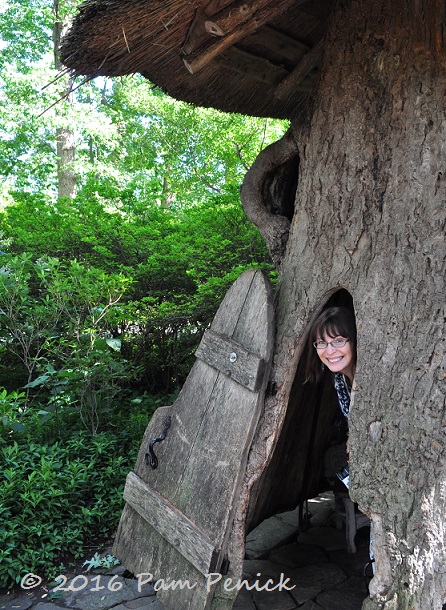 But less so with Diana's smiling face looking out.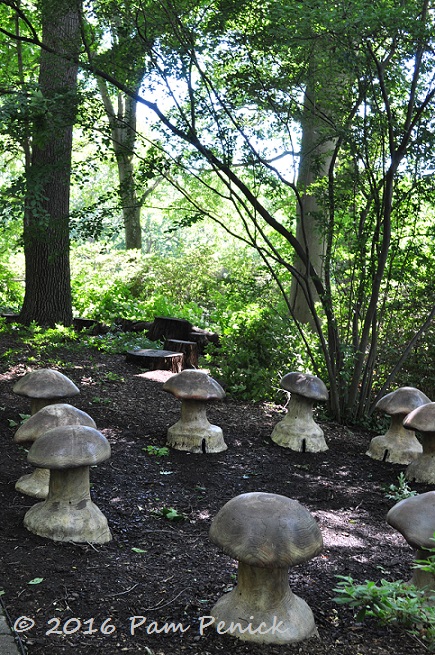 A circle of chair-sized mushrooms looks like a good place to take a rest.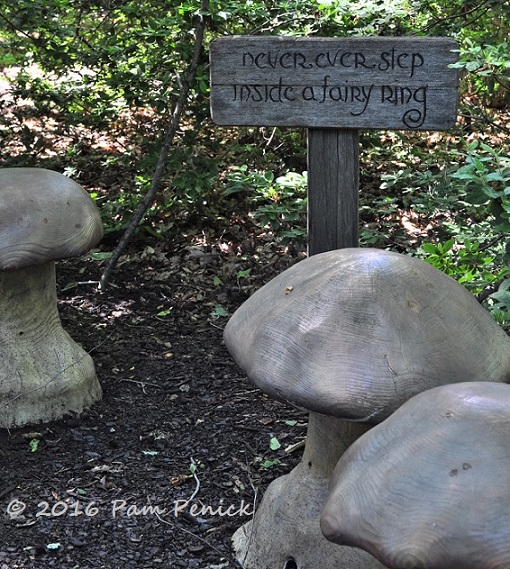 Uh-oh — it's a fairy ring. What happens if you step into it? A sign warns you not to, therefore making it irresistible that you will.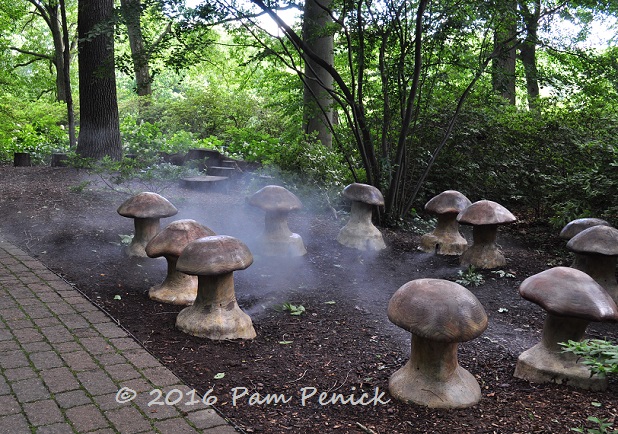 Mist suddenly hisses out of the mushrooms, threatening to swallow you up!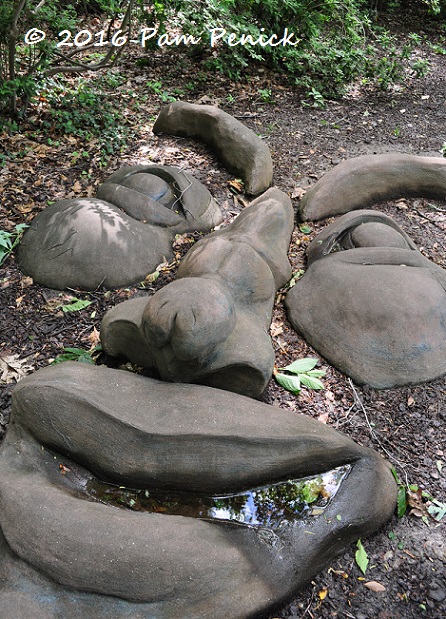 Hidden in the middle of tall shrubs, a green man laughs, his smile glinting with recent rain.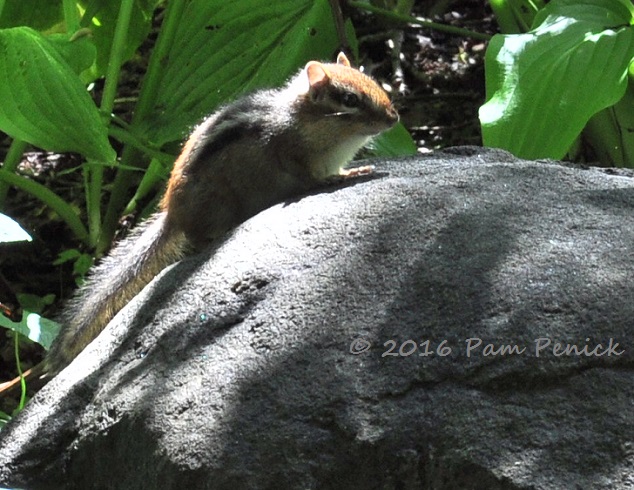 You know a garden is truly magical when a chipmunk poses for you, holding still as you creep in for a closeup. I loved Enchanted Woods, and while no children were there during our visit, I did see a grown-up couple exploring it like children (as did we). If you're ever there sans kids, don't be shy about playing pretend yourself.
For a look back at my post about Winterthur's main gardens, click here. Up next: Shopping and dinner at Terrain, a gorgeous nursery/home-and-garden shop and restaurant in Glen Mills, Pennsylvania.
I welcome your comments; please scroll to the end of this post to leave one. If you're reading this in a subscription email, click here to visit Digging and find the comment box at the end of each post.
_______________________
Digging Deeper: News and Upcoming Events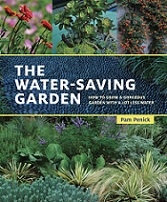 Do you review? Have you read my new book, The Water-Saving Garden? If you found it helpful or inspirational, please consider leaving a review — even just a sentence or two — on Amazon, Goodreads, or other sites. Online reviews are crucial in getting a book noticed. I really appreciate your help!
All material © 2006-2016 by Pam Penick for Digging. Unauthorized reproduction prohibited.
posted in
Botanic/Public Gardens
,
Bridges
,
Children's gardens
,
Containers
,
Decor
,
Fireplace
,
Fountains
,
Garden art
,
Garden structures
,
Garden tours 2016
,
Lawns
,
Paths
,
Play spaces
,
Ponds
,
Rock
,
Seating
,
Signs
,
Travel
,
Trees
,
Water features
,
Windows