June 16th, 2016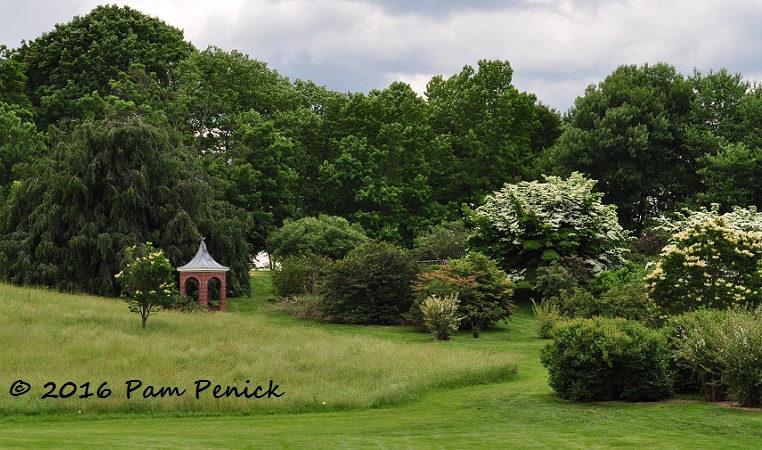 The Brandywine Valley of Pennsylvania has been calling my name since 2008, when I passed through during a family road trip and fell in love with the rolling, wooded countryside, its charming villages and Revolutionary War history, and numerous estate gardens that make it a garden traveler's dream vacation. Last week my friend Diana/Sharing Nature's Garden and I took a 6-day trip to the region, and we visited the three most-famous estate gardens, arriving at each one at opening and staying until closing.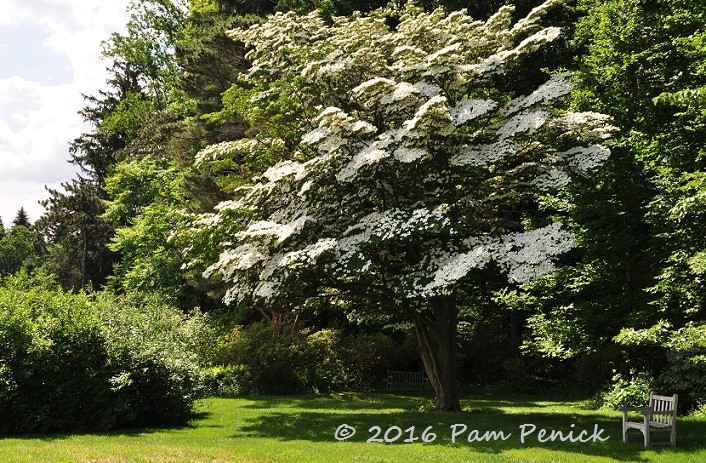 We started with Winterthur (pronounced winter-tour), located in the town of the same name in Delaware. Because I'd heard that Winterthur's big show is early to mid-spring, with bulbs, azaleas, and flowering trees, I expected mostly green vistas during our early June visit. But I was happily surprised by dogwoods in bridal-dress bloom throughout the gardens.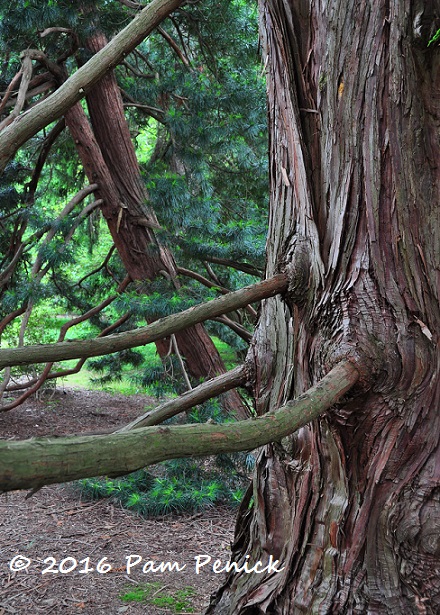 Visitors to Winterthur also enjoy majestic trees (including a nice pinetum), meadow vistas, winding woodland paths, a playful children's garden, and intimate seating areas for relaxation or contemplation.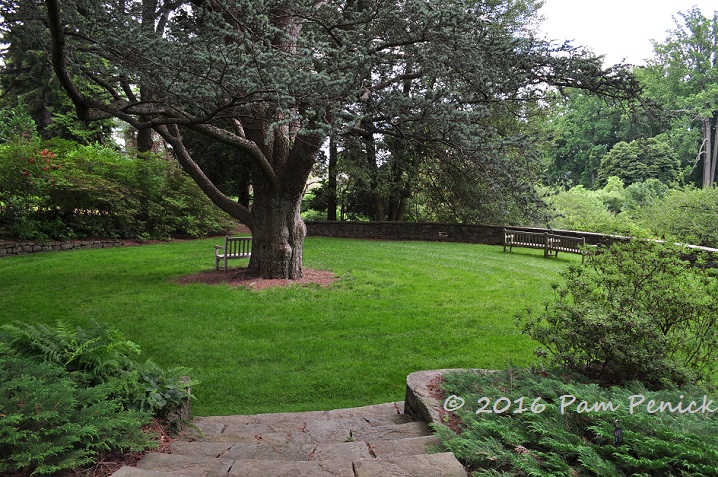 Formal design elements — like this circular lawn anchored by a massive old pine, with a low wall making a sort of council ring about the space — balance the wild-seeming woods and meadows that make up most of the 60-acre garden, which itself is part of a 1,000-acre preserve.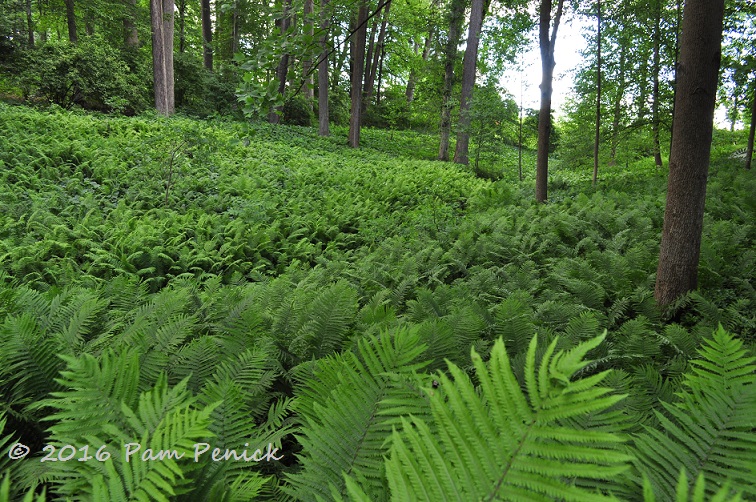 Ferns as far as the eye can see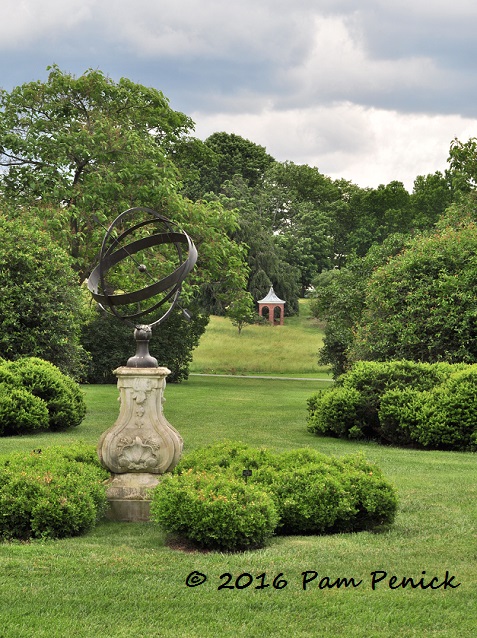 We chose the outer paths first, hoping to see those before the rain arrived, which threatened from dark clouds. From the wooded seclusion of the pinetum, the garden opens into a formal boxwood and yew garden with a large armillary in the center. A meadow vista with a swoop-roofed pavilion beckoned in the distance.

I had to admire this massive wedge of golden foliage as we left the outer path and headed into the meadow. Toto, we're not in Kansas Austin anymore.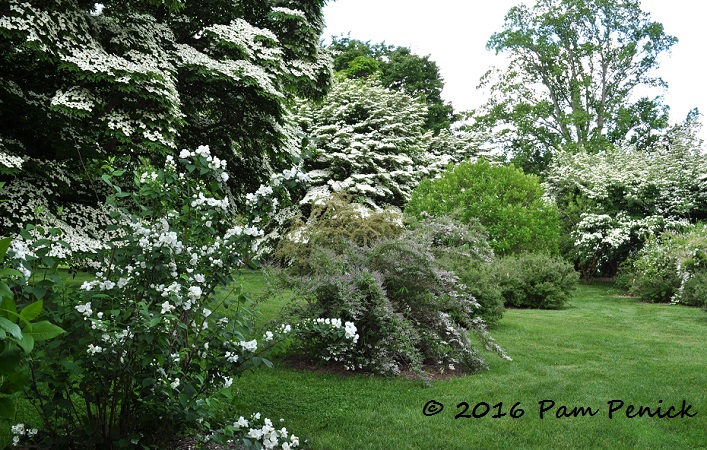 Ahead, a vista of white-flowered beauty! Enormous dogwoods, frosted with layers of creamy white flowers, made an irresistible scene.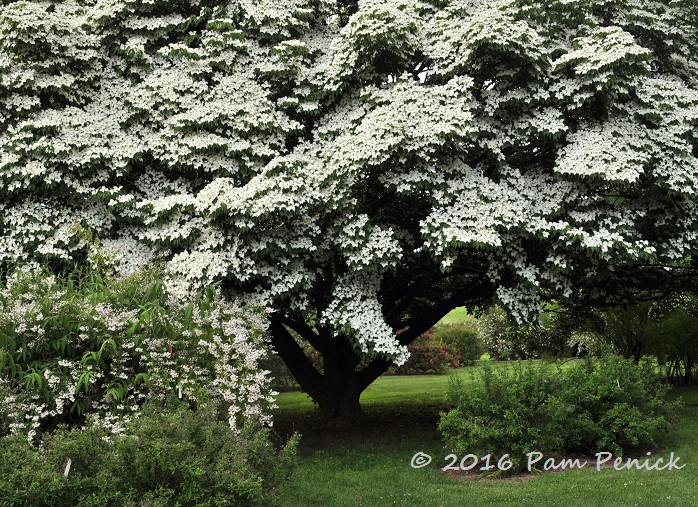 We walked on, exclaiming over each tree, walking among them with hands stretched to stroke the cascade of blossoms, stopping in the shade of their canopies and looking up at the starry white flowers.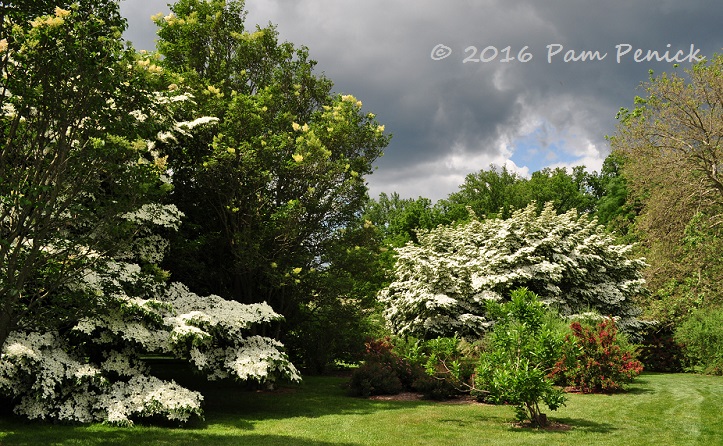 It was beautiful, and while the dark clouds overhead gave us pause, we didn't turn back, not even when we heard a single siren go off in the distance. One rising and falling wail, like a tornado warning back home — we looked around, saw plenty of blue sky along with the dark clouds, noticed no one else hurrying for shelter, and decided to quickly see the rest of the white garden before heading in.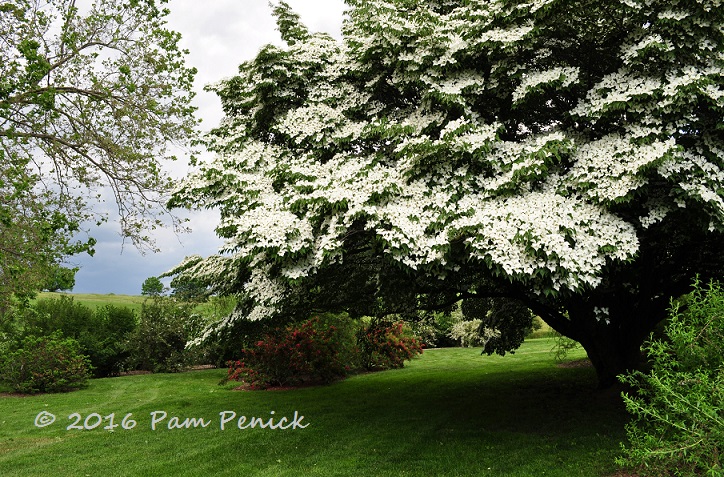 Just one more turn among the dreamy white trees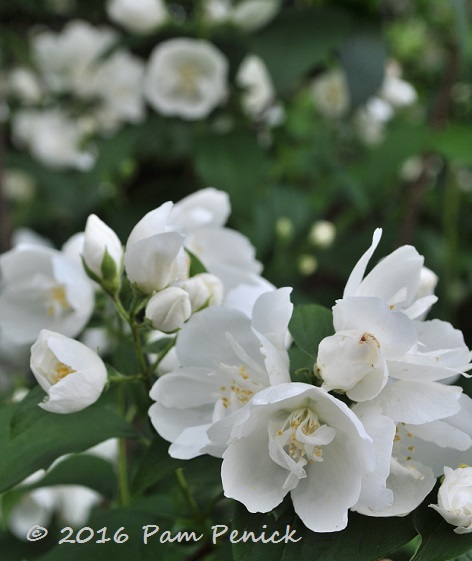 And mock orange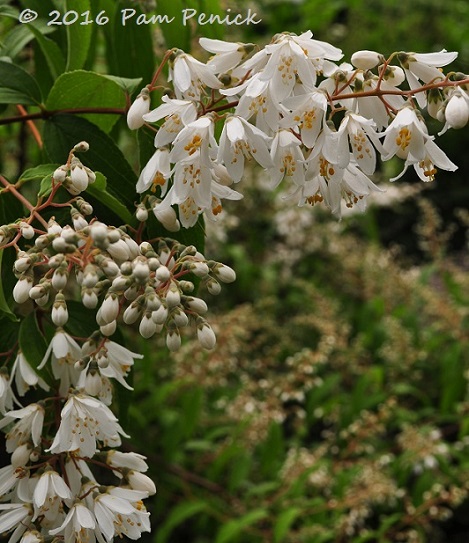 And deutzia (I think)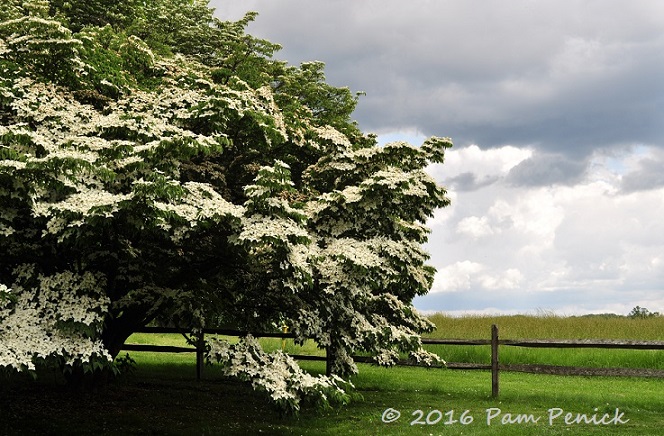 The dogwoods' white petals looked even prettier against the increasingly threatening sky.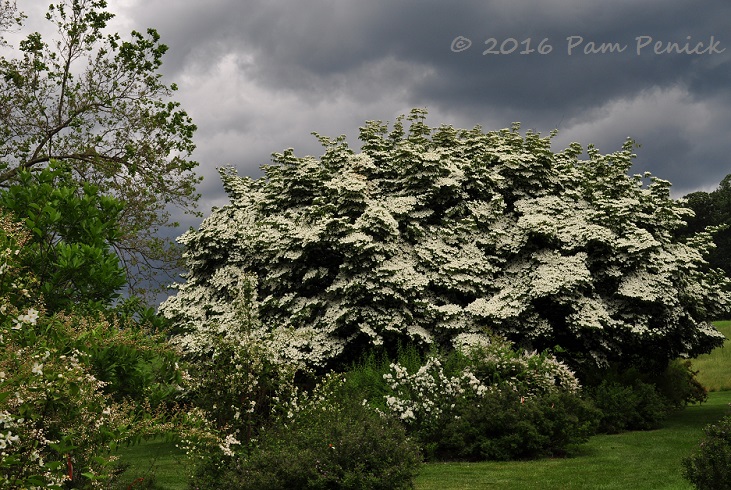 Yes, it was really time to head for shelter.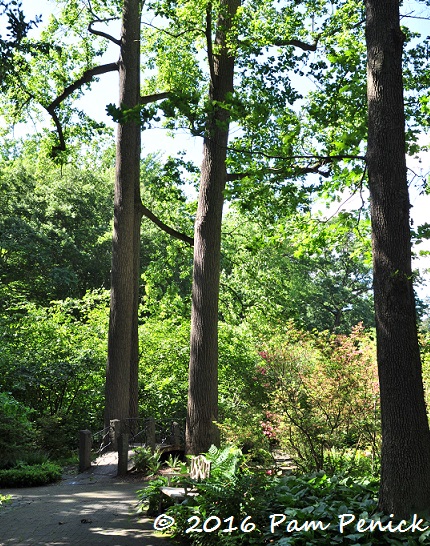 We didn't make it. We hurried out of the open meadow and plunged into a woodland garden — the Enchanted Woods children's garden, as we later realized — and as soon as we were well under those towering old trees, rain began needling our faces. Worse, straight-line winds roared through the treetops above, thrashing the canopy with an alarming noise that made us fear a tornado was imminent. I popped out my umbrella to protect my camera, but instantly the wind yanked it inside-out.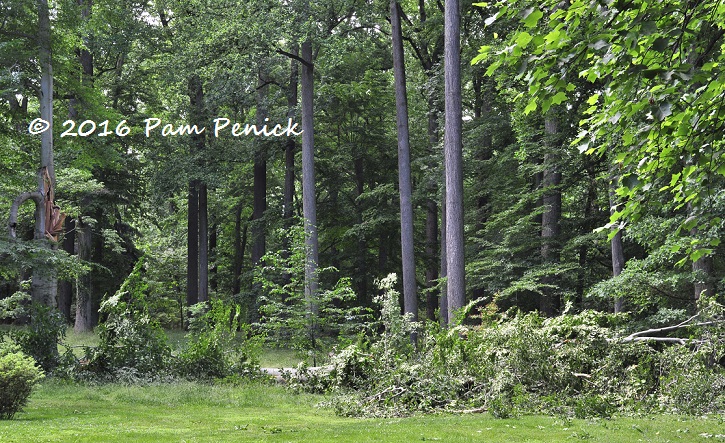 The only thing to do was run for it. But we didn't know exactly where we were, or how far away shelter was, and as we began to run, a giant tree limb crashed down and splintered on the path a dozen yards ahead. All around us was the noise of falling limbs and roaring wind. It was terrifying. We ran back the other direction, toward a small restroom we'd passed on the way into the woods, but I suddenly was convinced I wouldn't make it there before a big branch fell on me. I darted toward a teak bench along the path, crouched beside it, and, ridiculously, lifted one end to shelter my head from falling branches.
Bless her heart, Diana, who was well ahead of me, turned back to find me — probably expecting to find me pinned under a tree — and found me squatting under a bench instead. She yanked me up, and we blindly ran a different way and found a stone hut in the Enchanted Woods. Dashing under its thatched roof, we collapsed, panting, on the floor. We were speechless.
A few minutes later we heard a truck and a voice shouting, "How many are you?" A staff member had driven her small pickup truck up the paved path by the hut. "Two," we yelled, and ran back out in the storm to squeeze into her one remaining seat. Diana contorted herself so I could squeeze in underneath her. I was halfway in when a branch crashed down beside me, whacking me on the head and arm. I didn't even look to see how big it was. I shoved myself in, slammed the door, and prayed that no tree would come down on us as we drove to the museum building. Thankfully, we made it. If the woman in the truck reads this, I want her to know how grateful I am that she risked the falling limbs to get us.
Breathless, we waited out the storm in the museum building, our hair dripping, me drying my camera with a scarf. When we'd recovered, we stayed inside for an hour to do the house tour. Later, out in the garden again, we saw downed limbs and even a big tree (above). We also saw downed trees on the drive home and at Longwood and Chanticleer in the days to come.
We soon had a semi-hysterical belly laugh over my bench hidey-hole. Diana wanted me to reenact it for a photo, but knowing it's etched in both our memories is quite enough for me.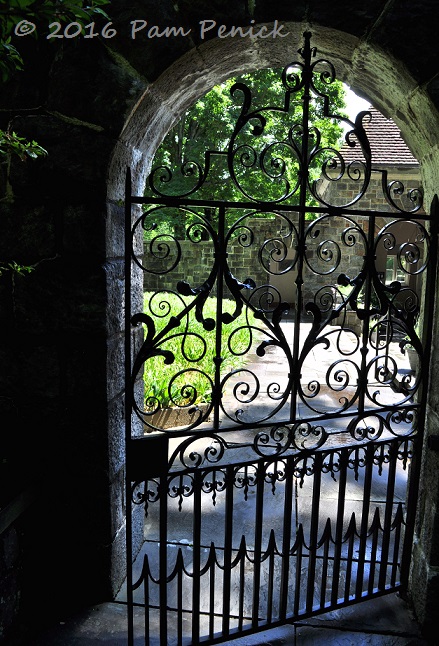 One thing is for sure: we didn't ignore two other weather sirens that went off later that afternoon, taking immediate shelter both times, including in an old bath house with a curlicued gate.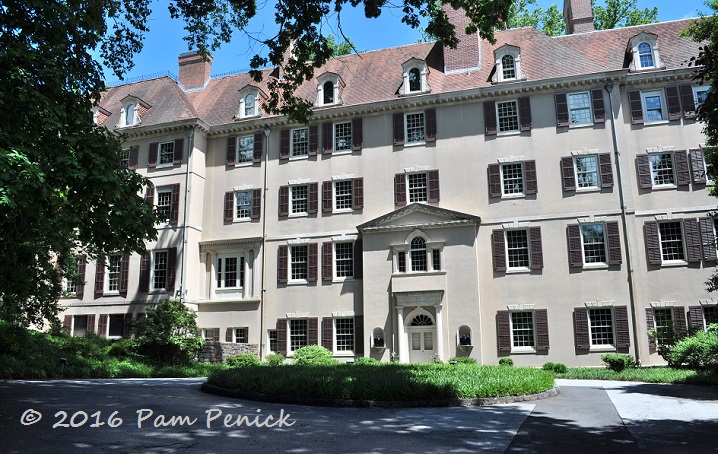 Still, nothing can keep a garden lover down, and we thoroughly enjoyed the rest of the day. A little history: Winterthur was built by the du Pont family, who fled post-Revolutionary France, got rich in America making gunpowder, and founded the chemical company that bears the family name. Henry Francis du Pont, great-great-grandson of the French émigrés, studied horticulture in college and eventually made the estate's gardens and his furniture and art collections his life's work. He opened Winterthur to the public in 1951.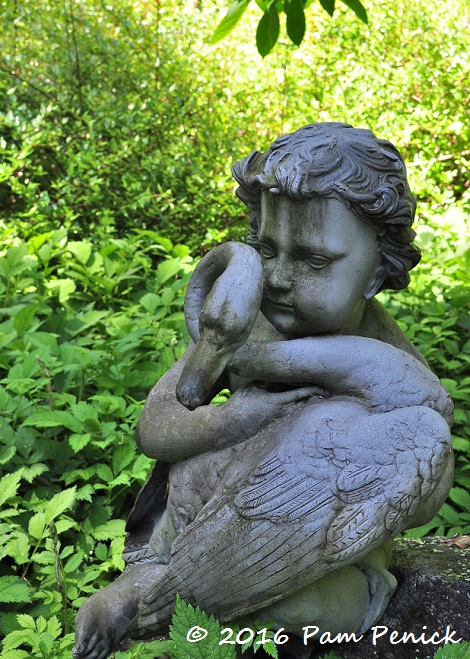 The gardens surrounding the mansion are adorned with classical statuary…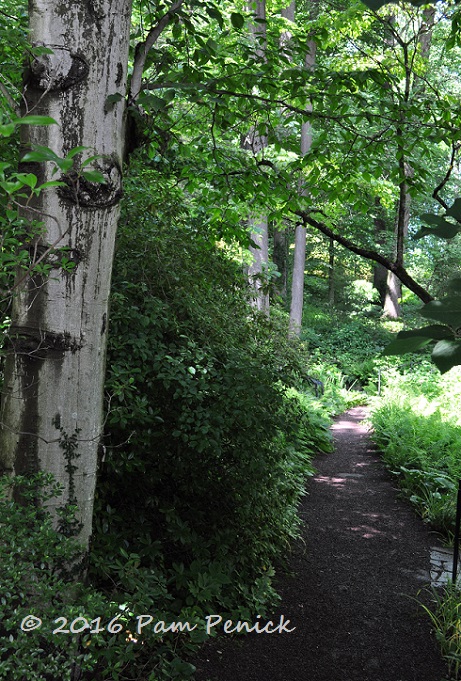 …but the gardens themselves range from naturalistic woodland…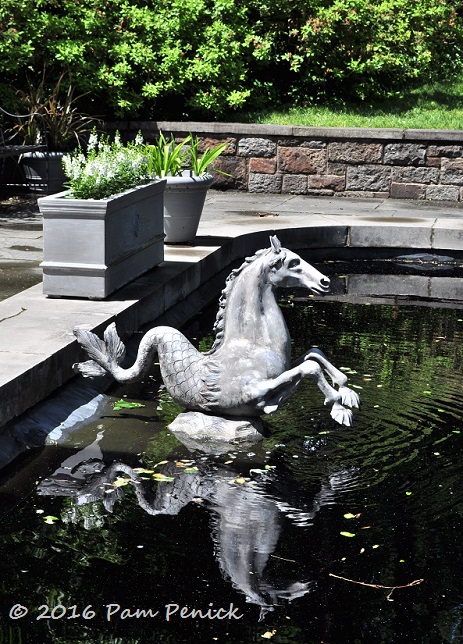 …to formal reflecting pool.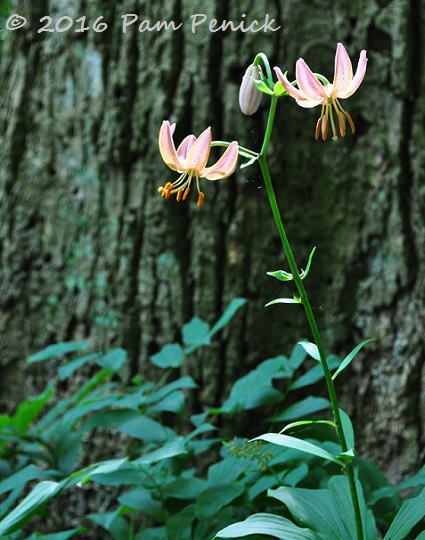 Despite the storm, it was a beautiful day in the garden.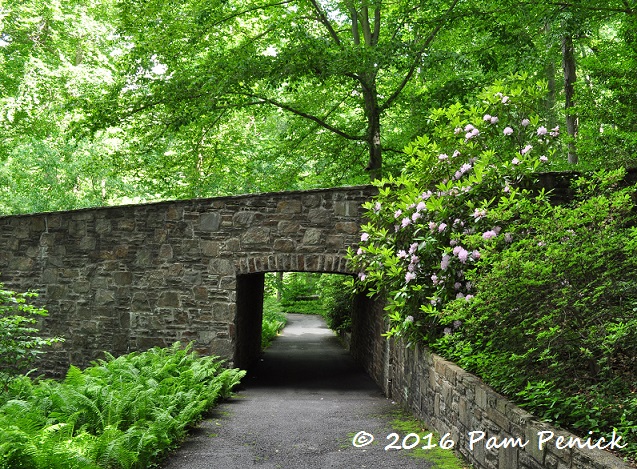 I'd love to see it again one day in early spring.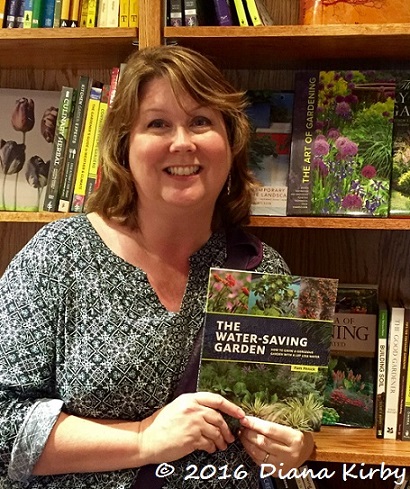 I was excited, too, to see my book for sale in the gift shop. Thanks for carrying it, Winterthur!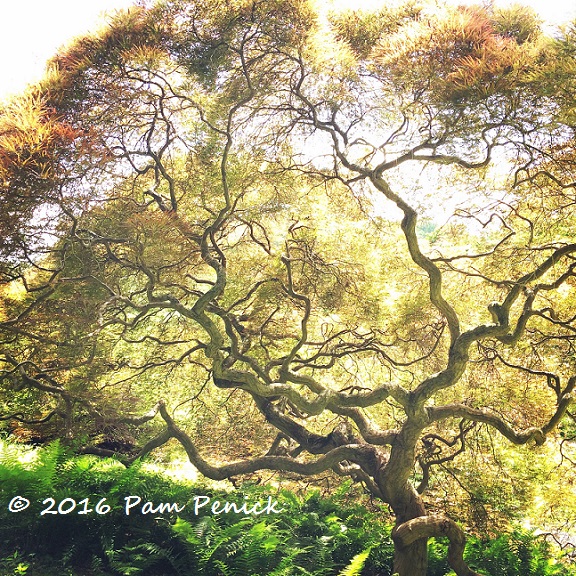 I'll close with a Japanese maple I photographed in the morning, with the sun breaking through the clouds and lighting up the russet leaves.
Up next: Winterthur's Enchanted Woods, a truly enchanting children's garden designed by W. Gary Smith, who also created the family garden at the Lady Bird Johnson Wildflower Center.
I welcome your comments; please scroll to the end of this post to leave one. If you're reading this in a subscription email, click here to visit Digging and find the comment box at the end of each post.
_______________________
Digging Deeper: News and Upcoming Events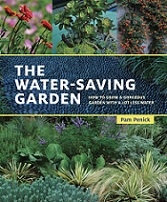 Do you review? Have you read my new book, The Water-Saving Garden? If you found it helpful or inspirational, please consider leaving a review — even just a sentence or two — on Amazon, Goodreads, or other sites. Online reviews are crucial in getting a book noticed. I really appreciate your help!
All material © 2006-2016 by Pam Penick for Digging. Unauthorized reproduction prohibited.