May 17th, 2016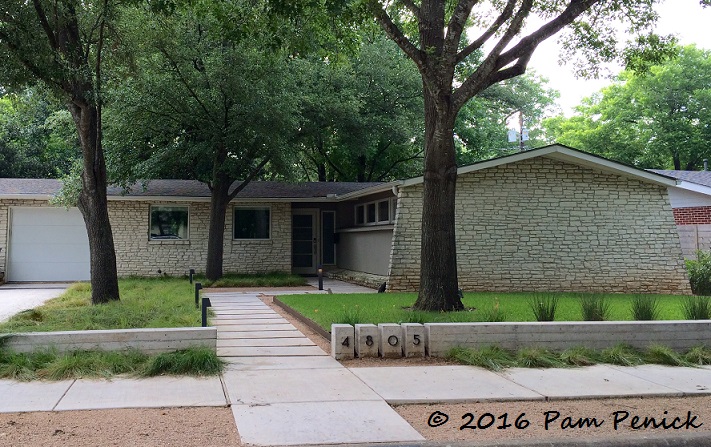 Last week, while cruising around north-central Austin's Shoalwood and south Allandale neighborhoods, I noticed a trend: contemporary curb appeal with gravel and concrete-paver paths, low walls and fences to separate public and private areas, and turf reduction in favor of lower-water plants.
Take this 1950s ranch, for example. Located in my old neighborhood, this house has had a landscaping facelift since I last saw it. Check out the "before" picture in this Trulia link. The wildscaped "before" garden has been transformed into this clean-lined, geometric space that I think better suits the style of the home. The low, board-formed concrete wall subtly separates the home's "personal space" from the public sidewalk and street — a modern equivalent of the picket fence. Notice the cool detailing where the house numbers appear on separated sections of the wall.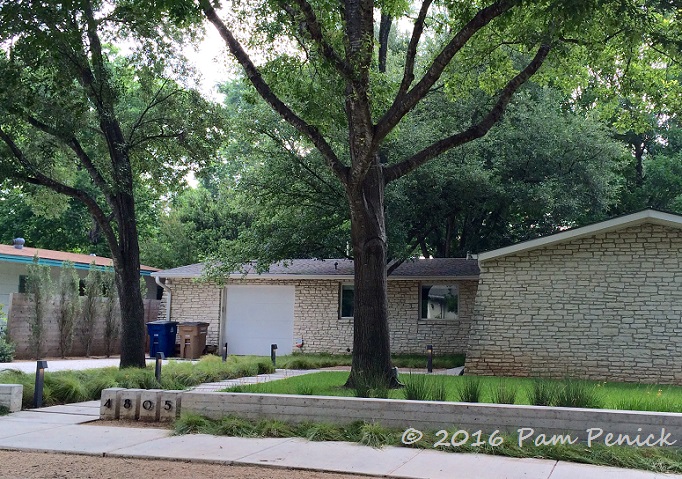 A pillowy swath of sedge replaces traditional turf to the left of the poured-paver walk. More sedge softens the front of the wall. Lawn grass, neatly defined by steel edging, makes a green carpet to the right of the walk. The hell strip between the sidewalk and the street is paved, simply and effectively, with water-permeable decomposed granite, which makes a welcoming landing pad for visitors exiting their cars.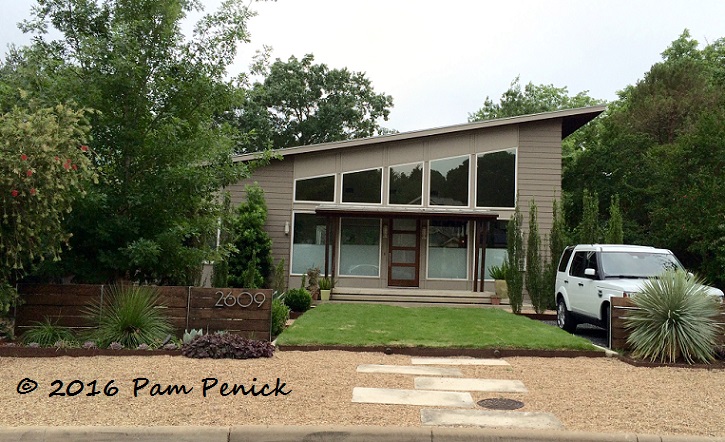 Similar elements are at work in this front garden: a low fence defining public and private spaces, gravel paving in the hell strip, and a reduced geometric lawn defined by steel edging. Regular readers may remember that I've featured this garden before — in 2012, to be exact — and it's been well maintained since then. If it were mine, I'd continue the poured-concrete paver path through the lawn to the front steps, but that's me.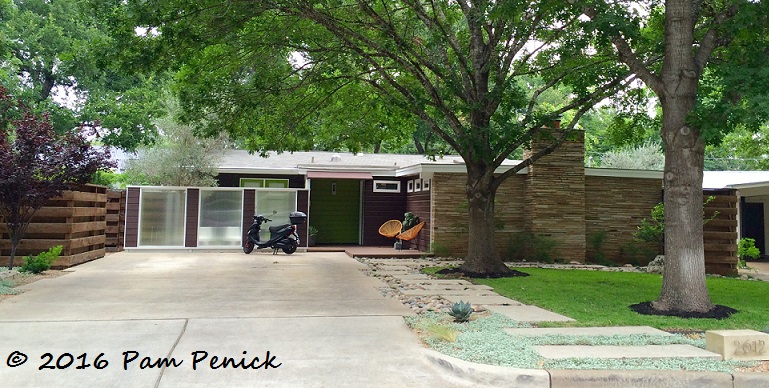 More poured-concrete pavers lead the way to this home's front porch, where a semi-translucent wall screens a small sitting area from the street. The burgundy tree at left nicely echoes the color of the home's siding.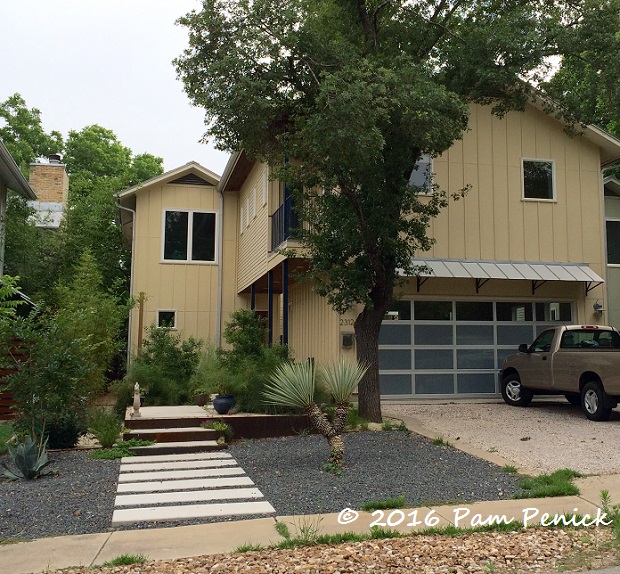 This new-construction home in a contemporary-farmhouse style has gone casual-modern with its landscaping: a field of dark-gray gravel in lieu of lawn, a poured-paver walk, and steel risers leading to the front porch. Planting is minimal, just a solitary yucca and agave in front, with bamboo closer to the house.
The layout has an appealing geometric simplicity, and the permeable paving allows rainwater to soak in. Unfortunately, the larger tan gravel in the hell strip distracts the eye; I'd use the dark-gray gravel for both sections, with one more poured paver connecting with the street — or, since it's in the city easement, perhaps a row of off-the-shelf square concrete pavers aligned with the poured pavers. A few more plants — perhaps a cluster of 'Color Guard' yuccas and blackfoot daisies? — would soften the gravel too.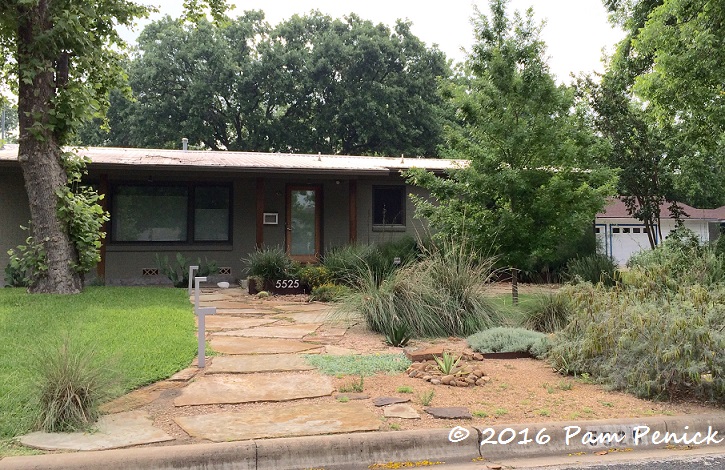 A plant lover clearly lives here, with a naturalistic garden with a few contemporary touches. A curving flagstone-and-gravel path is bordered by a xeriscape garden with grasses, santolina, agave, and other low-water plants. Modern L-shaped path lights add a contemporary note, as does what looks like geometric steel edging in the garden bed. It's a welcoming garden walk that invites people and wildlife.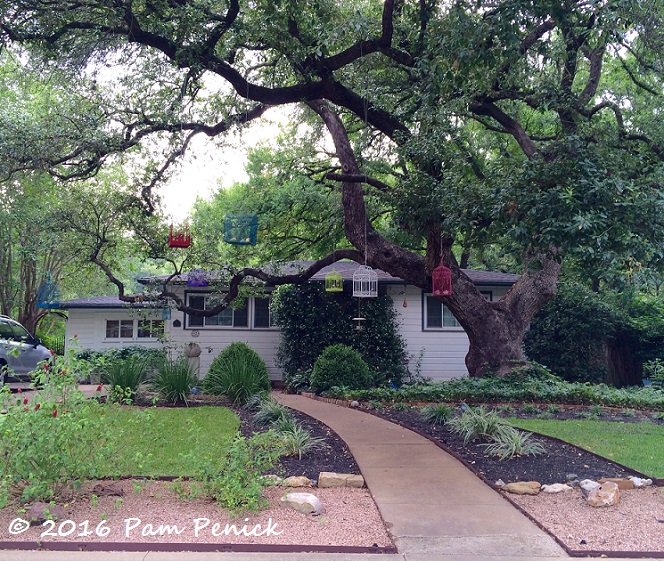 This last garden isn't contemporary, but it has some similarities to the others: a decomposed-granite landing pad along the street, reduced lawn, and steel-edged definition. But I confess what really caught my eye are the colorful birdcages hanging from a graceful old live oak. What a playful, whimsical touch! I enjoy seeing people having fun in their front yards.
I welcome your comments; please scroll to the end of this post to leave one. If you're reading this in a subscription email, click here to visit Digging and find the comment box at the end of each post.
_______________________
Digging Deeper: News and Upcoming Events
Come see me at Festival of Flowers in San Antonio, May 28, 10:30-11:30 am. Get inspired to save water in your garden during my presentation at San Antonio's 19th annual Festival of Flowers. I'll be at the book-signing table after the talk, with copies of both The Water-Saving Garden and Lawn Gone! available for purchase. Tickets to the all-day festival, which includes a plant sale and exchange, speakers, and a flower show, are available at the door: $6 adults; children under 10 free. Free parking.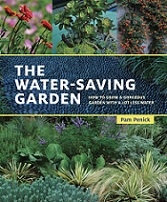 Do you review? Have you read my new book, The Water-Saving Garden? If you found it helpful or inspirational, please consider leaving a review — even just a sentence or two — on Amazon, Goodreads, or other sites. Online reviews are crucial in getting a book noticed. I really appreciate your help!
All material © 2006-2016 by Pam Penick for Digging. Unauthorized reproduction prohibited.
posted in
Design
,
Drive-By Gardens
,
Fences
,
Grasses
,
Groundcovers
,
Hell strip
,
Lawn Gone!
,
Lawns
,
Paths
,
Sustainable Gardening
,
Walls
,
Xeric plants