May 12th, 2016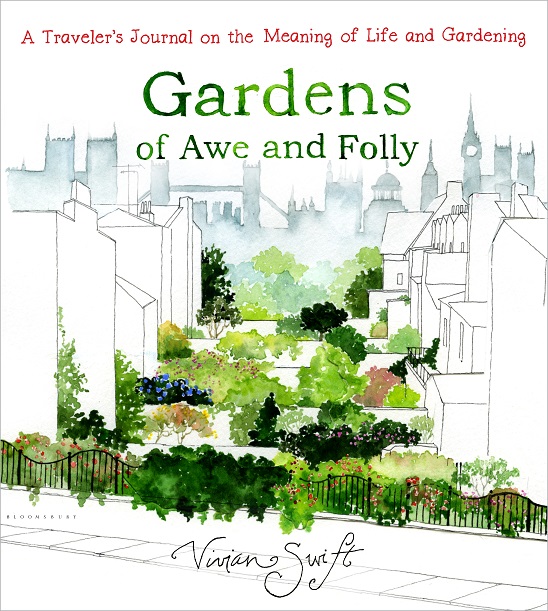 Have you ever dawdled over the pages of a book because you didn't want it to end? Vivian Swift's Gardens of Awe and Folly: A Traveler's Journal on the Meaning of Life and Gardening (Bloomsbury, 2016) is one of those books. I find that I'm poring over each page, often laughing aloud over a humorous observation of the author's, lingering over her watercolor illustrations, and then setting it down, drawing out the pleasure of reading it. Perhaps when I reach the end, I'll flip to the beginning and start again.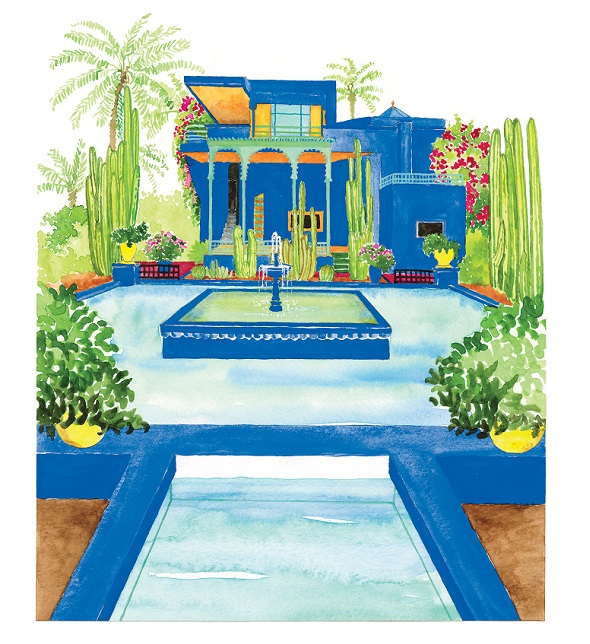 Equal parts travelogue, artist sketchpad, and musings on garden history and design, Gardens of Awe and Folly offers an intimate view of nine gardens (or the gardening culture of a particular place) that the author has visited on her travels. Each chapter is devoted to a garden in Paris, Key West, Marrakesh, New Orleans, Long Island (two gardens), Edinburgh, London, and Rio de Janeiro.
Swift's conversational observations make you feel as if you're there with her, and she's a witty and sparkling companion. She zooms wide enough to set up the history of the place, and then zooms in with a perceptive eye on small but meaningful details: how a gate sets the mood, why a door in a wall entices the imagination, why a Hurricane Katrina survivor planted 12 roses as she rebuilt her home and garden.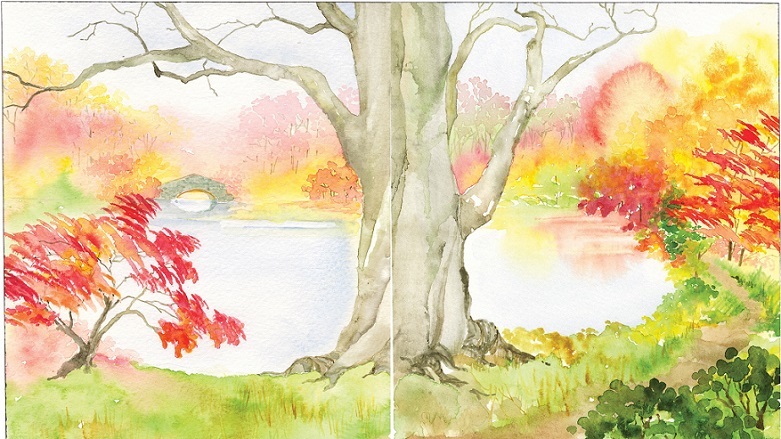 It would be easy to mistake Gardens of Awe and Folly for a pretty picture book, and the hand-colored drawings of garden vignettes that fill each page are indeed beautifully rendered. But Swift's thoughtful and joyful musings about each garden are what make this book such a jewel. Together, her words and watercolors magically transport you to each garden.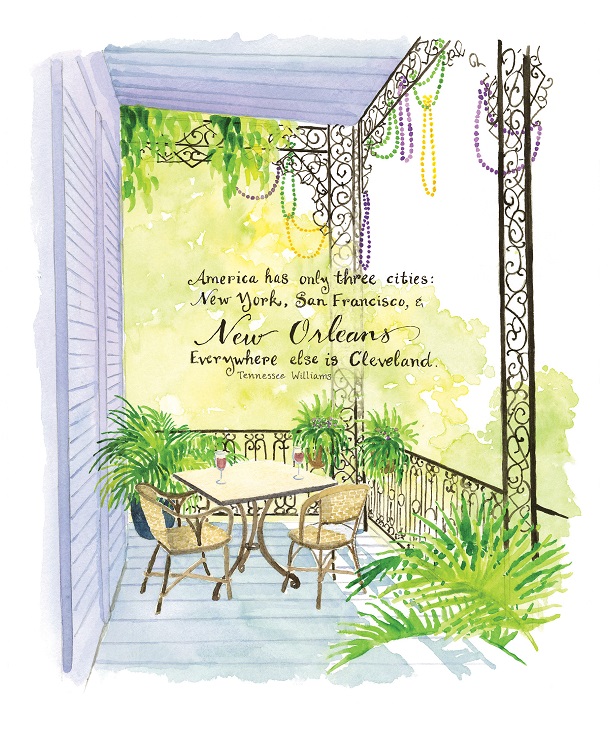 The gardens, under Swift's observant eye and inquisitive musings, are not merely places to visit but exist to help us understand our own place in the world. For example, after sharing the history of an old public garden in Paris, she writes:
Big ideas in small places is what the garden of the Square du Vert-Galant is all about. Here's what I think: if you ever start to feel as if yours is a measly 2/3 acre life, remember the Square du Vert-Galant. And then nothing about you, your ideas, or your garden will ever feel small again.
All images from the book are used with permission from Bloomsbury. My thanks to Dee of Red Dirt Ramblings for recommending this book. Otherwise I might not have discovered it.
I welcome your comments. If you're reading this in an email, click here to visit Digging and find the comment link at the end of each post.
_______________________
Digging Deeper: News and Upcoming Events
Come see me at Festival of Flowers in San Antonio, May 28, 10:30-11:30 am. Get inspired to save water in your garden during my presentation at San Antonio's 19th annual Festival of Flowers. I'll be at the book-signing table after the talk, with copies of both The Water-Saving Garden and Lawn Gone! available for purchase. Tickets to the all-day festival, which includes a plant sale and exchange, speakers, and a flower show, are available at the door: $6 adults; children under 10 free. Free parking.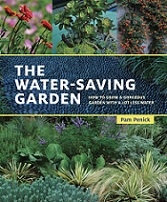 Do you review? Have you read my new book, The Water-Saving Garden? If you found it helpful or inspirational, please consider leaving a review — even just a sentence or two — on Amazon, Goodreads, or other sites. Online reviews are crucial in getting a book noticed. I really appreciate your help!
All material © 2006-2016 by Pam Penick for Digging. Unauthorized reproduction prohibited.