November 28th, 2007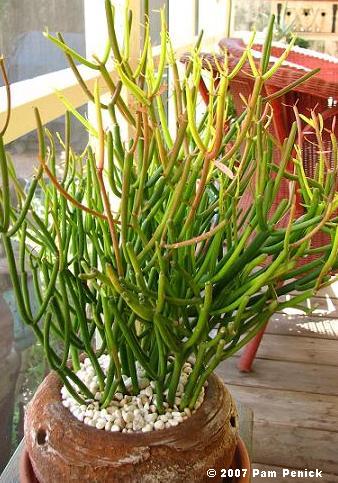 Euphorbia tirucallii 'Sticks on Fire'
A couple I'm friends with gave me this red pencil tree for my birthday. The husband explained, "We thought the pencil tree was appropriate since it is from Africa and there is a cool Texas version of the plant that grows around Big Bend too—candelilla (another kind of euphorbia)."
Aside from the thoughtfulness that went into the gift (they know I like Texas plants, and they remembered that I journeyed to Africa last summer), I really like the red pencil tree's unique shape and the beautiful coloring that gives it the name 'Sticks on Fire.' Native to East Africa, it lacks the chlorophyll of its parent plant. Online sources tell me to handle it with care, as its milky sap can burn the skin. Hardy to only 32 degrees, it'll have to come inside during our occasional freezes, but that's OK. For now it graces the porch, its green, chartreuse, yellow, and orange stems adding fall color.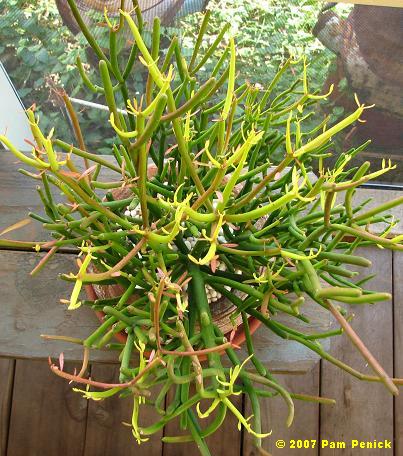 An overhead view of the Euphorbia
Note: My Plant This posts are written primarily for gardeners in central Texas. The plants I recommend are ones I've grown myself and have direct experience with. I wish I could provide more information about how these plants might perform in other parts of the country, but gardening knowledge is local. Consider checking your local online gardening forums to see if a particular plant might work in your region.
All material © 2006-2013 by Pam Penick for Digging. Unauthorized reproduction prohibited.