May 11th, 2016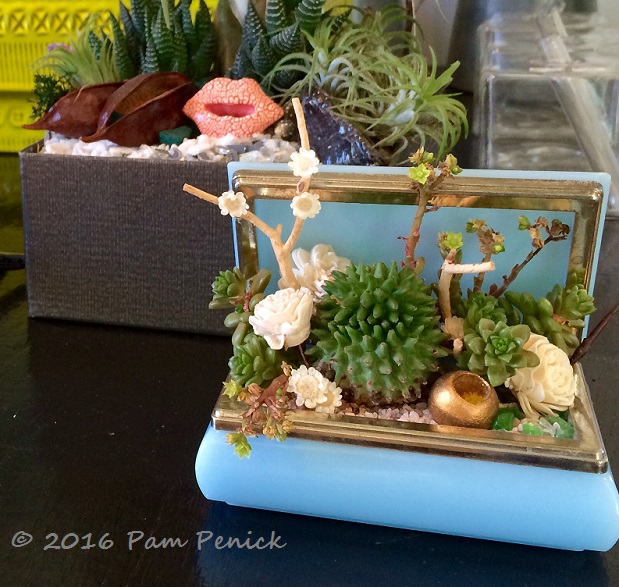 Manchaca Road in South Austin may as well be on the other side of the planet for this northwest Austinite, or so it seems most days while parked on our city's interminably clogged highways and streets. But the stars aligned yesterday for a cross-town jaunt, and I headed directly to garden boutique and design studio Articulture, which has been getting serious buzz in local publications and among the garden savvy since its new shop, studio, and event space opened a few months ago.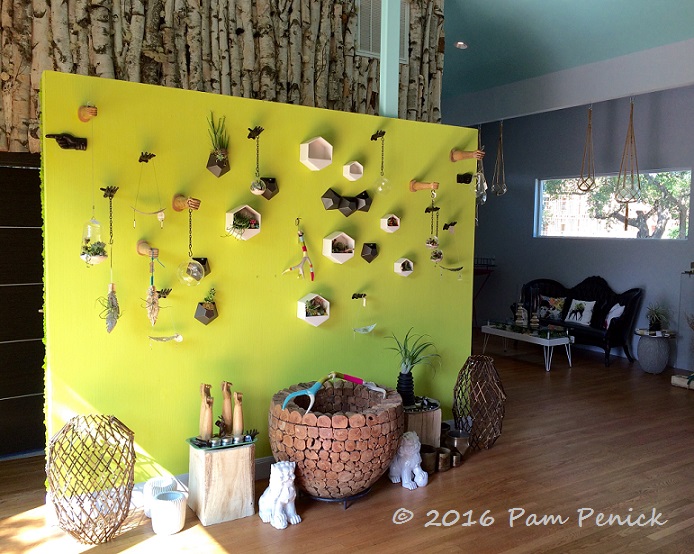 Articulture is located in an old turquoise house that's been opened up into an airy display space for living pictures, wall planters, planted tables, and fun and funky decorative objects just waiting for your own creative compositions.

Picture-framed botanical arrangements — living works of art — decorate the walls.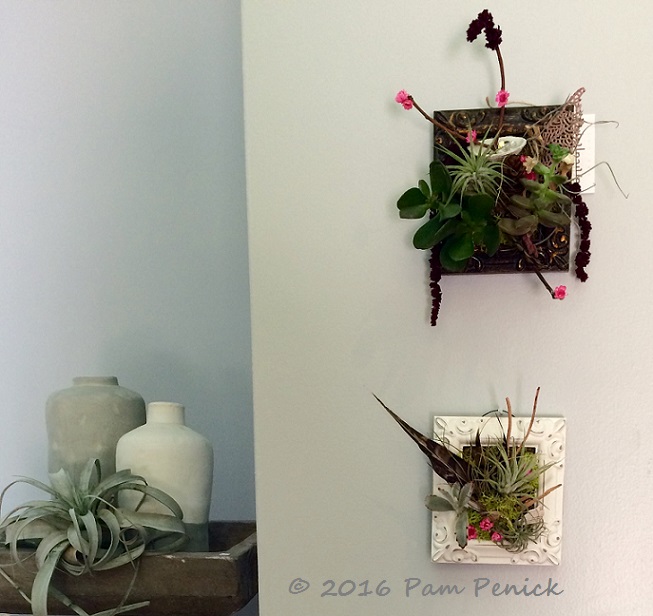 Aren't these beautiful?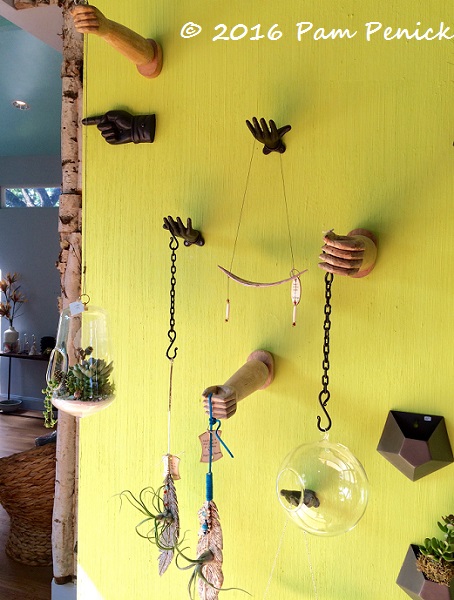 A freestanding chartreuse wall seems ready to reach out and grab you thanks to a collection of hand holders — iron and wooden hands that dangle succulent terrariums, feathers adorned with tillandsias, and other interesting objects.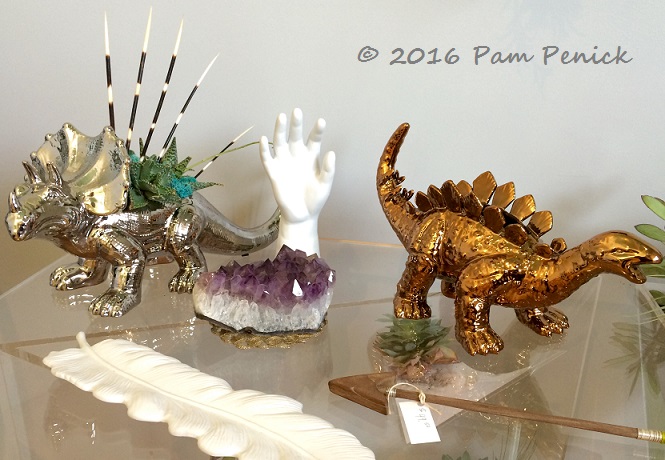 Those with a playful sense of humor will go ga-ga over metallic-finished dinosaur planters.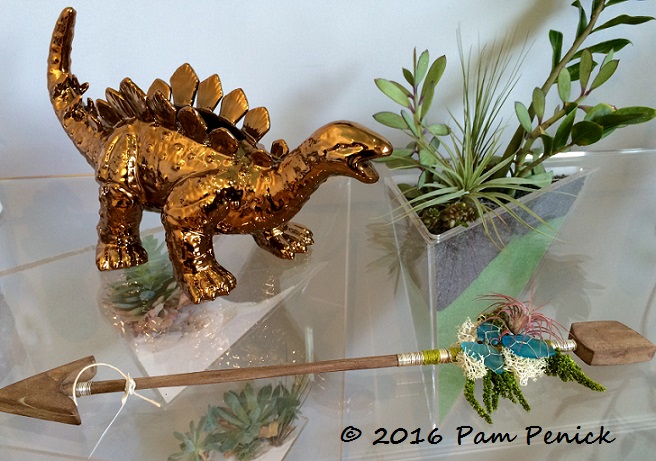 Rawr! Notice the acrylic table has planting pockets, filled with succulents, tillandsias, and colored sand. Fun!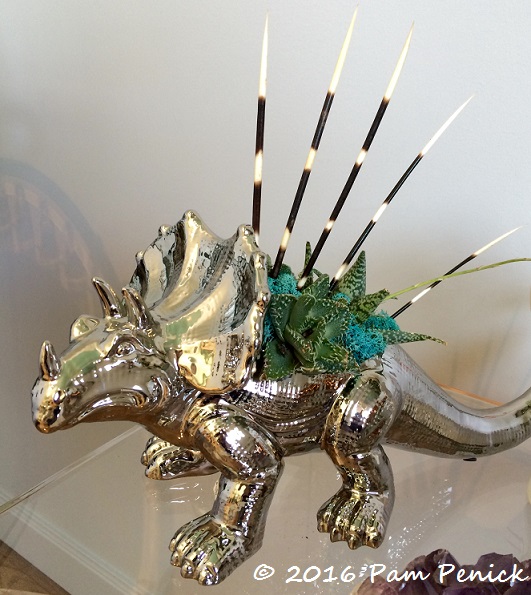 Porcupine quills add elegant drama to the succulents planted in this silver triceratops.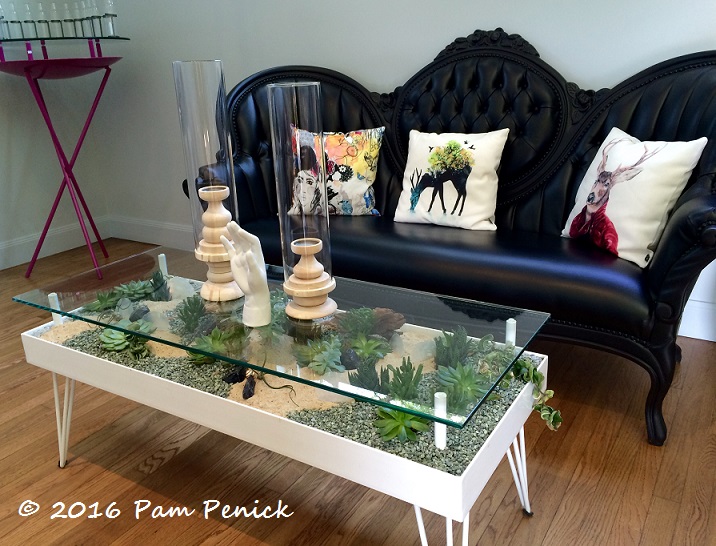 In addition to planted dinosaurs, planted furniture is big here. Check out the succulentscape in the under-table tray of this unique coffee table. On the black Victorian settee, art pillows with images of deer…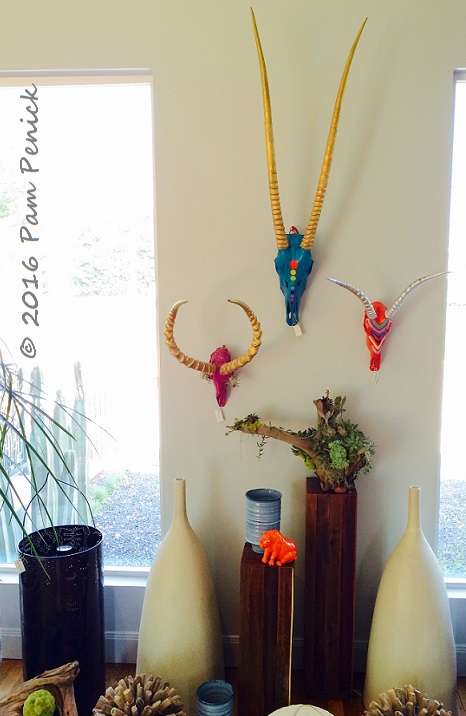 …play off colorfully painted deer and antelope skulls displayed throughout the shop.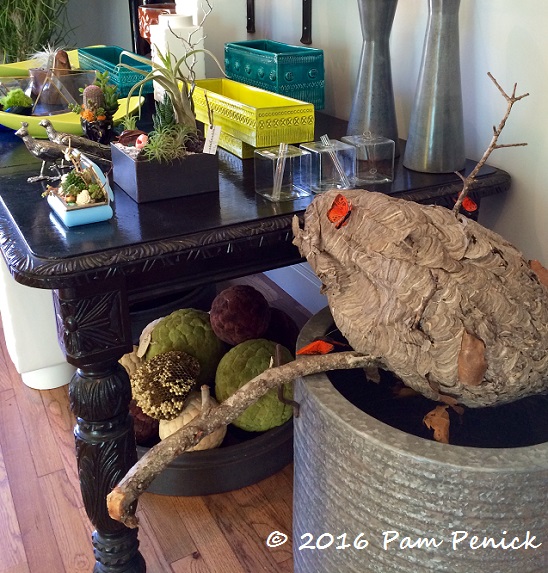 Natural objects like this hornet's nest (accented with faux butterflies) are displayed alongside striking containers and succulent arrangements.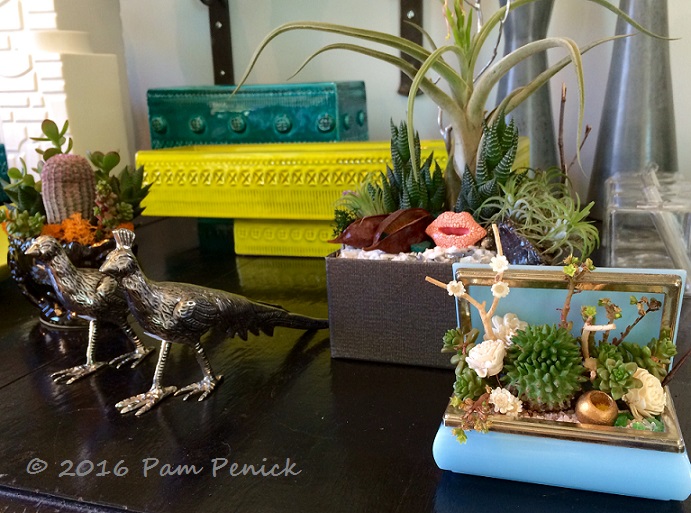 I fell hard for the vaguely Chinese-style, colorful pots in the background, but they were beyond my budget. But what I love about this shop is that there are beautiful objects at many price points. And look at the jewel-box arrangement in the blue lidded box — what a great gift idea.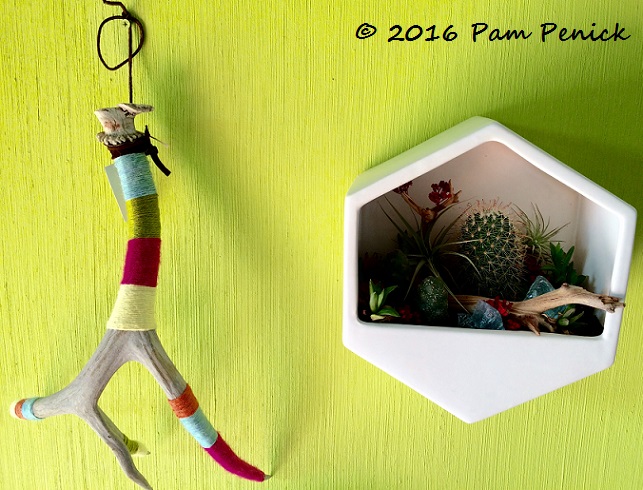 Single antlers wrapped in colorful thready bands make unusual hanging ornaments or can be displayed on a tabletop. Wall planters of all kinds are stuffed with cactus, tillandsias, and succulents, and accented with driftwood and slag glass.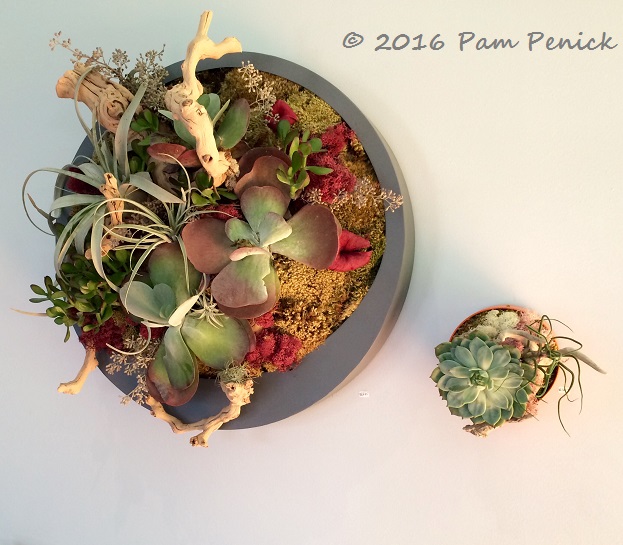 This circular one filled with kalanchoes and tillandsias is especially pretty.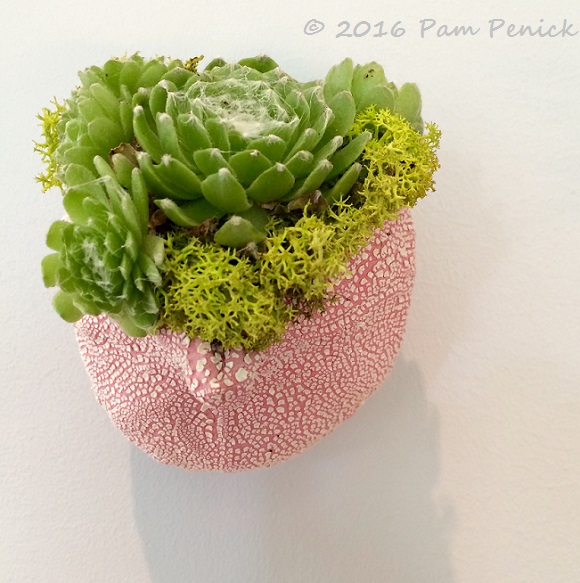 Or how about this dainty, pinched pod stuffed like a baked potato with cobweb houseleeks and bright green moss?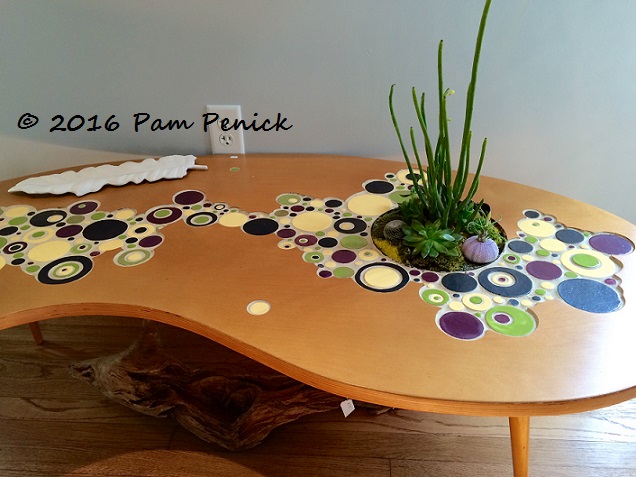 Going larger, here's a succulent planter in a mod coffee table with a colorful circle mosaic.

The back of the freestanding chartreuse wall is "papered" with touchable, pillowy moss. I'm not sure if this is simply a fun decorating choice or an example of Articulture's living walls, which adorn businesses, shops, and other locales around town.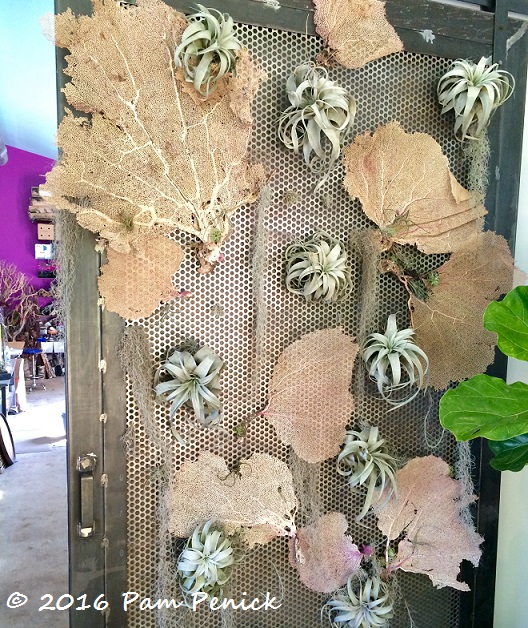 At one end of the shop, a metal-mesh door partially screens owner Monique Capanelli's purple design studio and is a living wall itself, adorned with several Tillandsia xerographica and dried fans of sea coral. I met Monique while I was shopping, and she's friendly and enthusiastic about her creations. She's also excited about her new outdoor event space (shown below) and has plans to engage the local gardening community with regular classes and other outreach.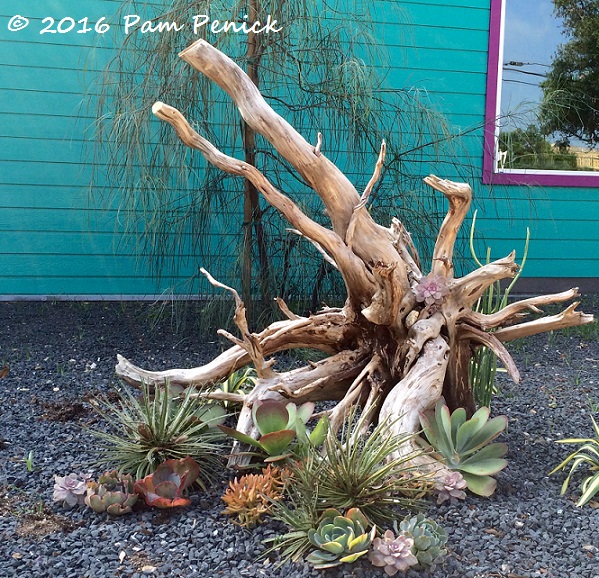 Speaking of outdoors, let's step outside and see what Articulture's got going on. The front garden, still a work-in-progress, is anchored by this sculptural tree stump surrounded by small agaves and succulents. It's a large-scale version of the smaller botanical arrangements found inside, and sets an expectation for creative and fun design.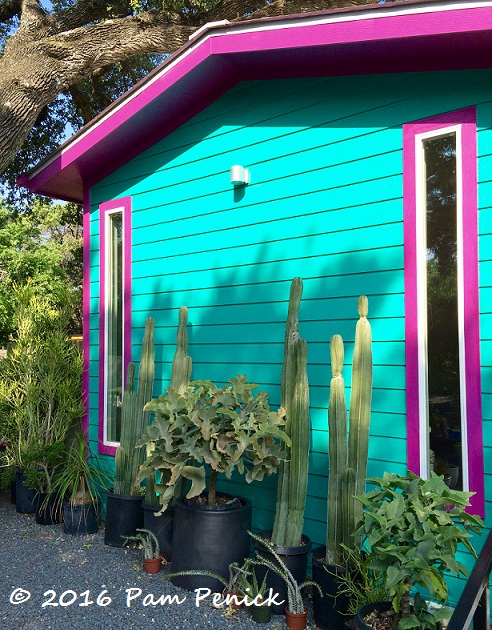 Out back, a curated selection of larger plants — columnar cactus, ponytail palms, large succulents — await potting up, I imagine, for cool interior displays.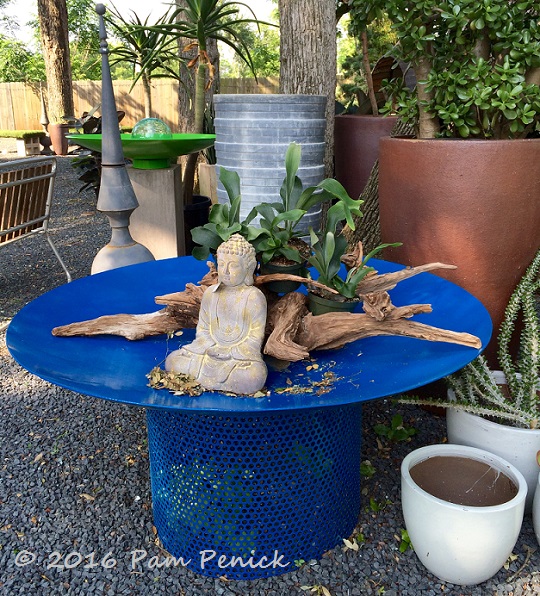 Oversized steel dishes powder-coated in Crayola colors are displayed too, perfect for arrangements of plants and natural objects.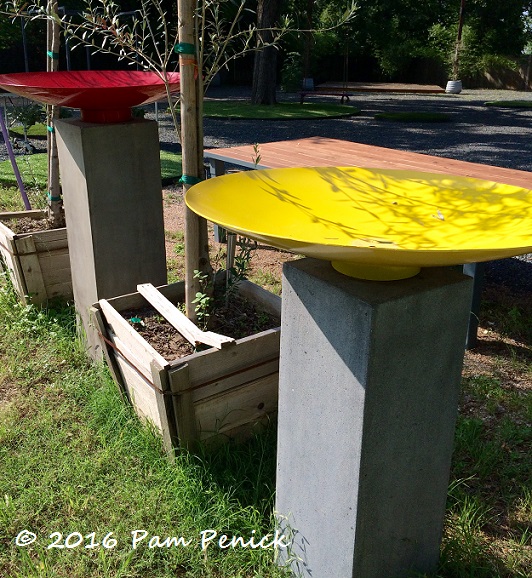 Big Red Sun popularized rusty steel plow-disc planters, which are commonplace around Austin. But these colorful steel dishes are a fun alternative. Those modern plinths are nice too.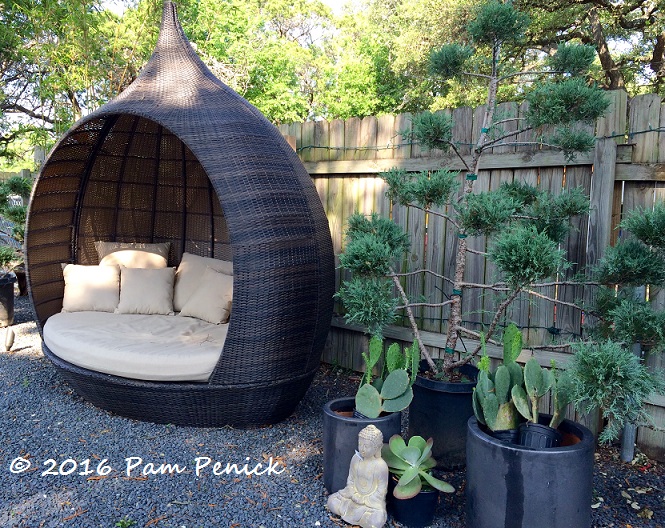 A cloud-pruned evergreen and prickly pear — uncommon companions for a whimsical lounging hut.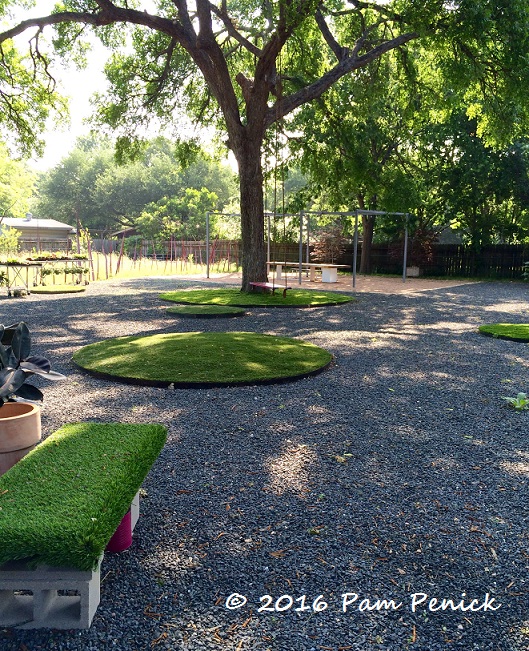 The real surprise in the back yard is its size — 3/4 of an acre. The place is enormous! Several large pecan trees shade a gray gravel patio punctuated by circular islands of artificial lawn. This is a low-water alternative to a big mown lawn, and it allows Articulture to host classes (succulent arranging, yoga, and more) and even rent out the place for weddings.

There's even a wooden swing.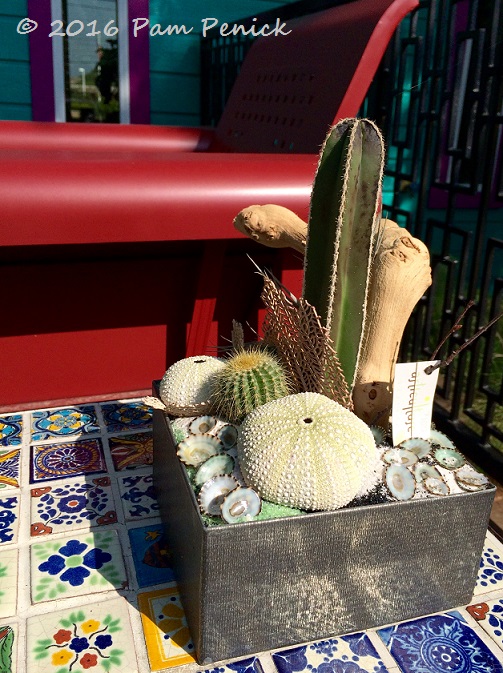 On the back porch, another beautiful arrangement caught my eye. Pairing living cactus with sea urchins, coral, and driftwood makes for a sea-evoking display.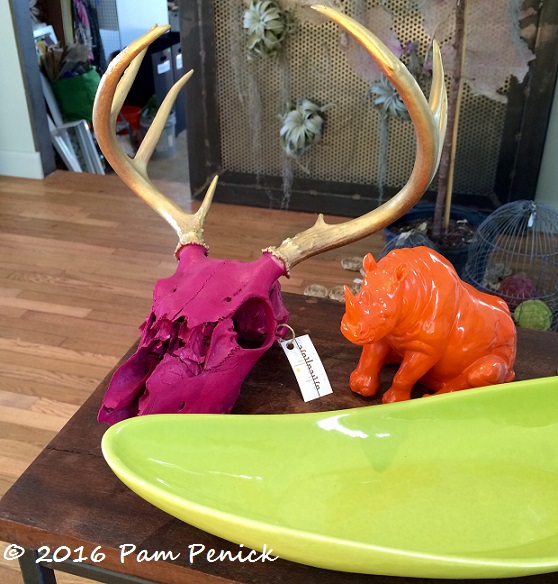 So, what did I come home with, besides photos and lots of design inspiration? Oh, a few playful things: a pink deer skull, a lazy orange rhino, and a swooshy chartreuse dish. A little color pick-me-up!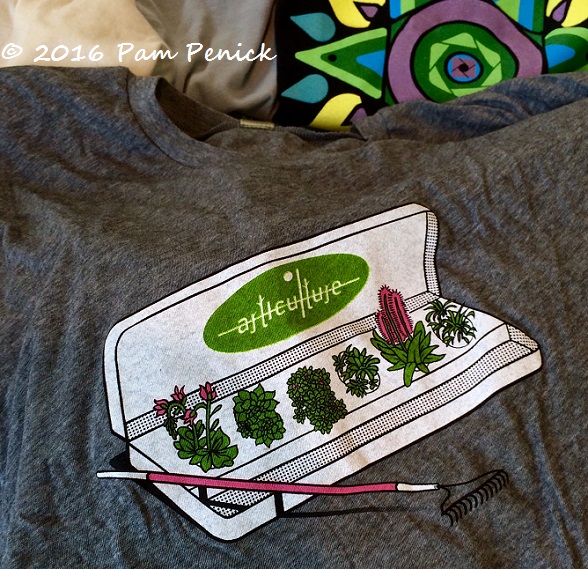 Articulture fills a void in the Austin garden-shop scene that occurred when Big Red Sun's boutique closed years ago. I'm happy to have finally made it across town for a visit and look forward to watching owner Monique's interview on Central Texas Gardener this weekend.
I welcome your comments. If you're reading this in an email, click here to visit Digging and find the comment link at the end of each post.
_______________________
Digging Deeper: News and Upcoming Events
Come see me at Festival of Flowers in San Antonio, May 28, 10:30-11:30 am. Get inspired to save water in your garden during my presentation at San Antonio's 19th annual Festival of Flowers. I'll be at the book-signing table after the talk, with copies of both The Water-Saving Garden and Lawn Gone! available for purchase. Tickets to the all-day festival, which includes a plant sale and exchange, speakers, and a flower show, are available at the door: $6 adults; children under 10 free. Free parking.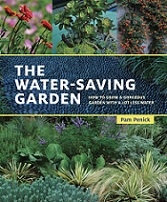 Do you review? Have you read my new book, The Water-Saving Garden? If you found it helpful or inspirational, please consider leaving a review — even just a sentence or two — on Amazon, Goodreads, or other sites. Online reviews are crucial in getting a book noticed. I really appreciate your help!
All material © 2006-2016 by Pam Penick for Digging. Unauthorized reproduction prohibited.
posted in
Cactus
,
Containers
,
Decor
,
Design
,
Garden art
,
Lizards
,
Nurseries & Shops
,
Patios & decks
,
Seating
,
Succulents
,
Terrarium
,
Tillandsias
,
Walls
,
Xeric plants