April 11th, 2016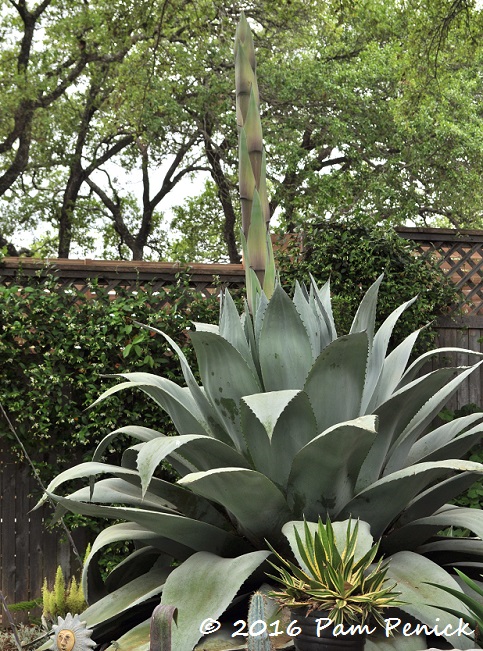 In case you don't follow me on Facebook or Instagram, where I've been posting pictures since last Wednesday, when I first noticed it, I must break the news to you: Moby is dying. Moby is my beloved whale's tongue agave (A. ovatifolia) and the most iconic plant in my garden.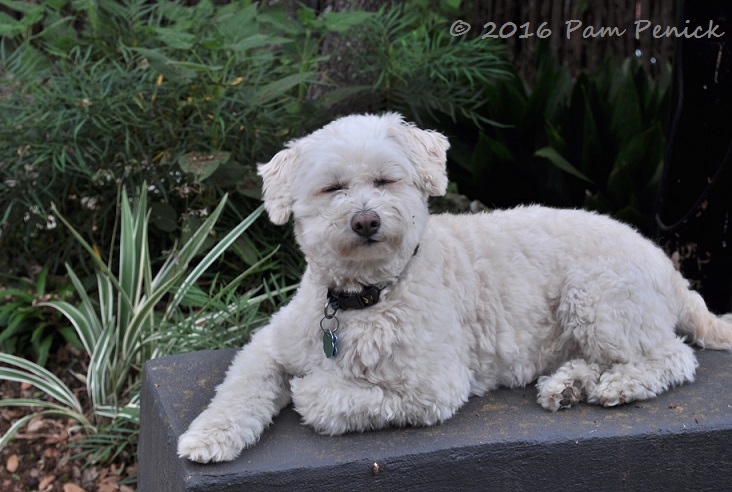 No, not Moby! Avert your eyes from the horror, Cosmo.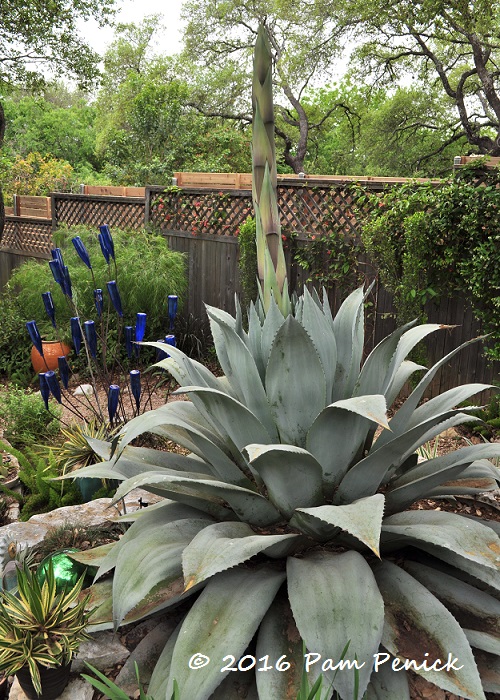 How do I know? Moby is getting ready to flower, in the most magnificent way possible. See that bloom spike, like a Jack-and-the-beanstalk-sized asparagus spear? It's growing about 5 or 6 inches per day, and where it'll top out is anybody's guess. (Feel free to start wagering!) At the end of its life span — Moby has lived 10 years in my gardens — an agave pours all of its energy into a single extraordinary flower spike, and then it dies. You can't cheat Mother Nature and save an agave by lopping off the bloom spike. All you can do is accept that it's going out in a blaze of glory and enjoy the show. I'll share a daily pic on Facebook over the next month or so, if you want to follow along.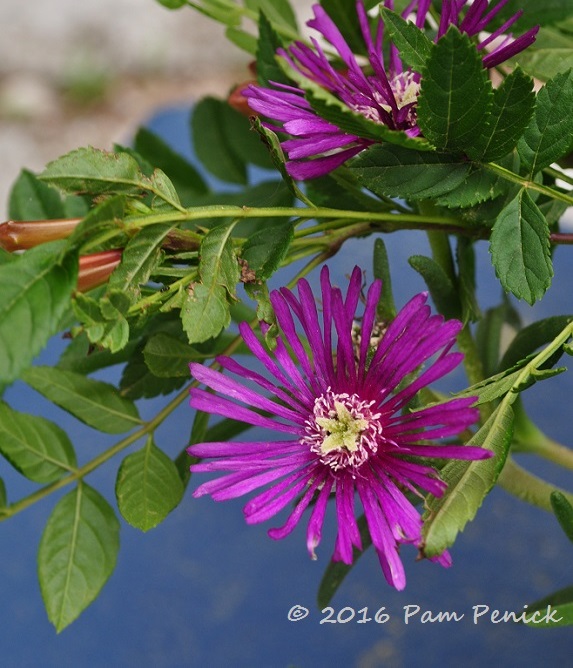 Less traumatic flowerings are also happening, like this magenta ice plant (Delosperma cooperi).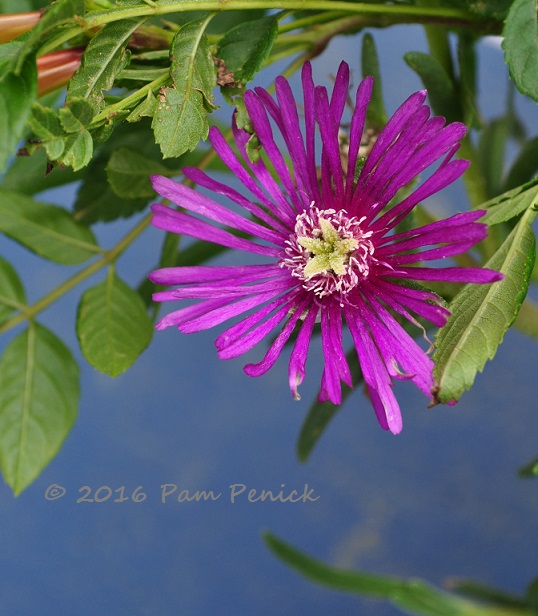 Lovely against the blue stucco wall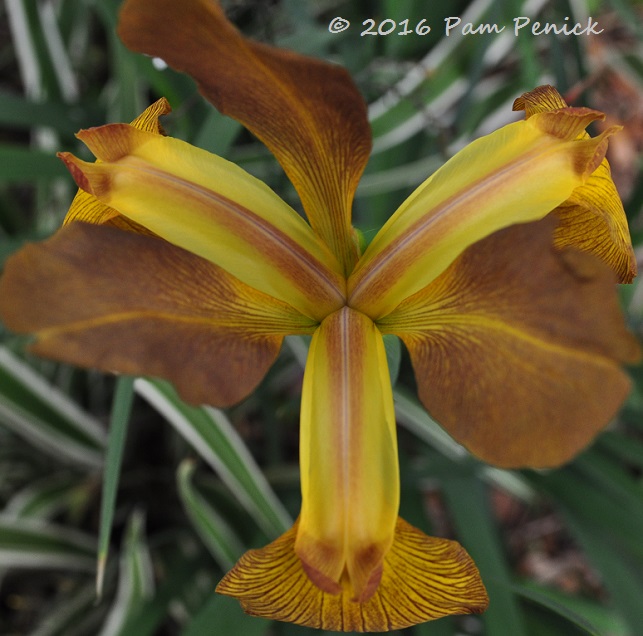 And the spuria iris are blooming, about 2 or 3 weeks earlier than usual.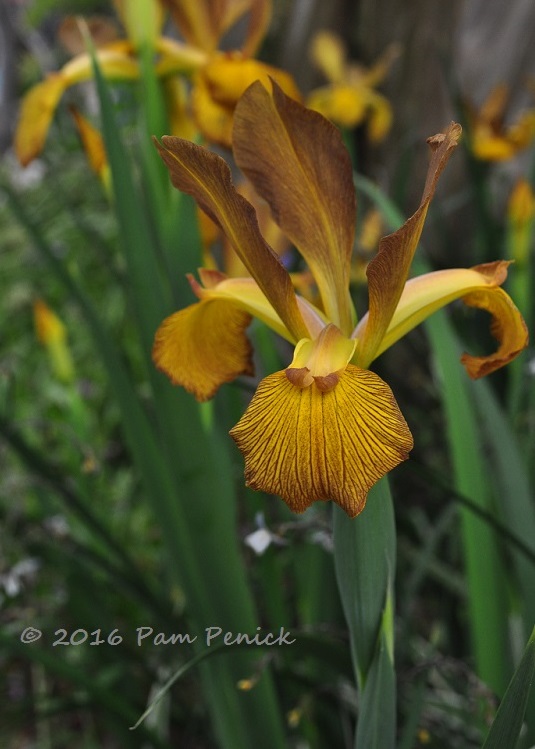 The burnt gold coloring is unusual and pretty.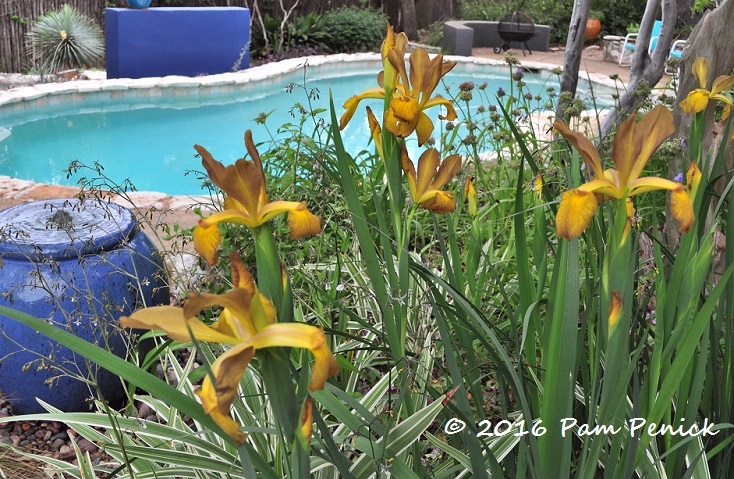 I especially like them with variegated dianella's strappy leaves.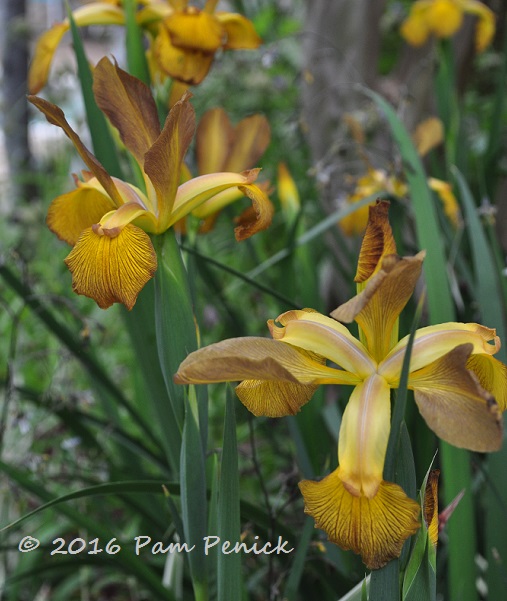 More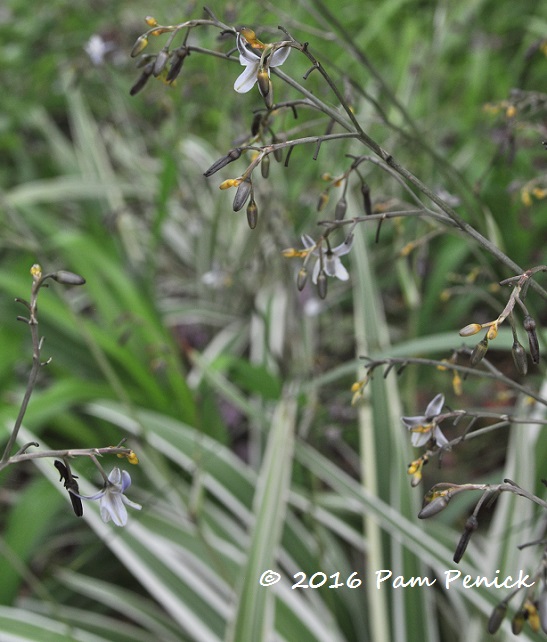 Speaking of dianella, it's flowering too but with more subtlety.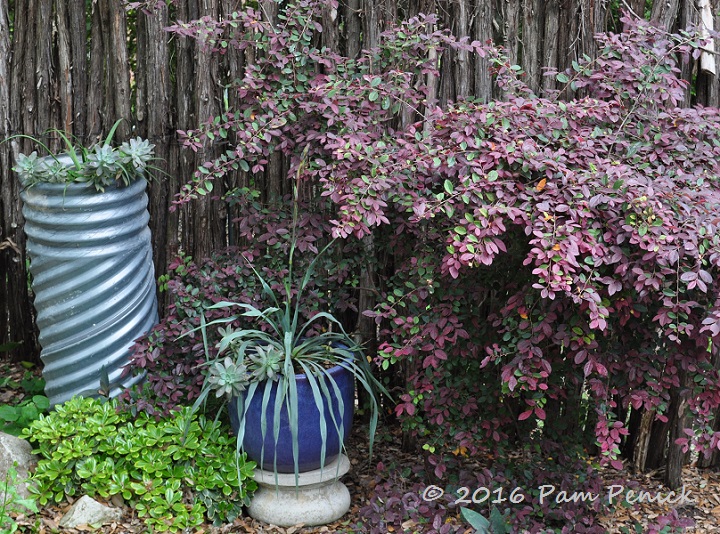 The paleleaf yucca (Y. pallida) in the purple pot is sending up a bloom spike. Loropetalum 'Sizzling Pink' has already finished blooming, but with foliage that colorful, who needs flowers?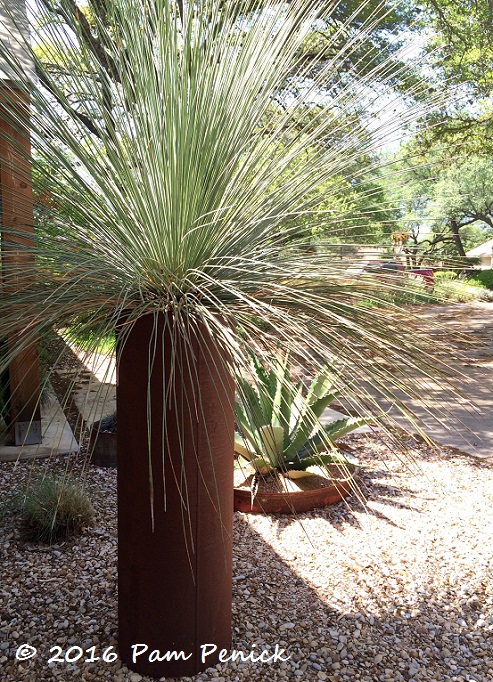 Not blooming, but looking mighty fine nonetheless, is this toothless sotol (Dasylirion longissimum) in a steel-pipe planter in my entry garden. It's like a green fiber-optic lamp.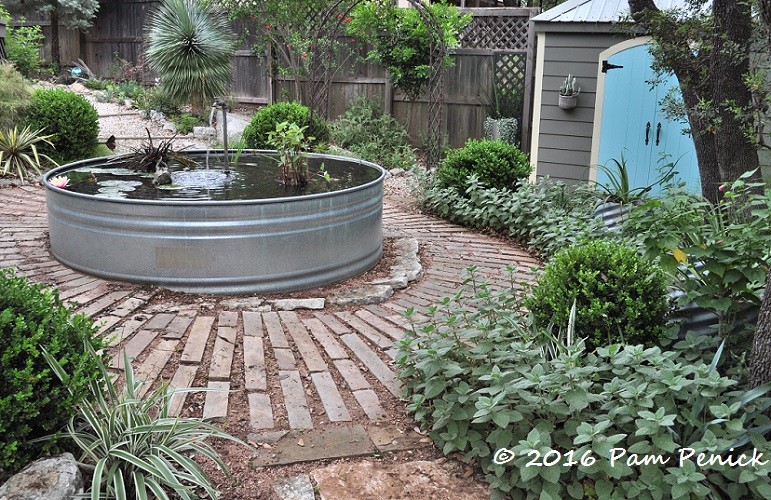 Yesterday I mucked out the stock-tank pond and divided all my pond plants. It's a tiring and messy job, but it's a once-a-year chore that pays off in a beautiful pond all the way through fall. If you look closely, you'll see there's a single 'Colorado' waterlily blooming already. And in the background, frilly orange pomegranate flowers are visible.
How about in your garden? Anything exciting happening?
I welcome your comments. If you're reading this in an email, click here to visit Digging and find the comment link at the end of each post.
_______________________
Digging Deeper: News and Upcoming Events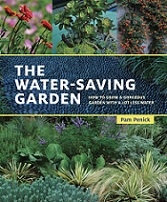 Do you review? Have you read my new book, The Water-Saving Garden? If you found it helpful or inspirational, please consider leaving a review — even just a sentence or two — on Amazon, Goodreads, or other sites. Online reviews are crucial in getting a book noticed. I really appreciate your help!
I'm on Instagram as pamdigging. See you there!
All material © 2006-2016 by Pam Penick for Digging. Unauthorized reproduction prohibited.
posted in
2nd garden--2016
,
Agaves
,
Bulbs/Rhizomes
,
Containers
,
Dogs
,
Flowers
,
Fountains
,
Paths
,
Ponds
,
Sheds
,
Shrubs
,
Spring color
,
Stock tanks
,
Succulents
,
Water features
,
Water gardening
,
Yuccas