April 9th, 2016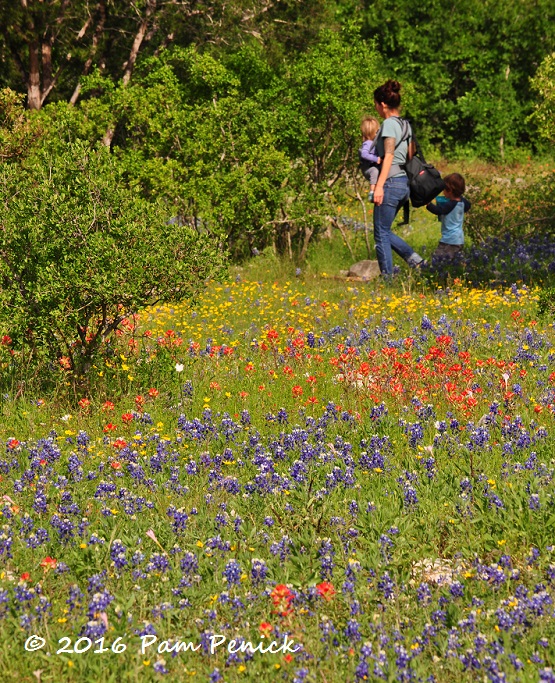 When the universe offers a weekend of perfect weather, don't squander it. Central Texans, if you're looking for something to do outside this weekend, head on over to the Lady Bird Johnson Wildflower Center. Their spring native-plant sale is being held both Saturday and Sunday, so you can shop for treasures for your garden. Plus you'll see plenty of wildflowers and, if you're lucky, catch a glimpse of the great horned owl chicks in the entry garden.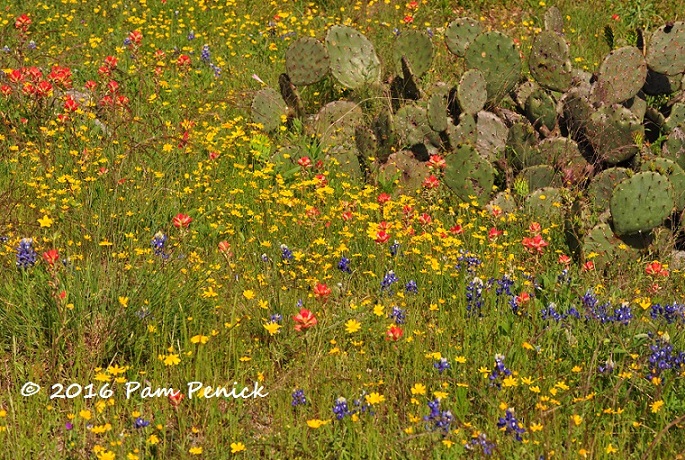 I dropped in for a quick visit on Thursday morning and found the meadows of spring wildflowers — the bluebonnets and Indian paintbrush — transitioning to summery yellows.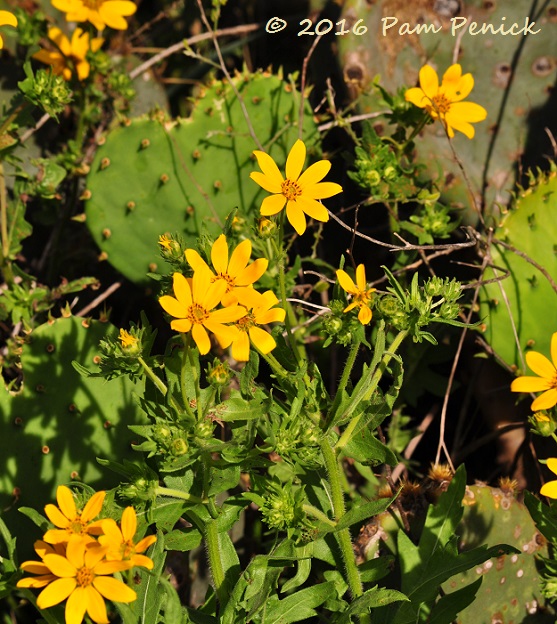 Prickly pear and Engelmann's daisy (I think)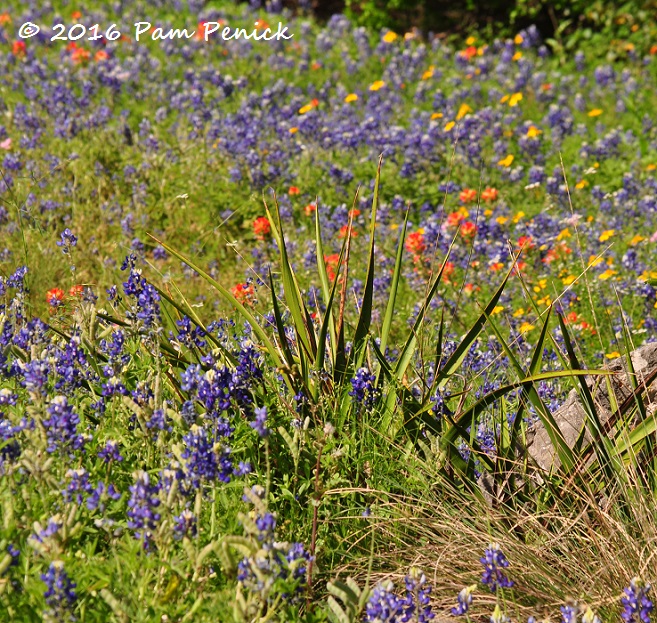 The bluebonnets may be past peak, but they're still pretty, and you should find plenty to enjoy.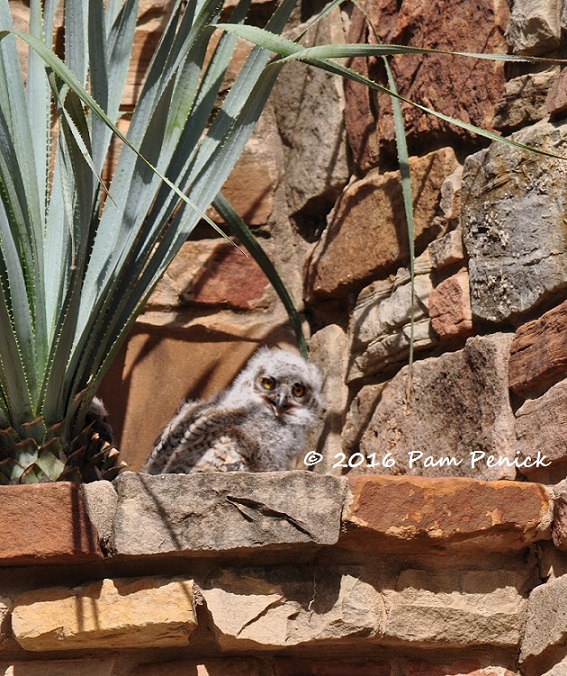 The main reason I went, however, was for the great horned owlets. Every year a great horned owl nests behind a sotol planted high in a wall niche in the entry garden. I missed mama owl on this visit, but I did get a good look at one of the two fuzzy chicks. And it got a good look at me too.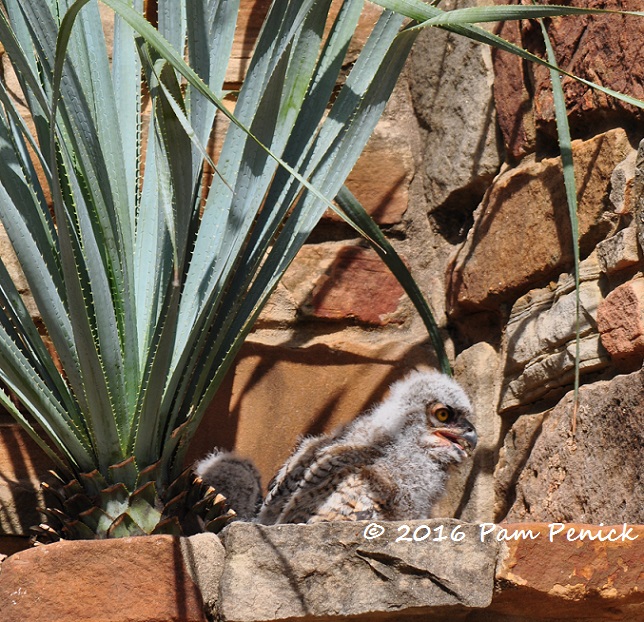 A guy taking pictures told me he saw mama owl deliver breakfast earlier that morning — a dark-feathered bird, probably a grackle or pigeon. Now and then, as I watched, they seemed to tear at what remained of the carcass.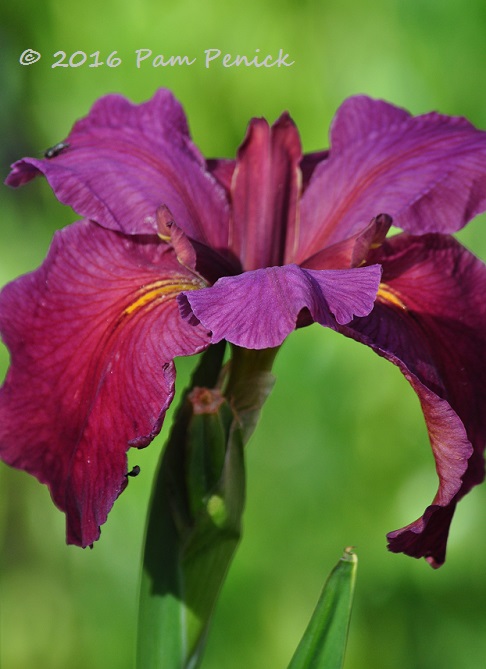 The pond garden offers attractions other than owls, of course. Like this gorgeous magenta iris.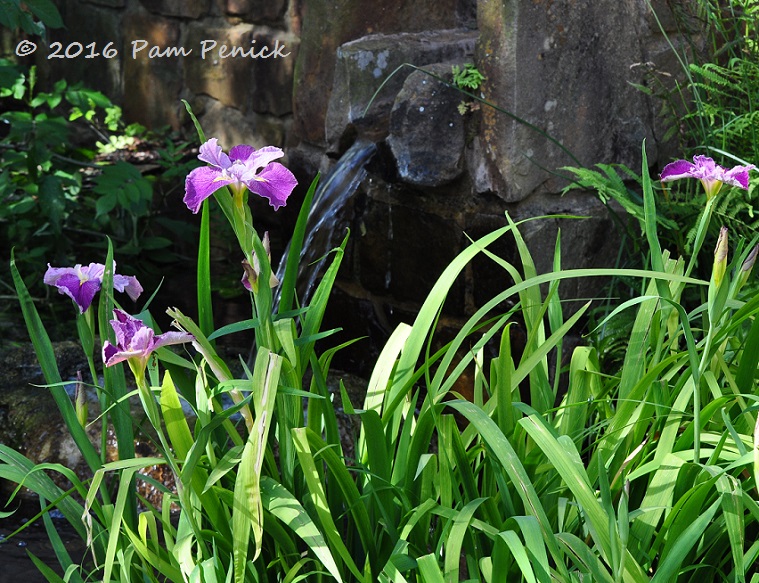 And ruffly purple irises by the spillway in the wall.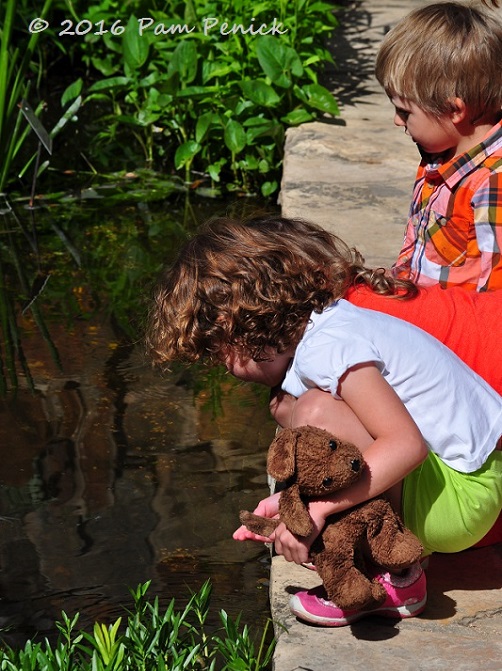 Kids are always drawn to water, and these young visitors were no exception.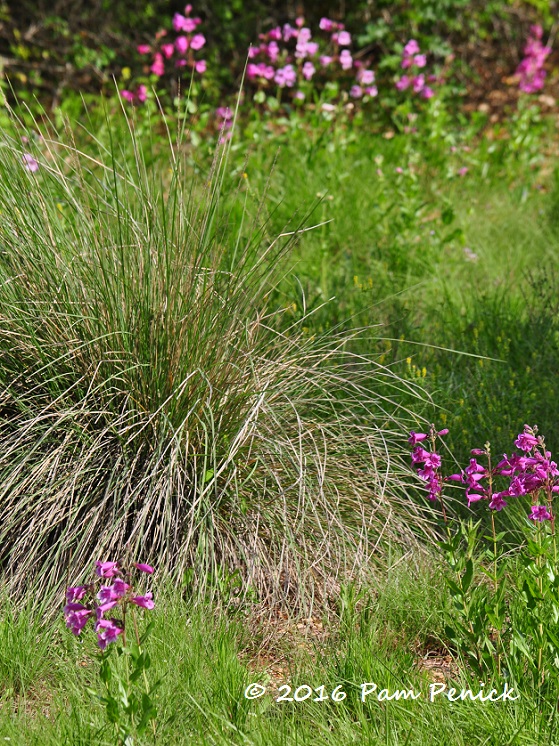 In a sunny meadow, pink penstemons stood erect among spring-green grasses and a Lindheimer muhly just putting out new growth.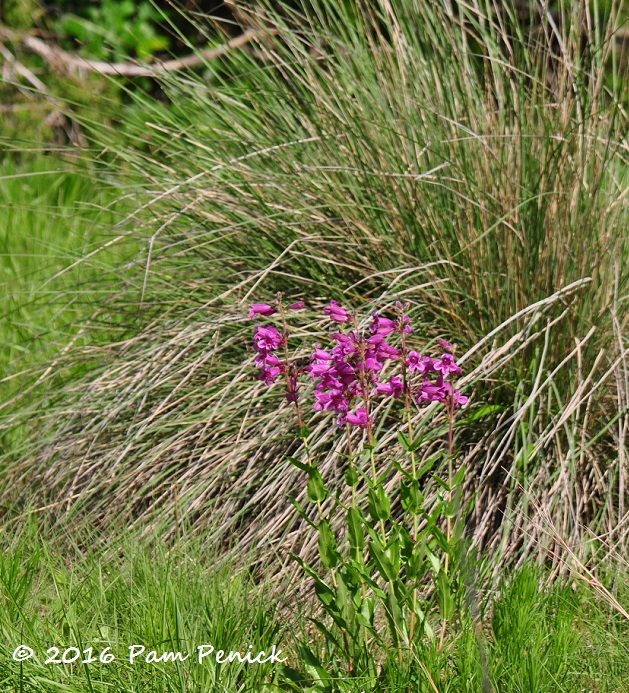 Fly your pink flags, penstemon!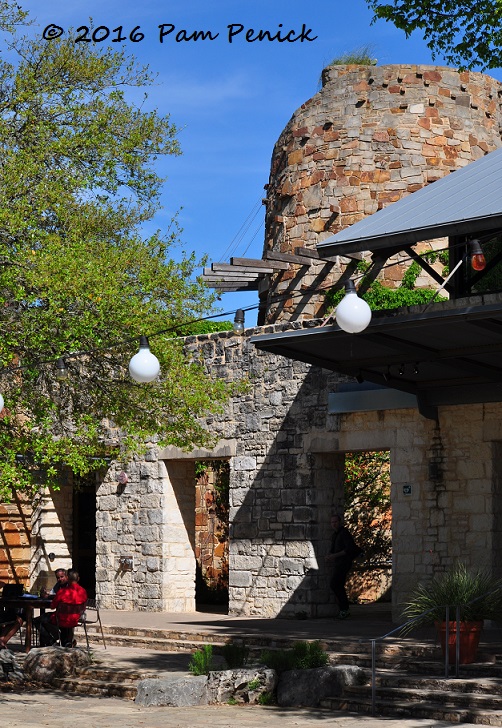 A quick glance at the spiraling cistern tower in the main courtyard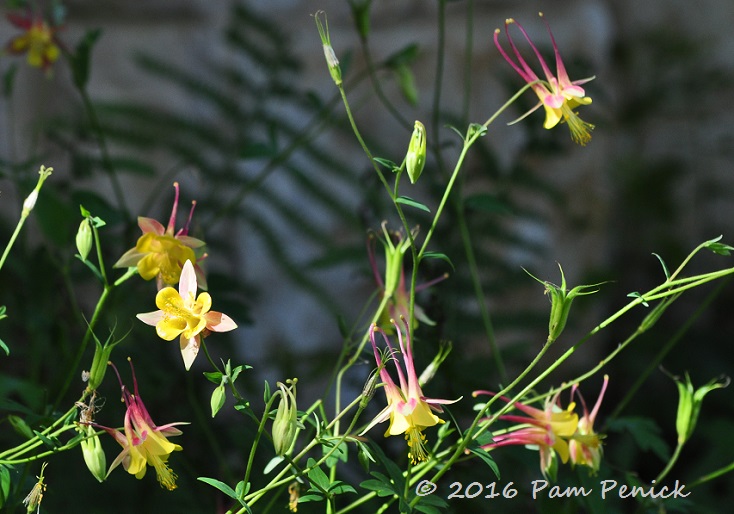 Columbines with their comet tails, held aloft on delicate stems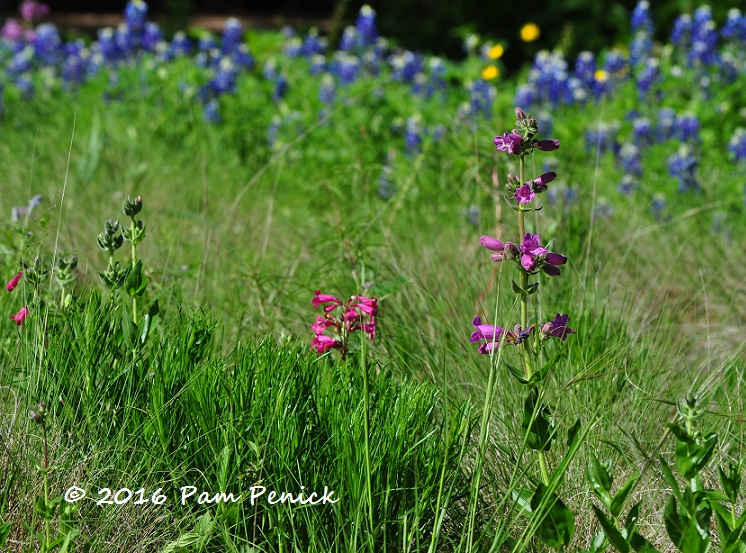 More penstemon, with a patch of bluebonnets in the background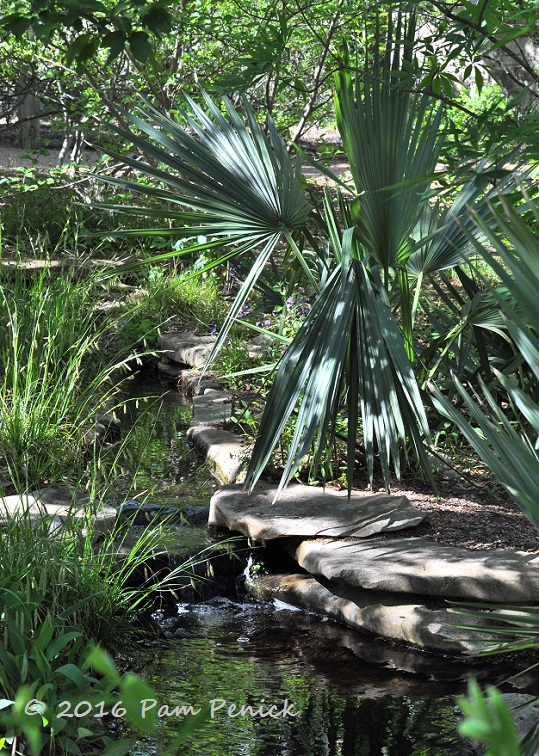 Along the shady Hill Country stream, a dwarf palmetto (Sabal minor) seems to lift a hand in greeting.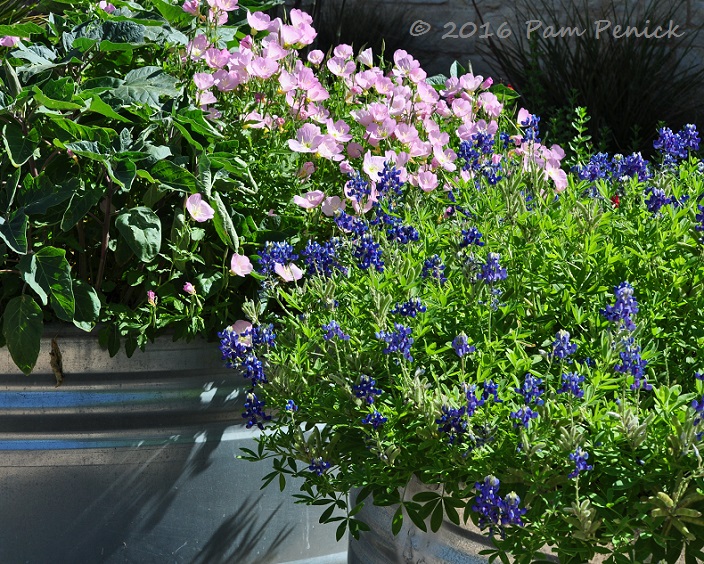 Pink evening primrose (Oenothera speciosa) and Texas bluebonnets in stock-tank planters lean together for an embrace in the central Display Garden. These were pretty, but I have to say I thought this area looked a little unloved. A stock-tank pond was listing to one side, and many of the beds seemed a bit paltry. But then again, the Display Garden has never been my favorite part of the gardens. I keep hoping something great will go in here one day.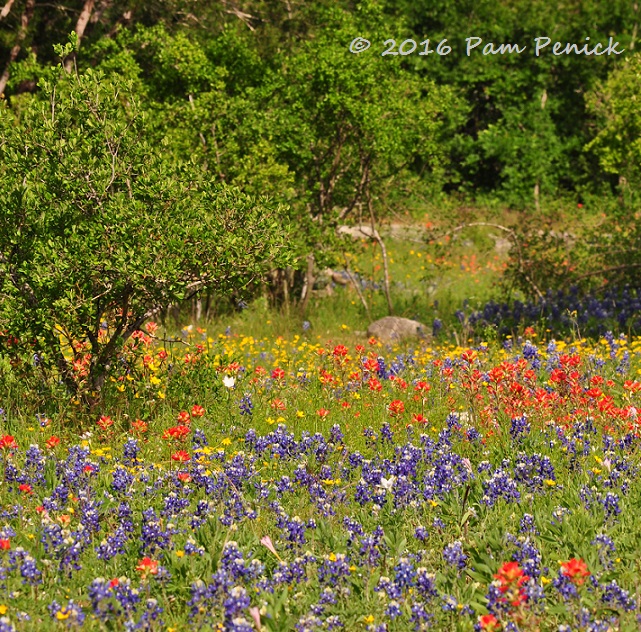 Aside from that one complaint, I enjoyed my visit and the wildflowers, and I encourage you to put aside your weekend to-do list and get on out there to enjoy it too.
I welcome your comments. If you're reading this in an email, click here to visit Digging and find the comment link at the end of each post.
_______________________
Digging Deeper: News and Upcoming Events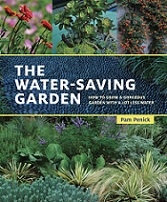 Do you review? Have you read my new book, The Water-Saving Garden? If you found it helpful or inspirational, please consider leaving a review — even just a sentence or two — on Amazon, Goodreads, or other sites. Online reviews are crucial in getting a book noticed. I really appreciate your help!
I'm on Instagram as pamdigging. See you there!
All material © 2006-2016 by Pam Penick for Digging. Unauthorized reproduction prohibited.
posted in
Annuals
,
Birds
,
Botanic/Public Gardens
,
Bulbs/Rhizomes
,
Cactus
,
Flowers
,
Fountains
,
Garden tours 2016
,
Grasses
,
Owls
,
Palms/Cycads
,
Ponds
,
Prairie/Meadow
,
Rivers & creeks
,
Rock
,
Spring color
,
Texas natives
,
Walls
,
Water conservation
,
Water features
,
Water gardening
,
Wildflowers
,
Wildlife
,
Xeric plants
,
Yuccas