March 29th, 2016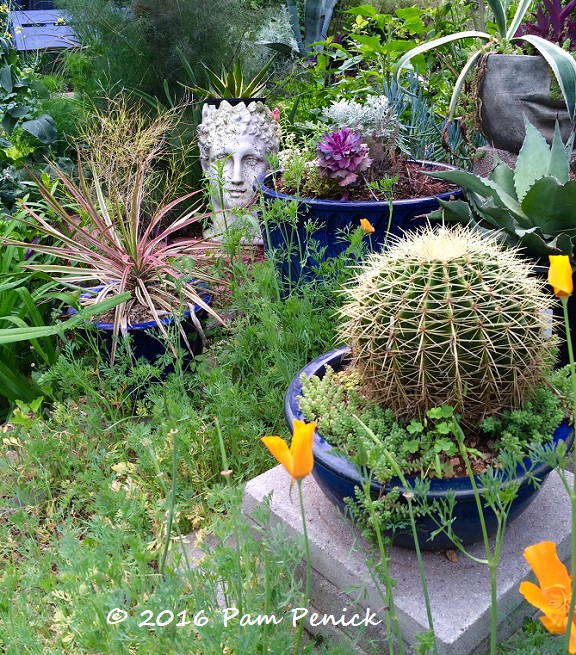 When a gardener urges you to come over to see something in bloom, you know you better say yes. Lori Daul of The Gardener of Good and Evil tempted me into a quick visit last Saturday — not with an apple but with "the last of the daffodils." Of course, I found a lot more than daffodils to swoon over while I was there, including her always-wonderful collection of potted plants, surrounded by the feathery foliage of California poppies, which were just beginning to open.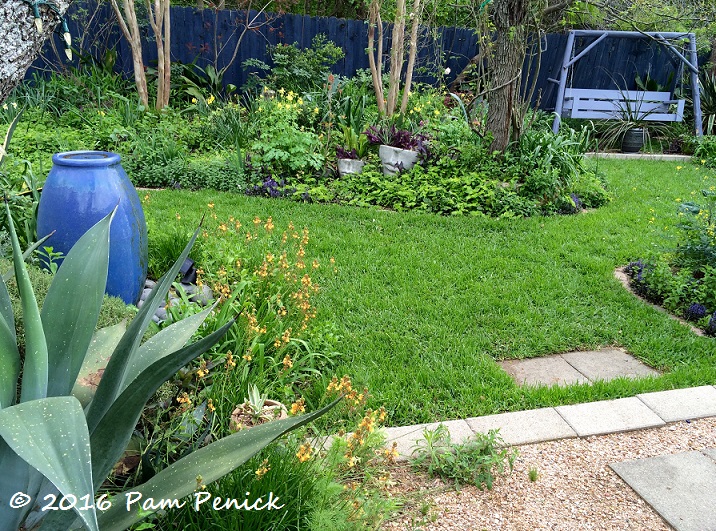 Lori's garden is a study in blue. She painted her ordinary wood privacy fence midnight blue a few years ago, transforming it into a rich backdrop for the greens and yellows of her garden. Blue-painted furniture and blue glazed pots continue the color scheme, which echoes her house color.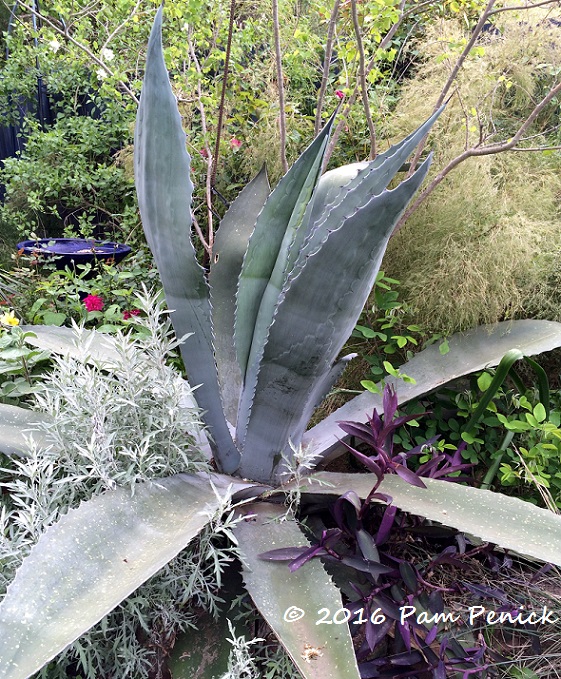 When I first visited her garden, back in 2010, it was a sunnier space that Lori had filled with roses. By 2013 (click for pics), as trees shaded her garden and drought took its toll, Lori had begun trading out roses for structural agaves, which add welcome architectural interest to her densely planted borders.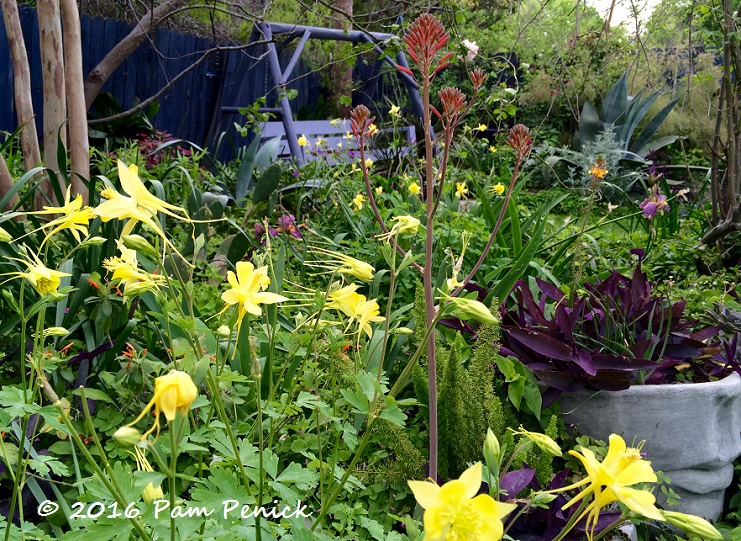 Although Lori has a great eye for foliage compositions, flowers still have a large place in her garden, like these columbines. An aloe bloom spike stands tall in their midst, nearly ready to open.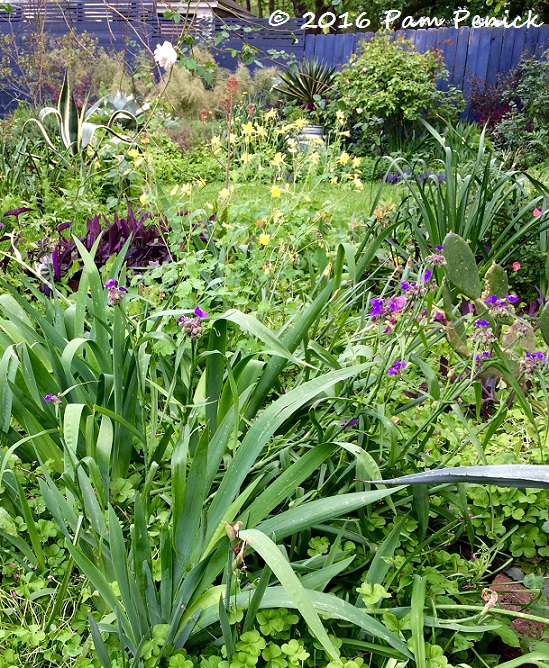 The same garden bed, from a different perspective. The purple-pink flowers are prairie spiderwort (Tradescantia occidentalis).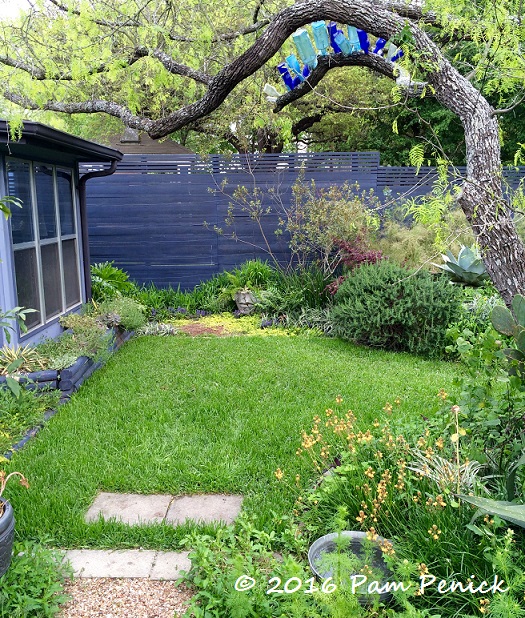 A serpentine lawn serves as a broad path through the back garden. The surrounding blue walls and fencing harmonize with all the greens. In the center of the space, a feathery mesquite (sadly in decline) is a living bottle tree adorned with a handful of turquoise and cobalt bottles.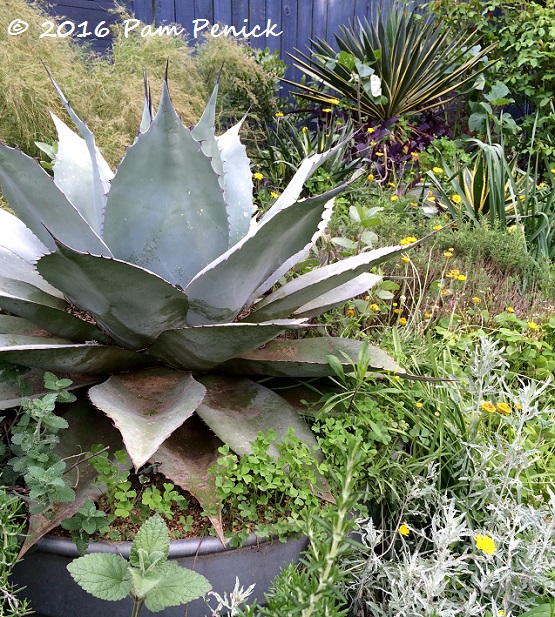 In the deep, curvy borders around the fence line, Lori elevates many of her agaves in containers, including this whale's tongue (Agave ovatifolia), to give them more presence.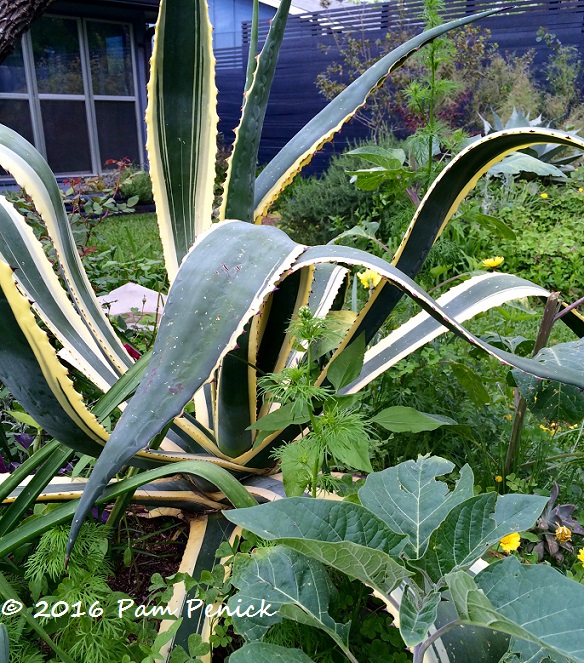 A variegated American agave (Agave americana 'Variegata') adds a little zip with yellow stripes. In the background, you can see Lori's new contemporary fence — painted blue, of course — which she's completed on one side of the garden.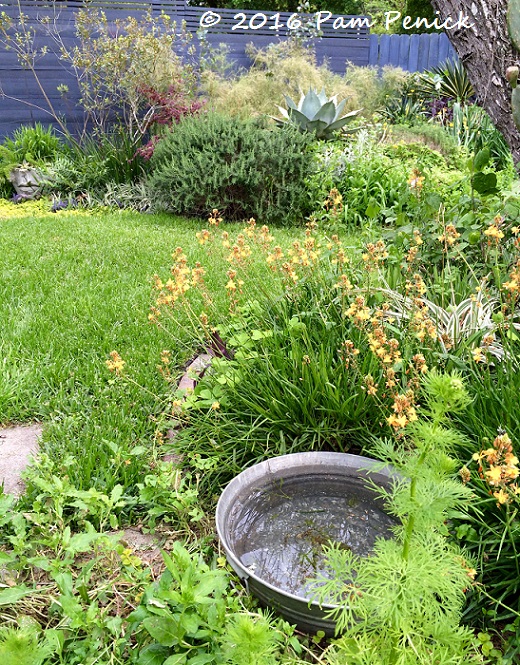 Orange bulbine flowers at the base of the mesquite, next to a water pan that I assume Lori puts out for wildlife — or her cat, Killer. Killer?? Well, after all, this is the garden of good and evil.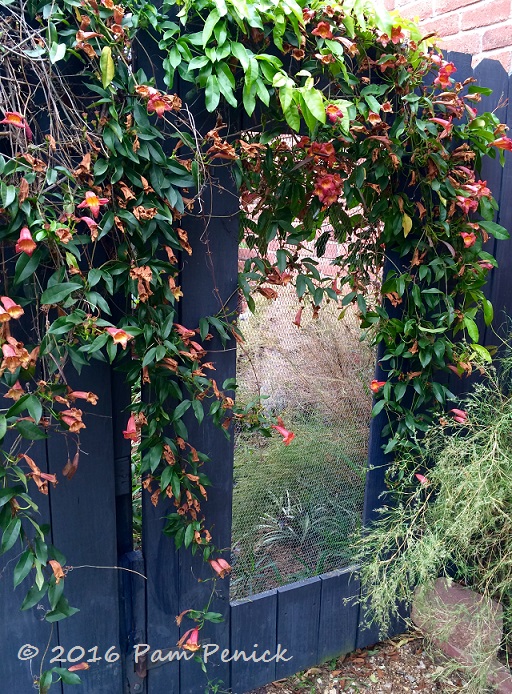 The gate into Lori's back garden wows at this time of year with flowering 'Tangerine Beauty' crossvine (Bignonia capreolata 'Tangerine Beauty') contrasting with the deep-blue paint. Lori encourages the crossvine to drape across the gate, which seems not to impede the gate's function, as we opened and closed it with no trouble.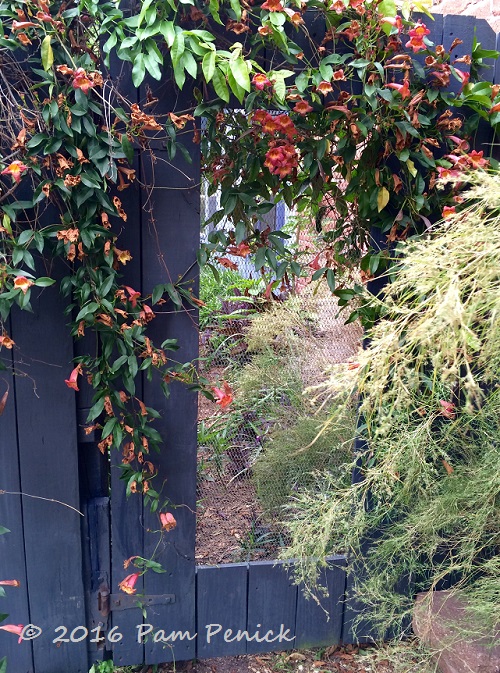 The center of the gate is filled with mesh fencing, allowing peek-a-boo views and breezes.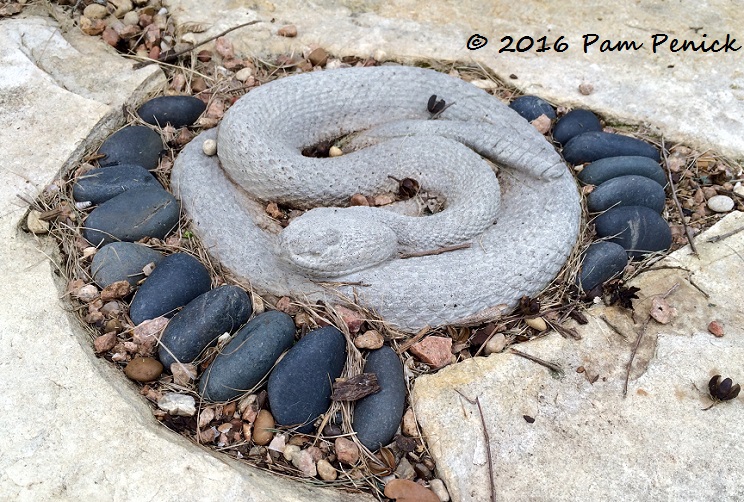 Lori's sense of humor appears in her containers (she has a collection of half-face pots) and garden art, like this coiled concrete rattlesnake set into the paving of a small front patio, not far from her front door. Mexican beach pebbles laid on edge evoke the rattles on its tail.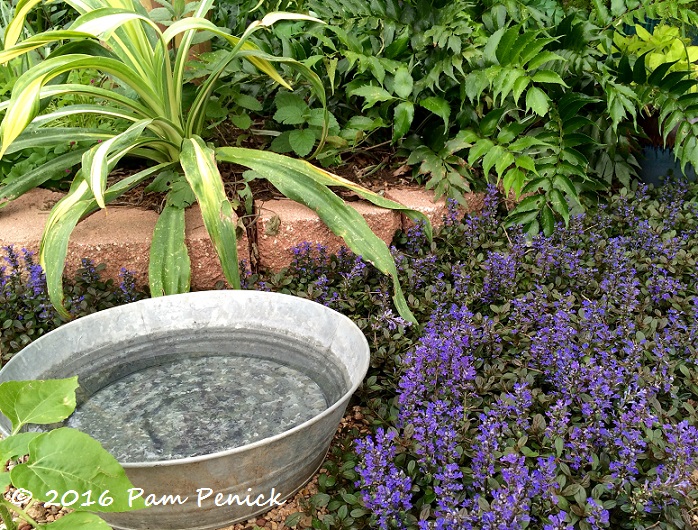 Near the front porch, another water pan sits next to a swath of 'Chocolate Chip' ajuga in full bloom. In the elevated bed, I think that's Beschorneria yuccoides 'Flamingo Glow' next to a holly fern (Cyrtomium falcatum). I wish I'd asked Lori about her beschorneria. It's a beautiful plant.
But then, so is everything in her Garden of Good and Evil. Thanks for sharing it with me again, Lori. It's funny that I forgot to take a single picture of the tempting daffodils!
I welcome your comments. If you're reading this in an email, click here to visit Digging and find the comment link at the end of each post.
_______________________
Digging Deeper: News and Upcoming Events
Come meet me at Zilker Garden Festival, Austin, TX, April 2 & 3
Get your gardening mojo on at Zilker Garden Festival! I'll be at the brand-new Author Booth both days this weekend between 10 am and 2 pm (near the main building entrance), and I'll be selling signed copies of The Water-Saving Garden and Lawn Gone! ($20 each). Zilker Garden Festival is the garden's only fundraiser (and it needs our support) and offers all-day entertainment, vendor shopping, plant sales, demonstrations, live music, a beer garden and food vendors, children's activities, a garden train, a flower show, and a docent-led tour of lovely Zilker Botanical Garden. Don't miss it!
Join me for lunch downtown at Holy Grounds coffee shop and cafe on Wednesday, April 6, at noon. As part of their Coffee with the Author series, KUT's Jennifer Stayton will interview me and host a Q&A with the audience — i.e., y'all — and afterward I'll sign copies of The Water-Saving Garden and Lawn Gone!. I hope to see you there for this intimate, lunchtime event. Holy Grounds is located in the main building of St. David's Episcopal Church at 301 East 8th Street in downtown Austin. You can park in the surface lot in front of St. David's main doors.
Do you review? Have you read my new book, The Water-Saving Garden? If you found it helpful or inspirational, please consider leaving a review — even just a sentence or two — on Amazon, Goodreads, or other sites. Online reviews are crucial in getting a book noticed. I really appreciate your help!
I'm on Instagram as pamdigging. See you there!
All material © 2006-2016 by Pam Penick for Digging. Unauthorized reproduction prohibited.
posted in
Agaves
,
Aloes
,
Annuals
,
Bottle tree
,
Cactus
,
Containers
,
Decor
,
Fences
,
Garden art
,
Garden tours 2016
,
Gates
,
Grasses
,
Groundcovers
,
Lawns
,
Paths
,
Rock
,
Sculpture
,
Seating
,
Snakes
,
Spring color
,
Succulents
,
Trees
,
Vines
,
Wildflowers
,
Windows
,
Xeric plants