March 26th, 2016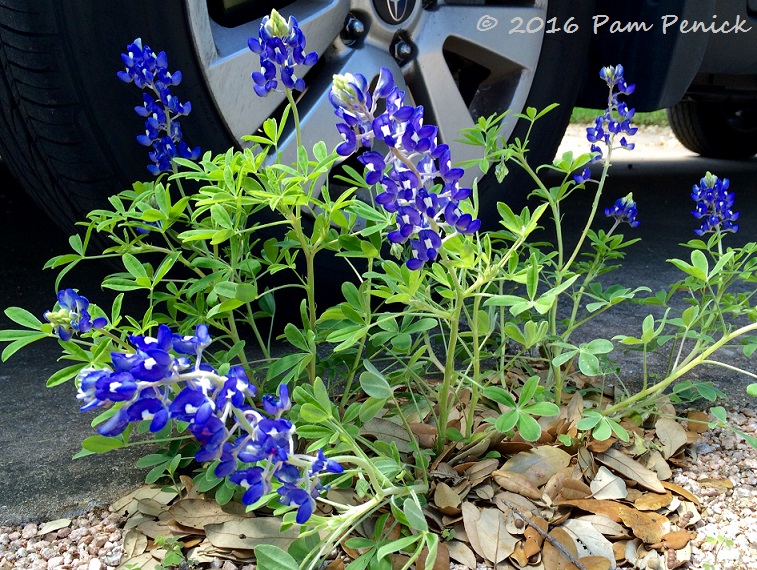 My only Texas bluebonnet (Lupinus texensis) this year is a volunteer that popped up in a decomposed-granite path next to the driveway. I should just seed this whole path with bluebonnets and enjoy the show next year.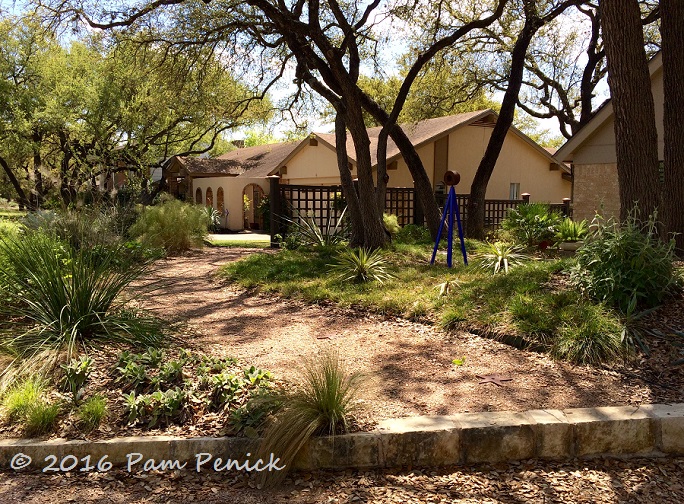 The live oaks that shade my entire garden recently dropped their "evergreen" leaves and put out new ones, a process that replicates autumn up north but in a messy, two-week flash. I finally got most of the leaves blown and raked off the Berkeley sedge "lawn" out front, but now it's time for the oak pollen catkins to start dropping, along with the oak caterpillars dangling at eye level on strands of silk. It's always something with the live oaks. Still, I'm pleased by all the fresh spring greens in the no-lawn front garden. The wide gravel path curves around to the back gate.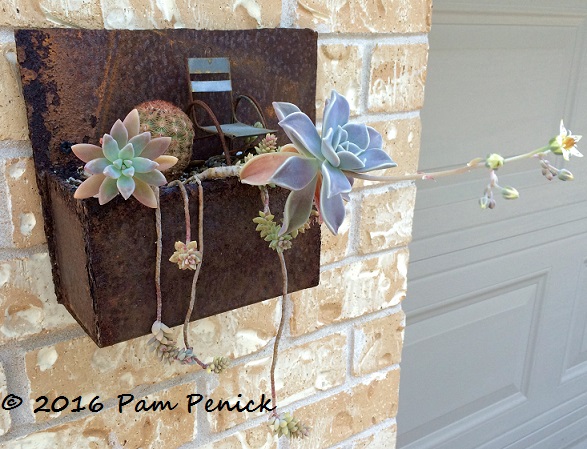 Succulents are stretching their necks with the return of warm weather, and some are blooming, like this ghost plant (Graptopetalum paraguayense). I'm starting to take cuttings so that I can replant with more compact plants.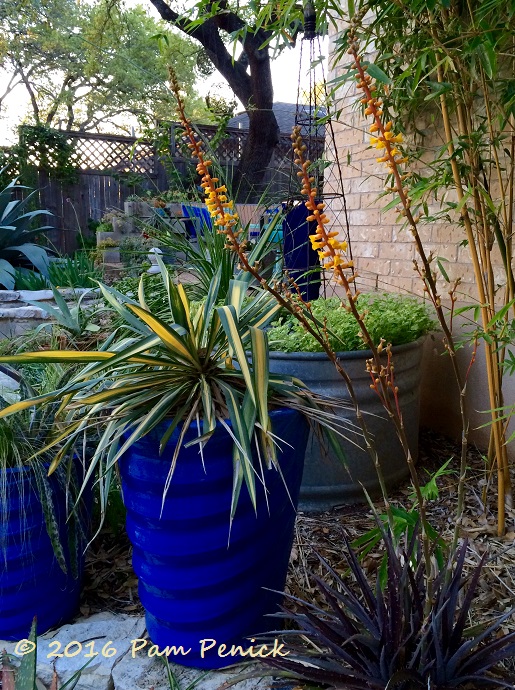 I have several 'Burgundy Ice' dyckias, but this is the only one that's flowering. I love its fuzzy, orange blossoms, like pennants above wine-colored, spiny leaves.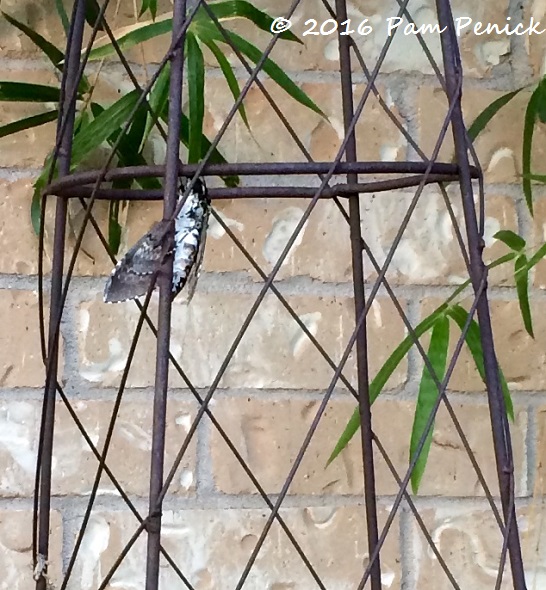 Yesterday evening, on a metal tuteur, I noticed a gigantic sphinx moth waiting for dusk.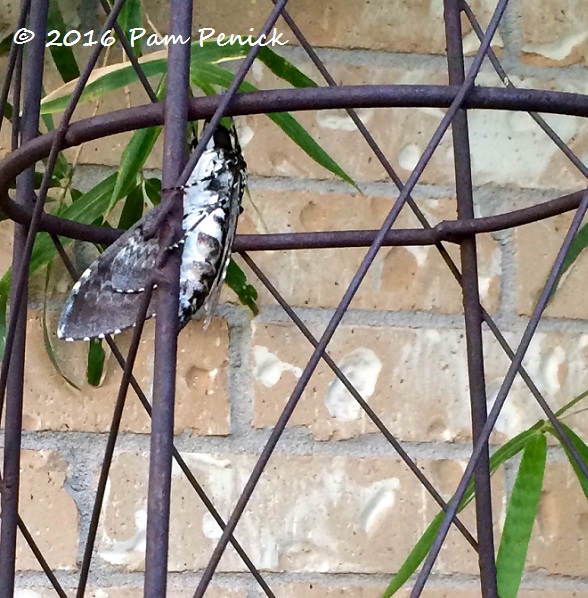 It's literally the size of a hummingbird — the biggest I'd ever seen. I watched for a while, hoping to see it fly off as the sun sank. But I eventually got distracted.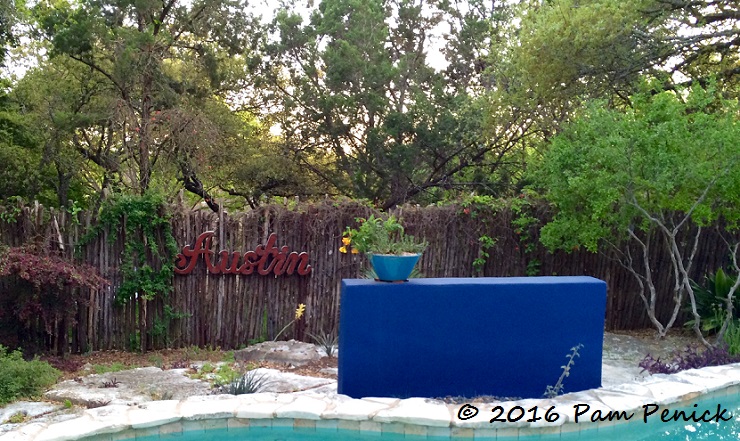 Looking across the pool, I'm enjoying my new blue pot atop the blue stucco wall. I got it at Hill Country Water Gardens & Nursery, along with the magenta ice plants and 'Orange Jubilee' Tecoma stans I planted in it.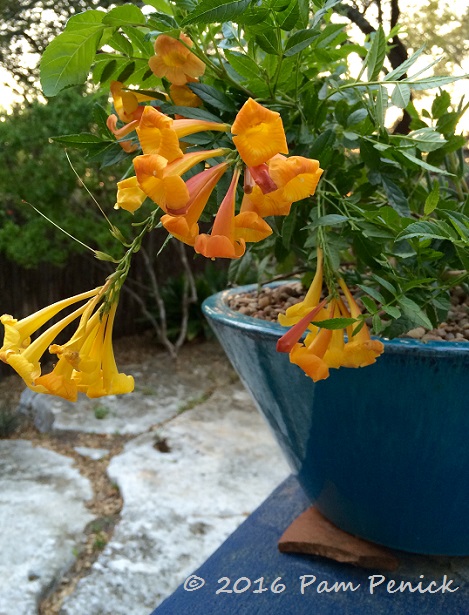 I hope the orange bells will do well in such a constrained pot. I plan to keep it cut short, and I have no idea if that will work or it will sulk. This is one of the few sunny spots in my garden, and I want a splash of color this summer. The new pot replaces a potted 'Color Guard' yucca that never looked that great.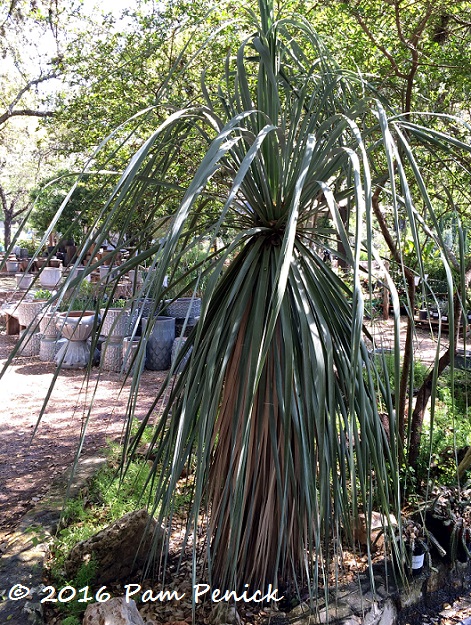 Speaking of nursery visits, I stopped by Barton Springs Nursery earlier this week and noticed how big their blue nolina (Nolina nelsonii) has gotten. At about 9 feet tall, it's growing in bright shade near the ponds, and it inspired me to plant one in the dappled shade of my live oaks about 7 years ago. Mine has been very slow-growing, but I hope it one day looks like this.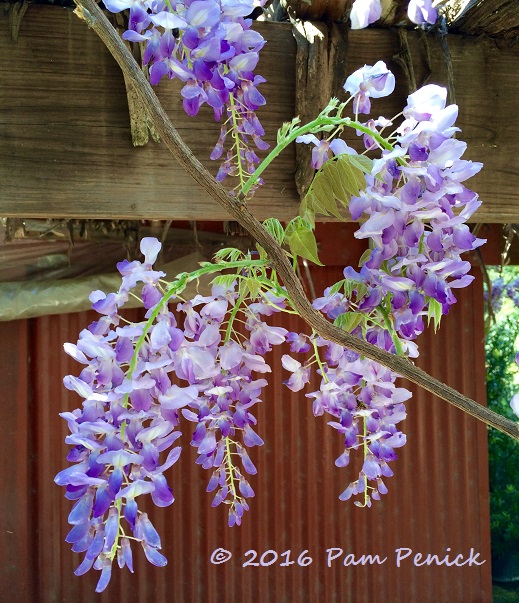 I leave you with a final image from BSN, their Chinese wisteria in fragrant bloom. I would never plant one of these myself — too thuggish — but I'm always happy to catch theirs in spring bloom.
So, is it bloomy and green where you live, or are you still waiting? (And Southern Hemisphere gardeners, are you enjoying fall?) Do tell!
I welcome your comments. If you're reading this in an email, click here to visit Digging and find the comment link at the end of each post.
_______________________
Digging Deeper: News and Upcoming Events
Come meet me at Zilker Garden Festival, Austin, TX, April 2 & 3
Get your gardening mojo on at Zilker Garden Festival! I'll be at the brand-new Author Booth on both days between 10 am and 2 pm (near the main building entrance), and I'll have copies of The Water-Saving Garden and Lawn Gone! for purchase ($20 each), if you'd like a signed copy for yourself or for a gift. Zilker Garden Festival is the garden's biggest fundraiser (and it needs our support) and offers all-day entertainment, vendor shopping, plant sales, demonstrations, live music, a beer garden and food vendors, children's activities, a garden train, a flower show, and a docent-led tour of lovely Zilker Botanical Garden. Don't miss it!
Join me for lunch downtown at Holy Grounds coffee shop and cafe on Wednesday, April 6, at noon. As part of their Coffee with the Author series, KUT's Jennifer Stayton will interview me and host a Q&A with the audience — i.e., y'all — and afterward I'll sign copies of The Water-Saving Garden and Lawn Gone!. I hope to see you there for this intimate, lunchtime event. Holy Grounds is located in the main building of St. David's Episcopal Church at 301 East 8th Street in downtown Austin. You can park in the surface lot in front of St. David's main doors.
Do you review? Have you read my new book, The Water-Saving Garden? If you found it helpful or inspirational, please consider leaving a review — even just a sentence or two — on Amazon, Goodreads, or other sites. Online reviews are crucial in getting a book noticed. I really appreciate your help!
I'm on Instagram as pamdigging. See you there!
All material © 2006-2016 by Pam Penick for Digging. Unauthorized reproduction prohibited.
posted in
2nd garden--2016
,
Butterflies/Moths
,
Containers
,
Dyckias
,
Fences
,
Grasses
,
Groundcovers
,
Lawn Gone!
,
Paths
,
Signs
,
Succulents
,
Texas natives
,
Trellis
,
Vines
,
Walls
,
Wildflowers
,
Wildlife
,
Xeric plants
,
Yuccas