March 24th, 2016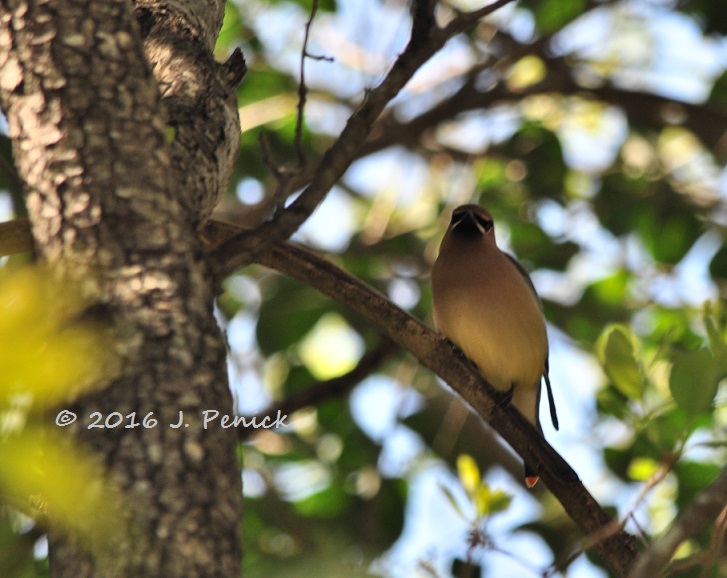 Every day, through the open window, I hear the thin cries of cedar waxwings as they strafe the back yard, flying from ligustrums to yaupons in the greenbelt behind our house to polish off the late-season berries. With their sleek, tan feathers and robbers' masks, they are among my favorite bird visitors.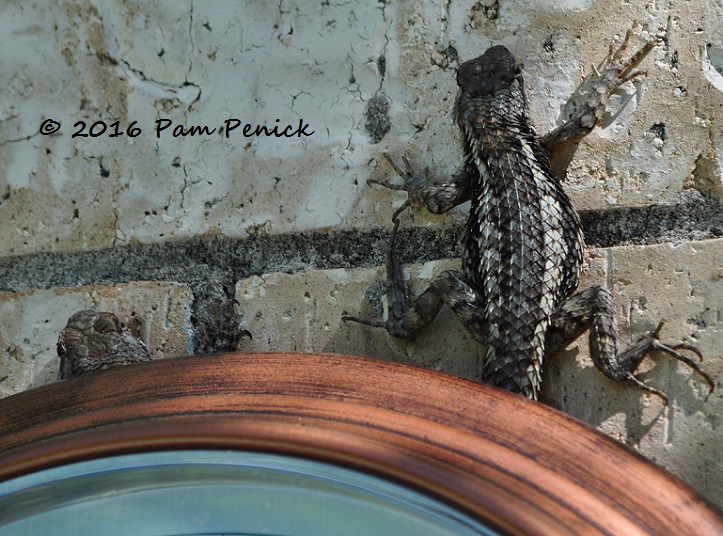 Now that the weather's warm, Texas spiny lizards have been sunning themselves on the brick chimney. I spotted these two as I was reaching to change (belatedly) our outside clock for daylight saving time.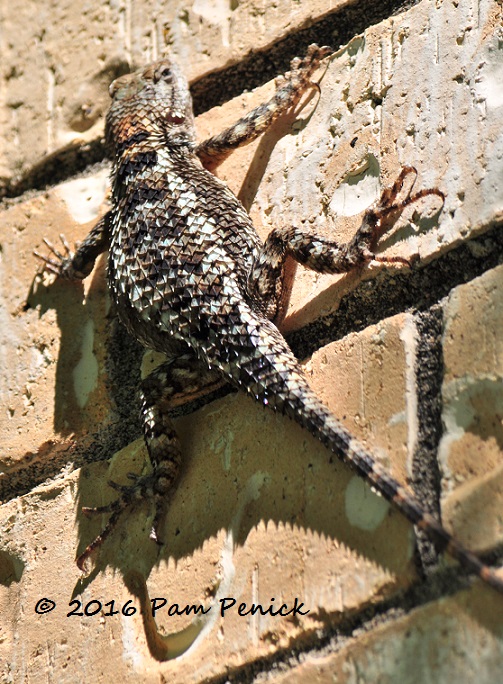 The big one moved up the wall into the sunniest spot and posed for me. These skittish lizards have such interesting, scaly skin.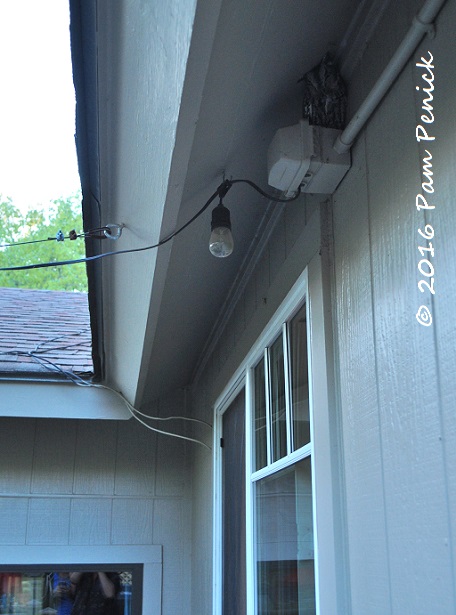 But our most surprising visitor over the past week is seen here. Where? Just under the eave, sitting atop the junction box for the string lights. See it?
We'd just gotten home from our spring break road trip, and we'd been up and down the back steps checking on the garden and the pool. On my third pass, I caught a glimpse of something gray under the eave and immediately thought, wasp nest. I froze and looked up, and that's when I realized we'd been walking not two feet away from a tiny screech owl.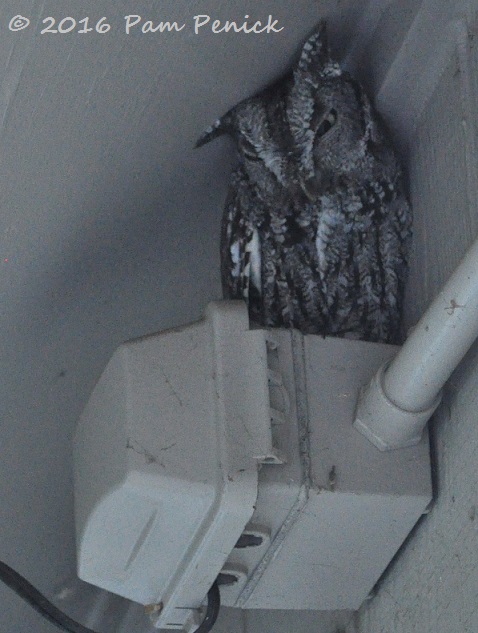 I softly called to the family to come look, and then I went inside to get my camera. He (or she) calmly held his ground, watching warily but not seeming alarmed as we gathered at a respectful distance to look and take photos.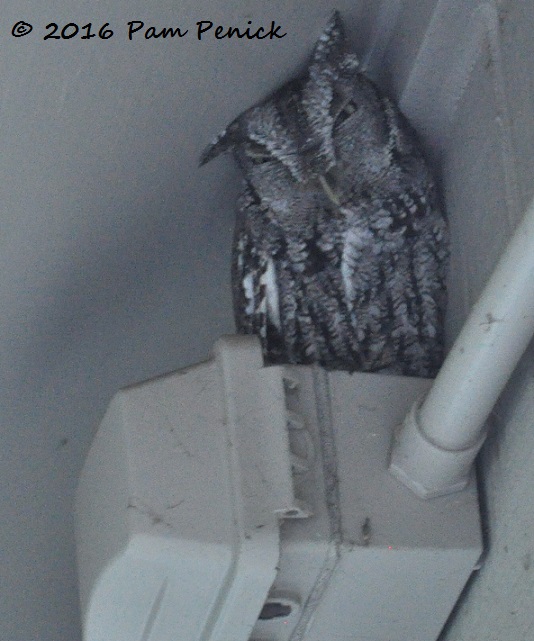 He looks a bit quizzical, doesn't he? Like, What are YOU doing here after a week of peace and quiet?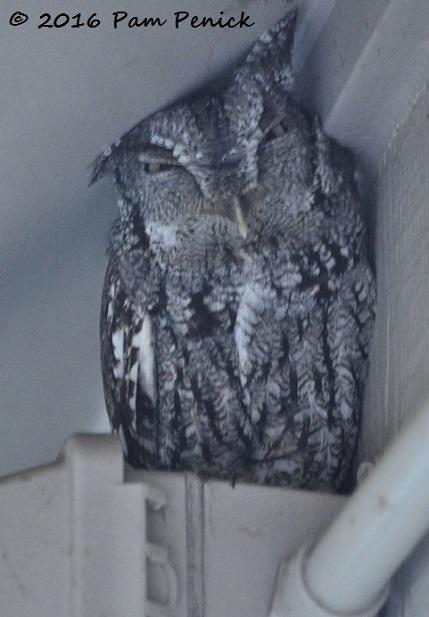 It looks like a cozy spot, but I wondered why he was here and not in the owl box. I could only hope that this was a male, standing guard as his mate nested in the owl box. We'd not seen any activity in the box before our trip, although by this time of year we normally have. In fact, I'd begun to think that we wouldn't have a nesting owl this year.
After dusk, the owl flew off while none of us was looking, probably to hunt. I kept an eye on the owl box, hoping to see the male fly in with food for a nesting mate. But I saw nothing, and we've had no more owl sightings since last weekend. I'm still hopeful, however, that we just have a very shy nesting pair. Time will tell.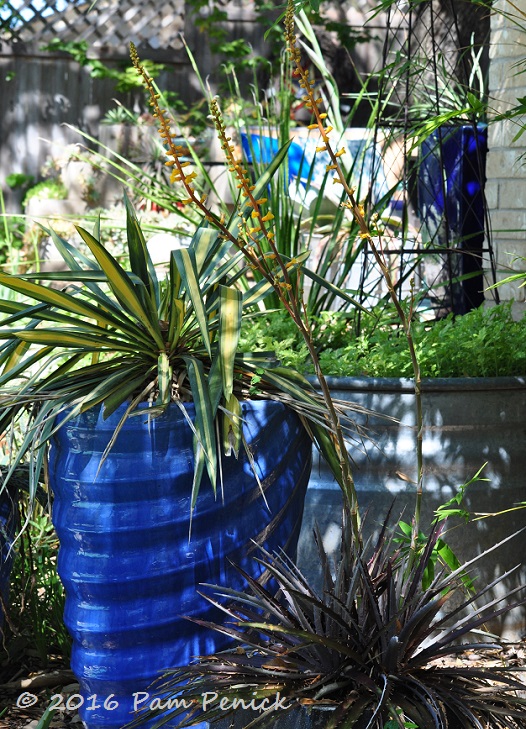 What else is going on in the garden? Dyckia 'Burgundy Ice' is blooming.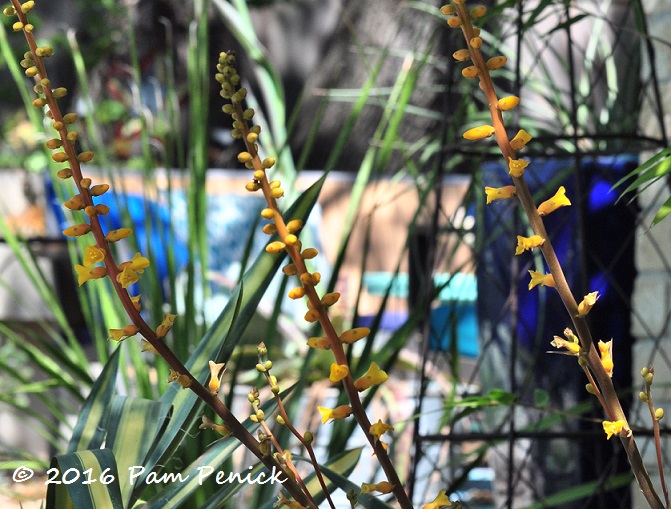 Fuzzy, yellow flowers staggered along tall bloom spikes are opening one by one.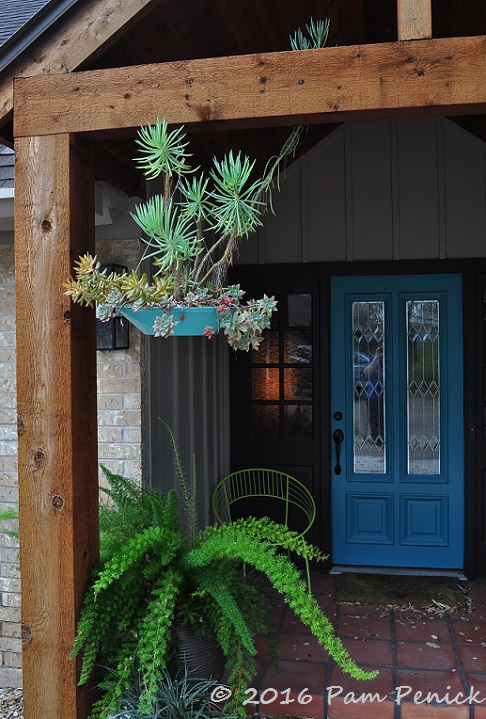 On the front porch, the succulent dish is wildly overgrown. I need to take cuttings of these plants and replant the whole dish. And yet I do kind of like the shaggy look, so I keep procrastinating. Below it, a foxtail fern in a tall pot seems to be reaching out with tentacle-like fronds.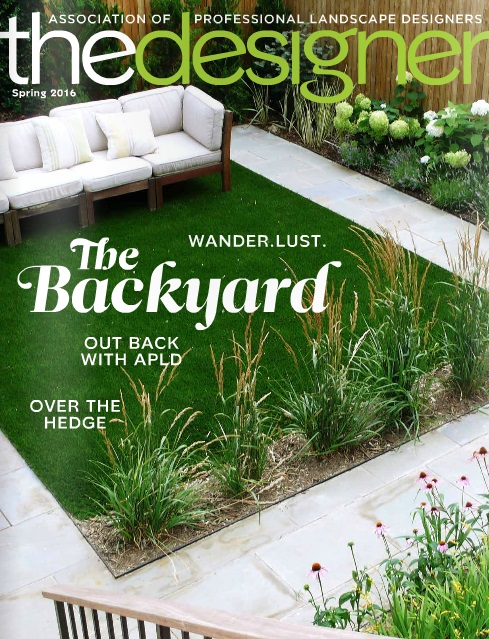 In other happenings, I was surprised and pleased to see The Water-Saving Garden featured in the spring 2016 issue of The Designer, the publication of the Association of Professional Landscape Designers (APLD).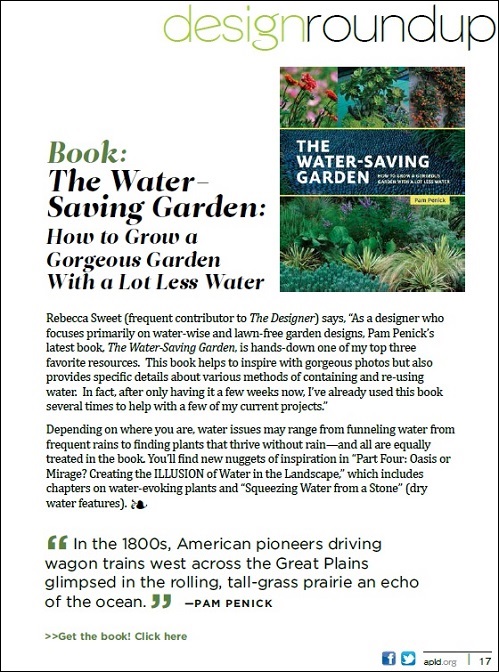 Check it out — click here to read the digital issue, and look on page 17. My thanks to Bay Area designer Rebecca Sweet for her complimentary quote and to editor Katie Elzer-Peters for including my book.
If you love garden design, consider subscribing to The Designer. It's free, and you don't need to be a designer or a member of APLD to enjoy it. APLD members write all the articles, and in this issue you'll find topics ranging from ways to use hedges to patio projects to photos of the home gardens of designers from Toronto to Nebraska to Arizona.
I welcome your comments. If you're reading this in an email, click here to visit Digging and find the comment link at the end of each post.
_______________________
Digging Deeper: News and Upcoming Events
Come meet me at Zilker Garden Festival, Austin, TX, April 2 & 3
Get your gardening mojo on at Zilker Garden Festival! I'll be at the brand-new Author Booth on both days between 10 am and 2 pm (near the main building entrance), and I'll have copies of The Water-Saving Garden and Lawn Gone! for purchase ($20 each), if you'd like a signed copy for yourself or for a gift. Zilker Garden Festival is the garden's biggest fundraiser (and it needs our support) and offers all-day entertainment, vendor shopping, plant sales, demonstrations, live music, a beer garden and food vendors, children's activities, a garden train, a flower show, and a docent-led tour of lovely Zilker Botanical Garden. Don't miss it!
Join me for lunch downtown at Holy Grounds coffee shop and cafe on Wednesday, April 6, at noon. As part of their Coffee with the Author series, KUT's Jennifer Stayton will interview me and host a Q&A with the audience — i.e., y'all — and afterward I'll sign copies of The Water-Saving Garden and Lawn Gone!. I hope to see you there for this intimate, lunchtime event. Holy Grounds is located in the main building of St. David's Episcopal Church at 301 East 8th Street in downtown Austin. You can park in the surface lot in front of St. David's main doors.
Do you review? Have you read my new book, The Water-Saving Garden? If you found it helpful or inspirational, please consider leaving a review — even just a sentence or two — on Amazon, Goodreads, or other sites. Online reviews are crucial in getting a book noticed. I really appreciate your help!
I'm on Instagram as pamdigging. See you there!
All material © 2006-2016 by Pam Penick for Digging. Unauthorized reproduction prohibited.
posted in
2nd garden--2016
,
Agaves
,
Birds
,
Books
,
Containers
,
Doors
,
Dyckias
,
In the news
,
Lizards
,
Magazines
,
Owls
,
Water-Saving Garden
,
Wildlife
,
Xeric plants
,
Yuccas