March 22nd, 2016
Spring has sprung, and that means garden events are happening every weekend here in central Texas. Amid all the excitement in your own garden, it's easy to miss hearing about something that you'll kick yourself later for missing. So here's my round-up of 4 upcoming garden events that include plant shopping, learning, and touring. Let's go!
Zilker Garden Festival, Austin — April 2 & 3 (next weekend)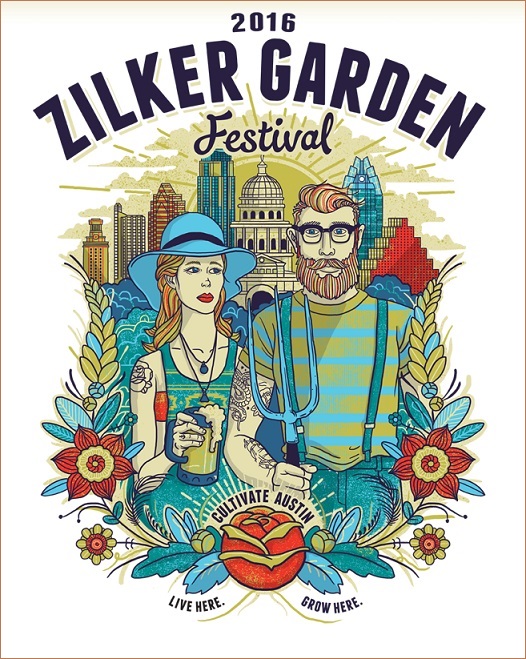 Zilker Garden Festival is back and better than ever! In its 59th year, the granddaddy of garden events in Austin has refreshed its offerings, which include plant sales (bring a wagon) and vendors (including my favorite pottery maker, Rick Van Dyke; click the link — I swoon over this stuff); food-making demonstrations (hydroponics, kombucha, beekeeping for honey); live music; a beer garden with locally made beer; good eats; a miniature railroad to entertain the kids (or their dads); and a flower show. Want a guided tour of the garden? A Grow Green plant expert leads one at 2:30 pm.
Zilker Garden Festival is the botanical garden's biggest fundraiser of the year, and Zilker Garden needs our support. So come on out, knowing you're supporting the garden while you're having fun!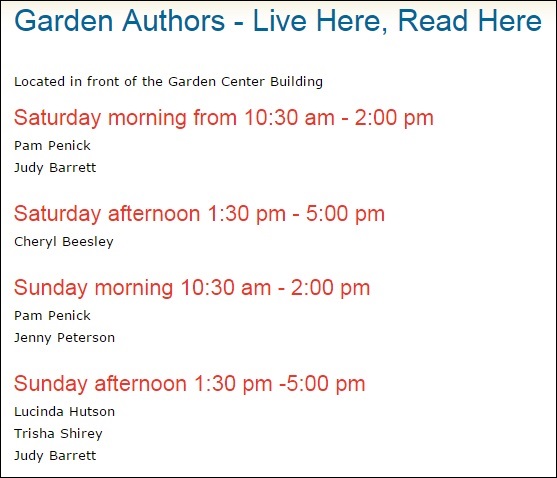 Best of all, local garden authors, including yours truly, will be on hand to meet you, talk gardening, and sign copies of their books for you! OK, maybe that's not best of all, but it's like a garden-themed Texas Book Festival, y'all. Seven authors will be manning the author booth by the flagpole at various times, so check the schedule if there's someone you really want to meet or get a signed book from. Whatever subject you're interested in, these authors are sure to cover it:
Trisha Shirey: Vegetable Gardening in the Southwest
Jenny Peterson: The Cancer Survivor's Garden Companion and Indoor Plant Decor
Lucinda Huston: ¡Viva Tequila!; The Herb Garden Cookbook; and more
Judy Barrett: What Makes Heirloom Plants So Great?; Easy Edibles; Yes, You Can Grow Roses; and more
Cheryl Beesley: Landscaping with Edible Plants in Texas
I'll be at the Author Booth on both days between 10 am and 2 pm (near the flagpole at the main building entrance), and I'll have copies of The Water-Saving Garden and Lawn Gone! for purchase ($20 each). I'll gladly autograph them for you or to a gift recipient.
Zilker Garden Festival is open Saturday, April 2nd, and Sunday, April 3rd, from 10 am to 5 pm. For all the FAQs, including admission and parking info, click here.
Elements of Garden Design Workshop, Austin — Saturday, March 26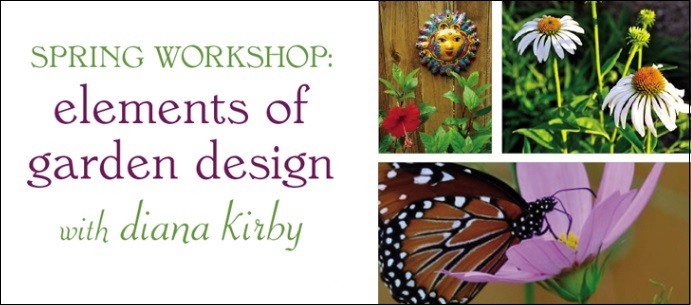 Do you wish you had a better garden but don't know where to start? This Saturday morning (that's right, THIS Saturday), designer and Statesman gardening columnist Diana Kirby is hosting a half-day garden-design workshop to teach you how to assess your existing landscaping with a designer's eye, choose appropriate native and adapted plants to suit your favorite style of garden, and create a design on paper (including her review of your design ideas). Diana, who happens to be a good friend of mine and has a beautiful garden of her own, has taught classes for master gardener groups and is the owner of Diana's Designs. She also blogs at Sharing Nature's Garden.


The 4-hour workshop costs $199, and will be held at the Holiday Inn Express on US Hwy 290 West in Austin.
Coffee with the Author – With KUT's Jennifer Stayton at Holy Grounds Coffee Shop, Austin — Wednesday, April 6, noon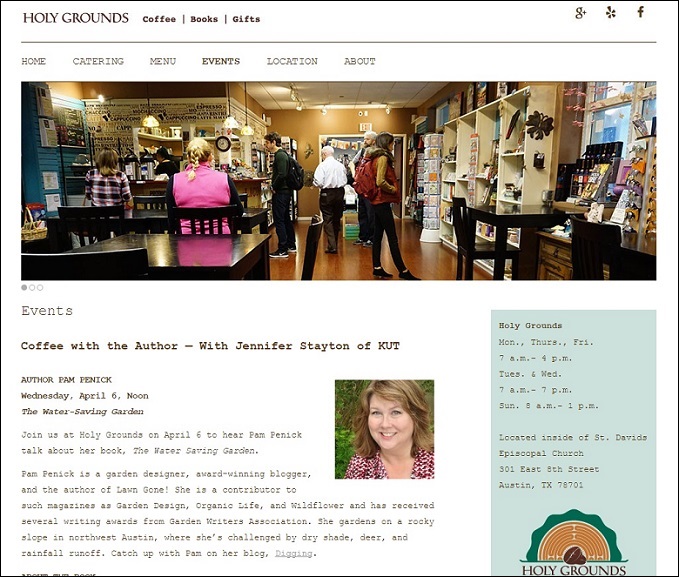 Want to learn more about water-saving gardening? I'll be talking with KUT's Jennifer Stayton on April 6th as part of the Coffee with the Author series at Holy Grounds coffee shop, located downtown in St. David's Church. No, this is not a religious type of discussion. As my friend Anna, who is the manager, explains, "St. David's is a 'green' church — we have an active Environmental Guild and a smaller Gardening Guild. Good stewardship of the earth is one of our ministries." As it should be for all gardeners as well!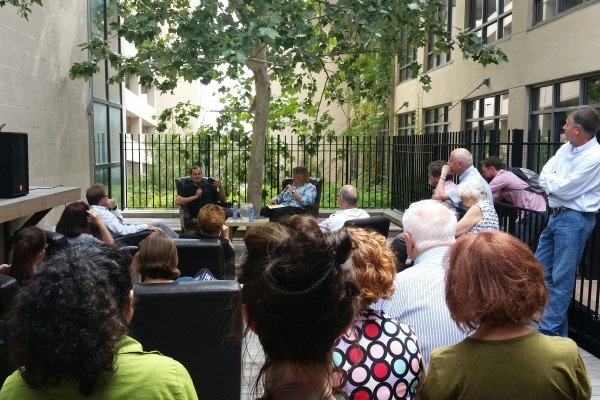 A previous Coffee with the Author. Photo courtesy of Holy Grounds
At noon in the coffee shop's courtyard, Jennifer will host a 30-minute Q&A with me, and afterward I'll sign copies of my new book, The Water-Saving Garden, if you'd like one for yourself or as a gift. Come grab a coffee and a bite to eat (here's the menu), and spend your lunch break with me!
Holy Grounds is located in the main building of St. David's Episcopal Church at 301 East 8th Street. You can park in the surface lot in front of St. David's main doors.
Watersaver Landscape Tour, San Antonio — Saturday, April 9, 9 am to 3 pm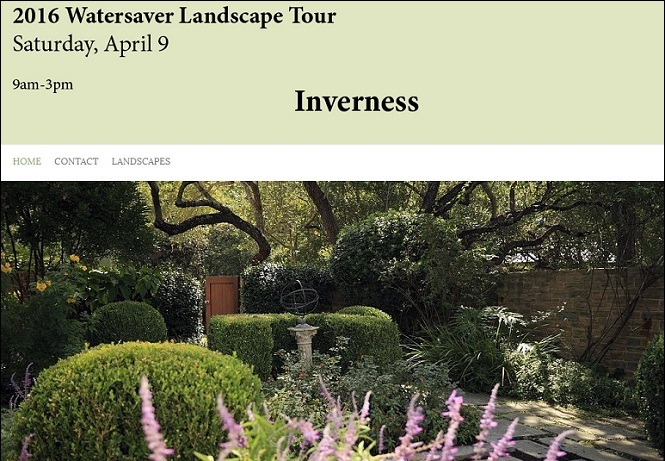 Road trip! Austin may have lost its longtime spring garden tour, but San Antonio has one scheduled for April 9th — and it's free! The annual Watersaver Landscape Tour was supposed to be held last fall, until the great rain-out happened, and this is the rescheduled date. Regular readers may remember my sneak peeks of two of the gardens, Pat Mozersky's Mark Word-designed courtyard garden and Susan Bhatia's dramatic modern xeriscape garden (pictured below).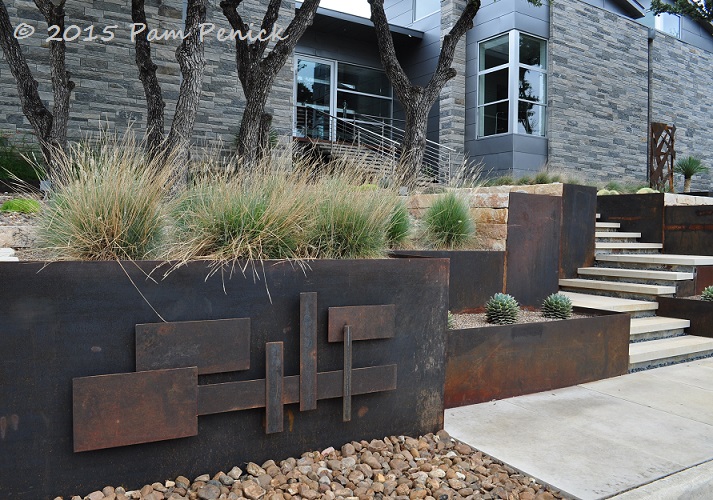 All of the gardens are located in the Inverness gated community, accessible by shuttle for tour-goers. Parking and the shuttle are free, but you'll need to reserve a shuttle time on the tour website (scroll down for the times). Once you're shuttled into the neighborhood, you'll walk from garden to garden. Docents will be on hand to answer your questions. Park in the Jewish Community Center at 12500 N.W. Military Highway, where you'll catch your ride.
That's a full slate of garden activities, so mark your calendars and join in the plant shopping, learning, and garden touring. Hope to see you at a few of these events! Oh, and if I've missed anything, please share it in the comments. So now you need to read those too.
I welcome your comments. If you're reading this in an email, click here to visit Digging and find the comment link at the end of each post.
_______________________
Digging Deeper: News and Upcoming Events
Do you review? Have you read my new book, The Water-Saving Garden? If you found it helpful or inspirational, please consider leaving a review — even just a sentence or two — on Amazon, Goodreads, or other sites. Online reviews are crucial in getting a book noticed. I really appreciate your help!
Thanks to everyone who voted for Digging in the 2016 Better Homes & Gardens Blogger Awards. While my blog didn't come out on top this year (two years in a row would have been too good to be true), it was wonderful to be nominated. Congratulations to the deserving winners, whose blogs you should definitely check out: Margaret Roach's A Way to Garden and Floret Flower Farm Journal.
I'm on Instagram as pamdigging. See you there!
All material © 2006-2016 by Pam Penick for Digging. Unauthorized reproduction prohibited.