March 21st, 2016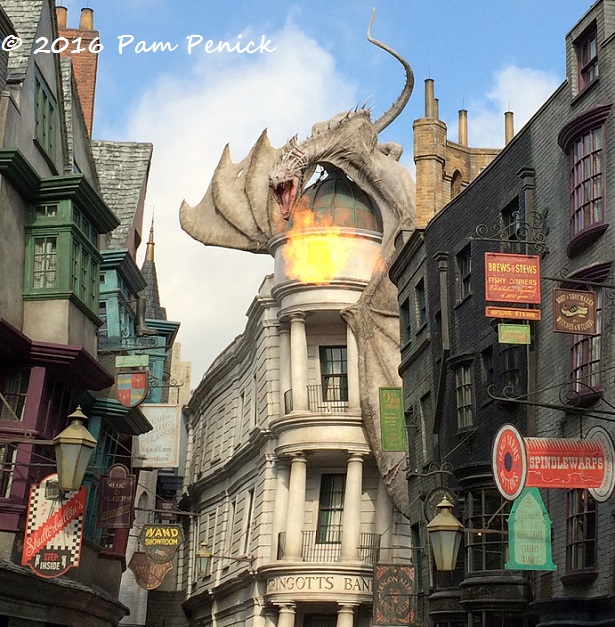 Diagon Alley shops and the escaping Gringotts dragon, which belches fire periodically with a coughing roar and a furnace-blast of heat you can feel in the street below
Last week for spring break, we packed up the car, dropped off the dog at Grandma's, and set off on a two-day road trip from Austin to Orlando, Florida, following the Gulf Coast from Houston through flooded-out southern Louisiana (which turned one 10-hour driving day into 15 hours), Mississippi, Alabama, and the Florida panhandle. Our goal? To visit The Wizarding World of Harry Potter before both our kids are entirely grown — although, let's face it, I'm a big fan of the Harry Potter books and probably would have gone anyway.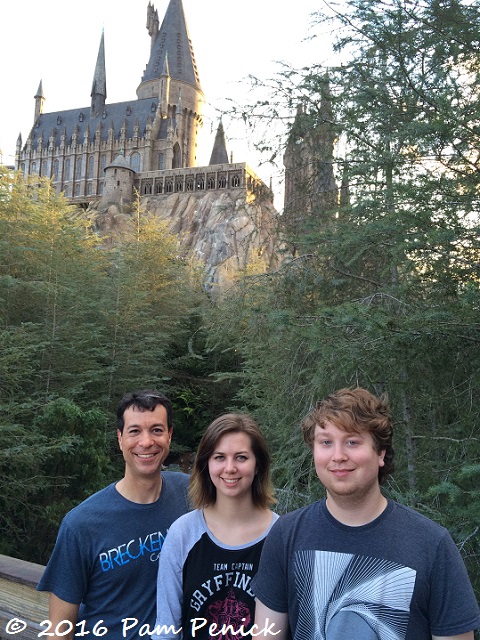 Hogwarts Castle and the family
After reading about it, my expectations had risen to the height of Hogwarts' Astronomy Tower. Happily, the park surpassed them, providing an experience that felt like stepping into the darkly fanciful world created by author J.K. Rowling.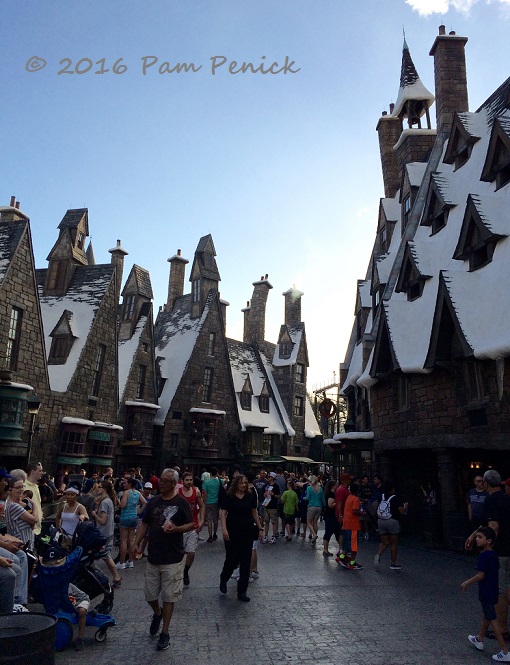 "Snow"-covered roofs despite 80-degree temperatures in the village of Hogsmeade
The Harry Potter stuff is spread across two adjacent parks at Universal Studios (ensuring you buy tickets for both and spend two days there; clever marketing people), and includes Diagon Alley (pictured at the top of this post) and Hogsmeade, above. A flagship virtual-reality ride anchors each section — and they are absolutely incredible — but the real attraction for fans is immersing oneself in this imaginary world: strolling the streets…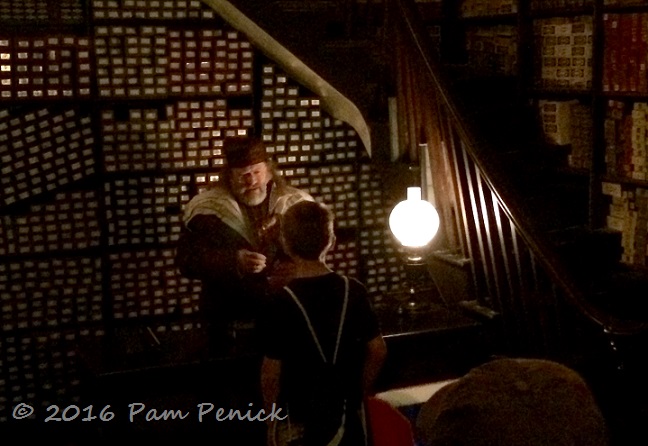 At Ollivander's Wand Shop, the wand chooses the wizard in an interactive moment between a young visitor and an actor playing the wand maker.
…exploring the magical shops and restaurants…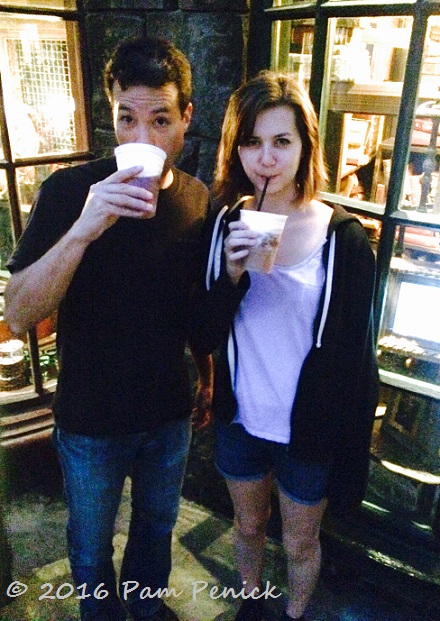 Butterbeer comes "regular" or frozen. We tried both.
…and sampling wizard wares like butterbeer, pumpkin juice, Bertie Bott's Every Flavour Beans, and more.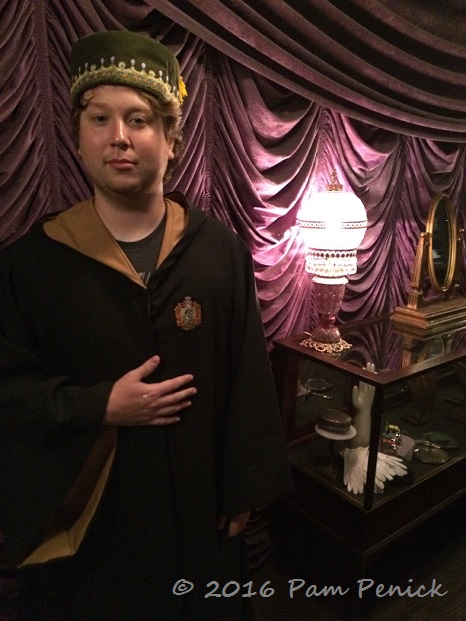 We resisted the urge to spend our gold on souvenirs and merely tried on wizard robes for silly fun…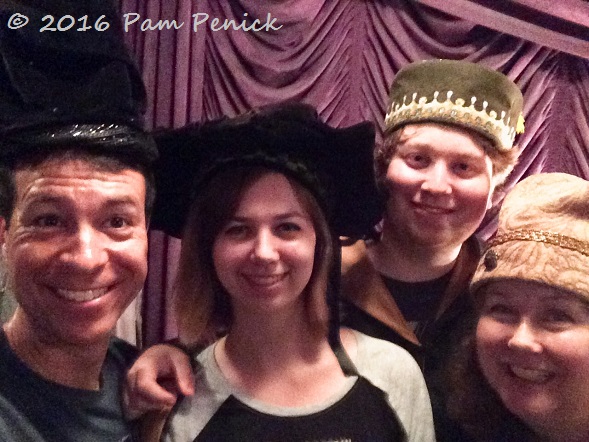 …and hats, of course.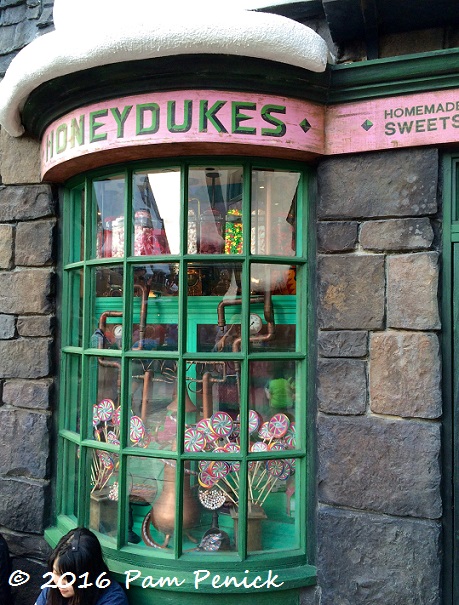 Window shopping at Honeydukes sweet shop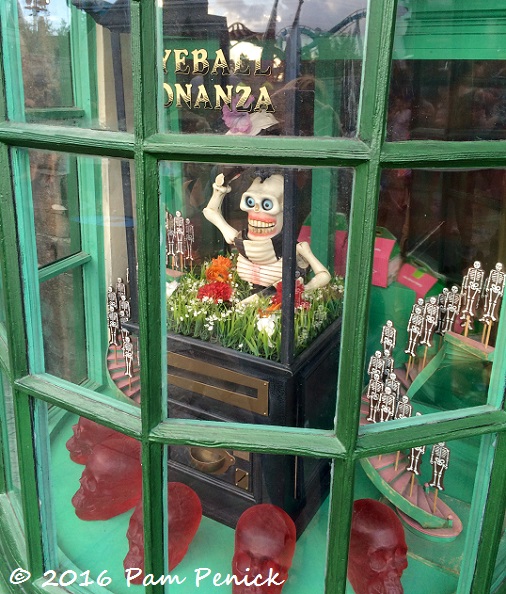 Sweetness with a Halloween edge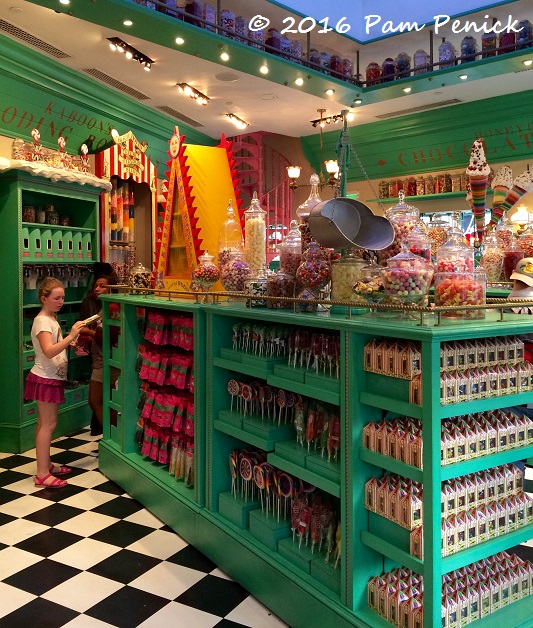 Inside you can buy the candy from the Harry Potter books, like Chocolate Frogs, Fizzing Whizzbees, exploding bonbons, and the like.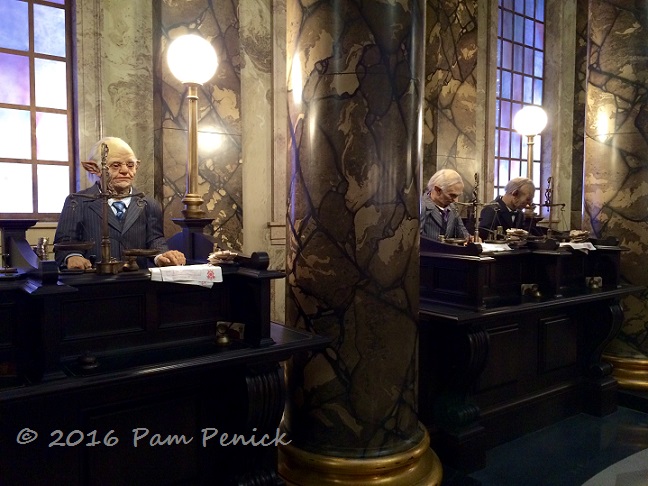 In Gringotts Bank, which is the entry to the Escape from Gringotts ride, animatronic goblin clerks are eerily lifelike.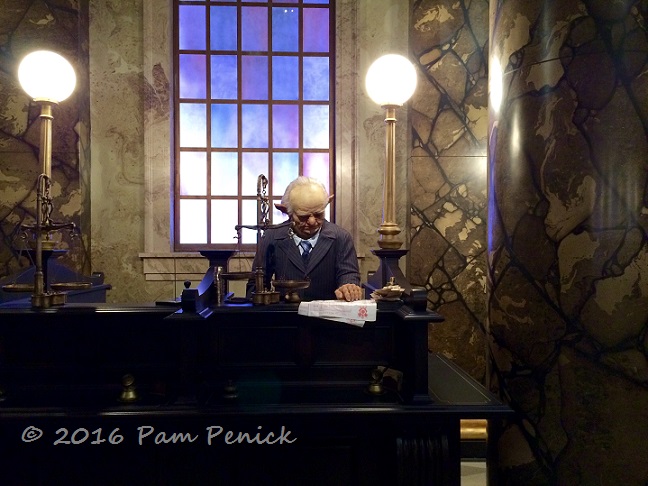 I wish I'd taken more photos of the ride lead-ins, which are wonderfully immersive, à la Disney World. But I was too busy having fun. If you're a fan, all I can say is, go see it for yourself. But not in summer! I don't know how anyone can enjoy a theme park when it's 95F and clogged with sweaty, irritable tourists. Cooler weather and less-busy days are essential to enjoyment, at least for me. Oh, and definitely get Universal Express Unlimited Passes. They're well worth the money to avoid long lines throughout the parks, although currently they're not usable for the main Harry Potter rides, so do those first thing on early admission days or late in the day just before closing.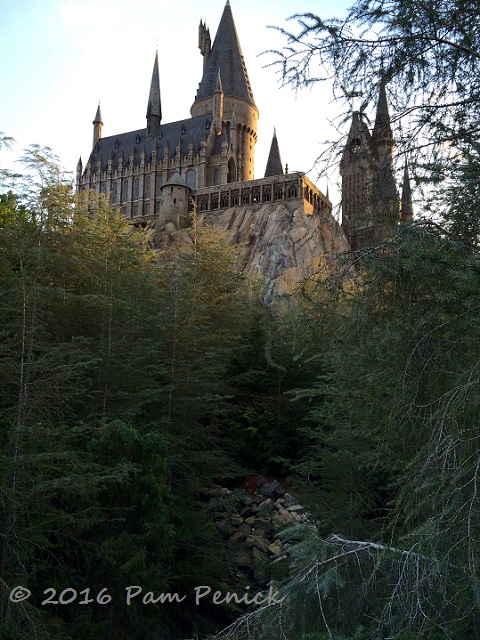 Plant lovers will appreciate how the park is landscaped as well, with an exacting attention to detail in choosing plants to suit each themed area. For example, a northern European vibe is evoked around Hogwarts with tall fir trees (or maybe cypresses?). I don't know how Universal managed to pull this off in a near-tropical climate, but it looked great.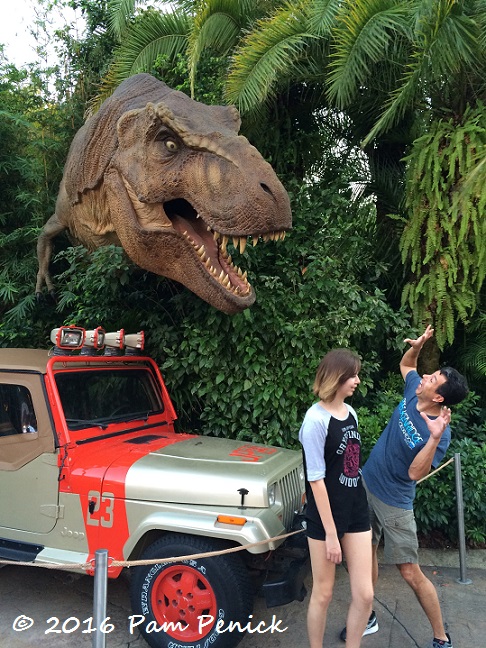 Turn a corner, and you're in Jurassic World, where palm trees, sago palms, and other ancient-looking plants set the mood. Dinosaurs help too, of course.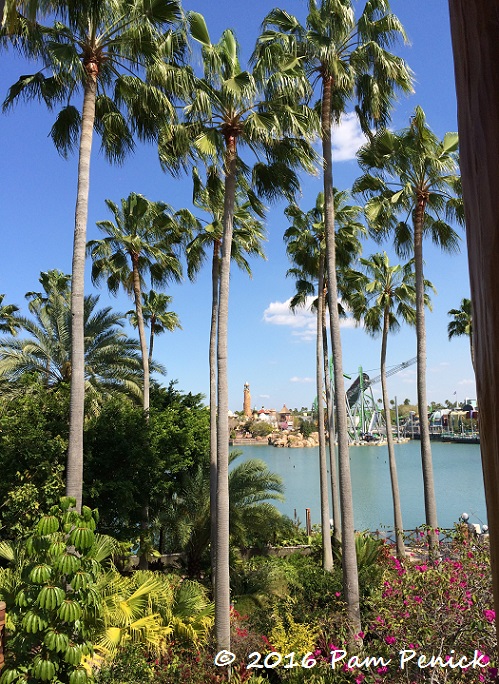 I expected to see boring sweeps of "annual color." Instead, tapestries of shrubs, perennials, and trees created beautiful views and helped screen different areas of the parks.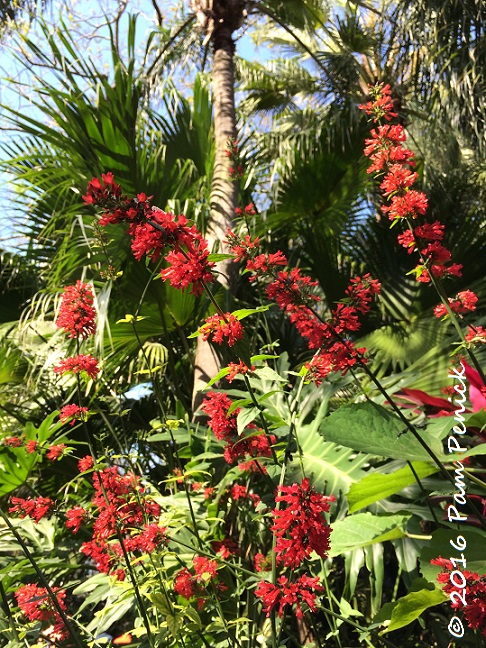 Sorry if my title misled any Orlando Bloom fans. But I did see lots of blooms in Orlando.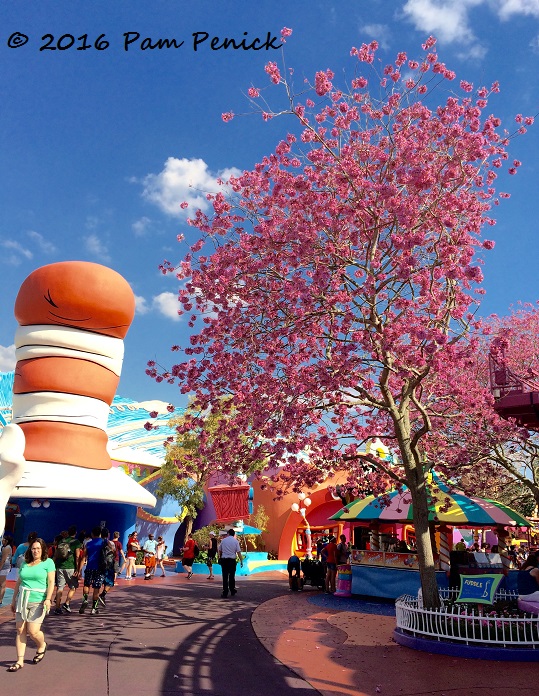 During our mid-March visit, trumpet trees (Tabebuia spp.) were glorious in full bloom. Pink trumpet tree (Tabebuia heterophylla) was most common and seemed especially apt in the crazy-colorful Dr. Seuss section of the park.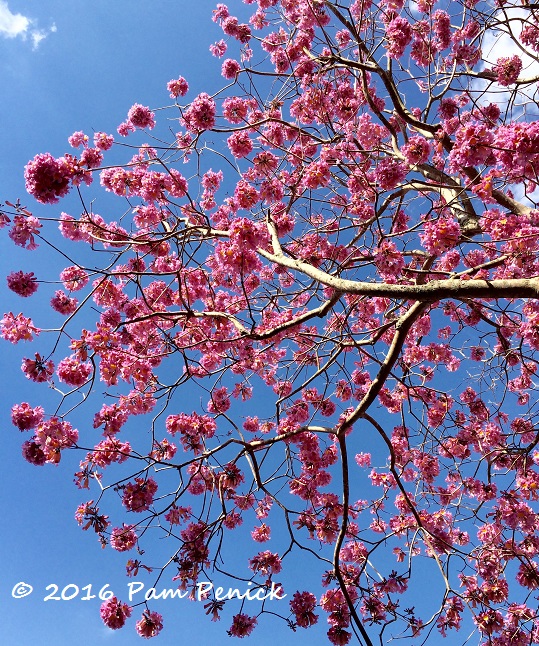 Those pink, trumpet-shaped flowers against a cobalt sky were amazing.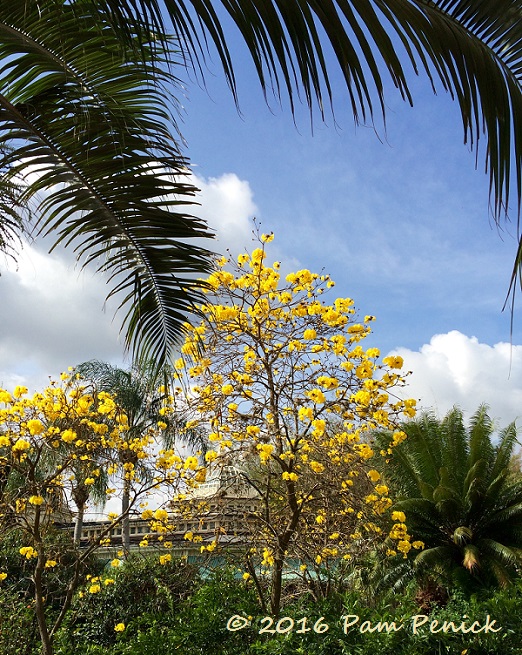 And the yellow ones didn't even look real.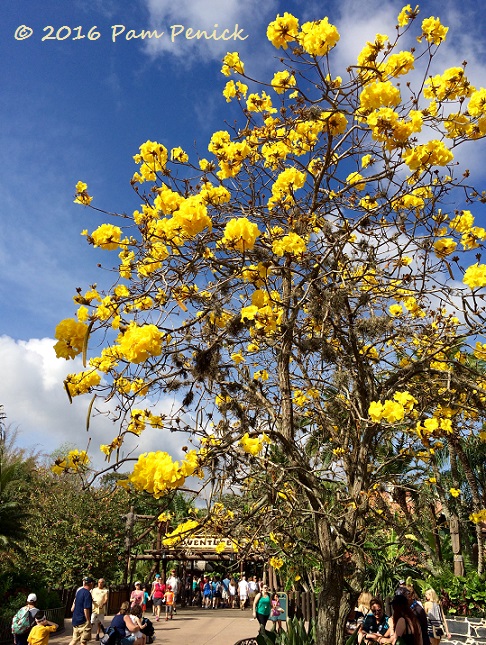 Yellow trumpet tree (Tabebuia chrysotricha) — gorgeous!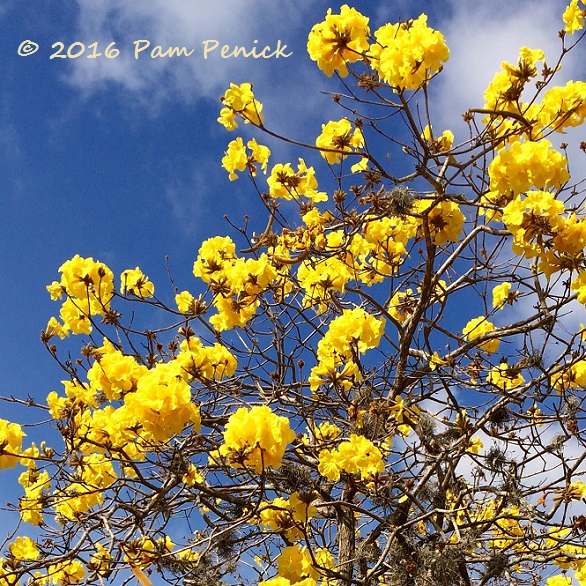 Kapow!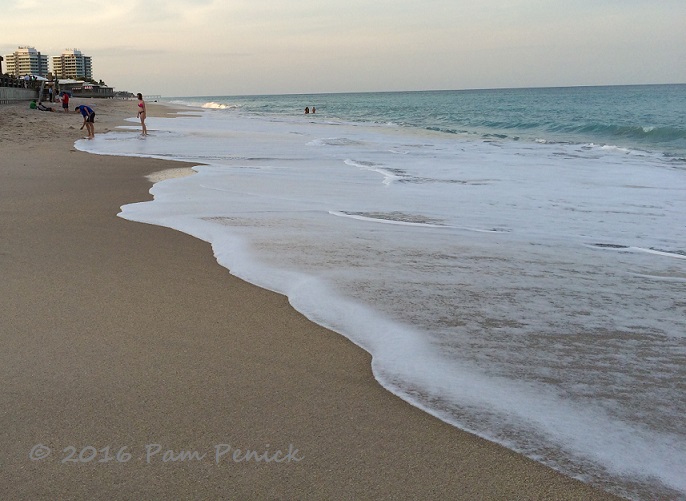 Leaving the surreal park experience behind us, we spent one day in Vero Beach, about an hour and a half southeast of Orlando. Of course I also snuck in a garden visit, to McKee Botanical Garden, which I'll share with you soon. Update: Here's my post about our visit to McKee Garden.
_______________________
Digging Deeper: News and Upcoming Events
Come meet me at Zilker Garden Festival, Austin, TX, April 2 & 3
Get your gardening mojo on at Zilker Garden Festival! I'll be at the brand-new Author Booth on both days between 10 am and 2 pm (near the main building entrance), and I'll have copies of The Water-Saving Garden and Lawn Gone! for purchase ($20 each), if you'd like a signed copy for yourself or for a gift. Zilker Garden Festival offers all-day entertainment, vendor shopping, plant sales, demonstrations, live music, a beer garden and food vendors, children's activities, a garden train, a flower show, and a docent-led tour of lovely Zilker Botanical Garden. Don't miss it!
Do you review? Have you read The Water-Saving Garden? If you found it helpful or inspirational, please consider leaving a review — even just a sentence or two — on Amazon, Goodreads, or other sites. Online reviews are crucial in getting a book noticed. I really appreciate your help!
Read an excerpt from The Water-Saving Garden at Garden Design: "Create the Illusion of Water with Plants: How to use grasses, trees, groundcovers and other plants to evoke water in a dry garden." Check it out, and let me know if you try any of these creative design ideas.
I'm on Instagram as pamdigging. See you there!
All material © 2006-2016 by Pam Penick for Digging. Unauthorized reproduction prohibited.