March 12th, 2016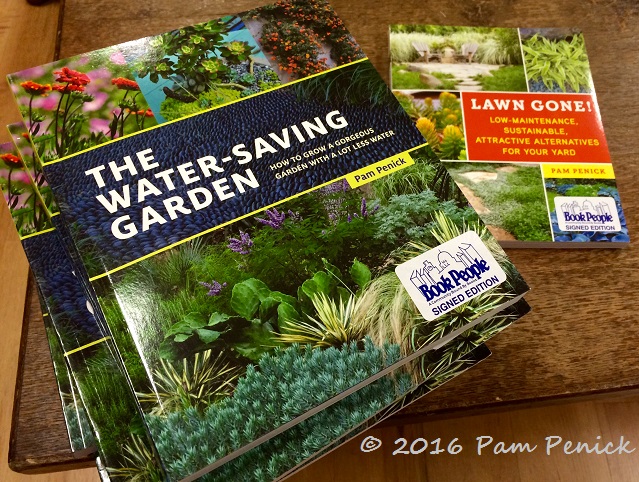 Austinites, do you like to shop local? Want a copy of The Water-Saving Garden? Do you like autographed books? If you prefer to support local retailers, I can recommend several businesses that are carrying my book. And some have autographed copies because I stopped by this week to sign them.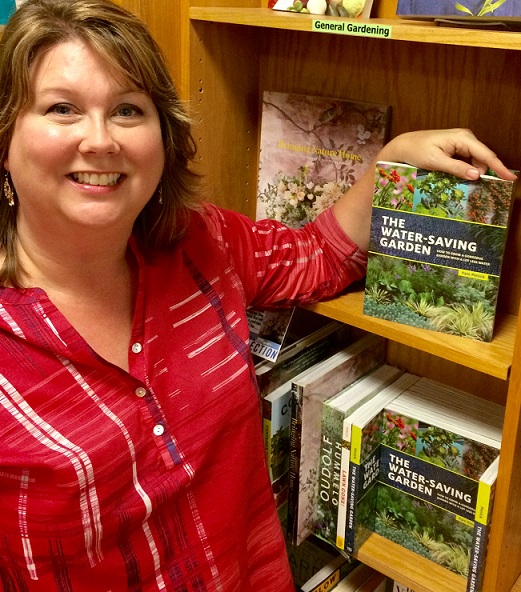 Book People, Austin's biggest independent bookstore, has a dozen or so signed copies of The Water-Saving Garden and one signed copy of Lawn Gone! You can find them in the gardening section on the 2nd floor and possibly in an autographed books section elsewhere. Ask if you can't find them. They have excellent service.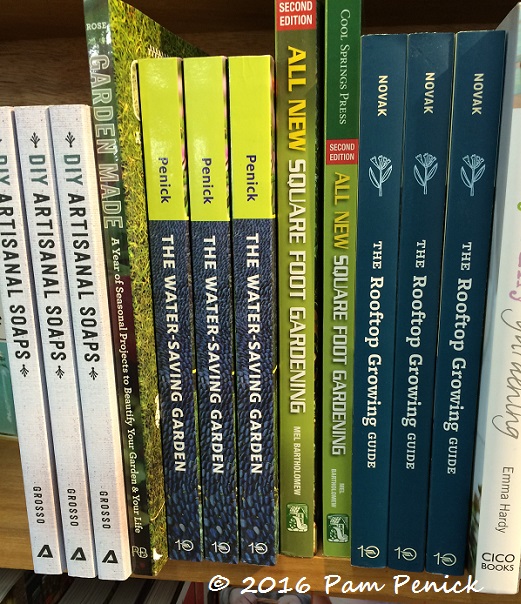 Whole Earth Provision Co. on North Lamar Boulevard is carrying three copies of The Water-Saving Garden. These are not signed because the manager wasn't there to approve that when I stopped by. But it's a cool store with lots of great gifts, books, clothes, and supplies for outdoor activities.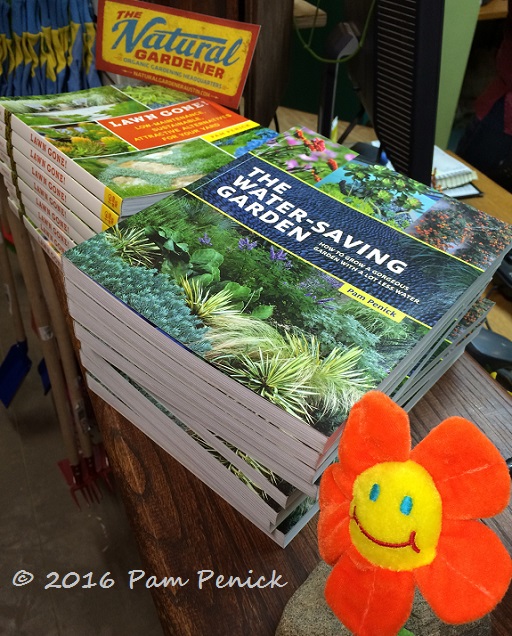 If you're looking to do a little plant shopping with your book purchase, head over to The Natural Gardener in southwest Austin. I signed about 16 copies each of The Water-Saving Garden and Lawn Gone! on Thursday.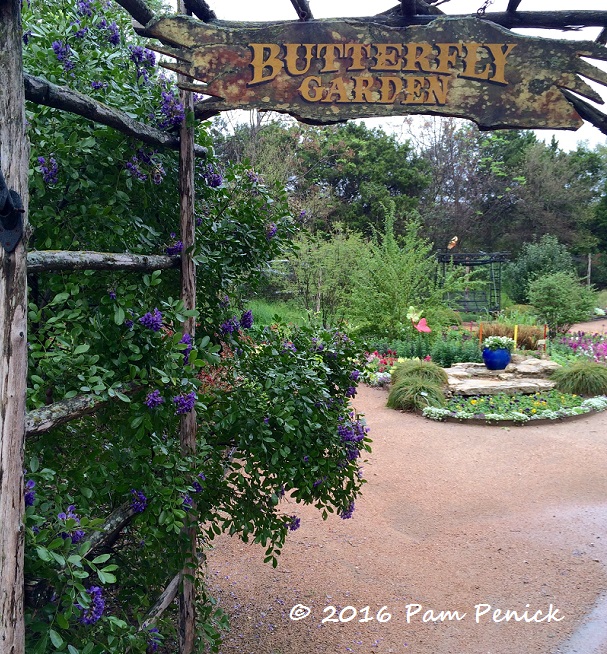 While you're there you can explore their extensive display gardens to enjoy spring flowers and scents…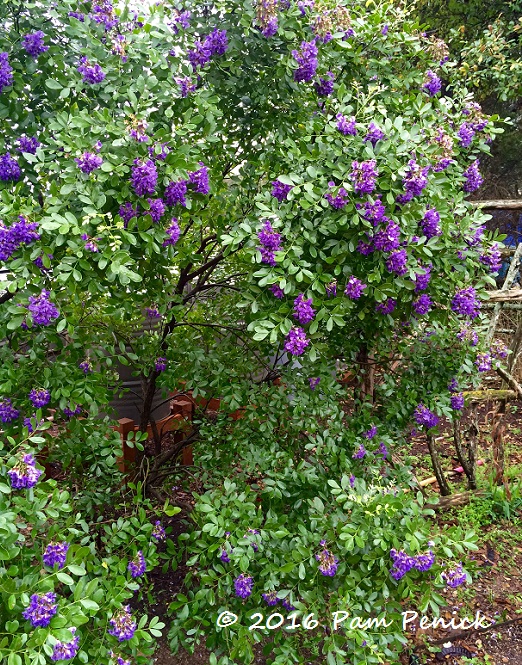 …like Texas mountain laurel's grape Kool-Aid fragrance. Go on, bury your nose right in those dangling purple blossoms.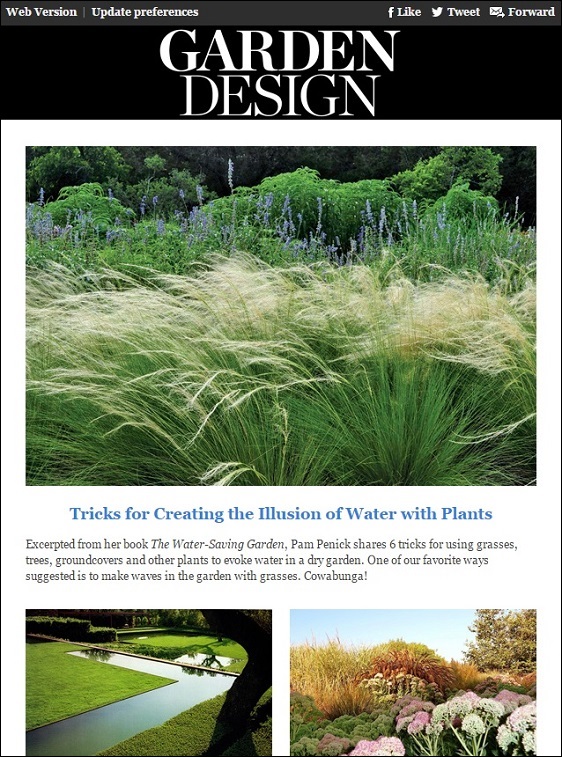 In other book news, Garden Design has published an adapted excerpt from The Water-Saving Garden on its website. "Create the Illusion of Water with Plants" offers 6 fun ways to evoke water in a drought-tolerant garden using plants. "Choosing dry-adapted plants to accomplish this sleight of hand," I wrote, "makes the illusion even more satisfying."
Check it out, and let me know if you plan to try any of these "magic tricks" in your own garden this year.
I welcome your comments! If you're reading this in an email, click here to visit Digging and find the comment link at the end of each post.
_______________________
Digging Deeper: News and Upcoming Events
Enter to win a free copy of The Water-Saving Garden this week at Gardening Gone Wild. If you already have a copy, go for it anyway; if you win, you'll have a gift for a gardening friend!
Do you review? Have you read The Water-Saving Garden? If you found it helpful or inspirational, please consider leaving a review — even just a sentence or two — on Amazon, Goodreads, or other sites. Online reviews are crucial in getting a book noticed. I really appreciate your help!
Come meet me at Zilker Garden Festival, Austin, TX, April 2 & 3
Come see me at Zilker Fest between 10 am and 2 pm, on both Saturday and Sunday, at the Author Booth (near the main building entrance), where I'll be signing and selling my books ($20 each). Zilker Fest offers all-day entertainment, vendor shopping, plant sales, demonstrations, live music, a beer garden and food vendors, children's activities, a garden train, a flower show, and a docent-led tour of lovely Zilker Botanical Garden. Click here for full details.
I'm on Instagram as pamdigging. See you there!
All material © 2006-2016 by Pam Penick for Digging. Unauthorized reproduction prohibited.