March 9th, 2016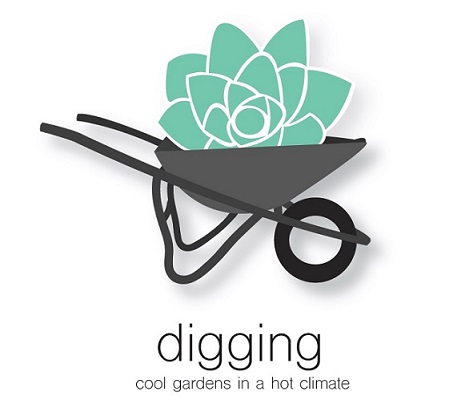 My daughter surprised me with these absolutely charming logos for Digging, which she created for a graphic design project at school. I think she gets me and my blog, don't you? This one's her favorite and mine. She put Moby, my favorite agave, in a wheelbarrow — where I go, he goes.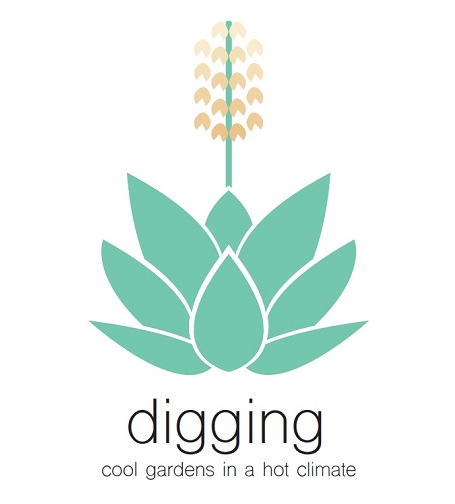 A classic agave-in-bloom is always good, of course!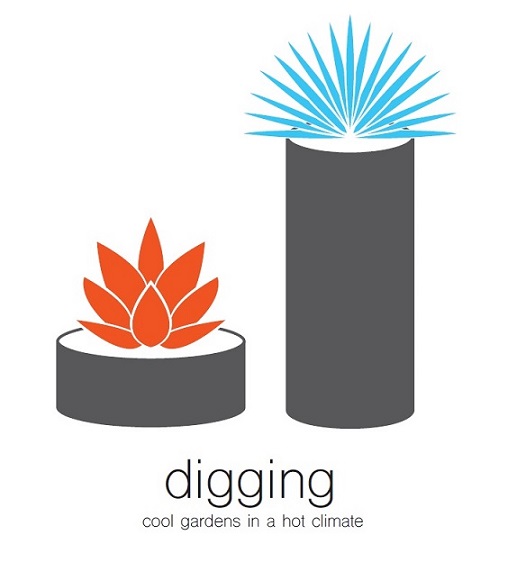 This one, of two plants in cylindrical containers, is my second favorite. Does it look familiar to you?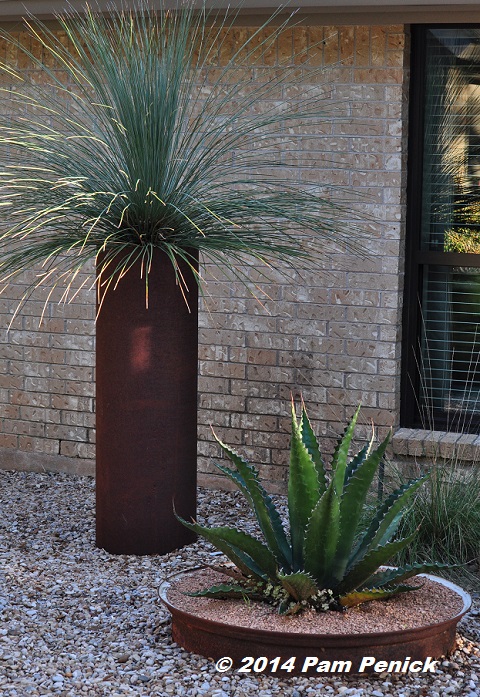 It's a representation of our entry garden! That's my toothless sotol (Dasylirion longissimum) in the tall steel planter and a 'Jaws' agave in the short one. She really captured it, didn't she?
Agaves and other architectural plants lend themselves to graphic illustration, as she was quick to recognize. It would have been a much harder project if I grew only "soft" plants like salvia and other flowering perennials. She can thank me later.
I kid. Actually, Julia, thank YOU for these fun, eye-catching logos! So, does anyone need a young, up-and-coming graphic designer?
I welcome your comments! If you're reading this in an email, click here to visit Digging and find the comment link at the end of each post.
_______________________
Digging Deeper: News and Upcoming Events
Garden Design has published on its website an excerpt from my new book, The Water-Saving Garden. It's titled "Create the Illusion of Water with Plants: How to use grasses, trees, groundcovers and other plants to evoke water in a dry garden." Check it out, and let me know if you try any of these creative design ideas.
Do you review? Have you read The Water-Saving Garden? If you liked it or found it helpful or inspirational, please consider leaving a review — even just a sentence or two — on Amazon, Goodreads, or other sites. Online reviews are crucial in getting a book noticed. I really appreciate your help!
Come meet me at Zilker Garden Festival, Austin, TX, April 2 & 3
Come see me at Zilker Fest between 10 am and 2 pm, on both Saturday and Sunday, at the Author Booth (near the main building entrance), where I'll be signing and selling my books ($20 each). Zilker Fest offers all-day entertainment, vendor shopping, plant sales, demonstrations, live music, a beer garden and food vendors, children's activities, a garden train, a flower show, and a docent-led tour of lovely Zilker Botanical Garden. Click here for full details.
I'm on Instagram as pamdigging. See you there!
All material © 2006-2016 by Pam Penick for Digging. Unauthorized reproduction prohibited.