March 16th, 2016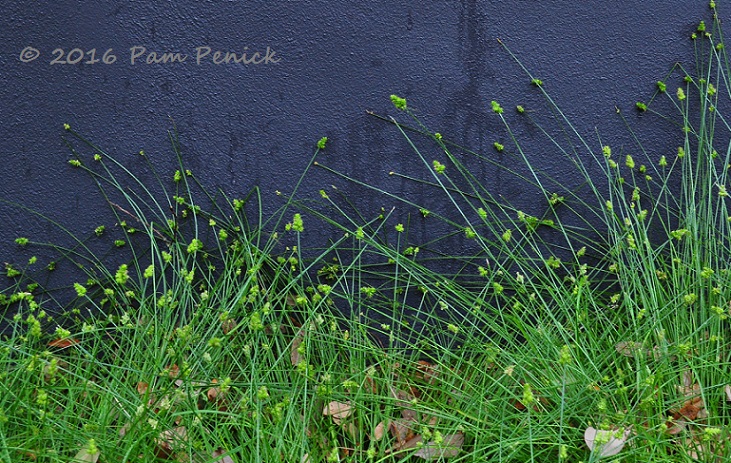 Chartreuse and dark gray make a trendy combo that's as pleasing in the garden as in the home. Evergreen Texas sedge (Carex texensis) practically glows in spring with the addition of nubby seedheads.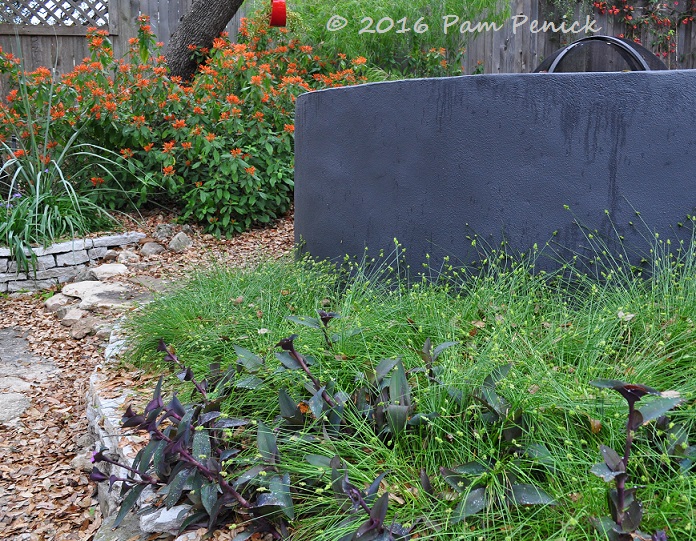 A wider view shows purple heart (Tradescantia pallida) romping through the sedge, with the orange and green of Mexican honeysuckle (Justicia spicigera) in the background. Although the sedge–purple heart combo is an accident — the purple heart resprouted from an earlier removal — it makes a nice color echo of the dark gray wall, as a visitor pointed out to me last fall.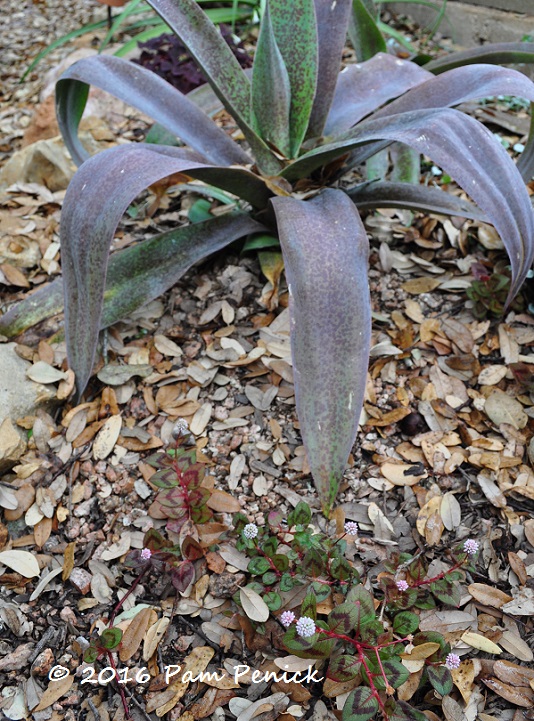 Speaking of purplish gray, 'Macho Mocha' mangave is looking fine. Pink knotweed (Persicaria capitata 'Magic Carpet'), which I randomly planted in this dappled-shade spot a few years ago, makes a good partner for it, with a color echo and contrasting leaf size and form. Unfortunately, the knotweed has never taken off. Perhaps the soil is too dry.
Now that I see the possibilities of small pink flowers and low, narrow leaves to contrast with the muscular, eggplant-colored mangave, I'm wondering if pigeonberry (Rivina humilis) would be a good native substitute. I think I'll try it.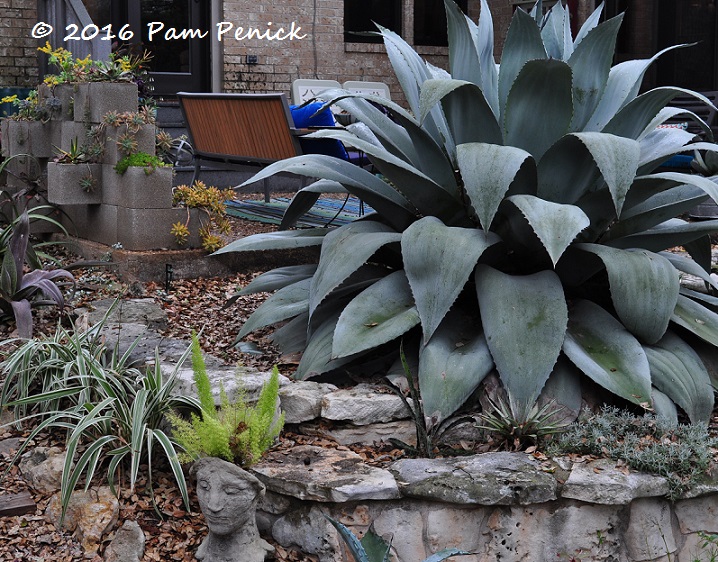 Hulking over the scene (you can see a bit of the mangave at left) is Moby, my whale's tongue agave (A. ovatifolia). I've paired the glaucous agave with other favorite foliage plants that can handle dry soil and dappled shade: variegated flax lily, foxtail fern, 'Chocolate Chips' manfreda, 'Bloodspot' mangave, and santolina.
This is my March post for Foliage Follow-Up. Fellow bloggers, what leafy loveliness is going on in your garden this month? Please join me in giving foliage its due on the day after Bloom Day. Leave a link to your post in a comment below. I'd appreciate it if you'll also link to my post in your own — sharing link love! If you can't post so soon after Bloom Day, no worries. Just leave your link when you get to it. I look forward to seeing your foliage faves.
I welcome your comments! If you're reading this in an email, click here to visit Digging and find the comment link at the end of each post.
_______________________
Digging Deeper: News and Upcoming Events
Come meet me at Zilker Garden Festival, Austin, TX, April 2 & 3
Come see me at Zilker Fest between 10 am and 2 pm, on both Saturday and Sunday, at the Author Booth (near the main building entrance), where I'll be signing and selling my books ($20 each). Zilker Fest offers all-day entertainment, vendor shopping, plant sales, demonstrations, live music, a beer garden and food vendors, children's activities, a garden train, a flower show, and a docent-led tour of lovely Zilker Botanical Garden! Click here for full details.
Look for me on Instagram as pamdigging. See you there!
All material © 2006-2016 by Pam Penick for Digging. Unauthorized reproduction prohibited.