March 8th, 2016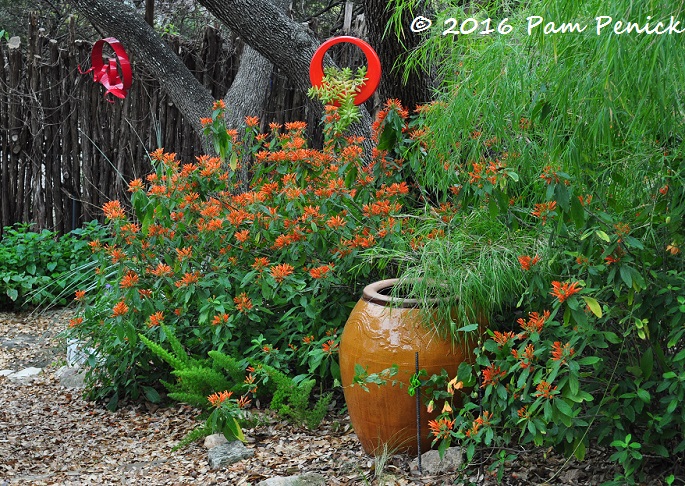 The weather's not yet hot, but the flowers are. I'm embracing orange and reveling in the saturation. Thanks to an unusual, freeze-free winter, the garden has a jump-start on lush growth. Mexican honeysuckle (Justicia spicigera) is smothered in pumpkin-colored blossoms, framed by Mexican weeping bamboo (Otatea acuminata aztecorum), which arches gracefully from the side.

Just waiting for the hummingbirds to arrive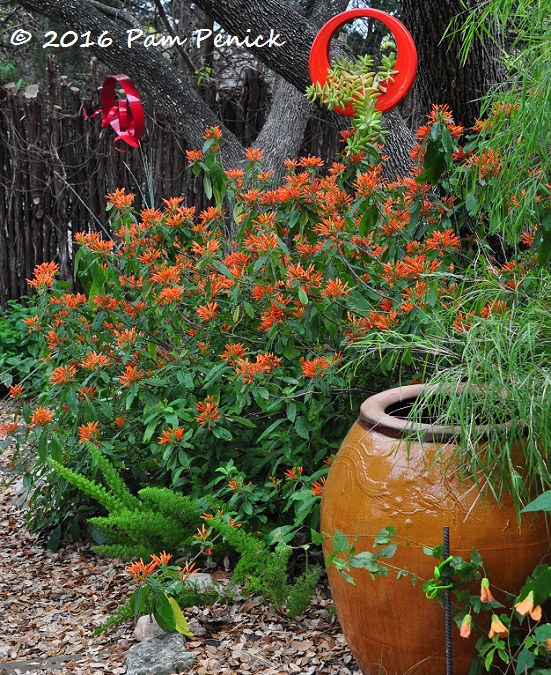 I like to make color echoes with garden art and containers. Just in front of the saffron dragon pot, another color echo is provided by 'Bartley Schwarz' abutilon. I recently staked its spindly stems to lift its bell-shaped flowers out of the mulch.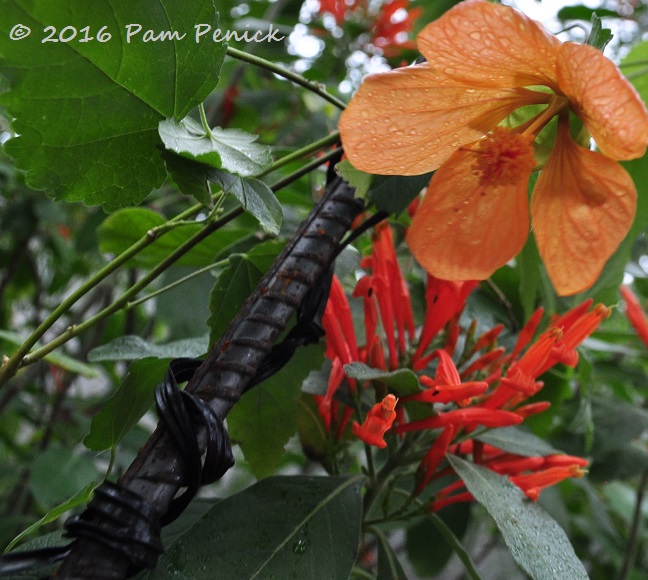 But you still need a bug's-eye perspective to really enjoy those pendant blossoms. An elevated pot would do the trick — imagine those peachy orange flowers cascading over a pot's rim — but I don't believe it would be as dry tolerant as I require my container plants to be. Sorry, Bartley, you'll have to stay where you are.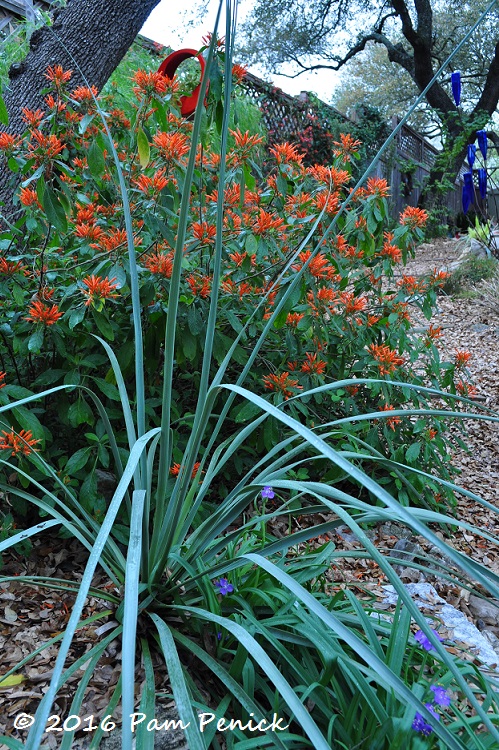 Standing at the bottom of the garden and looking up the path, a blue nolina (Nolina nelsonii) comes into view. I love the powder-blue, strappy leaves against all that hot orange. Self-sown spiderwort (Tradescantia occidentalis) pokes up at the nolina's feet.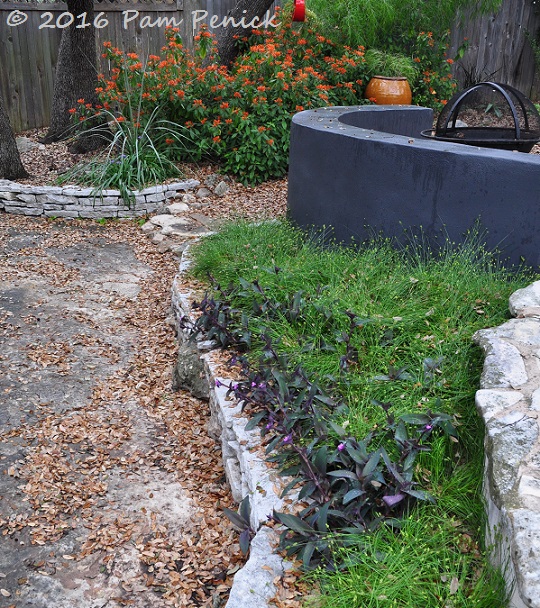 In this longer view, you see the blue nolina at the path's turn, along with the Mexican honeysuckle. In the foreground, Texas sedge (Carex texensis) and purple heart (Tradescantia pallida) make a shade-loving, ground-covering combo.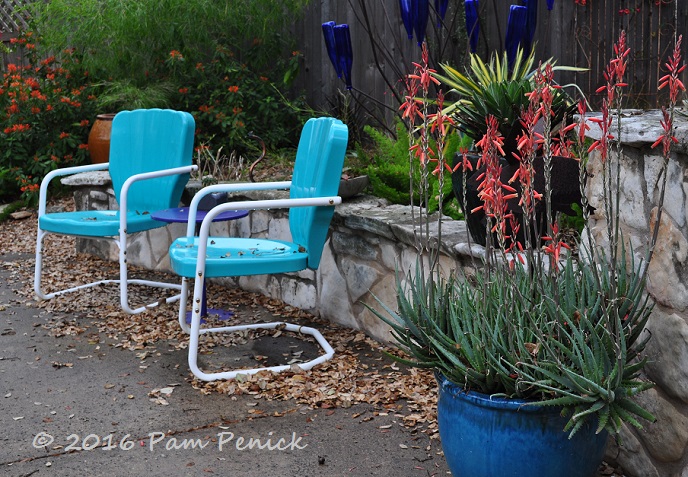 The fallen live oak leaves suggest autumn, but they're a sign of spring in Texas. On the pool patio, 'Blue Elf' aloe hoists pennants of tubular, coral blossoms.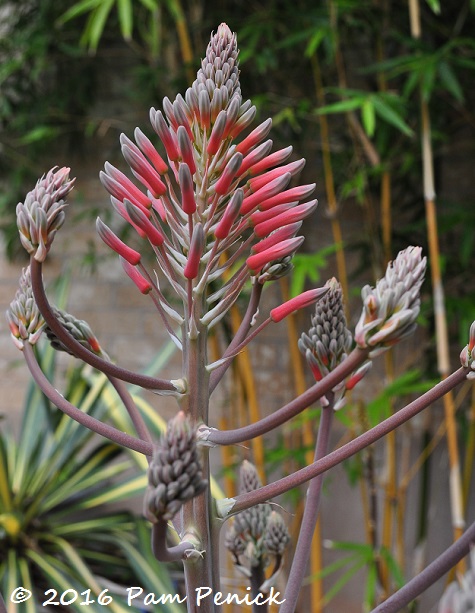 Nearby, soap aloe (Aloe maculata) sends up its own candelabra-shaped bloom spikes.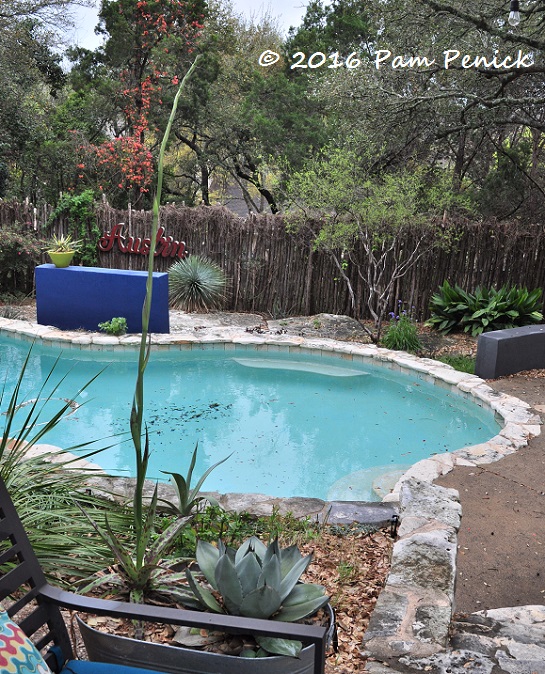 Native Texas tuberose (Manfreda maculosa) is not to be outdone. Its bloom spike is a good 6 feet tall and still growing. Speaking of verticality, notice the 'Tangerine Beauty' crossvine climbing the cedar tree in the background. It's only noticeable in spring, when it's flowering.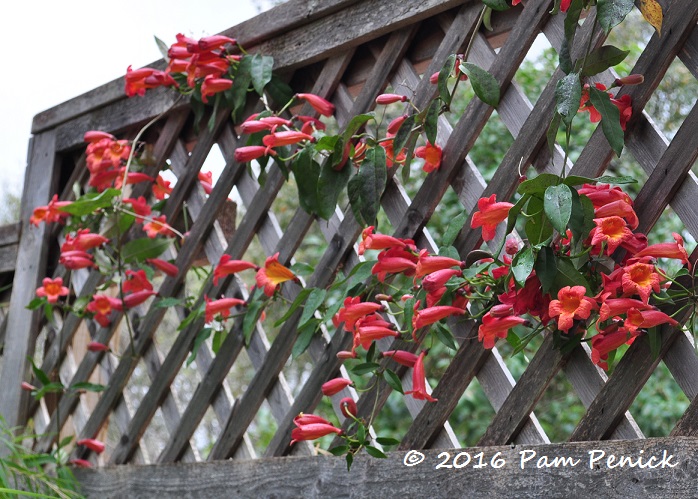 I have another crossvine growing — and under control — on my side fence. I love those big, trumpet-shaped blossoms.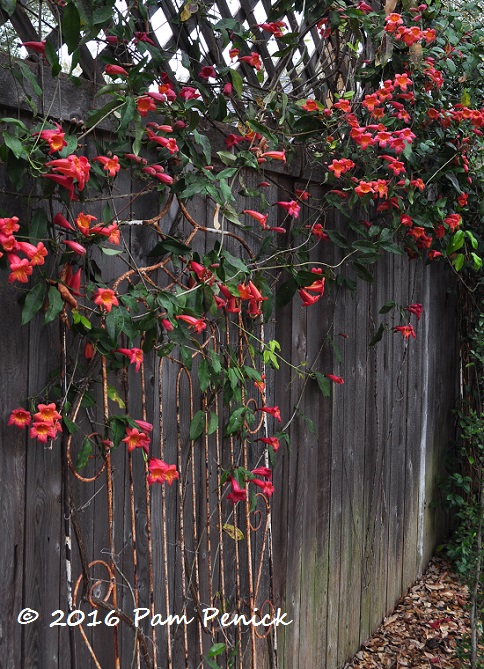 Another view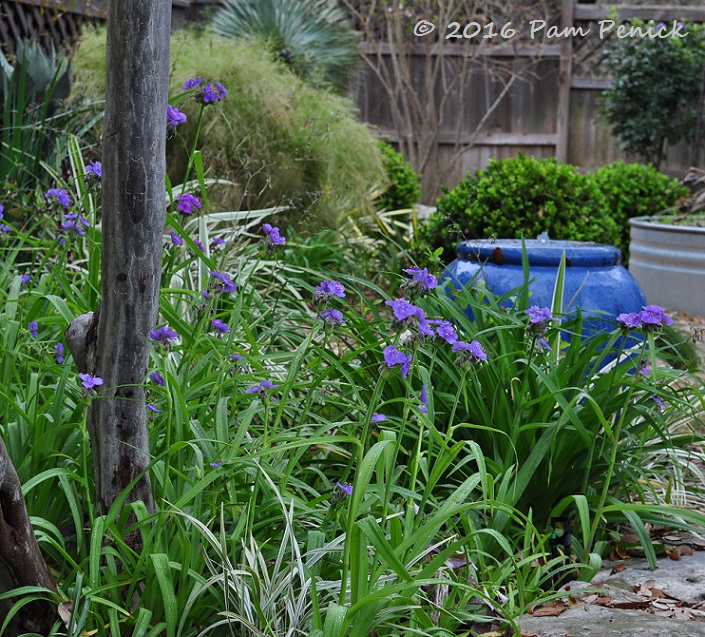 On the cooler side of the color wheel, and the other side of the garden, I'm enjoying native spiderwort mixed with white-striped Aztec grass (Liriope muscari 'Aztec') and variegated flax lily (Dianella tasmanica 'Variegata'). A pot-bellied disappearing fountain provides a color echo, and its form is echoed in turn by the clipped 'Winter Gem' boxwood and spherical Yucca rostrata in the distance.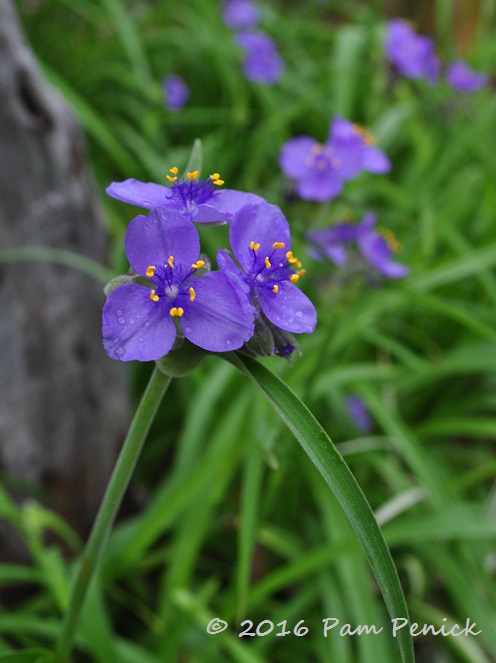 A closeup of the spiderwort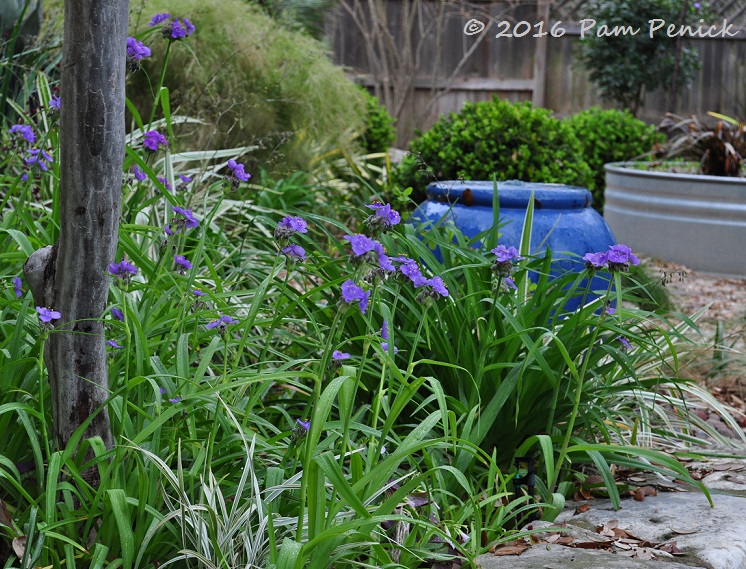 One more look. And now I'm ready for the rain that's forecast this week. It's been very dry. Fingers crossed!
I welcome your comments! If you're reading this in an email, click here to visit Digging and find the comment link at the end of each post.
_______________________
Digging Deeper: News and Upcoming Events
Garden Design has published on its website an excerpt from my new book, The Water-Saving Garden. It's titled "Create the Illusion of Water with Plants: How to use grasses, trees, groundcovers and other plants to evoke water in a dry garden." Check it out, and let me know if you try any of these creative design ideas.
Do you review? Have you read The Water-Saving Garden? If you liked it or found it helpful or inspirational, please consider leaving a review — even just a sentence or two — on Amazon, Goodreads, or other sites. Online reviews are crucial in getting a book noticed. I really appreciate your help!
Come meet me at Zilker Garden Festival, Austin, TX, April 2 & 3
Come see me at Zilker Fest between 10 am and 2 pm, on both Saturday and Sunday, at the Author Booth (near the main building entrance), where I'll be signing and selling my books ($20 each). Zilker Fest offers all-day entertainment, vendor shopping, plant sales, demonstrations, live music, a beer garden and food vendors, children's activities, a garden train, a flower show, and a docent-led tour of lovely Zilker Botanical Garden. Click here for full details.
I'm on Instagram as pamdigging. See you there!
All material © 2006-2016 by Pam Penick for Digging. Unauthorized reproduction prohibited.
posted in
2nd garden--2016
,
Aloes
,
Bamboo
,
Color
,
Containers
,
Fences
,
Flowers
,
Fountains
,
Garden art
,
Grasses
,
Paths
,
Patios & decks
,
Seating
,
Shrubs
,
Spring color
,
Succulents
,
Swimming pools
,
Texas natives
,
Trees
,
Vines
,
Walls
,
Water features
,
Xeric plants