March 5th, 2016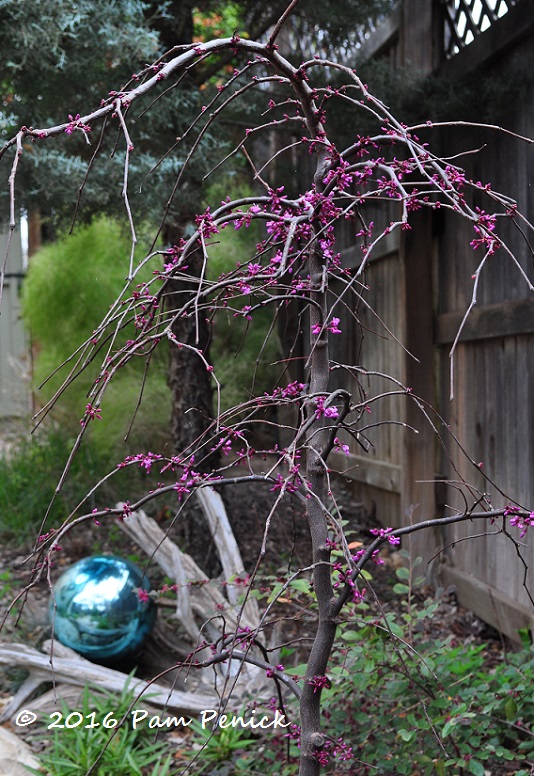 All at once it's here: the insistent flush of spring. After Austin's winter-that-wasn't, spring arrived early this year thanks to above-average temperatures. SXSW attendees may see the unusual sight of Texas mountain laurels blooming alongside Texas bluebonnets, which are beginning to carpet roadsides blue about a month early.
This is my first spring to enjoy the tightly held raspberry blossoms on my new weeping redbud (Cercis canadensis var. texensis 'Traveller'). I wish the above image was my usual view of it, framed by the frosty blue foliage of 'Blue Ice' Arizona cypress and a chartreuse bamboo muhly grass. But no. It's the view if I gingerly step through a garden bed, crouch among autumn sage, and risk a butt-poke from a testy Yucca rostrata.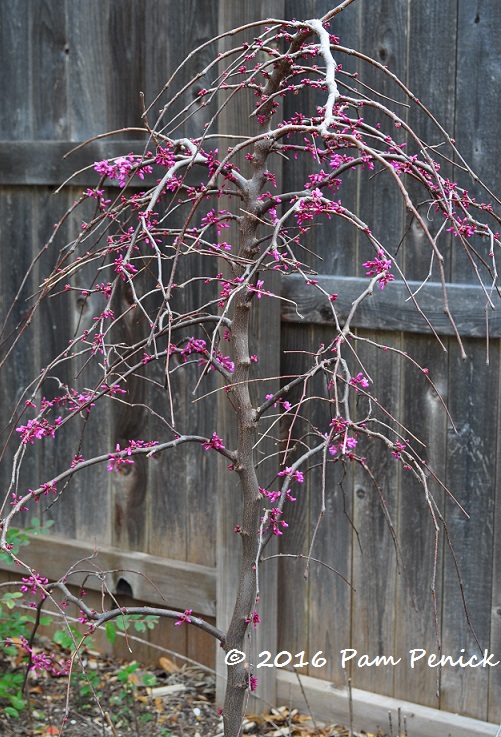 Reality bites. Here's my ordinary view of this lovely tree, framed by nothing more exciting than a faded board fence. I've considered placing a colored screen of some sort behind the redbud to show off its form and flowers, but I hate to clutter. Still thinking…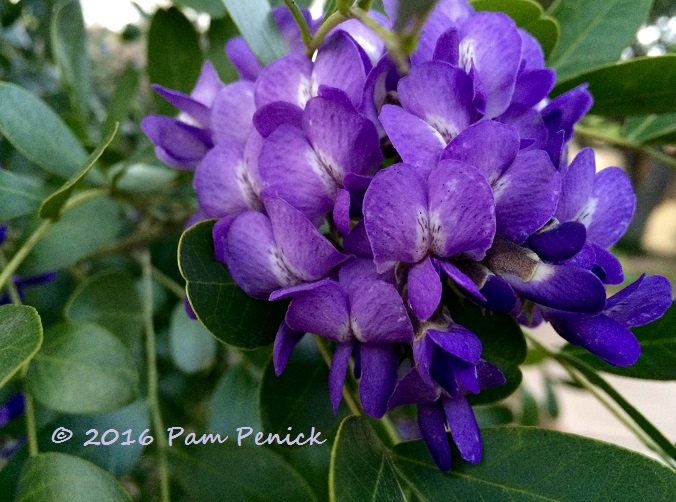 Ahh, taking a whiff of the aforementioned Texas mountain laurel (Sophora secundiflora) is a return to childhood on a hot summer day, when you come inside to guzzle a glass of grape Kool-Aid.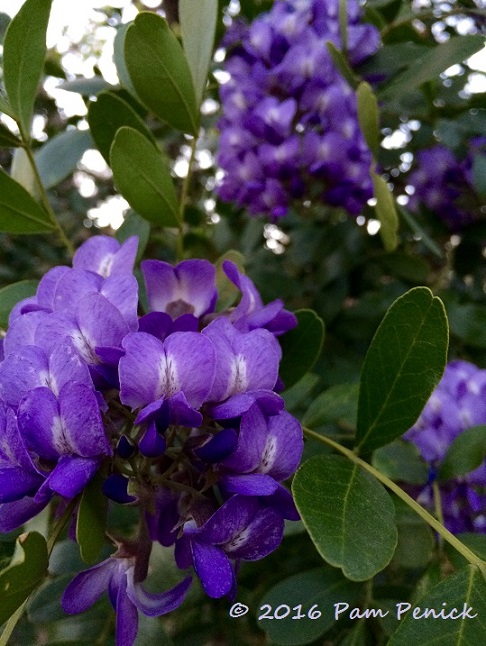 I can't resist smelling their gorgeous, cascading blossoms every time I pass one on a walk.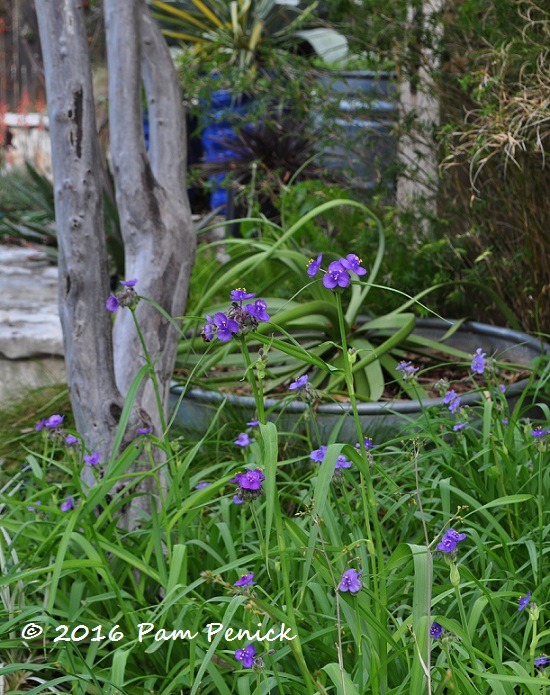 Native spiderwort (Tradescantia occidentalis) adds more purple to my garden, and delights the bees as well.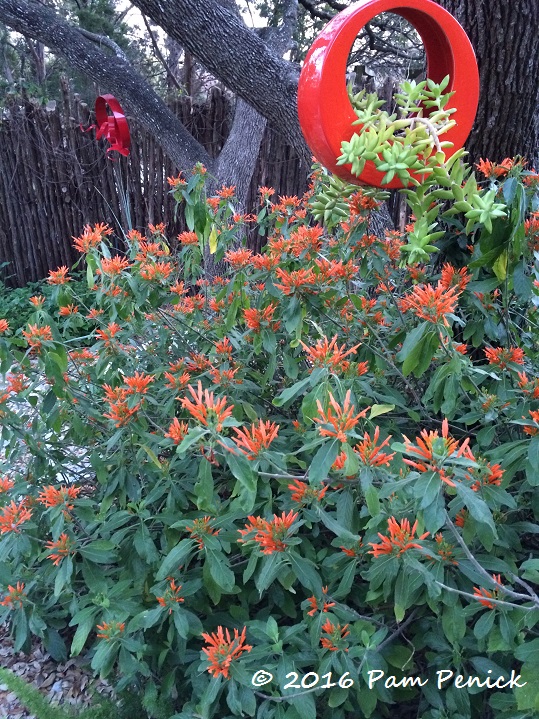 Spring in Austin is not all sweet pastels, however. Orange makes a big appearance, which I don't mind at all. Here's Mexican honeysuckle (Justicia spicigera) in full bloom in the dappled shade of live oaks. Now that winter is definitely over (such as it was), I've rehung my Circle Pot from Potted from a tree to provide a sizzling color echo. In the background is another piece of garden art — a spiraling metal "ribbon" from Joshua's Native Plants in Houston.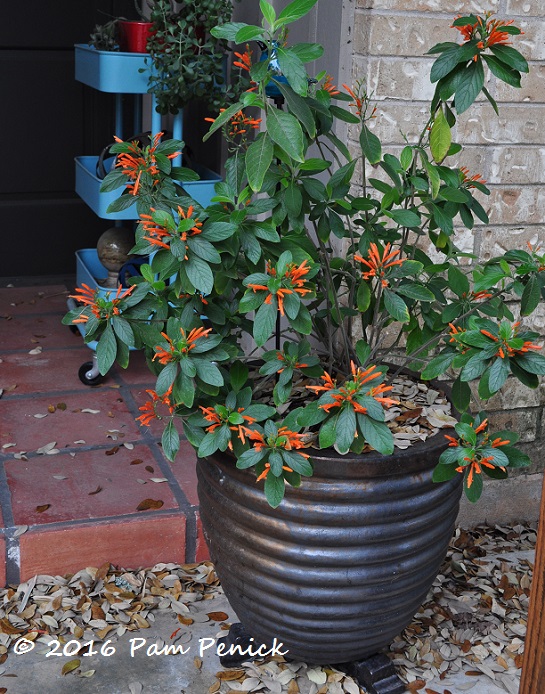 I potted up a Mexican honeysuckle on my shady front porch last fall, right before the garden tour, and it's blooming too. I like that pop of orange against my turquoise door and rolling plant cart.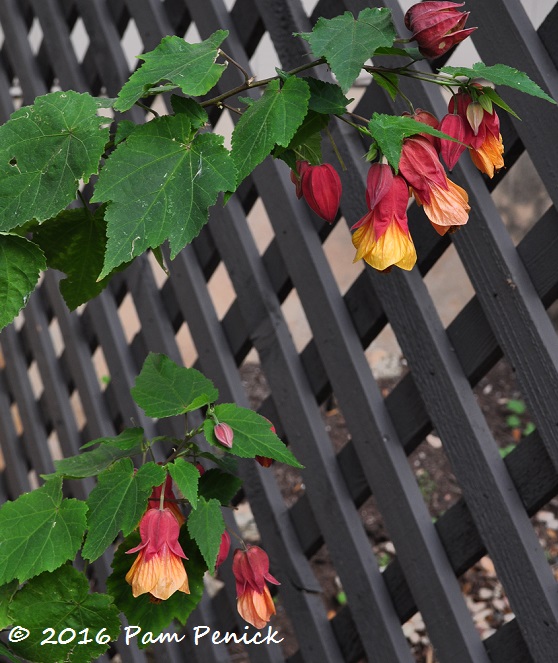 More orange! 'Marilyn's Choice' abutilon dangles its two-toned, pendant flowers like old-fashioned earrings.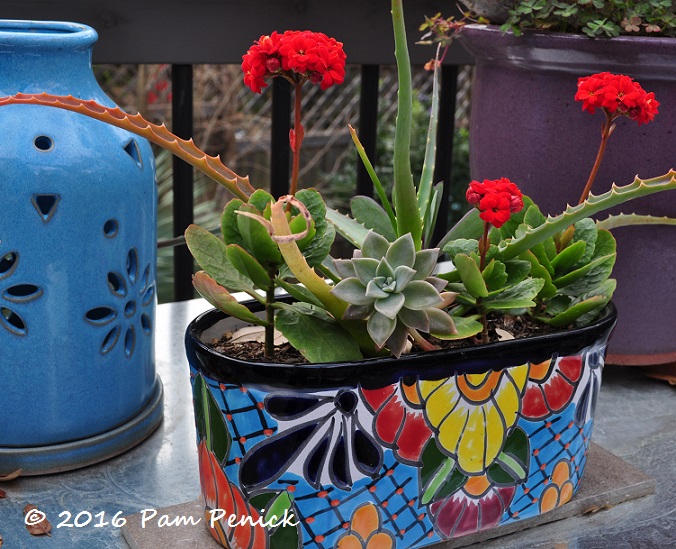 Up on the deck — at least until the Death Star returns to full strength and I have to give it some shade — I'm enjoying a colorful succulent dish given to me by Lucinda Hutson. I don't know what The red-flowering plant is a kalanchoe, with an aloe and ghost plant in the middle.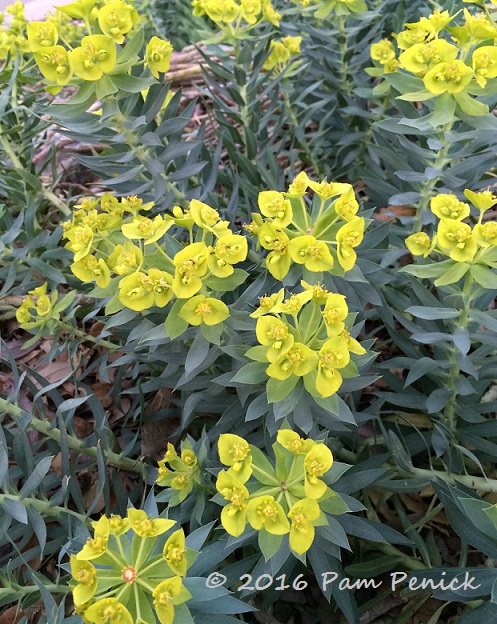 Out front, gopher plant (Euphorbia rigida) has exploded in a blaze of chartreuse-yellow.
Amid all the springtime loveliness, my garden is also being buried alive in leathery, brown live oak leaves. Alas, this is the time of year when live oaks drop last year's leaves and put out new ones, all in the space of about two weeks. It makes an unholy mess that significantly diminishes the beauty of my springtime garden, but I just lean in for the close-up views and try to ignore the rest. Soon the leaves will be followed by pile-rugs of powdery live oak pollen, but that's another story!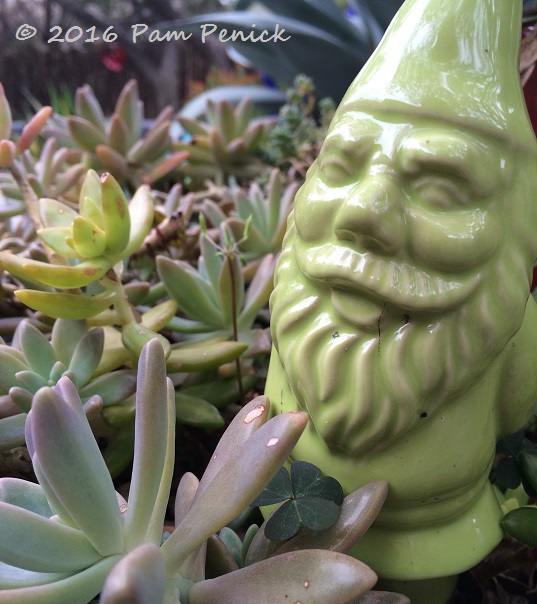 Remember: My virtual book-release and giveaway party runs through this Sunday, March 6th. Six blogging friends and I are offering 7 great giveaways related to saving water in the garden. If you haven't already entered, please pop over to my giveaway post to enter (all you have to do is leave a comment there) and find the links to the other participating blogs. Don't miss out on your chances to win!
Also, Digging is nominated for the 2016 Better Homes and Gardens Blogger Awards in the Garden category. I'd love to have your vote! Click here to vote (refresh the page if necessary; it seems a little glitchy, so you might try again later if you have trouble), and select "Skip This Category" to get to the garden blog nominees. You're allowed to vote once per day through this Monday, 3/7. Thanks for your support!
I welcome your comments! If you're reading this in an email, click here to visit Digging and find the comment link at the end of each post.
_______________________
Digging Deeper: News and Upcoming Events
Come meet me at Zilker Garden Festival, Austin, TX, April 2 & 3
Come see me at Zilker Fest between 10 am and 2 pm, on both Saturday and Sunday, at the Author Booth (near the main building entrance), where I'll be signing and selling my books ($20 each). Zilker Fest offers all-day entertainment, vendor shopping, plant sales, demonstrations, live music, a beer garden and food vendors, children's activities, a garden train, a flower show, and a docent-led tour of lovely Zilker Botanical Garden! Click here for full details.
Look for me on Instagram as pamdigging. See you there!
All material © 2006-2016 by Pam Penick for Digging. Unauthorized reproduction prohibited.
posted in
2nd garden--2016
,
Aloes
,
Containers
,
Decor
,
Garden art
,
Porch
,
Spring color
,
Succulents
,
Texas natives
,
Trees
,
Xeric plants