March 3rd, 2016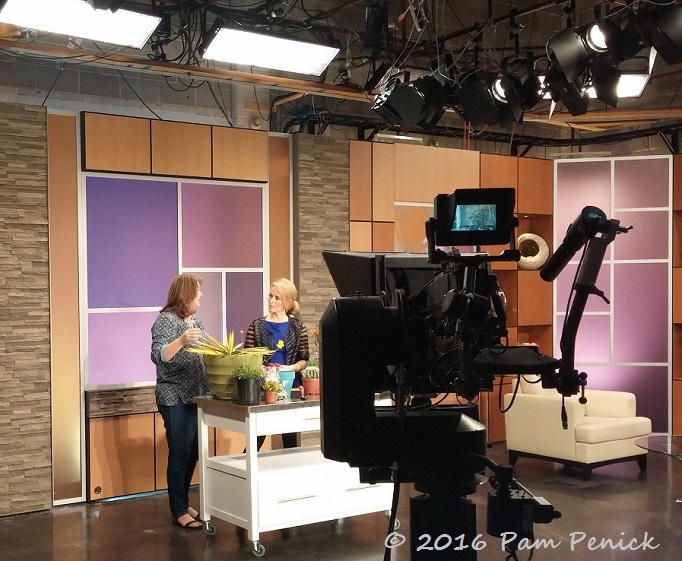 This may be stating the obvious, but to write a book you have to be able to sit in a quiet room for hours a day, for months and months, and be alone with your thoughts, and write. Words may flow like honey, or they may ooze, drip by painful drip, like wringing blood from a stone (me!). But being comfortable with sitting in a quiet room for the better part of a year is an essential part of the process.
How weird it is, then, once that book is written, to switch into publicity mode in order to sell your book. Suddenly you're standing in front of a crowd of people or television cameras, or you're giving interviews by phone. This may be stating the obvious, but it's an entirely different experience than sitting in a quiet room with your own thoughts. You have to be comfortable in the spotlight, talking about yourself and your ideas, and generally putting yourself out there. That's the mode I'm in right now, and for this introvert it feels like riding a roller coaster: equal parts scary and exhilarating, with giddy relief afterward that all went well and I didn't die.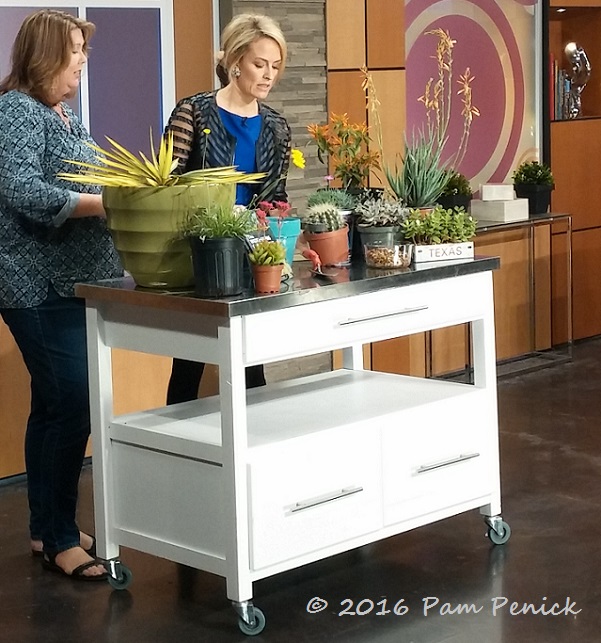 Within the past week and a half, I've given a public talk and two newspaper interviews, called in to John Dromgoole's radio show, and taped an appearance on KXAN's Studio 512 with host Amanda Tatom. My son, who went with me to KXAN to help haul plants and my other props, took these photos during my Studio 512 taping about making water-saving container gardens.
What a learning experience! First, huge thanks to Barton Springs Nursery for letting me borrow plants for the taping. My goal was to show that you can have a beautiful container garden that doesn't need watering every day during the hot Texas summer. In my own containers, I rely on succulents, yuccas, agaves, tough ornamental grasses, and native plants in deep pots, and that's what I brought on set. To punch up the color, I added bright pots and blooming plants like 'Blue Elf' aloe, Mexican honeysuckle, and four-nerve daisy and plants with bright foliage, like 'Color Guard' yucca. Oh, and my cute Texas license-plate planter that I found at Potted in Los Angeles, of all places.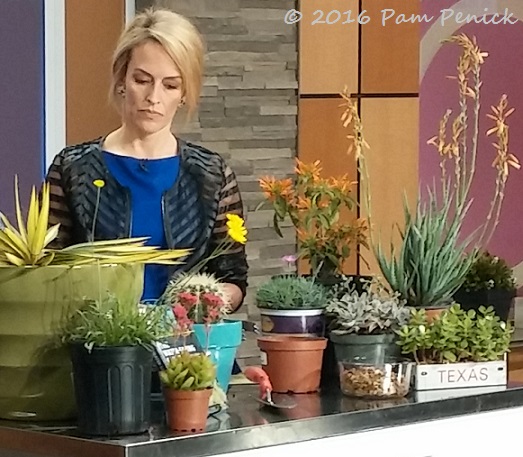 Amanda is a pro at putting guests at ease, and she made it all seem easy with a genuine interest in each guest's topic. She likes to have hands-on demonstrations to engage viewers, so we did a quick cactus-potting demo, using BBQ tongs to carefully maneuver a prickly golden barrel cactus into a new pot. That made for a funny moment, as Amanda joked about using the tongs to flip your steak on the grill after potting your cactus. You can watch my segment here, if you're interested.
Before the taping I referenced two posts by fellow garden bloggers who regularly appear on TV. Props to my friend Noelle Johnson of AZ Plant Lady, a Phoenix designer and garden coach who has shared helpful behind-the-scenes details about taping gardening segments, and to author and Garden Ranter Amy Stewart, who's written about what to wear — and what not to wear — on TV.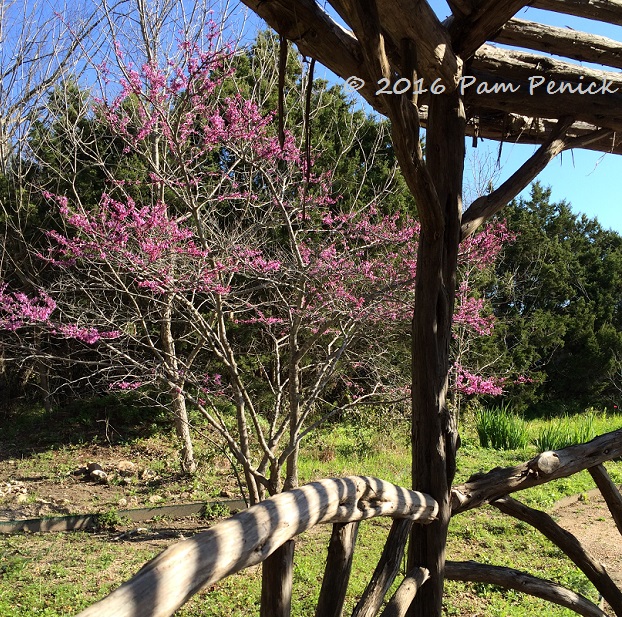 A few days later I gave a talk at The Natural Gardener, a wonderful nursery in southwest Austin, about making a water-saving garden. My friend Shelley went with me to help me set up and sell my books afterward, and we got there an hour early to get prepared. With a little extra time to spare, I sat in the cedar gazebo by the labyrinth to gather my thoughts — and took this photo of a Texas redbud in full bloom.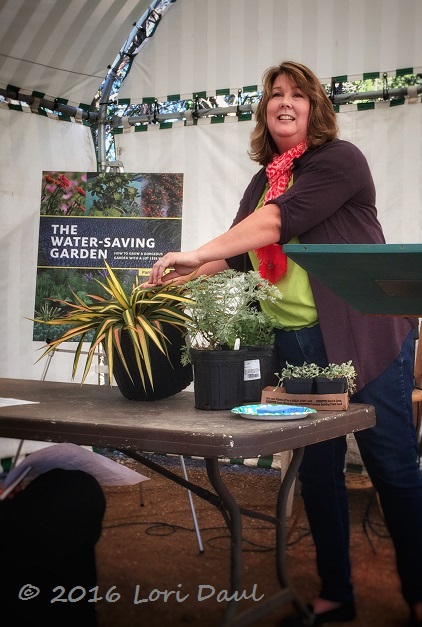 It's been a couple of years since I gave a public talk, and I'm always nervous beforehand (a feeling Central Texas Gardener host Tom Spencer once wisely advised me to embrace to stay sharp). But it's also heartening to see a full house — 90 people, standing room only — gathered to hear what you can share with them. Several of my garden blogging friends were there too, which was so great to see. Lori of The Gardener of Good and Evil took this photo during my talk and kindly shared it with me.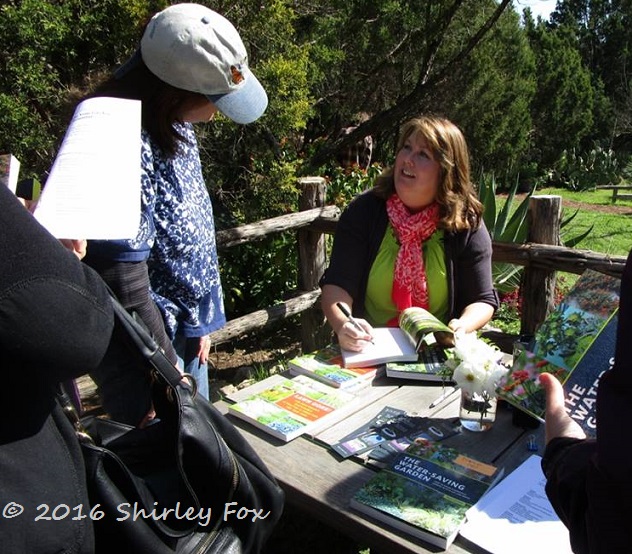 And Shirley of Rock-Oak-Deer shared this photo from my book signing after the talk.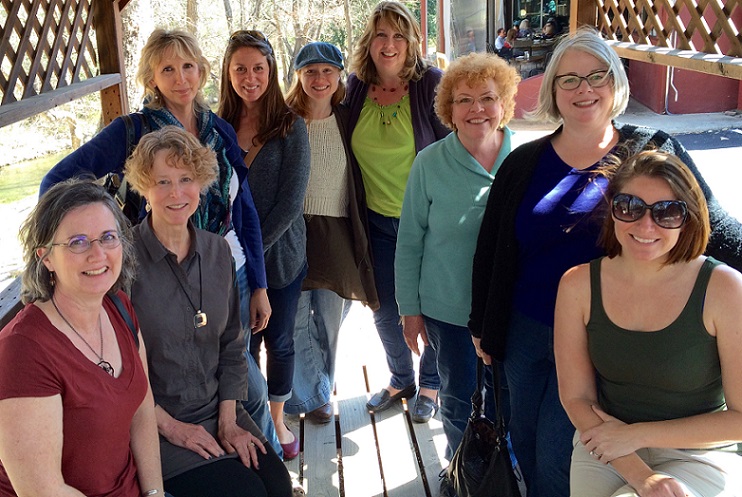 After the book signing, several friends joined me for a celebratory lunch at nearby Jack Allen's Kitchen, which was great fun. From left to right: my friend Shelley, Shirley of Rock-Oak-Deer, Rebecca of Rebecca's Retreat, Cat of The Whimsical Gardener, Lori of The Gardener of Good and Evil, me, Cheryl of Gardening Volunteers of South Texas, Caroline of The Shovel-Ready Garden, and gardening friend Theresa. Shout-out to two other garden blogging friends who came to my talk, Vicki of Playin' Outside and Bob of Central Texas Gardening. Thanks for your support, friends! (If I missed anyone, I apologize and please let me know.)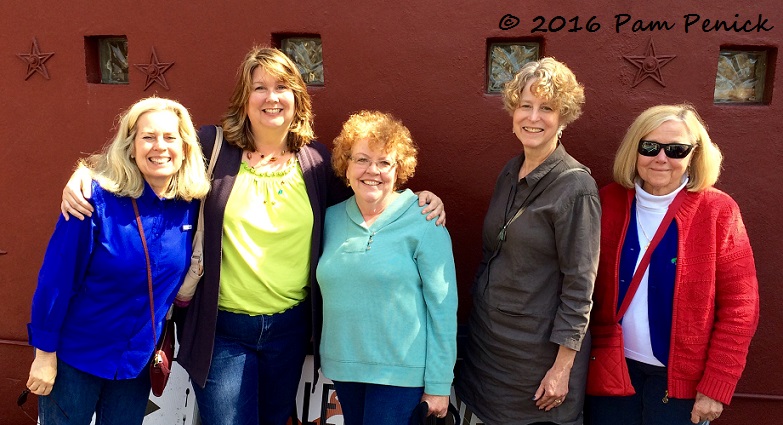 I was really honored that this fun bunch of women drove all the way up from San Antonio for my talk: Melody, whose garden I visited in 2014; Cheryl and Shirley (again); and Jeanette of Gardening Volunteers of South Texas.
Thanks to everyone for coming to my talk at The Natural Gardener, especially YOU, dear reader, if you were there too!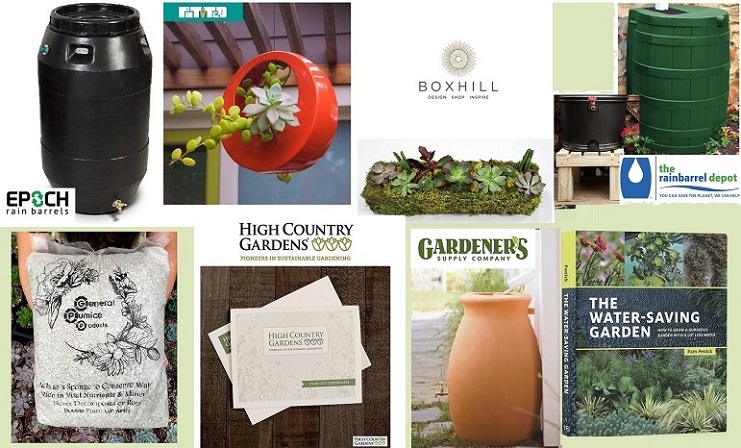 Speaking of book promotions, my virtual book-release and giveaway party kicked off on Monday and runs through this Sunday, March 6th. Six blogging friends and I are offering 7 great giveaways related to saving water in the garden. Huge thanks to the excellent businesses who partnered with me on this and donated the giveaway items: Potted, The Rain Barrel Depot, Gardener's Supply Co., Epoch Rain Barrels, High Country Gardens, General Pumice Products, and Boxhill.
Visit each blog listed below and leave a comment on the giveaway post to be entered:
Rock-Oak-Deer
North Coast Gardening
Gossip in the Garden
Red Dirt Ramblings
Danger Garden
Clay and Limestone
Digging
These bloggers — from Tennessee to Oregon, and from California to Oklahoma and Texas — all focus on sustainable gardening, water-thrifty plants, and/or gardening with less water, so you'll want to follow their blogs if you don't already.
I welcome your comments! If you're reading this in an email, click here to visit Digging and find the comment link at the end of each post.
_______________________
Digging Deeper: News and Upcoming Events
Do you dig Digging? Please vote! Digging is nominated for the 2016 Better Homes and Gardens Blogger Awards in the Garden category. Click here to vote (refresh the page if necessary), and select "Skip This Category" to get to the garden blog nominees. You're allowed to vote once per day through 3/7. Thanks for your support!
Look for me on Instagram as pamdigging. See you there!
All material © 2006-2016 by Pam Penick for Digging. Unauthorized reproduction prohibited.