November 7th, 2007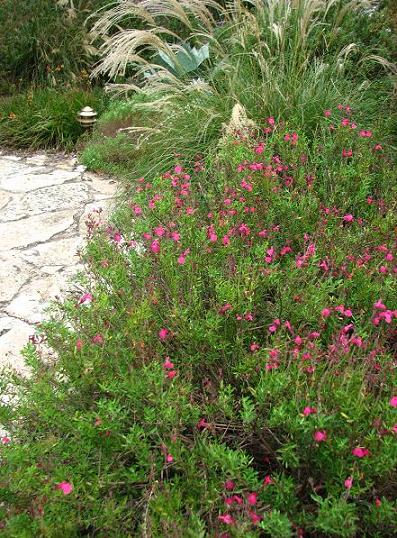 In the past month, three different visitors to my garden have commented on its fragrance as they walk through the front gate. "It's just the Salvia greggii ," I say, taking for granted the clean, minty scent of this shrubby native that I've planted on either side of my entry.
But yesterday I was out pulling weeds under the salvia, my arms buried in its lower branches, my nose in the fresh leaves and pink flowers on top, and—WOW!—the delicious fragrance bowled me over. Afterward, driving around town on errands, I could still smell it.
So here's my question: why do so many people (myself included) take Autumn sage for granted? Or brush it off as too common? Or plant it but let it straggle along in an unkempt state and then grow to hate it? I'm here to sing the praises of Salvia greggii :
1. It's nearly evergreen in Austin's mild climate. It may thin out a bit in winter, but that's the perfect time to give it a hard pruning in preparation for spring.
2. It blooms off and on year-round, not just in autumn. The best show is in spring and fall, but mine blooms in summer and winter too.
3. It stays compact, so if you plant it along your foundation it won't try to eat your house.
4. Hummingbirds and sphinx moths love it.
5. It smells wonderful when you brush against it, so plant it near paths or at entries where people will touch it.
6. It doesn't require dividing, rarely seeds out, and only requires a hard trim a few times a year to keep it looking fresh. The most common mistake I see in the upkeep of Autumn sage is neglecting to trim it. Over time, the pliable, green branches become woody, and the plant becomes a sere version of its former self. To keep this from happening, you must prune it hard a few times a year (more below).
7. There are a number of different flower colors to choose from, although the two most popular in Austin are bright pink and red. Those seem to be the hardiest too.
8. This is a tough, drought-tolerant plant. Give it full or mostly sun and well-drained soil, and it'll thrive. But if you want it to look its best, don't starve it of water. While Autumn sage can survive periods of drought, it isn't going to look its best while doing so. Just give it a good drink every 10 to 14 days in summer if you haven't had rain, the same as most tough garden plants, and it'll keep its good looks.
9. The fragrance that pleases the gardener may also repel deer. And this salvia is largely disease and pest resistant.
Upkeep is easy and fragrant work. Prune Salvia greggii back hard in late winter, early summer, and late summer—even if it's still blooming. I cut mine back with hedge shears by 1/3 to 1/2 in mid-February (late winter in Austin), early to mid-May, and late August. The stubby, little mounds will put out new, green growth immediately, followed by new blooms. In between those hard cuts, whenever the blooms seem a little tired, I give them a light trim—just the top couple of inches—to refresh them.
It's that easy.
Note: My Plant This posts are written primarily for gardeners in central Texas. The plants I recommend are ones I've grown myself and have direct experience with. I wish I could provide more information about how these plants might perform in other parts of the country, but gardening knowledge is local. Consider checking your local online gardening forums to see if a particular plant might work in your region.
All material © 2006-2013 by Pam Penick for Digging. Unauthorized reproduction prohibited.