February 26th, 2016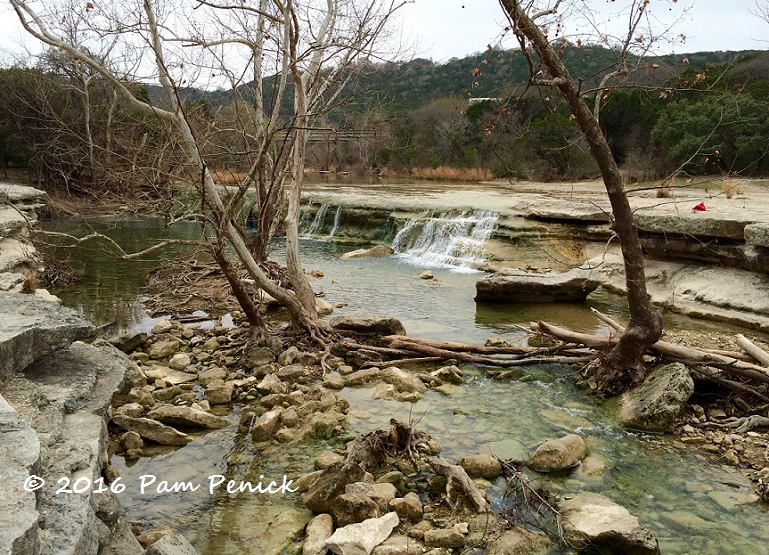 Spring is springing all over Austin this week, with redbuds and Texas mountain laurels in pink and purple bloom. But last weekend things still looked a bit drab and wintry at Bull Creek west of N. Capital of Texas Highway, even though it was comfortably shorts weather.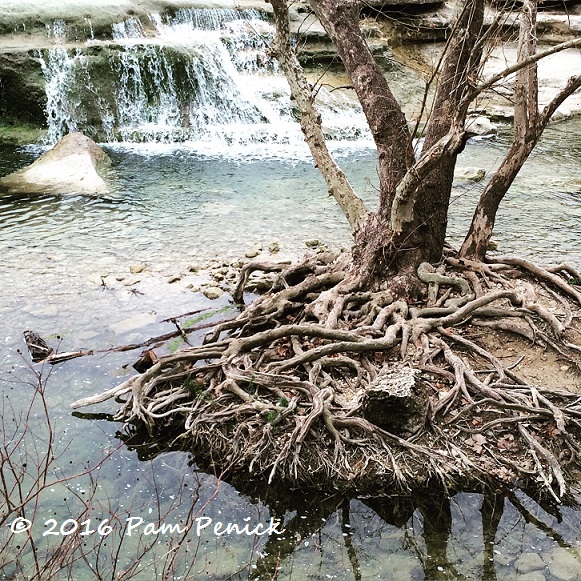 The water flow was low compared to past cool-season visits, thanks to the winter drought we've had. On the plus side, low water shows off these romantically tangled sycamore roots. It rained a couple of days after my visit, and I bet the waterfall is roaring again.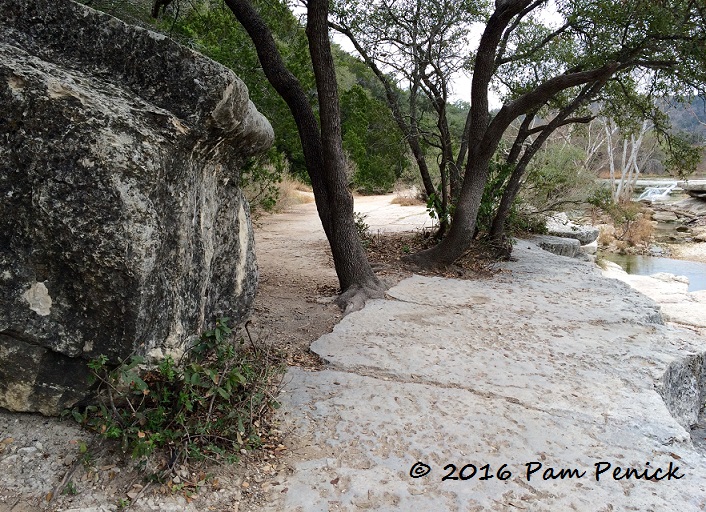 Broad ledges of limestone run along the north side of the creek, making a natural path.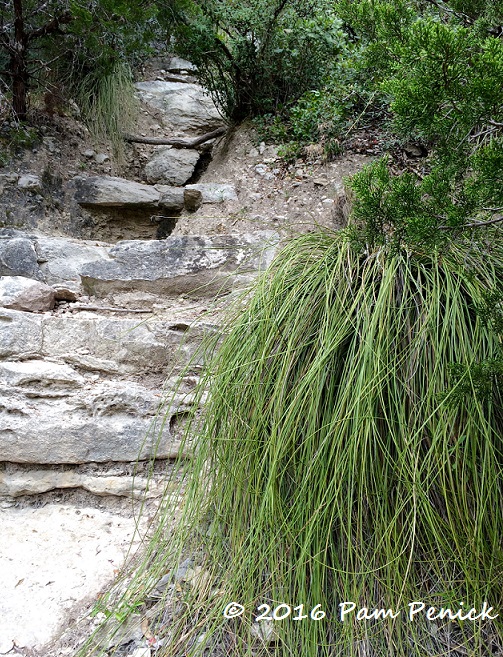 Texas nolina cascades like a green waterfall from its perch amid eroded limestone slabs.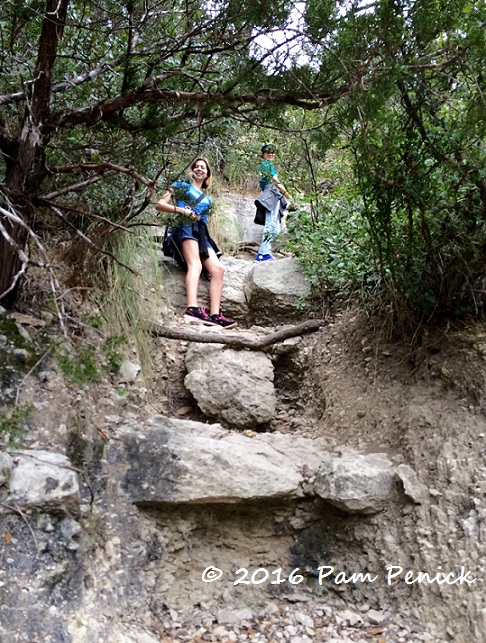 My daughter and her friend scampered up the stony cliff like mountain goats to take in the view.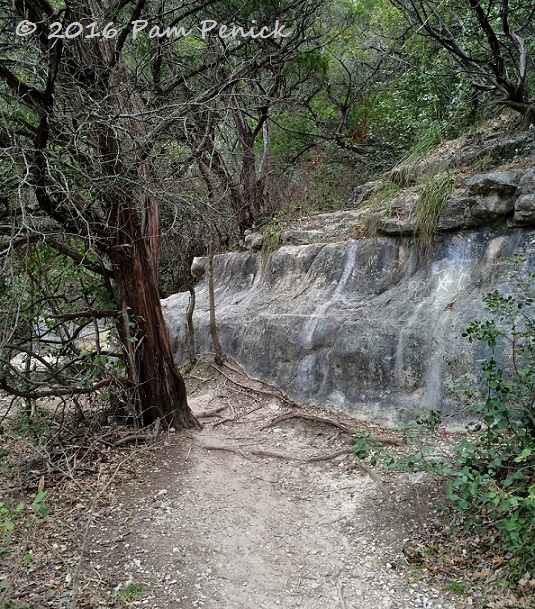 It's funny how even the rock resembles a watery flow.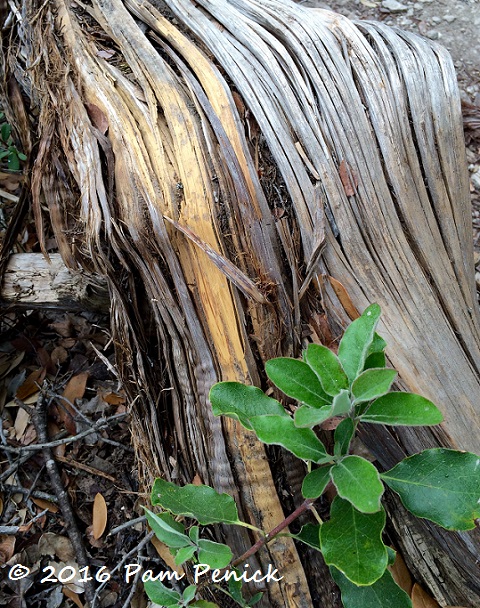 This striated juniper trunk too.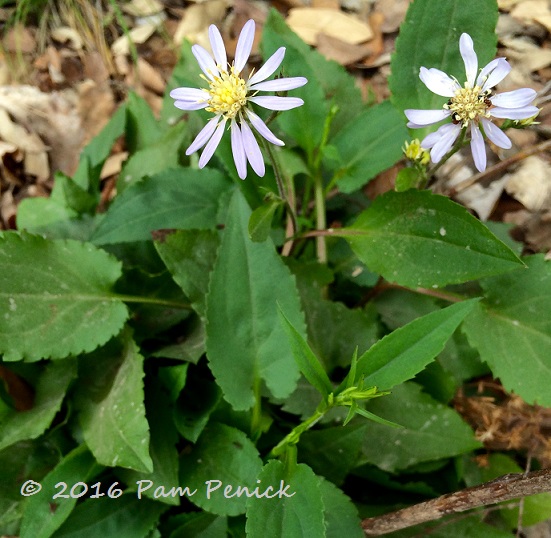 I spotted this little aster in bloom, waiting patiently for rain. I bet it was happy to get a nice soaking a few days later.
And that's likely the end of any wintry scenes on this blog until next December!
I welcome your comments! If you're reading this in an email, click here to visit Digging and find the comment link at the bottom of each post.
_______________________
Digging Deeper: News and Upcoming Events
Do you dig Digging? Please vote! Digging is nominated for the 2016 Better Homes and Gardens Blogger Awards in the Garden category. Click here to vote (refresh the page if necessary), and select "Skip This Category" to get to the garden blog nominees. You're allowed to vote once per day through 3/7. Thanks for your support!
Join me for my kick-off garden talk this Saturday, February 27, at 10 am, at The Natural Gardener nursery in southwest Austin. My talk is called "Hold the Hose! How to Make Your Garden Water Thrifty and Beautiful," and it's free to the public. Afterward I'll have signed copies of my new book, The Water-Saving Garden, available for purchase ($20 each, includes tax) and will be glad to autograph one for you! Dress for the weather, as the talk will be held in the big tent outside.
Look for me on Instagram as pamdigging. See you there!
All material © 2006-2016 by Pam Penick for Digging. Unauthorized reproduction prohibited.