February 22nd, 2016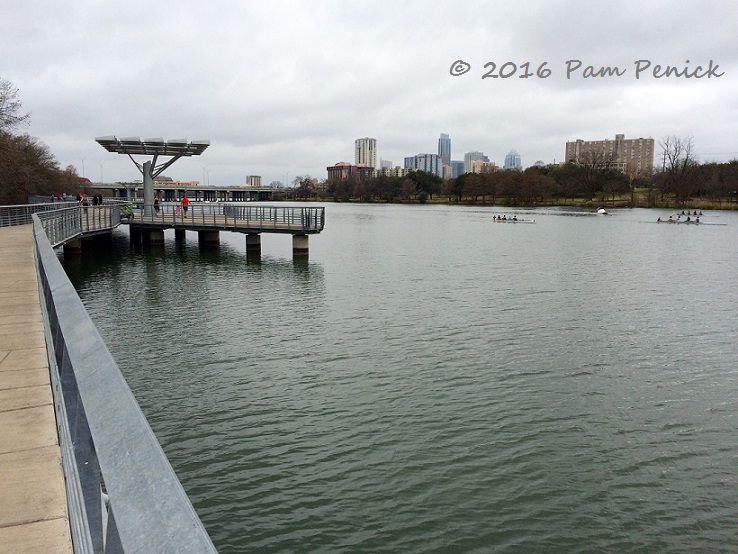 I've walked the hike-and-bike trail around Lady Bird Lake in downtown Austin many times. But on Saturday, for the first time, I walked the relatively new boardwalk portion of the trail (completed in 2014), which starts east of the Congress Avenue Bridge and ends at International Shores Park on South Lakeshore Boulevard, just east of I-35.
My daughter joined me, and we only intended to explore a little way. But the morning was as soft as a cloud, and the temperature pleasantly cool, so we kept going all the way to the 1st Street Bridge. Along the way we stopped to watch herons, turtles, and ducks galore, as well as rowing crews skimming across the water.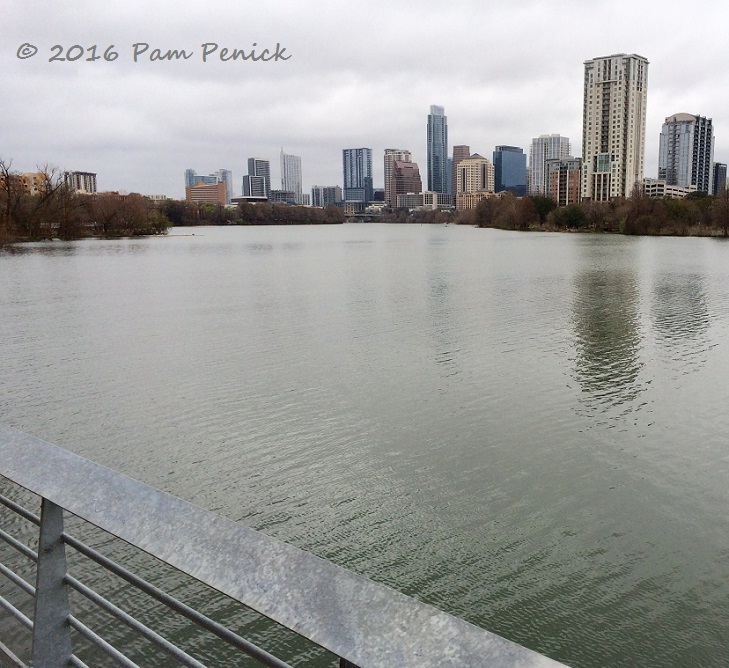 It was a beautiful day, and I enjoyed the relative quiet of this end of the trail, as well as the new perspective on downtown Austin.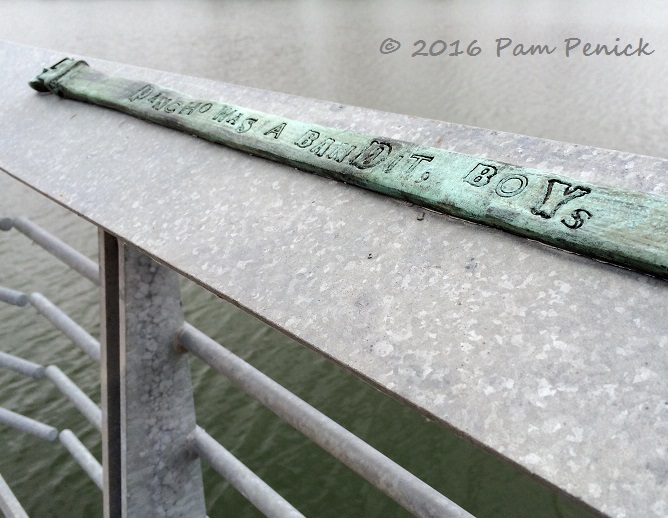 All along the boardwalk, lifelike sculptures of tooled leather, western-style belts are attached to the steel handrails, each engraved with a lyric from a country song. I got caught up in discovering each one and trying to remember how each song goes and who sang it. As I later learned, there are 36 cast-bronze belts, which make up a public art project commissioned by the City of Austin called Belting It Out. Artist Ken Little created them, using lyrics from songs by well-known Texas singers and songwriters.
Here are my favorites I spotted along the way, starting with (of course) a Willie Nelson hit. Pictured above: Pancho was a bandit, boys, from "Pancho and Lefty" by Townes Van Zandt. Willie Nelson and Merle Haggard made it a hit.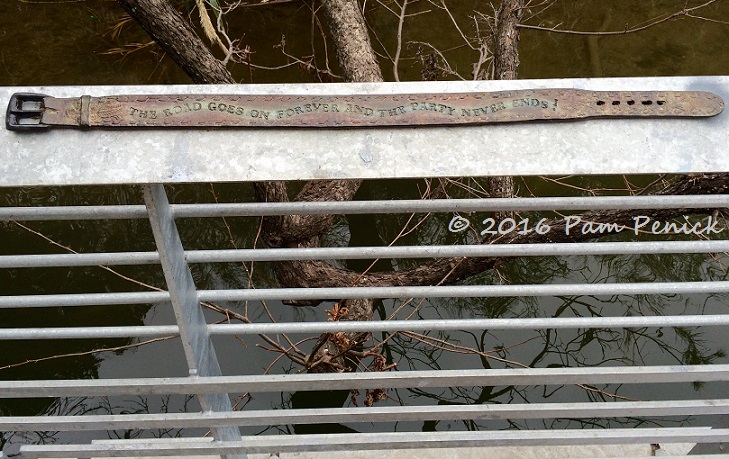 The road goes on forever and the party never ends, from "The Road Goes on Forever," Robert Earl Keen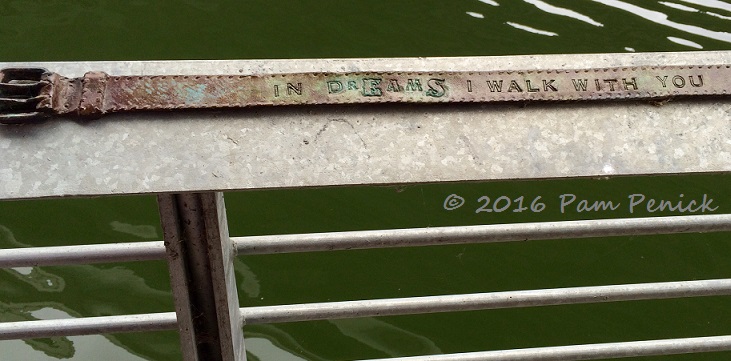 In dreams I walk with you, from "In Dreams," Roy Orbison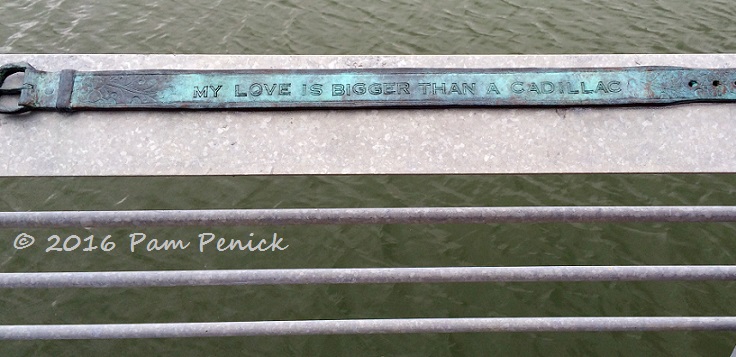 My love is bigger than a Cadillac, from "Not Fade Away," Buddy Holly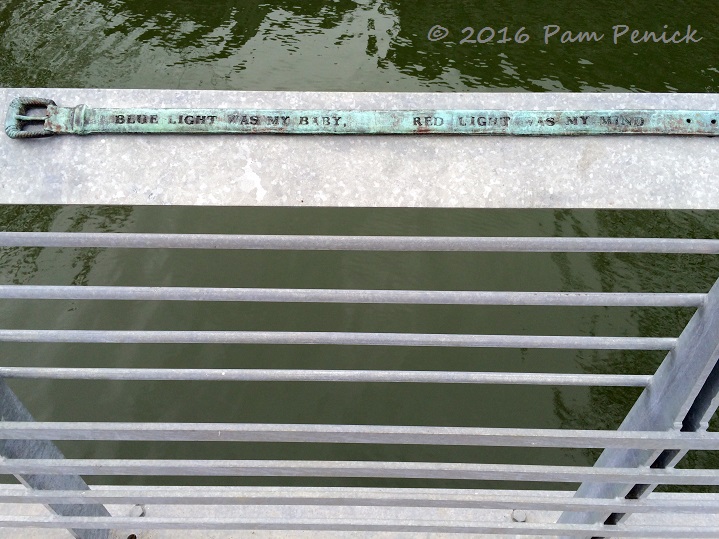 Blue light was my baby, red light was my mind, from "Love in Vain," Robert Johnson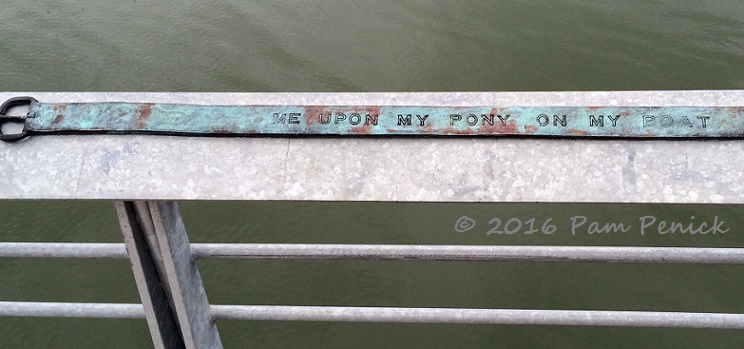 Me upon my pony on my boat, from "If I Had a Boat," Lyle Lovett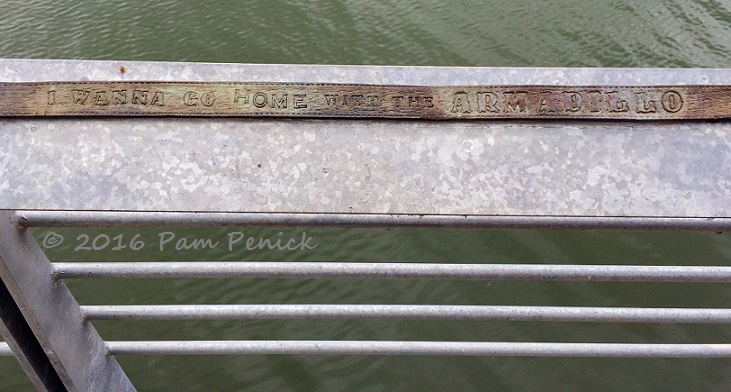 I wanna go home with the armadillo, from "London Homesick Blues," Gary P Nunn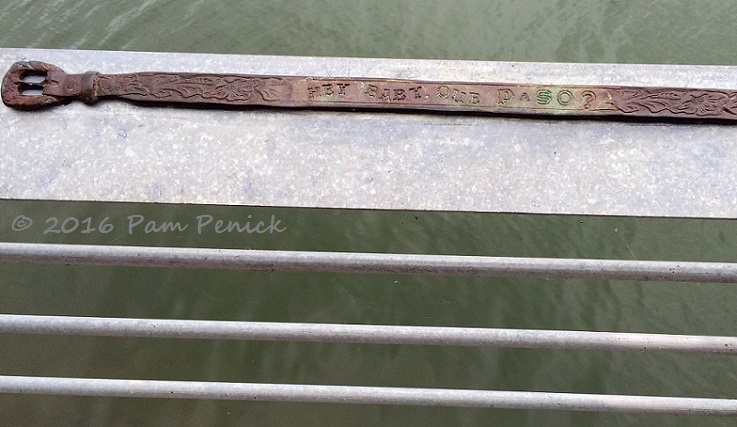 Hey Baby, que paso?, from "(Hey Baby) Que Paso," The Texas Tornados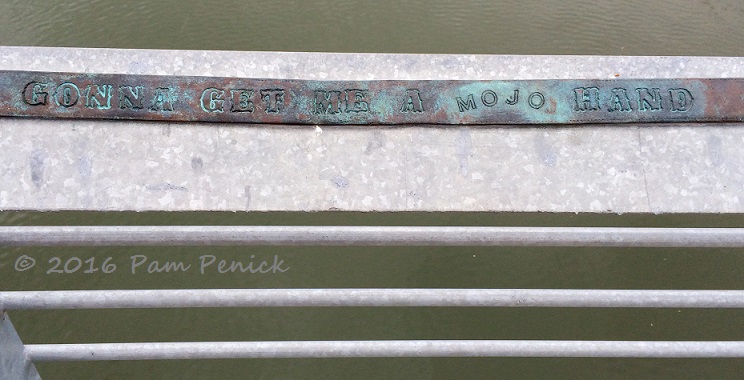 Gonna get me a mojo hand, from "Mojo Hand," Lightnin' Hopkins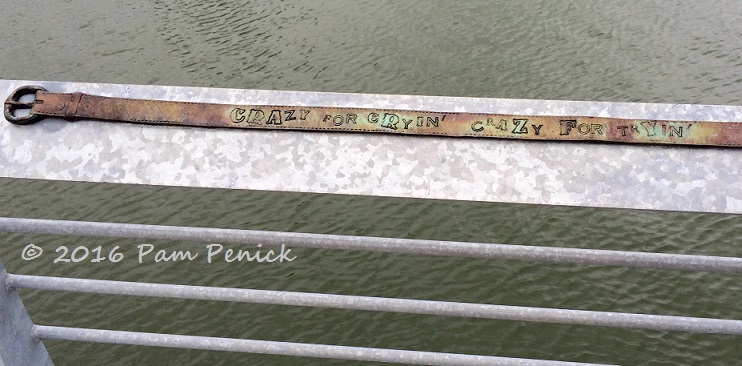 Crazy for cryin', crazy for trying', from "Crazy," Willie Nelson. Also a Patsy Cline hit.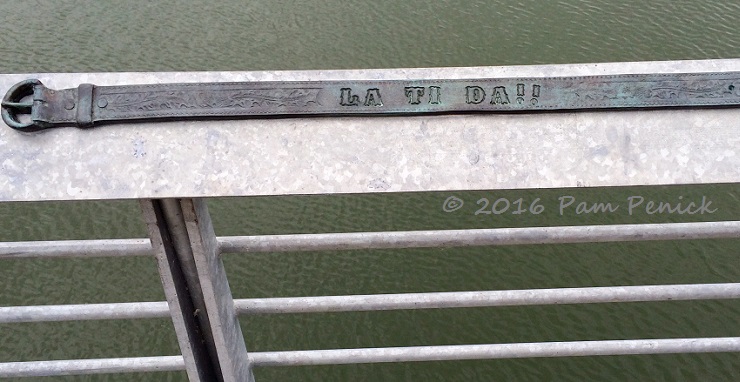 La ti da!!, from "La Ti Da," Marcia Ball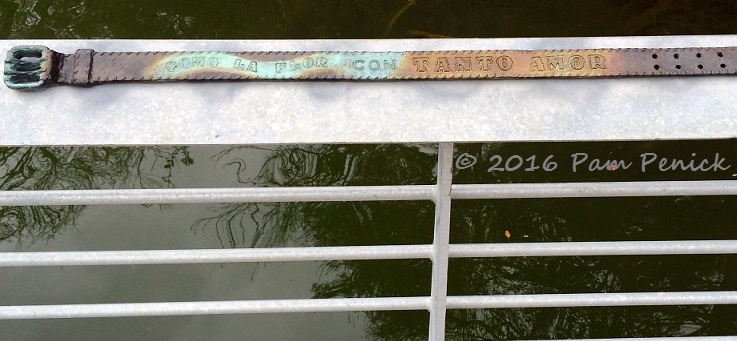 Como la flor con tanto amor, from "Como La Flor," Selena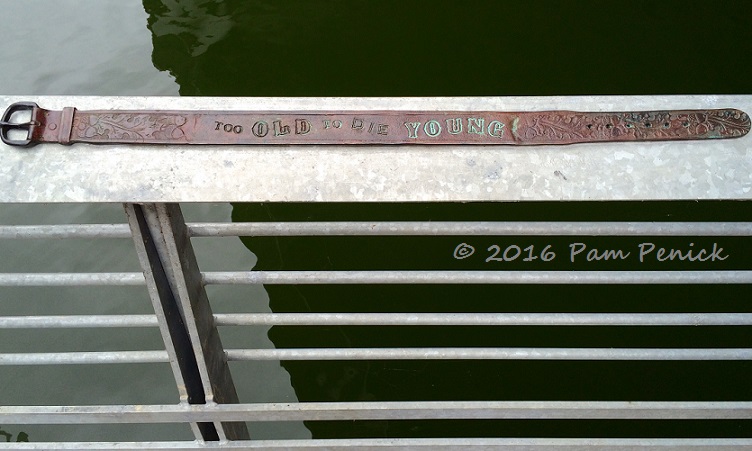 Too old to die young, from "Till' I'm Too Old To Die Young," Moe Bandy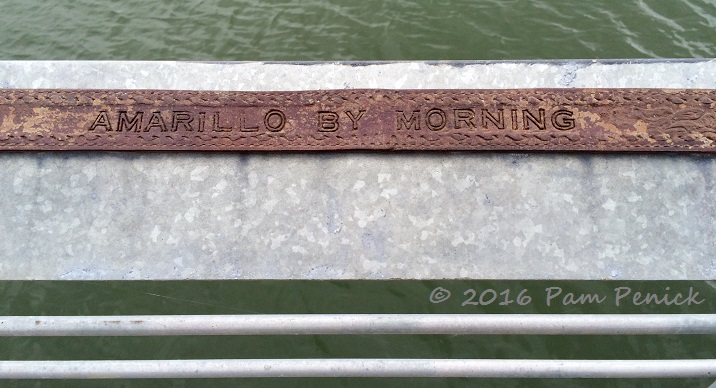 Amarillo by morning, from "Amarillo by Morning," George Strait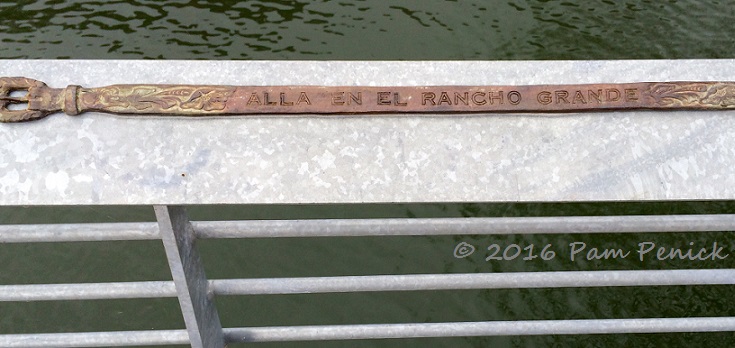 Alla en el rancho grande, from "Alla En El Rancho Grande," traditional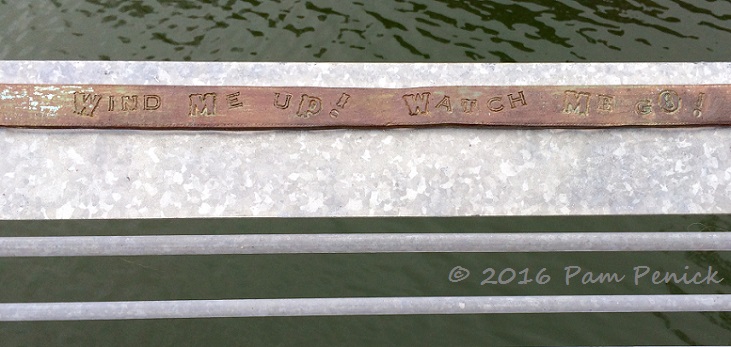 Wind me up! Watch me go!, from "Wind Me Up," Terri Hendrix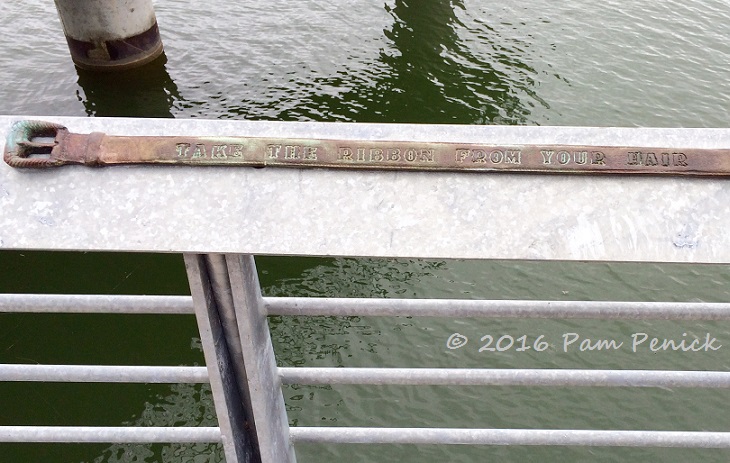 Take the ribbon from your hair, from "Help Me Make It Through the Night," Kris Kristofferson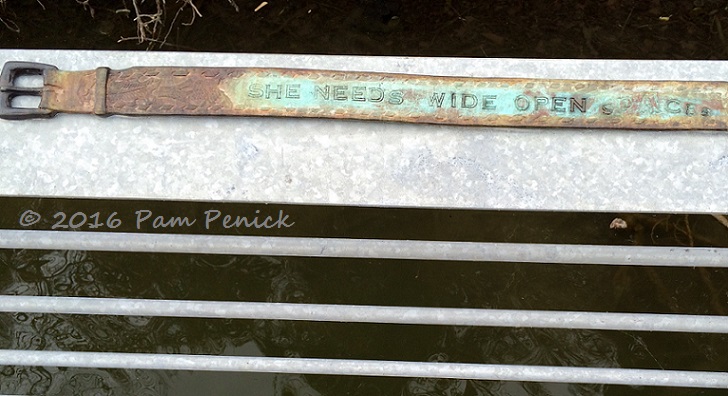 She needs wide open spaces, from "Wide Open Spaces," Dixie Chicks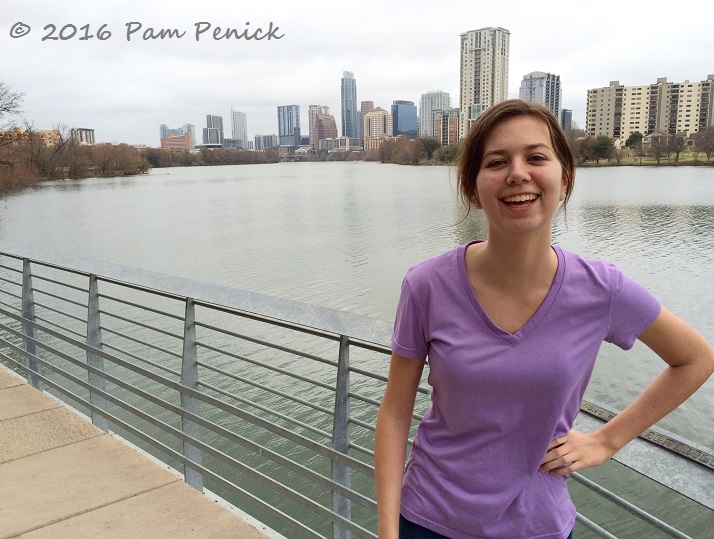 Here's my own Dixie chick enjoying the wide open spaces of Lady Bird Lake. You will too. Go walk it.
_______________________
Upcoming Events and News
My new book, The Water-Saving Garden: How to Grow a Gorgeous Garden with a Lot Less Water, comes out tomorrow! Click the link for more info and, if you like, to order online from the retailer of your choice. Check back next Monday for a book-release blog party with lots of giveaways of water-saving gardening items!
Join me for my kick-off garden talk this Saturday, February 27, at 10 am, at The Natural Gardener nursery in southwest Austin. My talk is called "Hold the Hose! How to Make Your Garden Water Thrifty and Beautiful," and it's free to the public. Afterward I'll have signed books available for purchase ($20 each, includes tax) and will be glad to autograph one for you! Dress for the weather, as the talk will be held in the big tent outside.
Look for me on Instagram as pamdigging. See you there!
All material © 2006-2016 by Pam Penick for Digging. Unauthorized reproduction prohibited.