November 6th, 2007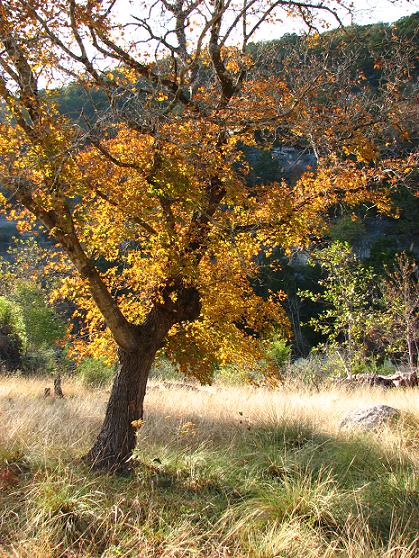 Bigtooth maple in Lost Maples State Natural Area
Leaf peeping can be a disappointing pursuit here in central Texas. Absent the flaming oranges, yellows, and reds of eastern hardwood forests, our trees either stay green all winter (live oaks and junipers) or their leaves color faintly before fading quickly to brown.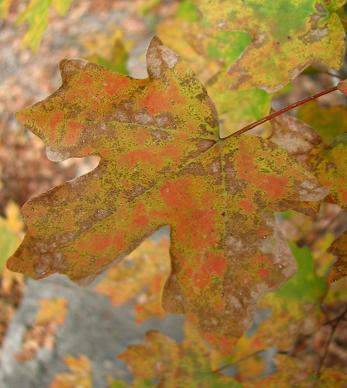 Some years, however, an Austin leaf-peeper's dream can come true in Lost Maples State Natural Area, about 3 hours southwest of Austin.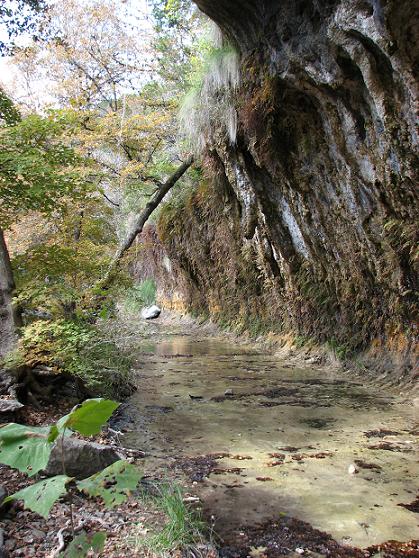 Growing amid limestone canyons carved by the crystal-clear Sabinal River, bigtooth maples (Acer grandidentatum ) flourish in the protected microclimate of Lost Maples.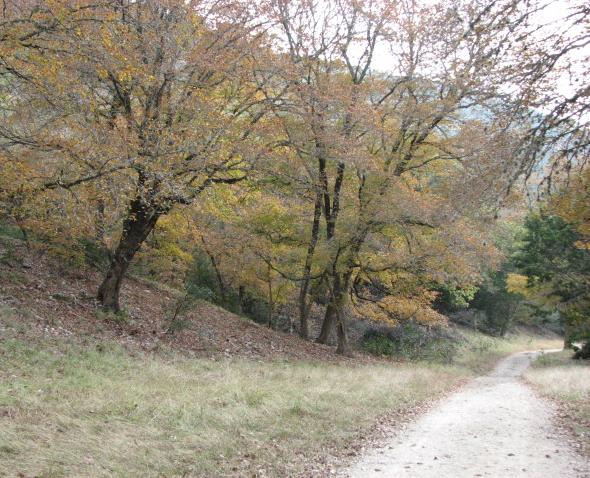 Bigtooth maple is the only maple recommended for central Texas because it grows well in alkaline soil, but even so, it isn't common in Austin, requiring some protection from drought and heat to succeed. Here in Lost Maples' cool, wet canyons, it thrives, creating a "lost" pocket of fall color that entices thousands of visitors in late October and early November.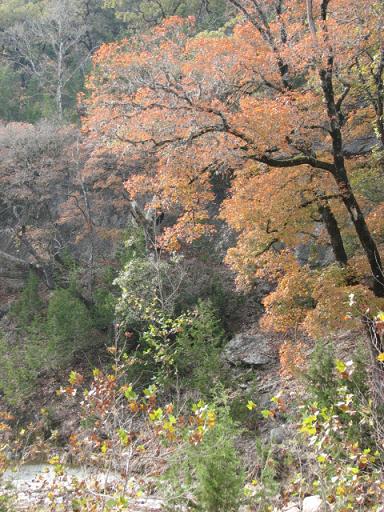 For years I'd wanted to see Lost Maples, but fall ushers in a busy schedule, so we kept putting it off. This year we made it happen, leaving after a Saturday morning soccer game and arriving in time for an afternoon hike. We stayed overnight in Kerrville (about 45 minutes from Lost Maples) and returned to the park on Sunday morning for a long hike and picnic lunch. Afterward we drove home in time to get ready for the Monday schoolday. It was worth every minute of the longish drive and the trouble to fit the trip into the schedule.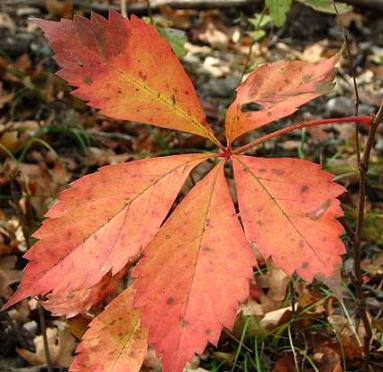 Virginia creeper (Parthenocissus quinquefolia )
Although we were warned via the foliage report on the park's website that only a few trees had started to turn, we were not disappointed. Along the canyon floor, the maples were clad in yellow and green, oaks were turning reddish bronze, and the undergrowth (Virginia creeper, maidenhair fern) offered up plenty of fall color too.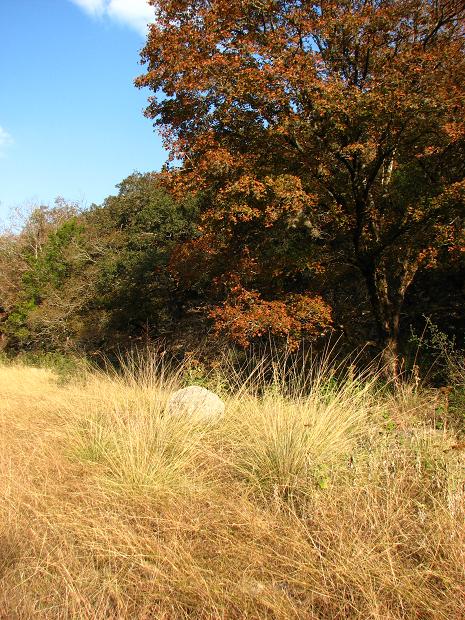 Even the tawny grasses glowed with autumnal beauty.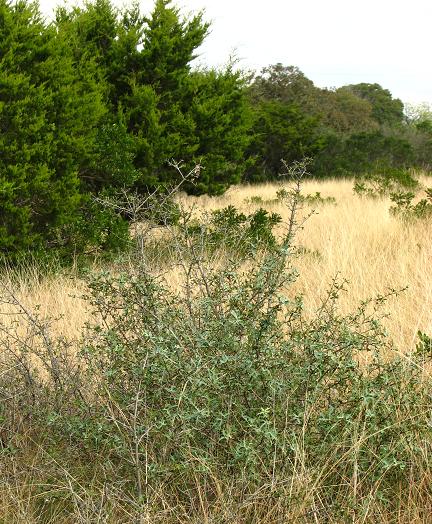 Up on the ridgeline overlooking the canyons, the maples retreated, and we walked through a savannah of junipers, grasses, and agarita. It was much warmer up here.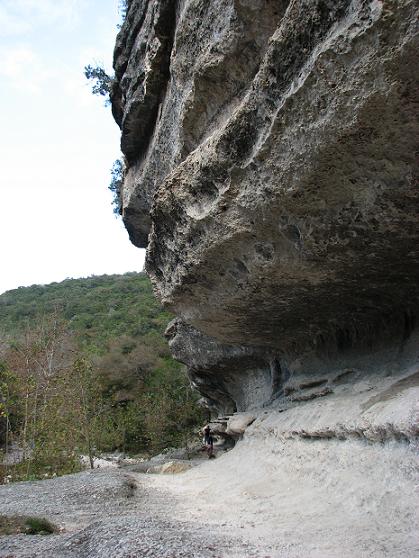 Below, in the canyons, we saw how the river had cut away at the limestone walls over the millennia.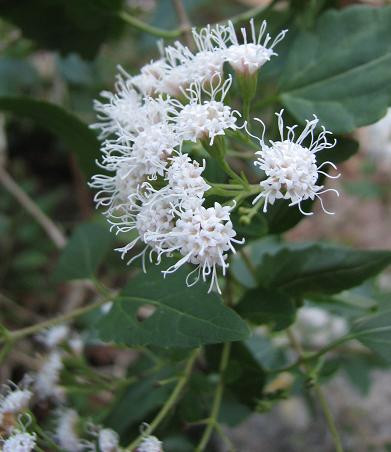 In the shade, Eupatorium havanense (shrubby white boneset, or white mistflower) bloomed, reminding me of my own garden.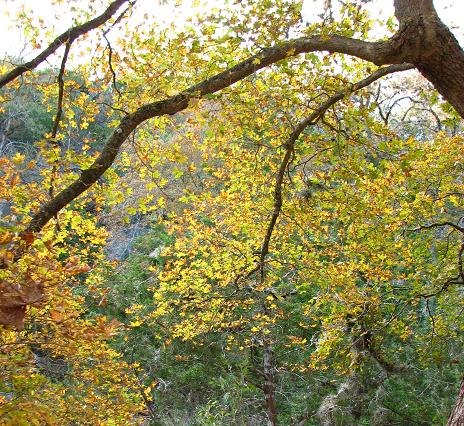 I was surprised to see that the bigtooth maple has small leaves. But of course the tree's name refers not to the size of the leaves or the tree itself, which is relatively small, but to the size of the leaf's "teeth."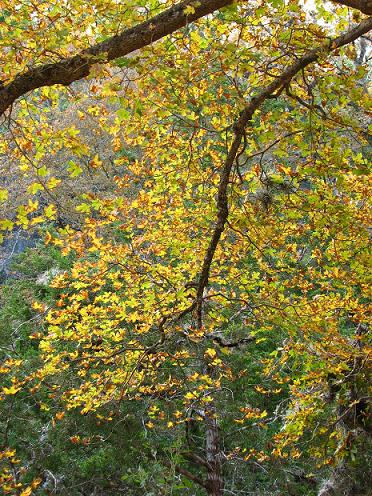 Another look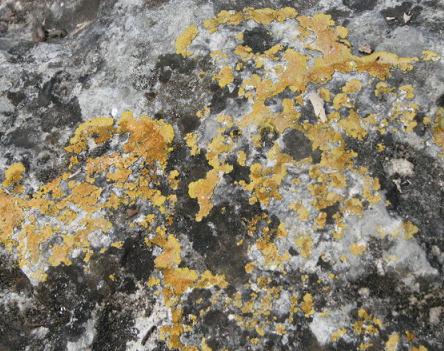 Even the lichen seemed to be sporting fall color.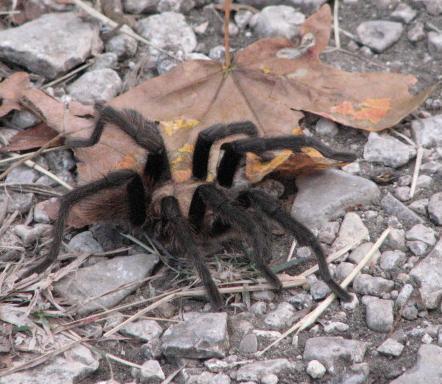 We came across this tarantula on our first hike, as it crossed the trail in the fading, early-evening light. As soon as it sensed us, it stopped dead and refused to budge even as we crouched close for a better look. After a few minutes, we retreated and watched it pick up those long, hairy legs and start moving again, into the safety of tall grasses. This is one reason I'm not interested in camping anymore. However, the tarantula is a beautiful creature in its own way and, so I hear, non-aggressive. We wouldn't have dreamed of harming it.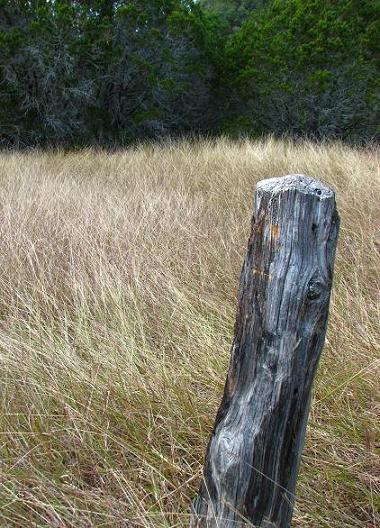 This scene seemed a composition of color blocks.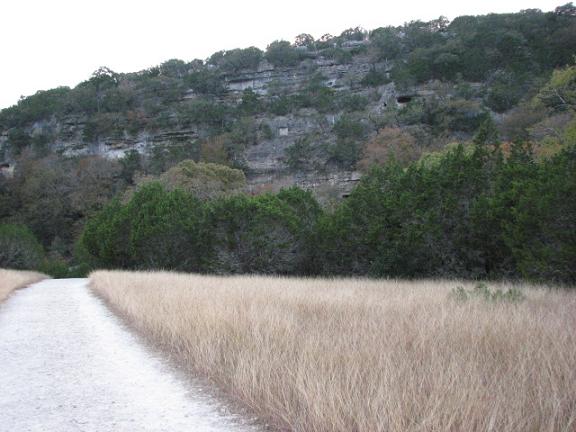 Some parts of Lost Maples look much like Austin's greenbelt savannahs, especially those in St. Edwards Park.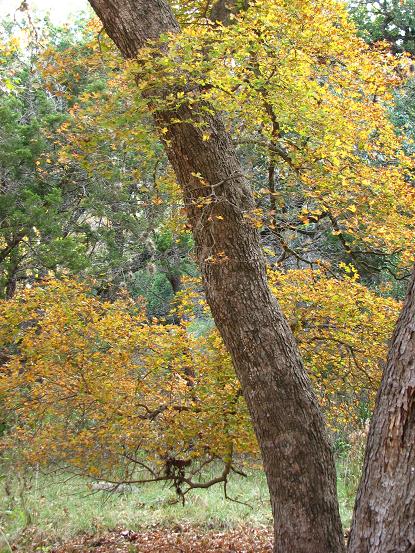 But the bigtooth maples remind you that this is a unique place, with golden treasure.