February 19th, 2016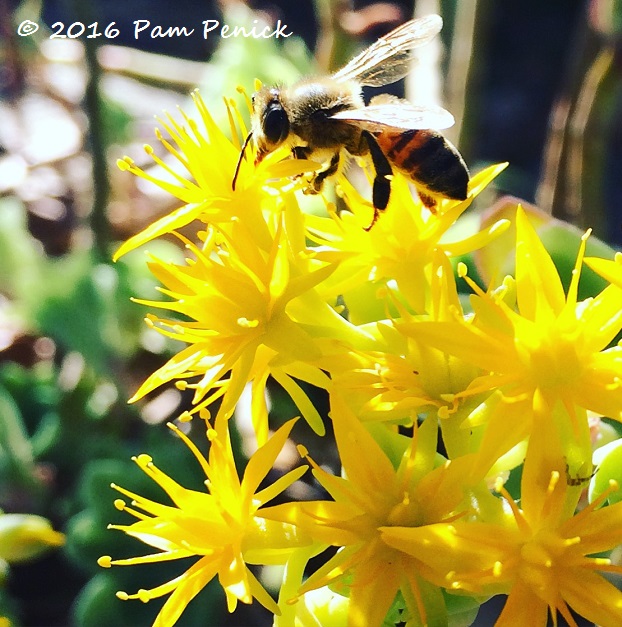 I resisted joining Instagram for the longest time because it seemed like One More Thing to keep up with. But its huge popularity and my dawning recognition that it's ideal for sharing gardening goodness (my mission statement, after all!) have convinced me to take the plunge.
And I have to admit it's pretty fun to take a quick snapshot with your phone, crop it into that iconic square, and — boom! — share it with the world. Like this honeybee I spotted on the Sedum palmeri yesterday while I was cutting back the garden.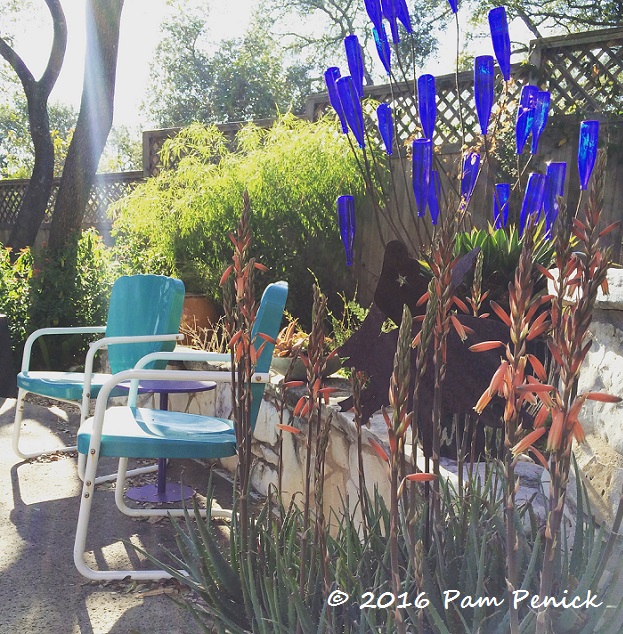 Here's another Instagram from yesterday: 'Blue Elf' aloe in bloom and the ever-blooming bottle tree behind it, with afternoon sunlight streaming through the trees.
I'm a total newbie and haven't figured out all the Instagram ins and outs yet. For example, one of my goals in using it is to entice readers to come here to my blog, but since Instagram doesn't allow links, except in your profile, I guess it's an indirect enticement. If you're an experienced Instagrammer who's also an active blogger, I'd love to hear your tips.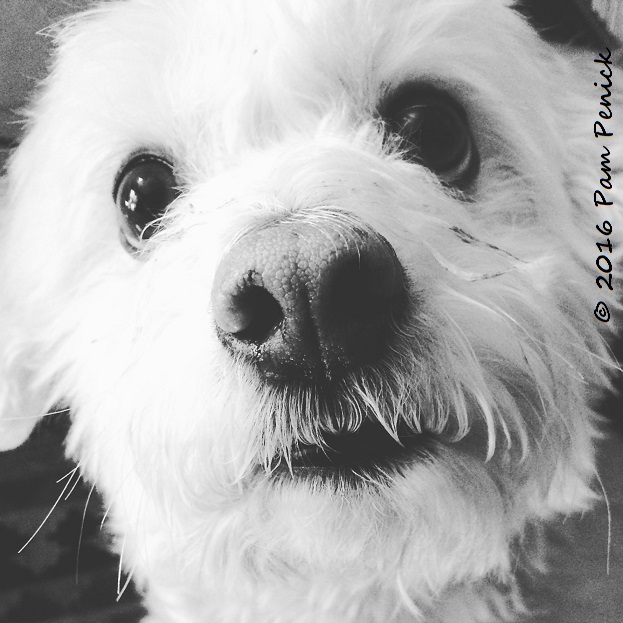 One more, a Cosmo close-up. It can't all be about gardening!
If you'd like to follow me on Instagram, here's my Instagram page. I'll eventually get around to adding the link to my social media buttons in the sidebar.
Happy Friday, y'all!
_______________________
Upcoming Events and News
My new book, The Water-Saving Garden: How to Grow a Gorgeous Garden with a Lot Less Water, comes out next Tuesday! Click the link for more info and, if you like, to order online from the retailer of your choice. Check back soon for my book-release blog party with lots of giveaways of water-saving gardening items!
Join me for my kick-off garden talk for my new book, The Water-Saving Garden, on February 27, at 10 am, at The Natural Gardener nursery in southwest Austin. My talk is called "Hold the Hose! How to Make Your Garden Water Thrifty and Beautiful," and it's free to the public. Afterward I'll have books available for purchase and will be glad to autograph one for you! Dress for the weather, as the talk will be held in the big tent outside.
Look for me on Instagram as pamdigging. See you there!
All material © 2006-2016 by Pam Penick for Digging. Unauthorized reproduction prohibited.