February 17th, 2016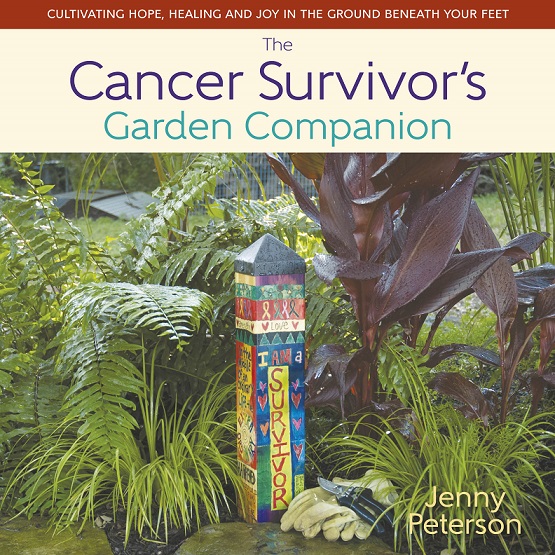 I am not a cancer survivor, nor do I (as far as I know, and with a superstitious knock on wood) have cancer. Therefore, I'm not the target audience for my friend and fellow Austinite Jenny Peterson's latest book, The Cancer Survivor's Garden Companion: Cultivating Hope, Healing and Joy in the Ground Beneath Your Feet, which was published earlier this year by St. Lynn's Press.
And yet as I read it, I found it spoke powerfully to me anyway — of finding peace and a sense of hope in one's garden when life takes an unexpected and unwelcome turn. Without going into detail, I've endured a heartsickness of my own for about a year, and while I don't compare it to the terror of a cancer diagnosis, it has at times been black. Jenny's matter-of-fact acknowledgement of the wear-and-tear that fear and worry can cause to mind, body, and spirit resonated with me, and I resolved to put into practice some of her suggestions for using gardening for emotional re-balancing.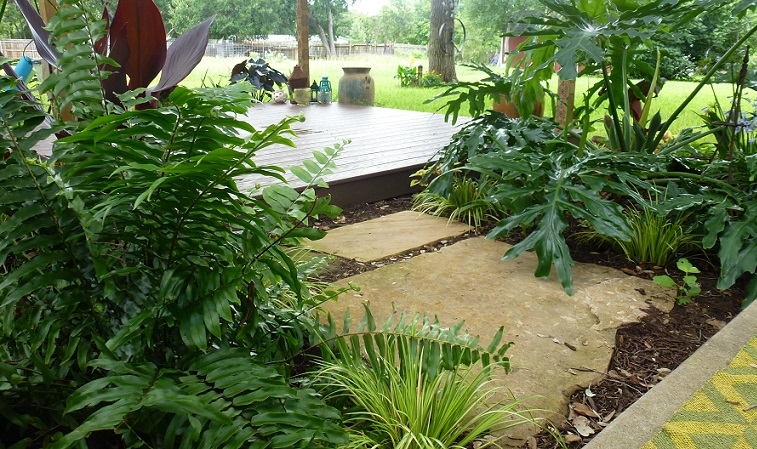 Photo courtesy of Jenny Peterson
You might expect from the title that Jenny is a therapist or an exercise guru or a cancer expert. She is not. She is, crucially, a survivor with first-hand, hard-won knowledge about living through a cancer diagnosis and treatment. And elementally, she is a gardener — someone who, as she puts it, nurtures. On top of that, she is an eloquent and philosophical writer, and she's not afraid to delve into questions of purpose and identity. "Who am I," she recalls asking herself after her diagnosis, "aside from being a person with breast cancer….I yearned for the days when the world around me felt secure and recognizable."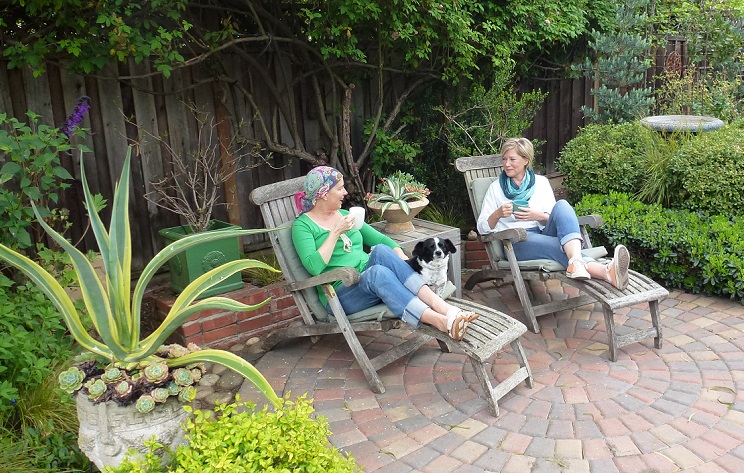 Photo courtesy of Jenny Peterson
Like her shaken sense of identity, her garden would not, during the multi-year process of her treatment and recovery, remain unchanged either. Jenny writes that she was forced to let go of her accustomed maintenance and her short-term plans for the garden. Instead she found happiness in making a porch garden — a few pots she could keep watered, and comfy seating for herself and her neighbors to enjoy during Friday afternoon happy hours. Setting do-able tasks that still got her outside and as active as she could be during treatment gave her purpose and eased her spirit during difficult weeks. So did leaning on her "tribe" — both her gardening friends and those who were also cancer survivors and understood what she was going through. Looking back, she sees her love for gardening, and the garden itself, as an instrumental part of her recovery.
With this book, she shares these insights as a friend would, conversationally, sometimes with graveyard humor, always bracingly honest and free of maudlin platitudes. At 171 pages, the hardback book is a quick read but offers plenty of practical suggestions, as well as photos of contemplative garden scenes and fellow survivors in their gardens. Sidebar info includes gardening tips from other cancer survivors and meaningful quotes like this one by singer-songwriter Leonard Cohen:
Ring the bells that still can ring,
forget your perfect offering.
There is a crack in everything,
that's how the light gets in.
I'd recommend this book for anyone dealing with a cancer diagnosis, especially if they love gardening. But it also has much to offer anyone struggling with debilitating health issues or emotional turmoil. It's not a how-to-garden book, and it's not a therapist's advice manual. It's a helpful and hopeful trail map for those feeling their way through the dark wood we all must tread at some point. Along the way, if you can knock down a few gloomy trees and grow flowers instead, why wouldn't you?
Disclosure: Jenny is a personal friend, and I wrote a pre-publication endorsement of her book. She gave me a copy of the book as a gift.
_______________________
Upcoming Events and News
Join me for my kick-off garden talk for my new book, The Water-Saving Garden, on February 27, at 10 am, at The Natural Gardener nursery in southwest Austin. My talk is called "Hold the Hose! How to Make Your Garden Water Thrifty and Beautiful," and it's free to the public. Afterward I'll have books available for purchase and will be glad to autograph one for you! Dress for the weather, as the talk will be held in the big tent outside.
Look for me on Instagram as pamdigging. See you there!
All material © 2006-2016 by Pam Penick for Digging. Unauthorized reproduction prohibited. .