February 6th, 2016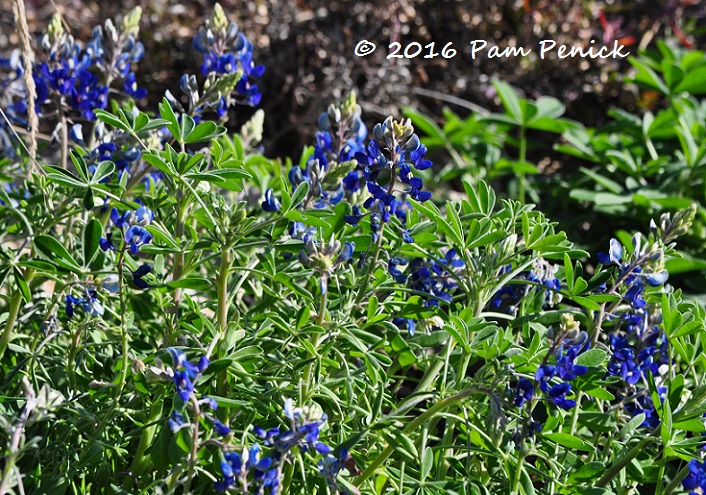 Well, this is a surprise! Bluebonnets (Lupinus texensis) ordinarily bloom in April, but a bonny patch was abloom yesterday in the family garden at the Lady Bird Johnson Wildflower Center.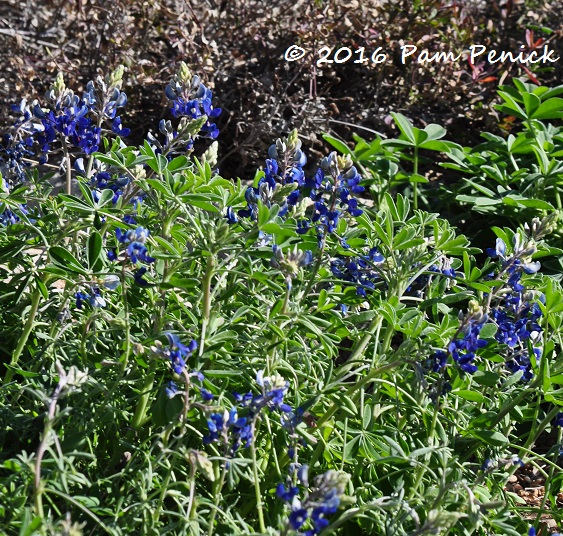 Don't go running over for your photo op with the kids. Only about 3 plants are blooming this early. But I hope it's a preview of a good wildflower season to come.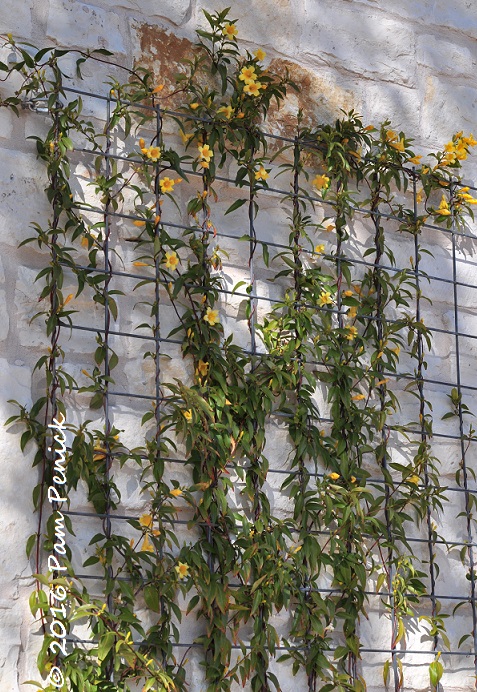 Carolina jessamine (Gelsemium sempervirens) was in full flower as well — not that unusual for our mild-winter climate. The one in my back garden is blooming too, although not as prolifically.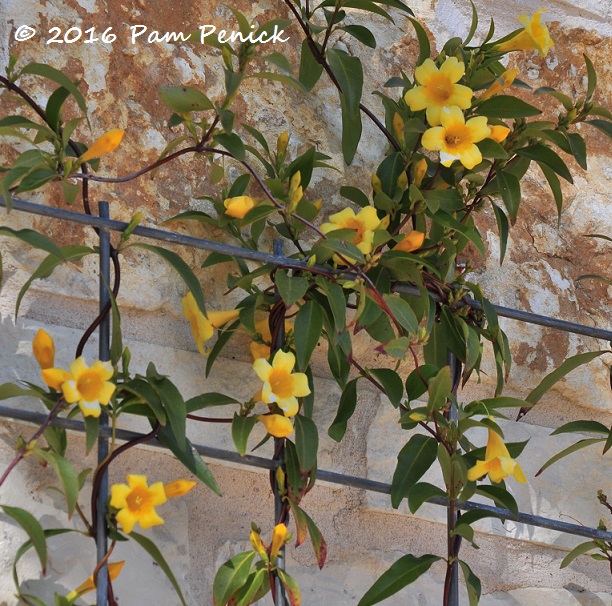 Mmmm, that sweet scent.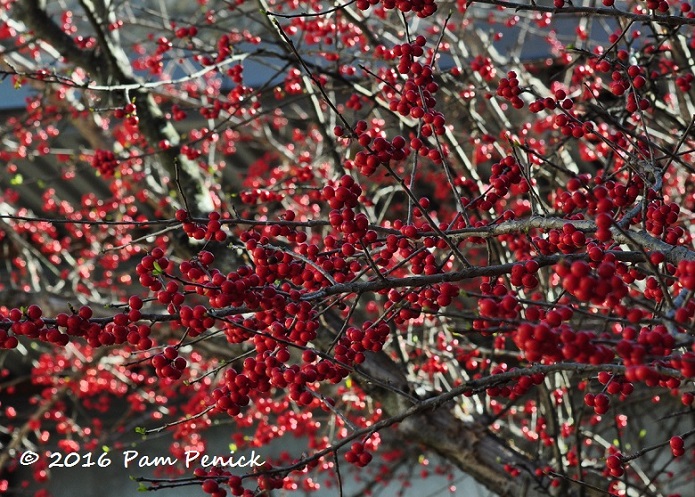 Possumhaw hollies (Ilex decidua) are at their reddest berry-liciousness right now too.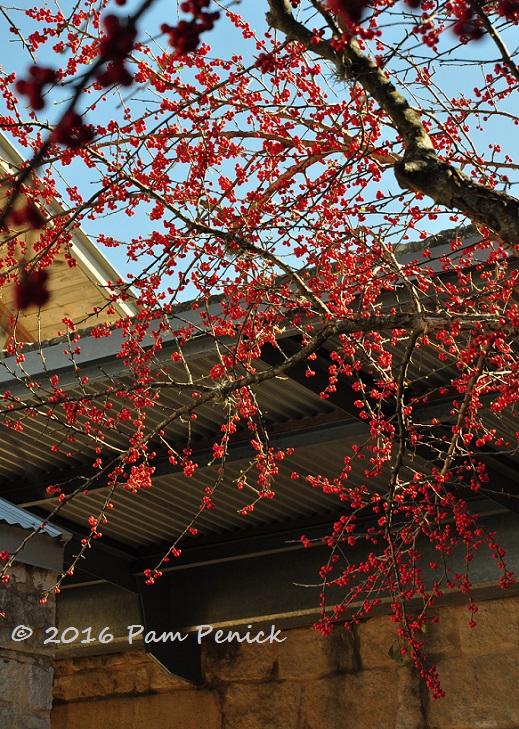 Throughout the gardens, the berries are a-blazing, and the birds are taking notice.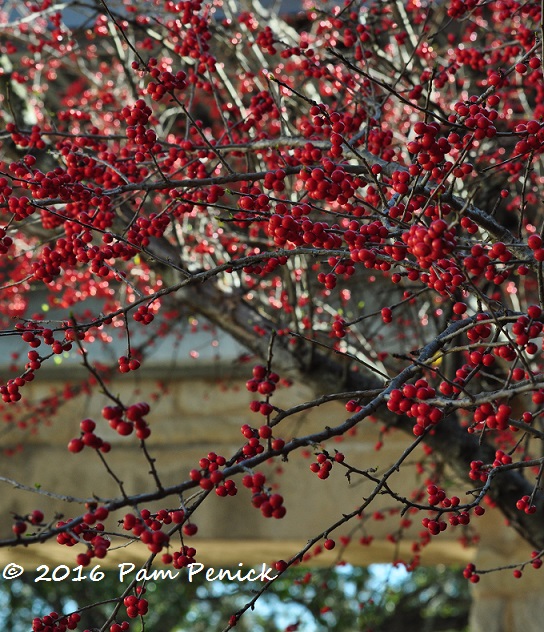 I enjoyed watching cedar waxwings, tufted titmice, mockingbirds, and more feasting on the berries yesterday and will share pictures soon.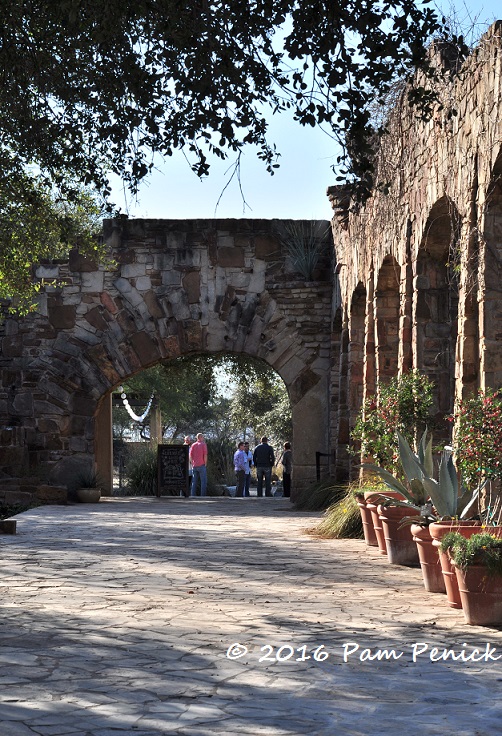 I'd been meaning to get down to the Wildflower Center (all the way across town) all day but didn't arrive until around 4 pm. Happily, the slanting sunlight of late afternoon made for better picture taking. See, Mom, procrastination does pay!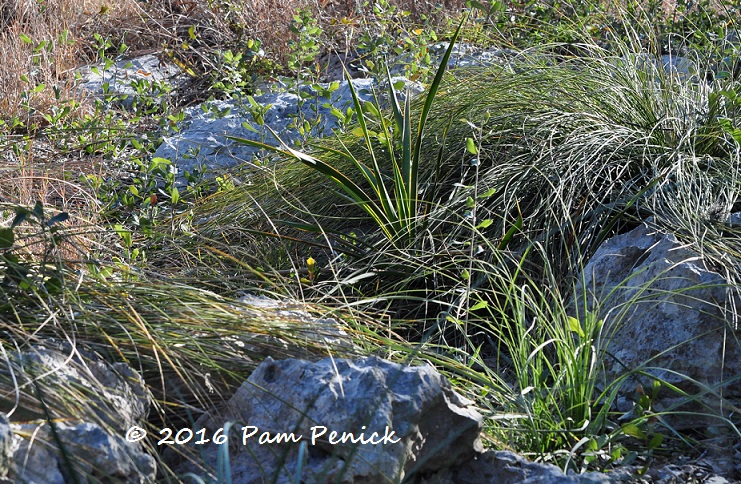 Yuccas and nolina amid limestone boulders — very Austin.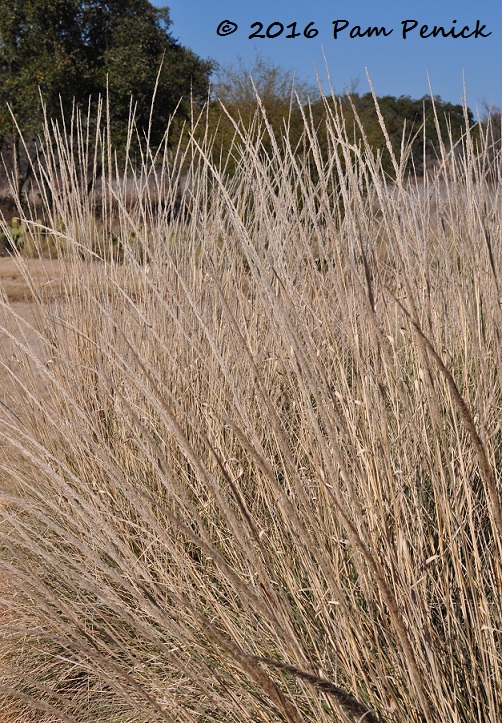 Back in the sunny family garden, big muhly grasses (Muhlenbergia lindheimeri) are looking very fine, with tawny upright seedheads.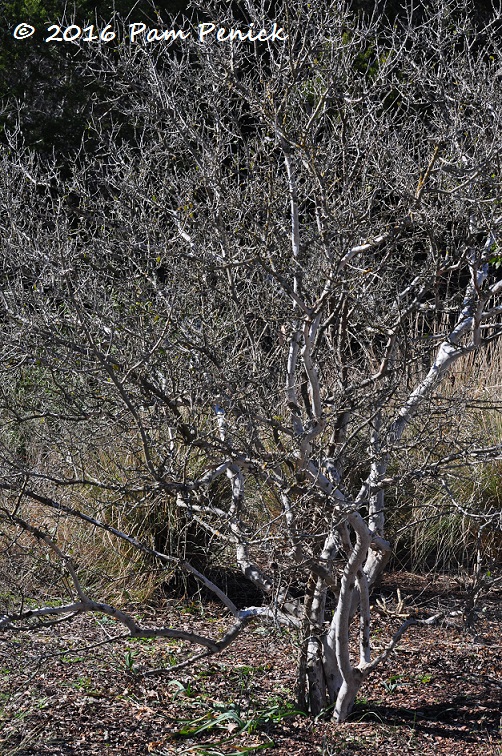 The ghostly branches of Texas persimmon (Diospyros texana) seem to shine brightly in late winter, once the semi-evergreen leaves drop.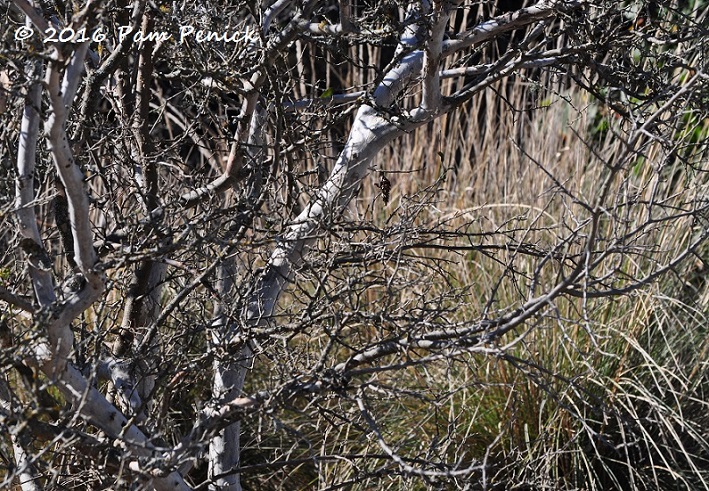 Texas persimmon and Lindheimer's muhly, a drought-tolerant, sun-loving combo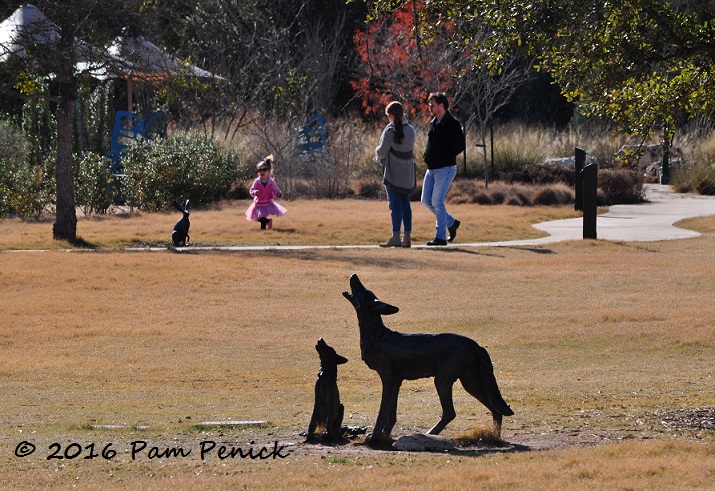 The buffalograss (Bouteloua dactyloides) play lawn was getting some use yesterday. Bronze sculptures of native wildlife appear throughout the family garden, making a fun "safari" for children.
_______________________
Upcoming Events and News
I'm on Central Texas Gardener on KLRU this Saturday at noon and 4 pm and again on Sunday at 9 am. Consult the schedule below to see if it's airing in your city, or watch online (my segment starts at the 9-minute mark).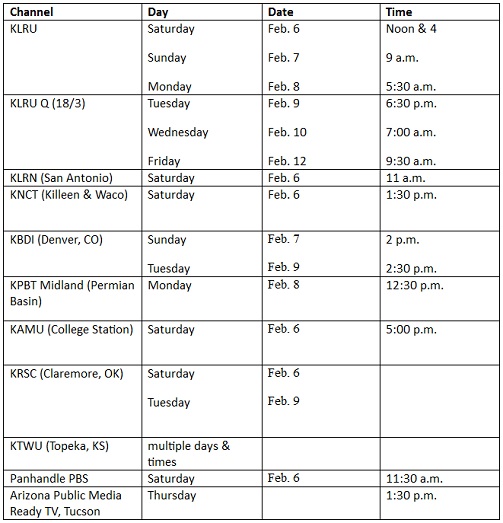 Look for me on Instagram as pamdigging. See you there!
Hold the Hose! Join me for my kick-off garden talk for my new book, The Water-Saving Garden, on February 27, at 10 am, at The Natural Gardener nursery in southwest Austin. My talk is called "Hold the Hose! How to Make Your Garden Water Thrifty and Beautiful," and it's free to the public. Afterward I'll have books available for purchase and will be glad to autograph one for you! Dress for the weather, as the talk will be held in the big tent outside.
Have you watched my zippy new book trailer?

All material © 2006-2016 by Pam Penick for Digging. Unauthorized reproduction prohibited.
posted in
Berries
,
Botanic/Public Gardens
,
Containers
,
Flowers
,
Garden art
,
Grasses
,
Lawns
,
Play spaces
,
Rock
,
Sculpture
,
Texas natives
,
Trees
,
Trellis
,
Vines
,
Wildflowers
,
Winter color