February 2nd, 2016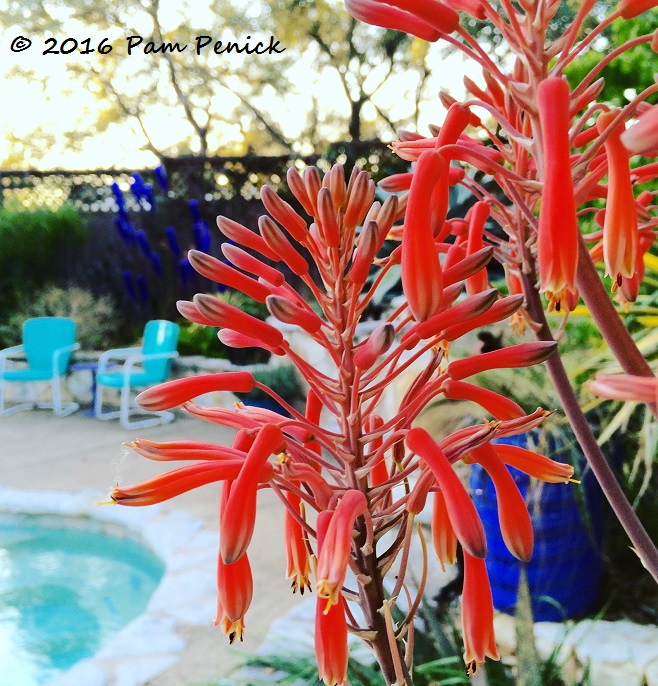 With apologies to Adele and her earworm of a song, aloes are still saying hello in my garden this mild winter with spring-like flowering.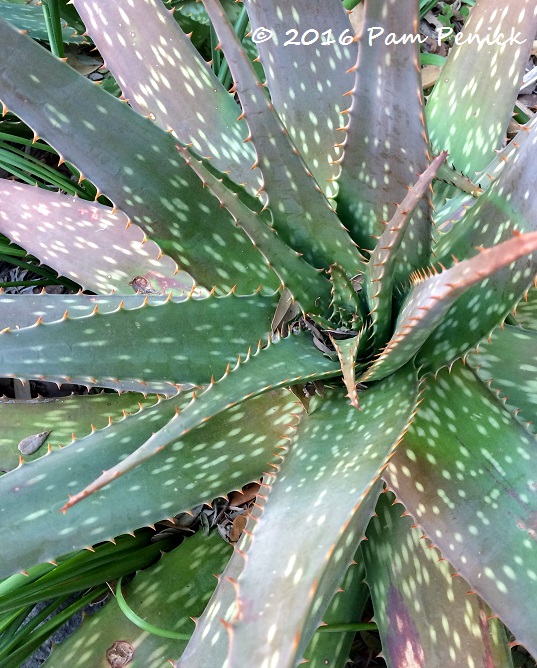 I find their leaves equally eye-catching, with white spots reminiscent of disco-ball light effects.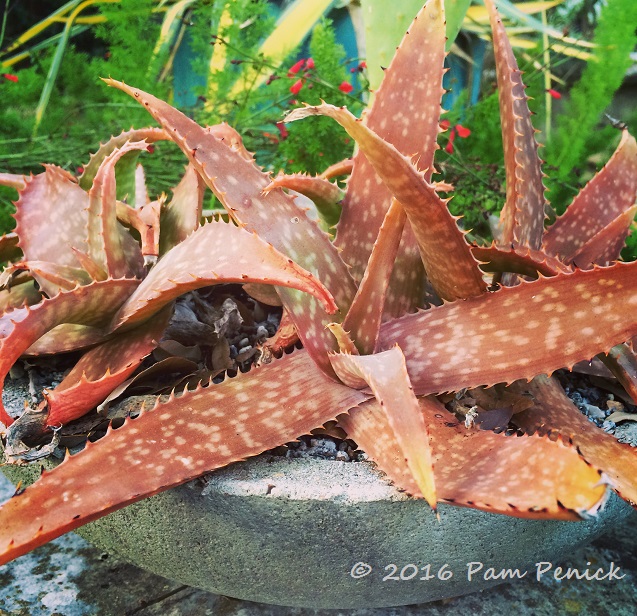 Believe it or not, this is the same aloe (A. maculata), but it appears to have a Coppertone tan. Why? It's been cold-stressed. Many succulents change color when they experience stress from cold or drought. Because it's planted in a shallow dish container, this aloe has gotten a good deal colder this winter than the one pictured above, and its leaves reflect that. I think it's pretty.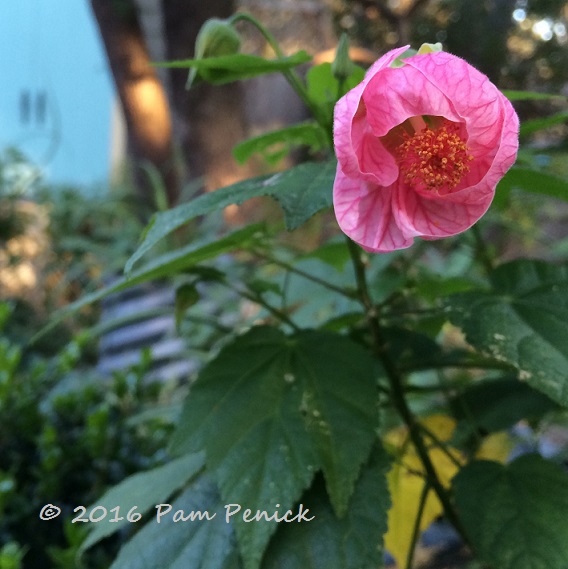 Also showing off right now are the abutilons.

This unnamed pink one — my last survivor of three over the years — is blooming well, with more buds ready to pop.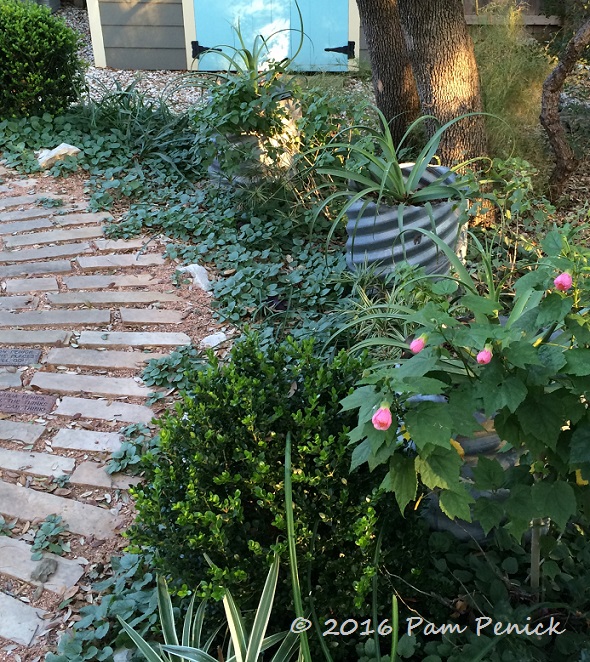 At its feet, native heartleaf skullcap (Scutellaria ovata) carpets the ground with its blue-green leaves — its winter incarnation. Come spring, spires of lavender flowers appear, and then it'll go dormant for the summer. In the culvert-pipe planters, squid agave (A. bracteosa) offers fountain-like form and dependable, cold-hardy winter interest.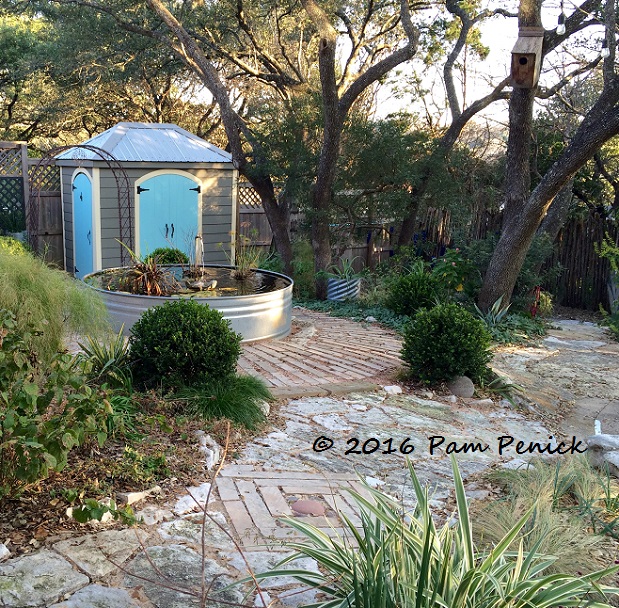 As do the 'Winter Gem' boxwoods. A pair of them guards each of the four "doorways" into the circular pond garden.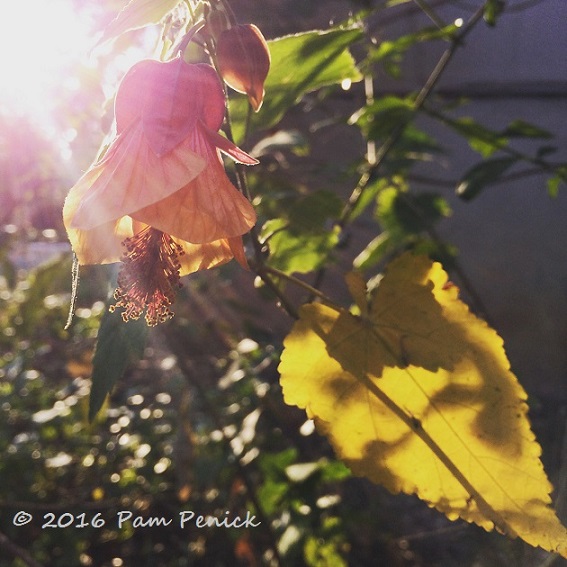 And one more abutilon to end with: 'Marilyn's Choice', glowing in the fading light of last evening.
_______________________
Upcoming Events and News
Look for me on Instagram as pamdigging. See you there!
Hold the Hose! Join me for my kick-off garden talk for my new book, The Water-Saving Garden, on February 27, at 10 am, at The Natural Gardener nursery in southwest Austin. My talk is called "Hold the Hose! How to Make Your Garden Water Thrifty and Beautiful," and it's free to the public. Afterward I'll have books available for purchase and will be glad to autograph one for you! Dress for the weather, as the talk will be held in the big tent outside.
Have you watched my zippy new book trailer?

All material © 2006-2016 by Pam Penick for Digging. Unauthorized reproduction prohibited.
posted in
2nd garden--2016
,
Agaves
,
Aloes
,
Containers
,
Groundcovers
,
Lawn Gone!
,
Paths
,
Ponds
,
Seating
,
Sheds
,
Shrubs
,
Stock tanks
,
Succulents
,
Winter color
,
Xeric plants