August 28th, 2009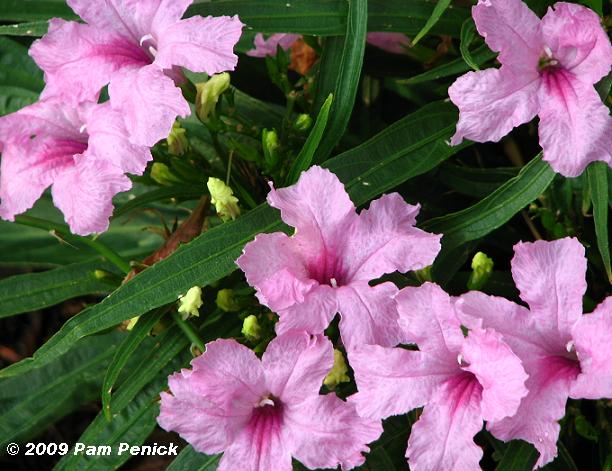 They're a dime-a-dozen in gardens all over Austin. Here are a few plants easy to overlook because of over-familiarity, whose praises I rarely sing, but which keep my garden green even during the hottest and driest summer anyone alive can remember.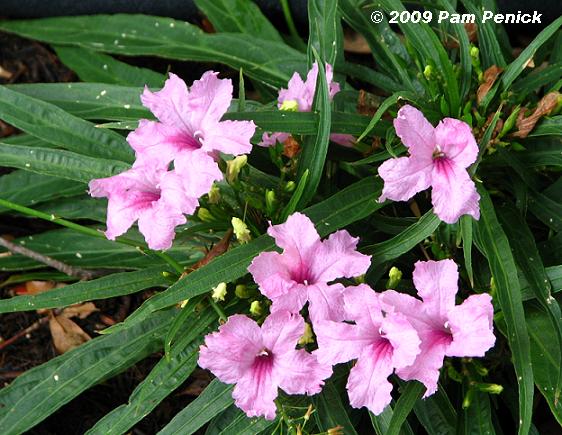 'Katie' dwarf ruellia (Ruellia brittoniana), also known as dwarf Mexican petunia, is a compact plant with long, pointed leaves and tissue-textured flowers in pink or purple. It's great for dry shade, blooming all summer until frost. Cut it back over the winter, and it'll return in spring for a reliable, summer-flowering groundcover. While it tends to self-sow, I find dwarf ruellia easy to control, unlike the taller Mexican petunia that is so aggressive.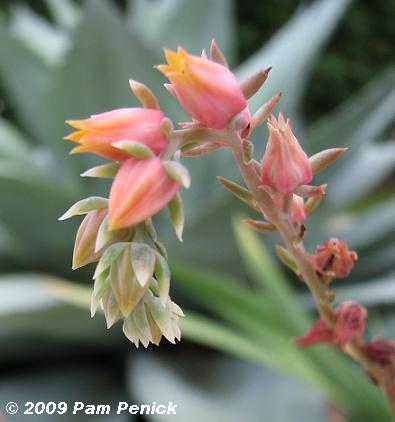 My little collection of Echeveria continues to bloom in part-shade in the gravel bed by the 'Whale's Tongue' agave. Full, midday sun can scorch succulents here, but if you can find the right location they turn out to be quite xeric.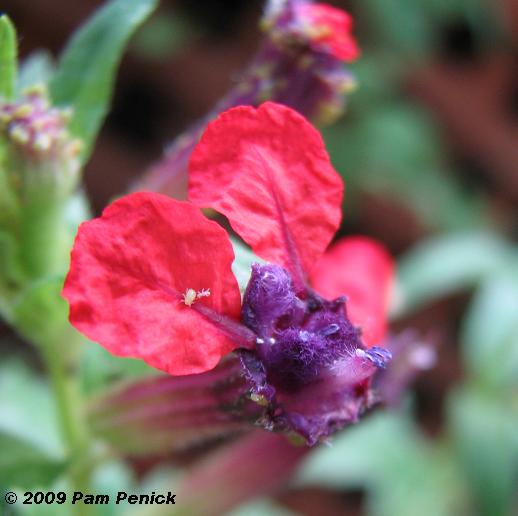 Unlike the 'Totally Tempted' cuphea I trialed for Proven Winners until it burned to a crisp, batface cuphea (C. llavea) can take the heat and stay in the kitchen. This one gets afternoon shade, which helps, but I grew it in full sun in my old garden, and it needed water only about once a week.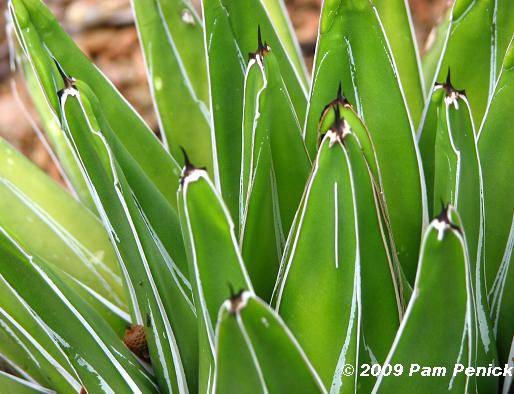 Queen Victoria agave (A. victoriae-reginae), a nearly maintenance-free plant that is also quite beautiful. Its small size makes it a natural for the garden.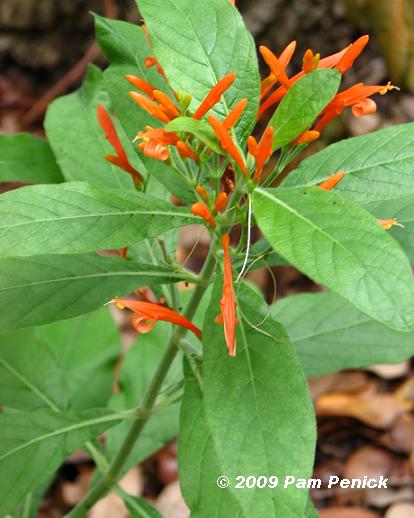 Mexican honeysuckle (Justicia spicigera), which I'm growing for the first time this year. Tubular, orange flowers appear amid green leaves, and it grows well in part-shade or dappled shade.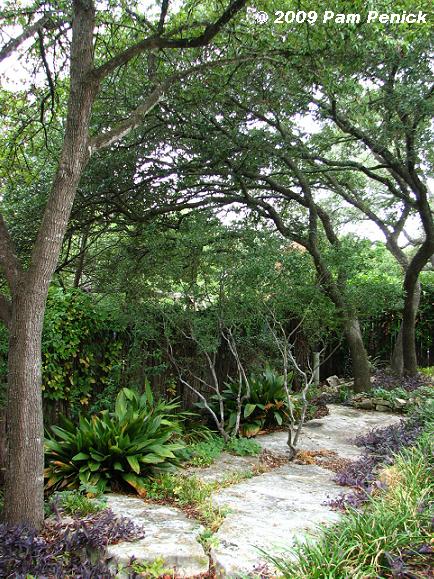 Live oaks (Quercus virginiana), pictured back right, are Texas tough, but even they need supplemental water in a drought like this. Growing in their shade, and just as tough: Texas persimmon (Diospyros texana), white trunks in middle of picture; cast iron plant (Aspidistra elatior), with the broad, evergreen leaves; giant liriope (Liriope muscari), also evergreen; and purple heart (Tradescantia pallida 'Purple Heart'), which dies to the ground in winter but comes back in spring. Of course, limestone slabs are very xeric too.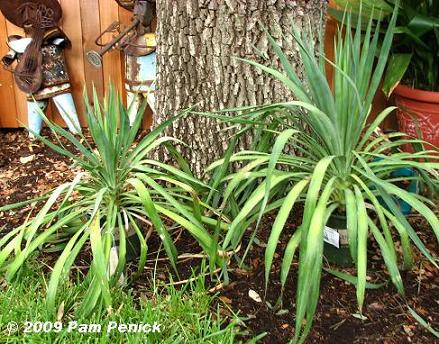 At Shoal Creek Nursery earlier this week, I bought two more softleaf yuccas (Y. recurvifolia) to plant near the one that's blooming. One is good, but three is better!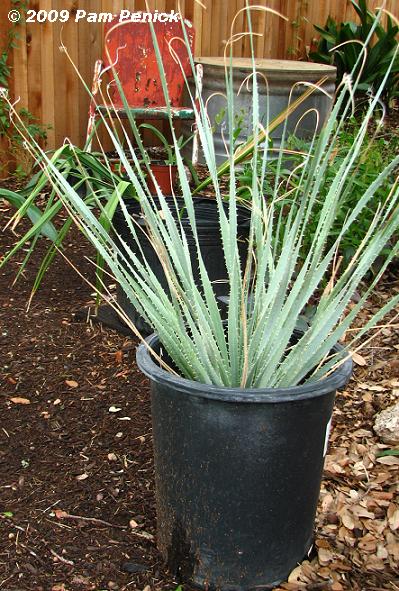 I also picked up this beautiful, blue Wheeler's sotol (Dasylirion wheeleri)—a total impulse purchase, but how could I resist?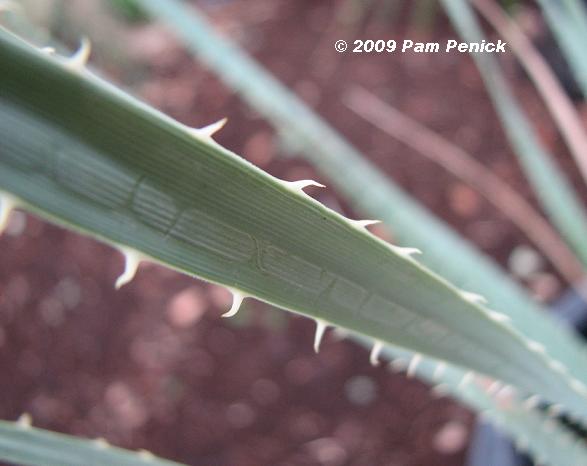 Just look at those ghostly leaf imprints along the strappy, toothy leaves. Gorgeous!
All material © 2006-2009 by Pam Penick for Digging. Unauthorized reproduction prohibited.