January 10th, 2016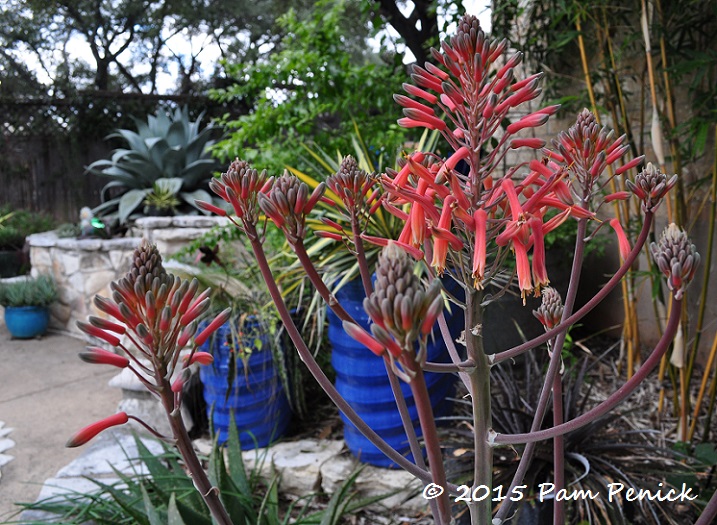 Aloes bloom in profusion at the Huntington in Los Angeles at this time of year, and my winter-blooming 'Blue Elf' aloe is already sending up asparagus-shaped bloom spikes. But soap aloe (Aloe maculata) prefers warmer weather to strut its stuff in my Austin garden. And yet…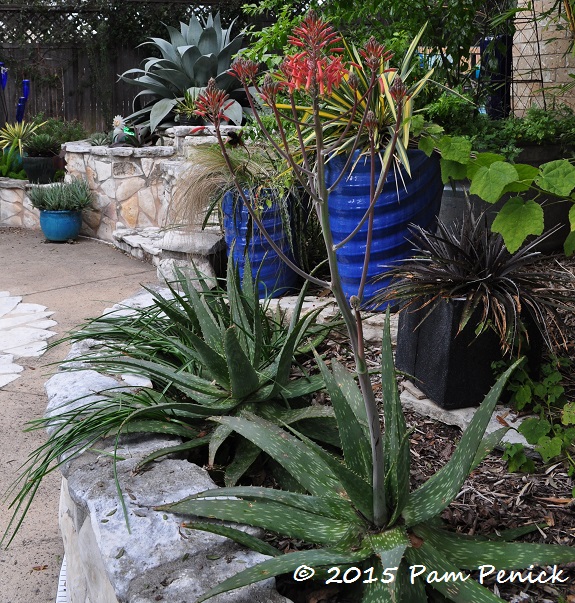 …with no hard freeze yet (tonight may end that run), it was fooled into flowering and has been struggling to open this candelabra-shaped bloom spike for weeks. We saw a hummingbird on a neighborhood walk yesterday, so I'm hoping that an overwintering hummer or two will enjoy a few sips before a freeze finally nips it.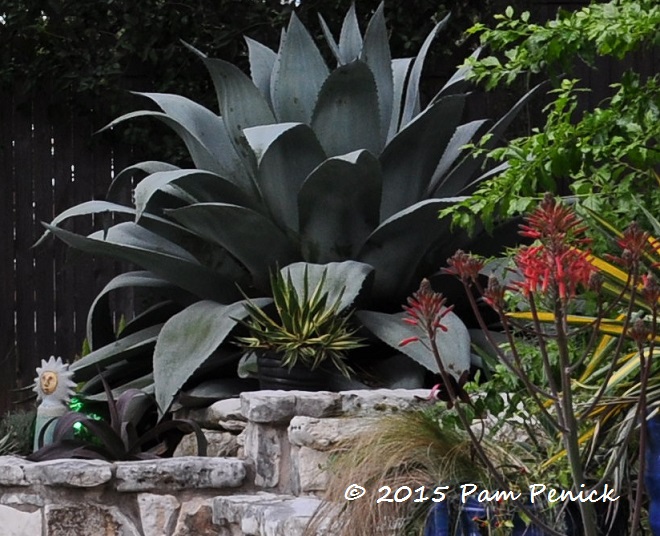 Since we're here, we may as well say hello to Moby, the 'Whale's Tongue' agave (A. ovatifolia). Planted under a protective tree canopy, Moby escaped a pounding from our recent brief thunder-hailstorm.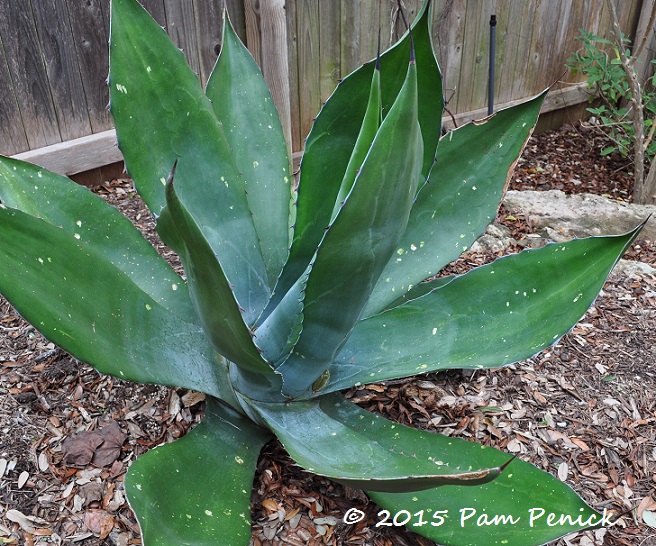 My two 'Green Goblet' agaves weren't so lucky, and show a Milky Way-like speckling. I'm going to call it patina.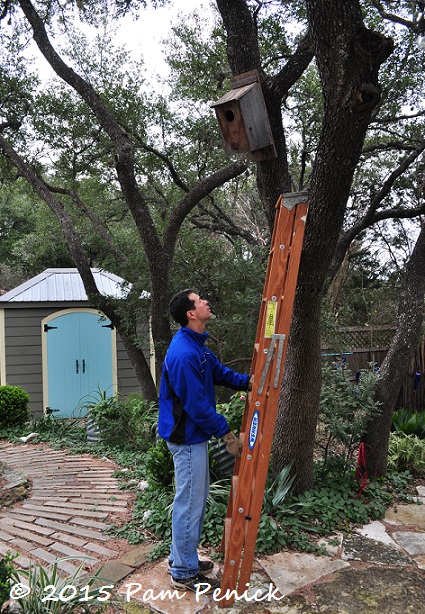 While I examined the garden, David was all business getting a few winter chores done, like cleaning out the screech owl box in preparation for nesting season.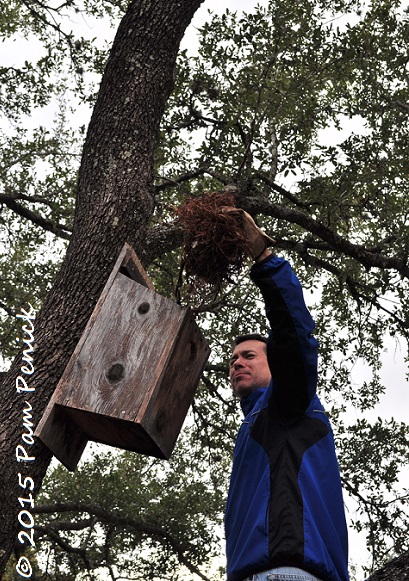 A mass of cedar shavings from our back fence was evidence of the squirrel I've seen in the box for the past couple of months. It's time for him to go! David pulled out the nest, scattered a thin layer of clean, dry leaves in the bottom of the box, and closed it up again.
I expect we'll see the squirrel in there again before an owl finally takes it over, as per usual, but at least we got it shipshape. A couple of Austin friends have said they've seen screech owls in their yards or owl boxes already, so clearly the males are scoping out nesting sites.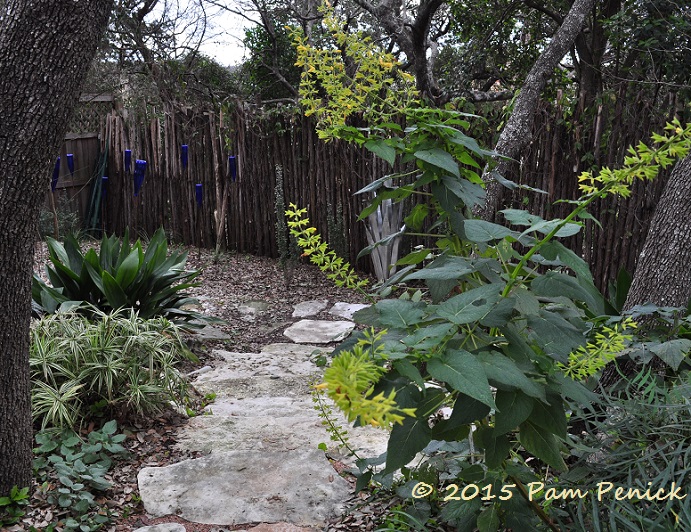 Under the owl box, forsythia sage (Salvia madrensis) has been blooming since my garden tour back in October. This is unheard of! I usually get a couple of weeks out of it. It appears to enjoy the extra rain we got this fall, and without a freeze to knock it back, it continues to shine pale yellow under the live oaks.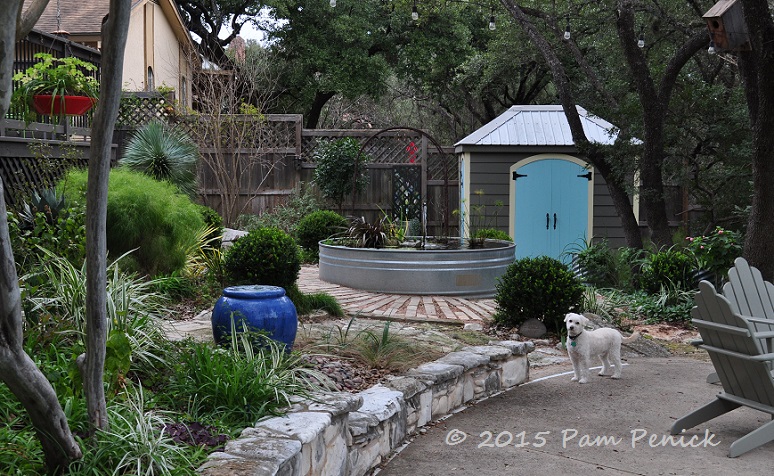 Overall the garden is still pretty green, which is how we Southerners like it. I'll see what this week holds. Only one more month until the big winter cut-back of perennials, and then spring will be on its way.
All material © 2006-2016 by Pam Penick for Digging. Unauthorized reproduction prohibited.
posted in
2nd garden--2016
,
Agaves
,
Aloes
,
Containers
,
Dogs
,
Flowers
,
Fountains
,
Grasses
,
Owls
,
Paths
,
Patios & decks
,
Ponds
,
Seating
,
Sheds
,
Stock tanks
,
Walls
,
Water features
,
Winter color
,
Xeric plants