October 30th, 2007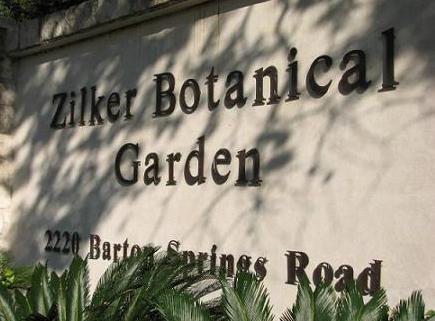 When a travel opportunity knocks, I'm usually grabbing my suitcase on the way to the door. This year I resolved to mesh my love of travel and of gardens by visiting local gardens on my trips. Since August I've explored and blogged about Chicago's and San Antonio's botanical gardens. But until today I hadn't taken the time to post about the one right here in Austin—the beloved but woefully underfunded (and occasionally defaced) Zilker Botanical Garden. On this mild, sunny fall day, I strolled its paths, so familiar to me from family walks, and tried to see it anew.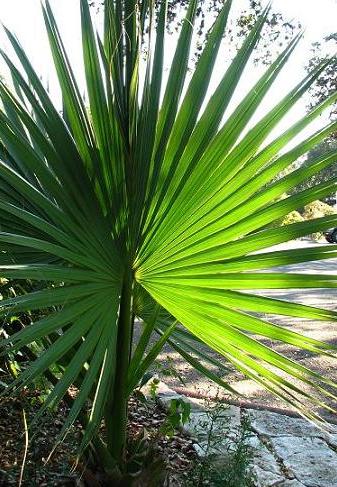 Unlike the Wildflower Center, whose gardens contain only plants native to Central Texas, Zilker Garden is a more traditional botanical garden showcasing both exotic and native plants, with a heavy emphasis on tropicals at the entry.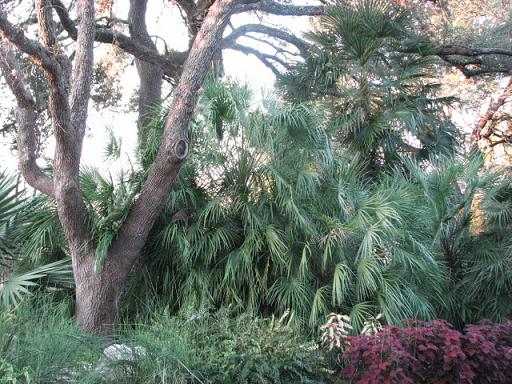 Under cover of sinuous oaks, palms, cycads, and tropical annuals create a lush, bright scene, dimmed at this time of year by the cooler weather.

Purple foliage of Persian shield (Strobilanthes dyerianus )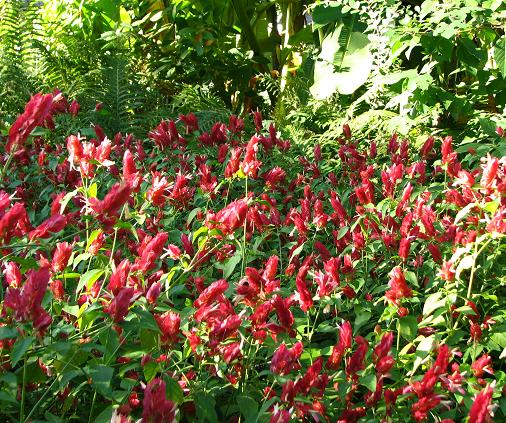 Shrimp plant (Justicia brandegeana ) makes a colorful groundcover in the shade of the oaks.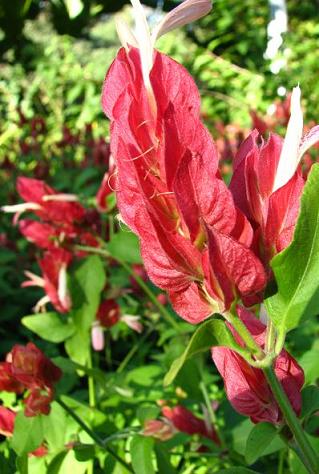 A close-up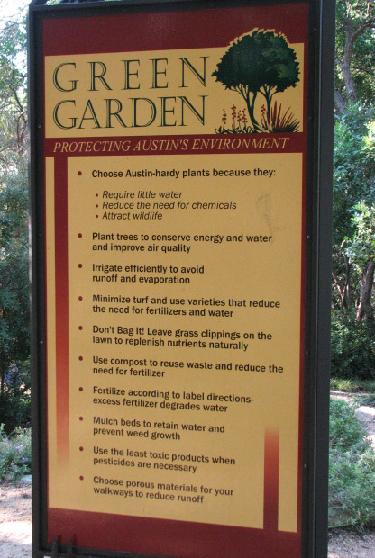 In the xeric garden right off the parking lot, you can learn how to grow "green." The city's Green Garden website is also full of great information for Austin gardeners who want to save money on water and use fewer chemicals.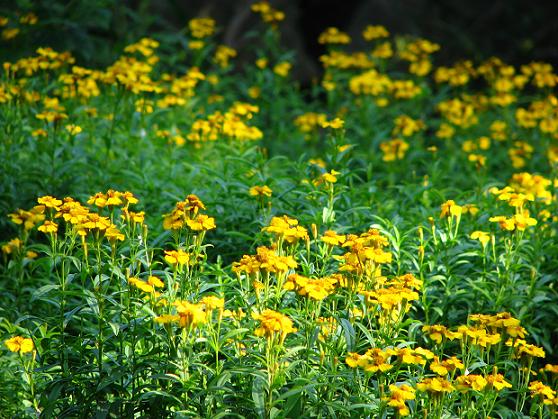 In the Green Garden, Mexican mint marigold (Tagetes lucida ) perfumes the air when you brush against it.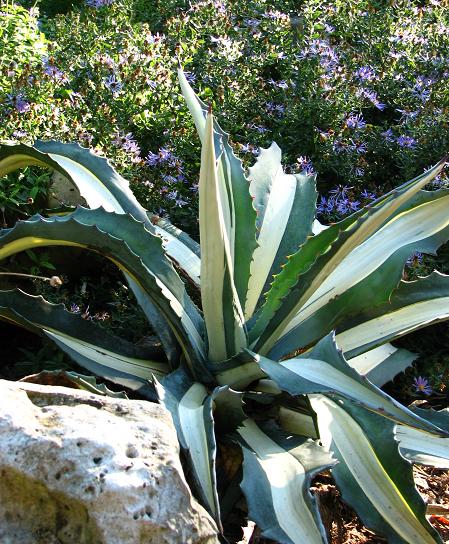 A variegated agave's cool stripes play off native fall aster's (Aster oblongifolius ) purple blooms.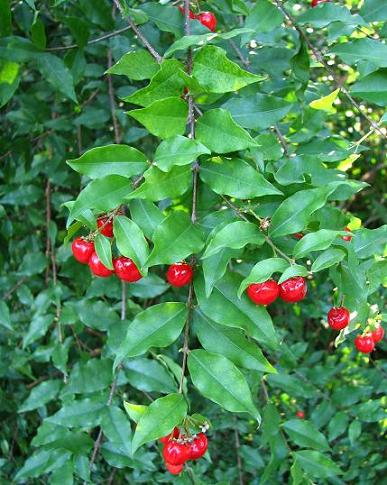 Barbados cherries (Malpighia glabra ) dangle from evergreen stems.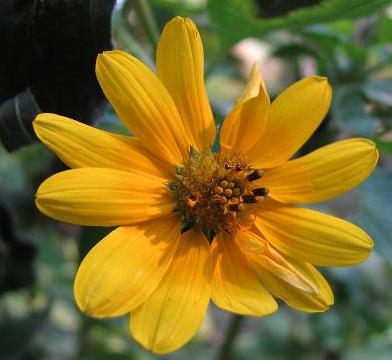 Bursts of color still remain aplenty in the xeric garden.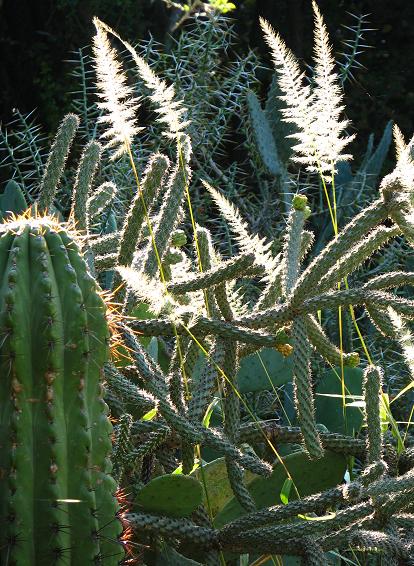 A shady trail leads to the cactus garden, really just a small clearing stuffed with a jumble of cacti. This part of the garden looks as if it gets no care at all, but there are moments of beauty.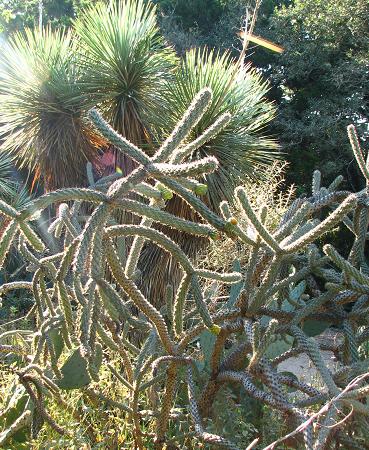 Fess up, non-Texans. Isn't this how many of you imagined Texas before you started reading Austin garden blogs?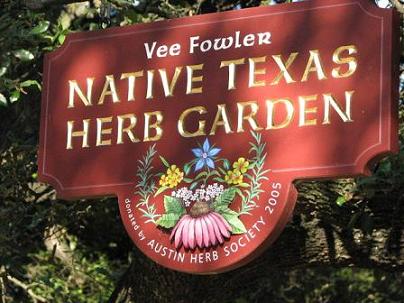 I haven't even entered the garden proper yet, but there's a lot to see just around the parking lot. This herb garden seems well tended, and it has a nice, new sign as well.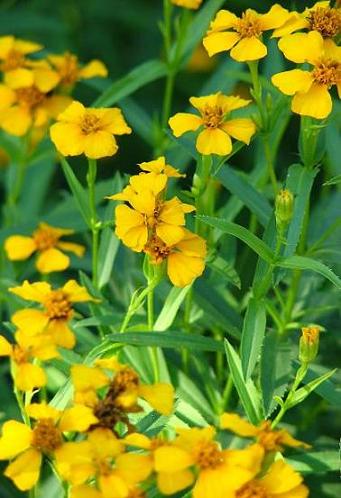 More Mexican mint marigold finds a home here.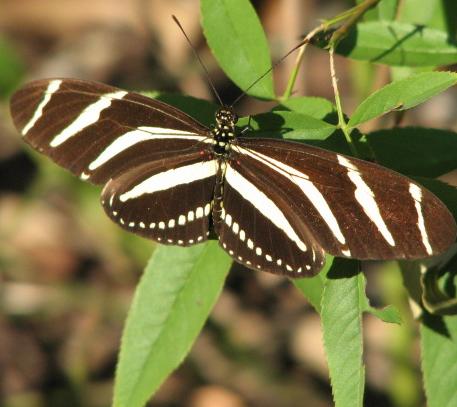 Fluttering around the herbs were numerous butterflies, including this zebra longwing.
Having exhausted the entry gardens, I headed for the prize gardens at Zilker: the Japanese Garden and the Prehistoric Garden. But I ended up taking so many photos there that I'll post about them separately. Tune in tomorrow for a look at the Prehistoric Garden.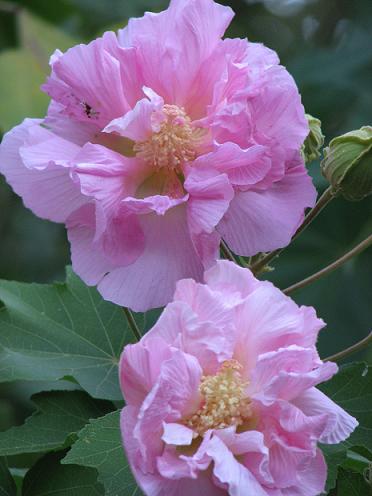 At the entrance to the main gardens, these crepey, ruffled, pink flowers on an ornamental tree caught my eye. The leaves are maple-like, not like camellias' glossy ovals. I probably should know what this is, but I'm stumped. Anyone? Update: Annie ID'd it as a Confederate Rose (Hibiscus mutabilis ). Thanks, Annie.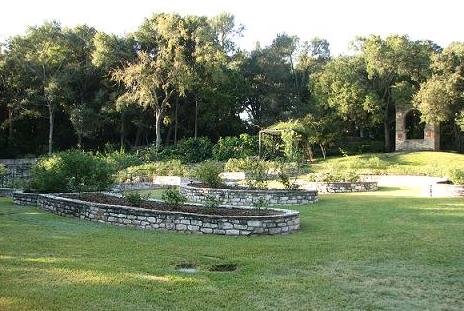 Austin isn't known for azaleas, but Zilker Garden showcases dozens of varieties in the spring. This time of year they're nothing much to look at, so I'm skipping over the azalea garden. Below, in a sunny, open lawn, you can find the rose garden. Unfortunately, a rose garden that only features roses does not gladden my heart, and few of these were in bloom anyway. I prefer roses intermixed with other plants.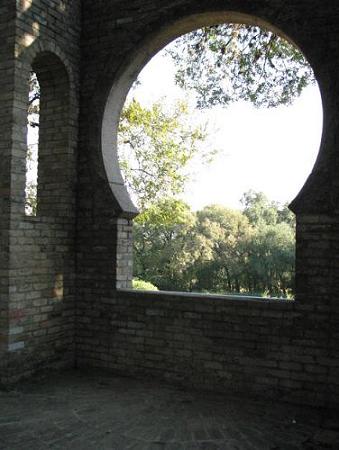 A keyhole window from old, demolished Butler House graces the hill overlooking the rose garden.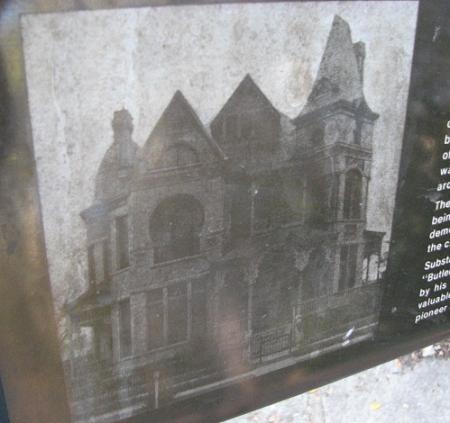 Here's a photo of the window's original location. It's a spooky looking house, isn't it?

Have you ever seen a cotton plant? In a vegetable garden near an old-timey blacksmith's building (there's a lot of historical stuff at Zilker), a few plants show their fluff.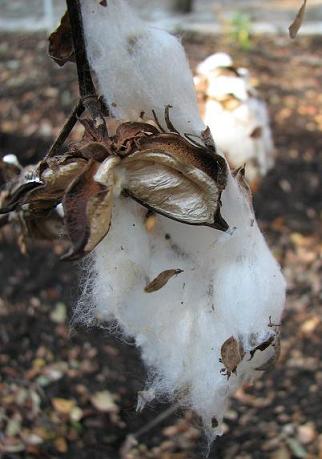 I'm wearing some of this right now. Are you?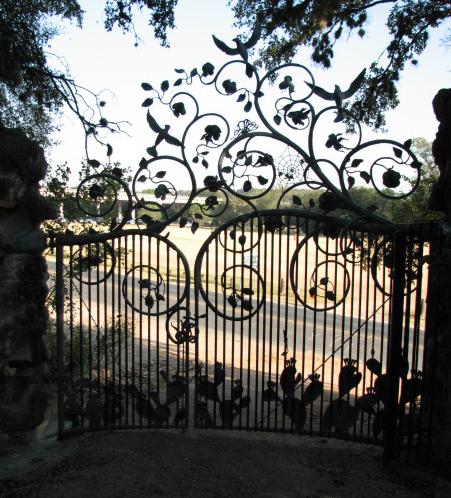 Although I didn't exit through the back gate (it was chained and locked), I stopped to admire it and really look closely at its detail. The fanciful, garden-themed, metal gate is a work of art.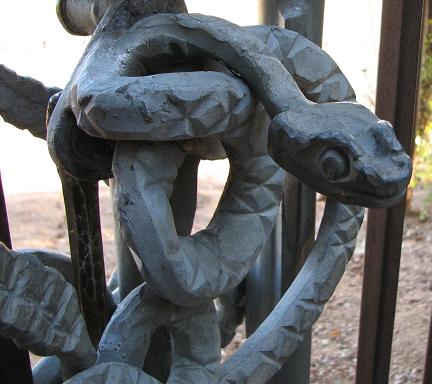 It's not all birds and butterflies either. A spider lurks in her web, a scorpion crawls across a cactus, and this rattlesnake curls around the gate handle. It's beautifully wrought. But why is it hidden back here where no one sees it?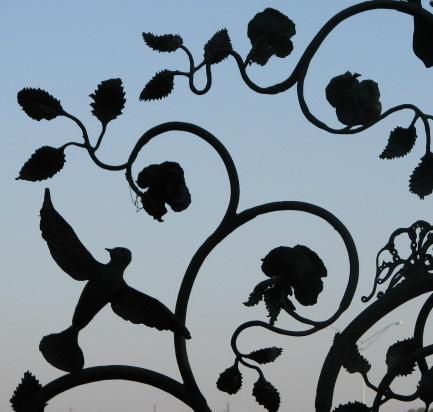 Bird detail
That makes up the outskirts and what I think of as the secondary gardens (there's also a butterfly garden that I didn't visit this time). Stay tuned for posts about the main attractions: the Hartman Prehistoric Garden and the Isamu Taniguchi Japanese Garden.
posted in
1st garden--2007
,
Agaves
,
Berries
,
Botanic/Public Gardens
,
Butterflies/Moths
,
Cactus
,
Garden art
,
Gates
,
Grasses
,
Groundcovers
,
Palms/Cycads
,
Roses
,
Snakes
,
Yuccas