January 6th, 2016
a boutique hotel
and embraced by walkable streets lined with shops and apartment buildings. Public green spaces throughout the development invite one to sit and people-watch.
We visited Pearl one afternoon just before Christmas, after reading about it on Rock-Oak-Deer blog, and enjoyed a delicious dinner at Southerleigh. (Afterward we strolled the River Walk to see the holiday lights.) Pearl was lively with shoppers and diners and utterly charming with its restored old buildings, recycled industrial materials, and lush South Texas-style landscaping.
The main plaza, which sits in the shadow of the old brewery, feels European with cafe seating on a gravel "floor," under a grid of new-planted trees that will one day provide welcome shade. Until then, umbrellas and an industrial-mesh arbor do the trick.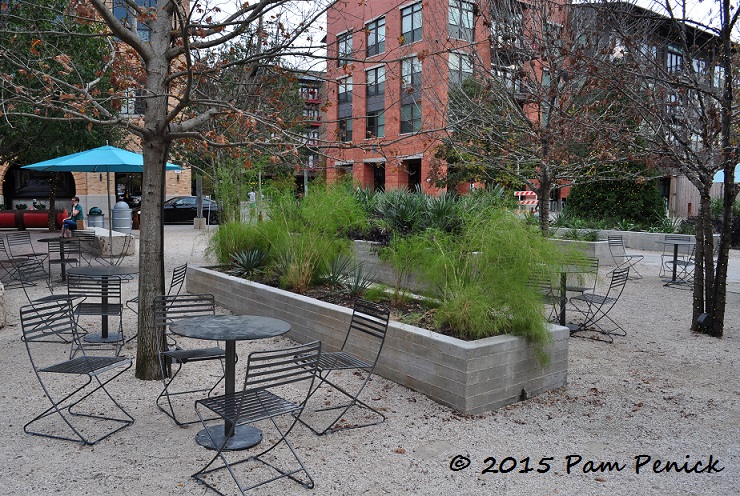 Notice that the plaza trees are not ghettoed off into circular beds of mulch but are planted cleanly in the floor of the plaza itself. I love this look. Board-formed concrete planters filled with agaves, palmettos, and bamboo muhly grass soften the expanse of gravel and lightly screen seating areas from each other.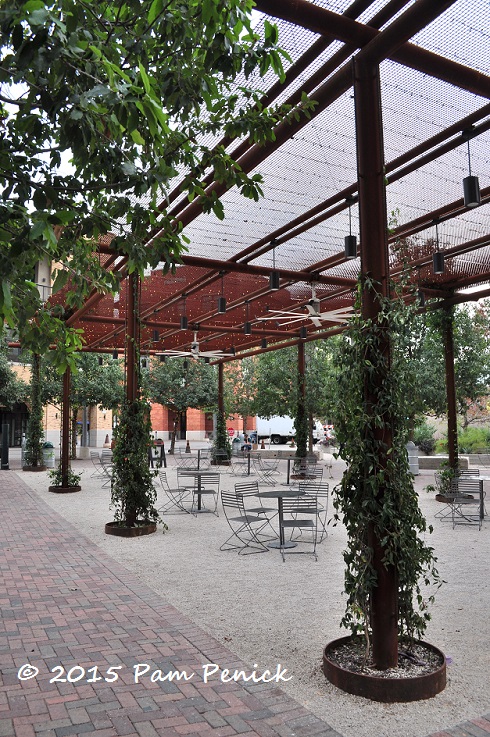 Under the arbor, vines climb each metal post, trained on long sections of encircling rebar. Unlike the trees, they are set off in circular beds, probably because their more delicate stems require protection from people stepping on them.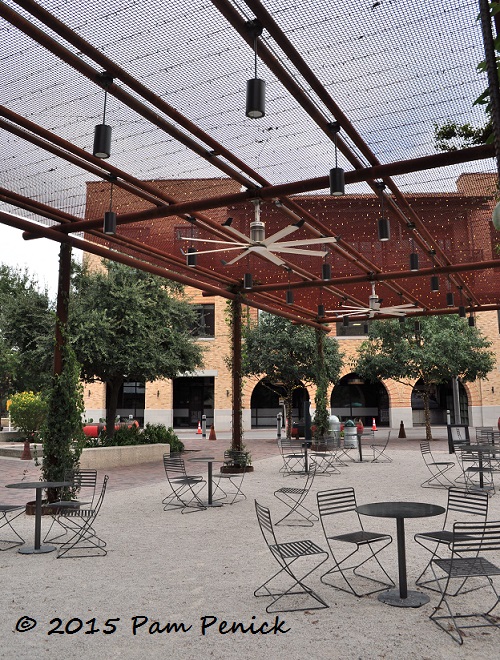 I adore this industrial-chic arbor, which sparkles with twinkle lights in the evening. Hanging can lights provide additional illumination…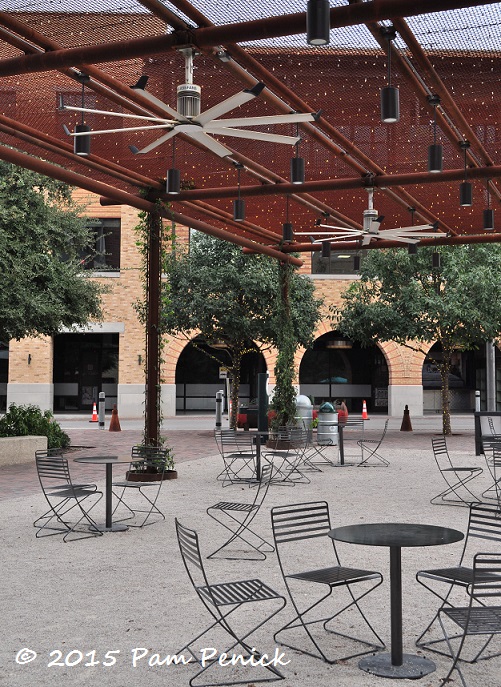 …and two Big Ass fans cool the space in warmer seasons.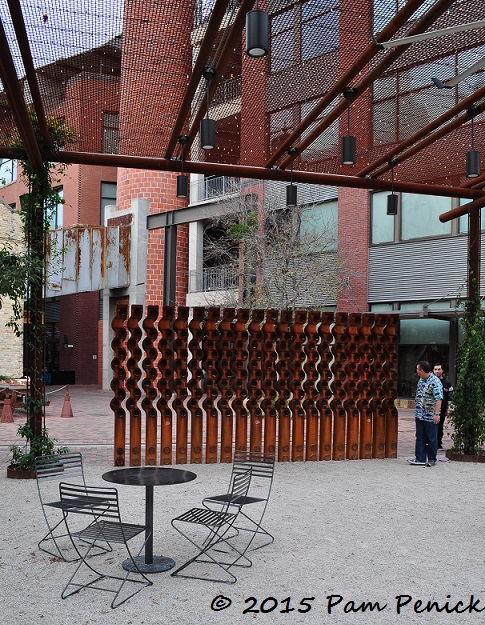 Industrial relics from the old brewery are incorporated into the plaza, as well as throughout the development.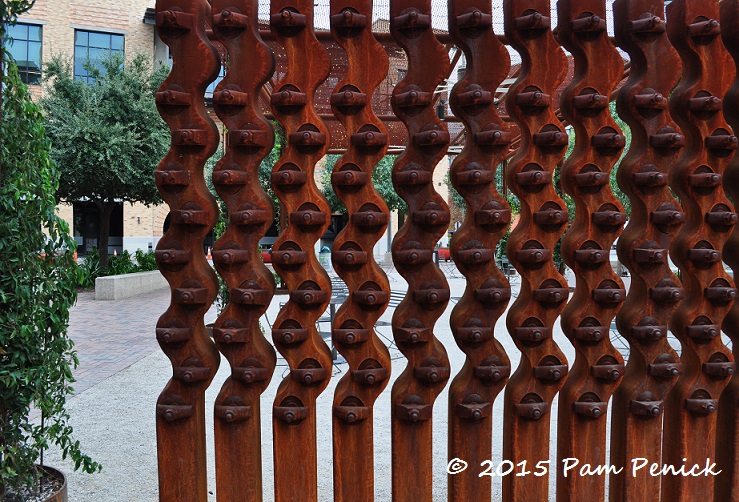 A closer view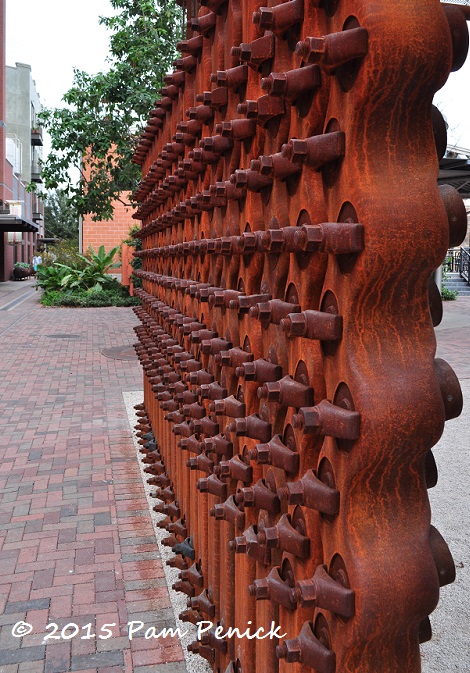 I wonder what these used to be?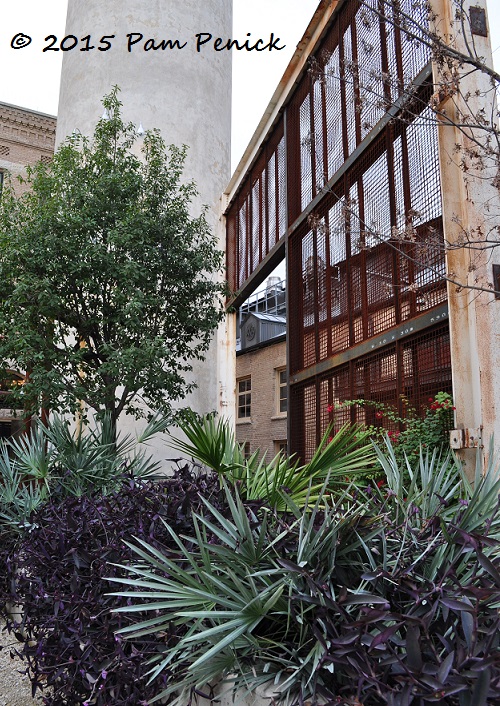 Designed by Austin's own Christine Ten Eyck, Pearl's landscaping is lush with dwarf palmettos, grasses, and other mostly native Texas plants. Drought- and heat-tolerant exotics like purple heart aren't shunned either.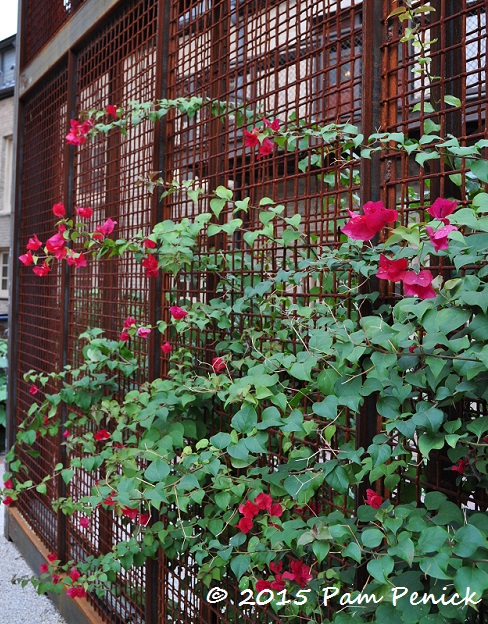 Bougainvillea, its flower-like bracts still colorful a few days before Christmas, climbs an industrial-mesh screen.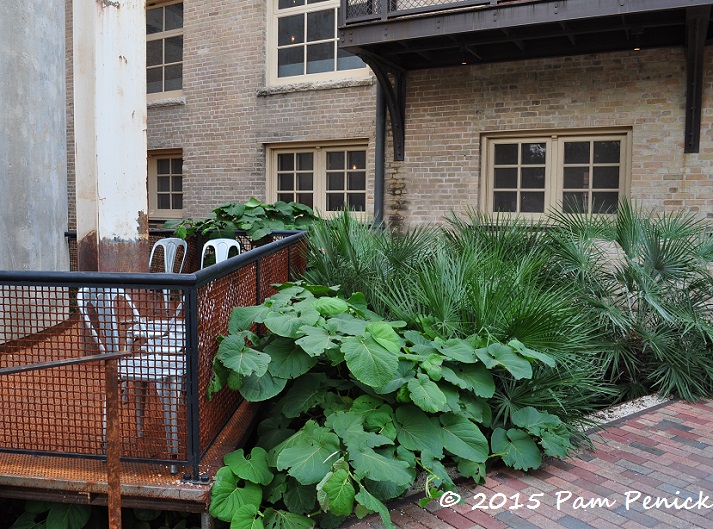 Pearl's irrigation, I read, uses only wastewater from the buildings' cooling towers, and the landscaping needs just one-fifth the water a typical commercial landscape would require. Rain gardens like this one keep runoff out of the city's wastewater system and use plants to filter pollutants.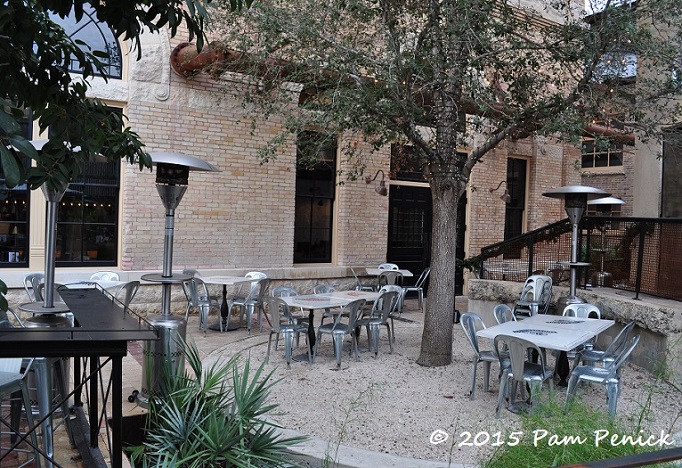 This sunken patio offers outdoor seating for diners at one of the restaurants.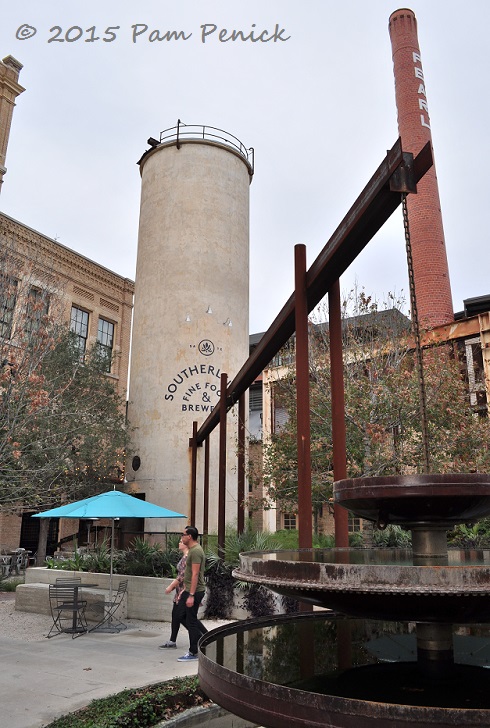 An aqueduct runs from an old silo (now used for water storage?) across one side of the plaza and empties — when the water's running; it was off during our visit — down a chain into a tiered fountain. I enjoyed the clever re-use of industrial materials to create a new version of a traditional Spanish courtyard fountain.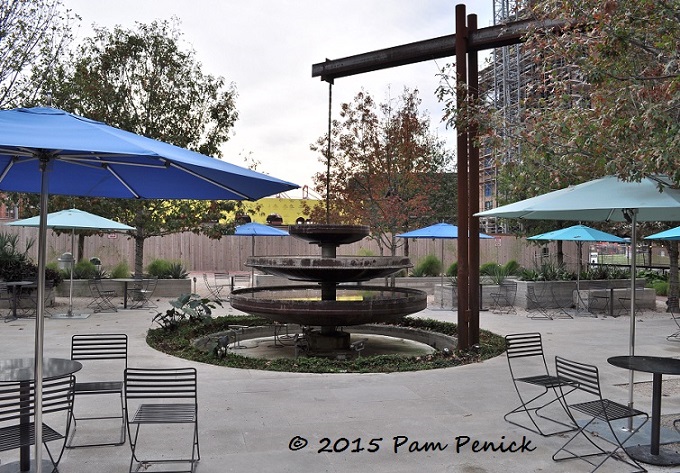 It must be pleasant to sit here on warmer days, with the fountain playing its cooling music.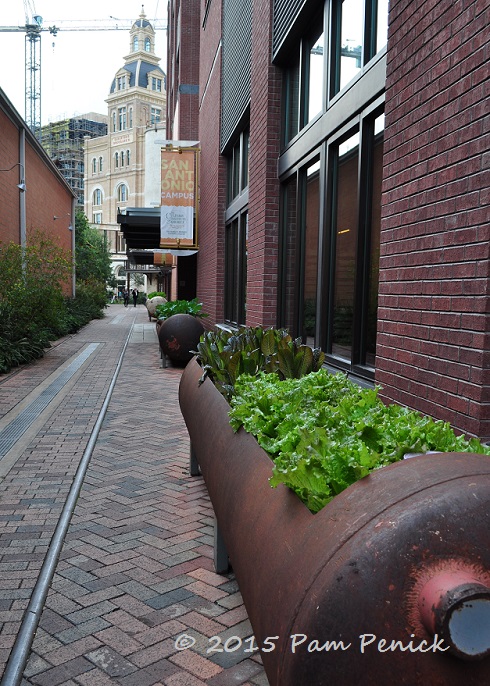 The Culinary Institute of America is located here, but even so it was a surprise to see lettuces growing in old brewery tanks placed like window boxes along the campus building.
Pearl is located on the north end of the River Walk Hike & Bike Path. A 3-mile stroll along the San Antonio River takes you to the main River Walk downtown, or you can grab a water taxi and just enjoy the ride. Or maybe you won't leave Pearl at all, but just sit in the plaza and enjoy the scene.
All material © 2006-2016 by Pam Penick for Digging. Unauthorized reproduction prohibited.
The old Pearl Brewery in San Antonio might have been razed, once its brewing days were over. Instead its century-old manufacturing buildings have been transformed into restaurants and even