January 3rd, 2016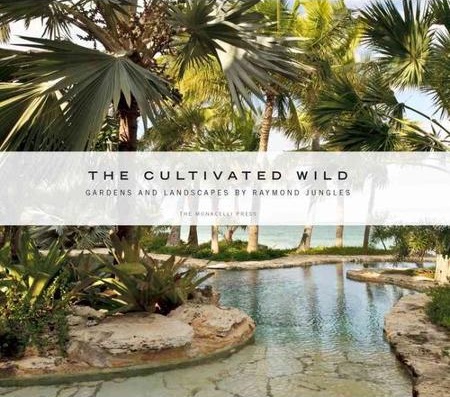 Were a name and profession ever more perfectly matched than those of Raymond Jungles? Like San Francisco nursery owner Flora Grubb and — I kid you not — Austin urologist and vasectomy practitioner Dr. Richard (Dick) Chopp, Miami-based landscape architect Jungles was surely destined to do what he does. Designing plant-rich, tropical and subtropical gardens that bring nature right up to the windows and front door — and even up on the rooftops of high rises and into the plazas of busy shopping districts — Jungles layers native plants into modernist gardens, eschewing minimalism for bold, lushly planted retreats.
Just before Thanksgiving I purchased his third and latest monograph, The Cultivated Wild: Gardens and Landscapes by Raymond Jungles (2015). It tantalizes with 200 pages of eye-candy photos of trickling limestone grottoes, palm-fringed hideaways, and curvaceous swimming pools echoing the sparkling blue sea. Beneath canopies of paddle-like banana leaves and rustling palms, jewel-toned bromeliads stud the understory, smooth-skinned agaves cluster like supersized green flowers, and hummocks of native grasses add pillowy softness. Plants clearly are no afterthought for this landscape architect. They figure prominently in his gardens. So does water. Jungles turns his gardens into watery music boxes, with dripping fountains, lapping pools, and sheeting cascades. Native stone — often, pocked limestone called oolite — grounds his gardens, emerging from the verdant undergrowth like ancient ruins.
The book features 21 gardens, mostly in and around Miami but also in the Bahamas; the West Indies; Monterrey, Mexico; and, surprisingly, New York Botanical Garden and Montana. These include residential gardens, high-rise rooftop gardens, commercial and resort landscaping, and a botanical garden exhibition. Each project is showcased with 10-12 pages of photos and explanatory captions, plus a one-page introduction about site challenges and how the garden is physically experienced. One or two conceptual drawings by Jungles himself are also included for each garden, which are meant to illustrate his creative process. Unfortunately, I found them difficult to decipher, perhaps because they are reproduced at too small a scale for the page. As a layperson, rather than a student of landscape architecture, I would rather have had more photos or descriptive text.
The photos are mouthwatering, with varied views and a nice mix of long shots and close-ups, and the text does a good job of setting the scene, although it's littered with distracting landscape architecture jargon like "view sheds" and the "programming" of a garden. That quibble aside, the book is a terrific introduction to the gardens of Raymond Jungles for new fans like myself. I first encountered his work when I visited Naples Botanical Garden in Florida, and I'd love to see more. Spring break in Miami, anyone?
All material © 2006-2016 by Pam Penick for Digging. Unauthorized reproduction prohibited.