November 23rd, 2015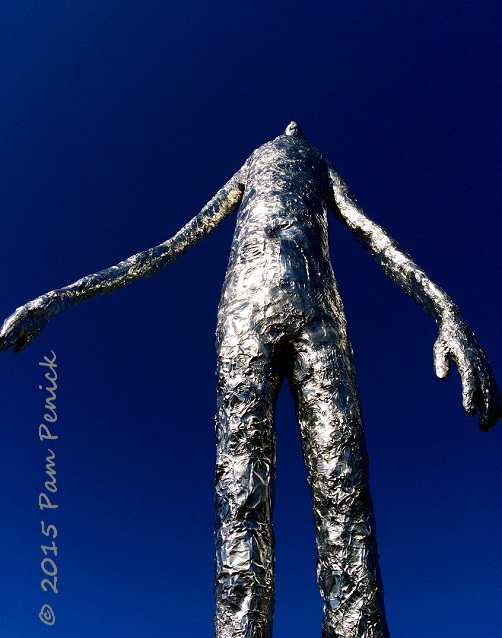 Last Saturday, a chilly, blustery day under a brilliant cobalt-blue sky, my dad and I attended two docent-led tours about the landscape architecture at cultural sites in Austin: one at Laguna Gloria, the other at Austin City Hall. Led by landscape architects who've restored or designed these public spaces, the tours were hosted by the Cultural Landscape Foundation for its November 21-22 What's Out There Weekend Austin. A total of 27 such tours were offered, free of charge, at sites all over the city, and they were so educational I wish I could have attended more.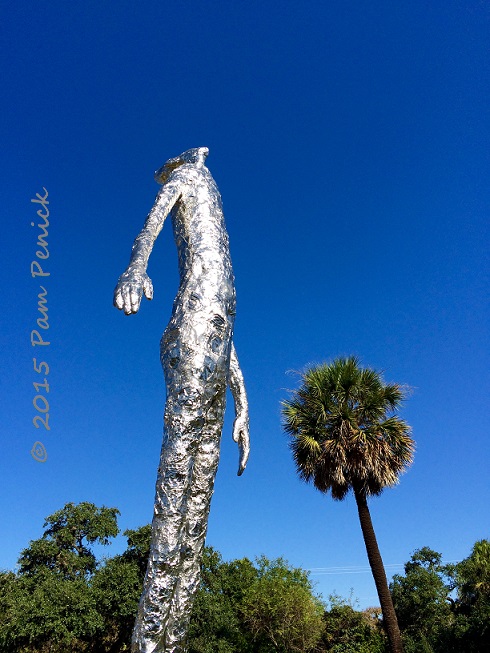 I've been to both Laguna Gloria and City Hall many times, but it was interesting to hear the landscape architects involved with these projects talk about their design decisions and the history of each site. I didn't take pictures during the tours, but I snapped a few beforehand. This giant, silver man, who looks like he's made of aluminum foil, is a sculpture by Tom Friedman called Looking Up.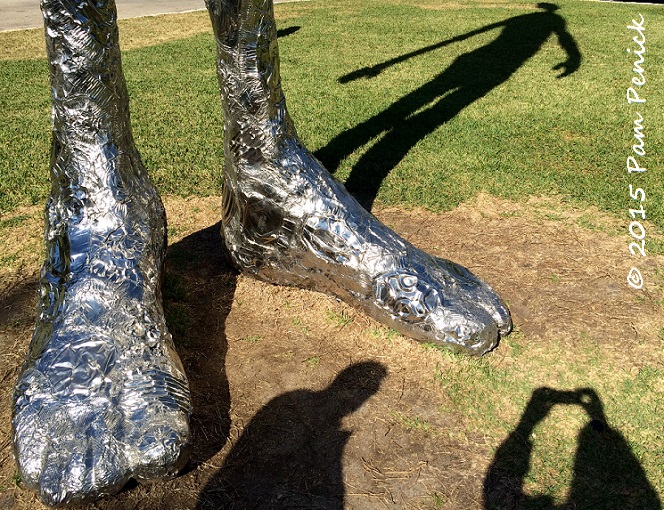 Molded out of styrofoam and pressed aluminum turkey-roasting pans, and then converted into stainless steel, Looking Up stands 33 feet tall…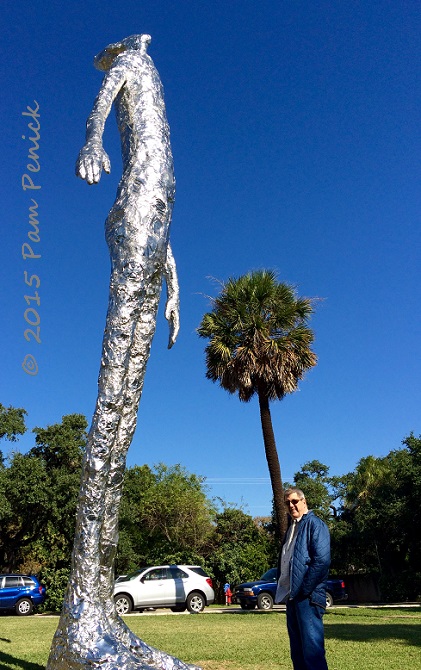 …vying with nearby palm trees for vertical dominance on the lawn in front of the historic Driscoll House. Here it is with Dad, for scale.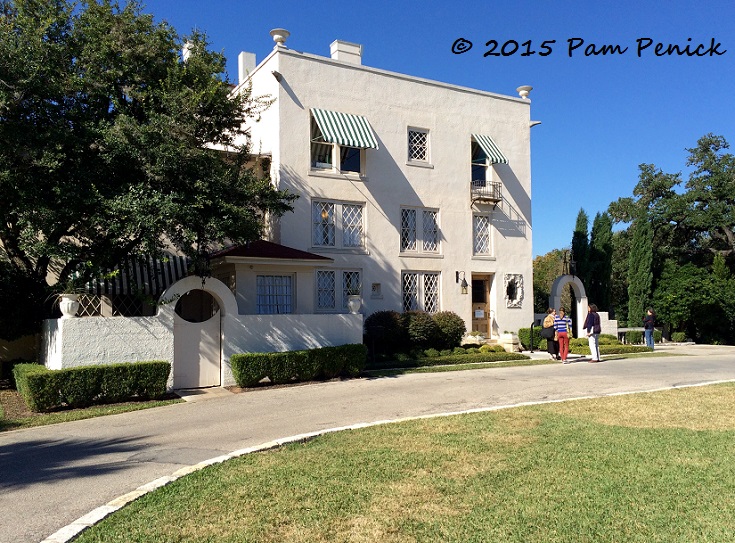 The Driscoll House — the 1916 Italianate home of philanthropist Clara Driscoll, "Savior of the Alamo" — is today part of The Contemporary Austin (an art museum) and is the location of The Art School, which offers classes year-round in studios located on the lakeside grounds.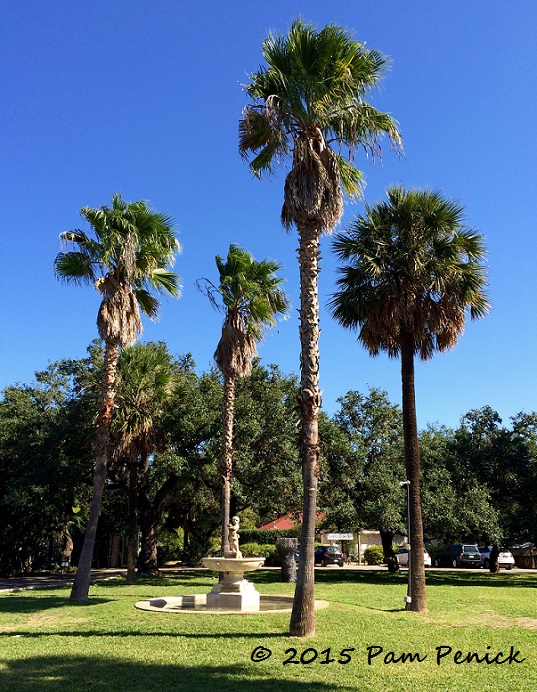 While the Italian-style gardens of Laguna Gloria emphasize vertical lines, like these palms…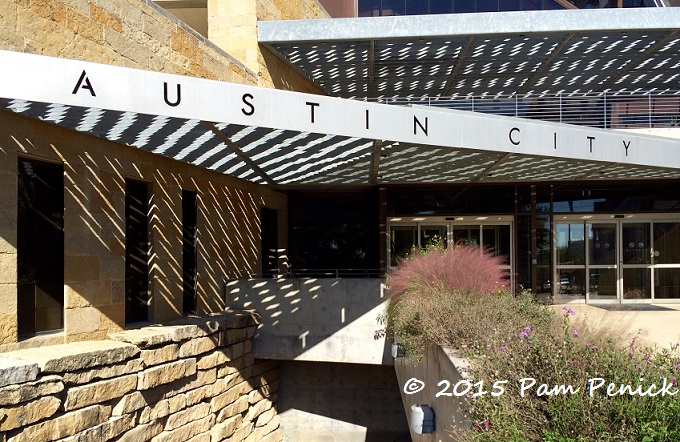 …the contemporary design of Austin City Hall emphasizes horizontal lines. Carolyn Kelley and Eleanor McKinney, the landscape architects who designed the plaza and green-roof gardens of City Hall, led the tour, sharing that the building's angled horizontal planes represent the ancient Balcones Fault that divides Austin's natural landscape between blackland prairie to the east and rocky hills to the west.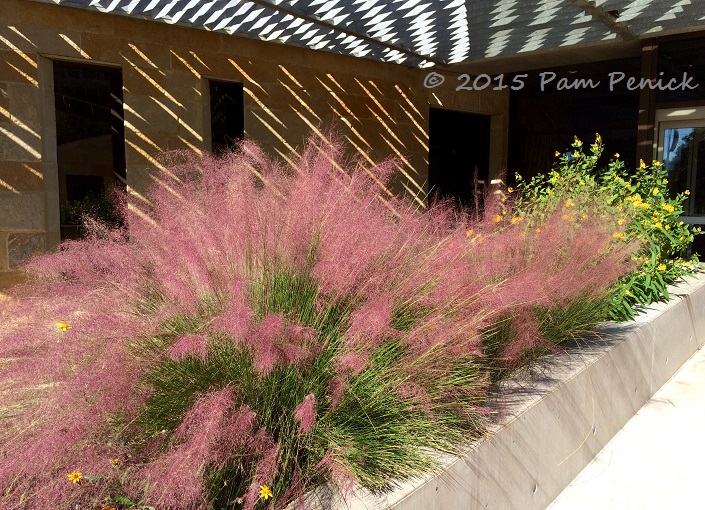 The plant choices riff on this theme too, with Hill Country plants on the west side of the building, post oak savannah plants on the east, and prairie plants on the north. This raised bed, which faces south, is planted with Gulf muhly (Muhlenbergia capillaris) and golden thryallis (Galphimia gracilis).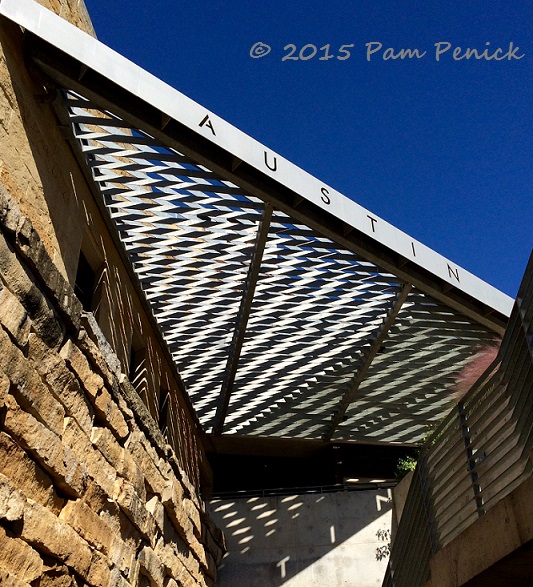 Austin's an interesting city, and I enjoy learning more about it through tours like these. Fellow Austinites, did you partake of any of the Cultural Landscape Foundation tours last weekend? You can also read about cultural sites here and in other cities on the What's Out There webpage.
All material © 2006-2015 by Pam Penick for Digging. Unauthorized reproduction prohibited.
posted in
Containers
,
Fountains
,
Grasses
,
Green roofs
,
Keep Austin Weird
,
Palms/Cycads
,
Parks & greenbelts
,
Public art
,
Sculpture
,
Signs
,
Texas natives
,
Trees
,
Walls