November 18th, 2015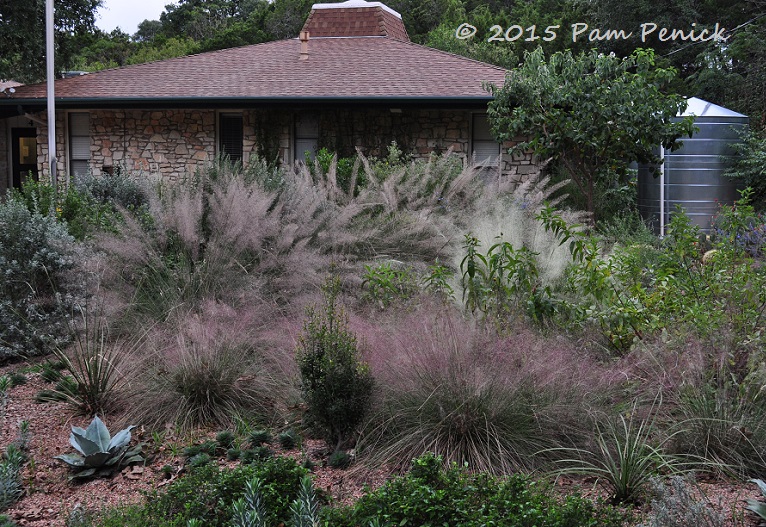 Last Saturday, a drizzly, cool day, I returned to the West Austin neighborhood of Rollingwood to see how the waterwise garden at city hall had fared over the summer. Designed by Scott Ogden and Lauren Springer Ogden, the garden was installed two years ago. Following an initial harsh winter and now an unusually wet year, it's really filling in. Ornamental grasses like Muhlenbergia 'Pink Flamingos' and Gulf muhly (Muhlenbergia capillaris) are showy in the rain garden, a shallow basin designed to hold runoff and give it time to soak into the soil.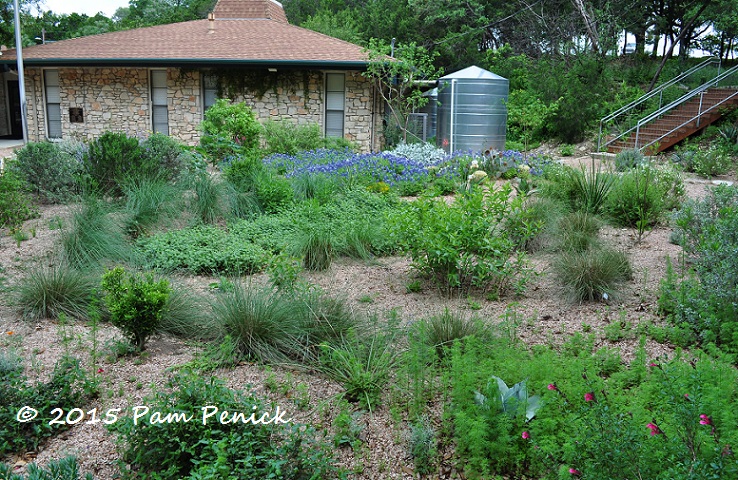 For a fun comparison, here's the same view in April of this year. Before the grasses grew tall, you can see the contours of the rain garden.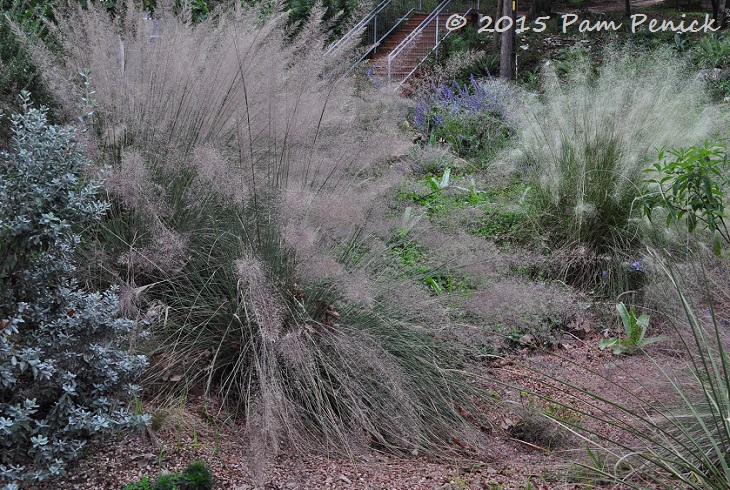 'Pink Flamingos' muhly on the left, and Muhlenbergia capillaris 'White Cloud' on the right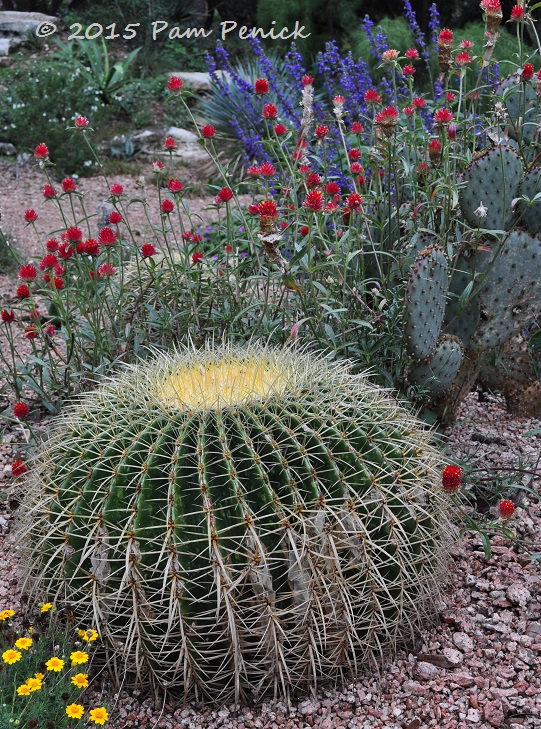 Planted high on gravelly berms, golden barrel cactus and other dry-loving plants look happy. 'Strawberry Fields' gomphrena adds dots of fiery color.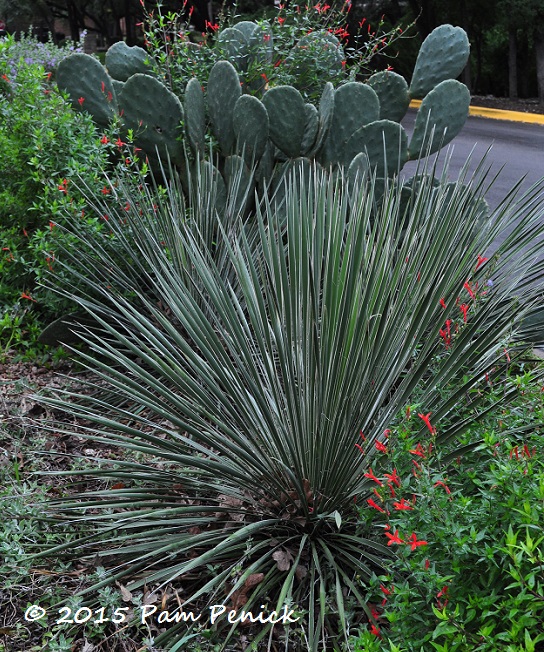 In the hell strip (a term coined by the designer, Lauren Springer Ogden), flame acanthus (Anisacanthus quadrifidus var. wrightii) wends around a spineless prickly pear and a pretty yucca with white-edged leaves. I didn't see a plant tag nearby; anyone know the ID? Update: It's Yucca constricta.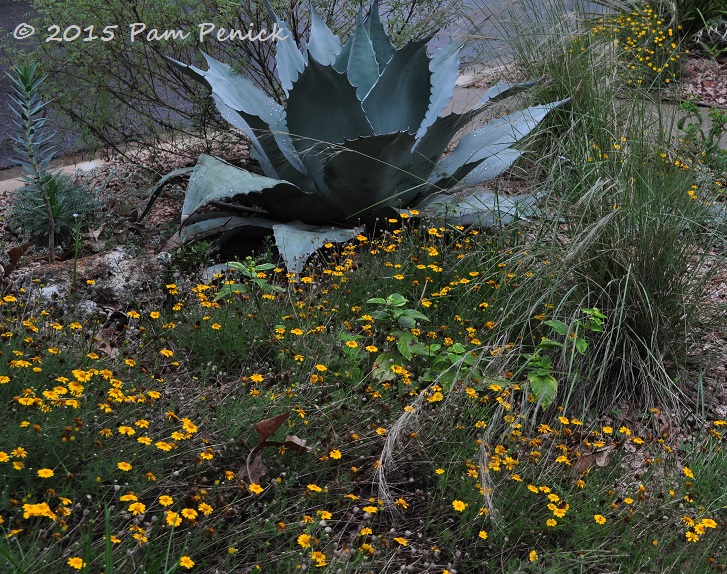 Whale's Tongue agave, low grasses, and a cheery groundcover of four-nerve daisy (Tetraneuris scaposa) Thymophylla (formerly Dyssodia) pentachaeta.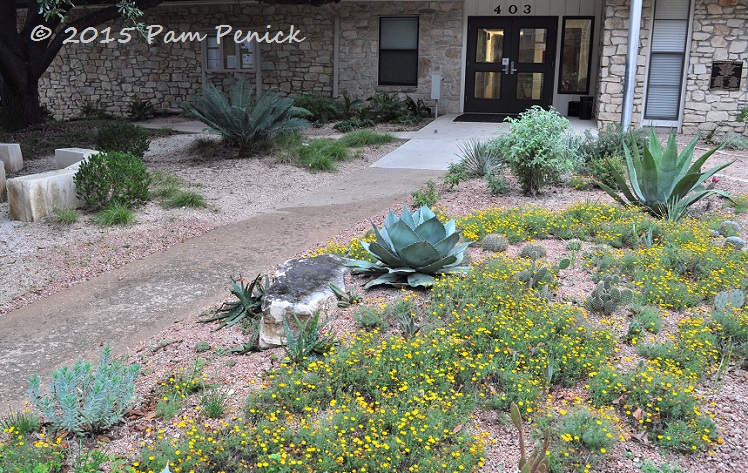 A gravelly berm near the city hall entrance is smothered in more four-nerve daisies Thymophylla pentachaeta.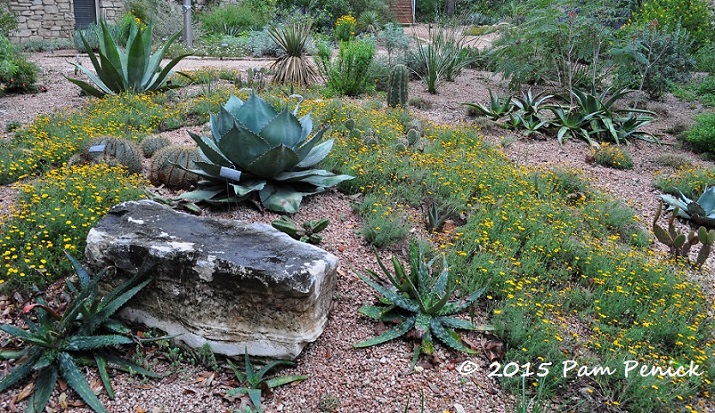 Aloes cluster, starfish-like, around a boulder.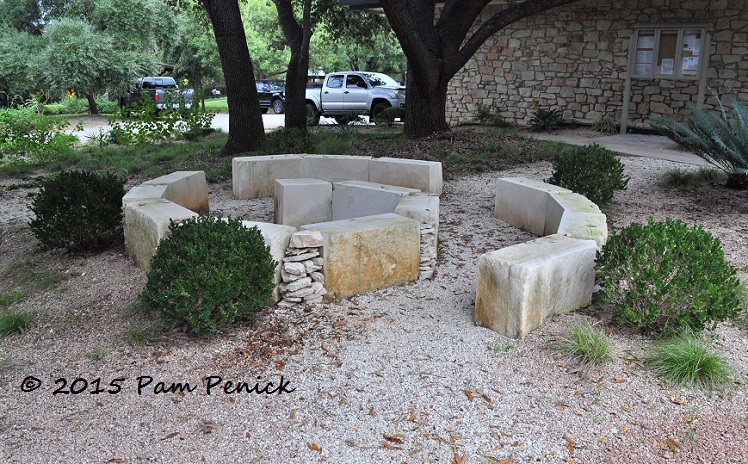 I really love this spiraling council ring of limestone blocks, with stacked limestone pieces to fill in the gaps. 'Green Gem' boxwood topiaries enhance the circular theme and add evergreen color.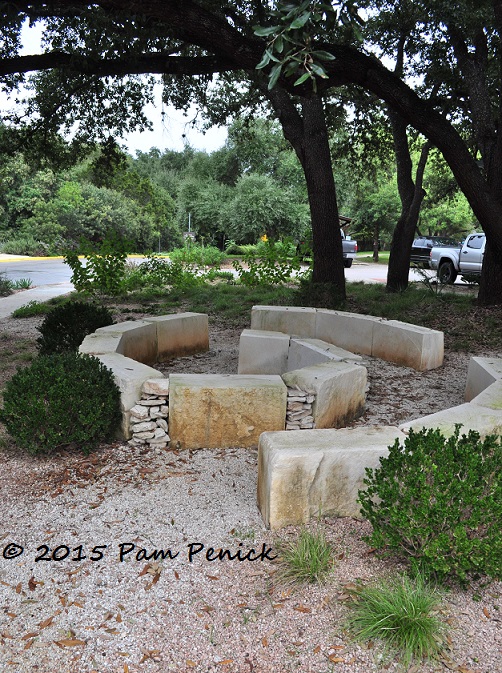 Located under the shade of live oaks, this part of the garden is, I believe, known as Council Oaks.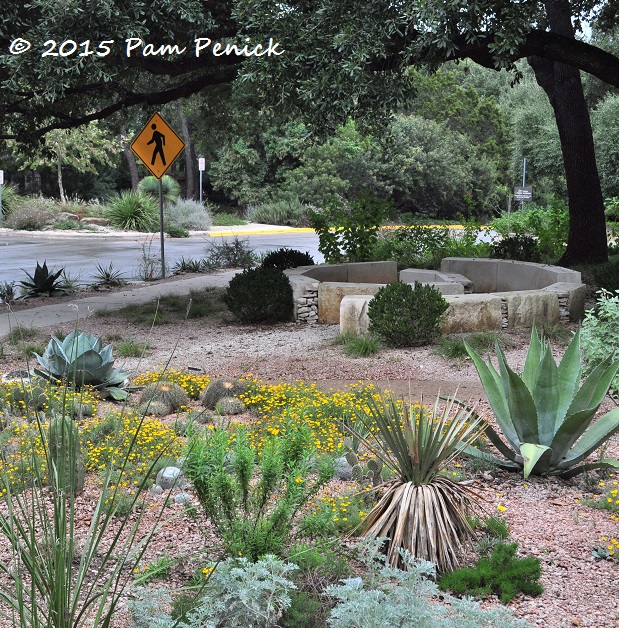 A wider view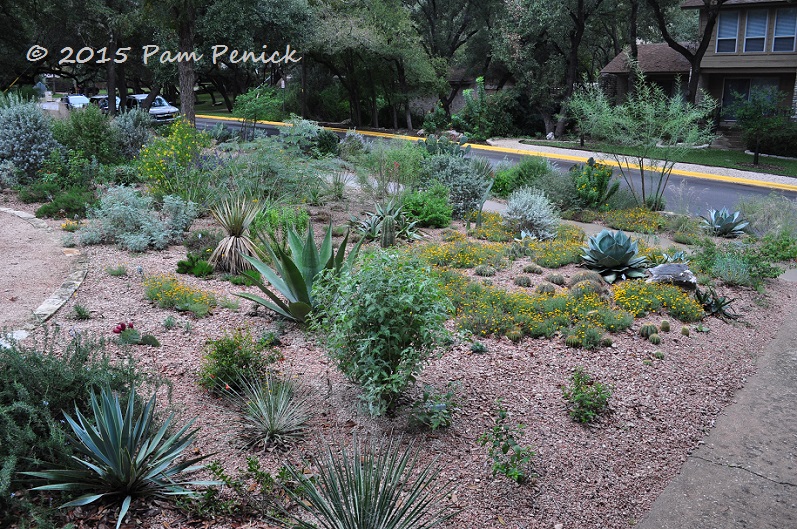 Looking in the other direction across the garden

'Green Goblet' agave (I think), one of my favorites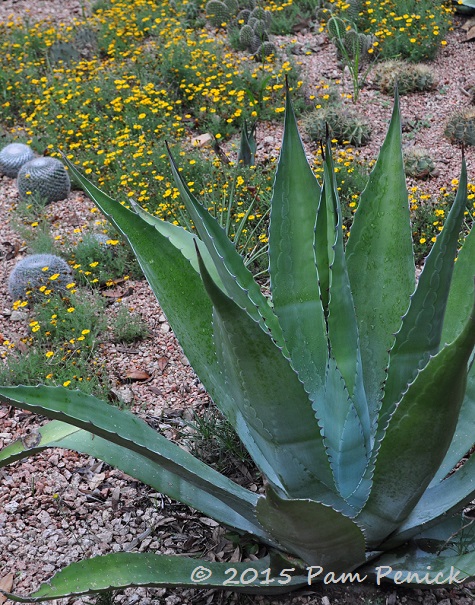 That dusty, blue-green coloring at its base is lovely.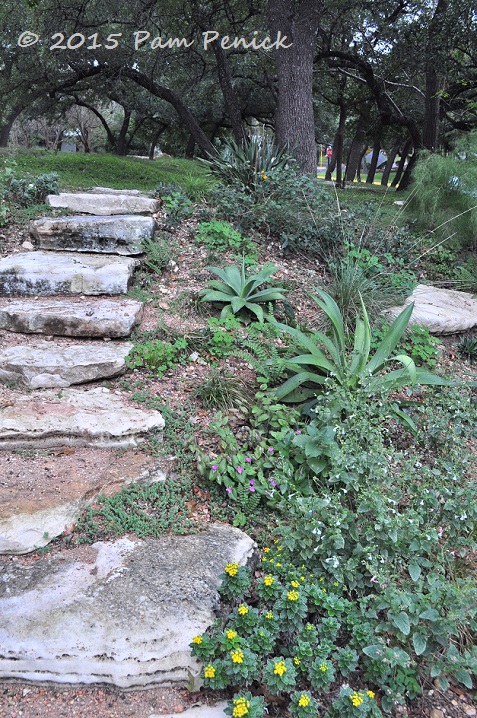 A rugged limestone stair leads up a slope at one end of the garden. A unique mix of agaves, columbines, ferns, tradescantia, sedum, salvia, grasses, lantana, and yucca grow here. Pacific chrysanthemum (Chrysanthemum pacificum) flowers at the base of the slope.

Looking across the rain garden, in all its feathery fall glory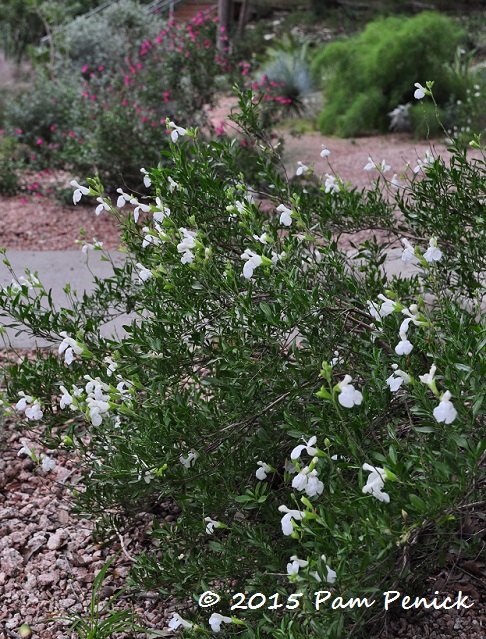 White-blooming autumn sage (Salvia greggii) brightens the hell strip. Pink autumn sage and bamboo muhly are visible in the background.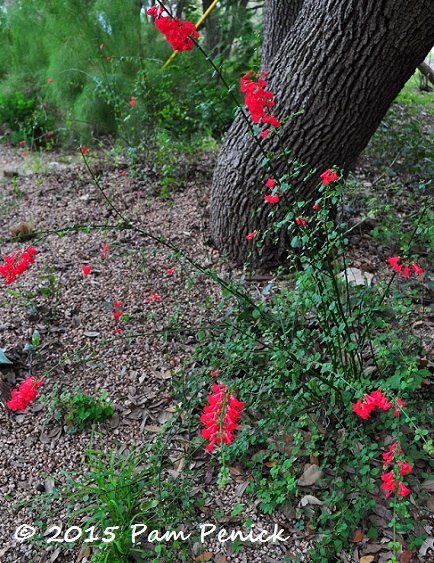 This is eye-catching: 'San Carlos' firecracker fern (Russelia coccinea 'San Carlos'). Shazam!
Rollingwood's residents were far-sighted in bringing this sustainable garden to fruition, and (even smarter) budgeting for its continuing care by a design team that fearlessly experiments with tough yet beautiful native and adapted plants. It'll be fun to watch this garden continue to evolve. I imagine it will inspire many other lawn-gone gardens around the neighborhood.
I do wish, however, that the garden had its own website, or at least a dedicated webpage on the City of Rollingwood's site. I can find very little information about the garden online, except from outside sources like the Statesman, Central Texas Gardener, neighborhood resident Deb at Austin Agrodolce, and my own post about the garden last spring. I'd love to be able to read about the garden's origin (how the idea arose, and how funds were raised, which will be useful for other groups looking to do something similar); how the design was developed (from the designers' perspective, including special challenges that were overcome); a detailed and updated plant list organized by section of the garden, or by sun/shade conditions; and a monthly update on maintenance (to provide real-life info about what a garden like this requires and what to do at certain times of the year). Such information would extend the reach of this garden, which is hidden deep within the winding roads of Rollingwood, and turn it into a teaching garden for the whole city, region, and even the world.
All material © 2006-2015 by Pam Penick for Digging. Unauthorized reproduction prohibited.
posted in
Agaves
,
Aloes
,
Botanic/Public Gardens
,
Cactus
,
Council ring
,
Fall color
,
Garden tours 2015
,
Grasses
,
Groundcovers
,
Hell strip
,
Hillside
,
Lawn Gone!
,
Palms/Cycads
,
Paths
,
Rain garden
,
Rock
,
Seating
,
Shrubs
,
Sustainable Gardening
,
Texas natives
,
Trees
,
Water conservation
,
Water-Saving Garden
,
Wildflowers
,
Xeric plants
,
Yuccas